We have been continuously cruising now for two months and have settled in to a regular routine. With nearly 300 miles under our belts, we are very comfortable with the way the Vetus E-Line engine is performing and have got used to the slightly different method of energy management that an electric serial hybrid, with Lead Carbon batteries, requires.
We have been truly amazed at the number of positive comments and questions that we have received from other boaters, lock keepers and gongoozlers but also disappointed at the level of misunderstanding and the amount of misinformation that exists about electric boat technology.
The two biggest misconceptions are that the technology is not there yet and that we can only cruise for a few hours. The technology on Old Nick is working very well, allowing us to cruise every day on canals and rivers., with absolutely no concerns about running out of power. Although we are not regularly doing the 8+ hour days of cruising that we used to do when we were younger, we can comfortably cruise for 8+ hours on an overcast day and have plenty of power left to do whatever we want to that evening.
It did take us a while to get our heads around not having to regularly re-charge the batteries back up to 100% "State of Charge" (SOC), as is the recommended norm for conventional Lead Acid batteries. We typically run our Lead Carbons, within a range of 60% to 90% SOC and apart from when we are on electric hook-up in a marina or on one of the "Electric Boat Charging Points" that we have found on the Thames, we never fully recharge them to 100%.

Above is a diagram showing the amount of usable power that Old Nick's batteries provide. At 100% SOC the batteries store a whopping 38.4KWh of power and we can regularly discharge them (3000 cycles) down to 40% without reducing the life of the batteries. Even the occasional discharge to 20% SOC in extreme conditions, is apparently OK, but we will hopefully not be putting this to the test.
So if we set out with a fully charged set of batteries, we have approximately 23KWh of power or 480Ah at 48v before the batteries reach the critical 40% SOC, even with zero solar power, which is never the case. To put this in to cruising hours, at our preferred 800 RPM cruising speed we consume 30A, so we could cruise for 16 hours continuously.
In reality, unless we are cruising at night, there will always be some measure of solar power available and we are typically seeing between 5 and 10KWh per day during July. In fact, when the sun is strong, we often achieve what we like to call "State of Nirvana" when the engine is powered 100% by solar and taking no power at all out of the batteries.
As I am writing this article this evening, our batteries are around 75% SOC and tomorrow we will do a few hours cruising on the Thames and probably end up with SOC in the upper 60s. Then with an afternoon of solar we should see the SOC come back up in to the lower 70s. As we will both be showering tomorrow, we will run the generator for an hour, get a tank full of hot water and bring the SOC up by another 8-10%.
This pattern will continue all through the summer with us trying to get the maximum amount of solar whilst running the generator as little as possible. When we do run the generator, we will try and time it for when we need hot water, as the immersion heater does take a lot of battery power. We also never run the generator when the batteries are at 85% SOC or higher. as this is just not efficient, due to the typical charging pattern of lead carbon batteries (see below). It is much more efficient to run the generator at full load and bulk charge the batteries until they reach 80-85% and then when the Victron Quattro switches to absorption, knock the generator off and let any afternoon solar do the rest.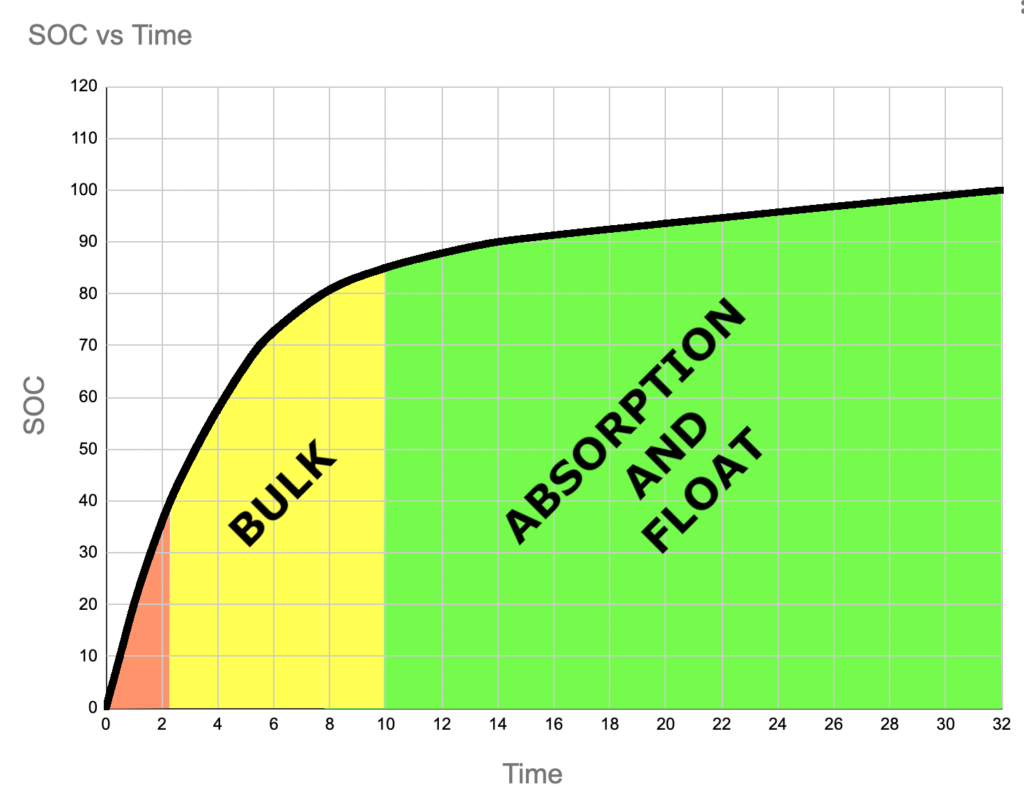 The graph above shows the typical charging times for Lead Carbon batteries. We only run the generator in the yellow "bulk" area and try to let the solar take care of the green "absorption and float" area. In our experience, we are seeing slightly quicker charge times than shown and expect to take 1 to 1.5hrs to increase the SOC by 10%, when running the generator.
In an ideal world, we would never have to run the generator, but as continuous cruisers, we have to be realistic and I now accept that it is part of our routine. The good news, is that it is very quiet (running at 1500 RPM), is more efficient than running a conventional diesel engine and alternator and can be run while under way. The AC output of the generator allows us to use the multi-stage charger of the Victron Quattro, which is more efficient than a normal DC alternator directly charging the batteries.
We were disappointed that the Vetus (Mitsubishi) generator has not yet been declared HVO compatible, as that would allow us to use this much greener fuel source, but the distribution network for HVO still needs to be expanded before this is a realistic option anyway.
All in all, we are very pleased with our power and propulsion set-up on Old Nick and feel we are being as green as is currently possible with the available technology. We hope this article gives a clear picture to others, thinking about an electric narrowboat, as to what life is like on a day to day basis, in the "cruising season".