From Knowle to Gas Street
After a few days R&R at the bottom of the Knowle flight – which was a delight as ever – we set off on Thursday (7th October) with me at the helm. Our destination was "The Navigation", where we had an evening meal booked.
It didn't take too long and we were soon tied up on the pub moorings, ready for dinner that evening. As we were eating (delicious!), I rather feared that we were in for a noisy night, from the sound of the cars speeding past the pub, but we needn't have worried. It soon quietened down.

We were up early on Friday as we wanted to take the boat a very short hop along the Lapworth Link (which links the Grand Union with the Stratford canal) and into the pound where we could grab some water. I had used a lot catching up on washing up at Knowle. Whilst watering, we decided we'd actually moor on the link so as to be in pole position for an early start the next morning.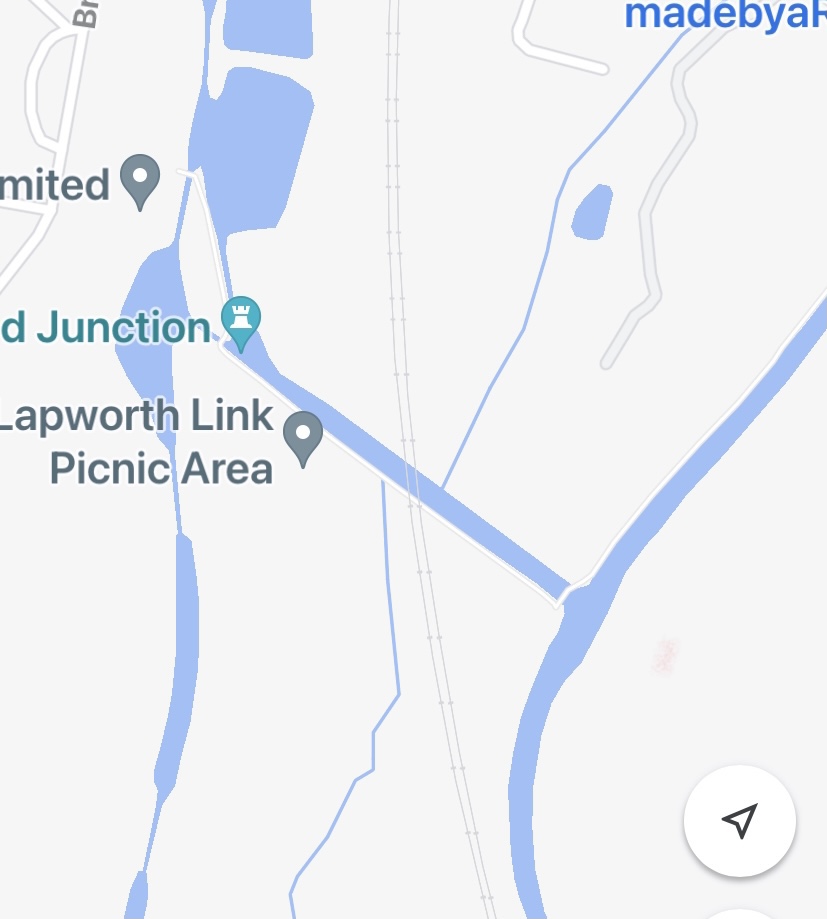 We had a quiet night, despite being so close to the railway line (which you can just see in grey on the pic above) and sprung out of bed, just as the dawn was breaking. It was a nice morning and we set to with a will. The boys were having such fun racing up and down the lock, on opposite sides and generally fooling around.
Then Bill thought it was a great idea to run across the lock gate, as they often do, but decided to turn mid way. He missed his footing and fell into the canal (not into the lock, thankfully). It was the highest point from which he could have fallen, though, and the least accessible for a rescue attempt. It took a while, with him treading water. There was a point when I genuinely feared he might drown before we could get him out, although Paul assured me he would have jumped in if that looked really likely. Eventually Paul managed to drag him out with the boat hook. Phew. No harm done and we soon had him wrapped up in his fleecy towel suit.
We met Robert, the volunteer lockkeeper, just over half way up the flight and he accompanied us until about four locks from the top. His help was very much appreciated .
Once again we had dinner booked at a pub that evening. This time it was "The Blue Bell Cider House" and we arrived there around 2 pm, pleased to see that there was a space for us. We got tied up and Paul went ashore with the boys to "check in" – also known as having a a swift pint! On his return we settled down for a beepy after our early start.
Dinner was very pleasant and our Ocado delivery went smoothly the next morning, although poor Paul had to lug it all down the steep slope from the pub car park to the boat.
Victuals stowed, we set off on a lovely Autumnal morning. Our destination was a nice quiet spot on the outskirts of Dickens Heath. The Dickens in question was not he of the novels, but rather a local chap called Thomas Dykens who lived in the area in the 16th century. It's a funny place – a new village – full of new builds masquerading as old builds. Hampshire friends will understand when I say it's a bit like Knowle village and feels a bit soulless.
We had a night on hook-up booked at Lyons Boatyard later in the week and stayed at Dickens Heath a couple of days because it was so pleasant and quiet. The towpath here is well used and we had lots of chats with passers by. Very friendly and the children were delighted to make friends with Bill and Ted.
On Thursday, as it was a nice lock-free stretch, I moved us on. Autumn was noticeably taking hold and the canal was starting to look like a kind of leaf soup. The leaves build up as you go along and frequent bursts of reverse are required to clear them from the prop. Using Ortomate TM, Ortomarine's clever boat control and monitoring system, you could actually see the power consumption increasing as the leaves built up and then return to normal after a blast of reverse. It was quite fascinating.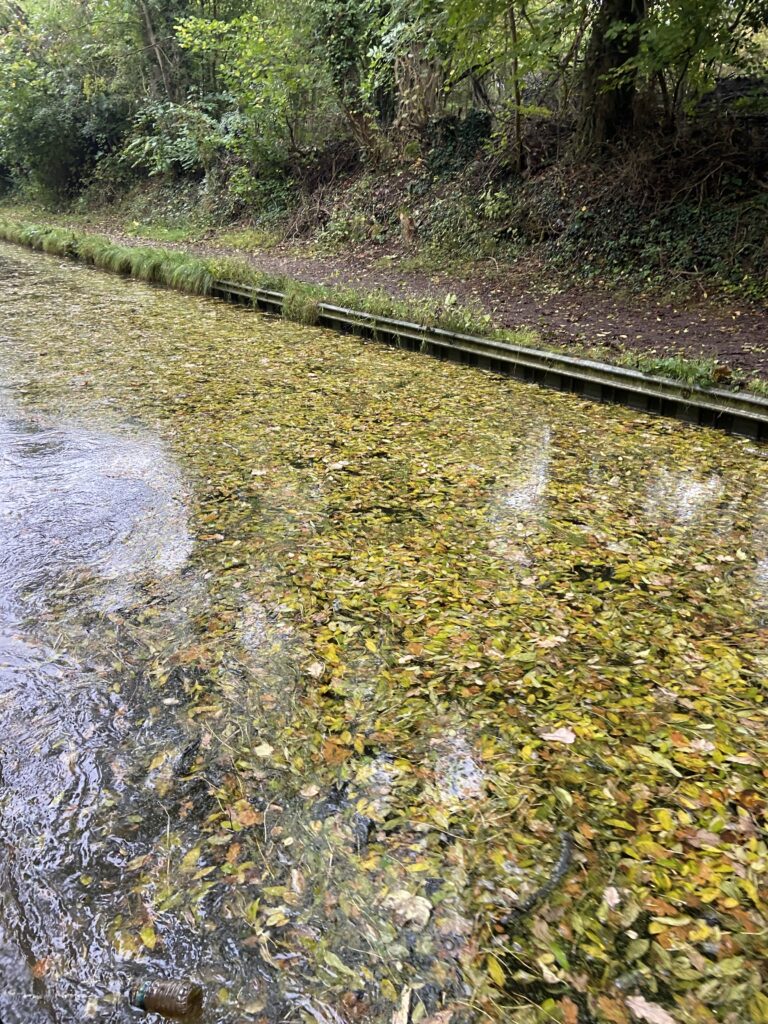 We arrived at Lyons and got hooked up and settled in for the evening. We had a couple of nights to kill before we met Bruce and Lenny for their half-term cruise. We used the time to scope out a handy place to meet up on Saturday morning (16th October) and also to find somewhere safe for Bruce to leave his car.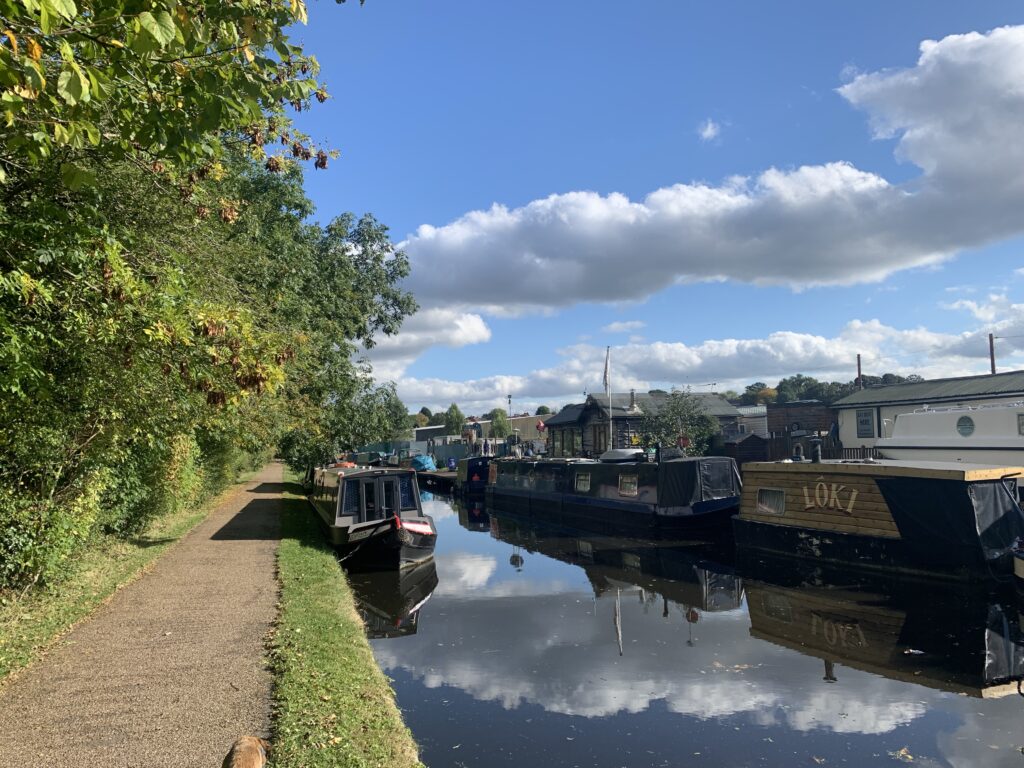 The very friendly folk at the boat yard suggested somewhere nearby that they reckoned would be fine and so we sent Bruce the W3W locations for rendezvous and car depositing places. With the logistics sorted, we could relax and get ready for the weekend.
Saturday morning came and so did our guests. We bundled them aboard, put the car in the safe spot and set off. I swear Lenny has changed and grown in the short few weeks since we saw him in early August.
We went through Brandwood tunnel – Lenny's first ever – with much singing and silliness. and instead of turning left towards Worcester, we turned right towards Birmingham.
It's been a while since we came this way and we were quite excited. The route takes you through Bournville, Shelly Oak, Edgbaston (including its very short 106 yard tunnel) and finally to the canal Mecca that is Gas Street Basin. All the way you are accompanied, cheek by jowl, by the railway. Lenny and I enjoyed waving to the train drivers, the more fun of whom would toot their horns in greeting.
You pass through the University, where they are building a new station. It's a very urban bit of canal and yet the wildlife is still all around. We saw a heron, which we managed to photograph (see above)and even a muntjac. I'm not sure who was the more startled to be honest. Sadly no picture, but it was a pretty magical and unexpected moment.
It was a sunny Saturday afternoon and there were lots of people out and about at the many pubs and eateries in the area as we passed through, trying to decide where to moor.
We passed the Sea Life Centre and the the big arena, currently rejoicing under the name the "Utilita Arena" and the Eastern Entrance to the "Oozells Street Loop".
The Loop was left behind when the canal was widened and straightened. Brindley – the father of modern canals – built the Old Main Line in the 1700s on a fairly meandering route. Nearly 100 years later, Thomas Telford – another doyen of the canals – trimmed off all the wiggles and, in doing so made the passage 5 miles/hrs shorter – a big bonus for the boaters when they were carrying freight to tight deadlines. He also made the towpath on both sides so that the boatmen did not have to carry out complicated manoeuvres with their towropes every time they met a boat travelling in the opposite direction. I guess it was like the canal equivalent of a motorway at that time?
We decided we'd motor on and go into the loop at the far end , as there were some reasonable looking visitor moorings there. Mistake. The angle at the other end of the loop was so extreme that we just could not get round. Lesson learnt!
We pootled on for a bit until we reached the entrance to Monument Lane Basin – the remains of an arm that has not been bricked off, as so many are on the Birmingham Canal Navigations (BCN). Perfect for turning!! We quickly winded and retraced our steps and entered the loop.
Today, the loop is lined with high rise "des resses", although it is still the site of Sherborne Wharf, who provide all boat related services. Of course we had to meet the trip boat that plies its trade around the loop. And of course it had to be at the narrowest point. But I didn't flinch and we passed without incident.
We found a nice spot near the other entrance and tied up. Paul and Lenny went off to the LEGO shop and I prepped dinner while my dear brother read the papers and had a little nap. Lenny and Paul came back with a chocolate malt milkshakefor me. Nearly as good as Dairy Queen, but not quite!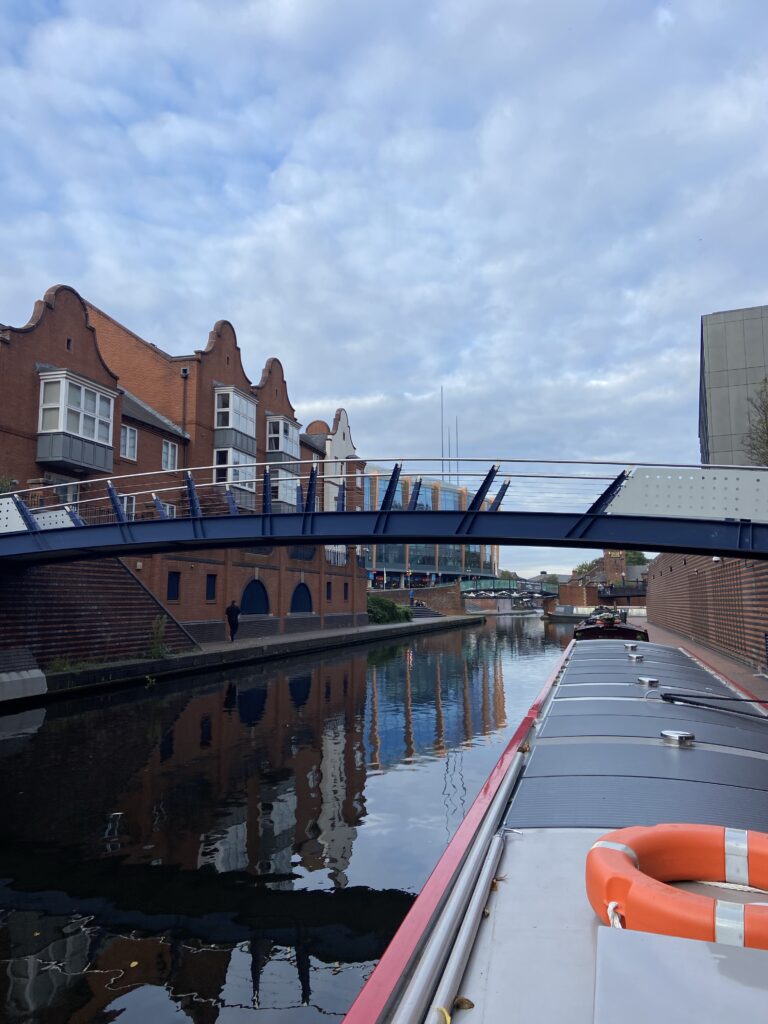 Erasure were playing at the Arena and it was a little noisy, but I think we all fell asleep quite easily. And we had been reassured by one of the night watchmen who have their HQ just above where we had moored, so we slept safe and sound. To be honest, we have never had any problems in Birmingham except a stolen boat pole. Annoying but not really the end of the world.
More about our Birmingham adventure in the next blog!