The final Leg of our River Avon cruise – Stratford to – well – Stratford!
We absolutely loved our very solitary night at the Old Bathing Place – which is rapidly becoming the New Bathing Place with the rise in "wild swimming" popularity. It was quiet and all we had for company – once the nearby car park closed – was a family of swans and some ducks. Bliss.
It had been interesting to watch the succession of people (walkers, pic-nicers etc.) visiting the ANT facilities area. I think they all thought it was a toilet, rather than a refuse/drinking water/sanitary station. We have a feeling that some of them actually used the toilet disposal point as a loo, which is pretty yucky We half expected them to come out and use the fresh water tap to rinse their mits. Eeeewww! No-one did, thank goodness.
We stayed put until lunchtime and then set off (30th May), bound for Bancroft Basin – hopefully. I say hopefully because there are a finite few moorings and it's first come first served. We made our approach to the lock, which takes you off the river and up into the basin. The lock was for us (i.e. it was empty and the gates were standing open ready to receive). Or so we thought. A lady on the lockside starting gesticulating and was obviously saying something but not in a voice that one might actually hear. I used my best "actor in a large un-miked Auditorium voice" and explained that we could not hear her and thus did not know what she required of us. By this time we were almost on top of the lock and within earshot of her delicate tones. She explained that she worked for the trip boat which plies its trade up down the river, based in the Basin. The lock was ready for them to enter although they were not actually in sight. She explained that they had a tight schedule and would we mind getting out of the way. The only place we could go at this point was just to the right on the wall, where there was a single bollard (and a no mooring sign for good measure.)
Paul leapt off with our centre rope (like a young gazelle!) and popped the stern rope on the bollard (passing it back to me) while he took the strain on the centre rope. We were now at right angle to the lock. The trip boat had by now appeared and went into the lock. Gosh – this is a long story! They went through (about 10 minutes in all) and then it was our turn to empty the lock and open the gates so we could lock up.
This involved Paul leaving me in sole charge of the boat. Which is fine, I'm a big girl and know my boat. There was however a massive crowd of gongoozlers on the bridge over the lock approach, so massive pressure to get my manouevre right. The manouevre involved reversing off the wall, past the entrance of the lock (without plowing into the fleet of rowing boats tethered behind me) and then turning into the lock and presenting my stern rope. I was pretty pleased with myself when it all went text-book perfectly – especially when someone said "You've done this before, haven't you"? I simpered internally and brushed it off with a breezy, tinkling laugh! They probably thought I was batty! Anyway.
Luckily there were two or three spaces in the basin and we were soon neatly moored, Paul was back at work and I did some baking. And people watching and chatting to passers-by – all nationalities – but a high percentage of Americans, presumably getting their Shakespeare fix.
After work we went for a stroll around town – like so many towns – a bit faded grandeur – they've lost a big BHS and also a Debenhams, which must have had some impact. It's full of the usual stores you'd expect in a touristy place plus a few independents. As we were nearing the end of our perambulation, we spotted a couple of Morris Dancers. We decided to follow them and await their performance.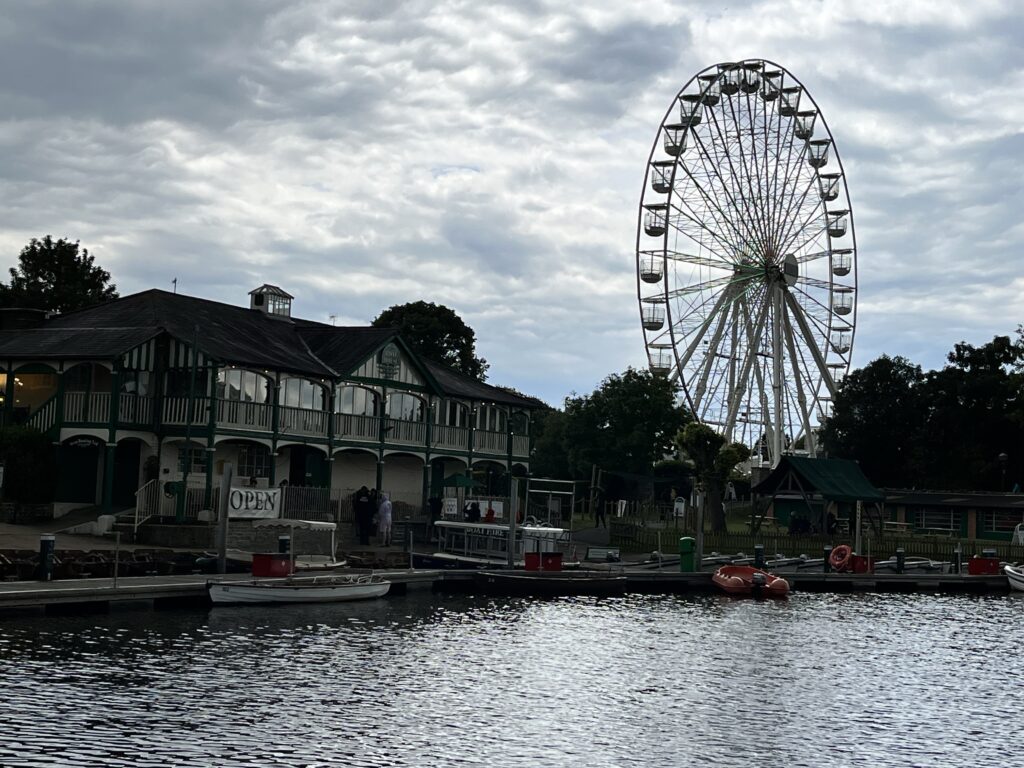 We heard a couple of American accents and deduced that they were probably ex-pats who had taken up this very, quaintly British pursuit. But no! They were a side (Morris speak for a team of dancers) from California, who were dancing their way through the Cotswolds. They were called "Hankies Gone Awry" and were exponents of the renowned Cotswold (style of) Morris, which has set dances named after the towns and villages from which they emanated. There are other styles, too, by the way, such as Border, North West etc It's a really great tradition and I love it.
The local side, Shakespeare Morris, who were hosting them, had an "Obby Oss" – or Hobby Horse. This is a chap dressed – quite loosely as you can see from the picture, dressed as a horse. It's his job to collect money from the onlookers. This made us squirm a bit, as we had come out with no small cash (as often seems to be the case these days). Paul had just been to the cash point but only had £20 notes. But – luckily – also a few low denomination greenbacks, left over from one of our pre-Covid trips Stateside. So they got a $5 tip from us, which caused great hilarity.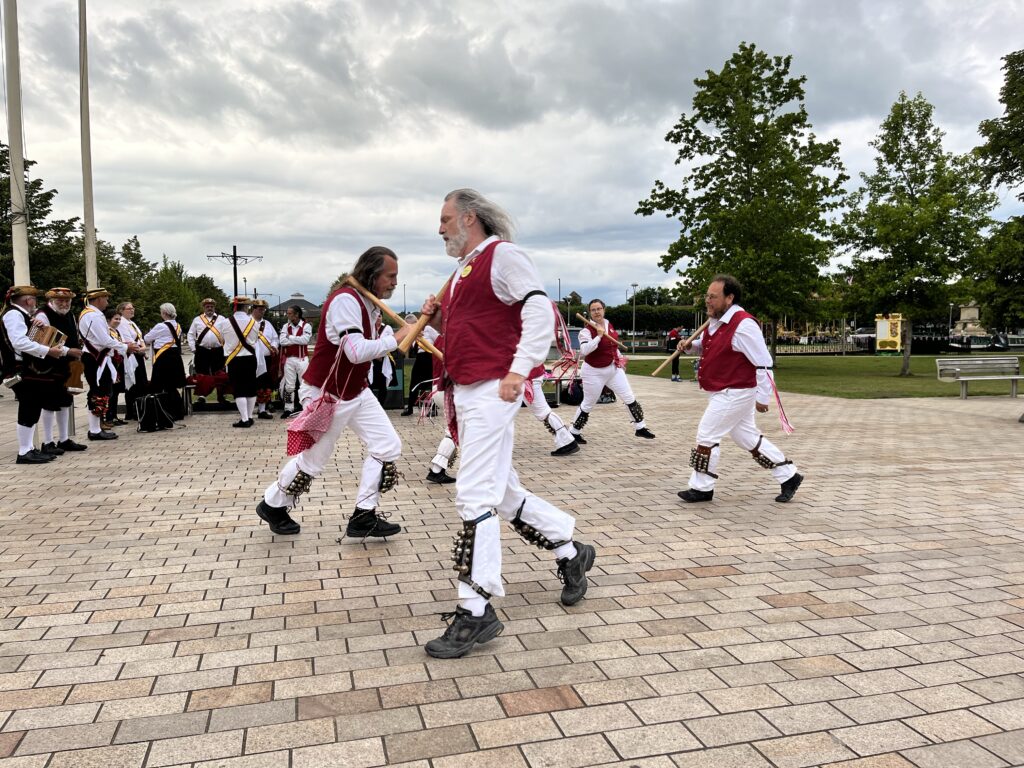 We spent a very quiet night in the basin, which had been very noisy indeed during the day. We had fully expected a disturbed night, but it was as quiet as a night out in the sticks, on the couple of occasions I woke up to turn over.
Once again we left it until lunchtime to leave and took our opportunity when we saw a boat coming up through the lock – less work for we work-shy fops! It was none other than our friend Mr Blaring Radio, whom we'd seen several times since the "incident" and with whom we were now on cordial nodding terms.
A throng of gongoozlers, as is usual, saw us bid a temporary adieu to Stratford (May 31st). We knew we'd be back within the week. We set off downriver towards the spanking new Shakespeare Marina. We had been instructed to speak to Debbie, the manager, who would tell us where we were to be berthed. She noticed us arriving (she's on a boat herself) and came over and gave us a very friendly welcome.
When we originally sought permission to stay, they were not able to offer us any facilities but – oh joy! – they now had power to several of the bollards and we were welcome to hook up. As luck would have it, it was bright sunshine (between the showers), so we did not avail ourselves of this power source until the sun had lost its strength for the day.
The Marina is BIG – with 250 flood-safe berths. It's going to,be lovely once it's finished, but there's not actually much here yet. Even the office building is not fully finished. It must be pretty frustrating for them and for their potential moorers – Covid strikes again. Tsk. Still – it'll be great when it opens. And there are plans for a pub and a hotel, too, but that's very much in the future, as I write. It's in a great location, just on the outskirts of Stratford and I reckon it will be very popular indeed.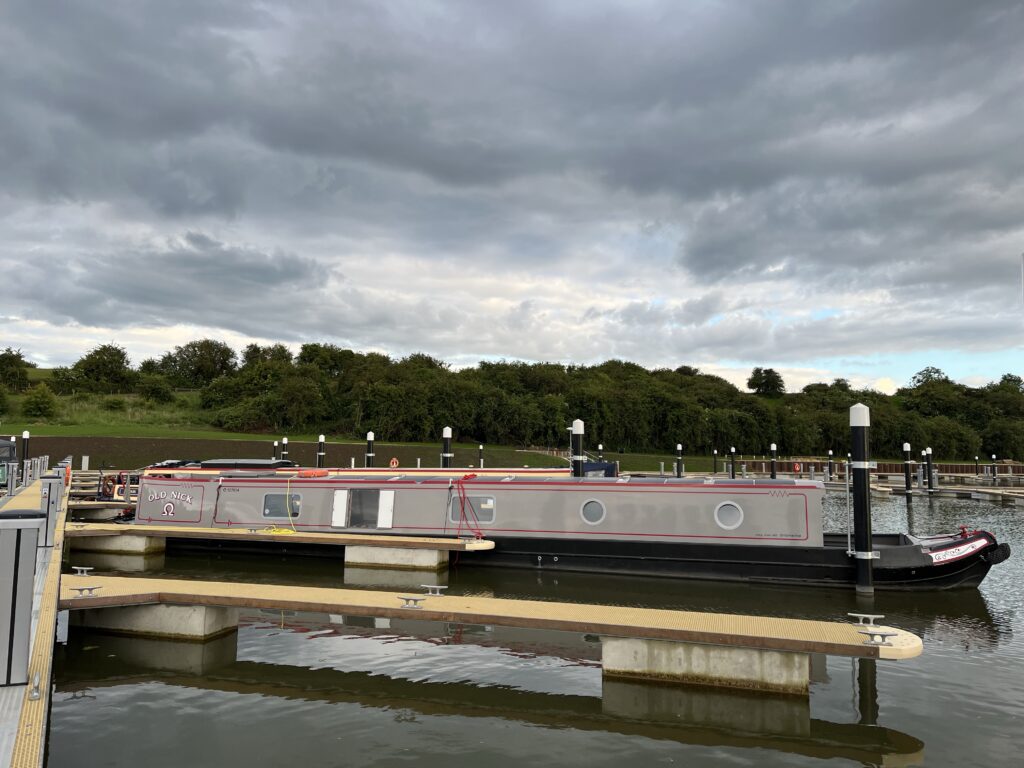 It was a bit windy, so the drone was complaining, but we managed to get a short bit of footage, which you can see here. It really shows off the delightful Warwickshire countryside in which it is set. Tyere is a little noise form the nearby road but that settles down at night and we had a very quiet night.
As we were expecting guests later on Wednesday (1st June – pinch/punch!) I set about cleaning, dusting, sprucing up the outside, making beds etc .until Old Nick was ready to receive boarders. They – Sue & Paul plus their dog Lulu – arrived late afternoon and we were delighted to see them. Their last visit had been in March – far too long! We caught up with all the news and then it was time to decorate Old Nick, ready for the forthcoming Platinum Jubilee celebrations. Sue and Paul had brought some of our parcels, which included something to assist with mounting the flags – a magnetic pole.
We stuck the pole midships and strung the flags out to the four corners of the roof, using strong magnets to affix them. It worked an absolute treat and we soon had our flags dancing on the breeze. Very pleasing. We also put up some bunting in the cabin, also very pleasing to my eye.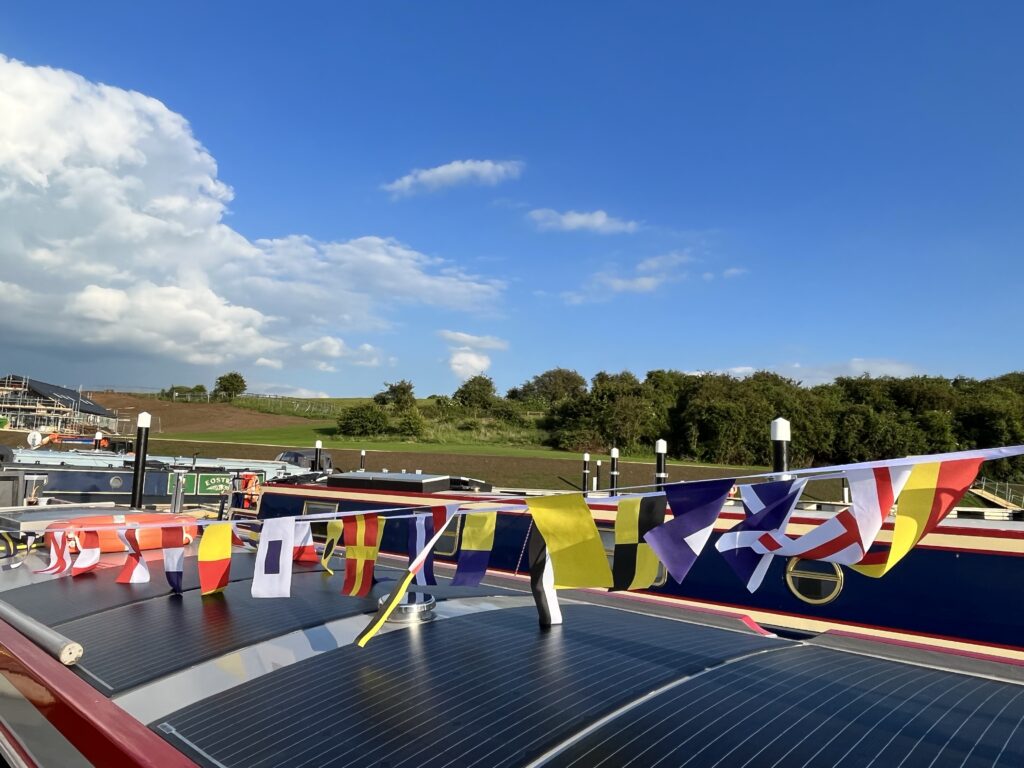 We took our time getting going on Thursday (2nd Jun) morning, leaving about 11 ish and heading back downstream, towards Evesham (but not all the way!) so that we could show Sue & Paul the delights of the Avon. We had lunch "on the hoof" and arrived above Barton lock, just outside Bidford, where we planned to moor for the night. We had spotted it on the way up river and thought it might make a pleasant overnight spot.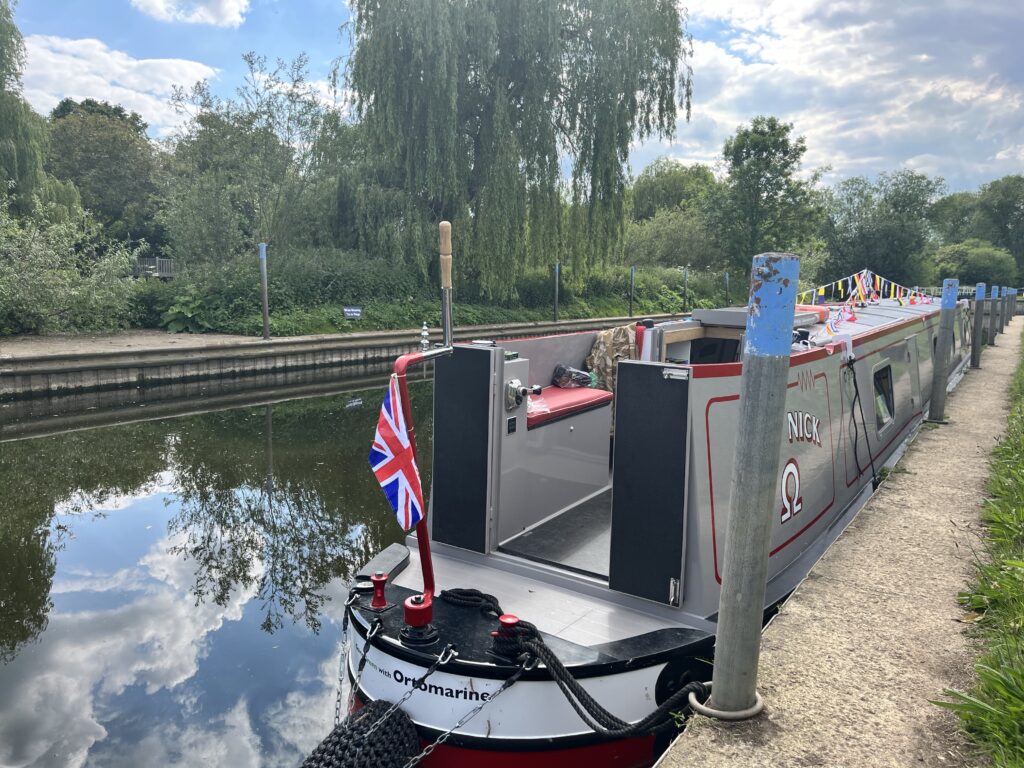 There was an Air Show – the Midlands Air Festival – at nearby Ragley Hall – and we hoped to see some of the action from our mooring. We were not disappointed. We had our first (of three!) display by the amazing Red Arrows, which is always a thrill. And they had a very busy weekend coming up, with the Jubilee Celebrations in London and other events. We saw other jets and aircraft (including a couple of Vampires) but were looking forward to the Mass Air Balloon ascent. We had a good vantage point but could only actually see 6 or 7 balloons, which we all agreed was hardly a mass! And then we saw the rest – we reckon about 50 balloons in total. A real awesome sight. Almost as good as those in McCartney's "Rupert and the Frog Chorus" video!
There was also a display by Pyrotechnic Aircraft which we could see, but not well enough from the distance. It must have been pretty beautiful close up. And we waited up for the grand finale firework display. This turned out to be a bit of a disappointment. It was either cancelled or not very grand as we could not detect any firework action whatsoever. Still we'd seen a fair bit for free, so mustn't grumble!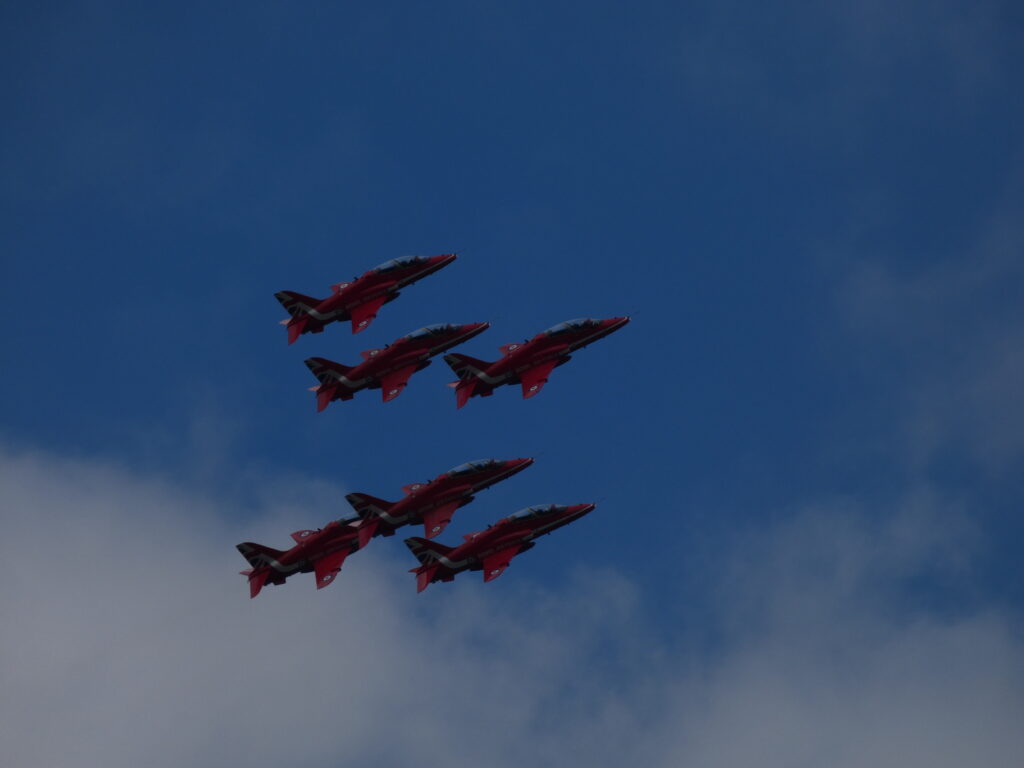 Friday (3rd Jun) saw us pottering down to Bidford on Avon, where we took on a few more supplies – mainly alcohol! We were quite alarmed to see a couple of divers in the river. I say alarmed because, once they were in the water, you had no idea where there were, until they exhaled. They were not using Surface Marker Buoys, which I had always thought were mandatory. If they are not a requirement on UK rivers, then it would have been prudent to use them on such a busy river with inexperienced crews.
One of them submerged right in front of the boat and we could not see him. We took the boat out of gear so that, if we did happen to cross paths, the diver would not be chopped up by the prop. It was disconcerting and they seemed utterly oblivious to boats. And, indeed, safety.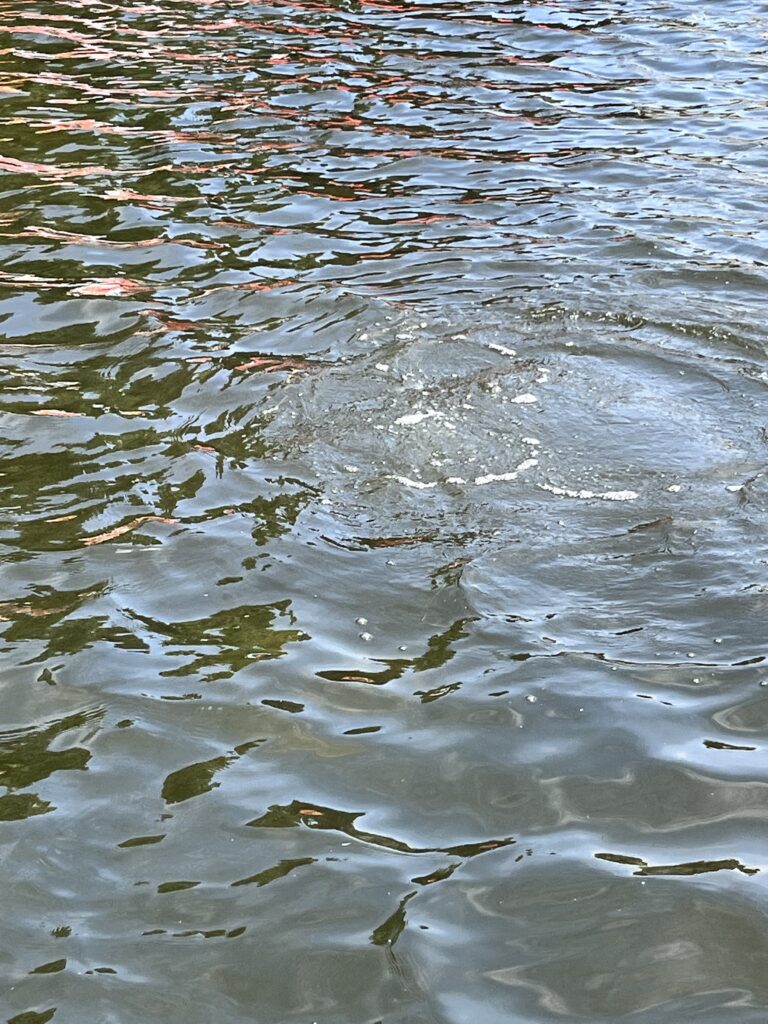 As we made our way along to our planned night spot at Offenham, we were treated to more aerial displays, including the Red Arrows again. Indeed, they flew right over us, which was quite thrilling!
We had hoped the weather conditions would be OK for a bit of drone flying but – as was the case most of the weekend, a stiff breeze was blowing so that was ruled out. It was a nice area for the dogs to run around and we had a pleasant, lazy afternoon. And then we decided to have a few drinks.
In our youth, we had been quite the drinkers but it had been a while. We had a couple of Tropical Fruit cocktails and a cider or two and were ready for bed at 9 pm!. The drink had been fun but had soon had a soporific effect. This pretty much confirmed that we don't have the stamina for a good sesh any more!!
Saturday (4th Jun) was very grey and overcast – even I resorted to long trousers and a coat! And it was mizzly – not enough to totally wet you but enough to lightly dampen everything. But our spirits were soon cheered by our third and final display by the sublime Red Arrows. What a treat.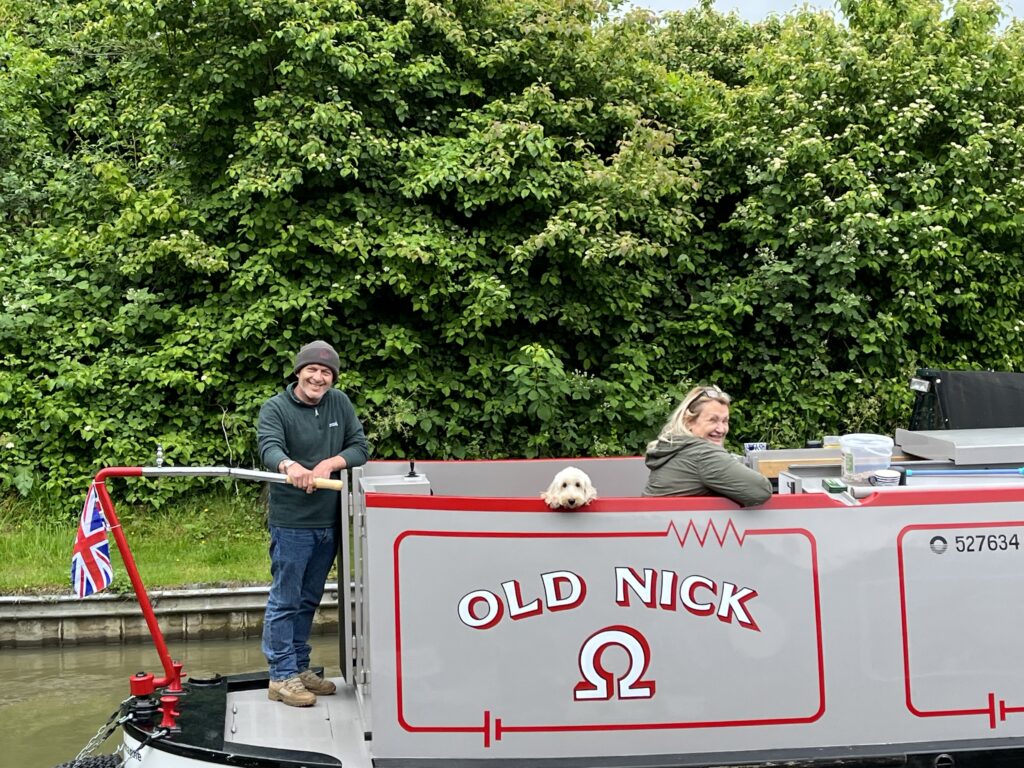 The sun finally came out at around 3pm and it was a gorgeous late afternoon and evening, which we spent in the peace (apart from the white noise provided by the weir) and beautiful Warwickshire countryside surrounding Welford lock. It was even nice enough for us to have dinner out on deck.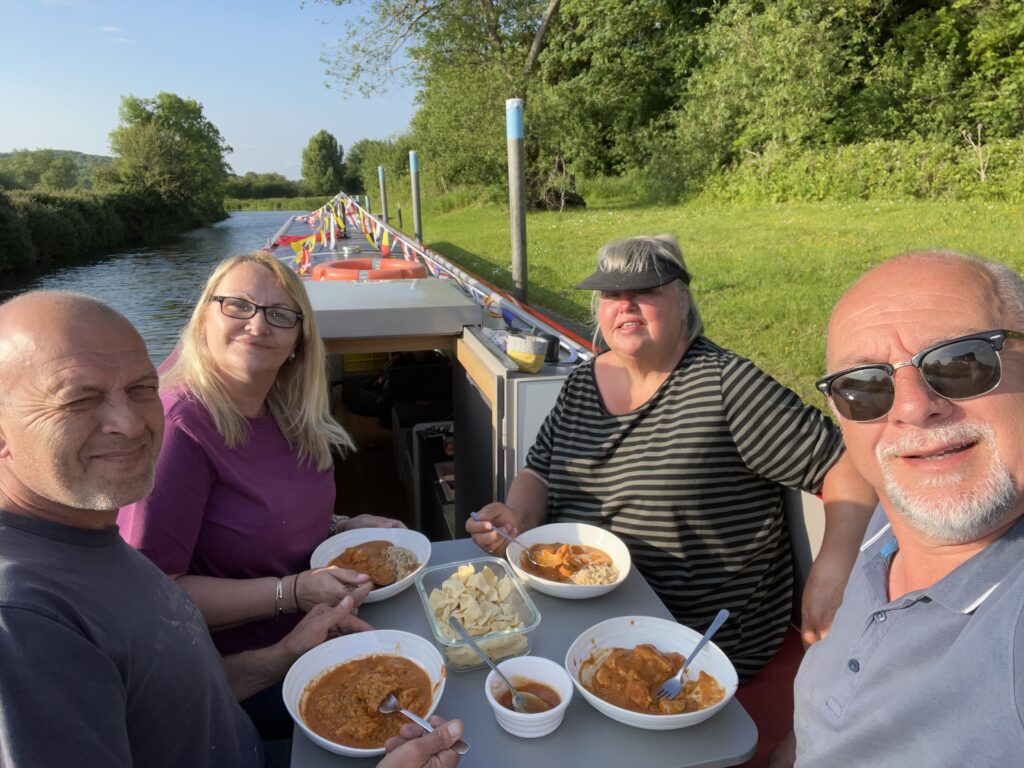 Sunday (5th Jun) was again grey and there had been rain overnight. The once jaunty flags were depressingly flaccid. It was coat and longs weather again, sadly. We had been rudely awakened by being literally slammed into the bank by a boat leaving the lock. It was quite a shocking wake up call! And when we got up we saw that, not only had they sped out of the lock like Bluebird, they had also left all the paddles open. Really annoying and lazy.
Little did we know that our troubles had just started! As we arrived at Luddington lock, a cabin cruiser appeared, almost from nowhere, behind us. The skipper made no attempt to secure his boat or set down any crew. It appeared that he was quite happy for us to do all the work. Once the lock started emptying he was thrown all over the place and into our boat several times. Paul had already suggested he go on the lock landing on the opposite side to us., but he was having none of it. Even when I rather waspishly suggested he back right away from out boat. That produced jeers and laughter and I began to suspect the pair of them were both drunk. Great.
Once the lock was ready they attempted to enter first and I was moved to asked them to desist, in no uncertain terms. Custom dictates that the first to arrive at the lock enters first and leaves first. When it's a case of steel versus GRP that is even more important. Although I was quite happy to use his boat as a fender if that was what he wanted!
The boat was covered in greenery and we suspected that there had been more than one incident involving trees. Once in the lock, they again made no attempt to secure the boat. Now the Avon locks, when locking up, are quite fierce and there are notices advising you to rope up fore and aft, which we had done. Once the paddles opened to fill the lock, he once again started bouncing around, perilously close to our windows with his bowsprit. I was by now now pretty livid.
I once again suggested that he rope up, as advised by the ANT, and he told me (slurred) he was no way going to be using ropes. I asked him if, by chance, this was his first lock. He replied by asking if we were hire boaters. I told him we weren't and he told me that was good because that all hire boaters were c***s. Charming!
Our boys opened the lock gates and they simply could not wait to be off. Rude! But it suited us to see the back of them. Sadly he had not allowed for the bridge over the lock being quite low and – to my amusement – nearly ripped off his windscreen and pram cover. I could not help but snigger even though I felt guilty for doing so. But they went off at top speed like the jerks they clearly were. We were horrified. All the poor waterfowl still on nests stood no chance against their massive bow wave. In literature, they might have been called Yahoos. I had a better word for them. In fact quite a few!
We met some hire boaters at the next lock who had also fallen foul of them and did not have a good word to say about them. They had, of course. left the paddles up on this lock and we hoped never to see them again – although were pretty sure we would as they were too wide to lock up into the basin at Stratford.
We pulled over after the lock as we wanted to watch a spot of telly. My brother, Bruce, was taking part in the Jubilee Pageant in the Mall. He was stage-managing and leading the motorcycle section of the procession. What an honour. I was very proud. Sadly the coverage of the motorcycles was pretty minimal and we did not actually see him. Luckily my niece, Evie was there and had caught the moment for posterity on her phone.
We resumed cruising after that short break and arrived in Stratford, where there were Jubilee events running but very few people in attendance. The weather had clearly put them off. We passed our "bêtes noires" moored on the bank in the park and pointedly ignored them. The lockup into the basin was against us, so I dropped the boys and the dogs off on the bank opposite the lock and then made my way through when it was ready. Even the gongoozlers were fewer in number today!
We moored by the carousel and the music from it was a bit trying but it stopped early evening and they started breaking it down. We were delighted to see that the RSC building was lit up in patriotic colurs for the Jubilee.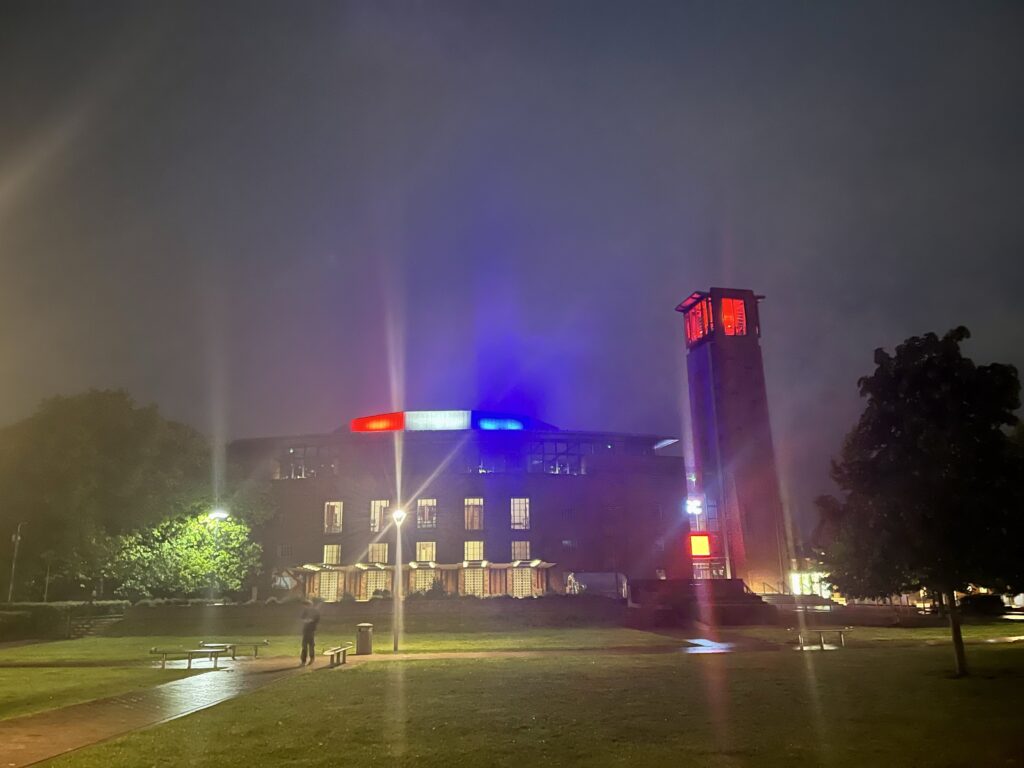 I was very sad to be saying goodbye to the Avon. We had a wonderful and unforgettable month on it and will very definitely be back sometime. But the canals and Birmingham are next on our agenda, so no looking back to be done. Onwards and upwards – literally as there are 34 locks on the South Stratford Canal! But more of that next time.