Continuing our journey along the Birmingham & Fazeley canal
This post title reminds me of Friday evenings and Jack Hargreaves – the original theme tune. Anyone?
Actually it's only Monday – the last week of June. Where is this summer going? It needs to slow down, that's for sure.
We went absolutely nowhere today – a day of rest after our exertions yesterday, although, actually, we both enjoyed ourselves and are surprisingly un-achey, which is a minor miracle as the winding gear on some of those locks were absolute brutes! But the main reason we stayed put was because we had to take poor old Ted to the vet. He had a tiny cut on his pad. We thought it was a split and have been bathing it and applying that magic and universal panacea, Sudocrem. His limp had, however worsened and we suspected he may actually have something in the wound.
As it turned out, the vet at Pype Hayes Veterinary practice agreed, but needed either to sedate him to examine him properly or – if that failed – fully anaesthetise him, so he would have to go back the next day. We have discovered that Uber have an "Uber Pet" service, which is cars that are happy to take pets. Very handy in situations such as ours. The vet thought my improvised dressing – a sock and some gaffer tape – was a very good idea.
While we were there, we were visited by a very pretty Tufted Duck female and her cute family of 3 ducklings. It's an attractive duck with dark brown feathers and a golden eye. A male was there with her, briefly, but flew off and was never seen again. Typical! I only noticed she was there because of her unusual cry – described in one article I read as "karr" – but I'd describe it as "duck with a sore throat"! You can judge for your self here!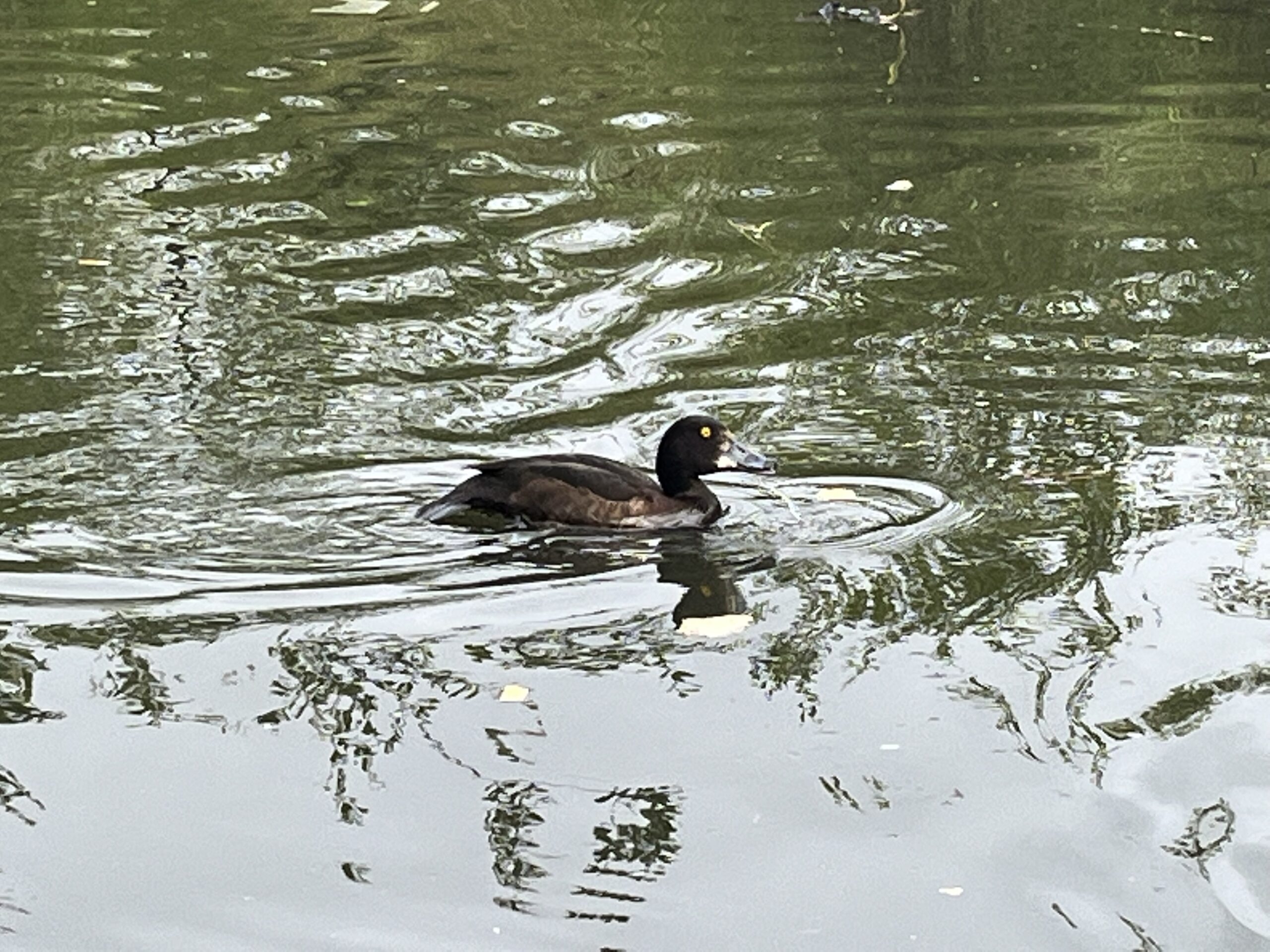 We dropped Ted off on Tuesday morning (28th June) at 08:00 and were instructed to call back between 12 and 1. We were lucky – they managed to examine Ted whilst sedated and found three bits of very sharp grit. We were allowed to pick him up at 14:30 and we were all – especially Bill – very pleased to see him back in the bosom of his family. He was a bit groggy still, but ravenous!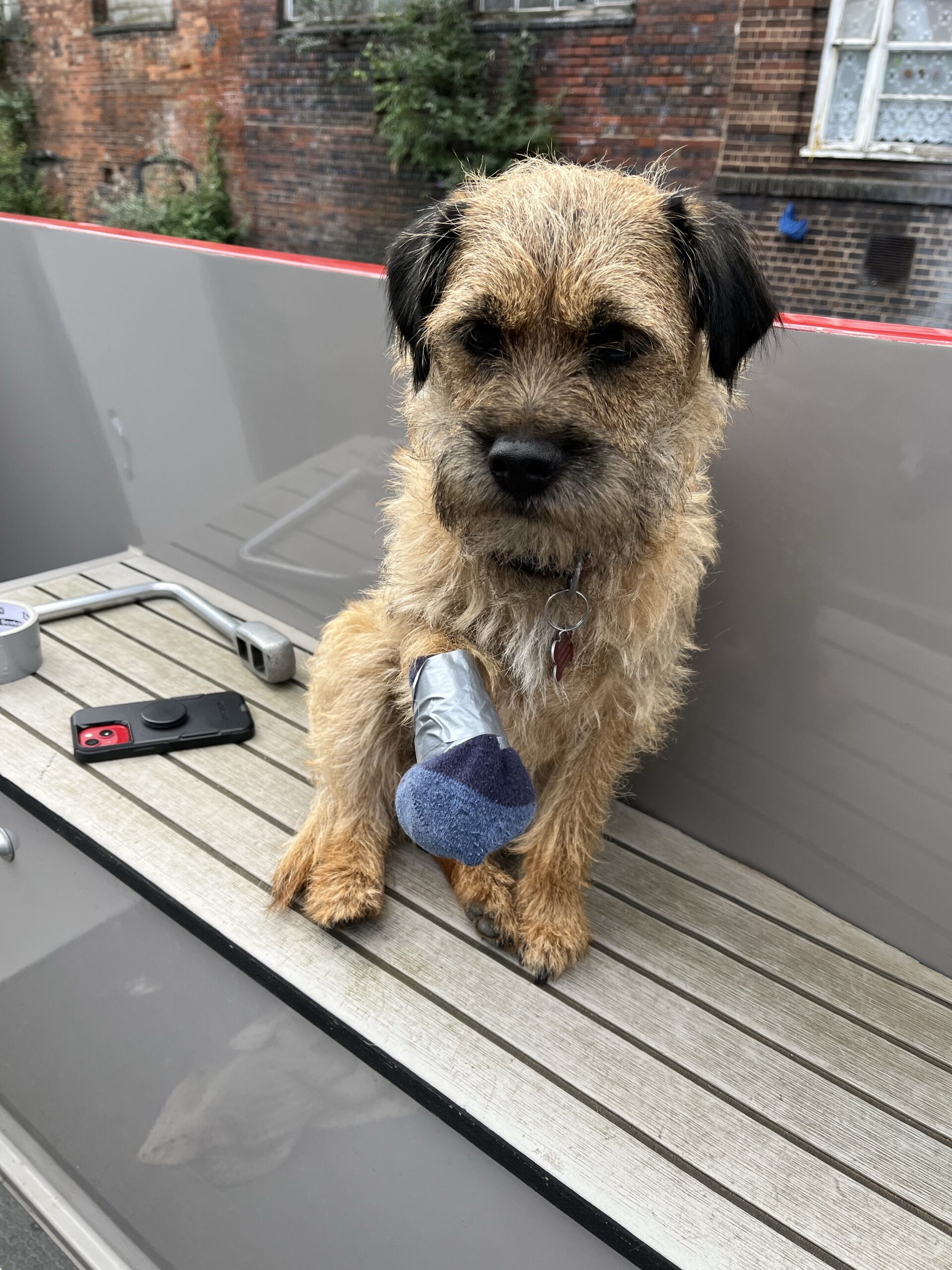 While he was away, I had taken advantage of the breezy dry weather and done some washing, so we stayed put for the rest of the day, to allow it to dry. The tufted duck and her brood have become frequent visitors – they even asked if they could get a loyalty card! But it's a joy to feed them all and I shall miss them when we leave.
And leave we did on Wednesday (29th) – at an early hour, too. I forgot to look at my watch but I did notice that it was 7:20 when we came out of the first lock in the Curdworth flight and we'd travelled for a while to actually get to the lock, too. The Curdworth flight leads you, lock by lock, to increasingly rural scenes. And, sadly, signs of HS2 encroaching upon said countryside.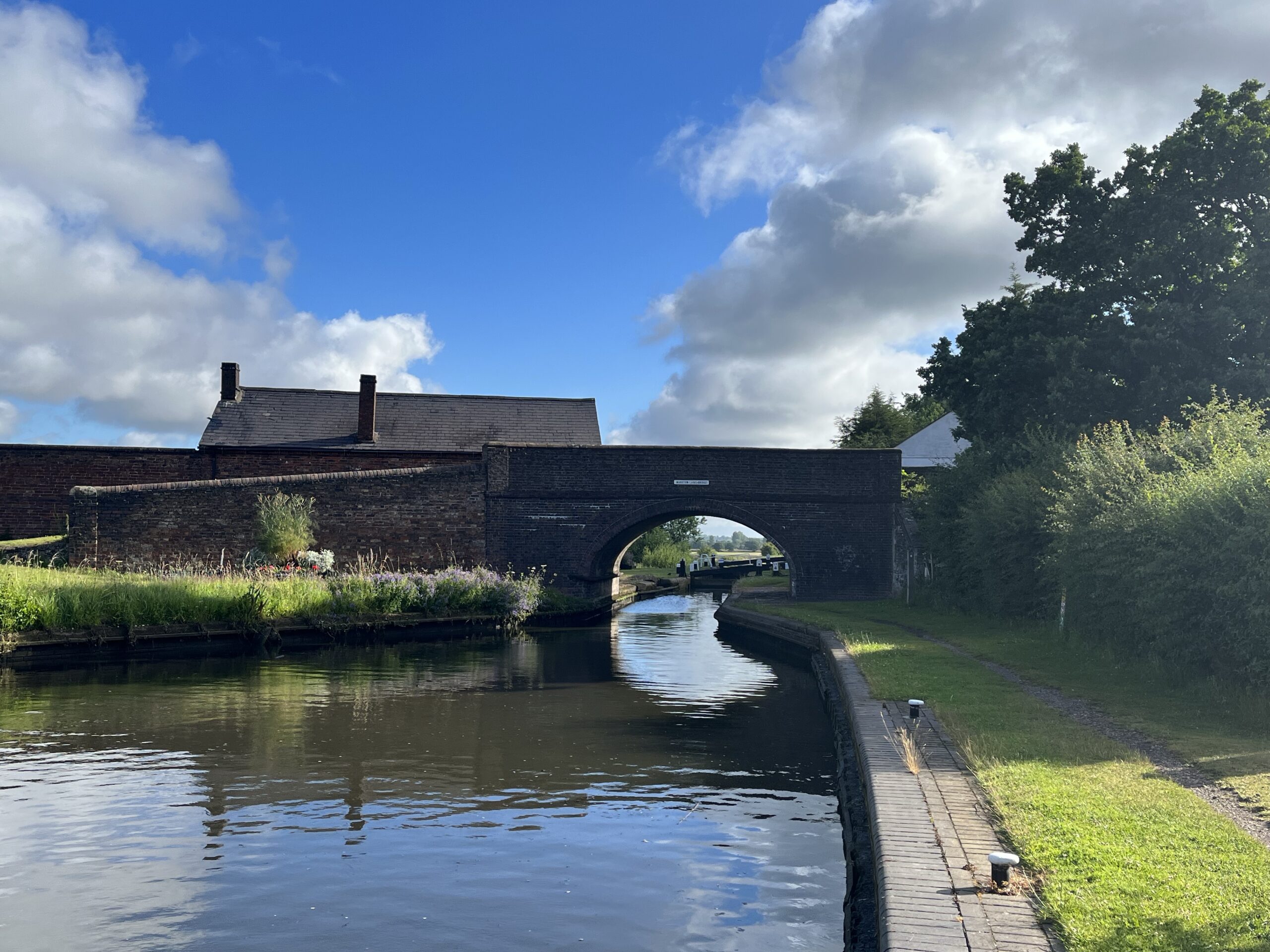 We were only planning to do 8 of the locks in the flight of 11, which is beautifully kept, although had several very low pounds. We stopped at The Dog and Doublet at Bodymoor Heath, where Paul would do his day's work and we'd have dinner that evening. I'm sad to report that many of the things we might have chosen were "off" the menu that evening. We compromised, but the meal was not the best. Hopefully just an "off" night? It filled a hole, though.
We were up at 7 (30th June) , but sadly so was everyone esle, it seemed. Our new friend, the singer and vlogger "Lumpy" Paul Lumsden (of Narrowboat Natterings) who was on the boat in front of us in David's video from the Boat Parade, had just beaten us to it. By seconds. There was also a hire boat on the move from the opposite direction, who would take the lock that Paul L had just emptied, so we'd be third through the lock. But it was a beautiful morning so all good. After the first lock we nipped in to the handy water point and quickly chucked in 150l water to see us through to the weekend. When we arrived at the second lock, Paul L had gone on, but had very kindly started re-filling the lock so that we could go down too. We then proceeded through the 3rd and final lock and started to look out for somewhere to moor.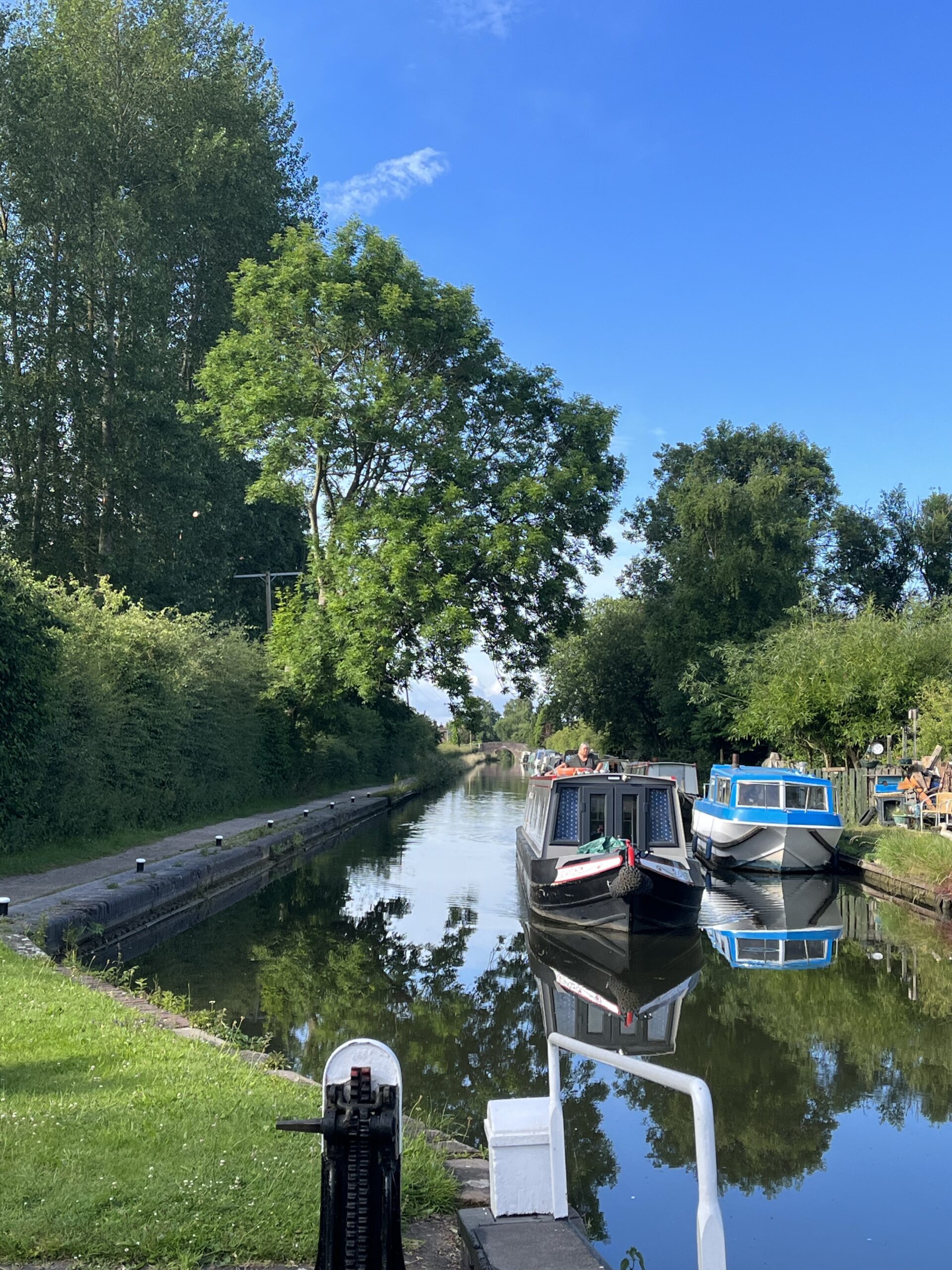 I've been meaning to mention the signs of wear and tear that you see on bridges and locks. They are caused by ropes from the tow horses and every time I see them, they kind of blow my mind. Conscious that the ropes were wearing down the bricks, canal folk of old applied cast iron "rubbing strakes" and those, too, got worn away! Imagine how long it would take to do that with a piece of rope. It gives you an idea of the sheer number of boats that used the locks, back in the day.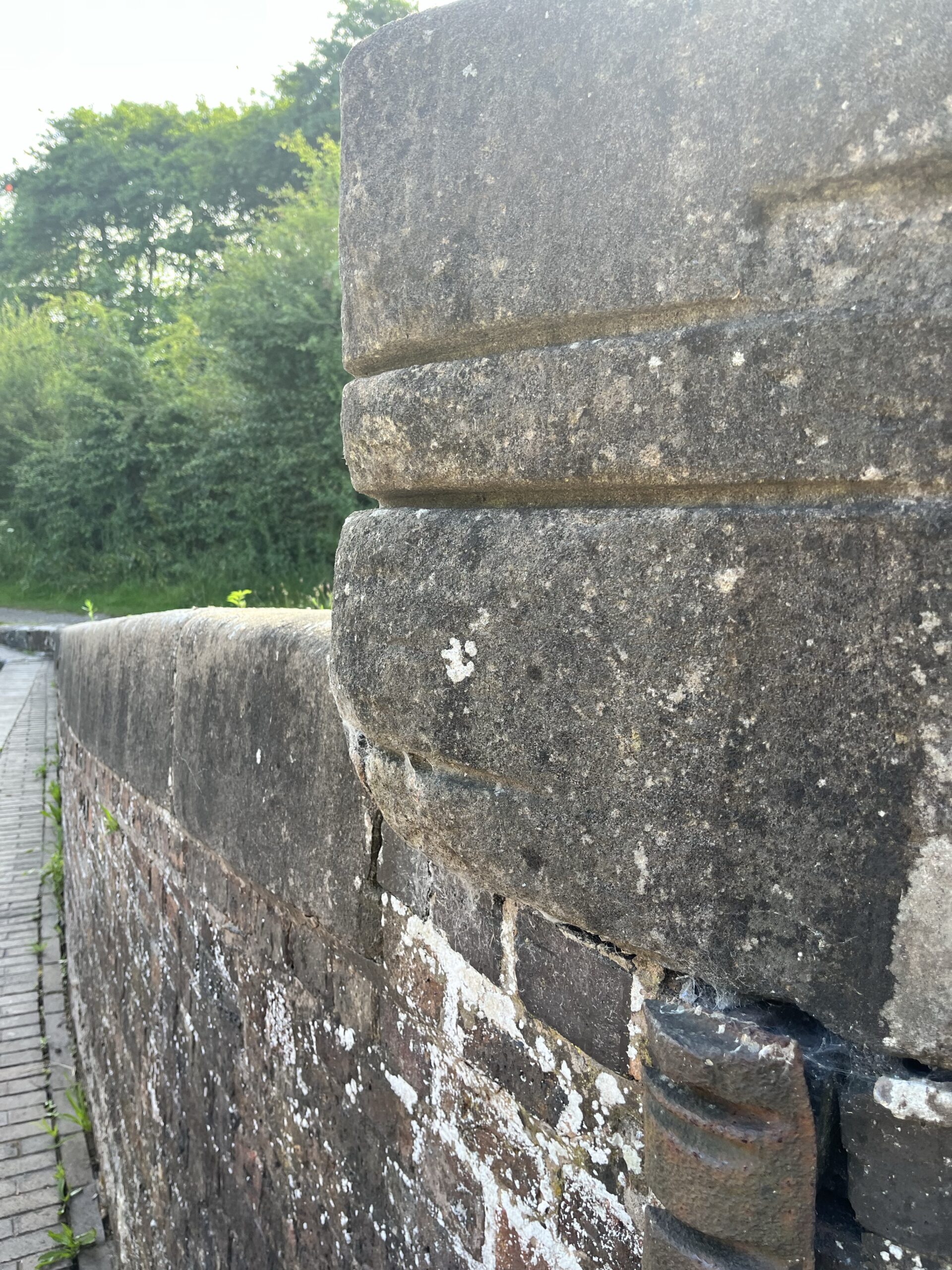 I've also mentioned us using a "winding hole" – a place where you turn the boat round. Canals are generally too narrow for boats to turn, so they put an indentation (see pic above) in the banks for that specific purpose. They are often located just before (or after) a flight of locks. And don't forget it's pronounced as in blowing rather than in the bobbin action, if you want to sound knowledgeable about canals.
Our aim was to moor somewhere out in the country, near the gravel pits, which have been turned into a nature reserve, and where it looked as if it would be very quiet. We found the perfect spot on the aqueduct, with good solar, and pulled over for the day. It was every bit as peaceful as we had hoped. No road roar, no train noise, just birdsong and the sussuration of the trees, ruffled by the breeze. Blissful.
Once Paul had finished work, we set out on our bikes for a trip to nearby Middleton Hall, which is surrounded by wetlands and lakes. It was first mentioned in the Domesday Book and has been much altered over its 1,000 year history. It's a real mish-mash of styles and also has a Tudor barn complex, known as The Courtyard, which is now a craft centre and tea shop. Apparently Queen Elizabeth stayed there in 1575. Of course, it was all closed or closing by the time we rocked up but it looks like an interesting place to visit, with apparently beautiful gardens. Maybe when Paul has retired? If I'm still vertical!!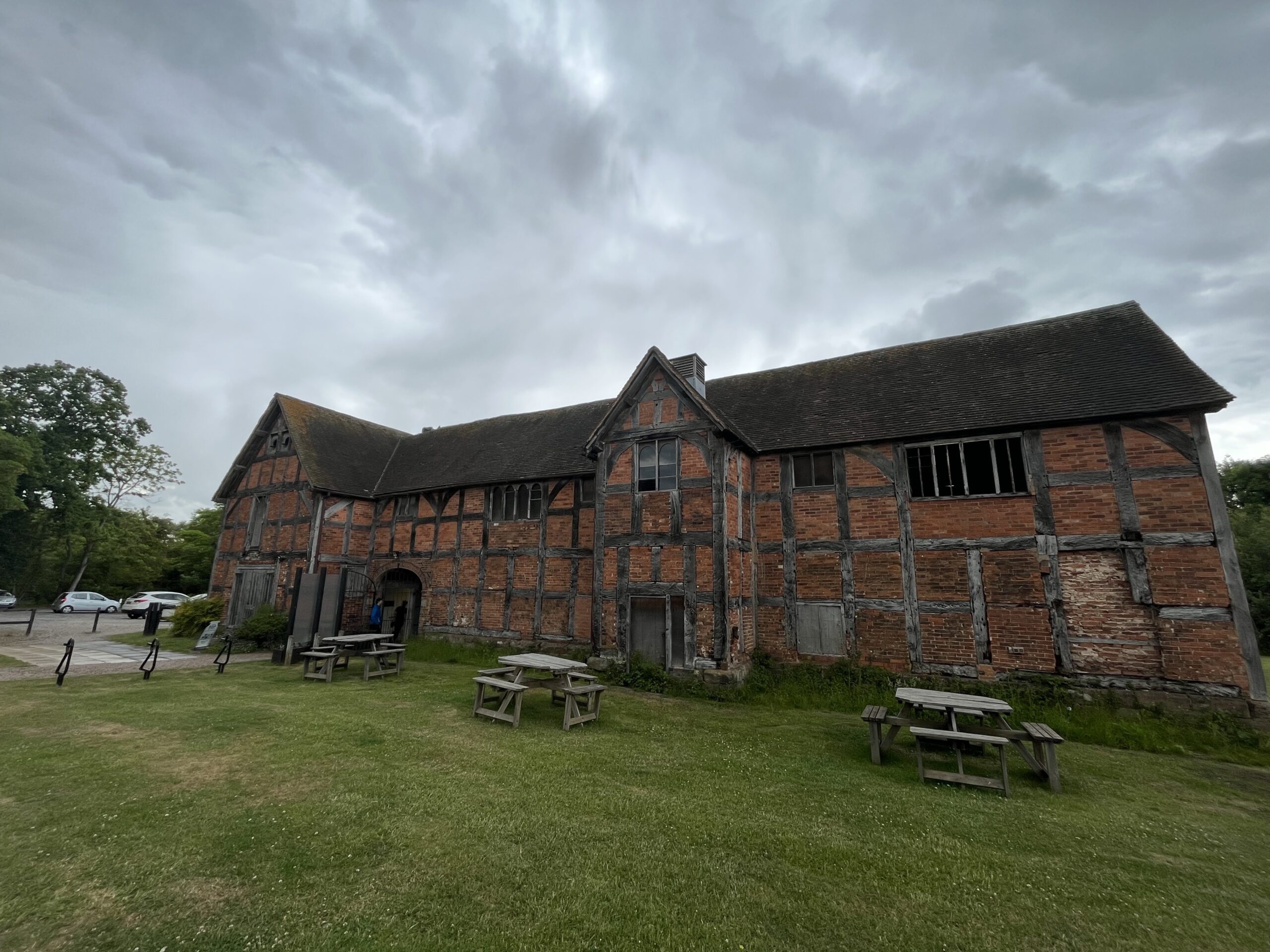 After that, we cycled back to the canal and then round the wetlands and lakes, a nature reserve which is a wondrous habitat for much wildlife, including some otters, and many plants, including the delightful wild Sweet Pea.
Interestingly, we are still accompanied by the River Tame, now a pretty big river compared to the trickle running alongside the Tame Valley canal. Of course, nearby Tamworth takes its name from the river. The river name is shared with the River Tame, Greater Manchester, and it is thought likely that the River Thame, the River Thames, the River Teme, the River Team, and the River Tamar all share the derivation.
By the way – the boys were in the backpacks for much of our ride- just in case – as we wanted to protect the wildlife. We got a bit wet, as it started raining just as we set off, but I would not have missed it. Ted had a plastic bag over his bandage to keep it dry. The bandage will come off on Friday morning.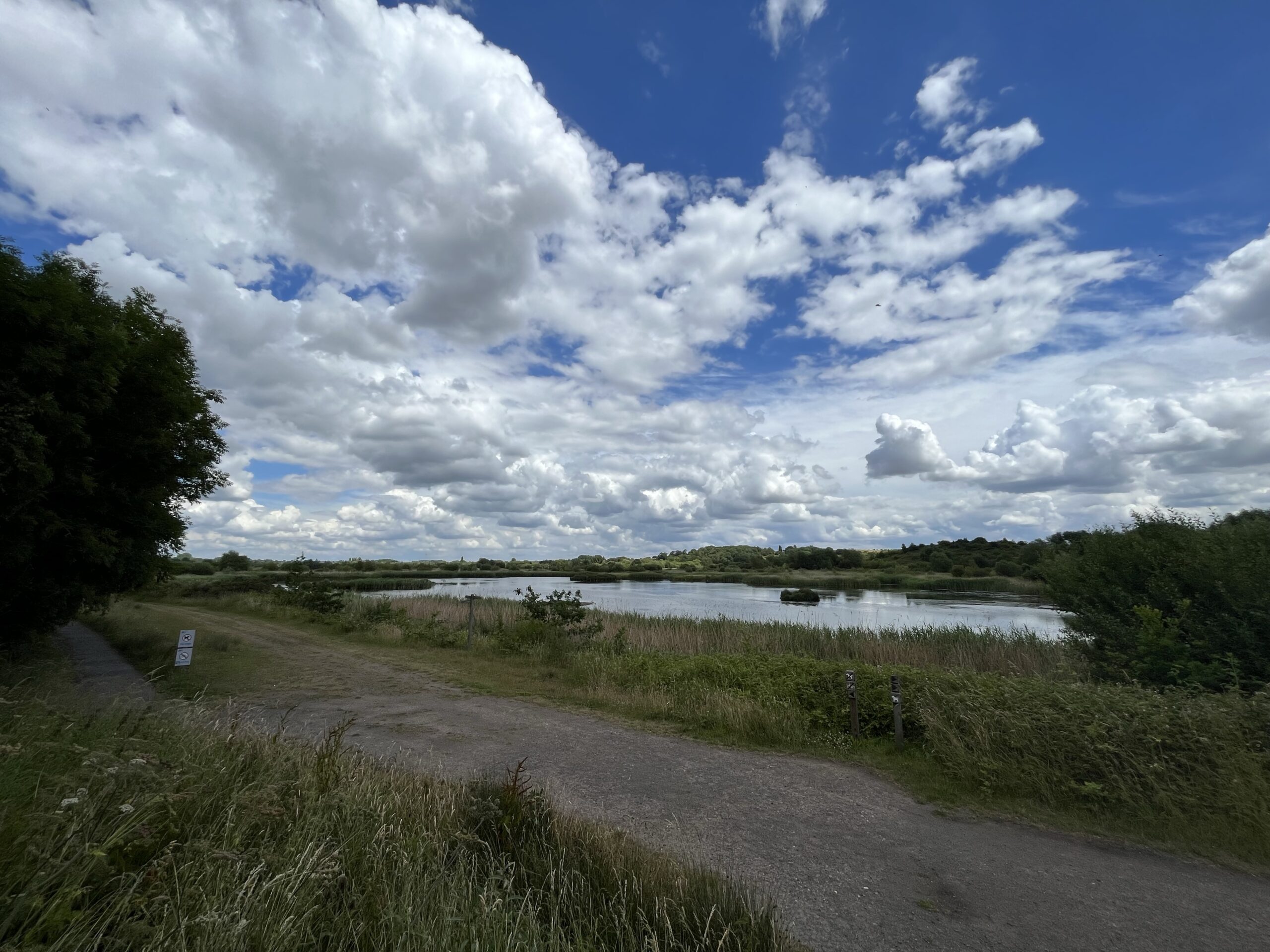 It was just a short hop to our Friday (1st July) mooring, where we would be meeting our "Frequent Flyer" friends, the Robertsons – Anne and Gray. This was a somewhat impromptu trip. Anne had said last time they came, "Give us a shout if you go through Fazeley and we'll pop up". I took her at her word – we had a rare guest-free weekend so why not? It was all arranged very quickly and we booked a couple of nights at Fazeley Mill Marina, which would give us a chance to get a full charge and also a handy place for them to leave their car.
Our journey took us under the Drayton Turret footbridge, which is something of a canal icon. It was built in the early 19th century and in 2015, was the subject of £54k restoration project.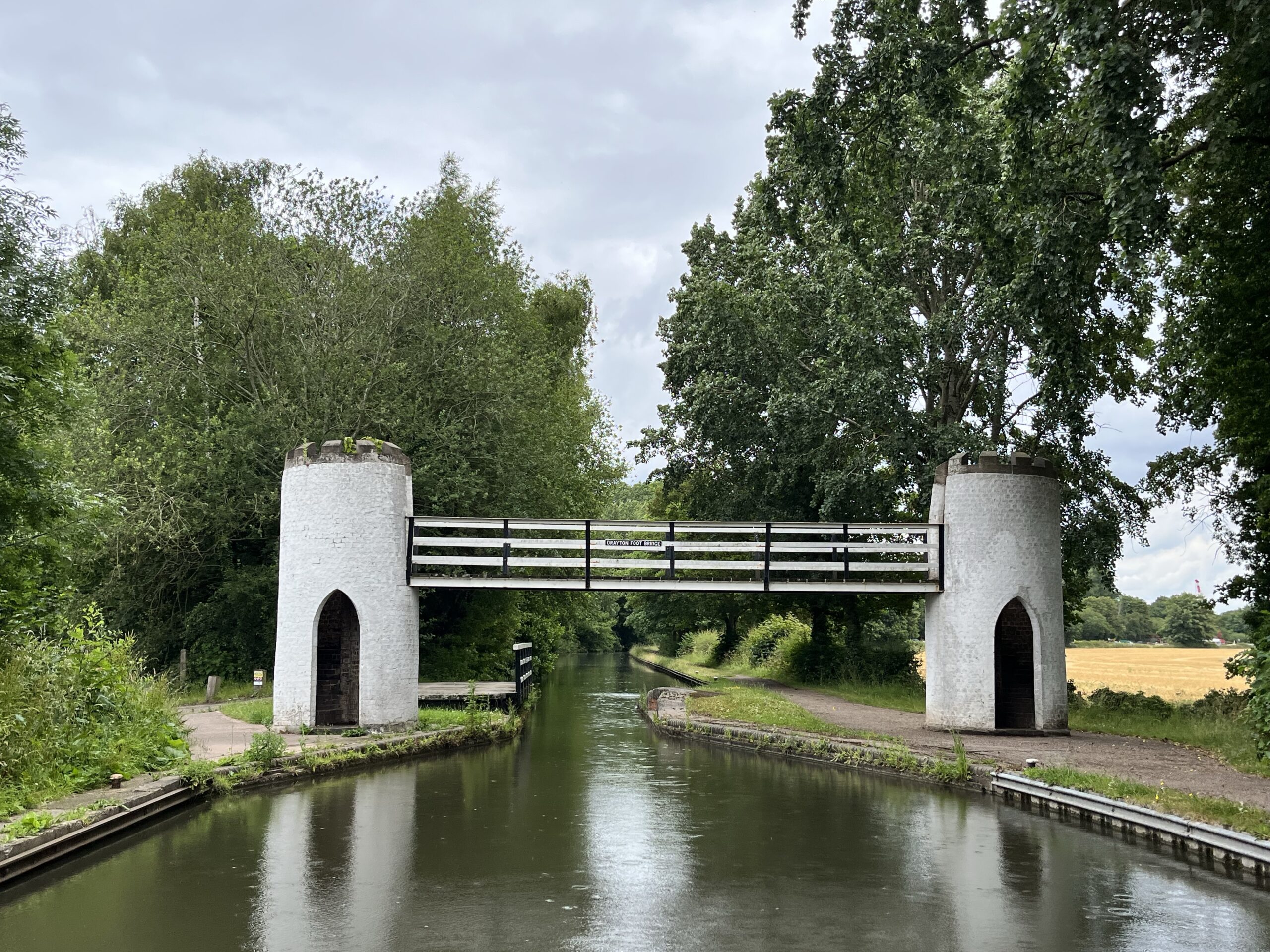 We arrived at about 1:30 and were given a key, a code and shown where to moor. We hooked up, put the water on to heat and I set about cleaning the boat and changing beds and stuff. After work we both finished off the odd jobs, took delivery of our comestibles for the weekend and showered. No cooking tonight. Fish and chips from the renowned Fazeley Fish Bar.
Our guests arrived, unpacked and had a quick catch-up and then despatched our hunter gatherers for our supper. Faggots, chips and Mushy Peas for me. What a treat – although way too much to eat. I wasted 2/3, I swear! After supper, we yakked until bedtime and then took to our repose.
We left the Marina after breakfast and set out towards Fradley, past Anne's Junior School and also her Sunday school. Passing Tolson's Mill, built to manufacture "narrow fabric" – such as webbing and tapes – including the famous "red tape", used to tie up legal documents.
There is a canal T-junction at Fazeley – to the left takes you towards Fradley and to the right takes you towards Coventry and the South. This is the Coventry Canal.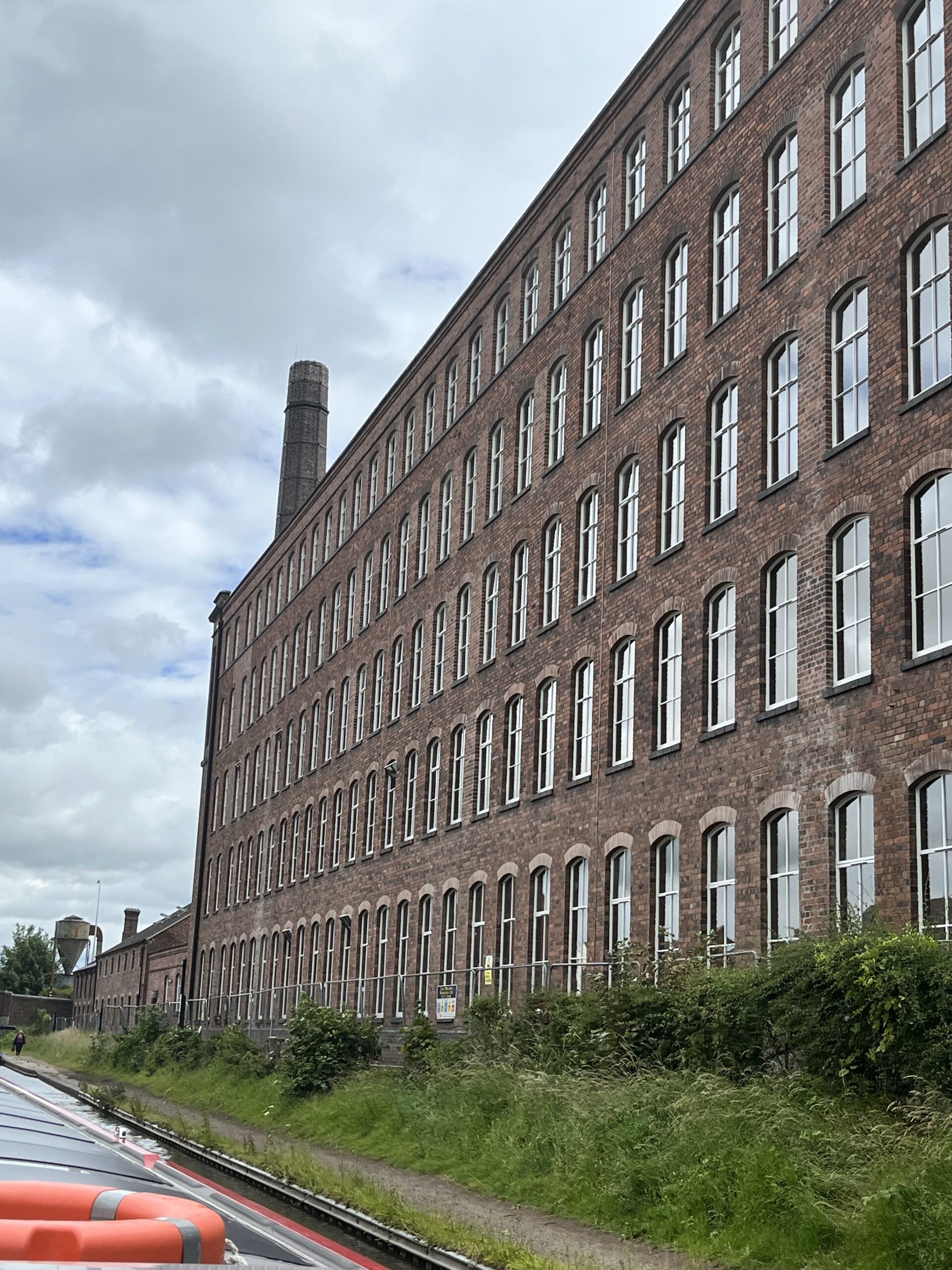 We had rather a lot of weather. When the sun shone it was scorchio. When it rained it was monsoon-like. One shower was so heavy it was bouncing off the deck. Poor Gray was at the helm at that point, but luckily we now have what is known as "George's Umbrella" – a massive canopy that easily shelters three people. Perfect for steering in wet weather. It was his birthday present to Paul.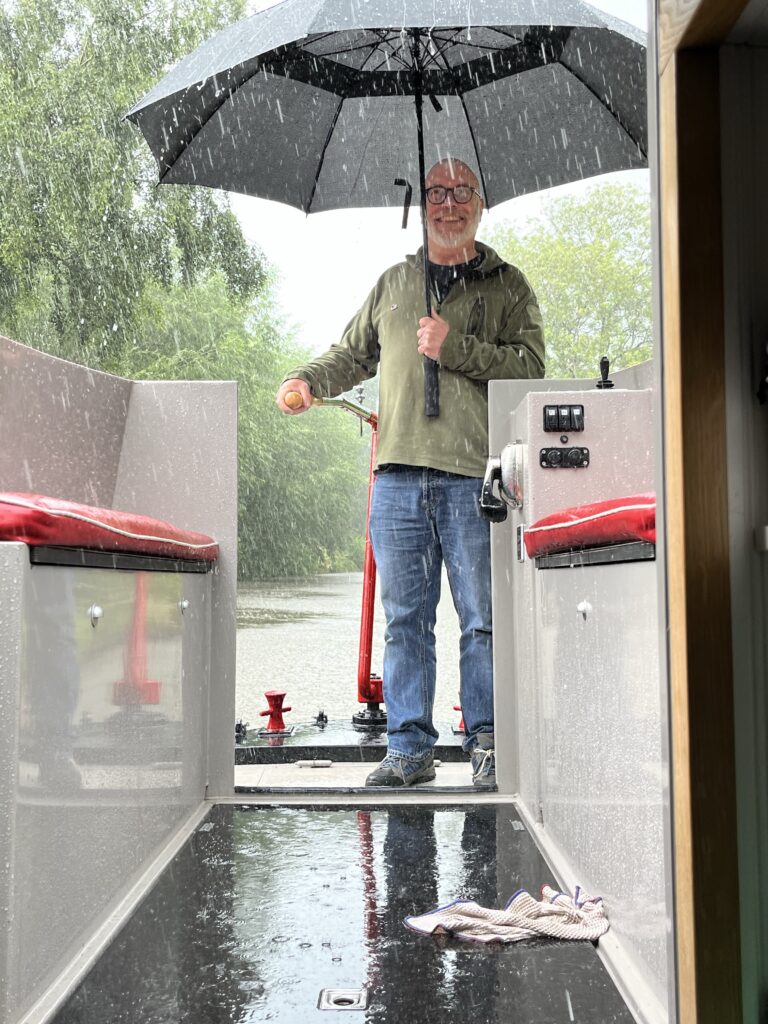 We winded at Huddlesford Junction – where the Coventry Canal used to join up with the Wyrley and Essington Canal. As we retraced our steps, we could hear loud music for some miles. It was the Hopwas Beer festival – a three day extravaganza it seems – and very well attended by the look of it.
I should mention that after making an apparently complete recovery, Ted suddenly started limping again. Same paw, but not all the time. We'll have to keep an eye on him and will find a vet if we need to.
We cruised on and eventually found a a mooring that ticked our very exacting boxes and moored for the night. It was a very sunny evening and we broke out the Pimm's Sundowners – delicious but – seemingly – very intoxicating. The recipe is 1 part Pimms Raspberry and Redcurrant Sundown Mix,1 part Prosecco and top up with soda water. Add a few raspberries and imbibe. Reader, I was very quickly quite squiffy. I am not a regular drinker and have become what I believe is called "a cheap date". Most amusing – although I was also trying to cook the dinner. That I completed the meal is a minor miracle!
I soon sobered up enough to play several rounds of Cribbage – Paul and Anne v Gray and me. I can't recall who won, but it was a very close run thing!
The weather for Sunday was quite reasonable – no rain. After bacon rolls, we set off back to Fazeley and this time, towards Coventry. The towpath here was much used by Anne in her youth and was very much a cruise down memory lane for her.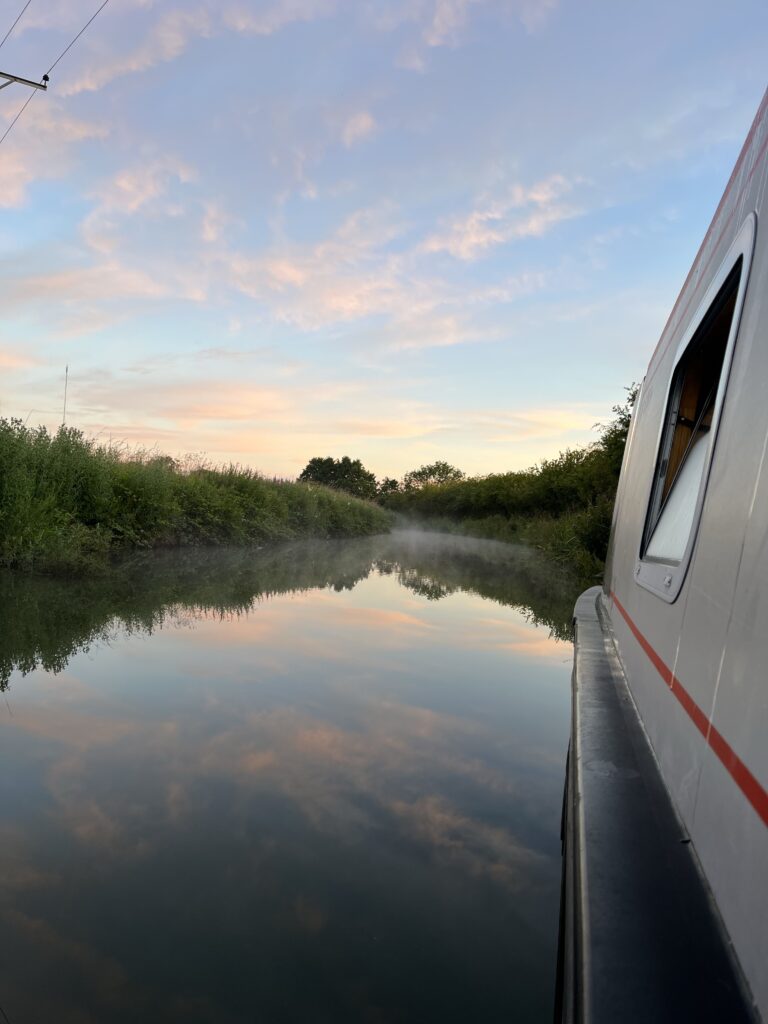 We went up the 2 Glascote Locks and then motored on towards Anne's Mum's old house on the outskirts of Tamworth and then winded just before our lunch stop. Then it was back down the Glascote 2 and back to the Marina. The Robertsons had to leave to get home for work on Monday. Well, strictly speaking, Gray did. Anne has just retired. Poor Gray is soldiering on for the time-being. They had already packed all their stuff and no sooner had we arrived back at the Marina than they had set off on the long journey home. We both had showers and an early night. And so ends another week – our 9th since leaving Droitwich. July is a busy month, guest wise, including three – yes three!- lots of first timers. What fun! Stay tuned and see you next week.