Fazeley to the Ashby (de la Zouch) Canal
We had to be out of the Marina in Fazeley by about midday (4th July) so I had a bit of a lie-in. Paul watered and emptied the loo before work and then, later, I manouevered the boat out of the very tight turn from the marina and back up to Fazelely junction – another tight turn! We had timed it so that we would arrive at the two Glascote locks at lunchtime, so Paul could help in his lunch hour. Cunning eh? Once they were done, it left the remainder of the afternoon for us (well me, actually!) to get to where we hoped to make our overnight stop, at Alvecote Priory – or the ruins thereof.
We arrived late afternoon and tied up. We could see a tantalising glimpse of the Priory through the trees, but a visit would have to wait until after hours. Once Paul had finished work, we walked back up the towpath and over the bridge to the entrance to the ruins. It was a small priory, with records showing it was only occupied by 4 monks. It was ruined in 1536 during Henry VIII's hissy fit with the Pope, but the ruins were eventually turned into a house in 1700. This house was demolished in the 20th Century and now it's just a ruin again.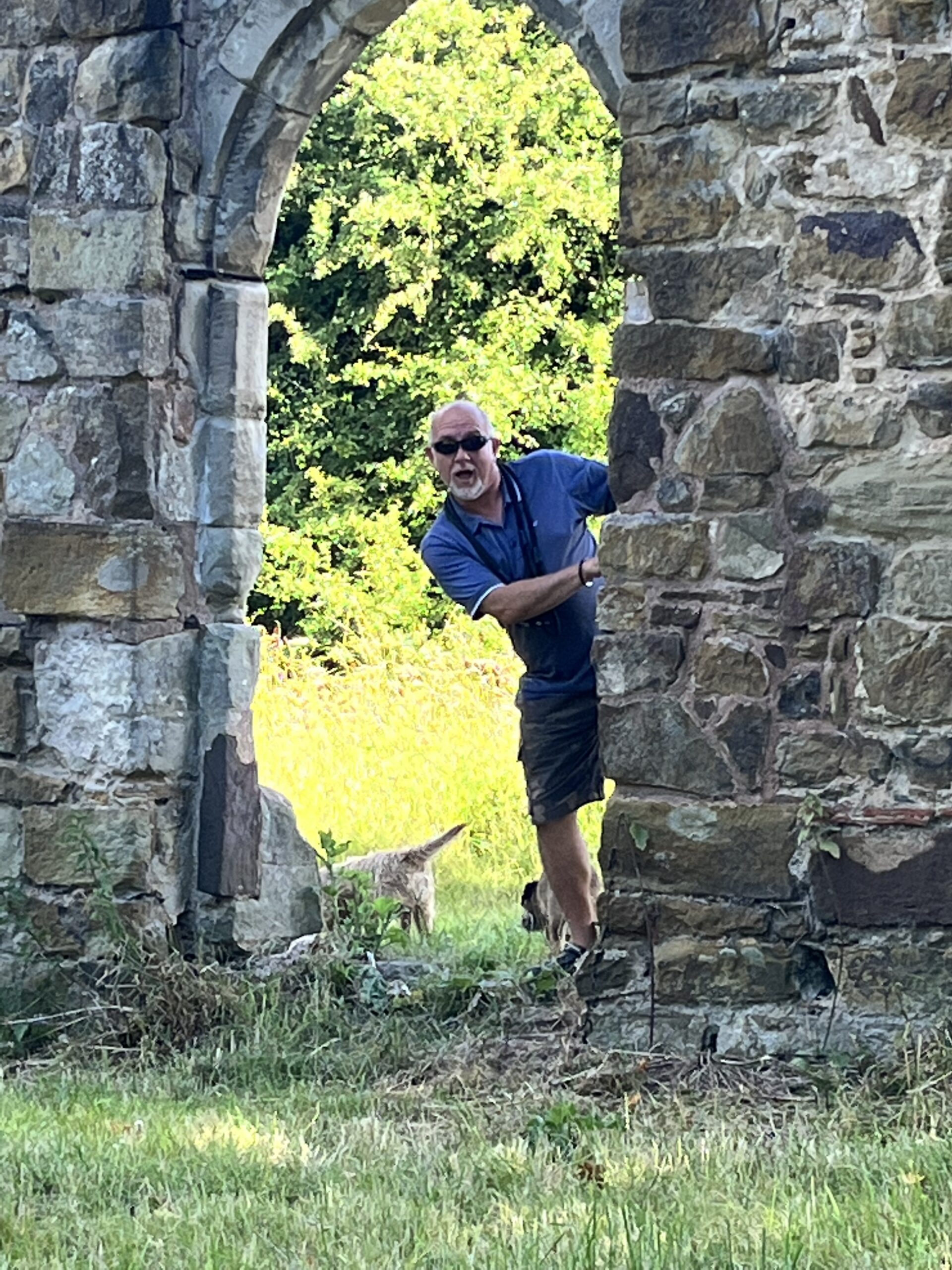 The train line is very close to the canal at this point but it was pretty quiet all night.
Ted is still limping, so we spent some time planning a visit to a vet and also a place to meet George, who is coming up this weekend. We now have a plan. The vet in Atherstone and a pub in Hartshill for George. But first we have to get there!
As Paul had a couple of conference calls, we stayed put (5th July) on our very pleasant mooring until he had finished work. And actually, it was the best part of the day! Sunny and a tad breezy, but definitely a good time to be cruising.
We had an appointment for Ted at 11:00 am the next day and wanted to do one of our early starts to get through (or partially through) the Atherstone flight of 11 locks. We cruised on and found a lovely spot overlooking fields and hills and as far away from the busy railway line as is achievable on this canal. It was such a beautiful evening it felt like a crime to be indoors, but we had to eat! And get an early night, ready for our early start.
It's been a fair old while since we cruised this canal, so it's like seeing it afresh! The trouble is, we don't know what's round the corner. And it turns out it was a fair distance to the locks, and we wondered if we'd blown it, as by the time we got to the bottom lock, there would probably be other boats on the move. But no! No-one about, but the lock was against us. Paul leapt off with the boys and prepared it and in I slipped. I love these mornings when it's just us.
The locks on this flight are in clumps of two, and by the time we got to the second clump, someone had nipped in ahead of us. Ah well. He was single-handed and would have a good trip up the flight, thanks to Paul's help. They got chatting, as you do in these situations, and he very kindly offered to let us go through first to be sure we got a space to moor so that we could go ashore. Very nice of him.
We planned to stop between locks 6 and 5 and were praying there would be a space. Once again, we were lucky. We had hoped that the sound of us coming up through the locks would flush out one of the boats moored on the Atherstone Visitor moorings and lo and behold, one came out. It was a good quid pro quo – they got a lock all ready and waiting for them and we got their space. Nice!
Ted went to the vet and they found a splinter. They removed it, gave us care instructions, pain killers and ABX. Kerching! Another £120. Hopefully it's properly fixed this time and we have a boot for him to wear while it heals. Which it had flipping well better do this time!
I don't know if I've ever mentioned some of the things I do to while away the hours that Paul is working? One thing is volunteering – online. I do work for an organisation called "Zooniverse". A wealth of useful data – such as rainfall, annual first-sightings, tides – has been collected over, sometimes, hundreds of years, but it is in manual or handwritten form. You can help out with, perhaps, transposing handwritten nature notes, or rainfall records. Or you can count killer whales, or identify wildlife from hidden cameras. I'm currently working on a project in the Parque Nacional de Doñana in Southern Spain, not far from Huelva, which I have visited. I'm cataloging all the wildlife caught by camera traps. They are particularly looking for the very elusive Iberian Lynx. There are tutorials and chat rooms to help you. It's very well organised. I first started doing it during lockdown. All you need is a mobile or a tablet/PC and bit of gumption and you're away. And you're making a difference. And I haven't found a lynx yet. Sad face.
Once Paul had finished work, we set off to do the remaining 5 locks. We met a lovely old gent who had lived in the area for 40 years, but had only recently discovered the very existence of these locks and was fascinated by them. I somehow got the impression that he was a widower – he seemed to have a deep well of sadness about him – and enjoyed walking by the locks and chatting to folk. I told him about the volunteer lockies and suggested he might like to join them. I hope he does.
After the locks it took us flipping ages to find a mooring – the canal becomes a bit serpentine and when there was a nice straight bit to moor you could guarantee that there was a boat already in it. Eventually we found a space – oddly next to the people we had moored next to the previous night. We explained that we weren't really stalking them and got chatting. Canal folk are largely very open and friendly and these were no exception.
It was a nice enough mooring but no views. Nonetheless, we stayed put on Thursday (7th July) which was a good call as the sun was a demon. So hot! I took advantage of the fair weather to get some bedding washed. Stupidly I draped the pillowcases over the edge of the boat and one fell in. They don't float. Luckily we fished it out with the boat hook. Had to re-wash it by hand but no harm done, which is great because it's a favourite set. Is it weird to have favourite bedding?
Today was a bit of a milestone for Old Nick – the sunshine took us through the "2 megawatt hours of solar" barrier. According to Ortomarine's daily solar energy figures, the fleet's total solar yield to date is over 25MWh. Below are some of the stats for yesterday.
Our son, George is visiting this weekend (whoop), so our mission for Friday (7th) was to find a space outside the pub where we had booked dinner and also arranged for him to leave his car there for the duration.
It was a perfect summer's morning as we set off just after 8 am – one of those precious glad to be alive mornings. When we arrived at the pub we found all the space we needed! Being near a road bridge, it'll be a tad noisy tonight, but it'll be worth it to see the fam. It's been two whole months!
We passed the lovely, but rather sad looking CRT Hartshill Wharf on the way. It's a piece of canal history and I fear that it may soon be sold off and re-developed, as is CRT's wont. And in some ways, as money is always tight, I understand. But it is down to them to appeal to local and national bodies to help save such gems, rather than sell them off, in my opinion. Thank goodness for organisations such as the IWA, who keep a close watch on CRT's activities.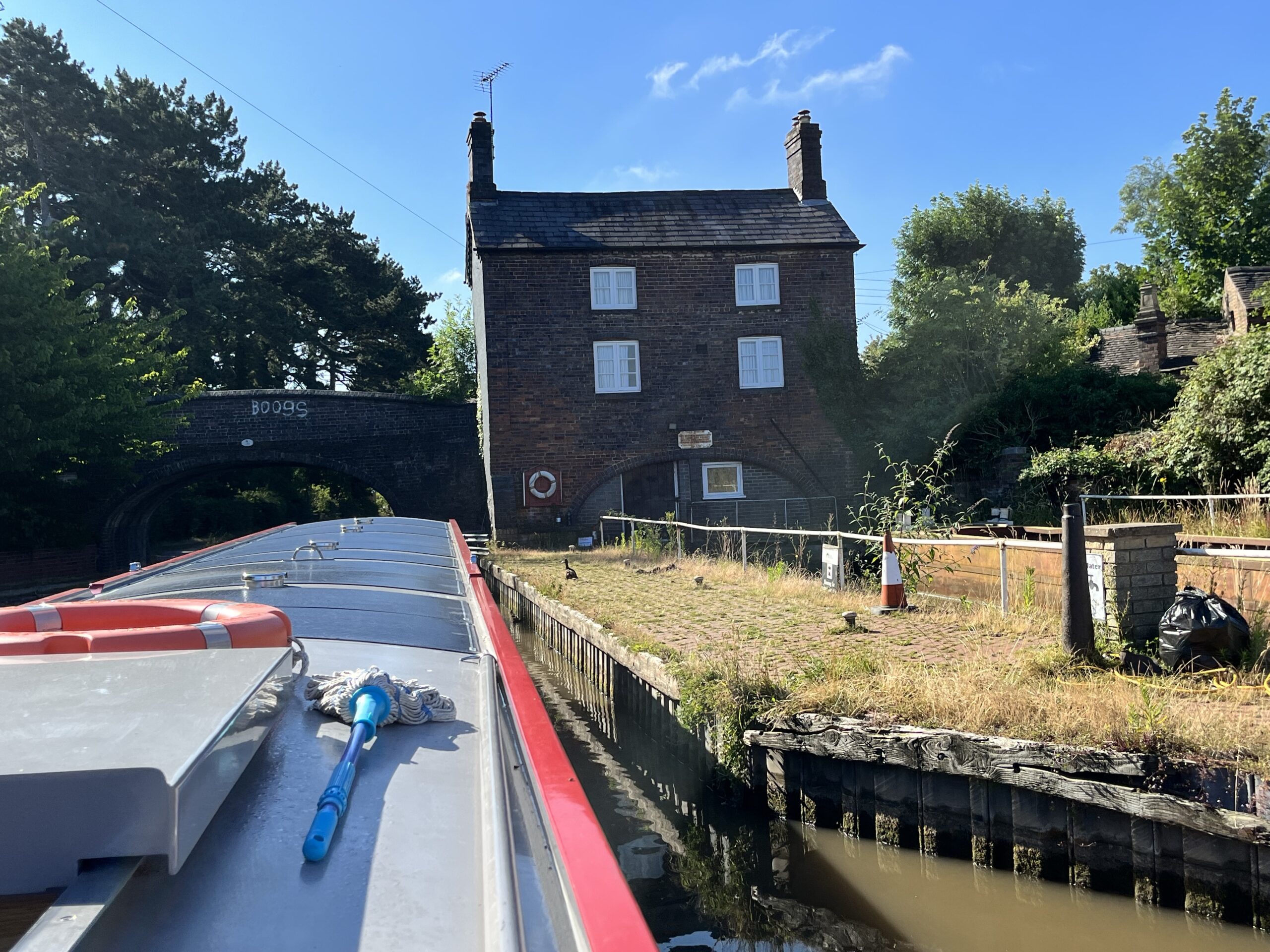 We were joined on the moorings by another couple of boats as you'd expect, it being a pub mooring, but it was a nice quiet night. Our meal was OK, standard pub fayre and a few things "off" again. Acceptable at least.
We were pretty excited as we got ready for our guests to arrive. It's been 2 long months since we've seen them. And having Florence (Bethany's niece) along would be extra fun. As they were a little later than planned, thanks to a fire on their route, we went up to the nearby winding hole and turned the boat around. The plan was to go to go back to the top of Atherstone locks to show Florence a lock and also to do "domestics" – water, sewage and refuse.
They eventually arrived about 11:15 and – after hugs – we set off. Little Floss was so excited and was an absolute joy. We all laughed so much and had as much fun as her. She fed the ducks, steered the boat, pressed every button and switch and tried everything out. The day literally flew by and then she hit the wall, had a cry and crashed out. It looked like they'd have a quiet journey home!
She had a short sleep on our bed and then – way too soon – it was time for them to go. It really tears at your heart strings. Even though you can stay in touch more easily than ever before, there is nothing like face to face contact and a hug with your nearest and dearest. Friends and family are the one and only thing I miss from our "old life". We are so grateful to those that make the effort to come and see us. You know who you are!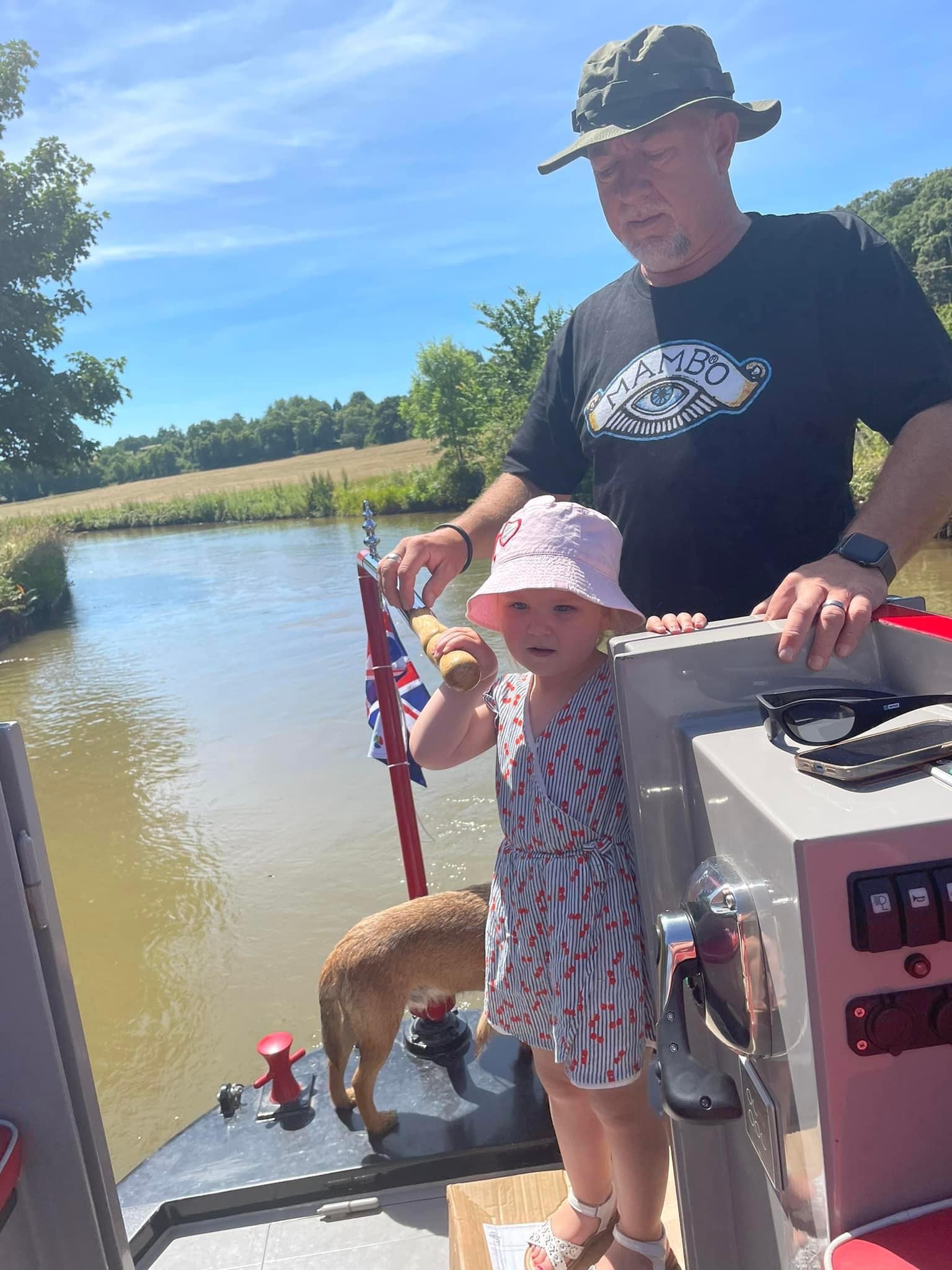 And so we were alone again. Naturally. We set off, intent on finding a nice, quiet, rural mooring. The one we eventually found was not as solitary as we would have hoped, but it wasn't too bad at all.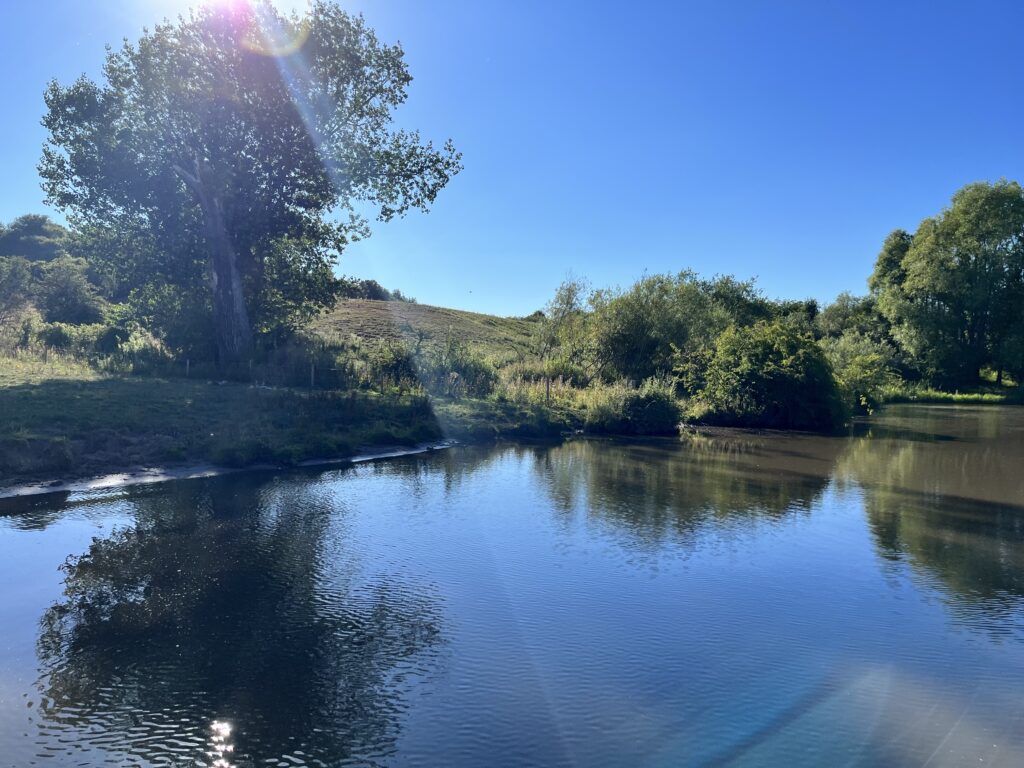 We had a lovely leisurely start to Sunday (10th July) and then left our mooring, bound for pastures new, the Ashby (de la Zouch) Canal. 22 miles of lock free rural (mostly) Leicestershire. We were hearing tales of low water, but thought we would give it a go. Actually, it is evident that water levels are low everywhere, to be honest. I'm a bit worried about how this will go. CRT, the body responsible for the waterways, cannot manage water levels if there is not enough water. If the reservoirs are low, they cannot top up the canal levels. If this – I hesitate to use the word – drought continues, they may be forced to close waterways and we will be stuck. Some are already closing in the North due to lack of water. It's a bit of a worry.
Anyway – we passed through Nuneaton and eventually took a left turn onto the Ashby. The first thing you notice is the bridges, which are made of local stone, and rather beautiful. The second thing you notice is that mooring will not be easy. The banks are quite overgrown and thus quite shallow. As you know, our preference is to be quite solitary and this may not be an option on this canal. Time will tell.
Whilst the canal is named for Ashby de la Zouch, which I was always told was the central point of England, or equidistant from the coast or something? I probably wasn't listening. Sadly – the canal never actually made it to the town.
It was originally designed to be a link between the Coventry Canal and the River Trent, but never made it. It transported coal from around Moira and Measham. Such was the quality of the coal – used for burning, rather than industrial use – that it was still being routinely transported on the line until the 1960's, which is quite late in the history of commercial canals.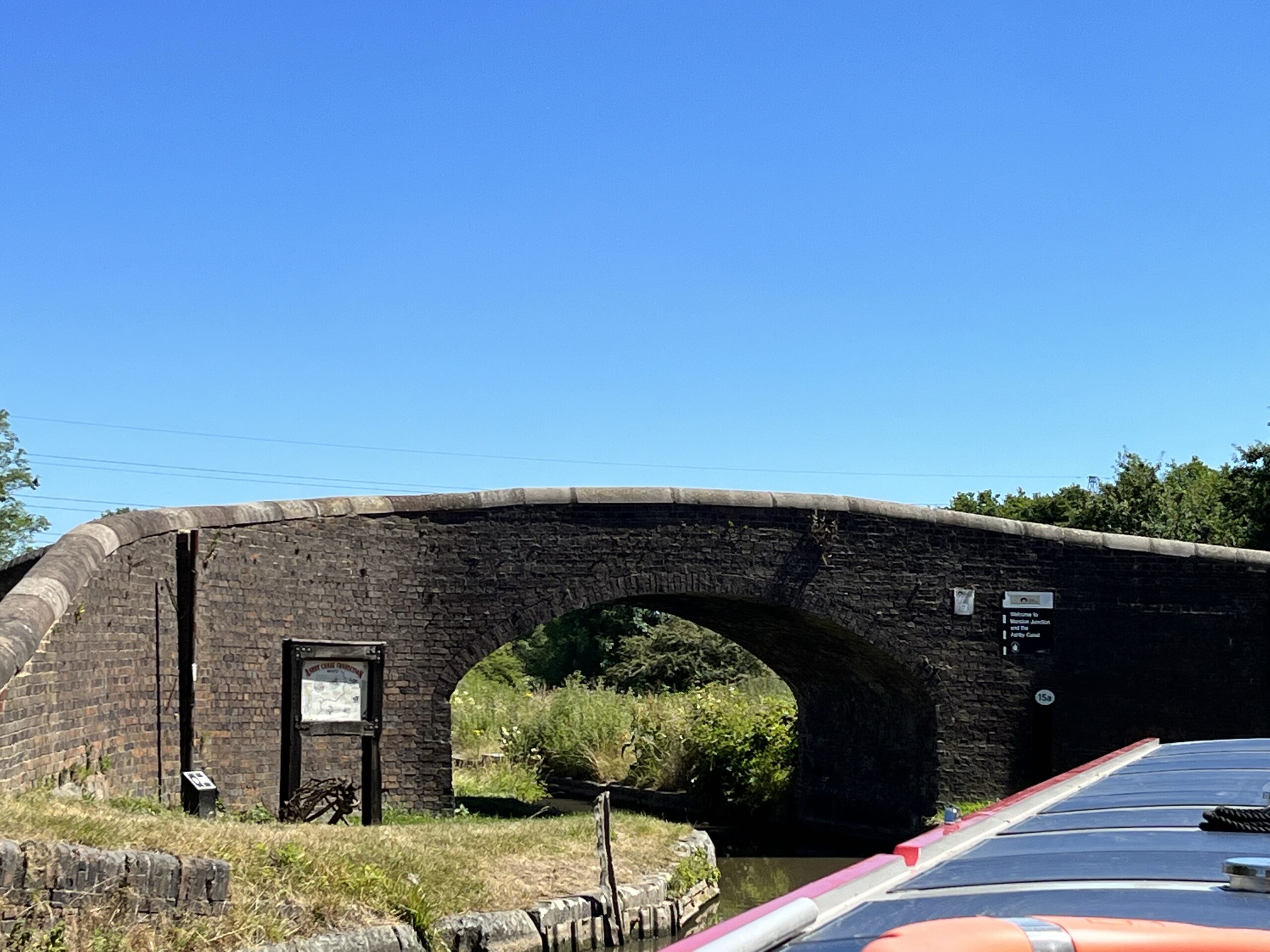 It got hotter and hotter and there was no shade to speak of. With increasing desperation, we tried several times to get in to the bank by a shady tree, but it was too shallow. Eventually, we came across a gaggle of boats and a space – probably only 59 feet!- into which we shoe-horned ourselves. We thought some folk had probably pulled over to watch the Grand Prix. Paul wanted to do the same, but could not find any channel on which to watch it. He had to make do with highlights from the practice day.
It was too hot to cook, but luckily we had a couple of ping-ping curries that would do for supper. Thank goodness for our electric fan! I think we might have melted without it.
We went to bed once the evening cool had set in, noting that at 22:30 it was still pretty light. We had windows removed and every orifice open and it was very pleasant after the heat. We would sleep well. Ted, by the way, seems to be on the mend, thank goodness.
And there you must leave us, snoozing gently under the silvery moon. Next week we explore the Ashby further, passing through Hinckley and Market Bosworth and we'll (probably) melt.