We stayed put at Merry Hill Waterfront on Monday (26 Sep) as Paul has some quite pressing work to finish off and I really didn't fancy doing the Delph Locks single handed! And it really was pretty showery.
A little more about Merry Hill, before we leave. The last time we came through, Merry Hill Shopping Centre was pretty much brand new, and I don't think The Waterfront had yet been built. The Waterfront is built on the site of the former Round Oak Steel Works, which closed its doors in 1982, bringing mass unemployment to an area already suffering from the decline of the coal mining industry and other heavy industries nearby. Iron and, later, steel was produced on this spot for 125 years. Indeed, during the Industrial Revolution, the majority of iron-making in the world was carried out within 32 kilometres of Round Oak! I find that a pretty amazing stat.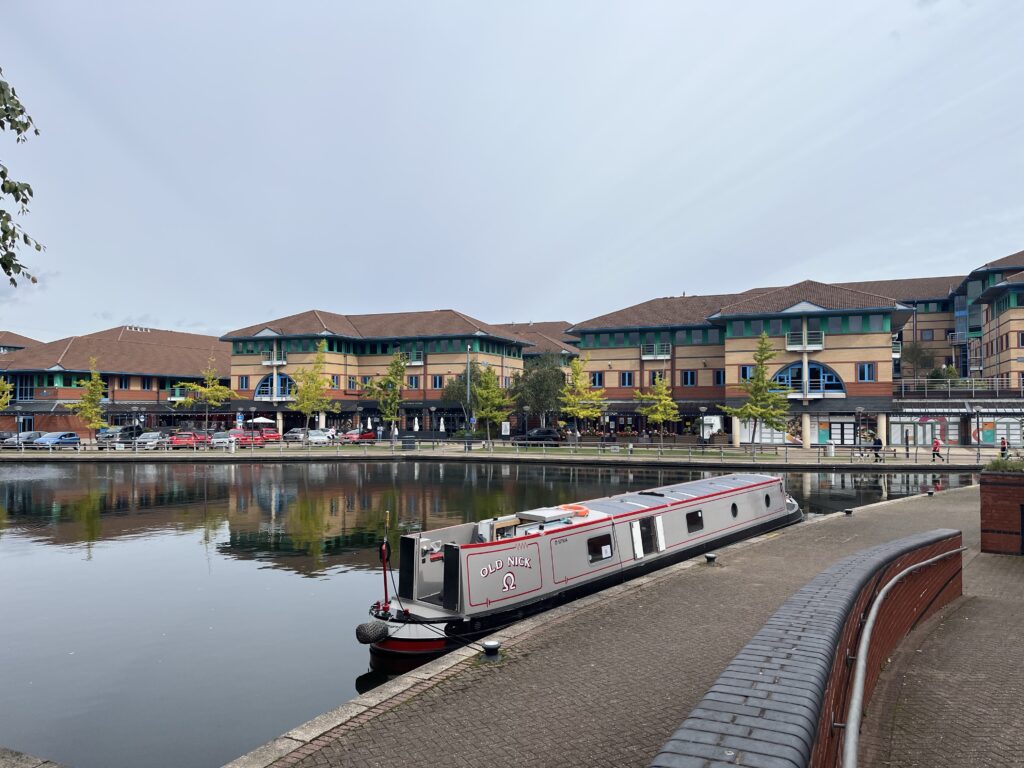 When work began on the Merry Hill shopping complex in the early 80s, it was not popular. Rather than use the land vacated by the Round Oak, the developers cast their eyes on some nearby farmland, which was a local haven for wildlife. But, despite protests from local residents, the project went ahead. The opening of the Centre had a pretty devastating impact on local town centres.
Work did not begin on The Waterfront until the late 80s and it has always had a somewhat troubled existence, being badly hit by the recession of 2008. These are not the sort of places that I like to visit. I view them as soulless caverns dedicated to the worst ills of consumerism. I will be glad when we move on.
The alarm went off on Tuesday morning and it was pouring. We had checked before bed and there had been a 40% chance of rain, which we thought was reasonable. Paul quickly checked the weather, which showed that the rain would not ease off until mid to late morning. No locks for us today then. Darn it. Back to bed!
It was showery on and off all day, so we had probably made the right call. Luckily we have plenty of time to get to our weekend pick-up spot, so we'd give it another go the next day. The weather looks as if it will be much better.
I really didn't sleep well on Tuesday night. I pulled one of those fall asleep, wake up 20 minutes later wide awake, buzzing stunts. It was well past 3 am by the time I finally dozed off and was rudely awakened by the pesky alarm clock, some 10 minutes later. Or that's what it felt like! But I groggily crawled out of my cosy, warm bed, dressed and went out on deck. Brr! It felt cold enough for frost.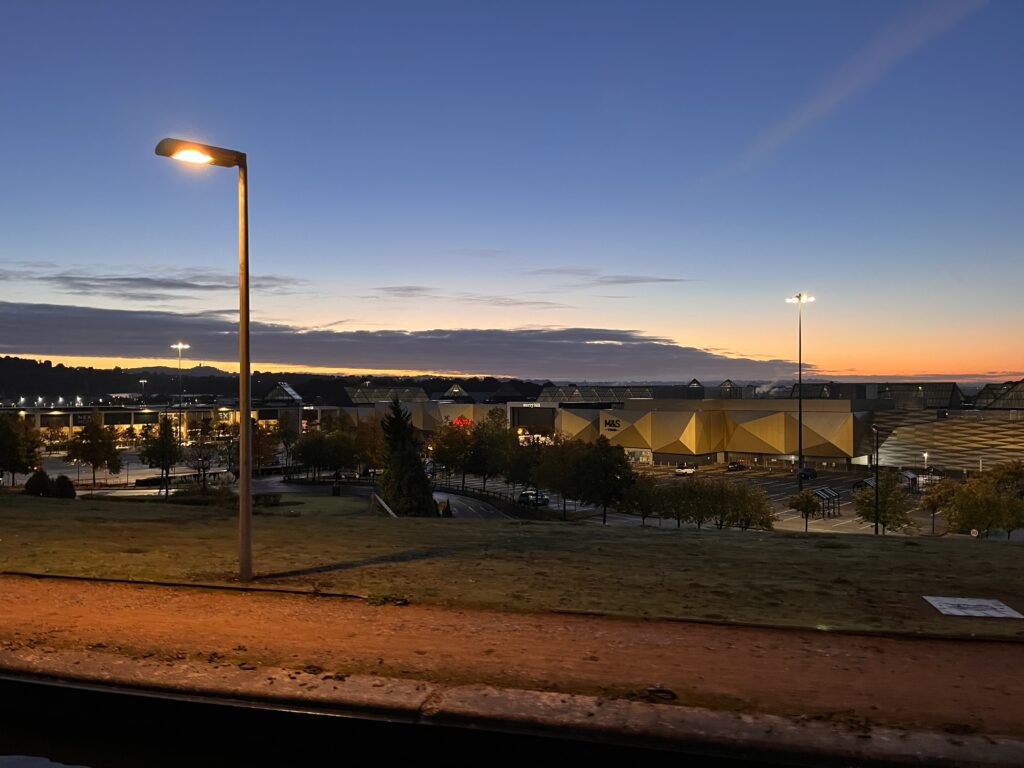 We had a flight of 8 locks to get done so we slipped our moorings just as the sun was beginning to rise. The Delph Locks were originally a flight of 9 locks, when they were built in the late 1700s (1779) and so they remained until the middle 7 locks were rebuilt in 1858 and became 6 instead of 7. They have a total rise/fall of 26 metres (85 feet) in just over half a kilometer. That's quite a steep incline! But they are a nice flight and we had done with locking by 08:00, meeting a boat coming out of the bottom lock as we finished. I lost contact with my finger tips about halfway through the flight. Must remember to dig out the gloves!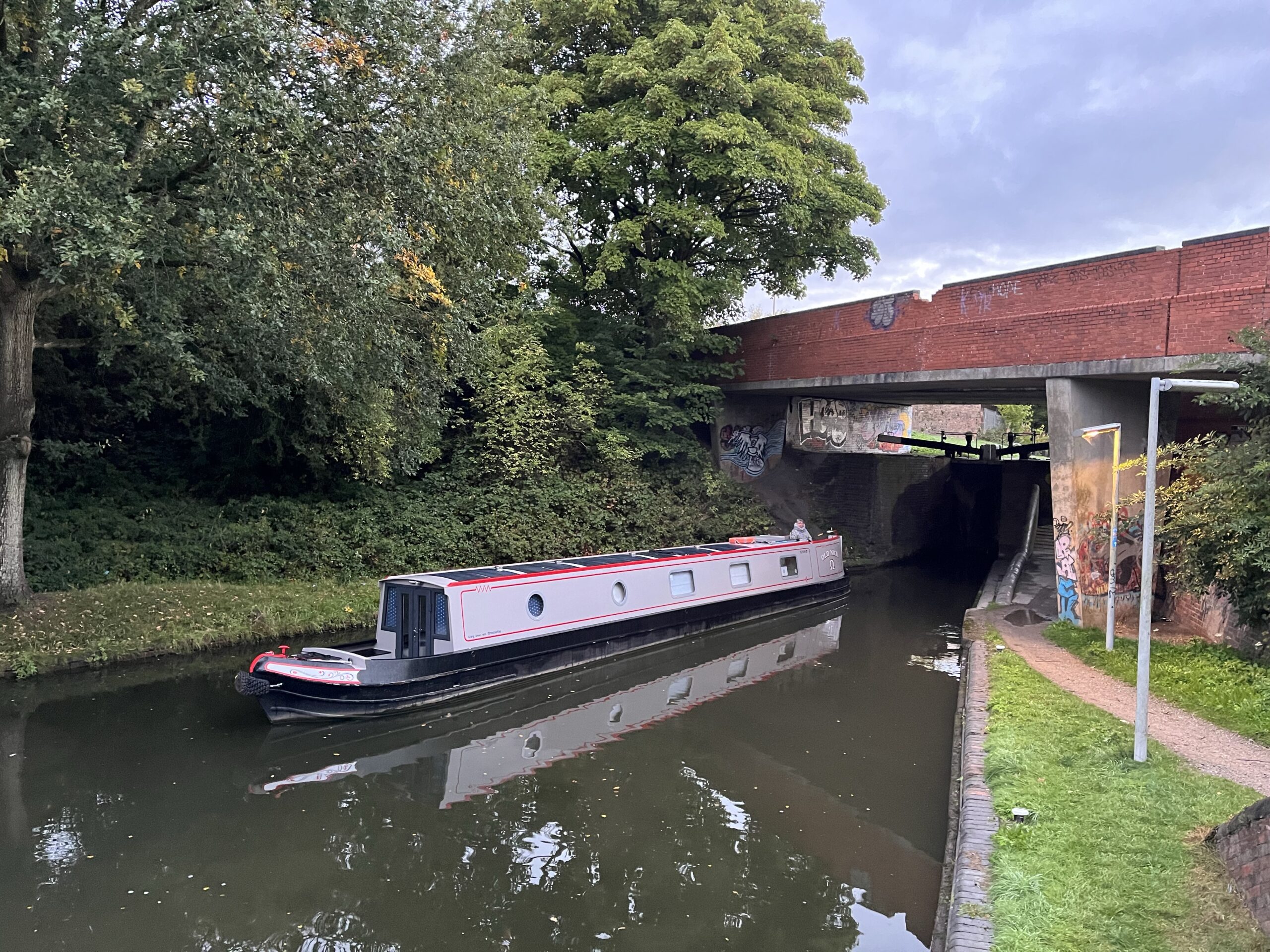 Once you leave the bottom lock, you have joined the Stourbridge Canal and this means that we have pretty much left the BCN for this year. We have loved – if not every minute – the vast majority of them. If you ever get a chance to explore the BCN and its extremities, we thoroughly recommend it. Our favourite place was Pelsall Junction on the Wyrley and Essington and, oddly, some bits of that canal were our least favourite bits because of the weed/plastic and that alarmimg big underwater obstruction. CRT never did come back to me about what it was, despite me asking a couple of times. But we would not have missed the Curly Wyrley for all the world. We also liked coming up the Perry Barr flight and the Tame Valley/Rushmoor canals and have made loads of happy memories. We still have a few more little nooks and crannies of the BCN to explore – a few loops (e.g. Icknield Port Loop), the Digbeth Branch, the Bradley Arm and half of the Walsall Canal (from Walsall to Ocker Hill). Otherwise we've explored it pretty thoroughly and will be back to tick off the rest another time.
We moored for the day – a lovely sunny one as I write – on the visitor moorings along the Stourbridge Extension Canal, which lies off the Fens Branch of the Stourbridge canal. As we proceeded down the branch, a couple of local ladies, out on their morning constitutional said "You do know it;s a dead end, don't you?". Bless them. We thanked them and said that we did. And it is indeed a dead end. And a very nice quiet mooring, tucked away in the undergrowth. You can see our route, very inexpertly plotted in the pic below.
And it's looking (and feeling!) very Autumnal indeed today. In fact today was the first day of putting the heating on. Always an anxious moment after you have left it off for a good few months! But it sprang into life and we were soon all cosy and warm. And dozy – or at least 75% of us were feeling that way. The remaining 25% was deep into their work.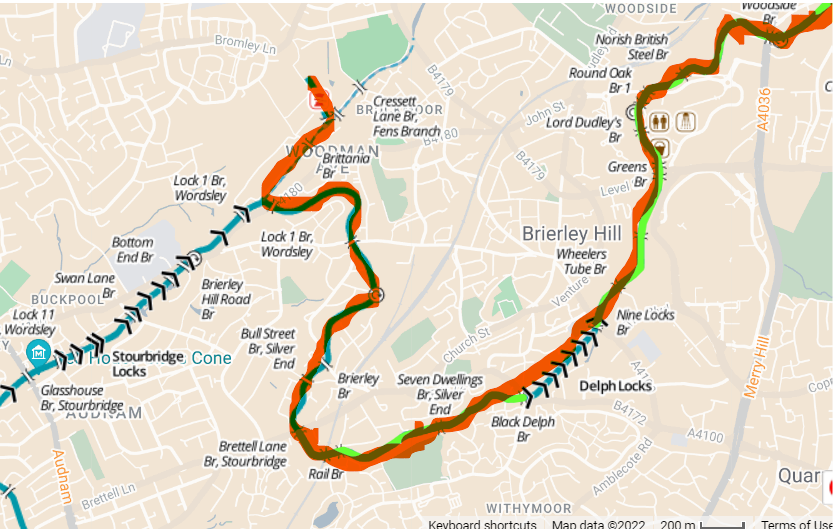 We stayed put on Thursday (29th) as Paul is still beavering away madly, trying to bring a new device to market, final testing, writing manuals etc. etc. So I kept a low profile and, as we have guests in a couple of days, I did some baking. Finding a few square inches in my galley that were not covered in cables and black boxes and antennas other bits of kit was a bit a challenge, but we shared nicely.
There were a group of people in hi-viz vests clearing rubbish along the towpath (we are moored offside on the secure moorings) and I thanked them for the work they were doing. We litter pick as we go although a lot of the floating stuff is difficult to deal with. Why on earth do people dump rubbish? I just don't get it.
Early evening, when Paul finished work, we decided to save some time by moving the boat up to the top of the Stourbridge flight of locks, which involved reversing out of the arm in which we were moored and back up to the junction where the Fens branch meets the Stourbridge canal. Even though Paul has a day off tomorrow, we needed an early start on the locks as rain was forecast later on Friday. Doing locks in the pouring rain can be a bit miserable, but you do it when you need to. And we'll need to carry on if the rain starts early, as we have a rendezvous to make, with groceries and our pals.
Stourbridge is famous for glass – in particular crystal. The availability of coal (for fuel) and fireclay (for making furnaces and melting pots) made the area a perfect location for glass making. One of the features of the Stourbridge Locks is the Red House Glass Cone, which is one of only four still in existence and the best preserved. Industry is not known for its sentiment and when these glass cones fell out of favour, the majority were demolished. It was built in the late1700s and was used for over 150 years. I imagine most people will have heard of Stuart Crystal and this is where it was made.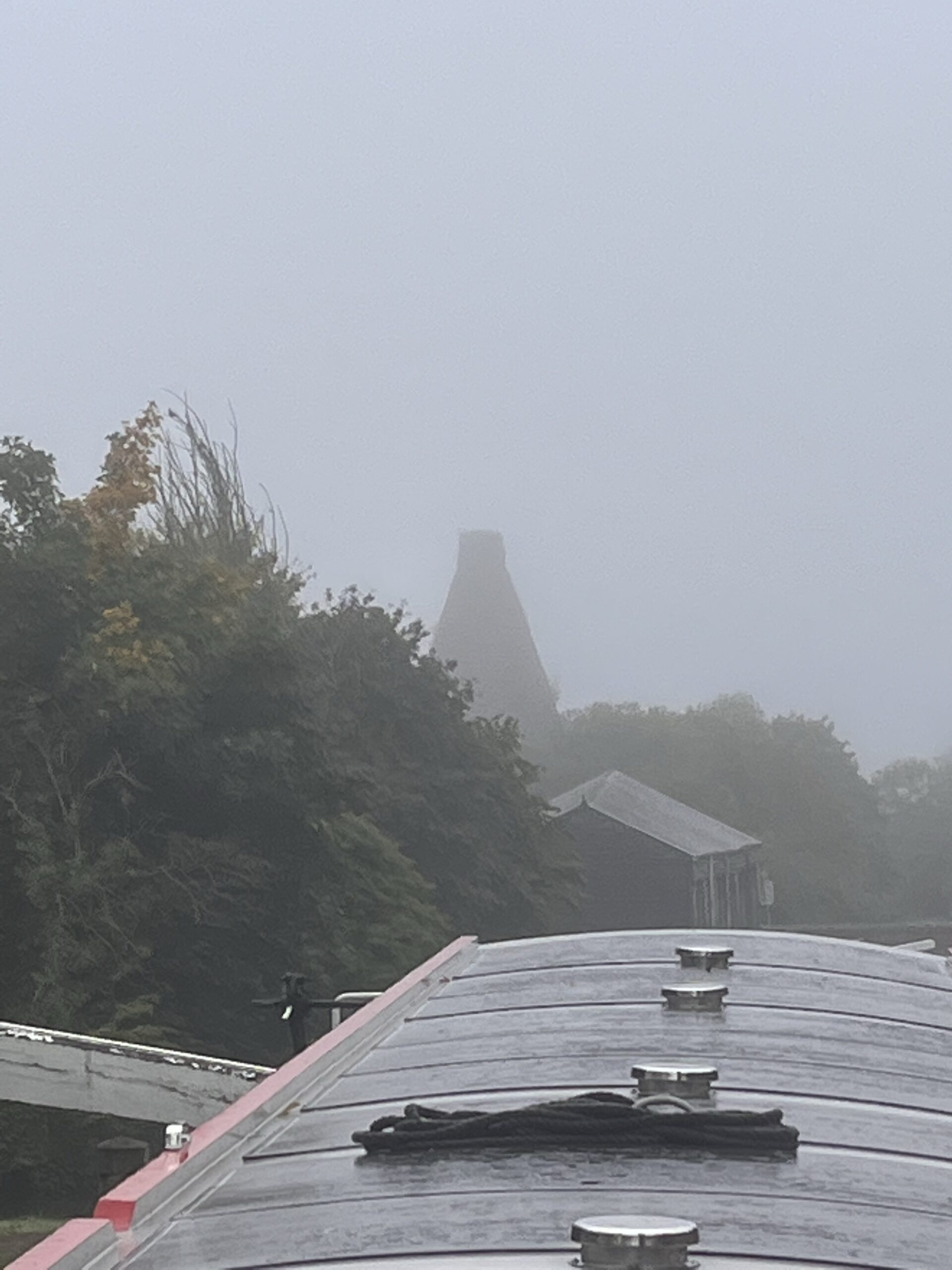 One of Stuart Crystal's biggest customers in the early 1900s was the White Star line. They made cut glass glasses, each one etched with the White Star Line badge, which consisted of a flag with a star in the centre. You can see them (or replicas) on EBay but quite a few must be at the bottom of the ocean, after the Titanic's sinking. Sadly, the glass-making industry has declined and there are now only two companies still in business in the area. The Glass Cone is now a museum.
But we had to get to Stourbridge first and a mere 16 locks stood in our way. Despite our slight misgivings we had a very quiet night at the top of the locks but the alarm went off a shade too early for my liking! It was pretty foggy as we slipped into the first lock on Friday (30th Sep), and so it continued all the way down the flight. Luckily, the fog meant it was not as cold as it had been on our last early morning.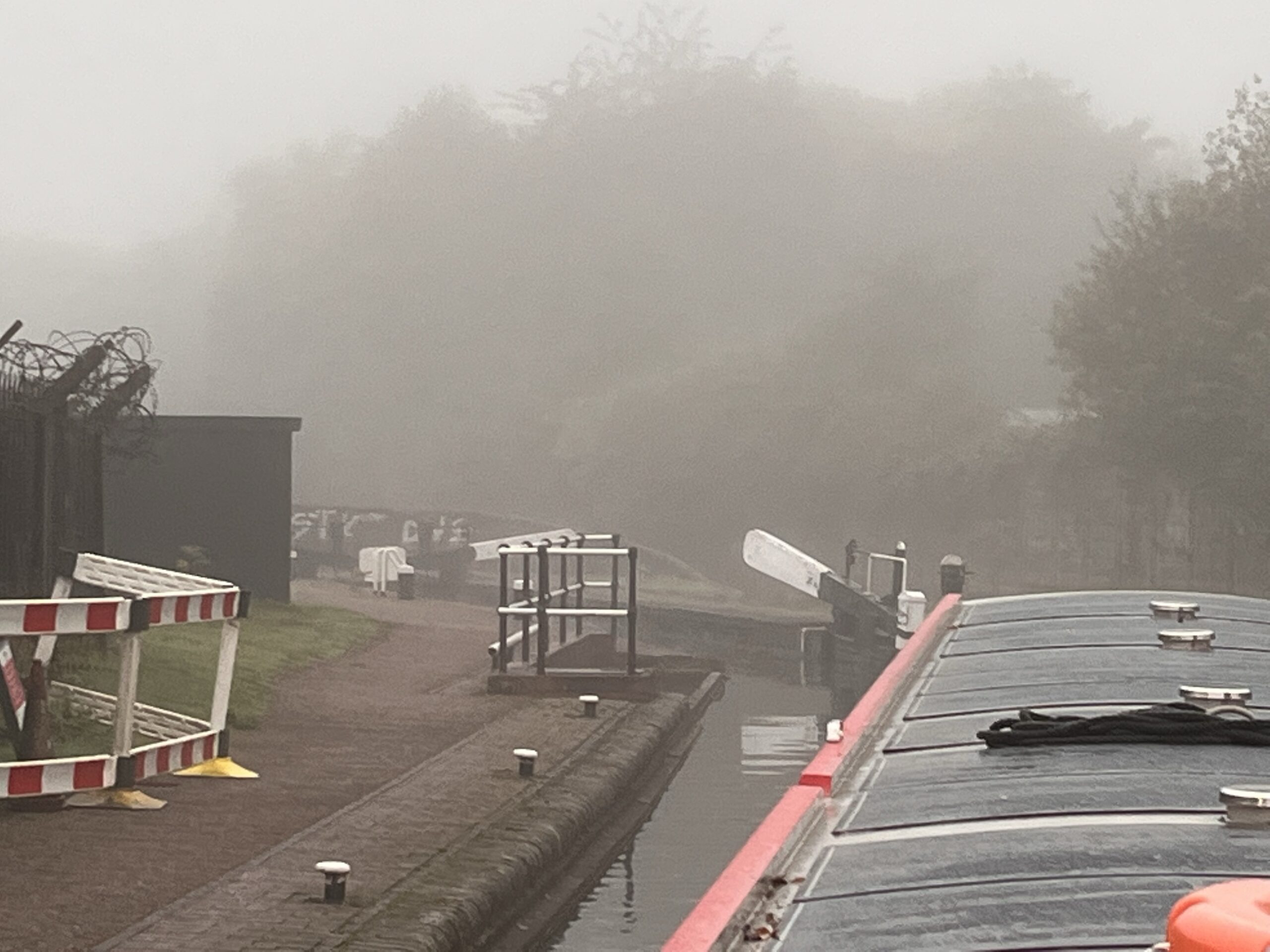 All the locks were against us, so they each had to be filled before we could use them. That slowed us down a bit but we got into a nice easy rhythm and the bike was handy for nipping down to the next lock to fill it while we were in the lock above. About half way down there are two locks joined by a very short pound – around 8-10 feet. I wonder why they did not go ahead and make it a staircase, because it is, as near as dammit? Maybe someone got their maths wrong?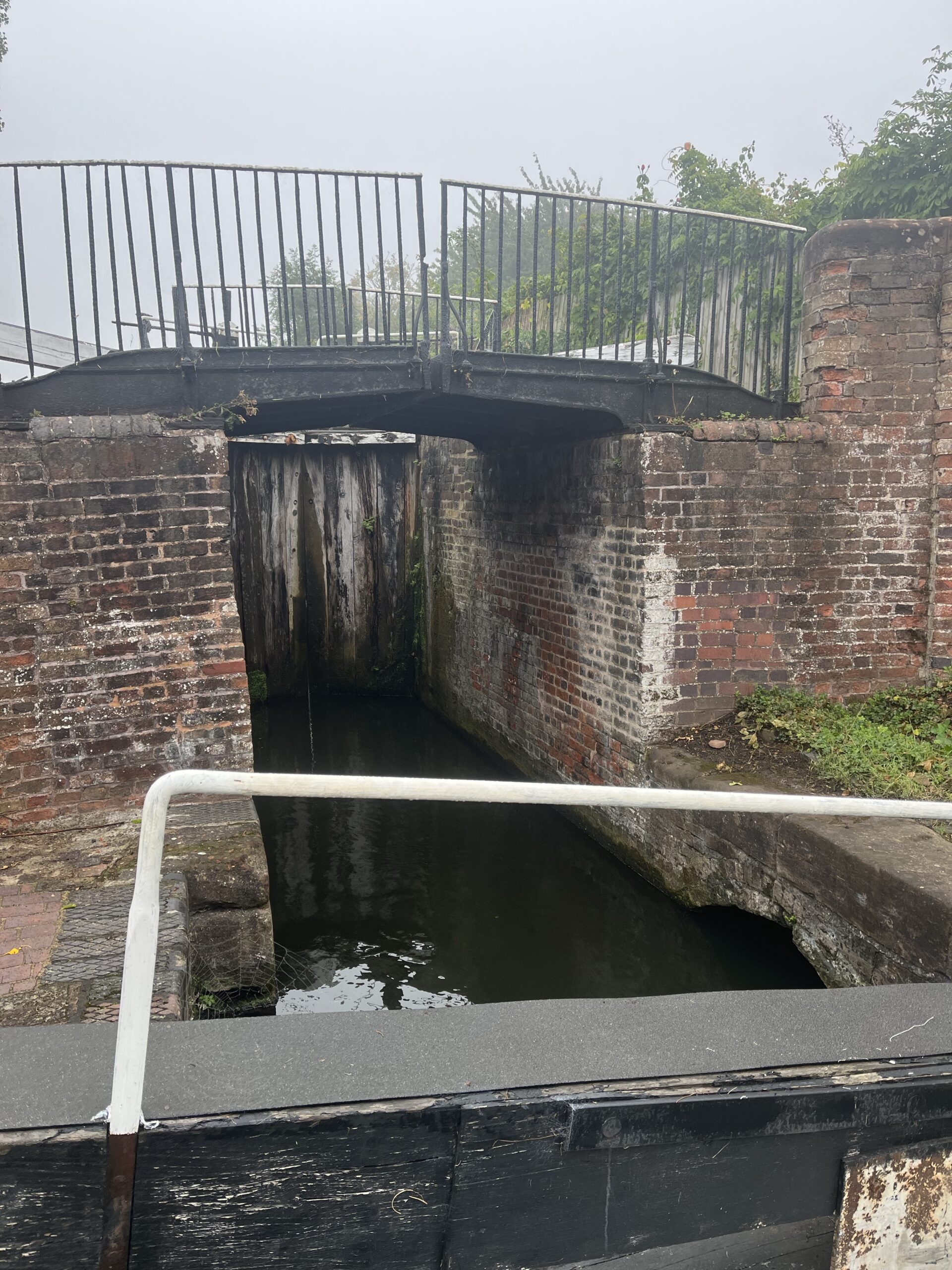 We arrived at the bottom and took the left turn down towards Stourbridge Town basin. 16 locks and a total descent of 145 feet (45m) over around 2 kms, done! After we'd gone a short way, a CRT crew were dealing with some overgrowth and asked us too pull over, We were only just saying that the offside could have done with a bit of pruning. There is a canal festival in a couple of weeks down in town and we suspect that had prompted the tidying up process. Cynics that we are! But glad to see it, whatever prompted it.
We quickly had breakfast while we waited and then meandered on down towards the services. There are a couple of nice historical features in the basin – an old crane, which shows a max weight of 15 hundredweight (approx 0.75 of tonne) – although I doubt it could do that now as one of the stanchions looks to be be a bit rotten, sadly. And then there is the rather fine Bonded Warehouse, saved from dereliction on the mid-eighties thanks to the efforts of the Stourbridge Canal Trust. We left them a nice donation in recognition of their value. Services done, we came back to the water point. A couple of boats were tied up either side of it, making access tricky. There was less than a boat's length of space, so we could only just poke our nose in and hope for the best. people can be very inconsiderate or thoughtless sometimes. The rain was promised for between12:00 and 13:00 and arrived promptly at 12:40, just as we were mooring up. Typical!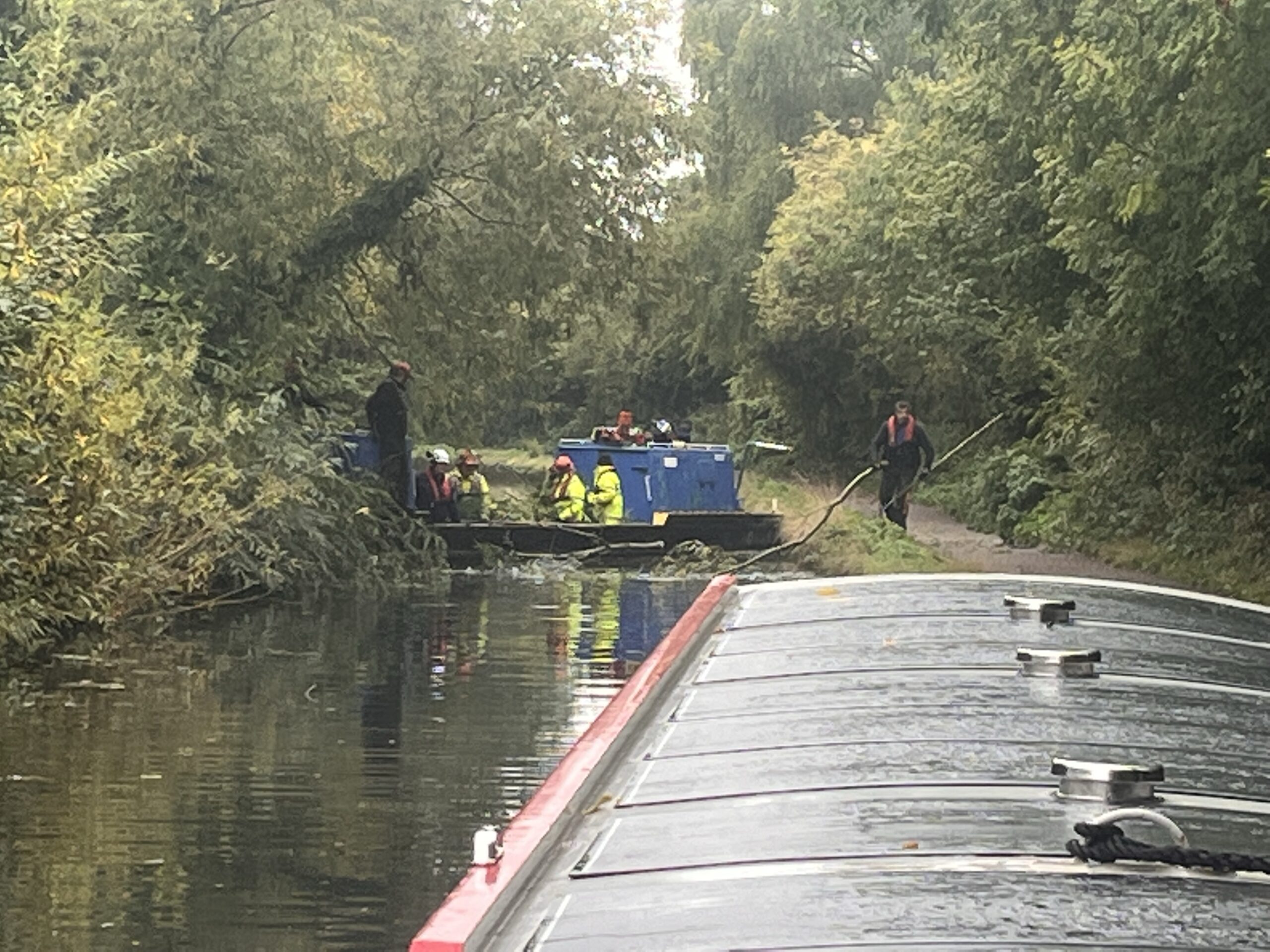 We launched into a frenzy of cleaning and tidying, ready for our guests (Anne & Gray Robertson) and then both showered. It poured all afternoon and our guests arrived while it was still raining, just before 6 pm. We sent out our hunter gatherers in search of supper and they returned with the most delicious fish, chips and mushy peas. Best we've had for a while. We spent the evening catching up on what had happened since we had last seen them, way back in July. It must have been a lot as it lasted all evening, luckily fuelled by tea and chocolate.
We set off on Saturday morning (1st October), with the weather looking very pleasant. and made our way back along the Stourbridge town arm to Wordsley Junction, where we turned left, back onto the Stourbridge canal. We whistled through the four lovely Stourton locks, which we thoroughly enjoyed, down to Stourton junction. We turned left at Stourton, onto the Staffs Worcs towards Kinver, a very pretty little town, and stayed the night there, eating our evening meal at The Vine.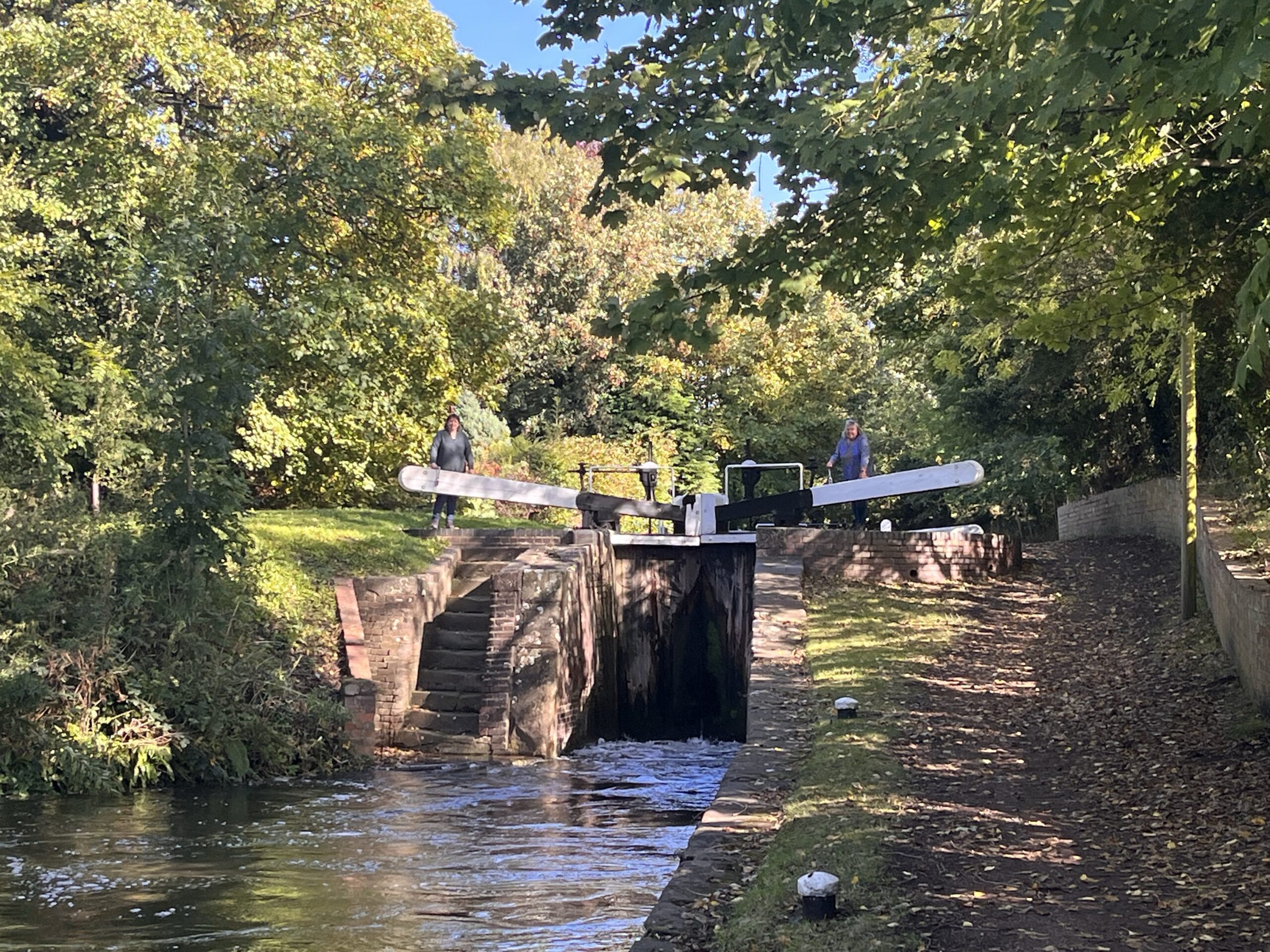 While waiting to go to the pub, we watched a boat going up and down with lots of goods and chattels – they were clearly moving house by canal! And why not? Using a canal for the purpose of moving heavy goods. It has possibilities! We have seen many things in our time on the cut, but never that before. I need to mention how very attractive the Kinver Visitor moorings are. They've done a really lovely job, with flower beds and a bench for walkers. Well done Kinver!
We enjoyed our tapas meal at the Vine and returned to the boat to learn to play our new favourite game – The Crew – to which our friend Steve had introduced us, back in August. We all thoroughly enjoyed learning its intricacies and became quite involved in it.
We wanted to get to Stourport to top the batteries up to full before venturing down the river and up the Droitwich canals and home on Monday, so we made an early start. We had 8 locks, a couple of (short) tunnels and about 10 miles to cover. And we needed to get to Stourport in good time for our guests to make their journey home.
It was another lovely day and it was a really enjoyable trip. We had forgotten how lovely this part of the Staffs Worcs was and will definitely be back to spend a bit more time on it before too long. We passed through the very pretty Cookley Tunnel, with its row of tiny cottages clinging on to the cliff above it. Around the romantically named Falling Sands lock, we could hear the sound of scrambling motor bikes. And suddenly they came onto view. It was a horde of 8 year old (ish) boys racing. What fun! Lucky boys.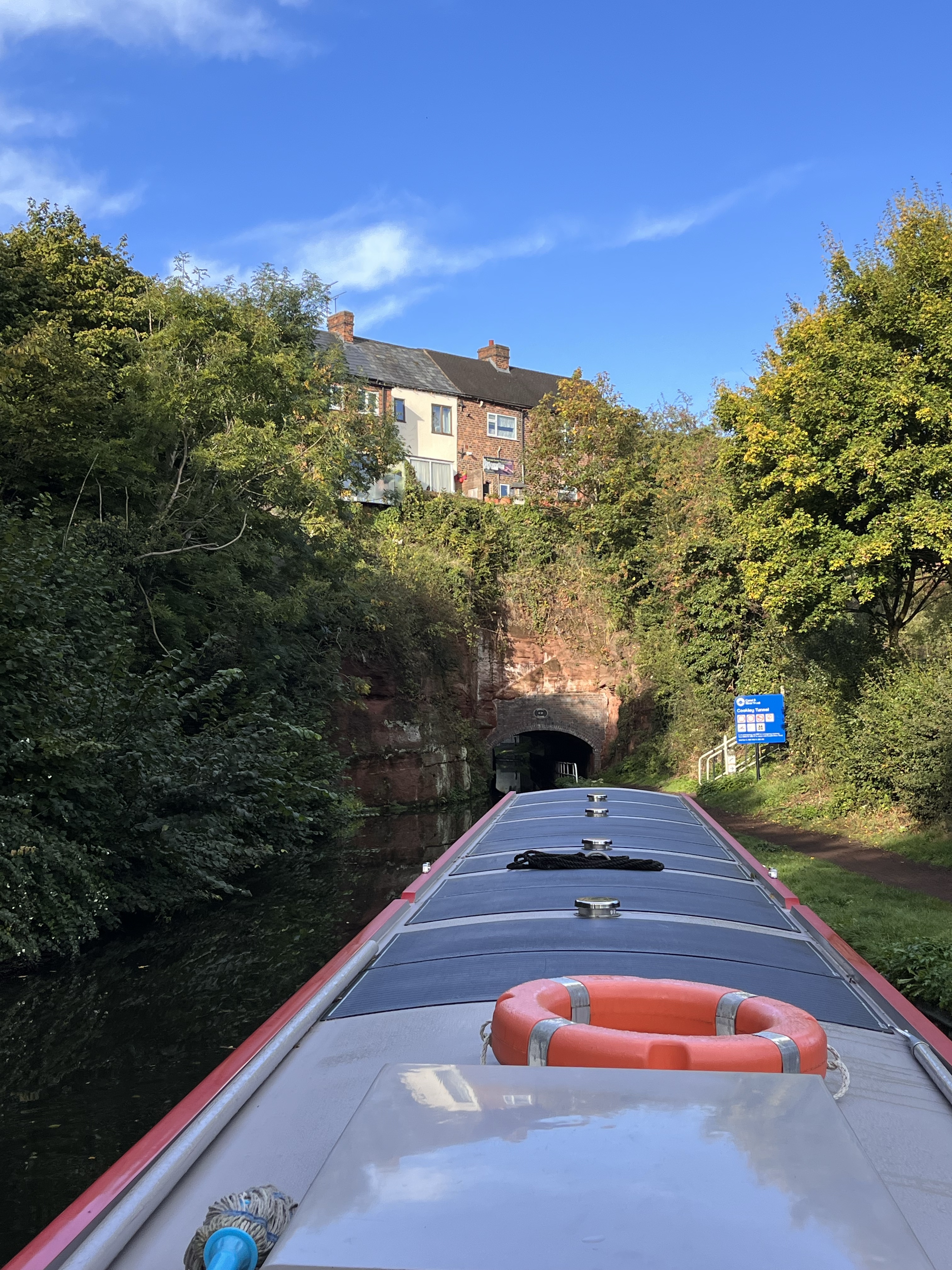 We passed through a bustling Kidderminster, noting with approval that most of the fine red brick industrial buildings are remarkably free of graffiti. The chimney above is one of the remnants of the carpet industry, for which Kidderminster was once renowned. Indeed it once bore the title "Woven Carpet Capital of the World"!
We arrived at Stourport in good time for Anne and Gray who, after a final cuppa, set off back to their car in Stourbridge by Uber and thence home to Stubbington. After they had gone, we tidied up, showered and settled down for the evening. What a great weekend. And our last planned guests for a while! Bed early.
On Monday morning (3rd Oct), we settled up for our electricity and set off down the two sets of staircase locks out of the basin and onto the River Severn. Once down, Paul went to work and I took the boat down to Hawford Junction. It's a funny old place, is Stourport. There is a permanent funfair (still open on Sunday) and it seems that every other shop is an eatery of some sort or an amusement arcade.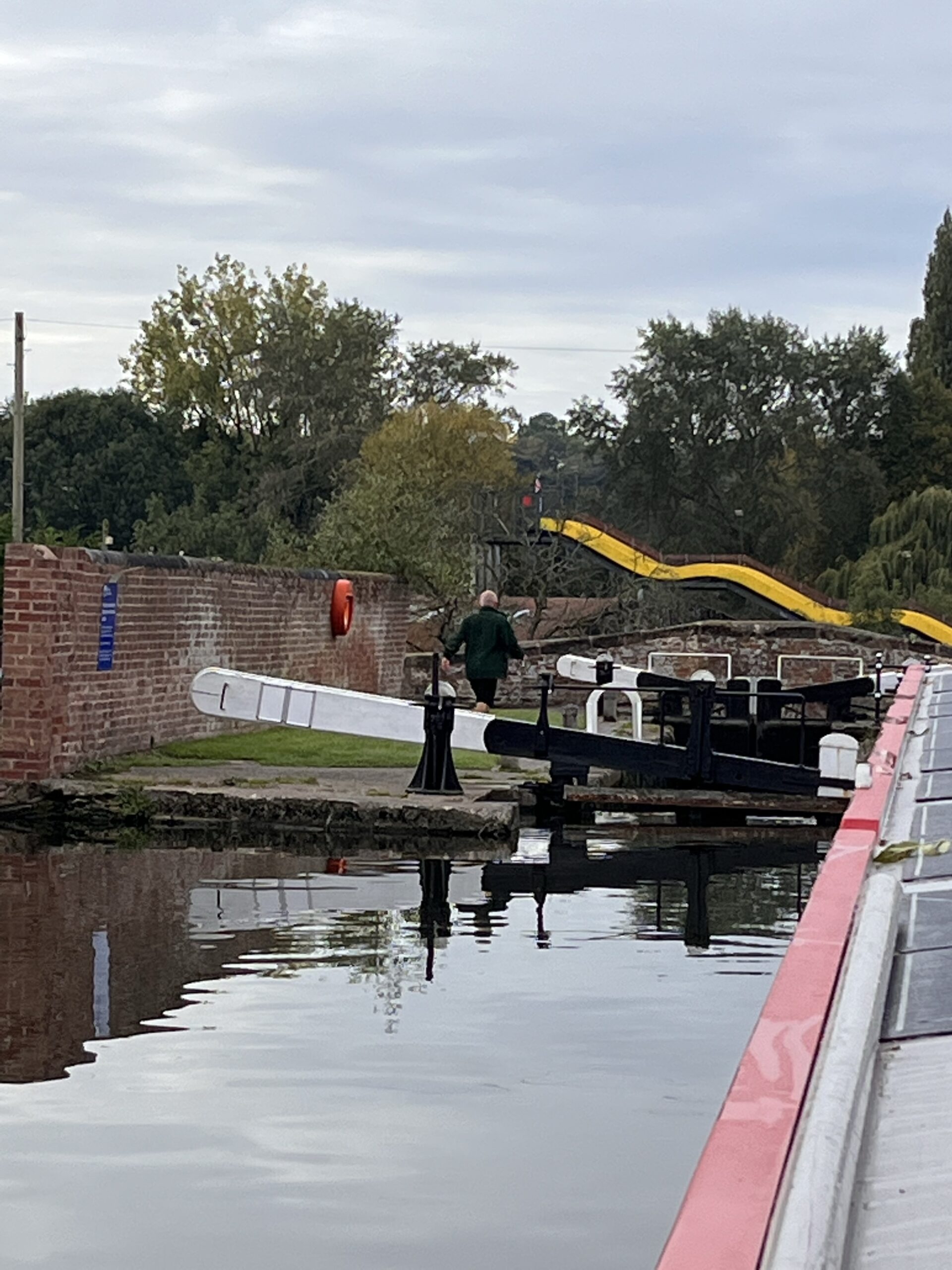 It was a lovely morning on the Severn and I thoroughly enjoyed myself at the helm, singing and thinking thoughts. And the river was like a millpond. We arrived at Hawford around lunchtime, having passed through two of the big locks on the river – Lincombe and Holt. This was good timing as it meant that Paul could do the 2 locks up onto the Droitwich canals in his lunch hour. Almost like it was planned eh?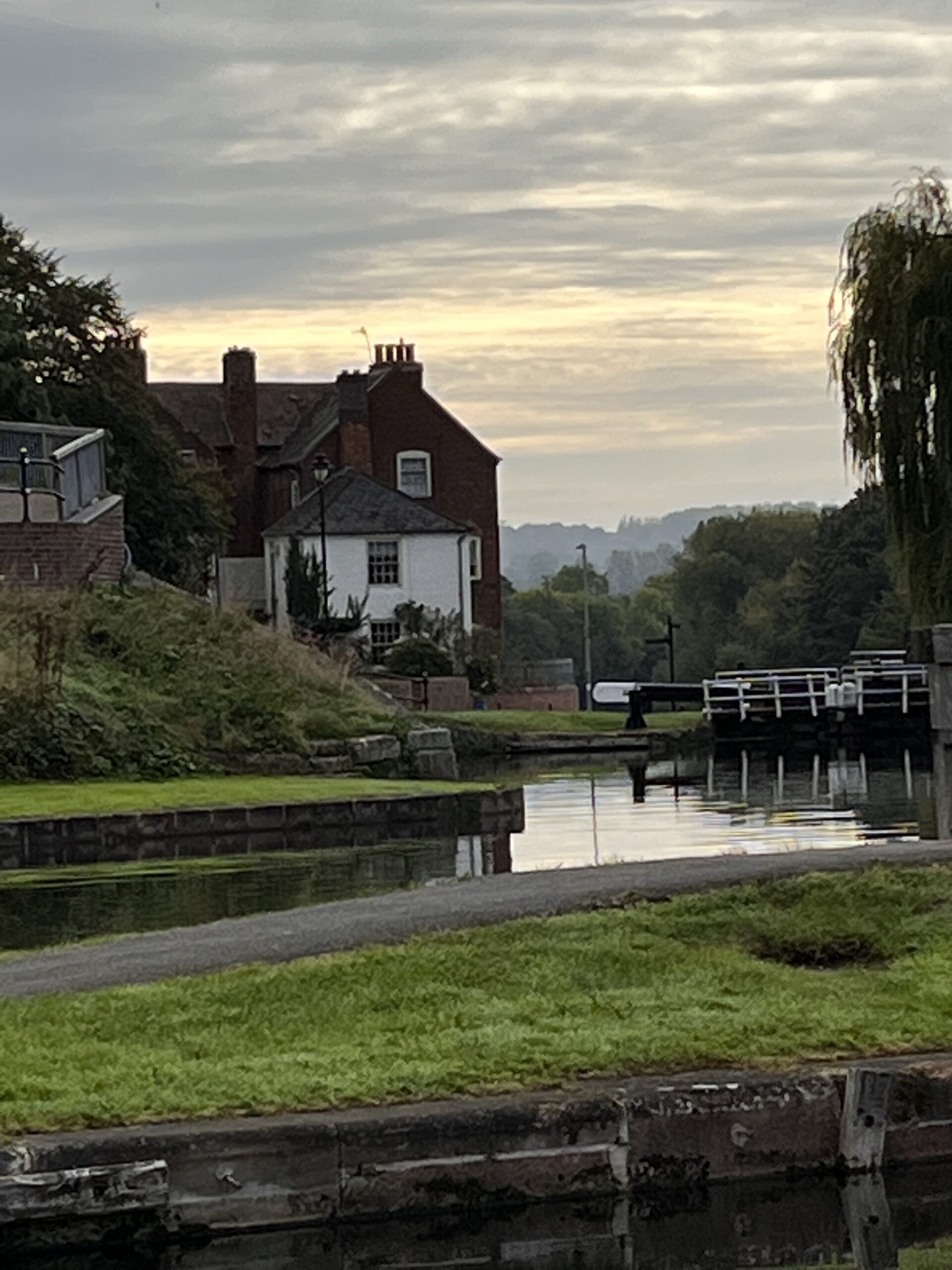 We spent the might at Hawford – another of our favourite places to moor – and set off on Tuesday (Paul had the day off morning on the very final leg of our summer 2022 cruise. Feeling quite sad about this but we've had an absolutely brilliant summer, with lots of firsts. And we've seen loads of our favourite friends and family. We'll do the customary Annual Review, so we can have a really good look back at where we have been, what we have done and who has been to visit very soon.
The locks on the lower part of the Droitwich canals are wide and we paired up with a very nice couple on board NB Wormcatcher – after their habit of getting up early and cracking on. Kindred Spirits! The locks thus passed in a friendly and companionable manner and we were quite sad to say adieu to our new friends, so that they could go up through the single locks and we could follow. And – suddenly – we were back! Our old pal Roy was out on deck to wave us in. Home. And dry. Thank goodness we weren't doing it today. As I write, the rain is absolutely hurling down and I'm lovely and cosy.
No "next week" to write about this week! I will still be posting from time to time and normal service will be returning next Spring. I am going along to a new choir next week and also starting a sewing course. Paul will be returning to Walking Football and we will inevitably be out cruising from time to time. We do have a whole month at home at the end of November to look forward to, including a week's holiday in Egypt. Look out for the summary of Summer 2022 next week! It's been great having you aboard this summer. We'll leave you with a video of one of the big, manned locks on the Severn.