Having solar panels is amazing – free, clean energy! Well – I guess there will come a point when the cost of them when compared with using diesel for propulsion is equalised. Maybe? Especially with the issue over red diesel becoming unavailable for pleasure craft. And then there's the decreased environmental impact to add to the equation.
But! It does mean that the location of the gangplank and boat poles/hooks, which are generally stored on the roof, needs a rethink. Even a slight overhang, causing the panel to be partially shaded can have quite a big impact on solar yield from that panel
I set to, searching for foldable/collapsible/portable gangplanks/gangways (also known as "passerelles" in seagoing vessels – news to me!) and every permutation of that search string.
I looked at wheelchair ramps, motor-cycle ramps and then I stumbled across a company who were selling bags in which to put folding gangplanks! Where there is a bag, there must be something to put in it, right?
I should mention that I had found some excellent products – all very expensive – including one that was over £3,000! Slightly outside our fairly limited budget! And then bingo! One at a fairly affordable price that looked to be just the job.
I fired off a salvo of questions to the manufacturer – a company in Modena, Italy. They were very responsive and answered, to my satisfaction, all my questions relating to weight, dimensions when open and closed, load bearing capacity etc. Sadly they were just about to go off for the traditional Italian summer shutdown, but would be able to fulfil my order in the week commencing 10th August.
It arrived this very day! We excitedly unboxed it and set about trying it out. And we are pretty impressed with it. Yes, it's a LOT more expensive than a bog -standard scaffolding plank. But it's compact, will fit in a locker and free up space on the roof.
The build quality seems excellent and it feels sturdy and durable. The technical details are:
Material – anodised aluminium
Length 200cm/100cm (open/folded)
Width 36cm (45 inc wheels)
Height 8.5cm/17cm (open/folded)
Weight 16kg
The load limit is 250kg
As you can see in Pic 1, it does have some anti-slip sections, but we might consider adding a little more. It is supplied with a Ø25mm pin for fixing it to the deck. We will have a think about how to/whether to use this. It also has a handrail that can easily be fitted on one side. We're not sure whether we will use this or not.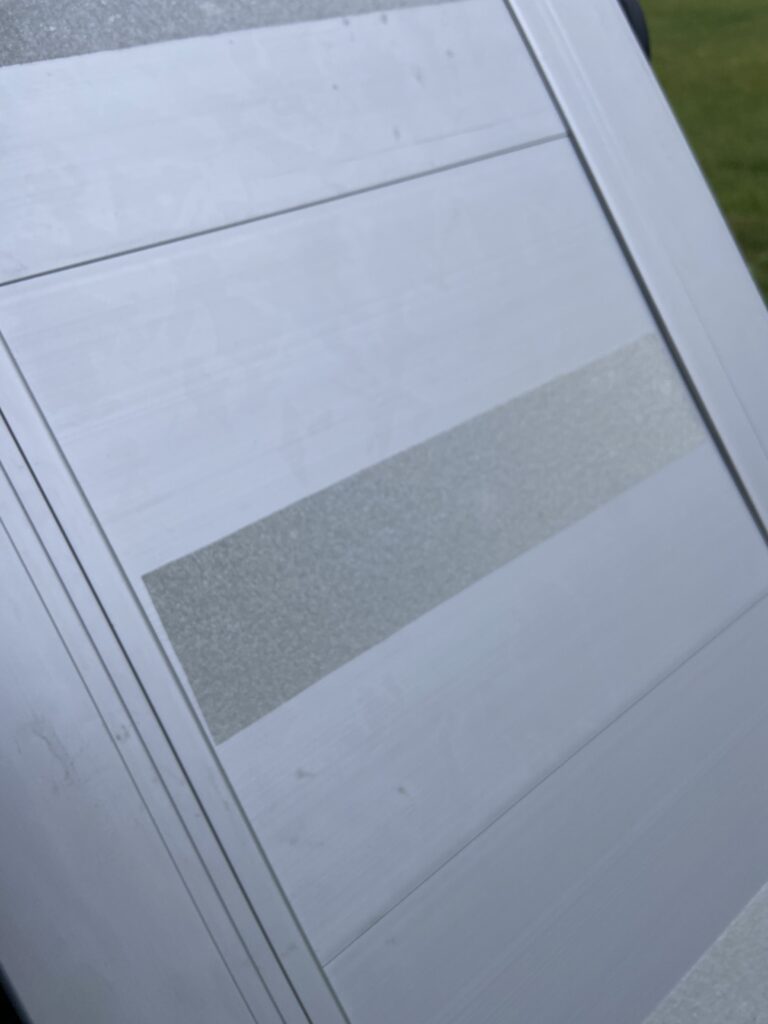 The gangplanks are made to order (and can even be made to the exact dimensions you require) and are sold on EBay. They currently sell mainly to Italy, Germany and the USA. If you want to purchase one, don't be put off if it says low stock or last one. The seller is very helpful indeed and I would not hesitate to recommend. They also sell a version made with wooden treads, which is quite attractive but possibly heavier.
There is a company called Bags4Everything who make – well I expect you'll be able guess that! They will do a bespoke padded bag in heavy-duty canvas and have quoted a price under £50 to make a bag in your colour of choice for this gangplank.
Here is a link to the current EBay listing.
NOTE – we have no connection with the company, but having found a good product, we thought it might be of interest to others.