We zipped up to the Midlands on Monday evening and met with Rob and Caroline on Tuesday morning. We had prepared a small raft of questions for them and we worked our way through the boat from stem to stern ticking things off and making decisions.
We also looked at the interior layout in terms of kitchen units, placement of windows and the million (slight exaggeration) other things that need to be finalised so that the hull can be ordered. At last!
Old Nick – as now seems to be fashionable – will be a "reverse layout". On traditional boats, the first room inside, from the steering position, was the boatman's cabin – a small space with a stove and cross-bed which served as living quarters for whole families. It was tiny because the rest of the boat was used for carrying cargo, which was their livelihood.
Most hire boats have bedrooms at the stern of the boat and the galley and lounge area at the bow end. But the bedroom on Old Nick will be at the bow end. The galley will be at the stern end, with the lounge and bathroom midships.
This "reverse" layout seems to be an eminently practical solution – handy for popping the kettle on and indeed turning it off because it has boiled just as you arrive at a lock, which seems to happen all too often! It also means that you don't have to carry (and spill!) drinks all the way through the boat. Another bonus is that if someone is preparing food in the galley, they are not isolated at the opposite end of the boat to the steerer, so it's more sociable.
This was an important meeting and the decisions made will enable the CAD drawings to be finalised so that they can be sent off to Tyler Wilson. The next stage will be the signing of contracts, which can be done remotely.
There are currently two boats in production and then – finally – it's our turn. We can hardly believe that our dream is inching ever closer.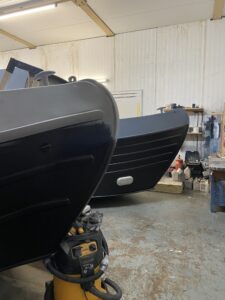 We came away from the meeting feeling excited and with a list of actions for us both. It is unlikely that we will need another face to face meeting before the hull arrives, but it is nice to know that we can visit at any time, with a warm welcome from the whole Ortomarine team.