Sunday 30th May
Well considering we only intended to stay at Droitwich Spa Marina for 10 days after launch, thanks to Covid, we have ended up staying 24 weeks! But it's been absolutely no hardship and we have come to love the place. Indeed – we now have a permanent berth there, we like it so much!
So it was with mixed feelings that we said goodbye to Bruce and Lenny (who are coming again in August) and to our other friends at the Marina – especially Roy on Here We Go Again, whom we had moored next to for virtually the whole of lockdown. We were sad to be leaving but very excited to be leaving for the entire summer – and beyond.
But we also welcomed some very good friends from back home, with whom we have spent many happy hours of boating on my Dad's boat Sam Gunter. None other than Sue and Paul Rogers.
They were staying for five nights with their cockapoo, Lulu. We were a little – well, apprehensive is way too strong a word, let's say intrigued – about how it was going to be with the three dogs on board. They had met before a couple of times, but not in such a small space. We thought it might be a bit hectic. Well we need not have given it a thought. Within minutes, it was like they'd always lived together! Perfect.
We got Sue and Paul settled on board and Paul very kindly took Sumps to the nearby Amazon Locker to pick up a few last minute packages. I'm not sure whether I mentioned that we had sold our car on Thursday 27th? Proper boaters now!
After a cuppa and a tour of the boat, we set off, waving farewell to our friends and on up the three locks to Hanbury Junction, where we would turn left, onto the Worcester & Birmingham Canal, with a plan to get to the bottom of the Tardebigge flight of 30 (yes30!!!) locks, which we planned to do the next day.
As they were old hands, we soon polished off the 15 Astwood and Stoke locks that led to the bottom of the flight. And Lulu very quickly had locks weighed off! It was, not without incident, however! A pair of swans and their 5 cygnets took quite violent exception to Sue, Sumps and the three dogs walking past them on the towpath. We had to reverse back and pick them up as there was just no way they were going to be let through.
It was very sunny indeed. Just lovely, so we decided to celebrate being together at last by eating out at the Queens Head pub. Which, it seems, is beloved by the young and trendy Bromsgrove set. I think we all felt a bit scruffy and wind blown in comparison to the immaculately turned out young ladies, in their vertiginous heels. Ah well!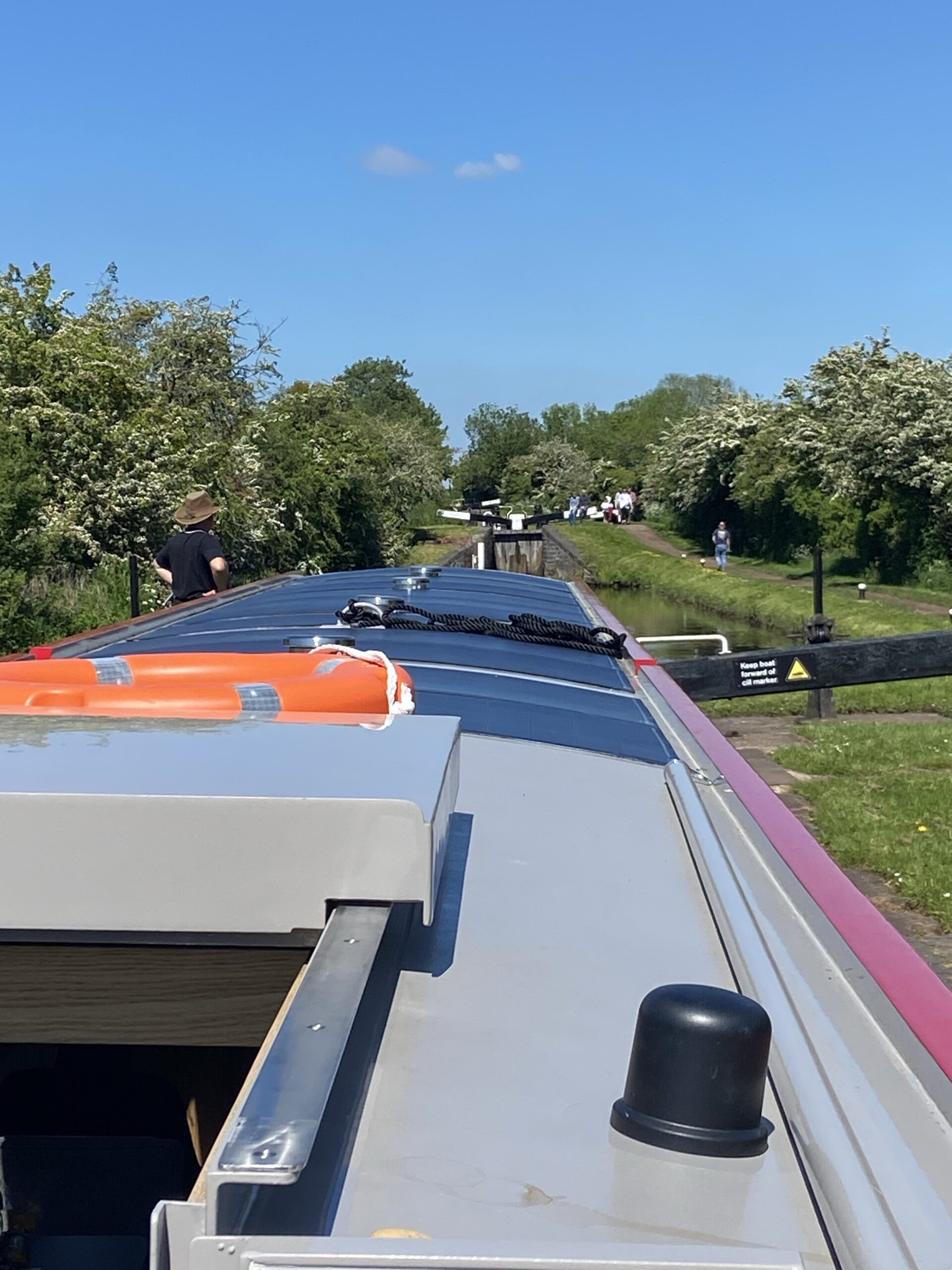 We had a nice meal and then repaired to the boat. The noise from the pub garden was still going when I finally dropped off, some time after 11:15ish. Oh to be young again.
Monday 31st May
We had planned, the night before, to make an early start on the Tardebigge flight and we slipped into the first lock at 07:00. It was grey and really quite chilly but the forecast was good.
We soon got into a familiar, easy rhythm and we were steadily climbing up to the summit. Dog walkers and joggers began to appear and we had an unfortunate incident with a boisterous Boxer, who chased a very frightened Lulu. She made a jump for the boat and missed spectacularly, plunging into the lock, which was filling. Sumps quickly closed the paddles and she was plucked out, no harm done but considerably less muddy then before her early bath!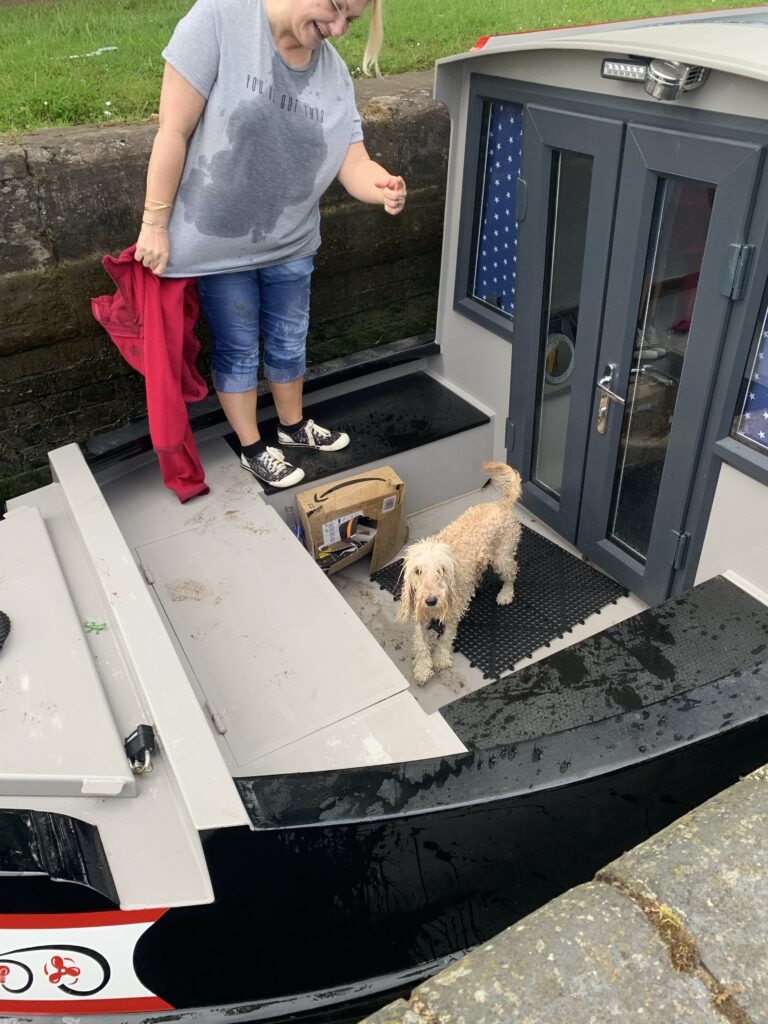 We soldiered on and by 10:50 we were at the top! We had even had some added manpower from some CRT volunteers on a few of the locks. The sun was out and we had thoroughly enjoyed our passage through the flight.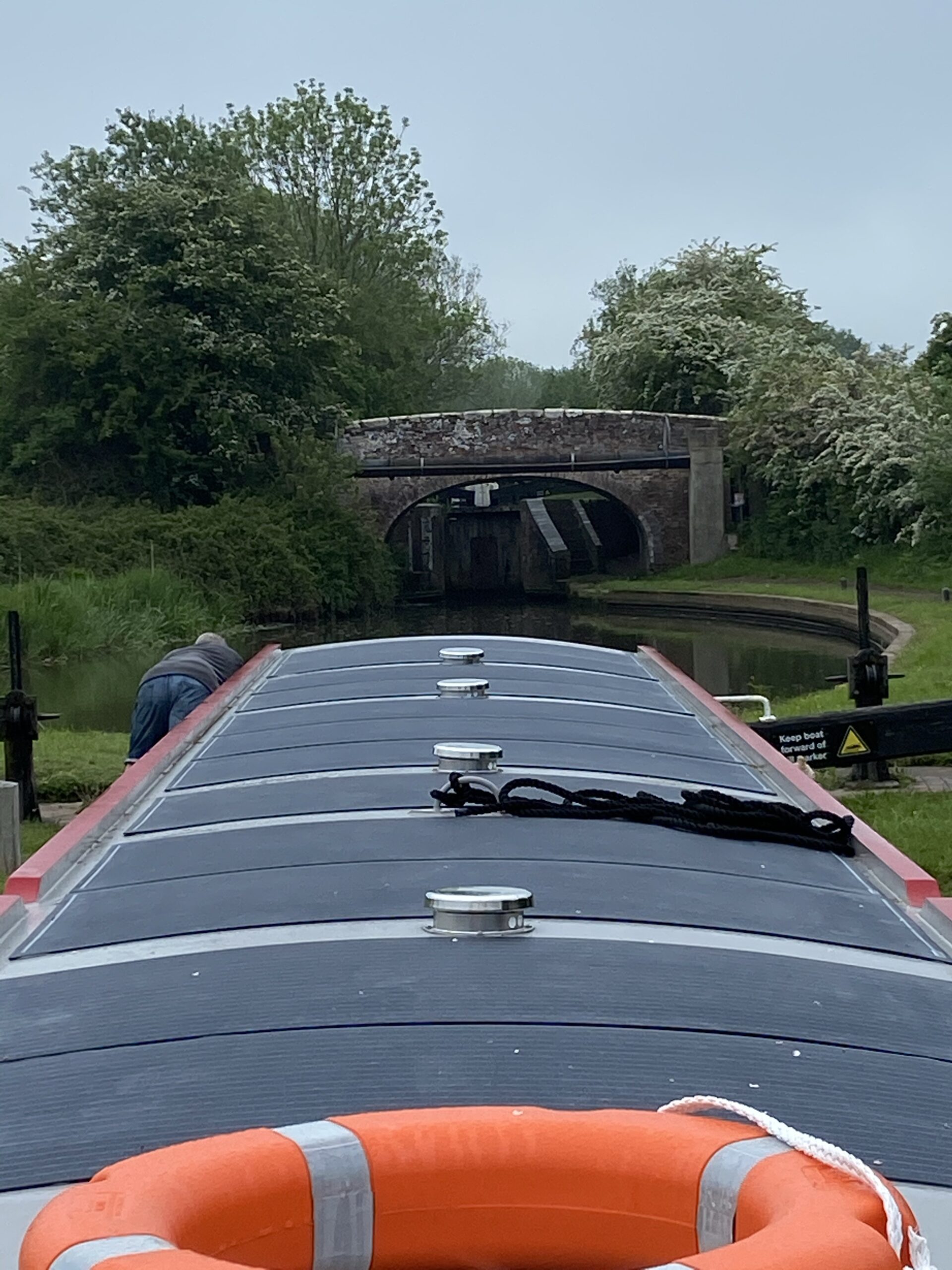 We moored at the water point and, as there was absolutely no one else about, we all took cheeky showers followed by a belated breakfast. Showering or doing your washing while tied up to the water point is somewhat and justly frowned upon, as it prevents others from using the water point. Definitely not the case with us and we would have moved on in an instant if someone had happened along.
Tardebigge Fascinating Facts
The Tardebigge flight was built in the late 1700s/early 1800s.
The locks raise the canal by 220 feet in about 2 1/4 miles.
They are the longest flight of locks in the U.K. and also in Europe!
There was a short-lived vertical boat lift in place of the top lock. It was powered by two men using a mixture of chains and pulleys. It could move 110 boats in 12 hours but was soon abandoned as being too fragile.
It is reckoned to take around 4 hours, which makes our 3hrs 50 look very respectable – especially considering that we stopped for a couple of tea/coffee breaks and muffins!
Thus refreshed and sweet smelling we continued our journey. Almost instantly we were plunged into the dark in the damp and rough-hewn Tardebigge Tunnel, which is 530 metres long. This was swiftly followed by the Shortwood tunnel, which is actually longer by 30 metres. It was a beautiful day and kind of annoying to be underground, but the alternative to a tunnel which goes through the hill is locks, which go up the hill. A tunnel is much easier! And the acoustics are brilliant for singing – which we did.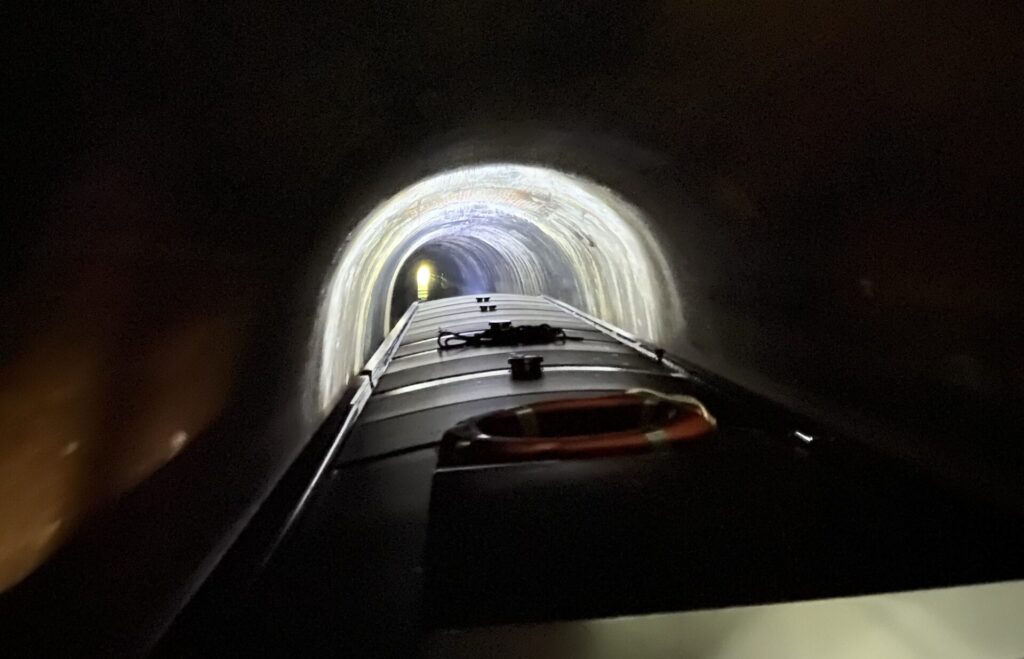 We wound our way through the pretty and verdant Worcestershire countryside, passing through Alvechurch and under the hectic looking M42 until we arrived at the Bittel Reservoirs at Barnt Green. There are some long term moorings overlooking the reservoir, opposite the towpath side, which must be some of the most sought after on the system. Idyllic on a lovely early summer day.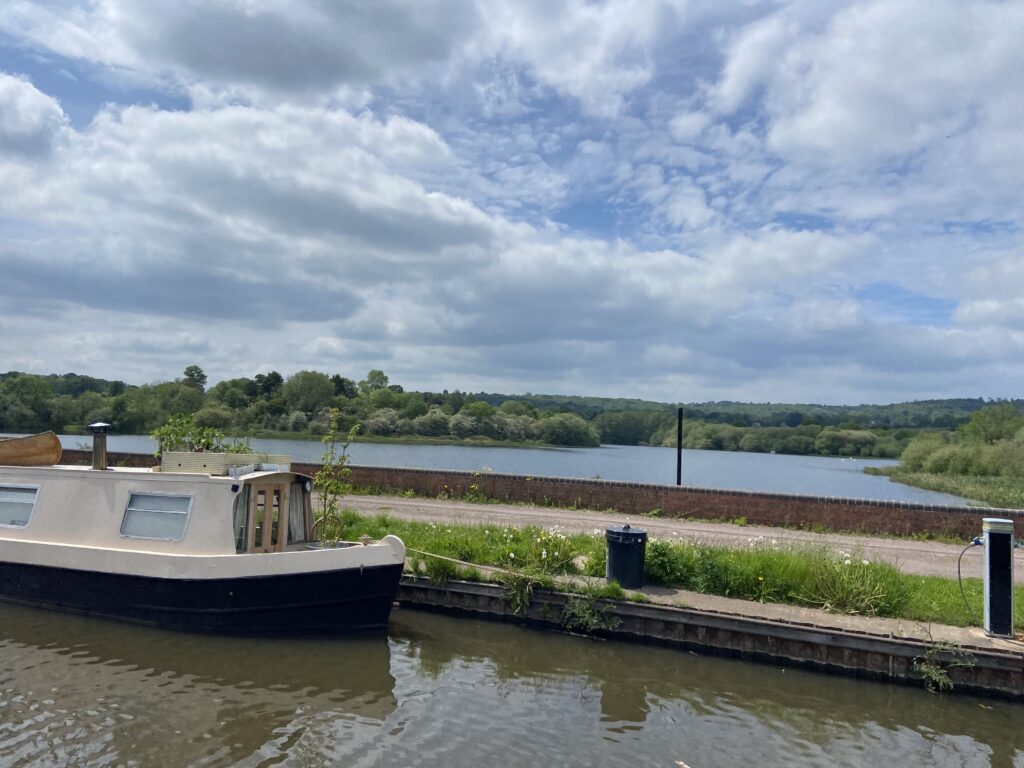 Sadly, the towpath side was very reedy and overgrown and impossible to get into to moor, which is such a shame as it would be a lovely overnight stop. We eventually managed to find a spot just past the pretty views and pulled over about 16:30. It had been a long day and it was time to relax.
Tuesday 1st June
The first day of the summer months. Strawberries, salads and Pimms! What Ho!
We had a slow start to the day – well those of us who did not have to work did! Poor Paul had to work so we – the non workers- relaxed and finally got under way at around 11:20. A very late start but most of us were on holiday, so why not?
The first section was a heavily wooded cut, full of birdsong and dappled light. Delightful. It seemed that the bank was badly eroded or collapsing as CRT had sunk "hippo" bags full of aggregate into the canal to shore it up. I counted 30 before I got bored.
But suddenly, something – and we will never really know what – spooked Ted and he began displaying very anxious behaviour. We just could not work out what was wrong but it was very obvious that he desperately wanted to get off the boat. He was properly freaking out.
I had to call Paul for assistance. The only thing we could think was that he needed to relieve himself, so we put the nose of the boat in to let him and Paul off. That was it! He went off down the towpath like a missile, pegging it back towards our night spot. As Ted, pursued by Paul running full pelt, disappeared around the corner, I was pretty worried. I imagined all sorts of terrifying scenarios each one worse than the previous. It seemed like an absolute eternity until Paul came back into view with Ted on a lead, Sue having gone off to meet them. It was such a relief and we were all pretty shaken by the strange event. And the annoying thing is, we will never know what so thoroughly spooked him. Sue thought it was probably zombies hiding in the wood?
Soon, we had other things on our mind, though as we were approaching the Wast Hill tunnel. This was a big one, although at 2,493m it's less than half the length of the longest, Standedge, (Huddersfield Narrow Canal) which is over 5,000m long!
You enter the Southern portal of the tunnel in leafy Worcestershire and leave the tunnel some 45 minutes later on the outskirts of Birmingham. The tunnel was built in 1796 and is a massive feat of engineering, when you think about it.
It's very leaky in places and we had the brolley on standby! It's also pretty chilly. We sang our way through this one too. Excerpts from Godspell, lots of Old Time Music Hall numbers and other songs from the shows.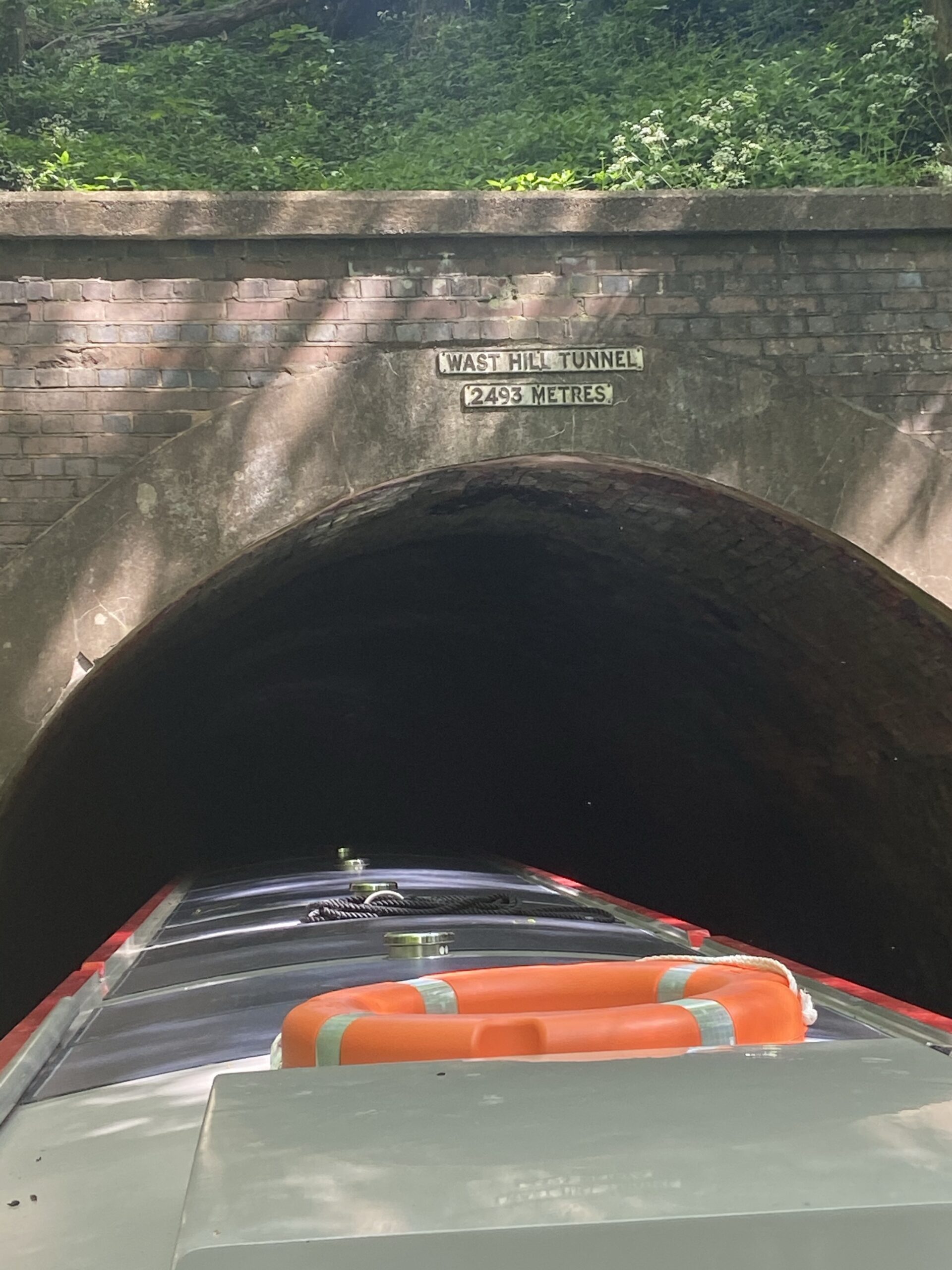 It was quite a relief to emerge into the sunshine. We had all got very cold in the Stygian gloom.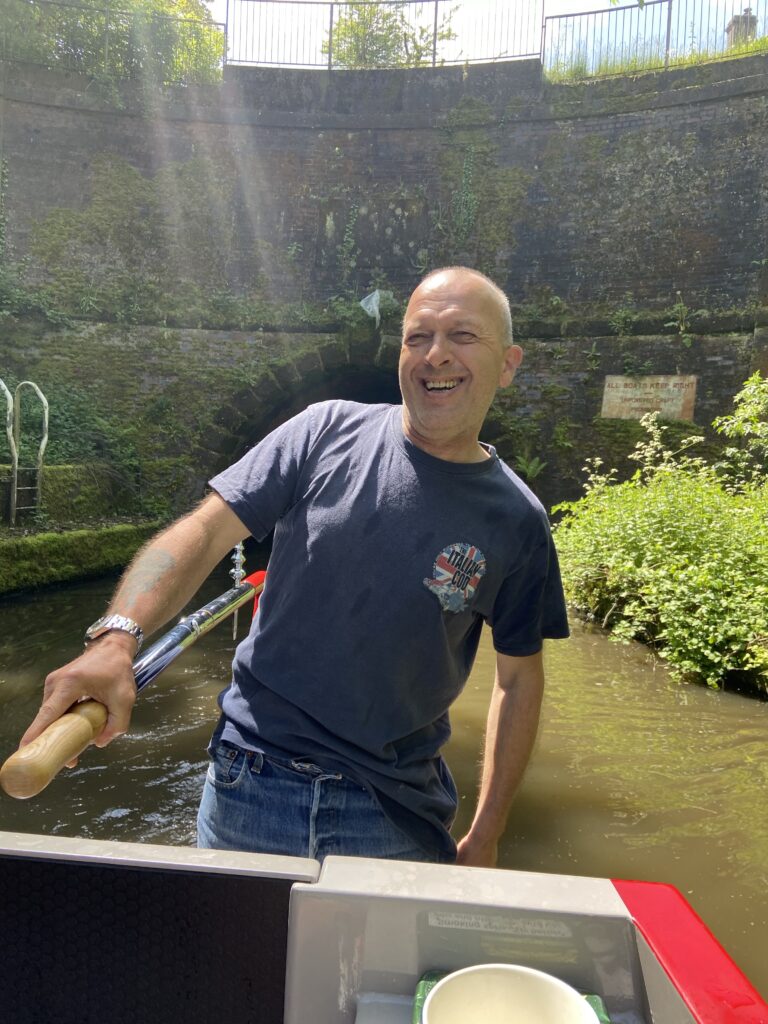 A short distance after the tunnel exit, you arrive at King's Norton Junction. Straight on leads to Bournville (famous for chocolate) , Edgbaston (famous for cricket!)and the renowned Gas Street Basin in the heart of Birmingham. By coincidence, the last time we had travelled that bit if the canal was with Sue and Paul.
But today we were skirting round Birmingham and turning right on to the Stratford upon Avon canal. I think you can guess where it terminates ?
This was a first for all of us and we were excited to get our first glimpse of the famous King's Norton Guillotine Lock. It is a "stop lock" – a (very) low-rise lock built at the junction of two (rival) canals to prevent water from passing between them. During the competitive years of the English waterways system, an established canal company would often refuse to allow a connection from a newer, adjacent one.
The guillotine lock at King's Norton is an unusual find. Most are on rivers, rather than canals and much more common in East Anglian waterways.
Shortly after the guillotine lock, we had yet another tunnel to negotiate- Brandwood Tunnel. This is a shorty at only 322m. The portals are adorned with a carved head, which is popularly believed to be of Shakespeare (although it looks nothing like him!) but is in fact of one "Mr Hancock", who had close connections with the building of this canal.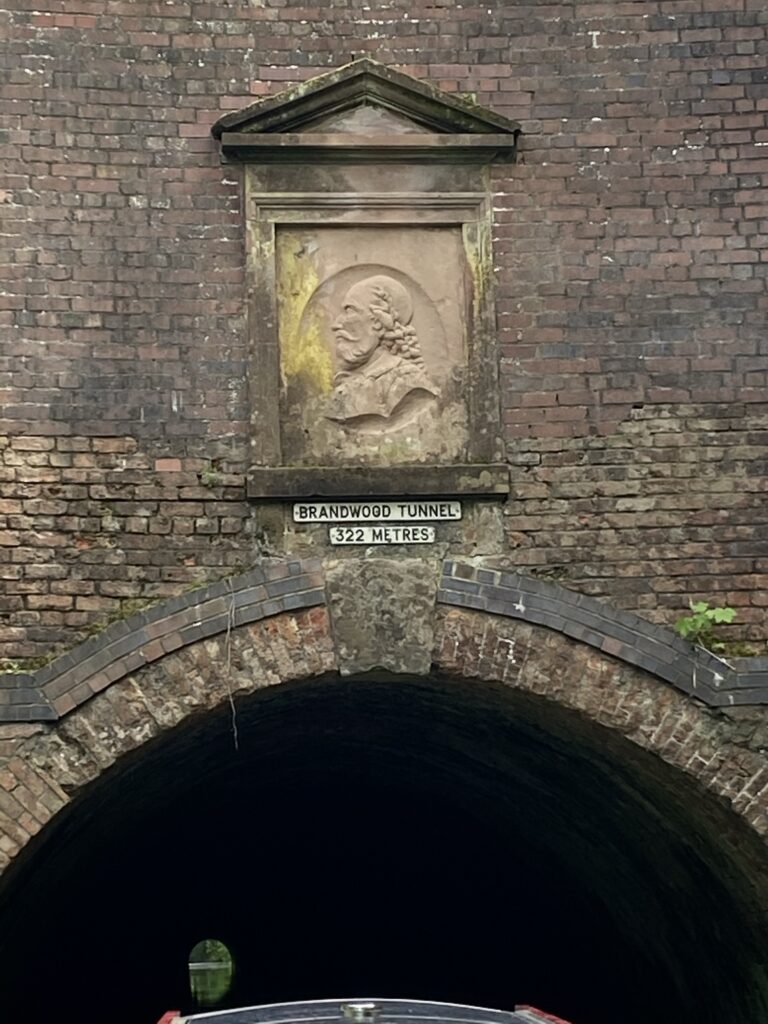 We found this Northern part of the canal to be very attractive. You'd hardly know you were on the outskirts of Birmingham.
We continued our journey, punctuated by a powered lift bridge, which Sumps operated, enjoying the enormous sense of power gained from actually stopping the traffic!
We pootled on and finally tied up at around 6ish at a nature reserve, just past Lady Lane Wharf.
Wednesday 2nd June
Today was turn around day. Sue & Paul had left their car at Droitwich Spa Marina, so we would start heading back today, retracing our steps, but first we had a date with a bakery and needed to find a place to turn round or "winding hole".
We were up quite early on this beautiful morning – Lulu had needed a pee! Notwithstanding, it was gone 10 before we set off. Sumps had his head down, working as usual but we were all looking forward to some produce from Wedges bakery, right by the canal at bridge 20.
We pulled over and our hunter gatherers (aka S&P) set off. They returned with a wealth of goodies for lunch – and beyond! Yum!
Once they were back on board, we set off for the winding hole. There were two, actually. One for boats up to 60ft, the other for 70 footers. Paul rather fancied the challenge of the 60 foot one, but when we arrived at it, it was right by a bridge on a bend and we didn't fancy being T-boned by an oncoming boat, so we continued to the 70 foot one. And guess what! It was right by a bridge but with less of a bend. Paul soon whipped it round and we were heading back the way we came.
We met a hire boat at Lady Lane Wharf who utterly panicked when they saw us. They pointed the tiller the wrong way and went aground. We offered a few words of advice as we passed but they went unheeded. As we slipped off into the distance, we could see that they were still there, tearing up the banks with the wash from gunning the engine. But it's all part of the learning process for them.
We moored that evening at Lyon's wharf, which was very quiet. As I dozed off, I heard an owl hooting in the trees. This always makes me smile.
Thursday 3rd June
An overcast sort of a day, which saw us doing more retracing of steps. Good old Paul steered us through 4 tunnels and we arrived back at Tardebigge Wharf by about 17:00. None of us wanted to repeat the Tardebigge locks, so we stayed the night there, showering and watering and then shoving across to the towpath side to spend the night there.
We had our supper and then Paul and Sumps ordered a taxi to take them to Droitwich and retrieve the car while Sue and I played cards and other games.
It had been way too short a visit. The dogs had got on like a house on fire and we had had such a lovely time. Lots of laughter and gallons of tea and coffee. We reflected that things had changed a lot since we had been boating together when we were younger. In the old days, we had sunk a lot of gins every night. Now it was a round of three Diet Pepsi's (with lemon) and a beer for Sumps. I imagine our livers are happier! But it's still been a blast.