Saturday 12th June
We had left our lovely, peaceful mooring near the bottom of Knowle flight late on Friday afternoon. It had been a very pleasant few days and I was quite sad to be leaving, but new adventures beckoned.
It's about an 8 mile, lock-free pound to the top of Hatton flight and we stopped for water at Kingswood Junction on the way through, arriving at our night spot in time for sun-downers.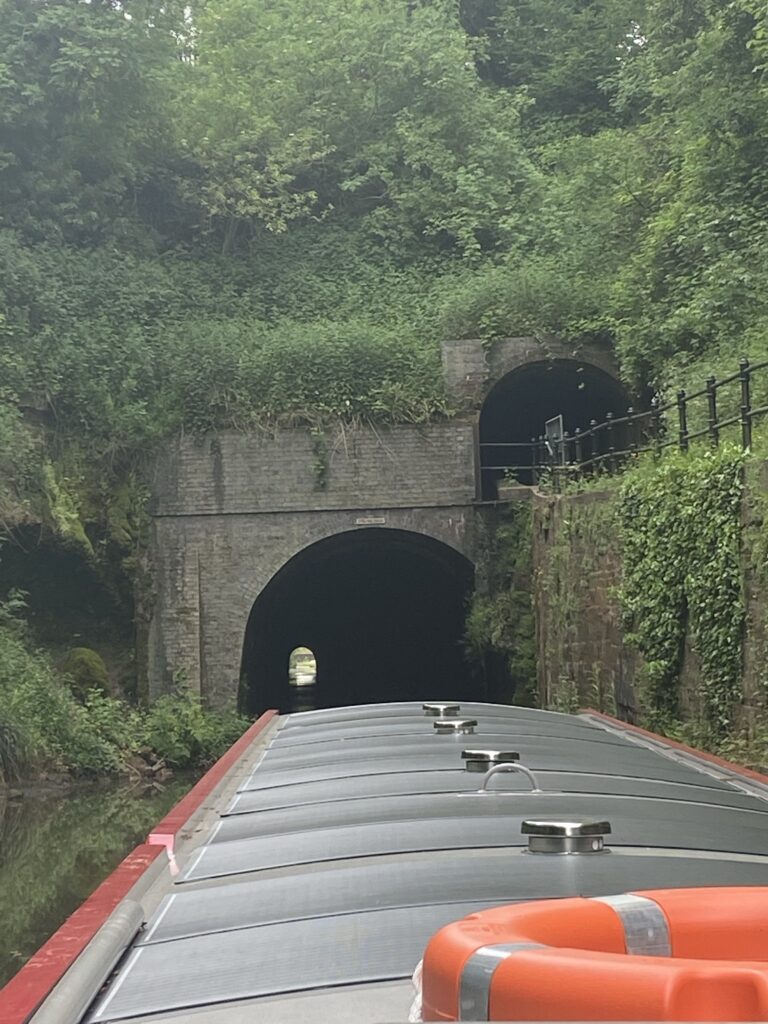 We got the bikes out and had a quick cycle down to see the dreaded locks in all their glory! They are not nicknamed the "Stairway to Heaven" for nothing! Although we would actually be locking down, so possibly the "Stairway to Hell" is a more apt name! I'm not a fan of this flight.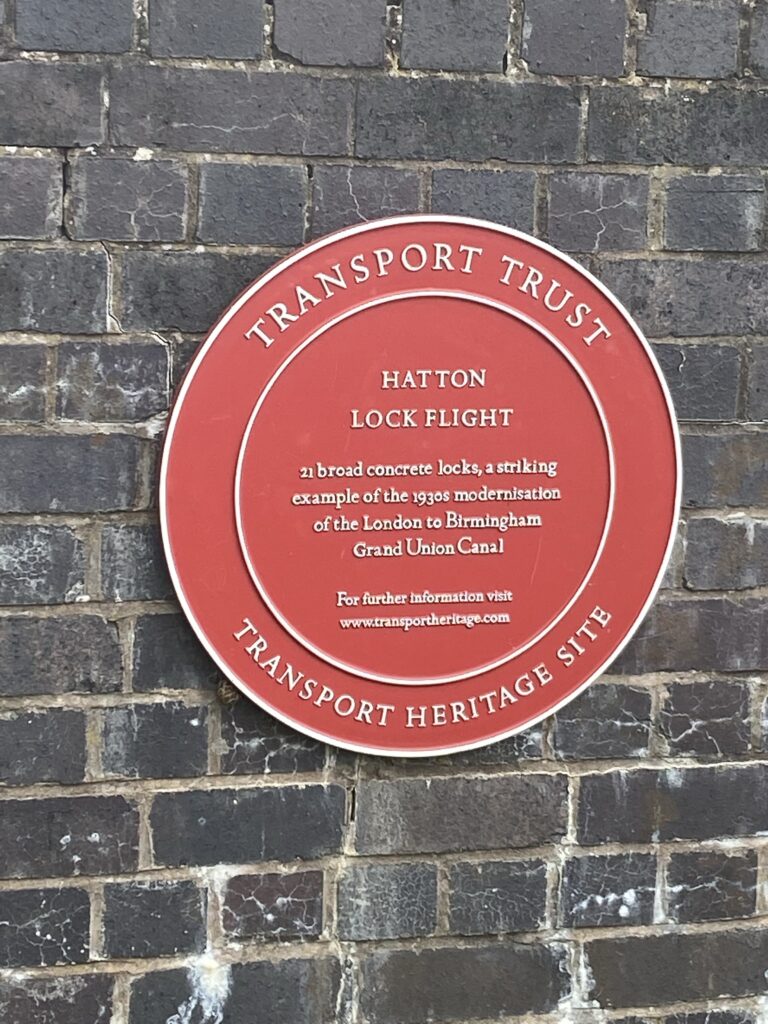 A little history, then about the Hatton 21. The canal we know today as the Grand Union was indeed a Union, being made up of a series of privately owned canals. When the stretch in which we find Hatton opened in 1799, it was the Warwick & Birmingham Canal, built to carry locally mined coal to the power stations and factories of the Black Country.
To try and see off the threat of railways and road freight carrying, the locks were widened to speed up transit. Two boats, side by side in the locks carried twice the amount of freight. This work began in 1932, using a new miracle material known as "concrete". The project took a couple of years. The locks are spaced out along a 2 mile stretch and raise (or lower) the canal by nearly 150 feet.
The flight has unusual paddle gear (the thing that you wind up to let water into or out of the lock.) And by unusual I mean flipping hard work! Each one takes between 21 to 25 turns to fully open. They were originally designed (by Sir Robert Elliott-Cooper & Sons, and manufactured by Ham, Baker of Westminster) to wind up and then be allowed to close by gravity, but whether it's wear and tear or lack of maintenance, you generally have to wind them back down to be sure they are fully closed.
They looked as daunting as ever! But it was time for tea so we returned to the boat and eventually bed, setting our alarms for 06:45.
The weather was forecast to be pretty hot, so we had decided to have an early crack at them. As we cruised down the short distance to the top lock, me on the boat and Sumps on the bike, with the boys, a chap from another boat popped out and said "Oh! We were just going to set off!" Sumps offered to share the lock and he replied that he wanted to go down with the boat he was moored next to. I'm afraid it was a case of the early bird catching the worm – they'd have to follow us down.
As we settled on the lock mooring, a CRT official was putting a notice on the locks saying "do not use". Sumps engaged him in conversation and was told that some of the lower pounds were all but dewatered so there would be a delay. So glad we got up early!! But not a lot we could do about it. Breakfast time then!
As we were tying up more securely, the first of the two boats who "wanted to be together" moved down, closer to the lock. Water was already low on the pound and he went aground at his stern as he made his approach. His good lady sensibly took a turn round the bollard as he gunned his engine. I might have employed a boat pole to get off the mud, rather than excess revs, but I could not make that call for him.
His good lady then, inexplicably, undid the turn round the bollard, just as he freed himself. She did not have the strength to hold the boat and he came hurtling towards my stern like a speeding bullet! I suggested he'd best desist from hitting my boat and he threw up a barrage of "I was aground, I wasn't going to hit you, I know what I'm doing!" type of excuses. The fact was that if I hadn't hollered, he would definitely have hit me. He was very cross with me for daring to cast aspersions on his boat handling skills and possibly thus, also on his very masculinity. The situation was not improved when I suggested he might have got out of bed the wrong side that morning! Reader he had provoked me! A stony silence ensued.
After about an hour, the lock/keeper gave us permission to proceed. By this time, a volunteer lock-keeper had reported for duty and we had assistance from a very helpful chap – another Paul, by the way – for around 10 of the 21 locks. We plied him with coffee and biccies in return. We reached the bottom after about 3 hrs and 50 minutes. Not too shabby. Oh and I'm a numpty! I mentioned that the Lapworth flight had some unusual "cascades", but here are some more locks with a cascade! I had completely forgotten these. Mind you, the last time we did Hatton, George was about 10, I think. And we were with Linda, as I recall.
There was an Old Nick-shaped space at the Cape visitor moorings and so we tied up there for the day, above the next pair of locks. It was, by now, very warm indeed. We opened every openable orifice on the boat and settled down for a nap.
Also at the locks, which are on the outskirts of Warwick, is the renowned (on the cut) "Cape of Good Hope" – a pub, not the rocky South African peninsula! You don't see many narrowboats round there, unless they have taken a very wrong turning! .
After our nap, we popped over for a drink and something to eat. A Pimms for me and a pint of very acceptable Butty Bach for Paul. We both chose Ham, Egg and chips, a perennial favourite for both of us.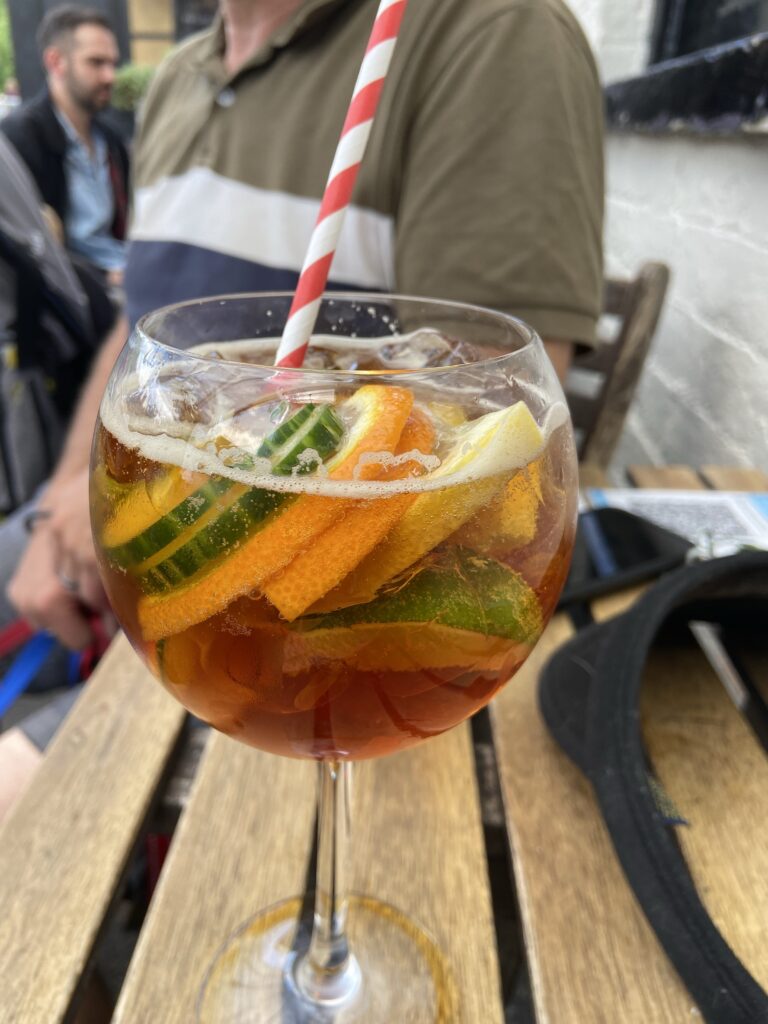 There were lots of folk walking up and down the towpath all day and well into the night, but despite our nap, but they didn't impact on our slumbers. The sleep of the dead. Both of us have never slept better than on this lovely comfy boat bed.
Sunday 13th June
Another early start, because of the impending heat. We didn't plan on going too far today, but we were running low on fridge food and also had to pick up a new "toy" in Leamington Spa.
As I walked down to set the lock, a chap asked if he could go down with us. Of course he could! I radioed Paul to let him know the situation and we soon polished off the pair of Cape locks.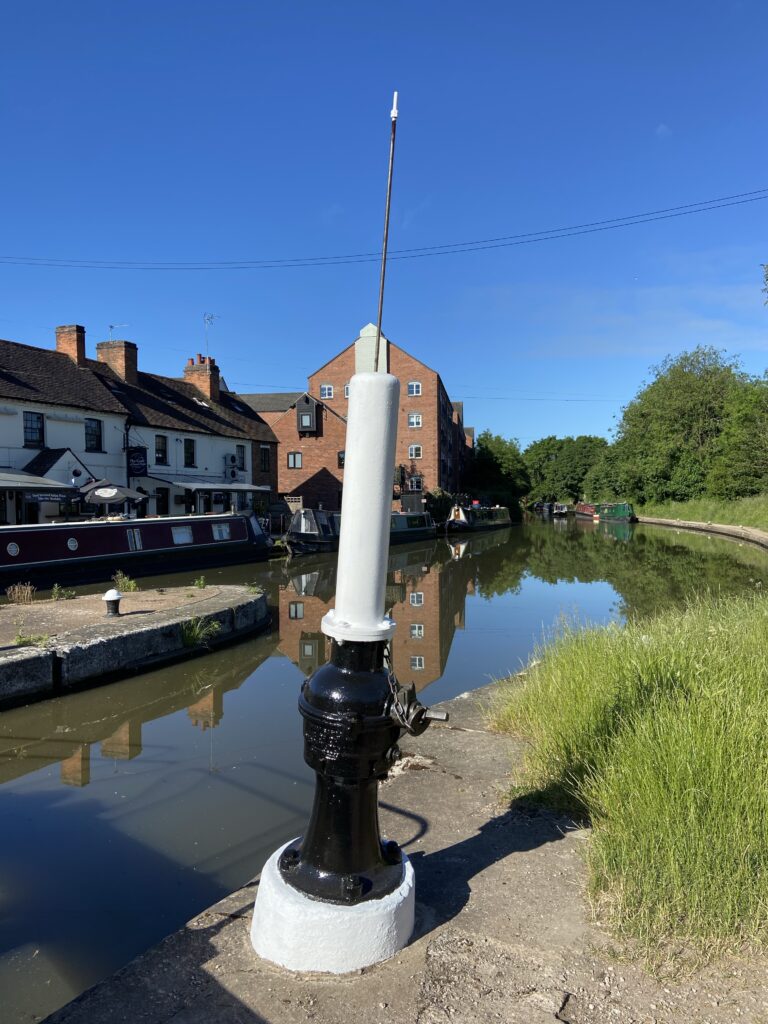 There is a very handy Tesco's superstore at Bridge 46 in the Warwick/ Leamington urban sprawl and my very gallant skipper kindly volunteered to go ashore in search of victuals. I had prepared a list for his aid and benefit.
Reader, he was gone for well over an hour. I used the time wisely, giving the galley a good clean and tidy, stowing away stuff that was just generally lying about or lurking and sweeping up about a small border terrier's worth of fur!
He returned, successful but parched. And then we began the process of filling up the fridge. It's a bit like a game of Jenga but you're pushing things in, instead of pulling them out!
The fridge was full to bursting because we knew we were heading out into the country, where supplies would be less plentiful and more effort would be required to obtain them. But we had one more job.
We had to call into a well-known purveyor of white goods and consumer electronics to pick up a purchase we had made earlier. A new toy, of which more later.
That done, we headed out of town. We had picked out a spot just past a place called Radford Semele (pronounced "seemly", one understands). We passed a pub on the way through (The Fusilier) which had a large TV set in the garden ready for the England v Croatia game.
When we arrived at the spot we had picked out of the book, (just after Bridge 35 – Radford Bridge) we found it to be to our taste and pulled over for the day. Mooring was all done at record speed as Paul wanted to watch the footy.
Sadly, the Wifi and TV signal was rather less than sparkly but just about good enough, with an occasional pixilation. I did not enjoy it.
We had a very pleasant and quiet night.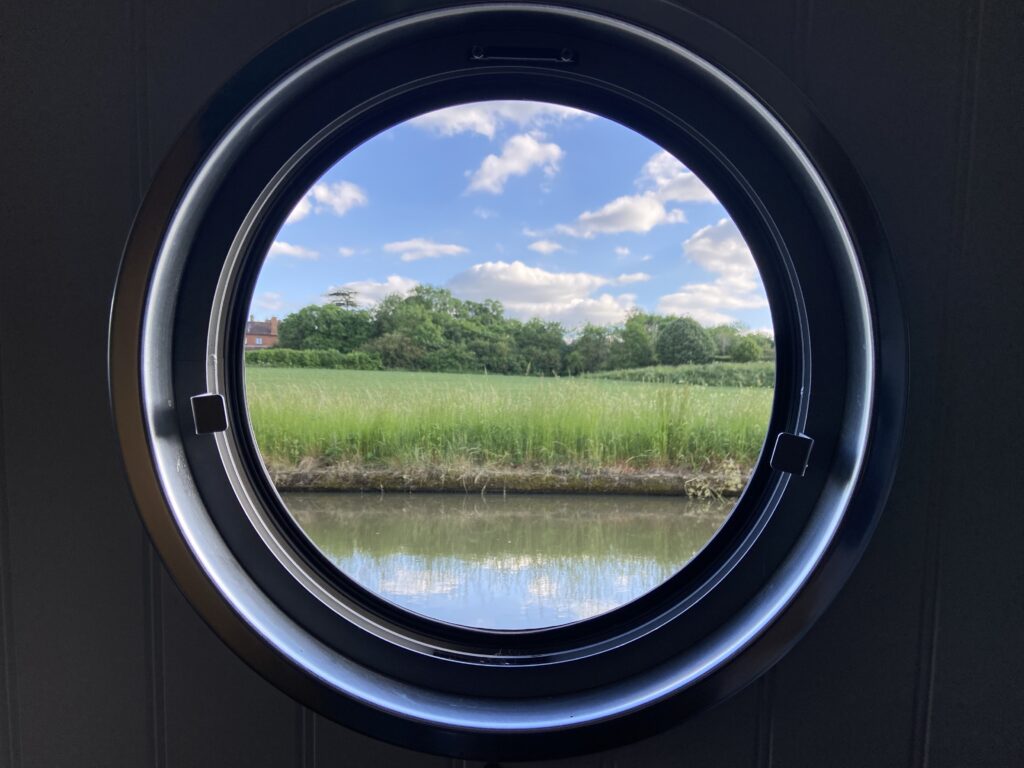 Monday 14th June
Up with the lark again! We wanted to get a few more locks ticked off before Paul started work. And it was a beautiful morning. Sun, water, trees and birdsong. What more can a person ask for?
As we passed a line of moored boats a head popped up and asked if they could lock up with us. As usual the answer was of course yes, although, between you and I reader, we'd prefer to do it alone. It's quicker and less fuss. I'll explain.
As the lead boat, we go into the lock first. We then have to get a rope ashore and keep the boat tight to the side. The second boat can enter the lock, by your side. Of course, you never know how good or bad the person on the tiller might be. Sometimes it's prudent to also shut the gate on your side, so that, if they are going to clonk anything, it's the lock gate and not your precious home! Once you're both in and settled, the rope can come off and you can jiggle happily up or down together.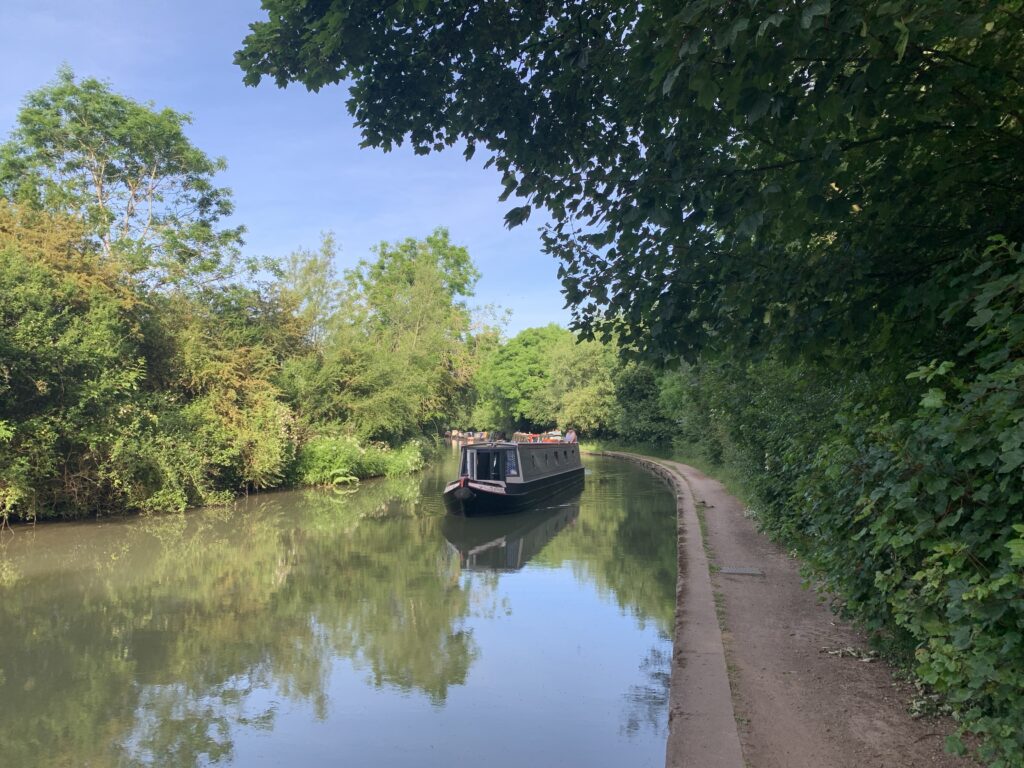 In this case, the tiller-girl was very accomplished and never once made contact with us on the way in. No high kicks either! Fair play to her. A lady on a time share boat with her Mum who was aged 75. A non-swimmer. Lady on tiller had bad shoulder. They were finishing on Thursday. This is the info I gleaned from our time together!
We had a pleasant time going up the four locks – yes four whole locks – that we planned to do that morning. We bid them adieu at Fosse Top lock and pulled over shortly after, on a nice bit of Armco. It was a delightful spot and no one else around. Just how we like it. No noisy road, just birdsong. Bliss.
We were tied up, had breakfasted and Paul had started work by 09:15. Great work Sumpners!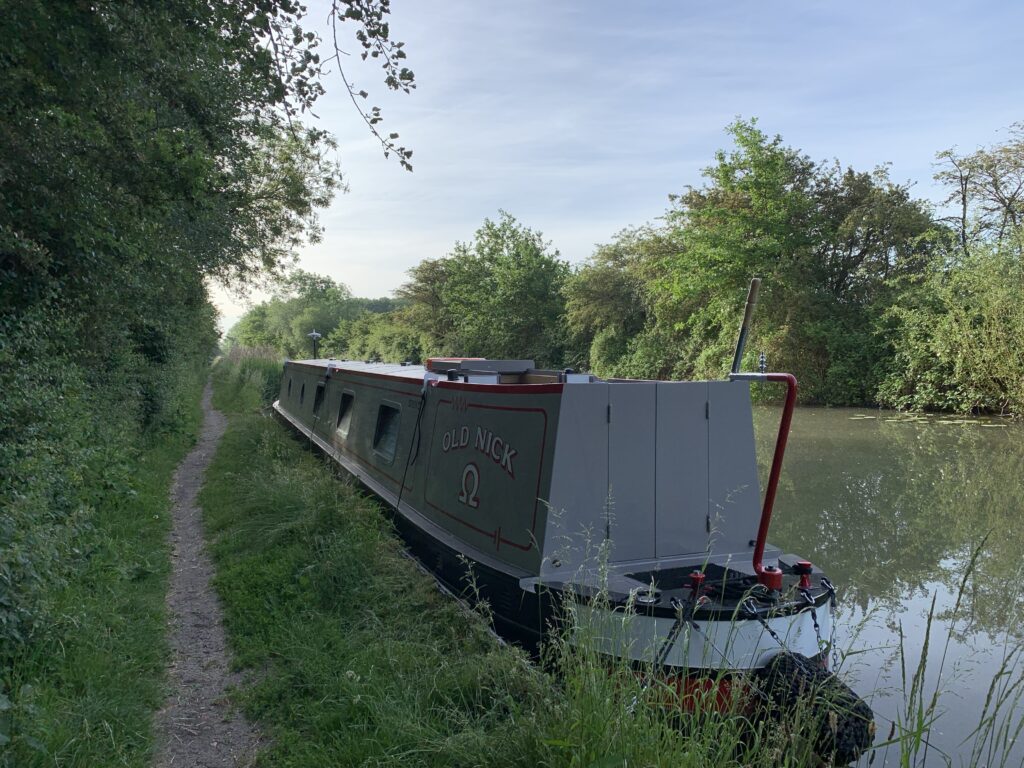 I pottered while Paul worked, cleaning – both myself and the boat, tidying, which seems to be a never-ending story (with apologies to Limahl). I also had a delicious snooze (or a "beepy" as we call it in our family). Very restorative.
The signal was good – once Paul had switched SIM cards. Not for the first time, we were glad that we had installed a Digital Yacht 4G Xtream router, which has dual SIM slots, the latest CAT6 300Mbps 4G connectivity and 2.4Ghz plus 5Ghz wifi! The dual SIM allows you to select whichever mobile network has the better signal in the area where you are. It was , of course, designed by none other than our very clever skipper.
Tuesday 15th June
Yep. Yet another early start! We had six locks in our sights today. We don't do things by halves, eh? Another beautiful morning, too.
It's a lovely stretch of canal, which we haven't done for many a year. The last 2 of the 6 locks were a staircase of 2. And as we entered the bottom of the two, we spotted a, sadly, dead eel. An interesting spot. I wonder how he gets back to the Sargasso Sea? Well he won't now, of course, but if he were still alive. Actually I'm now wondering if it was actually a lamprey?
I digress. There were a couple of boats above the top lock. Paul tried to get them to come into the top lock and do what is commonly known as "the Bunbury Shuffle". This is where you have a boat that is locking up in the bottom chamber and a boat or boats in the top chamber, who are locking down. Once the top chamber has emptied, one of the boats from the top chamber enters the bottom chamber, the boat from the bottom chamber then takes its place and then the second boat from the top chamber moves down. And then they continue the process, either up or down.
Sadly, Paul could not persuade either of the two boats that this was a feasible operation, so we had to waste a whole lock full of water. Annoying, as the pounds had all been very low.
The middle gates are very leaky and I reported this to CRT West Midlands via Twitter.
Sadly, we observed the massive impact that HS2 (don't get me started) is having on the landscape along its route. At Long Itchington, they are building a tunnel under (thank goodness) some ancient woods.
Whilst it's good that they are tunnelling under instead of bashing straight through the woodlands, it must be having a massive impact, as the pictures below show (you might need to zoom in).
At the peak of construction, ten tunnel boring machines – each a self-contained underground factory – will work 24 hours a day, 7 days a week. Weighing up to 2,200 tonnes, each 160m long machine will bore and line the tunnels as they drive forward at speeds of up to 15 metres per day. All for a vastly expensive white elephant that nobody actually wants. Pah!
Anyway. We did the allotted 6 locks and then pulled over for Paul to get down to some work.
Wednesday 16th June
Double figures for the locks we planned to do today, so we were up at 6. Such a beautiful morning, too. One of the joys of having an electric boat is that we make no noise. If we had a Diesel engine, we'd have thought long and hard about starting so early, for fear of disturbing people's slumbers. But with Old Nick, as long as we whisper and pass moored boats very slowly, no one knows we are there. Stealth boating!
As we entered the first lock, Sumps spotted something swimming near the weir. It was a hedgehog! He ran back and retrieved the fishing net from its storage place under the deck and fished the poor thing out. It had probably been swimming around for ages and could not get out. It was clearly exhausted. He popped him out of harm's way, in the hedgerow and we hope for the best.
The Stockton locks are a set of 8 and on the way to them, another couple, just for good measure.
We started alone, but as the morning wore on, we were joined by the usual parade of dog walkers, cyclists and joggers. Everyone seemed very cheery, but this sort of weather will do that to you. I know I always feel more upbeat when the sun shines.
We were tied up, had breakfast and a line of washing out before 09:00. Perfect.
We have a couple of courses booked at the very eco-aware Willow Wren Training Centre at Nelson's Wharf, just a couple of minutes cruise from our overnight spot. More about that in another post.