The Oxford Canal going North (mostly)
We had just left the Thames, with some reluctance, after a wonderful summer, when you last heard from us.After exiting Isis lock, we grabbed the first mooring we came across, having heard that mooring in Oxford can be challenging. It was just opposite Jericho Wharf, which was boarded up and showing plans for an "exciting new development". Well we'll see. I certainly hope that they don't do anything to detract from the Victorian, basilica-style St.Barnabus church, with its stunning campanile.
It was a pretty busy spot, with lots of people coming and going and loud train noises from Oxford station, which was just behind us. Nice and quiet at night, apart from a crowd of lads fooling around with nitrous oxide – also known on the street as Noz. But they didn't hang around for long.
As it was a lock free stretch for some way, we set off on Friday morning (17th Sep) with me at the helm while Paul got down down to work. It was a long, slow, boring trek past miles of boats, many permanently moored under the "Agenda 21" initiative, which is, I think, peculiar to Oxford and was set up at the turn of the century (my that sounds like a long time ago!) under the EU, supposedly to help "traditional communities" – as far as I can gather.
Anyway. We were glad to see the back of it and would, henceforth, always join and leave the Thames at Dukes Cut to avoid the miles of boats.
We moored not far past Dukes Cut, just above a lift bridge and had a very peaceful night. There were chickens in the garden opposite and we were a bit worried that the cockerel might be noisy, but he was very considerate, thankfully.
We had dinner booked at The Jolly Boater in Thrupp on Saturday evening. Oh – and a rather cheeky Ocado delivery to their car park early on Sunday morning.
We motored down there but timed our arrival badly, coinciding with lunchtime. We needed a space close to the pub, so moored where we could see the pub and the boats moored outside it. We lay in wait, and as soon as someone finished their lunch and moved on, we nabbed the space. Pole position! Perfect.
We had a table booked for 7pm and as we were going out, I actually put some make-up on for once. And to think I used to wear it every day!
We were seated next to a couple – although I don't think they actually were – and inevitably got chatting. Our quick meal at the pub turned into a whole evening. It was lovely. Almost like pre-Covid times, if a little more socially distant.
Our Sunday morning delivery went seamlessly and we were soon off. We retraced the steps we had taken with our friends, Nick and Sarah, back in July. Happy memories. And things were going swimmingly until we reached Lock 40 – Bakers Lock.
We had to wait while a hire boat exited the lock and as she was doing so the steerer cried out "Oh! I'm not going anywhere!" I assumed that she was new to canals and did not yet appreciate that gathering speed when you come out of a lock is a slow process (because you are pushing a lot of water through a narrow space). But she "gunned it" and out she came, like a cork from a bottle.
I began my approach, entering the lock with my customary grace, when suddenly, the boat came to a dead stop. Try as I might, I could not go backward or forward. I was firmly wedged on something underneath the boat. Paul tried prodded around with the boat pole and then flushing some water down, but to no avail. And we didn't want to keep trying as the pound above was already quite low.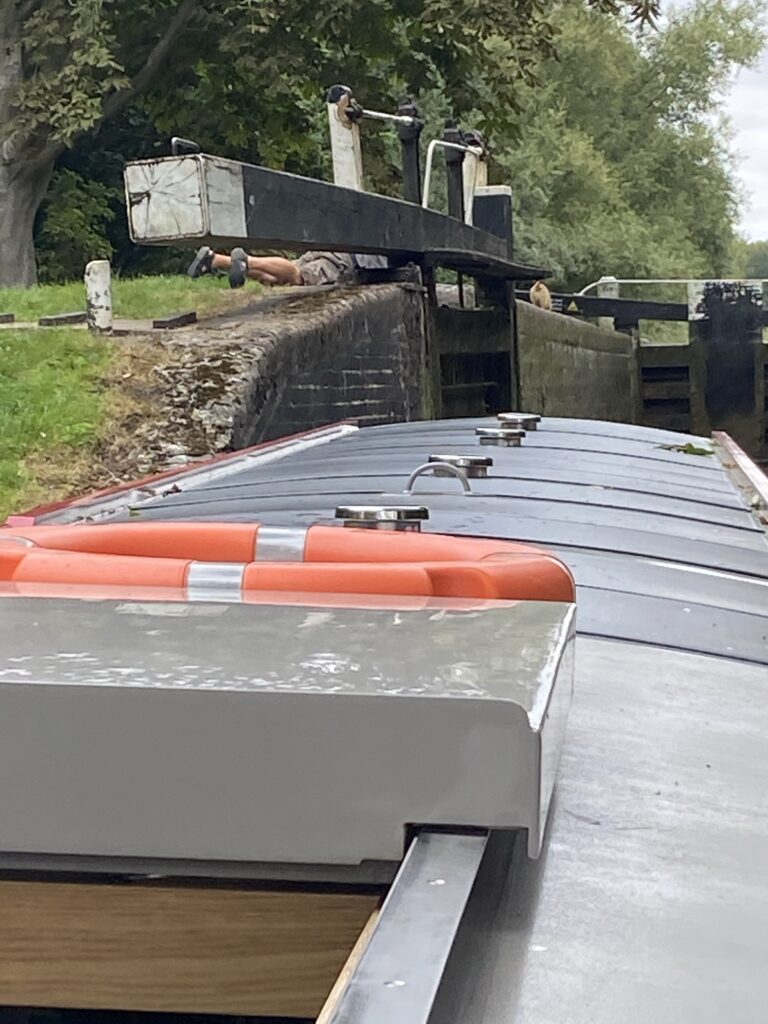 We were well and truly, royally stuck. I phoned one CRT line and was told to call back on Monday. Hmm. OK. It didn't feel like an emergency, but quite a few boats were starting to form a queue above and below the locks, so I rang another number. They were very helpful and said that someone would be with us shortly. And they were. Great work CRT. Thank you!
There was a crowd of young urban males on one boat and he got them organised with ropes to help haul us off. And then he fully opened (with help) both paddles simultaneously. Full bore. It was almost embarrassing how quickly we floated off.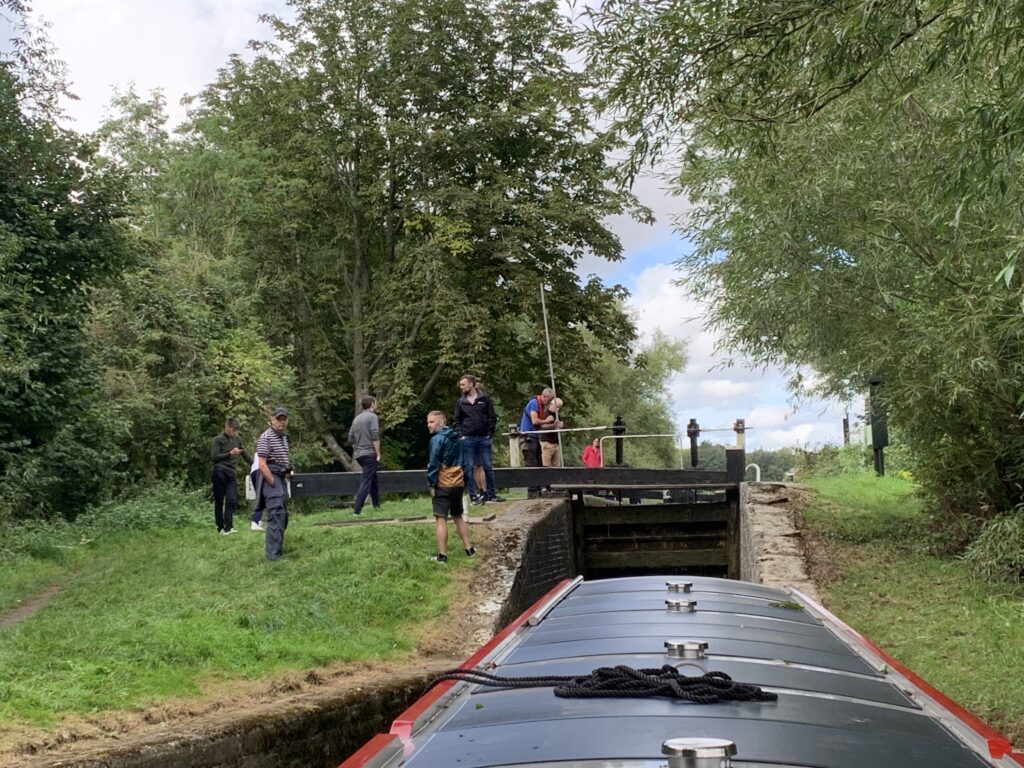 After we got out, he fished around the lock threshold with his keb. For the uninitiated, a keb is a special type of rake used on canals. It has big, right-angled tines. They are very handy implements – great for pulling vegetation (and other stuff) out of the cut to avoid fouling boats' propellers. There's a good article here on Narrowboat Albert's blog, complete with picture.
He dredged up a chunk of weedy bits and a fender. We had been wedged in by a fender, it seemed! He saw us through the lock and stayed behind to usher the other boats through, safely. He did say the lock needed further examination as the gate was refusing to close properly, too.
We went on our way. That's canals for you. Unpredictable, capricious and elderly. You can never guess when something might happen to impede your progress. Luckily it was a short one for us – this time. But some things can take months to fix!
We approached the next lock and Paul was regaling the waiting crew with our adventure story, when suddenly, the same thing happened! I was ready for it this time, though, and reversed off. I tied again and once again there was a "graunchy" sort of noise but this time we quickly flushed a good chunk of water and managed to float over the threshold. But it was worrying. What could it be? Was it us or the water levels?
We pushed on to where we had planned to moor that evening- a quarry near Kirtlington – (///sideboard.firming.ballparks) where we had moored a couple of times before, on day boats from Thrupp. Luckily, no one else had had the same idea! We had it all to ourselves. The boys had a good run and games of chase there. They also feasted on blackberries, which I hand picked for them. Spoilt brats!
Still worrying a bit about the "sticking in locks" problem, we decided to pass a rope under the boat all the way from bow to stern. Just in case – very unlikely! – we had something under us. We did a sort of sawing motion all the way but came up with nothing. The only explanation, really, was low water levels.
Notwithstanding our little problems, we had done well this weekend and were making good progress in our quest to beat the stoppages. The little knot of anxiety that had been in my stomach since the stoppage news loosened – just a tad.
We had an early start on Monday and were nearing a lock when a boat, that had clearly moored overnight on the lock mooring, suddenly burst into life. It was crewed by some Asian folk wearing pale suits. Unusual attire for the canal! But they were determined to get that lock.
That's just the way it is sometimes. You just gotta roll with it. And roll we did. It was a glorious mooring, so nothing could dampen our spirits. We came across them a couple of miles later, pulled over and having showers.
We found a delightful mooring with Armco and right out in the boondocks, near Upper Heyford. That would do nicely. There was an absolutely wonderful full moon that night. I do wish a photo would have done it justice, but this is the best I could do.
Another early start on Tuesday (21/9) and we decided we'd have a night on hook-up at "The Pig Place" – if they'd have us. It's £15 including hook-up. Just the job.
We passed through the appropriately named "Somerton Deep Lock" with its rise of 12ft. A chap on a boat had noticed us go by and that we were pretty much silent and had dashed up to the lock to engage us in conversation about Old Nick. I say "us" but it's probably more correct to say Paul as it's pretty difficult to engage in conversation when you are at the bottom of a noisy 12 ft deep lock!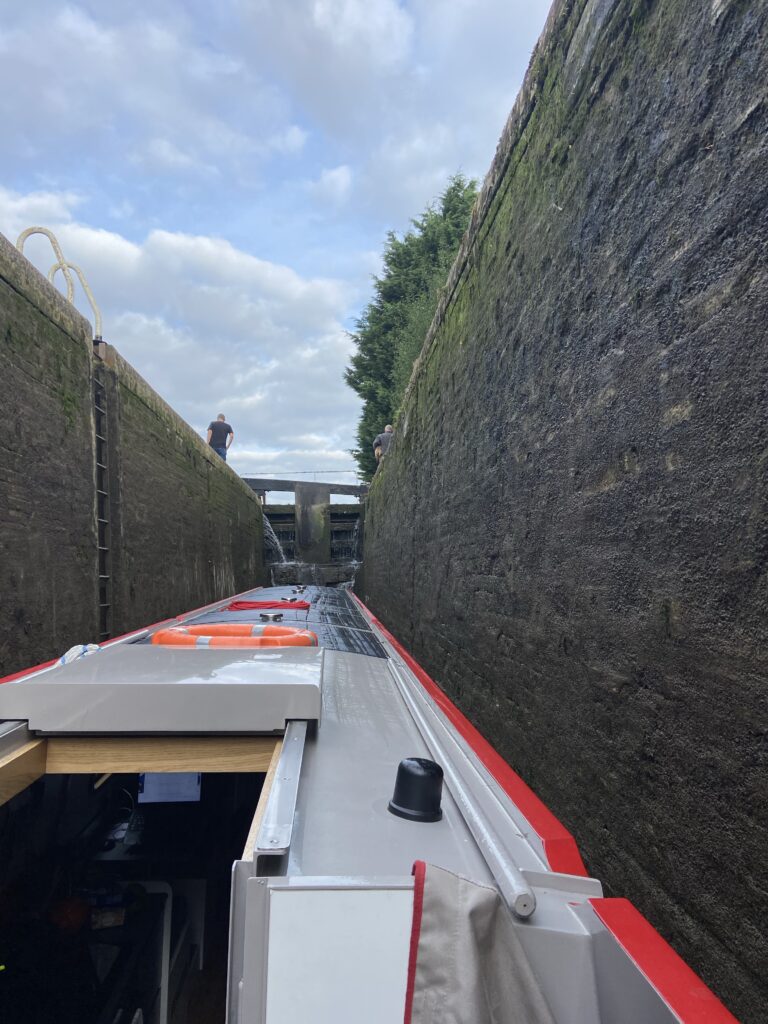 There was quite a queue at Aynho Diamond Lock. Hire boaters, whom we helped through the locks. This shot from the bridge shows its shape quite well. More of a lozenge, I would say!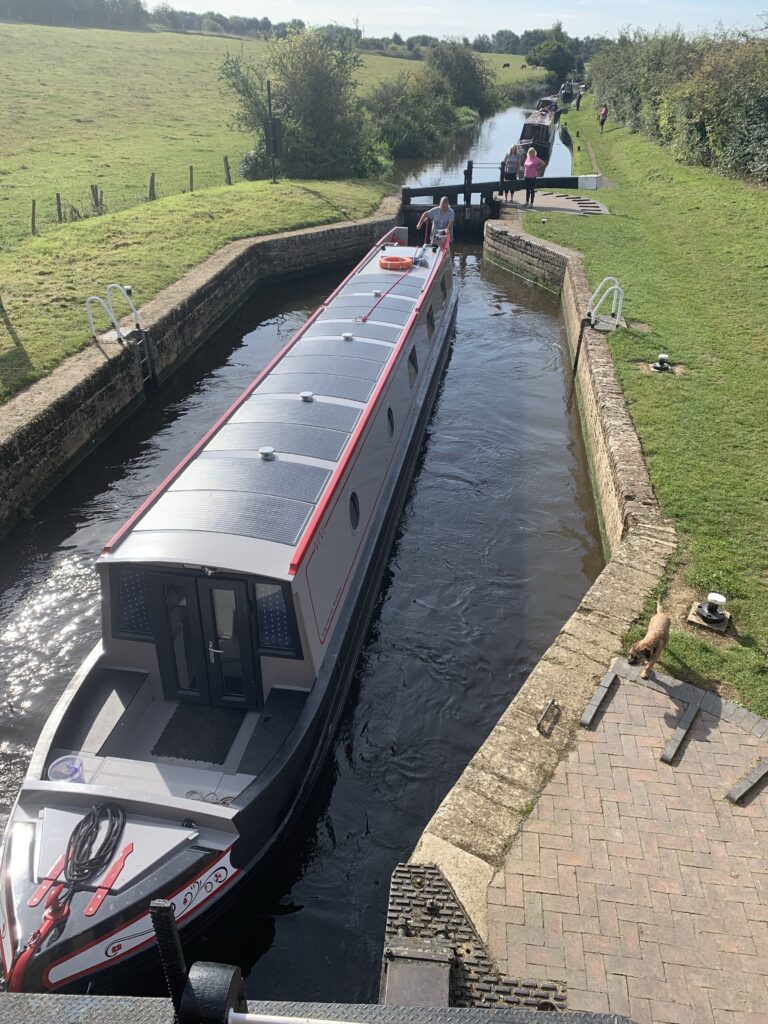 We arrived at the Pig Place and got moored up and then I took the boys for a walk to see the pigs while Paul knuckled down.
The pigs are in enclosures, surrounded by electric fencing. Before this fact had impacted on my brain, Ted had already put his snout on it. He yelped, poor love! It's not a pleasant feeling in my experience, so I really sympathised and felt like a bad Mum.
We decided we'd try a bit of cake and a cuppa to give Paul a bit of a stretch and a break from work. Cake of the Day was Carrot Cake, made by one of the ladies in the shop. And very tasty it was, too.
The only thing that stops this place from being 100% perfect is the road roar from the nearby M40. But there's not much they can do about that. It's a rather pleasant spot, though, with a shop, campsite and bar and chickens ranging free. Oh and leather sofas with fire pits dotted around. We'd recommend an overnighter or a pit stop there, for sure.
We left The Pig Place at dawn and what a beautiful dawn it was. I wish you could bottle that feeling that you get when you feel the peace and contentment that such times bring. We really do feel privileged to be living this life.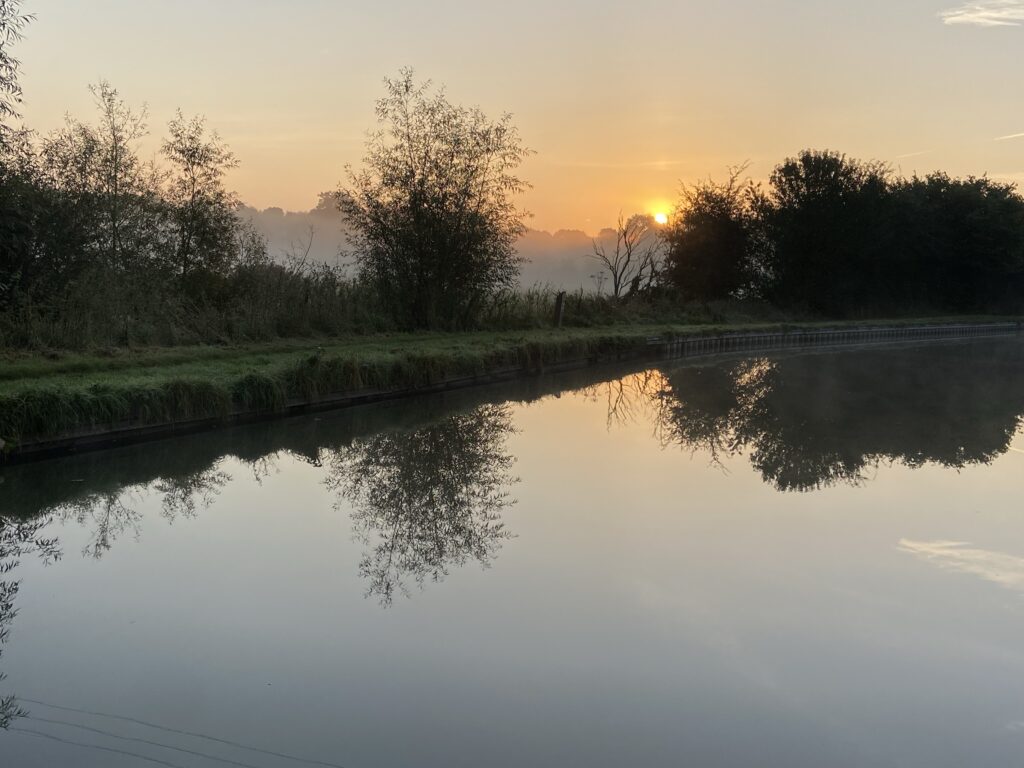 We made the short hop down to Banbury and arrived just as it was waking up. The construction noise had still not gone away but it's still a pretty peaceful spot after they have gone home! And reasonable wifi! Another quiet and uneventful night there.
We had rung ahead to Cropredy Marina as we had some friends coming for the day on Saturday. We had booked a two night stay, which would give us a couple of nights on hook-up and a legitimate reason to leave a car there.
We spent Thursday evening at a lovely spot just outside Cropredy, with cows for neighbours, including one very lovely inquisitive one. I had a nice chat with her.
We made our way through one lock to the Marina and got settled in. We were hearing news of petrol shortages which made us wonder whether it would be feasible for our friends to join us. A quick chat on Friday evening confirmed our fears. We all agreed that it would be foolish for them to set off and not be able to get petrol. Disappointing all round but it could not be helped.
The Marina were very helpful and did not charge us for the second night, so we set off on Saturday morning. We had taken the opportunity to top up with diesel, just to be on the safe side, although it was only about 50 litres. So we set off, once again with full tanks and batteries.
We made our way up to the summit, passing through Claydon locks, which are currently under water saving restrictions with no problem and then it was out onto the long and winding stretch, which we had done with Mel and Evie, back in July, and found a very peaceful place to moor for the night.
We set off on Sunday (26th Sept) through the sunny and utterly delightful Warwickshire countryside. The South Oxford is definitely somewhere quite high in our Top Ten canals.
We polished off the Marston Doles pair of locks and the short, but sweet Napton flight, where we got a glimpse of the famous water buffalo and windmill, this time without the scaffolding.
These would be our last narrow locks for a while, sadly. All too soon, we would turn off towards Warwick and beyond, on to the Grand Union with its brutish, wide locks and heavy lock gear (remember the 21-25 turns of the windlass for each paddle?). Deep joy! But we'll save that story for another edition and bid you adieu for now.