Back down the K&A and onto the Thames
With Robynne and Steph dropped off at the Great Bedwyn services and all the stuff unloaded from Linda's car, we set off. This was our turn around point, our plans in tatters, but it was so great to see Linda. We had not seen her since early December 2020 and the last time she had seen "Old Nick" was in September 2020 when the hull was delivered to Ortomarine. Sadly her partner, Anna, had been unable to join us due to work commitments. Hopefully she'll come another time.
It was just the three of us, then. And the boys, who were also very pleased to see Linda. As already said, Great Bedwyn was to be our turn round point, following the nasty stoppages news we had received, so we set off back the way we had come, back towards Reading and the Thames.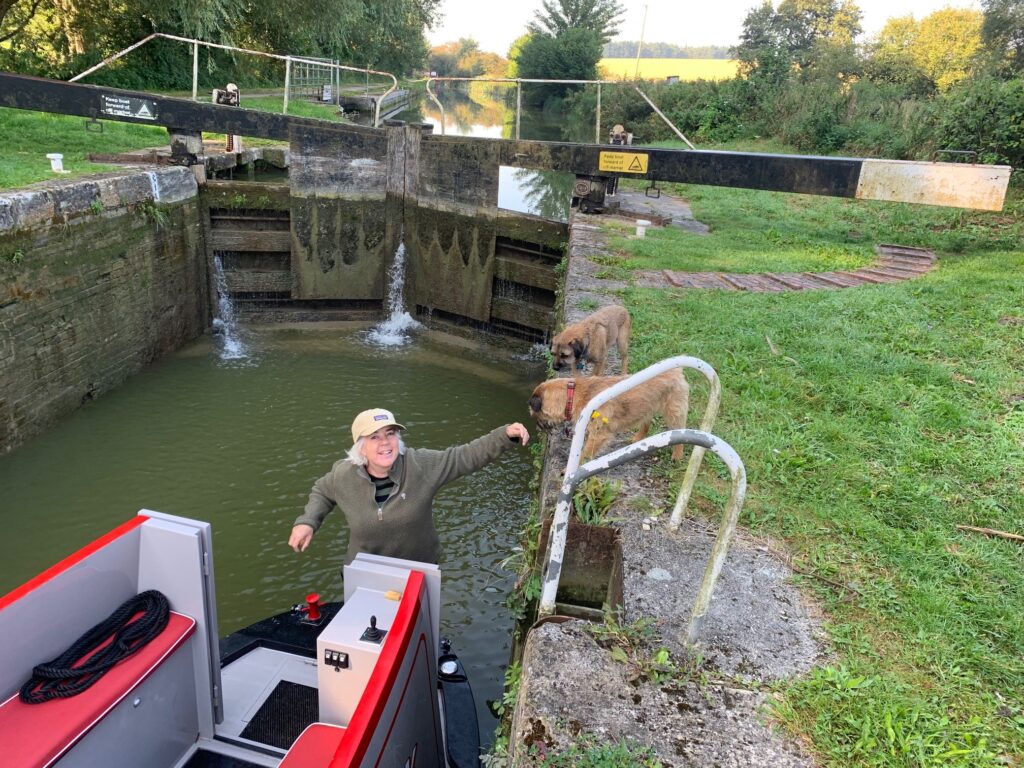 It was a lovely day and it was great to have an extra pair of hands to help out. We made it back to Froxfield and moored very near to the spot we had moored on the way up.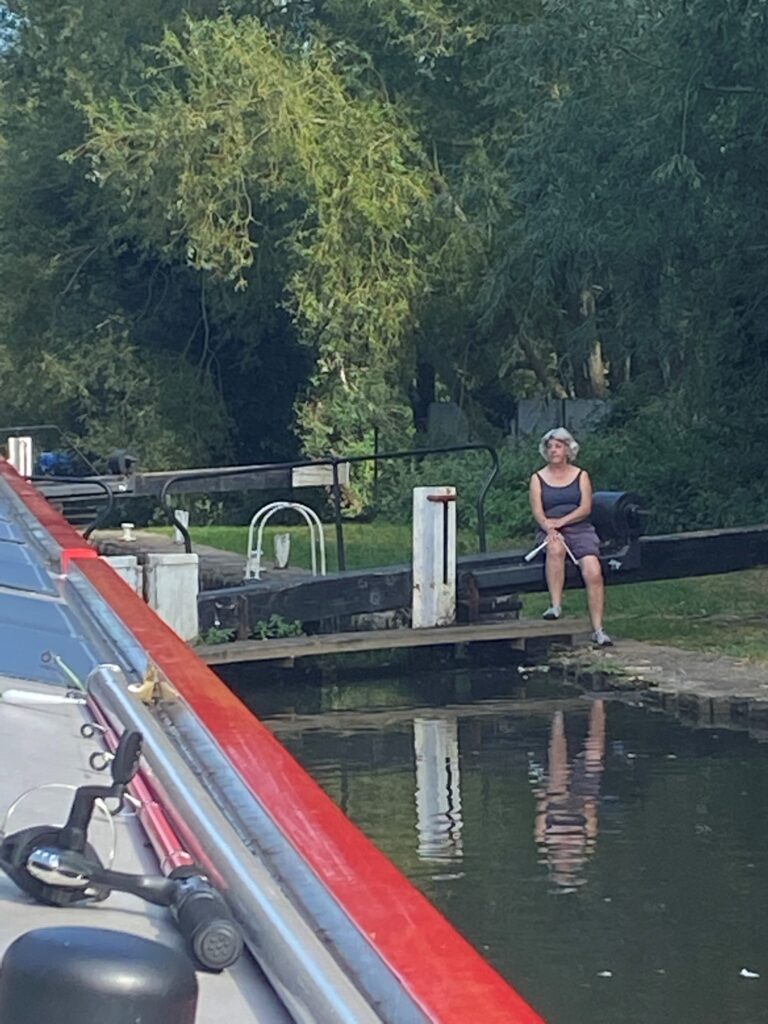 Linda really enjoys fishing and could not wait to start. Within minutes she had caught a fish. We could not believe it! Especially after Paul Rogers' experience, when with us. I find that I have become way too squeamish for fishing, these days. I just don't want to hurt the fish and I'm now convinced it must. I know I'm probably in the minority, angling being a very popular pastime, but there it is.
We set off, fully refreshed, the next morning. Paul had taken a couple of days off work so we made great progress. We stopped, briefly, in Hungerford for some fresh bread and milk and some Ibuprofen gel for Linda's bumps and bruises from her fall. Quaintly, the Boots was closed for lunch so she had to pop back after we had eaten ours.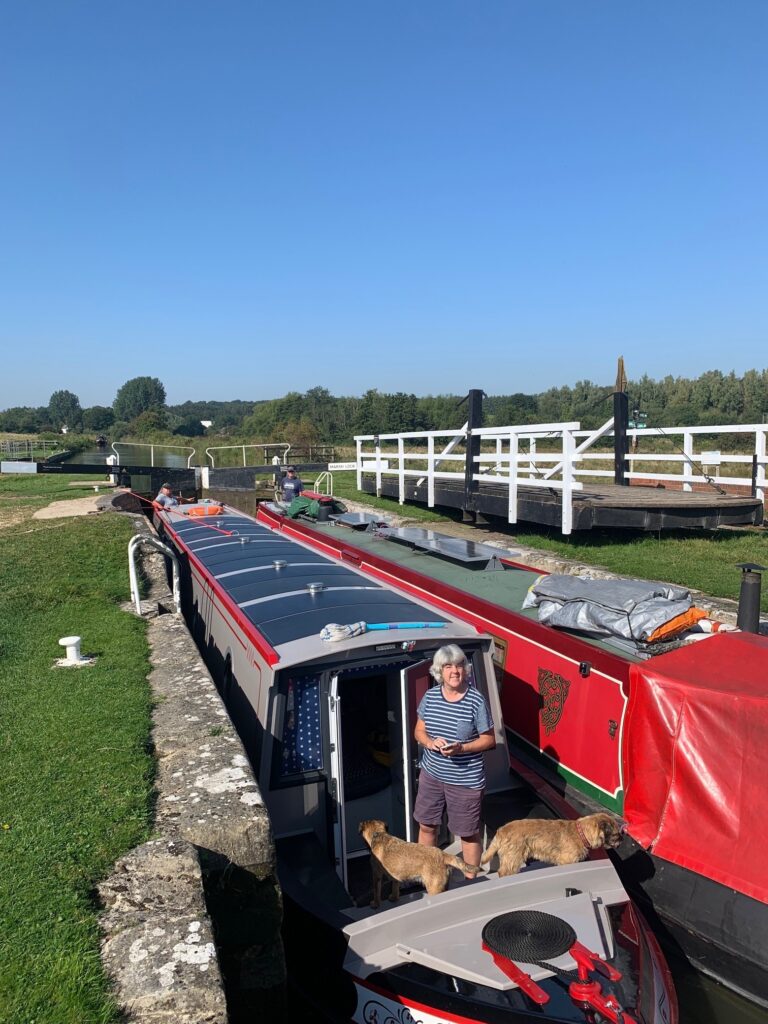 On impulse, she also popped into the butchers (Christian Alba's Traditional Butchers) and picked up a rather wonderful looking pork pie and a couple of Scotch Eggs. We pronounced the latter the best Scotch Eggs ever, they were so good . And the Pork Pie wasn't too shabby either – proper meat colour rather than that odd pink you get in mass-produced versions.
We ended up spending the night just below Wire Lock, once again in a very similar position to where we had stopped on our way up to Great Bedwyn.
Wednesday (8th Sept) saw us making our way further East. We had a bit of a hold up at Benham Lock as there was something preventing the bottom lock gate from closing. There being nothing else we could do, we pulled over and had lunch. Luckily there were CRT Volunteer Lock keepers at the lock and they organised the queue of boats that had formed.
While we were waiting, we decided we'd try and get in to Greenham Lock Marina for the night, as we had liked it so much on the way up. Luckily, they had a space and we got a good top-up of electricity, cooked a mid-week roast and got some washing done. Sadly for Linda, because the Marina is built on a weir, the flow did not make for good fishing. Better luck tomorrow night, maybe?
We had a lovely quiet night at the Marina, but there had been a spot of thunder and some rain overnight and it was still a bit overcast as we set off. We arrived at Ham Lock, our first of the day to find CRT busily repairing the lock, after someone had clonked it. Luckily it was only about a half hour's wait.
We ended up in Aldermaston, just above the lock. It was a paid for mooring (£10) and not at all worth the money as it was very shallow. More fishing success tonight, although we have a very small, barbless hook on the rod and many of them managed to wriggle off before they could be landed, which was a bit of a relief for all of us!
Friday dawned sunny and we made our way slowly down to Reading. As it was Linda's last night, we had booked a table for dinner at Bel and the Dragon, which had been recommended to us by a couple we had met and travelled with on the Upper Thames.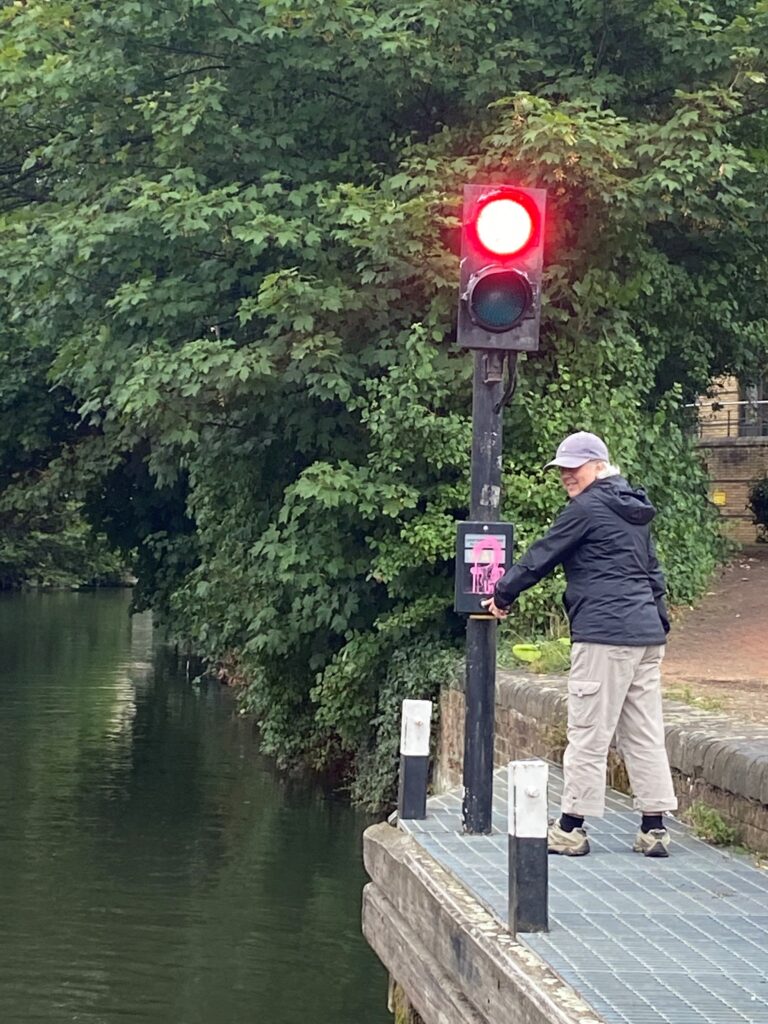 We decided to approach it via the "Reading Jail Loop". It's very existence seems to be ignored by the Environment Agency, who are responsible for the maintenance of this part of the canal. The entrance and exit from the Loop is unmarked. Indeed, we totally missed it on the way up! But we now knew roughly where it was and we turned off the main line and onto the loop at its Western entrance.
The loop takes you past the ruins of the 12th century Reading Abbey (built 1121, destroyed 1538, thanks to good old Henry VIII and his "Dissolution of the Monasteries" drive) ) and – of course – past Reading jail (famous for the incarceration of Oscar Wilde Esq )
It was teatime by now, and Sumps had finished work for the day, so he was at the helm. And thank goodness for that! Because as he turned the first corner on the loop, taking a very reasonable line, when we suddenly went aground. And by aground, I mean very firmly stuck indeed! Very.
Linda and I went to the front of the boat, A – to take the weight off the already heavy stern, B – to rock it gently from side to side, a technique which often helps unstick a firmly stuck boat and C – to giggle and express how happy we were that it hadn't been us steering at that point. Meanwhile Sumps was purple-faced on the end of the barge pole, trying to lever as we rocked. Luckily we slowly floated free and resumed our journey.
We resolved to report it to the EA and suggest that some signs and some marker buoys for the shallow bits mightn't go amiss!
The pub/eatery had some very nice visitor pontoons in front and we were soon tied up on one of these. And then it was showers all round as we were going OUT out!
We started the evening with cocktails , which slipped down very nicely, as did the delicious food. We got chatting with the table of gentlemen nearby, one of whom was a very colourful, possibly a shade eccentric character. It was a very pleasant evening with much laughter, and I even got the chance to use my Italian-speaking skills!
We went to bed, sad in the knowledge that Linda would be leaving in the morning. It was a quiet night, considering we were in a big town and we all slept well.
On the previous evening, we had booked a taxi to take Linda back to her car, in Great Bedwyn and we phoned them quickly to check it was scheduled in, which it was.
All that remained was to say our last farewells and then we were off, down through Blake's Lock and out onto the Thames once more. But not very far, initially, as we had a Click and Collect at the very handy Tesco's.
Fully provisioned again, we set off in earnest. We cruised all day, finishing off at a very pleasant mooring at Beale Wildlife Park, near Pangbourne. ///skill.soap.reclaimed
We had a wonderfully peaceful night, no one else around, which is just as we like it. The boys had plenty of room to run around. It was £10 well spent.
Sunday (12th Sep) was another, lovely, fine – if slightly Autumnal – day. We had some miles to get under our belts, as it was a non-working day, and motored on until quite late (for us) as we were also on a mission.
Last time we were on the Thames, all those years ago, we had been to a folk night at a pub and we had an ambition to find it again. We'd picked my stepmother, Lynne's, brains a few days before and she'd been able to find it in her cruising notes. It was called The Plough and was in a village called Long Wittenham and could be reached by turning off the main stream of the Thames, onto the navigable weir stream.
There is a mooring for a couple on boats (usually, but in need of repair as it had been hit rather hard by a visiting boat) at the end of their rather long garden. It was on the dusk side of evening by the time we arrived and we were relieved to see no one else there.
We moored and Paul went off to the pub with the boys for a pint while I prepared dinner before we settled down for the night. Another lovely quiet one.
We were up with the lark the next morning, as it was a working day for Paul, who accompanied me on deck until it was time for work. I took us the rest of the way to Abingdon, where we found a nice mooring just above the town bridge.
Heavy rain had been forecast for Tuesday so we stayed until Wednesday morning, although – as often seems to happen – the rain really came to naught.
It was a lovely, rosy morning as we slipped, silently into Abingdon Lock. We were silent but the electrically operated gates have a nasty habit of clanging shut rather loudly.
We got rid of our refuse and took in some water before cruising down to Sandford Lock. And there we encountered a problem. The locks have to be operated in a strict sequence and if this sequence is not adhered to, they go into a state of hibernation. Unluckily for us, a newb was operating the lock and had done something out of sequence. Oh calamity!
The lock gates remained resolutely closed and we could not get out. Resolution involved ringing the EA helpline who advised him how to reset the lock, after which you had to wait 8 minutes. And then the gates would open. Hey presto! Thank goodness.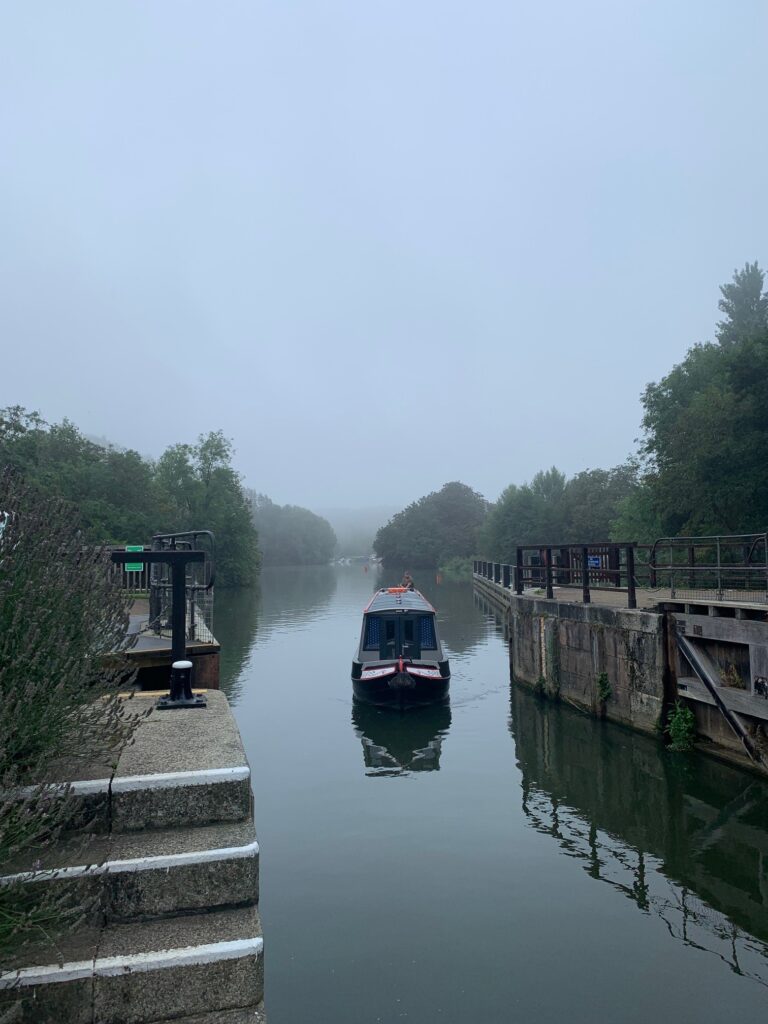 Having been set free, we moored just above the lock, all of our cruising time having been squandered on a schoolboy error.
As we were drinking our sundowners, out on deck that evening, we were rather thrilled to see an air ballon flying over. I had a trip on one for a significant birthday and would love to do it again. Sumps please note!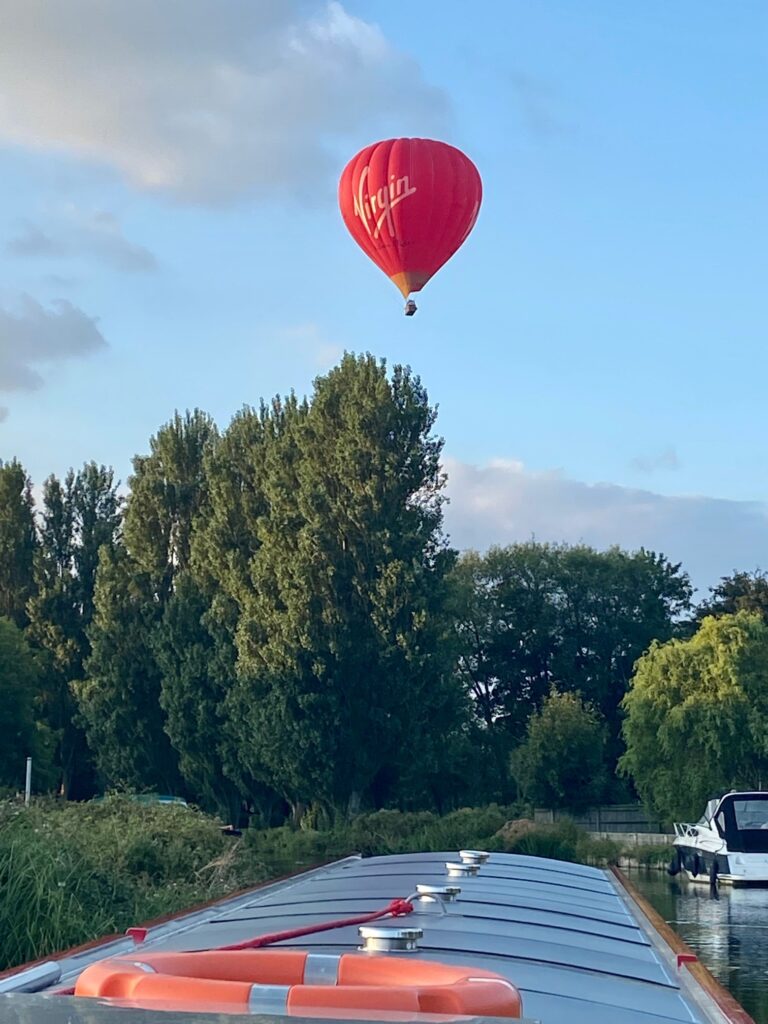 It was time to bid farewell to the Thames. By the time we moored for the day on Thursday, we would be back on the canal system.
We cruised through Iffley Lock with it's all-pervading smell of lavender and a fine crop of grapes, and somehow, a feeling of being in Venice, then, shortly after Osney Lock, we turned right into Sheepwash Channel, which carries you back onto the Oxford canal, via Isis lock – the first (or last) lock on the Oxford canal.
It was pretty grotty and seemingly rather ignored, other than by boaters. Although the swing bridge over the channel is currently being replaced. At the top end of the lock, the canal is straddled by Bridge 243. The highest bridge number on the Oxford canal.
Phase 1 of our run for home complete. See how we fare on Phase 2 (Oxford to Napton) in our next edition. Thank you for accompanying us on our travels, as ever.