A visit to the Dudley Tunnel
What do you do when you have guests (my brother Bruce and our nephew Lenny – aged 11) on board but it's just too wet and cold and, above all, windy to enjoy a days boating? Why you simply go boating underground!
We are only about a half hour's drive away from the Dudley Tunnel and it looked like fun, so off we set. We arrived in time to grab a quick cuppa at the very smart new (opened in 2015) visitor centre, "The Portal", before donning the obligatory hard hats and setting off in the open air trip boat. Luckily it's only a short trip from base to the tunnel so we didn't get too soaked before we were actually inside, in the relative dry.
The tunnel is on the Dudley No 1 canal and to call it a tunnel is to slightly misrepresent it, as it's really a series of tunnels joining various caverns and originally, providing access to various mines. It was commissioned by a consortium, led by Lord Dudley and Ward and took 16 years to build and was completed in 1791. At that time, there was no tunnel boring equipment so the work was all done by hand.
At 3,172 yards, it is the second longest canal tunnel in England today, the longest being Standedge (5456 yds and also the highest above sea level) on the Huddersfield Narrow canal. It was built with no towpath and boats were propelled through by "leggers". Legging is the act of moving a narrowboat through a canal tunnel, while lying on your back, most commonly on a plank across the bow at both sides, and walking along the tunnel's roof or walls. It requires two people, one on either side of the boat and each holding onto the plank for stability, keeping their legs at a 45-degree angle as they "leg it" through with equal pressure. There's a video of legging here.The tunnel's raison d'etre was to efficiently transport coal and limestone, required by the voracious industrial revolution, from the various mines that surrounded it.
The tunnel is very low and boats are not allowed to go through with their own engines today, because of lack of ventilation. Instead they are pulled through by an electric tug. But actually, very few modern boats can fit through because of their height. The tunnel was built to do a job and the owners had no thought of the future, they just wanted their coal and limestone out as soon as humanly possible. I imagine they'd be pretty surprised to know the tunnel is still operating today! Although it is only open by dint of the efforts of the Inland Waterways Association and the very enterprising Dudley Canal Trust (originally the Dudley Canal Tunnel Preservation Society) and also Dudley council's efforts.
The first section underground is only 34 yards before it opens out into Shirts Mill Basin and thence Castle Mill Basin where you can see the entrances to other underground mines.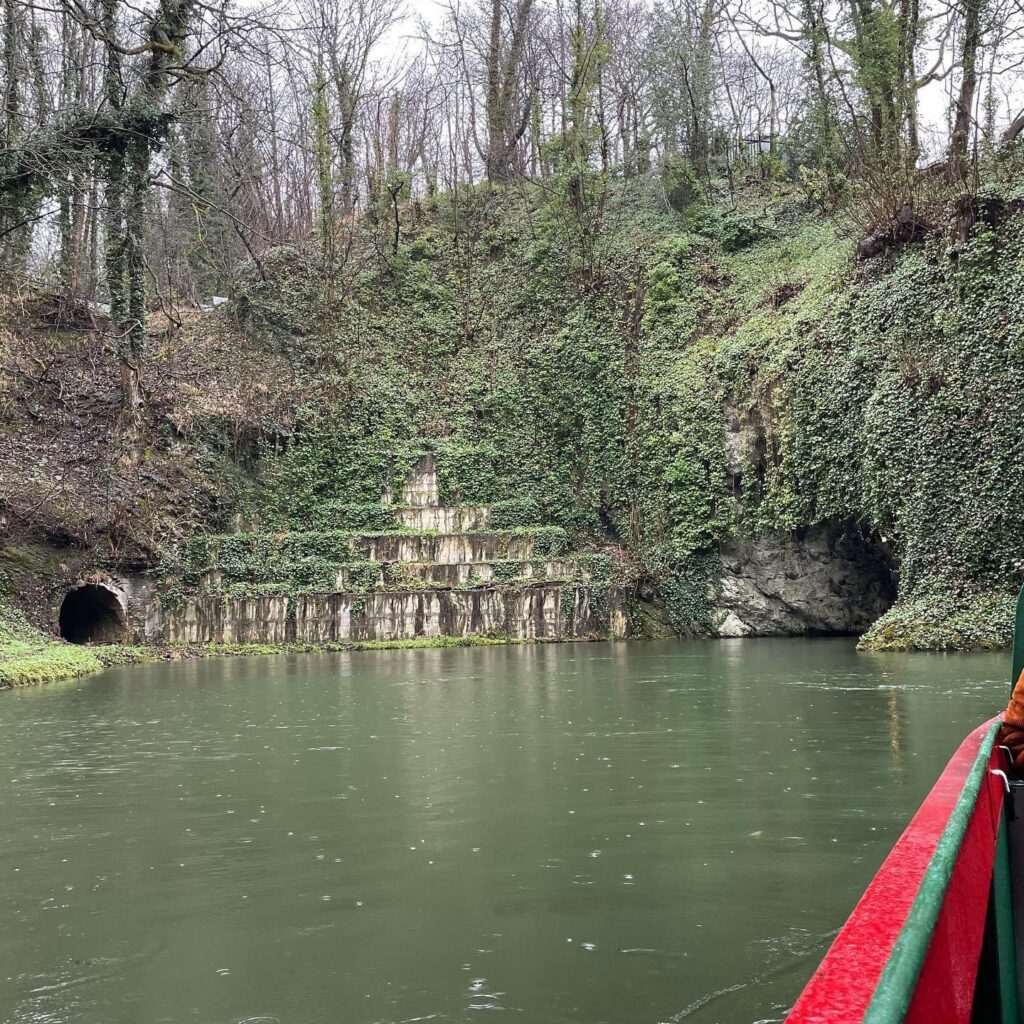 We then went back under ground and into our first cavern, The "Singing Cavern". The ceiling in this large cavern is held up by seven limestone pillars. A sound and light show takes place here. Oh and there is a life size woolly mammoth to keep you company!
The cavern is adjacent to another, larger cavern, which had to be closed, due to its instability. This cavern was the site of concerts in Victorian times and could seat 2,000 people! At the time of its closure, it was just too expensive to restore, but was infilled with sand in the hope that, one day, enough money might be found for it to be restored.
But don't think nothing happens down there any more. You can get married down there, they have choirs down there too and back in 2014 they even had an Edwardian Music Hall down there! Must be fab acoustically! They do Halloween and Christmas rather well too and there are picnic trips, fish and chip supper trips and longer tunnel trips.
On the way back from the Singing Cavern there is an animated display, showing what it would have been like working underground in the early 19th century – complete with a child whose job it was to light the fuse for blasting. It was his job to ensure that the fuse did not go out and he was the last to leave the blast area. Needless to say, there was a high mortality rate, but labour was cheap and there was no shortage of willing replacements.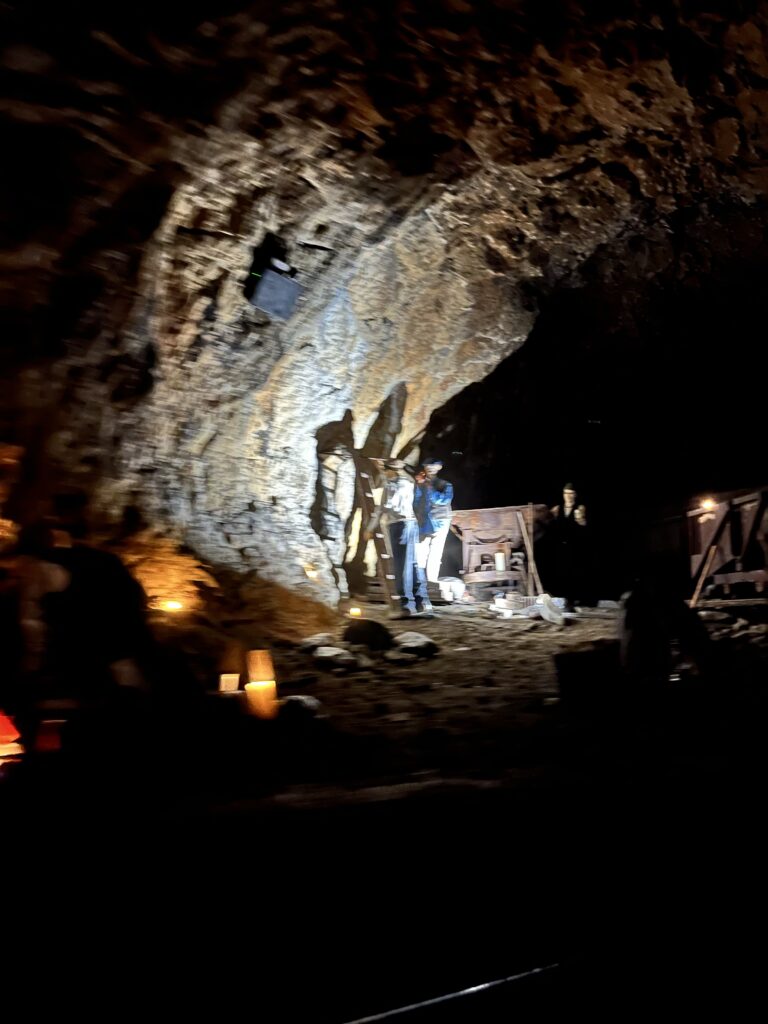 The tunnel was hewn out of "oolitic limestone", which is a sedentary rock – formed of compacted layers of seabed in the Silurian age. On the last leg back to the trip boat's base, they showed us a couple of the many fossils that have been found in the area.
Dudley is a pretty significant site for fossils and an area close to the tunnel is an SSI called the Wren's Nest. Many of the fossils found there are unique to Dudley, but one – a trilobite known as "Calymene blumenbachii" was so commonly found by the miners, it became known as the "Dudley Bug"! Trilobites are thought to be the forerunners of crabs and lobsters.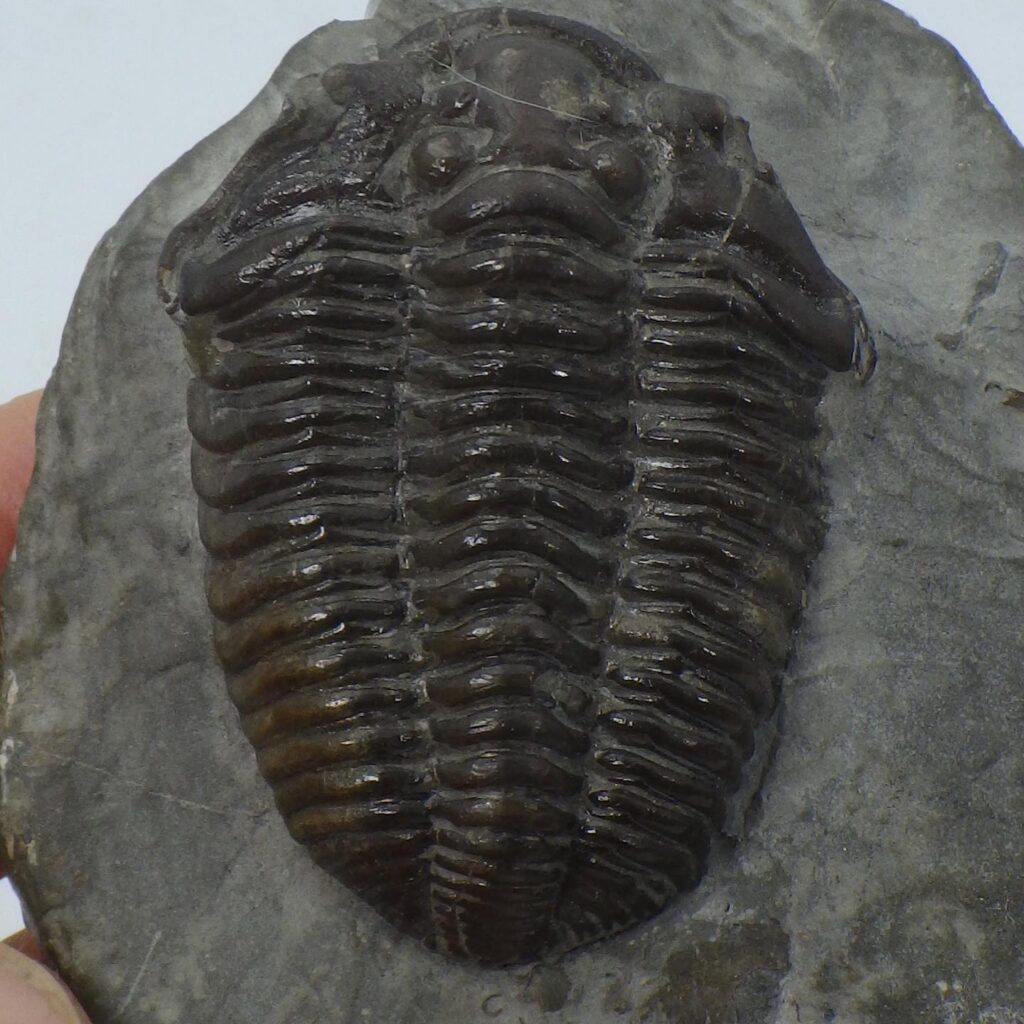 And of course, you couldn't really visit here without mention of the Peaky Blinders, and we saw one of the boats that was used in an early episode.
We only had the 45 minute tour but it was packed with information and interesting stories. We'd thoroughly recommend a visit, suitable for all ages, and look forward to returning later this year, as part of our exploration of all the nooks and crannies of the Birmingham Canal Navigations or "BCN", Watch this space!