Continuing our journey along the River Avon – Leg 2 – Pershore to Evesham – twice!
We had a late start to Monday (16th May), because rain – which actually never materialised – had been forecast. Setting off was down to me, as Paul was working but it was an easy job so off I set. We planned only a very short hop down to Wyre Lock, where there were some peaceful moorings and our own private island, which we rather fancied.
The lock was against us but we buzzed through it in quick time, although I did take a moment to take a picture of the heron that seems to call the weir his home.
Wyre lock is an unusual lock in that it's diamond shaped. There aren't that many on the entire canal/river network, although you may recall we encountered one at Aynho last summer? There is much debate about why it is that shape (economics, strength, fashion) but there doesn't seem to be a definitive answer.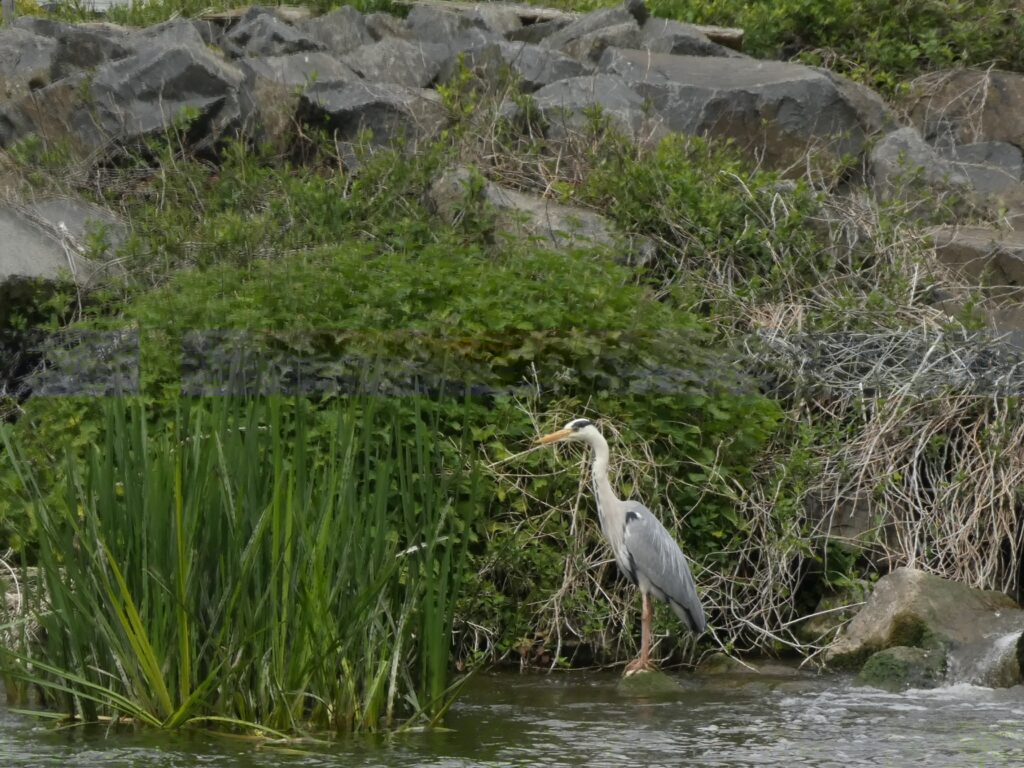 It's a very pleasant spot anyway and we were moored opposite a very unusual double-decker wide beam boat. I don't think it actually goes anywhere though! Bridges might be an issue!
Once moored, I caught up with blogging and Paul carried on working. Later, as it was such a lovely evening we had drinks out on deck while the boys patrolled their own piece of greensward. Bill is particularity fond of the tender green grass shoots that you find this time of year. He is like his predecessor, Archie in that respect. Archie liked them so much that Paul had to walk him on a lead at this time of year or he'd never have got round!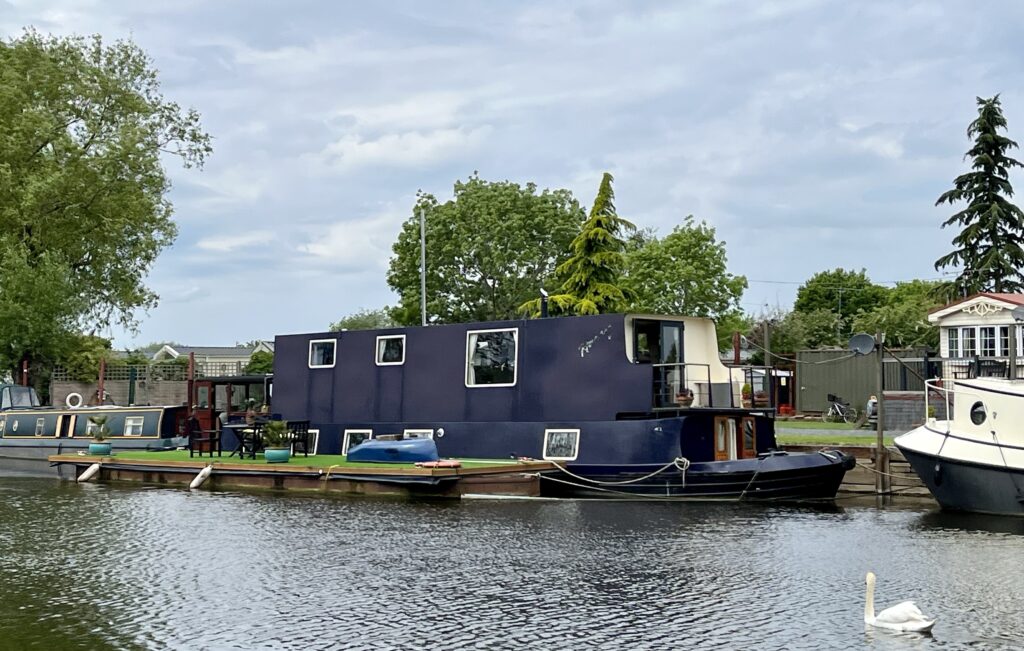 In contrast, we had an 06:30 start on Tuesday and we were so glad we had. It was a delightful morning and once again we had that feeling of blissful solitude. We've noticed that no-one seems to overstay their welcome on the moorings, as is very often the case on canals. Presumably it's because of the high licence fees? Whatever it is, it's working. Indeed, we set off with grim warnings about never being able to find a mooring on the Avon. Not once have we struggled. We actually could not get over how many spaces were available at Pershore. Well, maybe it is just the time of year? Or maybe it's the time of man? – bonus points for spotting the song lyric! Answers in a comment, please – and no cheating. We can all use Google! But so far so good. We have been very lucky.
We passed under topically named "Jubilee Bridge" – originally built in 1887 to mark Queen Victoria's Golden Jubilee, but rebuilt in its current, rather characterless, form in the early 30's. Scary to think that it won't be all that long until we hit the 2030's! Then it was through Fladbury Lock, with its highly picturesque Mill building, which is mentioned in the Doomsday book (although probably not in its current form!). We were accompanied by a hire boat, who were aiming to get to Stratford today. Rather them than me!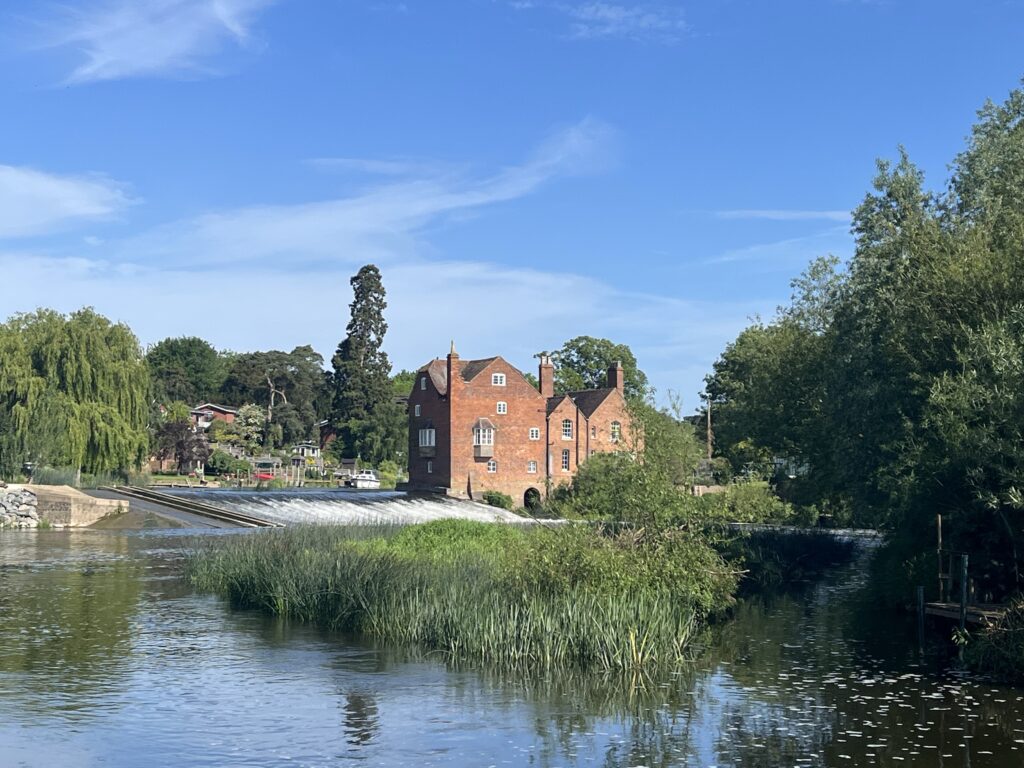 We were aiming for the ANT moorings at Craycombe Turn. It wasn't until we drew near that we noticed that the busy A44 (Oxford to Aberystwyth) ran very close. We decided that we'd had worse moorings and this one had the benefit of being well fenced in, so that the boys could again, wander at will – although we kept a close eye on their wanderings – just in case.
As soon as we had moored, I put a wash on. It looked like a good drying day! Which turned out to be true!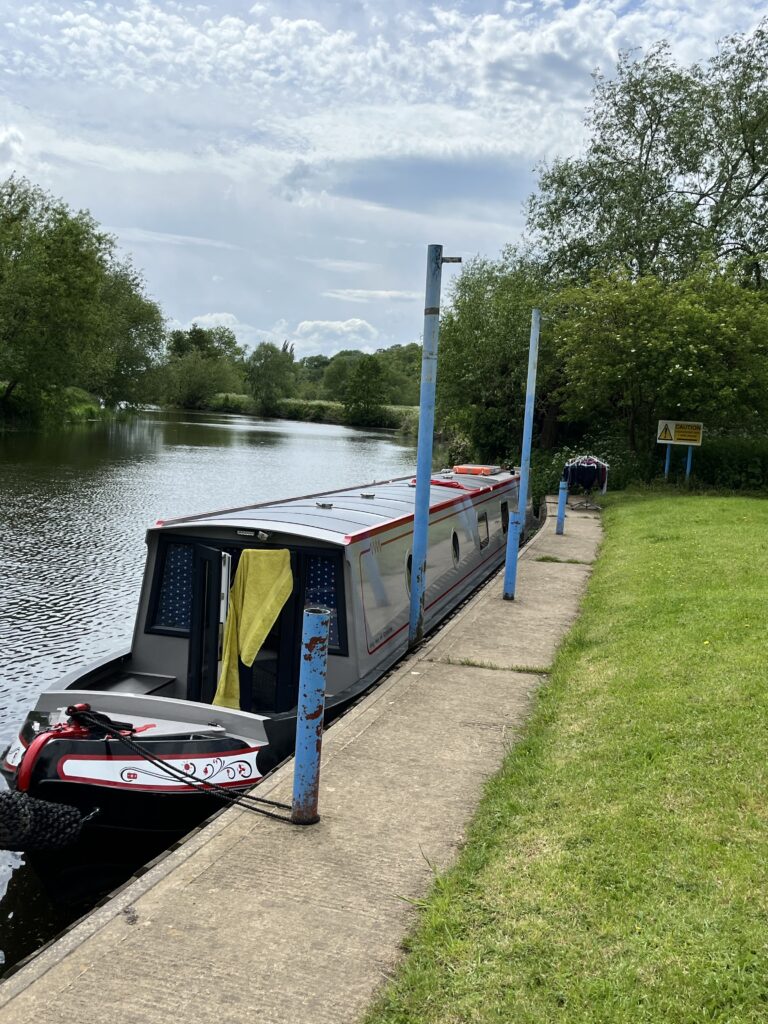 As it turned out, we had a very quiet night and we were up the next day before the traffic had started to build up. We slipped our moorings, leaving the folk on the boat, that had joined us on the moorings the day before, still gently snoozing. Once again it was a glorious morning. Bright sunshine and a gentle zephyr ruffling the leaves on the trees.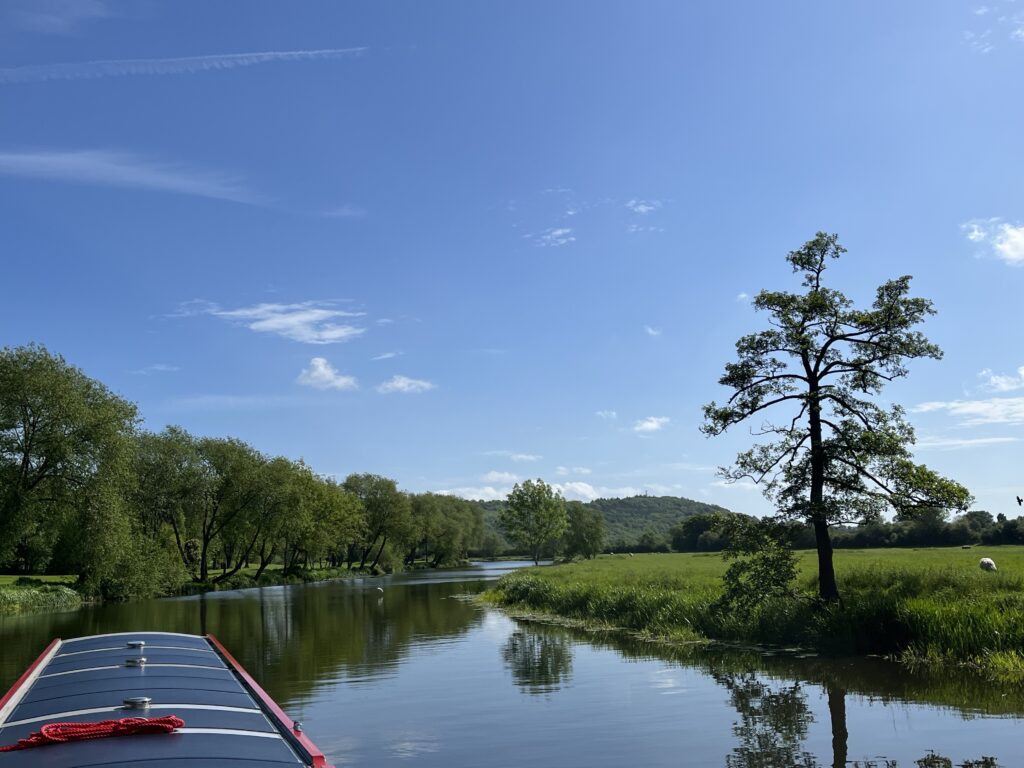 We passed, nestled in the woods, the impressive facade of Wood Norton Hall. Now a hotel, it was previously used by the. BBC, during WW2, as a station for listening to enemy radio broadcasts and also an emergency broadcasting centre. They later used it as accommodation for their engineering training college and there is still a BBC presence there to this day, as evidenced by the massive satellite dish.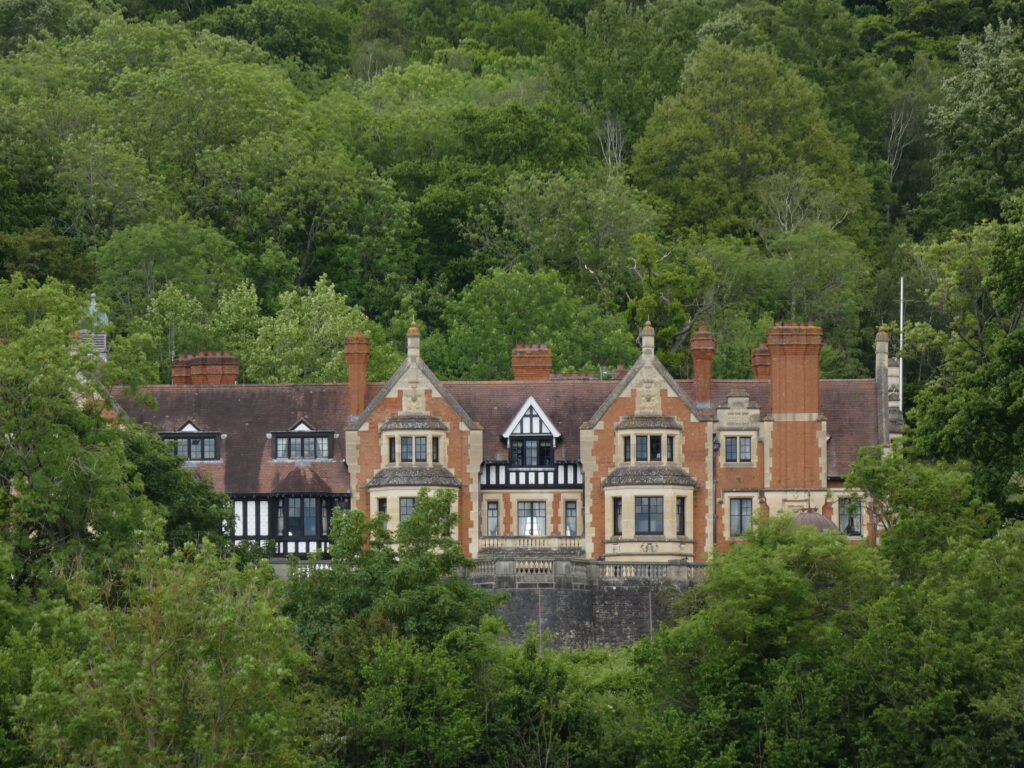 As we approached Chadbury lock, the weir looked stunning in the early morning sunshine and we made a note of some rather delightful moorings on the weir side of the upstream lock landing.
Further up the river, towards Evesham is Hampton Ferry, which has been a crossing for around 800 years and is still operating for 11 hours a day, according to the May 2022 schedule. It was originally introduced to ferry boozy monks from Evesham Abbey to their vineyards on the Hampton side of the river.
We were quite astounded to see the rear end of a car in the water by the landing stage. A trawl of the local press revealed that it had been fished out by the ANT, but it's actually still there. Odd. Maybe someone (local yoof?) pushed it back in again?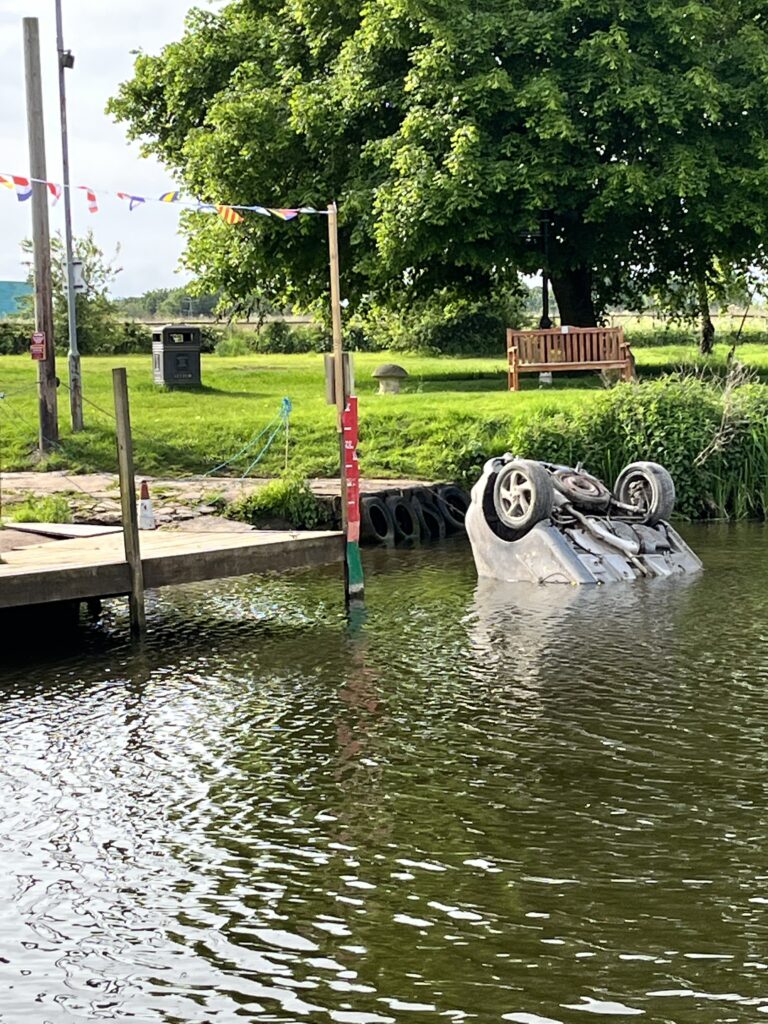 We pressed on to Evesham, which seemed, somehow to turn its back on the river, and on to the lock, where we dealt with the toilet and filled up with water (the two activities are not linked!), before turning and tying up for the day opposite the very attractive Abbey Park. Quite near a road but not too noisy.
Evesham Abbey was once the second largest and the wealthiest in the whole of England but suffered massive damage during the time of the dissolution of the monasteries. Pretty much all that is left standing today is the bell tower, which we viewed on our cycle ride in the evening. We also saw the 14th Century Almonry, now a museum, which induced a wow from us. An Almonry, by the way, was a place where alms were distributed. Oh and alms are defined as "money, food, or other material goods donated to people living in poverty". If the cost of living keeps on its upward trajectory, there may be a need for more of this practice today, sadly.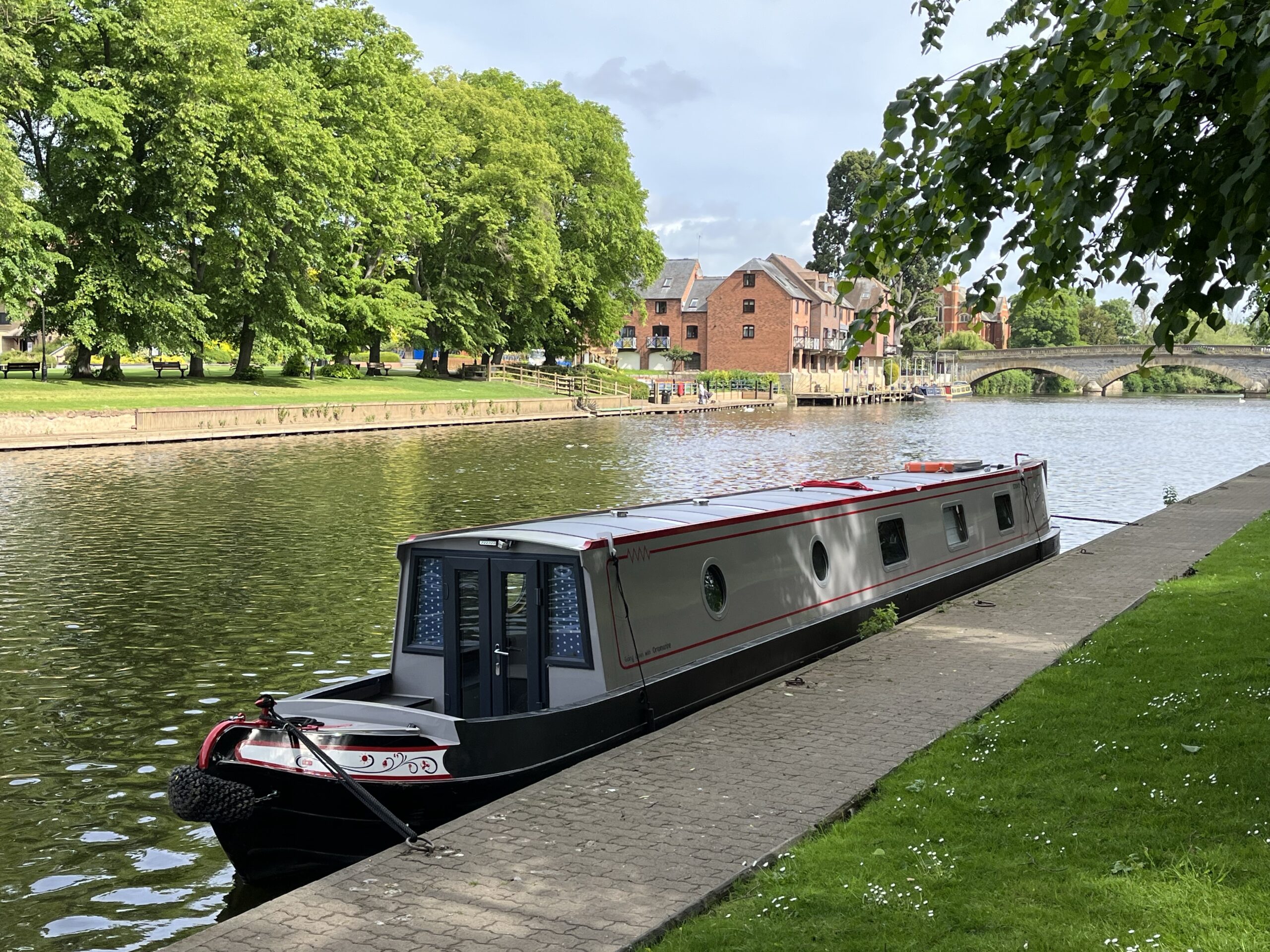 We had received some negative feedback about Evesham on our way up from Tewkesbury. Our bike tour revealed – and it almost feels disloyal to say this – a town that has seen better days. Although, I suspect they are not alone in this, as it seems that many town centres share the same fate, But the beautifully landscaped and clearly well-used Abbey Gardens, illuminated as they are at night, left us with a feeling that they were trying very hard. And succeeding. We would be happy to return. There are plenty of moorings both standard and flood safe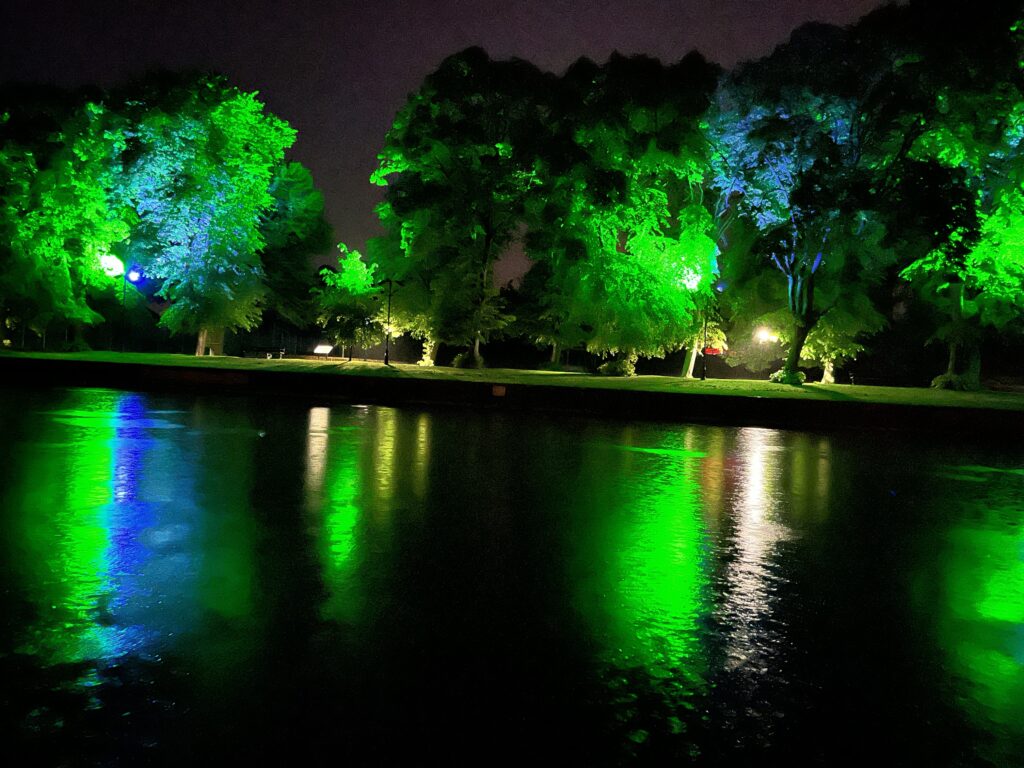 By the way – we were told by a boater that any mooring with blue paint on it is an ANT mooring and can be used for 48 hours. Useful info for any boaters among you.
After a quiet but quite wet night, which actually made us wonder if we should have opted for the flood-safe moorings slightly further out of town, we had our customary early start (18th May). It really is the best part of the day although slightly chilly this morning, with that chilly wind that seems to be a permanent feature in the UK these days. Or is that just me?
We were aiming for the mooring at Chadbury lock that we had clocked the day before. Quiet and secluded, it was a short way from the boatyard where we plan to moor Friday night. This yard had the triple bonus of a night on hook-up for us, somewhere free and (hopefully) safe for our friends to leave their car for the weekend plus somewhere for Ocado to drop off some food for the weekend.
We had passed by it on the way to Evesham the day before and were quite interested to see where they might put us. We had another look as we passed this morning, too. Still mystified! We'd find out soon enough!
We arrived at our destination and were jubilant to see that no-one else had moored there. Excellent news as there is only an Old Nick sized space. We moored and Paul set to work while I too set to work, cleaning the outside of the boat, Long overdue. The roof was still covered in the blossoms frm the horse chestnut trees in Pershore, which I'd hoped would blow off. It didn't. Sigh. I cleaned the stern and roof with just river water and it already looked much smarter. I planned to give it a proper clean the next day. Domani.
As seems to be the case with these locks, there is a private little island that the dogs can roam around with a bit of supervision, which must be nice for them. I wonder if they remember having a proper garden, rather than a linear one as they have nowadays. I think I know which I prefer!
Today marks a fortnight since we set off. It really does feel as if we have been out much longer than that. We are so enjoying ourselves and the Avon. Just a couple of weeks left of our licence. We are going to have to hurry up! I guess we might be half way-ish? I remember saying that we would move on further at weekends as we had whole days to cruise. Well that seems to have gone out of the window. We have our frequent flyers Anne and Gray coming this weekend and are planning an out and back trip. Maybe next weekend? We have no other plans so that might be a goer?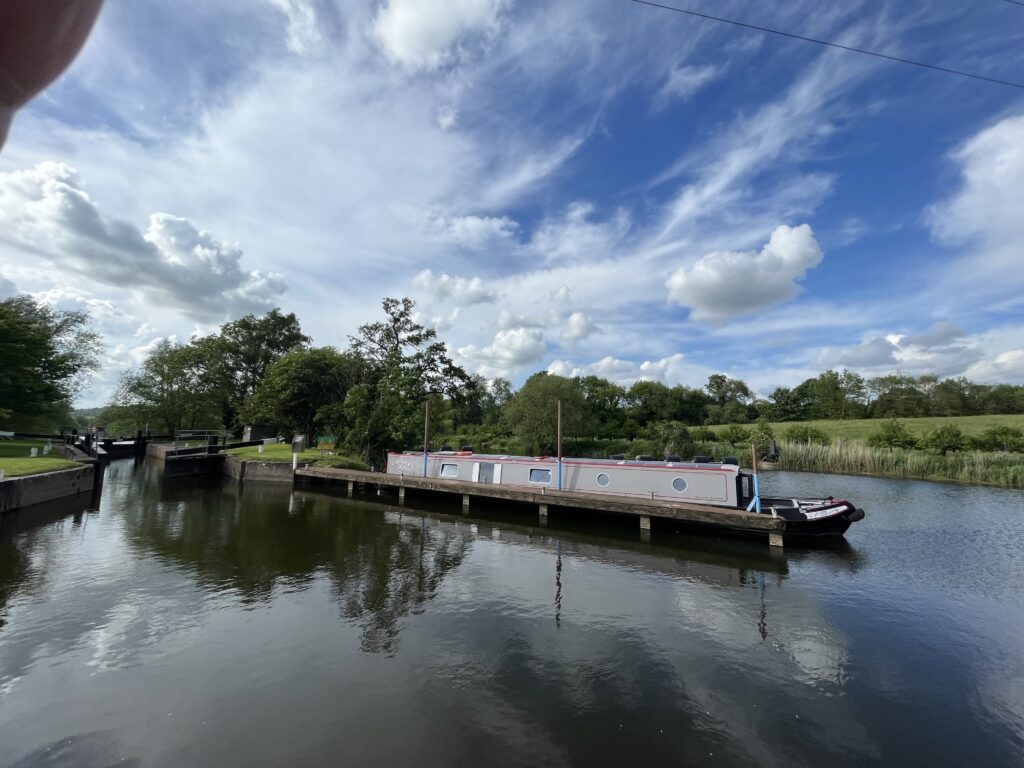 After a lovely quiet night, we stayed put on our mooring, planning to move down (Friday 20th) to Sankey Marine, where we had a booking for Friday and Sunday night, late afternoon. We had sought permission for Anne and Gray to leave their car.
Paul was working, so I made my self useful by doing more external cleaning, sweeping out the well deck at the bow and mopping it and finishing the roof. I was pretty pleased with the results. I then set to cleaning indoors, changing beds and so forth, until the inside also looked spick and span.
We moved off around 4ish. It was a short hop and we were met by Doug, the proprietor and soon got hooked up and ready to receive our grocery delivery and our friends.
They had made good time and arrived at almost exactly the time suggested by their GPS. We helped them empty the car and get their stuff stowed, Then it was time for a catch-up and to order some food. Chinese from the Peking Dragon in Evesham. Anne and Gray thought it was OK but I would not give them my repeat custom!
We yakked all evening and soon it was time for bed.
We set off on Saturday morning (21st May) and the weather looked better than we could have hoped for, according to the weather forecast. We were retracing our steps. Back to Pershore. The logic being that we knew where all the mooring opportunities were and could also make use of the water and Elsan disposal there.
We were soon all slopping sun cream on and relishing the lovely weather. We passed a house with large gardens and were fascinated by the almost menacing sight of 4 robot lawnmowers patrolling their lawns. So engrossed were we that our steerer, who shall be nameless but it wasn't me and it wasn't male, looked up to find that she was rapidly hurtling towards a tree on the opposite bank. She took evasive action, but not before the tree had deposited twigs and leaves all over my freshly swept well deck. Grr. I briefly considered punishment by keel-hauling, but as no real harm was done, we settled for mild ribbing. Much more fun.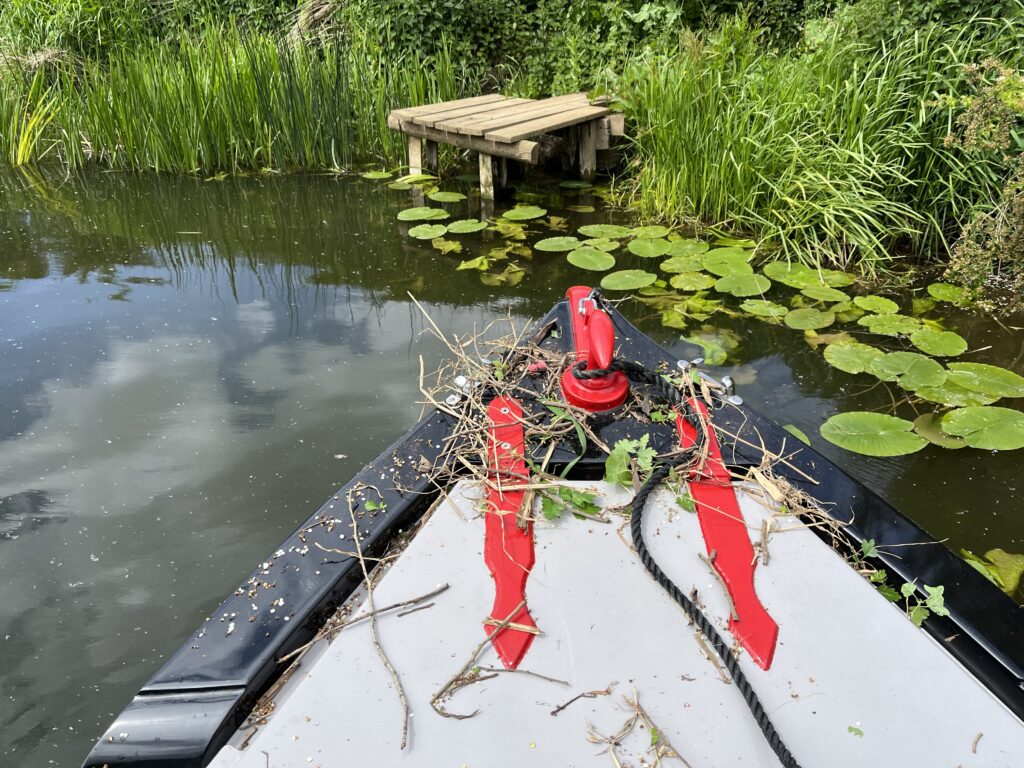 It was approaching lunchtime and we were near the Anchor at Wyre Piddle, which we had visited with Andrew and Pam previous weekend.. We decided to moor there and make use of their moorings in return for a round of drinks.
We were mid way through our repast when a girl who looked very much like my cousin Alice walked past the boat. I went to investigate. The reason she looked so much like my cousin Alice was because she WAS my cousin Alice! Accompanied by Andrew and Pam (our guests from last week). They had decided that they fancied a look round Pershore and also fancied a spot of lunch by the river. They must have arrived shortly after us as we were actually there when they rocked up! What a coincidence! They had met Anne and Gray before and so it was a happy event all round. We offered them a ride but they had to get back so we gave Alice the "five bob tour" – as my Dad used to call it – and then said our goodbyes and went our separate ways.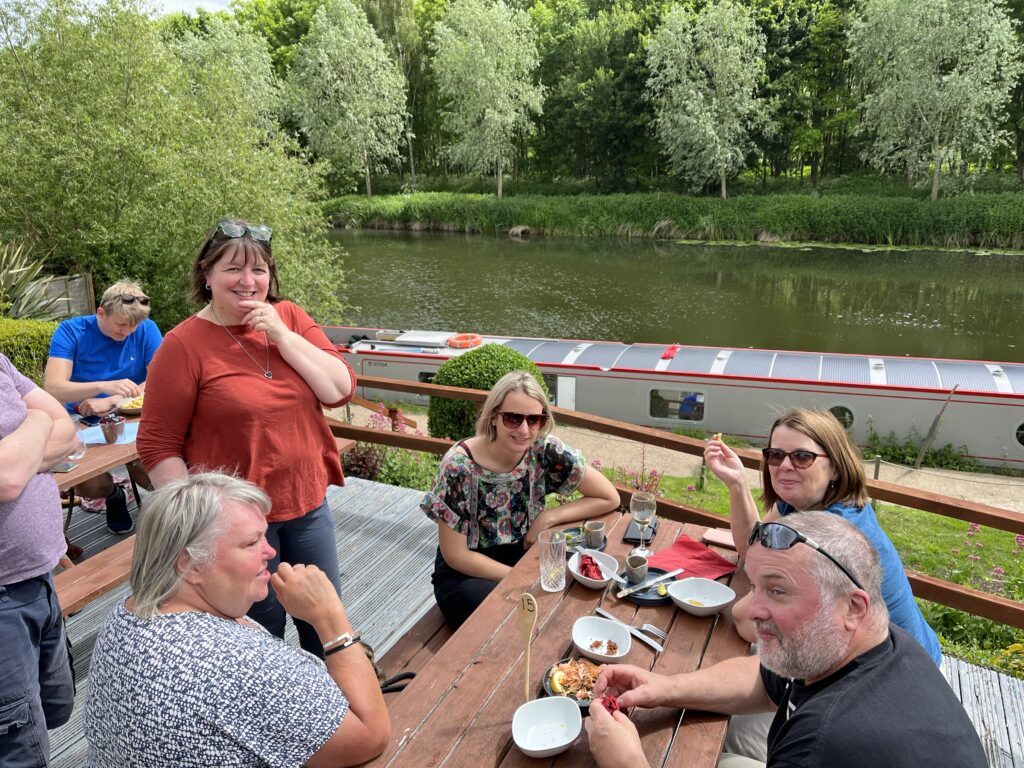 We pressed on for Pershore, where we did our domestic chores and Ted disgraced himself by chasing ducks and refusing to come back when called. He returned, suitably chastened, under his master's arm. His recall is not as good as Bill's but he's not usually that bad, the tinker!
Chores done, we turned back and made our way to Wyre Lock, where we once again moored as it's a lovely spot. We had a pleasant evening playing "The Game" but no success in beating it, despite several attempts.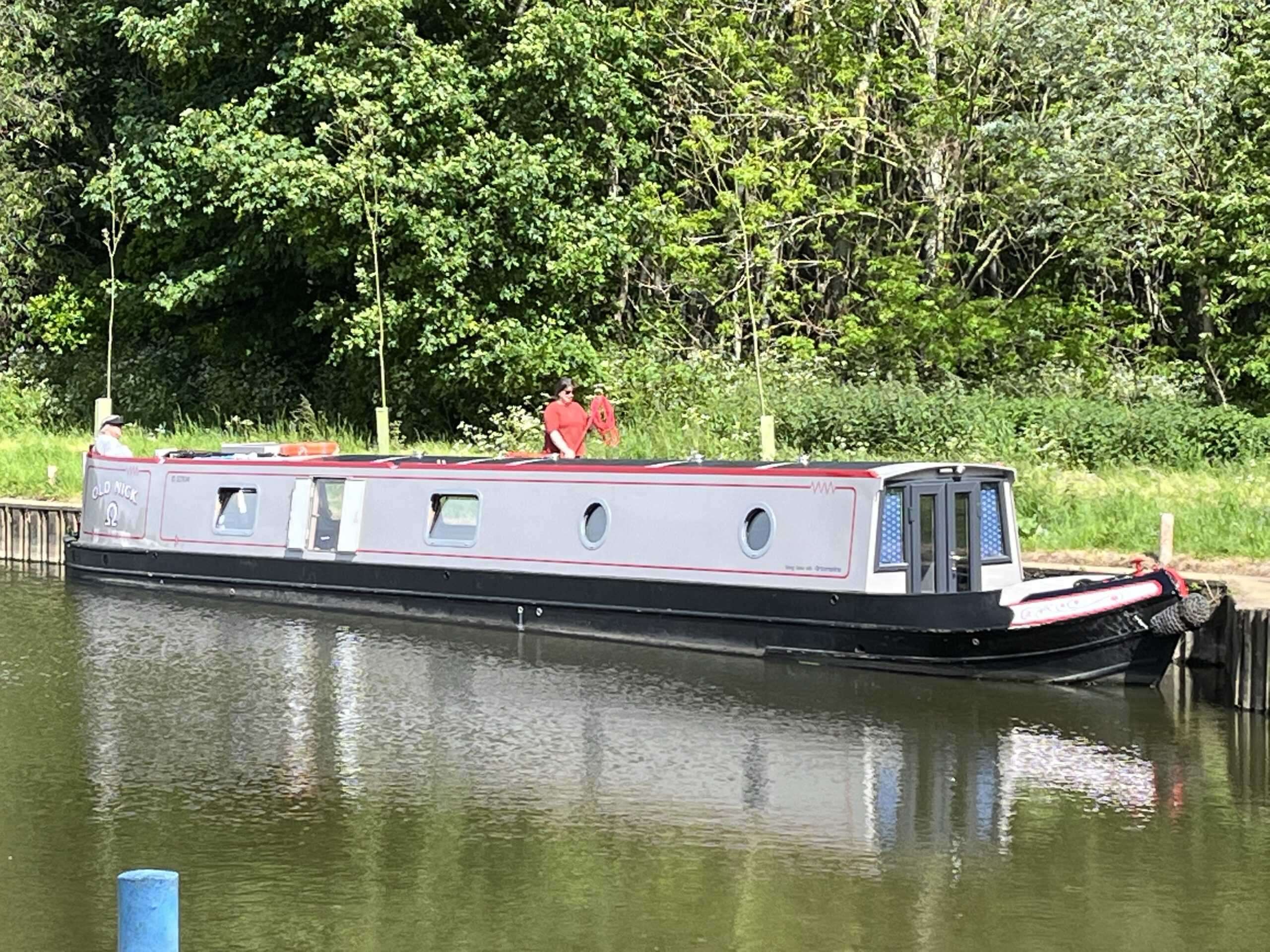 We slept in quite late (for us) arising at 09:00. We were in no hurry and our guests showered and then enjoyed a leisurely breakfast. I don't think we set off until nearly 11 but, once again, the weather was better than anticipated and we all, once again, caught the sun, despite greasing up!
The lawn mowers were still in action as we passed again. I understand that you just leave them out to do their bit all summer, and that the very intelligent ones return to base for recharging, once their energy has been expended. Quite amazing. I looked at the price and some of the very whizziest ones cost over £4k!!! And they had four!
All too soon we were back at Sankey and bid farewell to our guests, both a little bit pinker than when they had arrived! It had been another lovely weekend but we were pretty tired. A shower, a quick meal and bed finished off the week. And next week, we'll be breaking new ground again as we head closer to Stratford. We have to be off the river by 7th June, so we are still in no real hurry, and we are really enjoying the river.