A week on the Wyrley and Essington and its arms
As you may recall, the purpose of coming back onto the BCN was to close the loop that we had broken off from completing, back in June, due to a stoppage Now here's the problem. We seem to be stuck! We like it here at Pelsall Junction so much, that we can't tear ourselves away.
We arrived on Sunday (11th Sept – which would have been my lovely Dad Nick's 91st Birthday) and immediately felt at home. There are loads of dog walkers passing – always kindred spirits – and everyone is very friendly. We have spoken to so many and some – the lonely ones perhaps – stay for ages, chatting. It's lovely.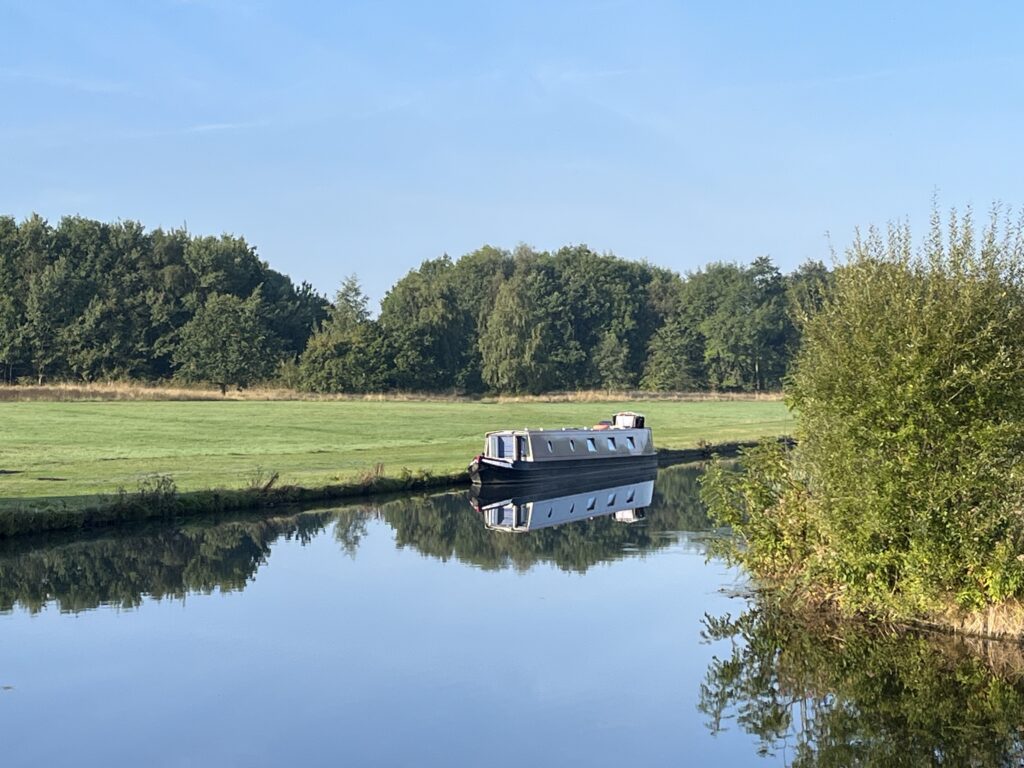 The dog walks are also many and varied so the boys are in their element and it is very peaceful here – aside from a few illegal e-bikes flying past at breakneck speed – but they are nowhere near the boat so it's not an issue like it is when they race along the towpath.
I had washing to do – rather a lot – and Tuesday (13th Sept) looked like a good, largely sunny day – especially after the spectacular red sky the previous evening – so washing day it was. The first wash was out on the line by 09:30. As there is plenty of room here it went out on the bank – which is more like a large field. The only problem will be stopping dogs peeing on the washing line legs!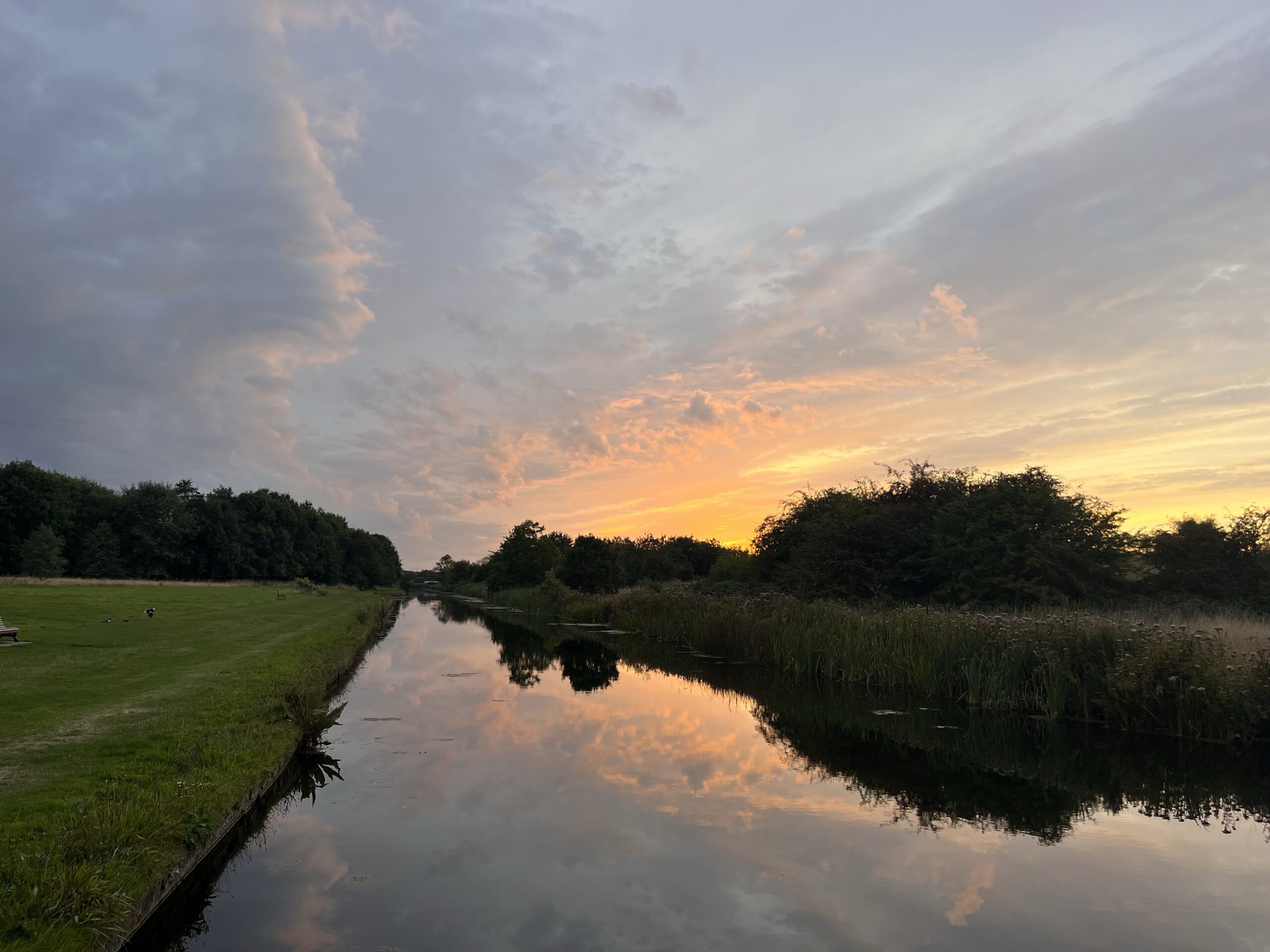 All dried perfectly and was folded and put away by 15:00. And we now had a plan. We would stay here until Wednesday evening and then toddle off down the Cannock Extension Canal and spend the night somewhere along there. Our friend from the first night came by again and we had another lovely chat. He seemed so pleased that we liked it here. So far I have nagged him to give up smoking and go and visit his brother in Mexico while he still can! Such a lovely chap. A widower, I think?
Wednesday (14th Sept – Uncle D's 86th birthday) was another fine day so another load of washing went on. Isn't this interesting? But it gets better! We set off after work, as planned, down the Cannock Extension Canal. This canal, with some nicely preserved canal buildings at its start, is now only 1.8 miles long. It used to be longer but the Northern half was closed in 1963, partially because of mining subsidence and partially because of decreasing boat traffic. It's ironic that the canal, which was built to serve several collieries was killed off by the very things it was built to serve.
The canal is rich in water plants, with 34 separate species being recorded. Notably, it has a large collection of the rare floating water-plantain (Luronium natans). This very pretty little plant, recognised as endangered in Europe, is found throughout the length of the Cannock Extension. Nine species of dragonfly have also been spotted. The canal is a Special Area for Conservation, which must be good for everyone. And luckily, the area – whilst weedy – is not yet afflicted by the scourge that is Floating Pennnywort.
It is straight as a die and almost immediately very rural in character. There was sweetcorn harvesting going on in one of the adjacent fields. That's a noisy business! The terminus, just south of the A5, is now the very-nearly-northernmost point on the BCN. We shall be visiting the very northernmost point later this week. We went down and turned round and found a nice little spot to moor for the night, a little before Wyrley Road Bridge.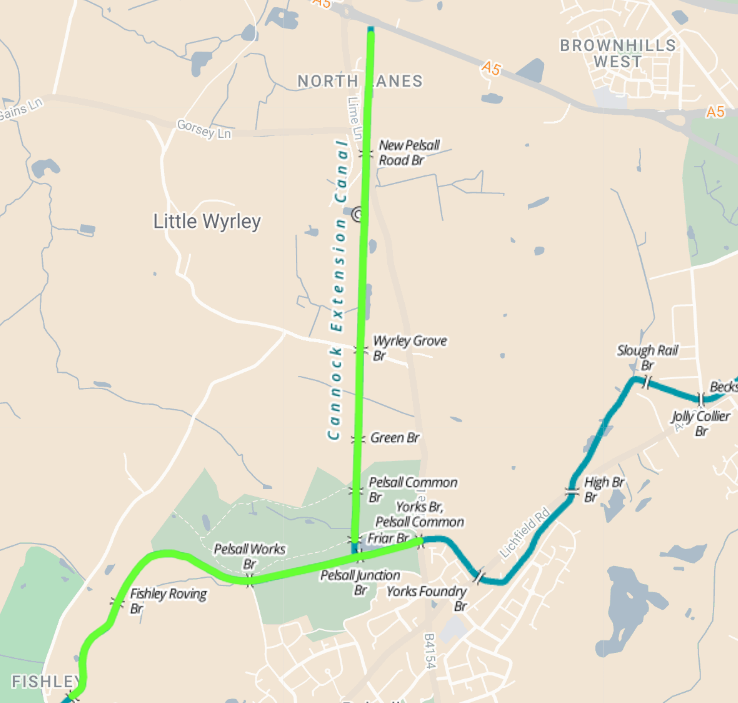 One of our crew had an appointment at the groomers, today so, late morning, I pootled the boat back up to Pelsall Junction and as we emerged, reversed back to our lovely spot. The boys seemed happy to be back and immediately went for a run around.
Paul walked the boys over to the very handily placed groomers – Sally's Pooches, right by the canal – and dropped Ted off. We had an anxious wait (not really!) until we could get him back. Bill didn't seem too bothered! Here are the before and after shots.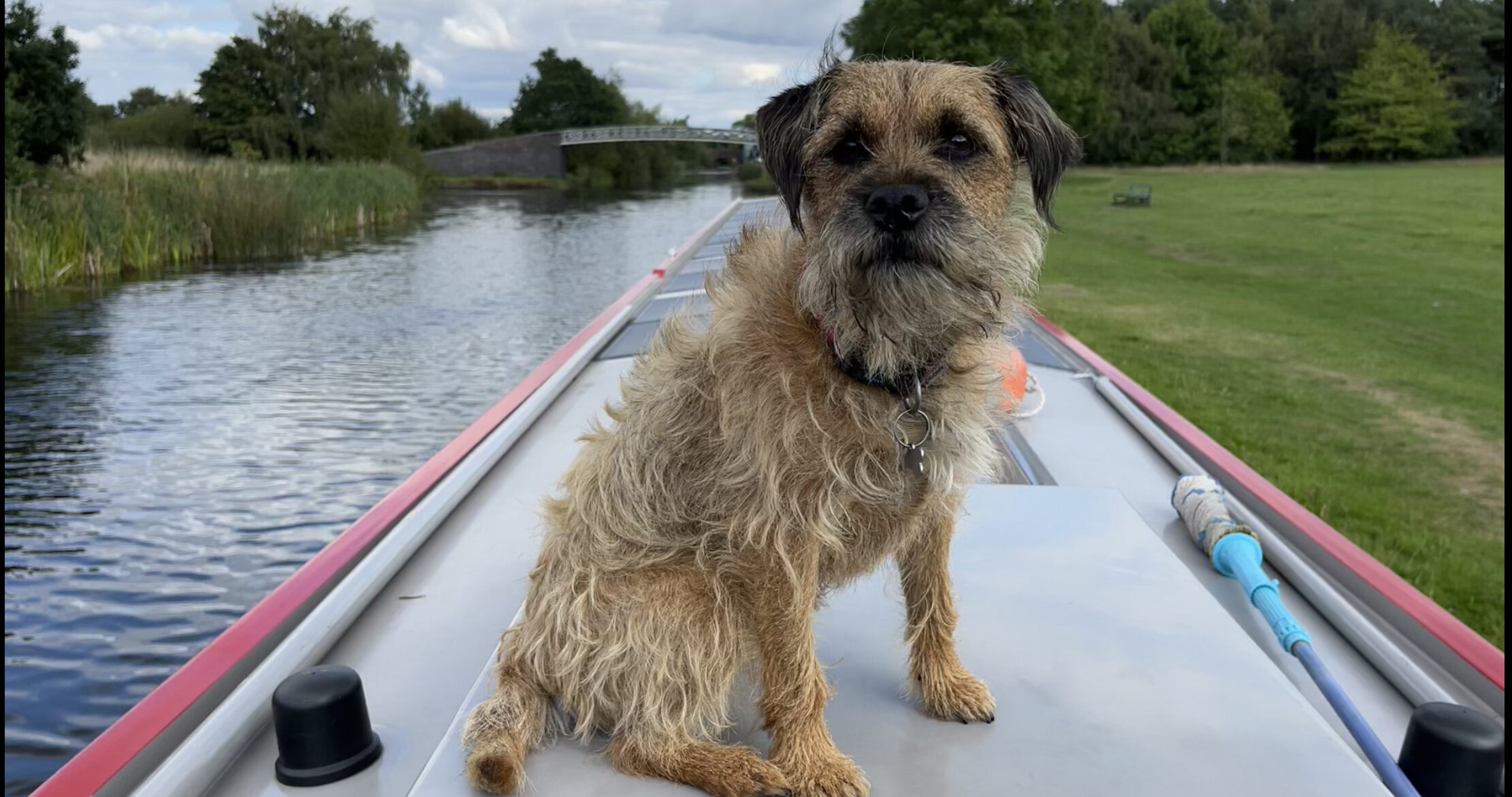 Once he was back on board, I moved the boat down to the nearby pub, The Finger Post, where we have dinner booked for tonight and a food delivery for tomorrow. It was a bit of a wrench to be leaving Pelsall but we have decided that we will "close the circle" by going up to Daw End and then retrace our steps and go along to the Dudley and Netherton tunnels on the Old Main Line from Horseley Junction – with a possible trip down the Bradley Arm just for fun! So we will be back at Pelsall before too long.
The food at the pub was nice – we had a selection of tapas – and the locals were very friendly and chatty. People are always interested in the lifestyle and ask the usual "are you warm enough in the winter?" "how far can you go on a charge?" type of questions.
Friday (16th Sept) was time to leave Pelsall altogether for the time being. First stop was Brownhills for services and to pick up some dog food. I had ordered 12 x trays of wet dog food. It wasn't in stock, so they sent just 1 substitute instead of 12. Grr!
The approach to Brownhills was quite rural and we liked the look of the town, what little we saw from the cut. Paul did the services while I went to the very handily placed Tescos for dog food. Once all was done we transferred to the visitor moorings and had lunch – and Paul carried on working. It was sunny – warm when the sun was out but quite a biting, chilly breeze when the sun was hiding behind the clouds.
I pressed on to Catshill Junction, where we turned left for a quick return trip down to Anglesey Basin – just because we can – although it seems few do, so it's pretty weedy. A common theme throughout the BCN, it seems. We saw a crowd of junior school kids out for a walk with their teacher and they were very pleased to see us. Lots of waving and tooting and much love for the boys! "Look! They've got dogs on the roof!"
We passed Ogley Junction, where the, currently under restoration, Lichfield Canal goes off to the right. The Lichfield Canal joined the Coventry canal at Huddlesford Junction, which is where we turned when we were on the Cov with Anne and Gray, back in early July. The map below is from the Restoration Trust's website. They have had a bit of a battle, as the dreaded HS2 runs over the Lichfield, near its junction at Huddlesford (on the right of the map)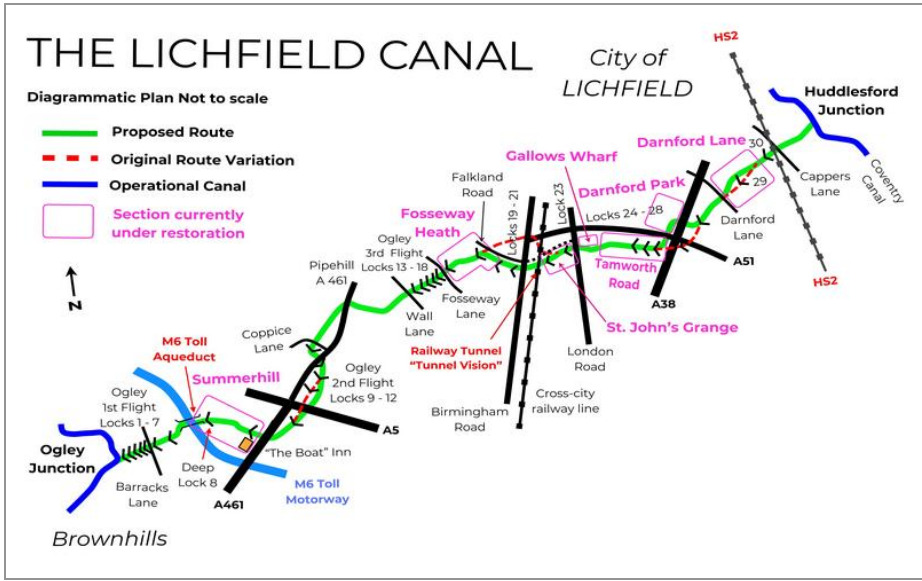 We bore left onto the Anglesey Branch and got chatting to a chap who was walking his Schnauzer and who had also seen us down at Pelsall. What a coincidence! At the latter end of the Anglesey Branch, the M6 toll road swings by quite closely and we feared we might have a noisy night (although more white noise than really intrusive) but we left it behind a bit as we arrived at the basin. The word "basin" and what that name conjures is a bit of a misnomer – it's basin shaped, but there is nowhere to moor – all the sides are "au naturel" and we had to come back a little way, after we had turned. But it was a nice sunny spot and seemed pretty quiet. Time will tell.
It's a shame that you can't actually moor in the basin as it's very pretty and it is (currently) the very northernmost point of the BCN. I found a photo taken a few years back and it looked very smart. Now it's pretty overgrown – neglect or re-wilding, I wonder? Chasewater Reservoir – built as a feeder for the Wyrley & Essington canal – is nearby and has been turned into a Country Park. There are water sports and walks and a cafe to visit. A splendid resource.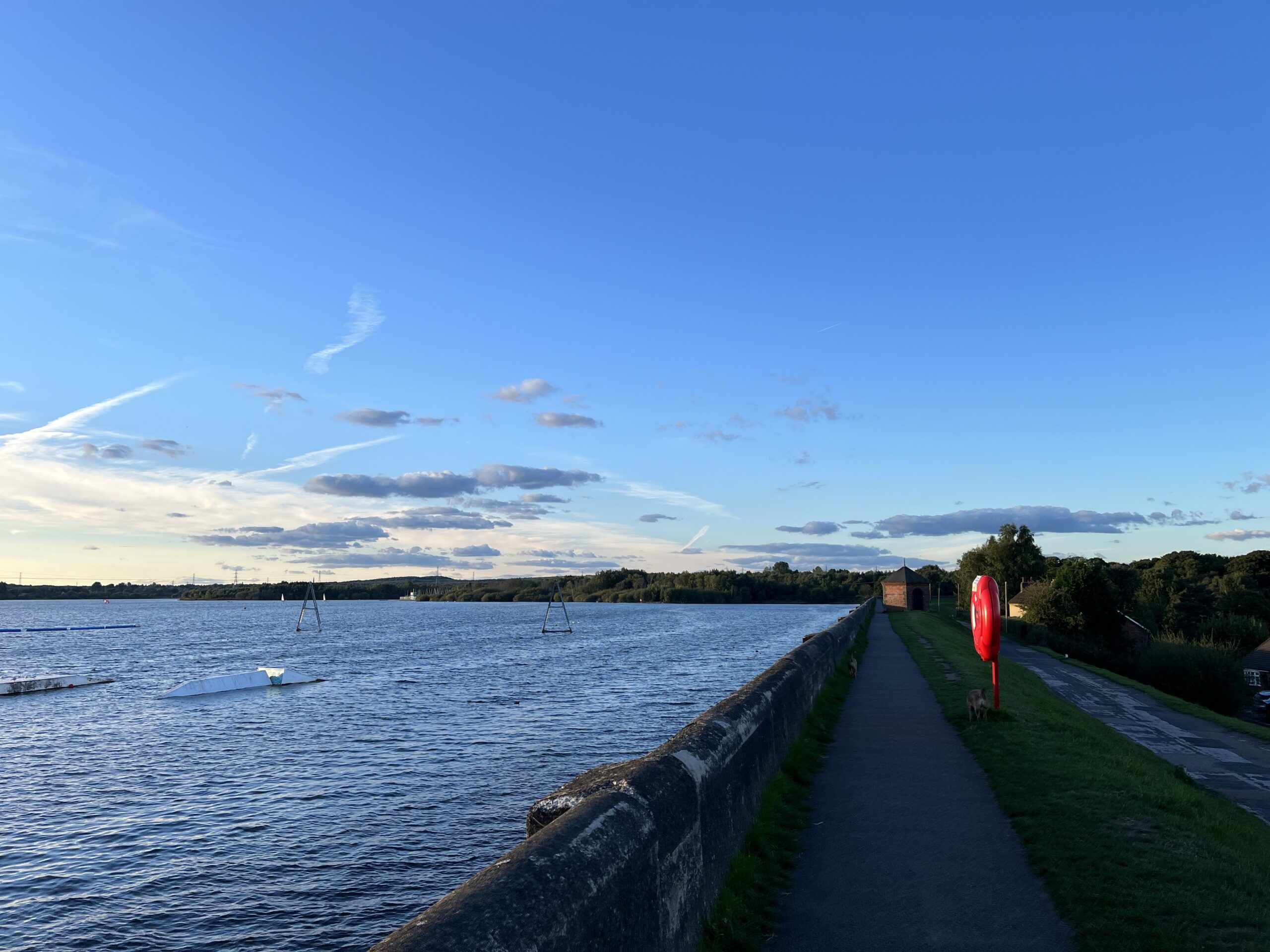 After a peaceful night we left (Sat 17th Sep) and made our way back to the main line and we spotted a couple of these things. Research showed them to be the remains of coal shutes, used to transfer coal from the trains which brought coal down form the pits to waiting barges. And interesting reminder of the waterway's past.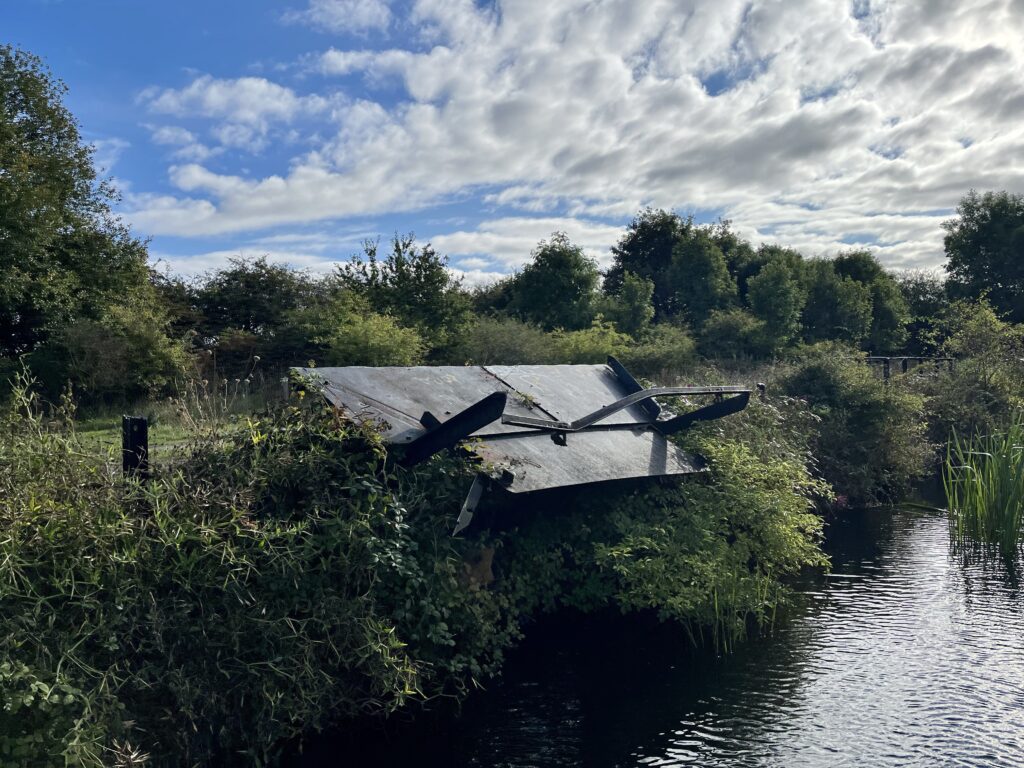 At Catshill Junction, we turned left, towards Daw End, where we broke off our trip along the W&E earlier in the summer. It's a canal with a mix of rural and urban and much used by dog walkers, with whom we passed the time of day. And what a lovely day it was too! Blue skies and warm sunshine but the occasional biting wind.
We passed under the very smart and newly repaired Black Cock Bridge, which had curtailed our cruising earlier in the summer and on towards Daw End, which one chap told us he had heard pronounced "Dow End" – with the Walsall accent, anything is possible!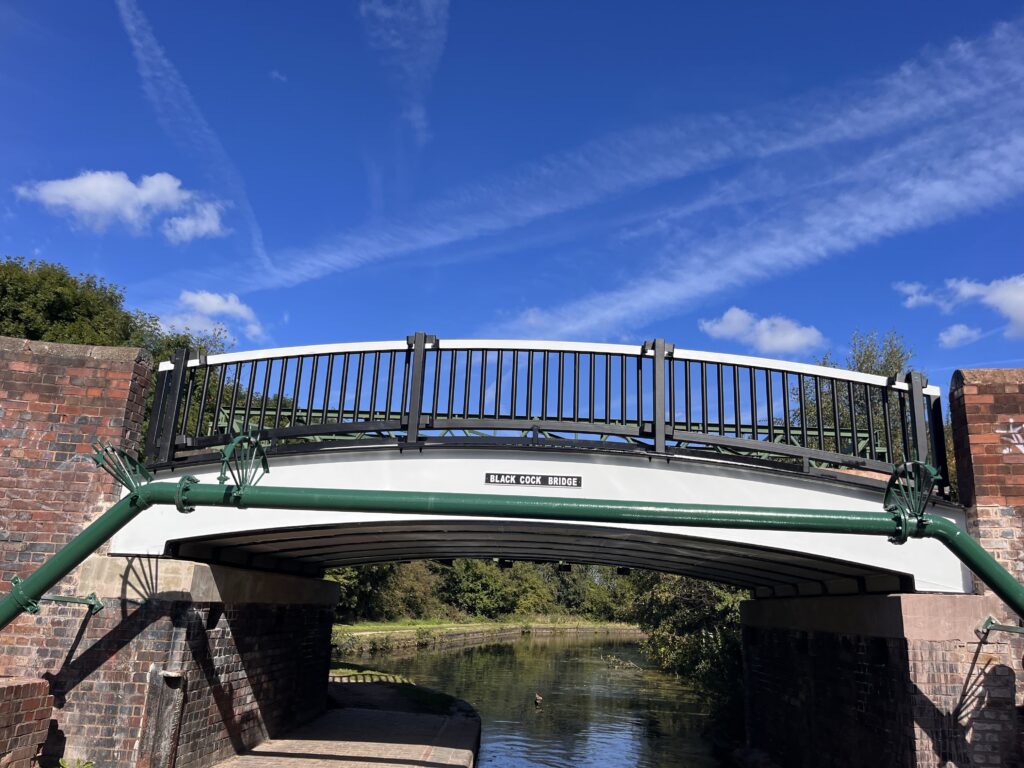 As we went through Walsall Wood, we spotted a statue/sculpture of a chap fishing. It's had a bit of a chequered career as the fish that was on the end of his line has been stolen a couple of times and once, replaced by a gold welly boot. The statue was part of a scheme to regenerate the area and add a bit of culture. Sadly, there is nothing on the end of the line today. The statue has these words etched on it:-
This canal was once the artery of Walsall Wood. Armies of men
and horses pulling countless barges passed beneath you.
Millions of tons of coal from the pit were drawn along these peaceful
waters to the ever hungry mouths of industry. Fish, cycle or stroll on
these gentle towpaths as you desire, but remember that, once, these
were the motorways of Britain.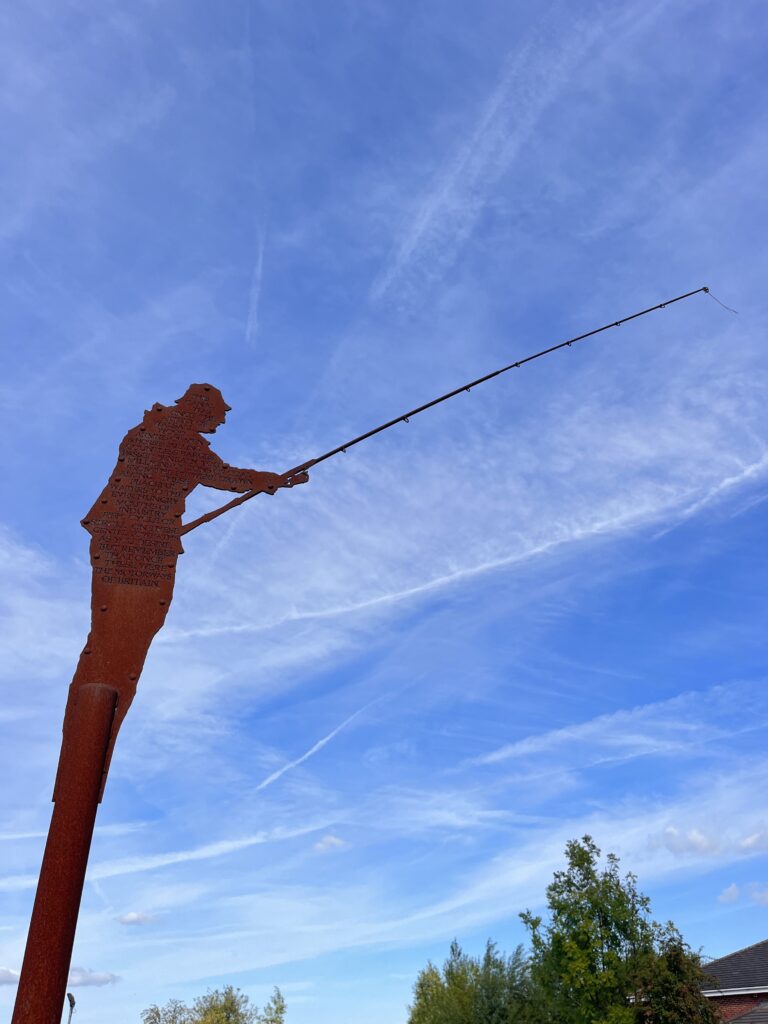 We passed Aldridge Marina – now completely clear of all boats. We had heard a rumour back in June that new owners had put the rent up and all the boaters, to a man, refused to pay the new rates and left. Whether there is any truth in this story is anyone's guess, but the yard remains completely deserted, which is a real shame and a waste of good moorings.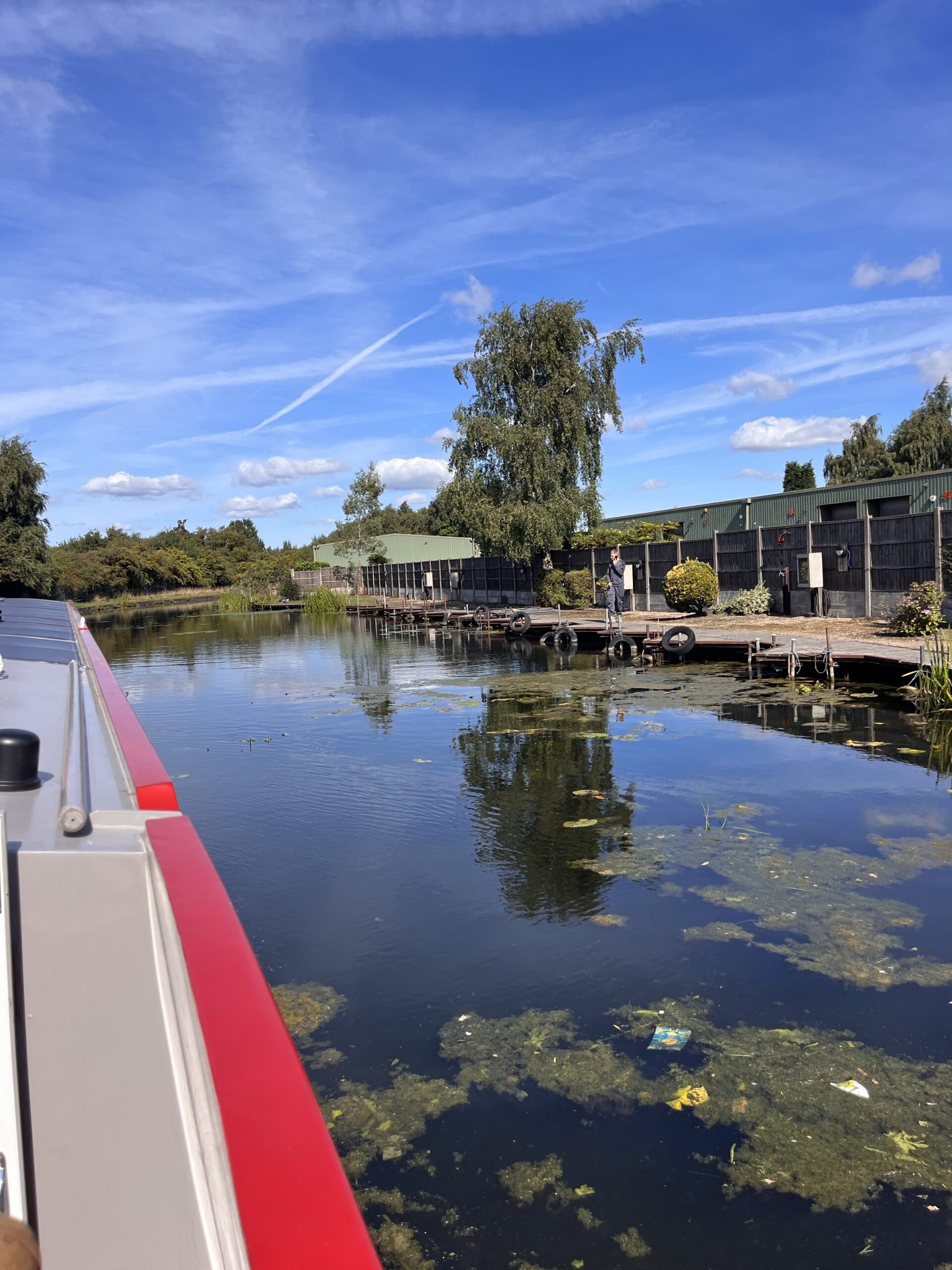 We finally reached the Daw End winding hole and turned to retrace our steps. It felt good to have closed the gap. We stopped off at Brownhills for a quick top up of water and pressed on for what now felt like home – Pelsall. It would be our last night there for quite a while. Pelsall is now riding high in our Top 10 Favourite Moorings. We arrived just as a fishing match was packing up, otherwise we would not have been able to moor in "our spot". Good timing all round.
It's interesting to note that there are no locks on this part of the BCN, as it is built on the "Wolverhampton Level" – following the 473 ft (above sea level) contour line. It gives nearly 42 miles of lock -free cruising. Worth all that hard work up the 21 last week!
We really did feel sad leaving on Sunday (18th Sept) morning, but we have more places to cruise before the end of our cruising season so it's onwards and upwards!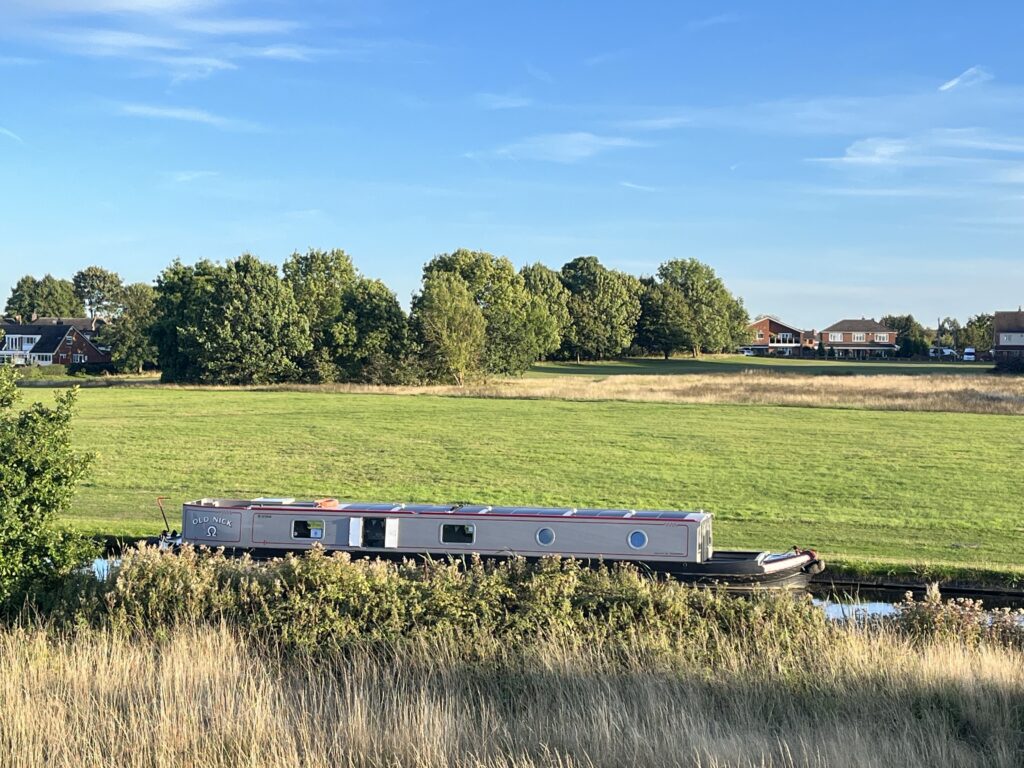 Today's destination was Holly Bank Basin – where we stayed last Saturday. I may have said this before, but one of the things that is a little irksome about the BCN is that you can't moor just anywhere. You have to make safety/security a priority and stick to recommended moorings. But it was no big issue as we liked it there anyway.
There was a biting breeze that forced me into long trousers for the first time for months. Boo! I even broke out the cosy furry snood! It made me nostalgic for those intensely hot days back in July! There were occasional light showers but nothing too wet and we finally arrived at our night spot late afternoon.
Looking ahead to next week, we have a couple of tunnels in our sights and a visit to one of the most southerly points on the BCN to fit in. We get around eh?