Week 2 on the Staffs/Worcs; Wolverhampton 21 and the Curly Wyrley
We stayed put for a couple of hours after Sue had left and then – around lunchtime – I moved us on down the canal towards Stackton Tressle Acton Trussell*. As it was lunchtime, Paul could break off, briefly from work to get me through the one lock.
*brownie points for anyone who gets that reference!
It was a beautiful morning with hot sunshine and for most the trip I was cruising on solar alone (i.e. not taking anything out of the batteries). Always a good feeling! It was sprinkling on and off throughout the sunshine and as we arrived our destination, the heavens finally opened. Good timing!
We moored and settled down for the afternoon, but about teatime, when Paul finished work, it was such a lovely evening, we decided we'd set off again. We needed to be closer to Penkridge, where we had to pick up some stuff from the pharmacy on Tuesday morning. We passed through a couple of locks in sunshine and showers and then moored just before 19:30.
There was another cracking thunderstorm with absolutely torrential rain late evening and this time we were awake and able to watch as it rolled around us. I love a good storm and, luckily, the boys don't seem bothered by it. I was expecting Ted to kick off but he was fine. We had an early start planned so went to bed (lovely to be back in our bed – albeit briefly!) at a fairly respectable hour. The storm was still rumblin' away in the distance but did not stop us sleeping.
We awoke on Tuesday refreshed and raring to go, through another couple of locks to get to Penkridge, which has not one, but two canalside pubs – The Boat Inn and the Cross Keys. We visited neither on this occasion, as it was the wrong time of day. The locks by the way, are some of my favourites on the system, especially the ones with cute little underpasses.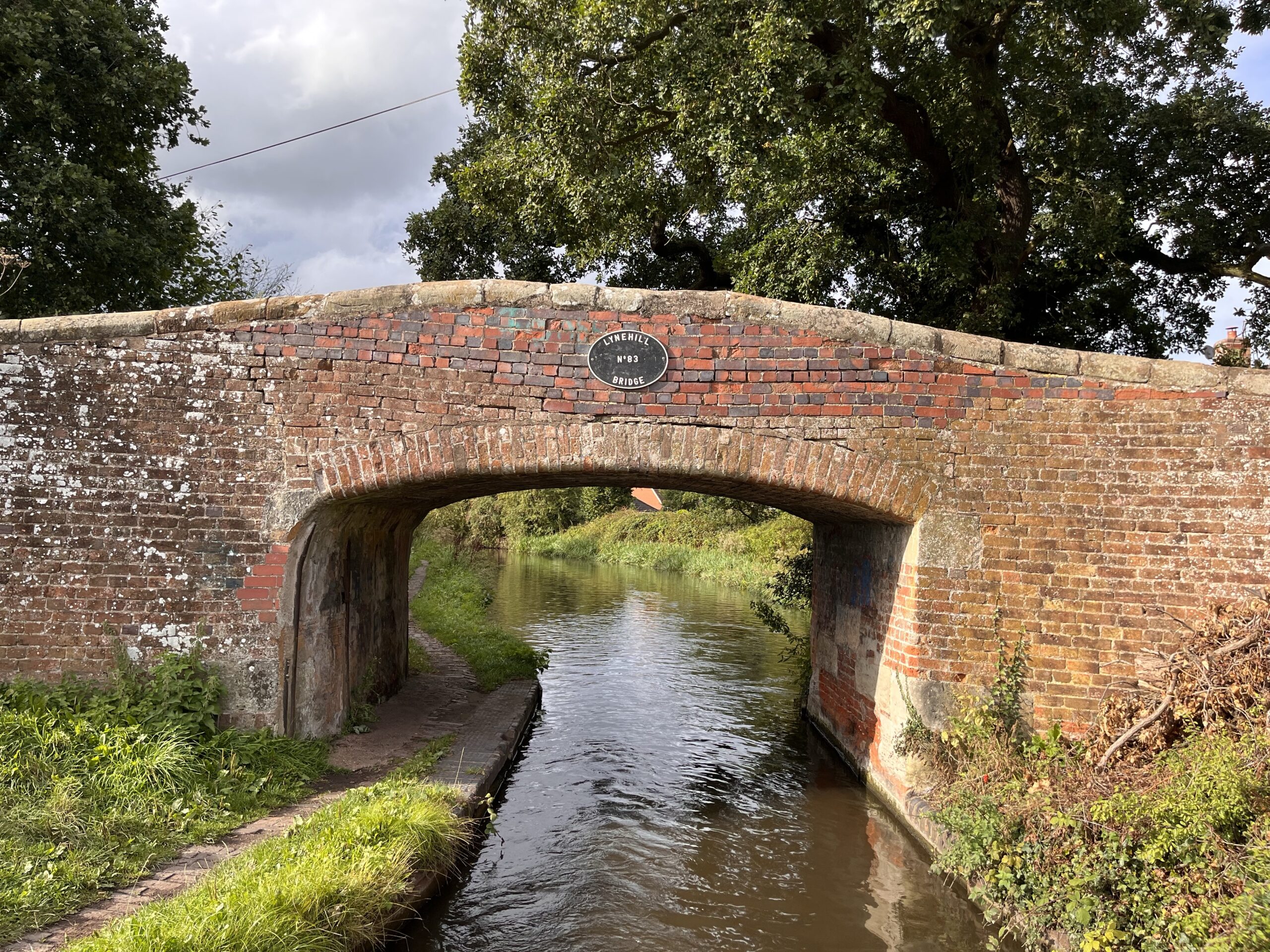 We arrived at Penkridge just before 08:45 and Paul was the first customer over the threshold. He was back and ready to start work a fraction past 09:00! A very successful mission all round.
I did a spot of cleaning outside while Paul worked and then – at end of work – we set off again, just to get a little closer to our goal for Friday this week. We would be meeting our friends, Nick & Sarah Holmes, there, arriving for their second visit. Sadly, these post work trips will be getting shorter and shorter as the evenings draw in.
The Staffs/Worcs is, by and large, a rural canal but is nowadays dogged by both the railway and the M6 along much of its length. We passed though Boggs Lock, where presumably, you can empty your toilet? Jokes! We were aiming for a spot where the M6 veers away from the canal for a distance and we found it, just above Brick KiIn Lock, where we passed a peaceful night. Note that some wag has annotated the sign!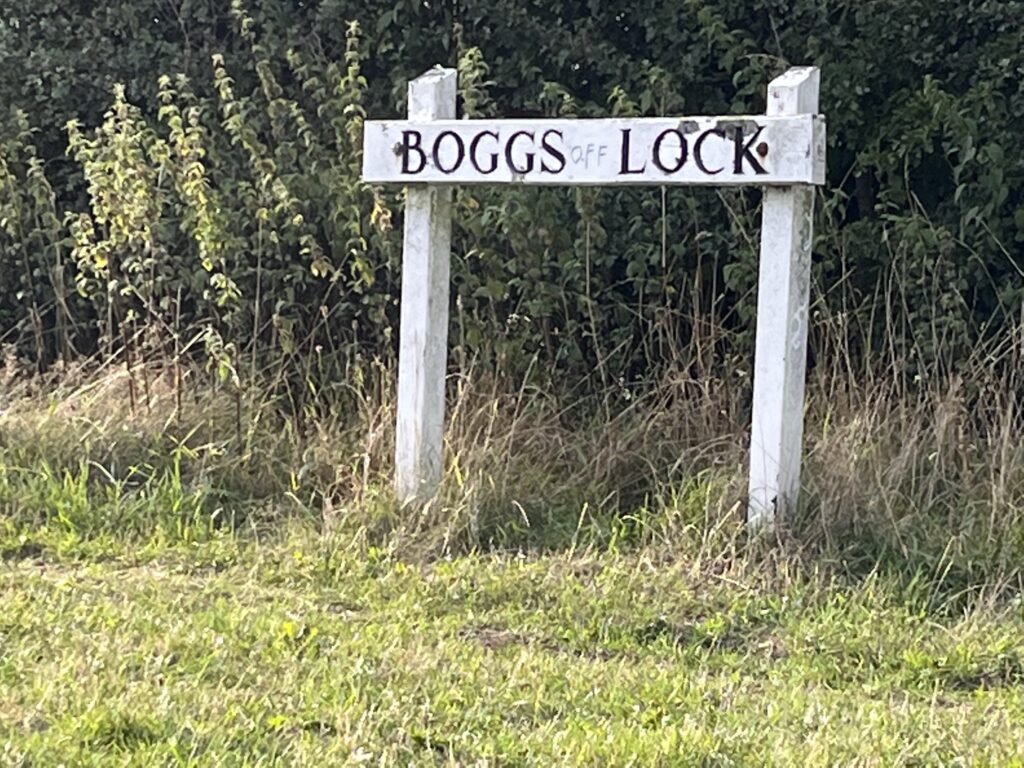 So a little about the Staffs/Worcs. It is a shortish canal – only 46 miles, with 45 locks. It was an early 'contour' canal and was opened in 1772. Brindley, the great canal engineer, had a dream to create a "Grand Cross" of canals, which would connect the rivers Severn and Trent, and the Mersey and the Thames. It was quite a successful canal and was actually still making a profit when it was nationalised in 1948, and had been run from the same Wolverhampton offices for over 170 years. We shall eventually be breaking off half way along its length, at Aldersley Junction, to join the Birmingham Old Main Line, up the Wolverhampton 21. But more of that later.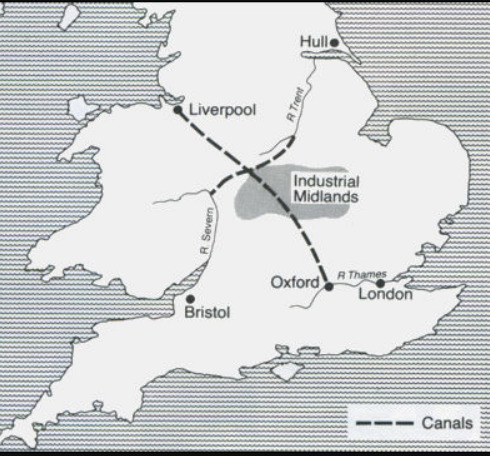 On Wednesday (7th Sept) we made another early start, passing through Gailey Lock, with its distinctive round house, formerly a toll house. This is the last lock of this "half" of the canal and leads on to the summit of the Staffs/Worcs. It passes under Watling Street, one of the great Roman roads – now the A5.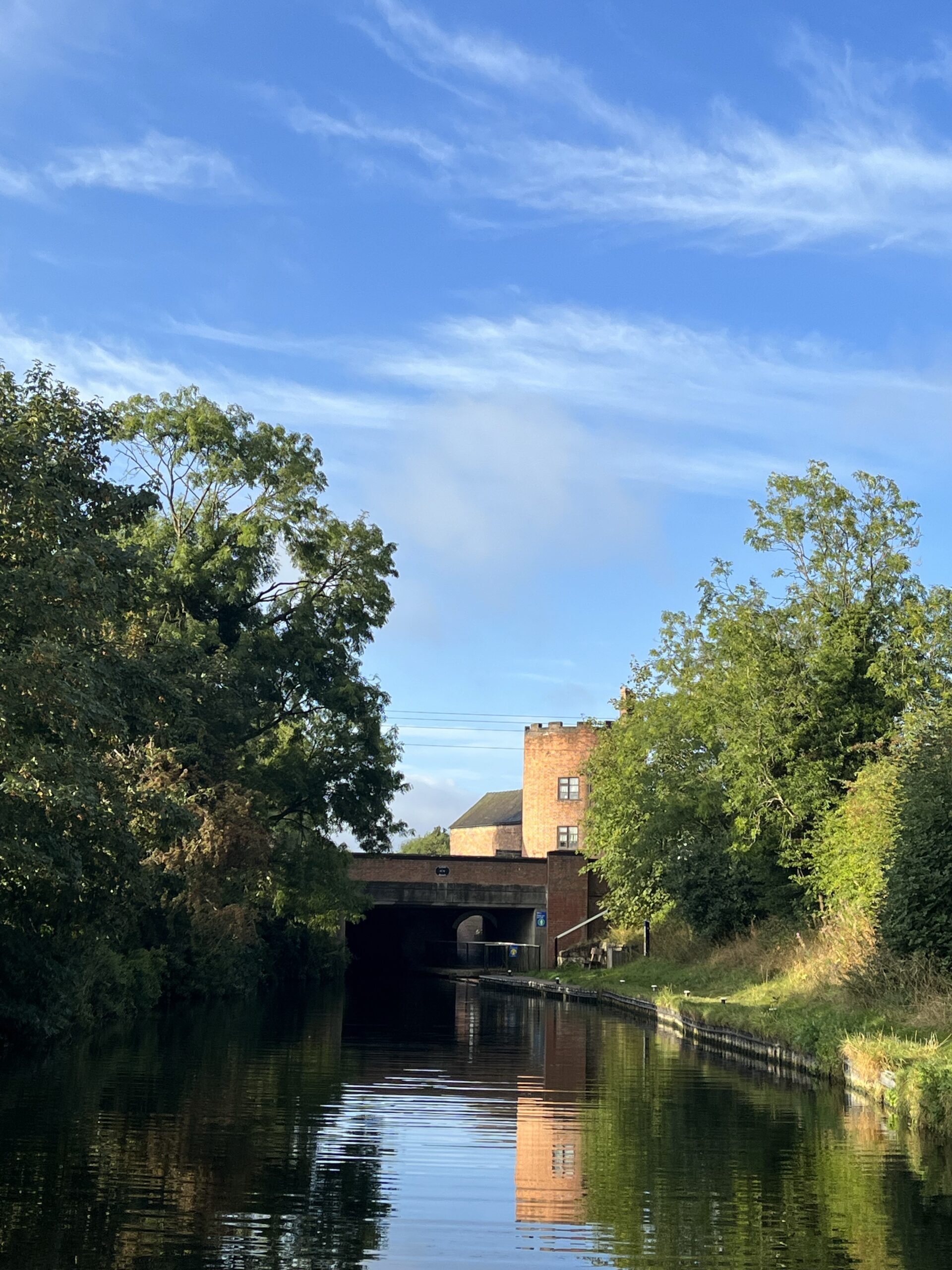 We passed the rather alarming Schenectady Works – now part of the SI Group – a chemical manufacturing plant of some size. There is a warning sign as you approach it which says that there is to be no mooring or stopping on this section, even if you hear an alarm sounding. Eek! To give you some idea of the size of the installation, there is an aerial photo here. These warnings are repeated along the way and there is another marker at the end of the section, and it's quite a relief to be through it, although I'm sure it's safe as houses, really. Probably.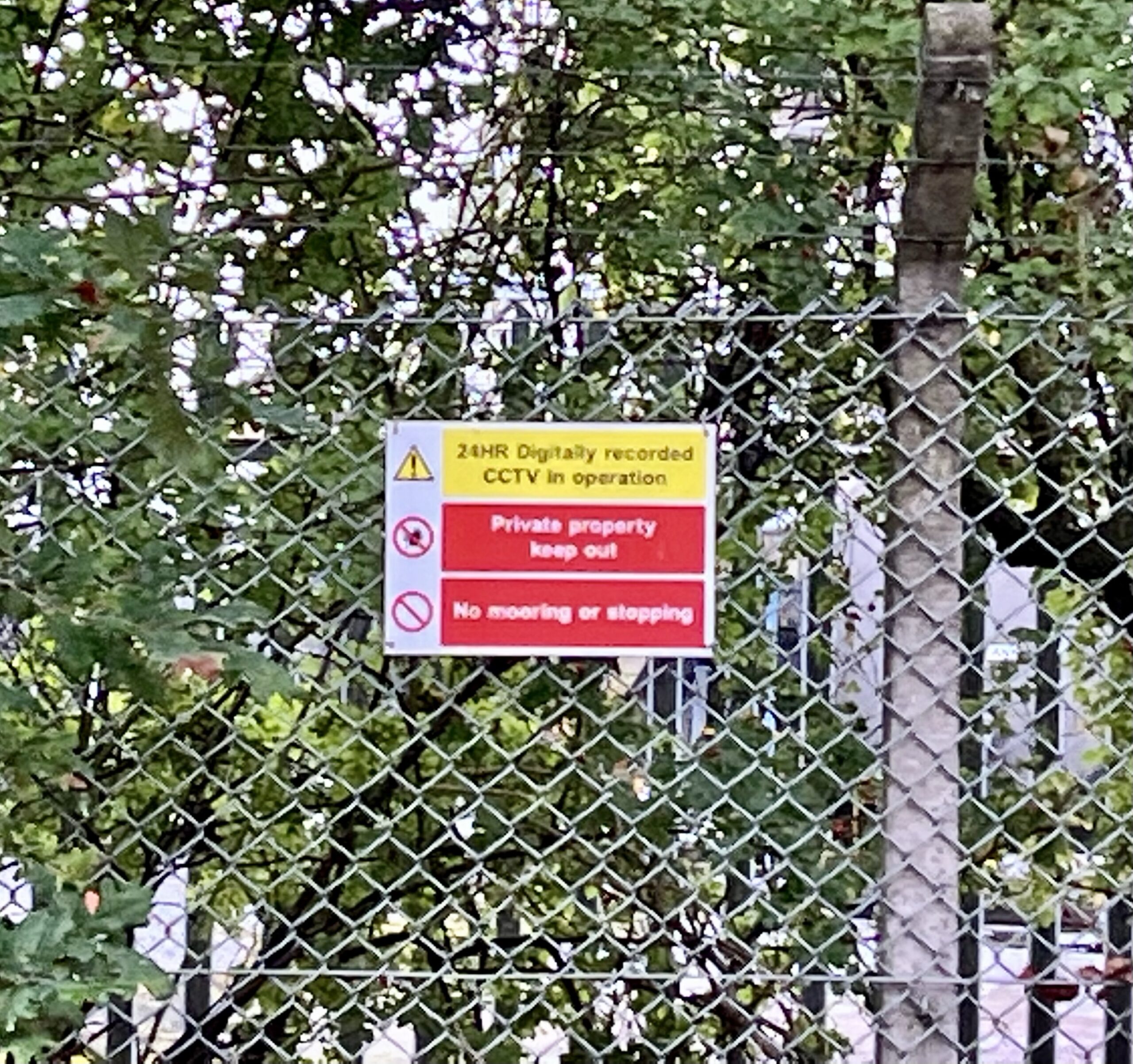 Once through the non-stop zone, the canal becomes more rural and we found a nice quiet spot to pass the day, with a couple of nags for company. We had a spot of thundery rain late afternoon but otherwise this was a very quiet spot, with not a great deal of foot fall.
We had our last early start of the week on Thursday (8th Sept) heading to The Anchor Inn at Cross Green, on the outskirts of Wolverhampton. We have dinner booked here for tonight, a grocery order in the car park on Friday morning and a rendezvous with friends in the afternoon. We spotted a couple of potentially nice places to moor, on the way, which I added to my "What 3 Words" database of good mooring spots. I have quite the library of these now, all filed by canal, on my phone. Very handy for the future. Here is a link to the W3W Anchor Inn location. You can use it to navigate to a place on Google maps and I am a big fan. This page illustrates the ways in which W3W can be used in the real world.
We passed Hatherton Junction, where a now derelict arm used to run and join up with the Wyrley & Essington canal. which we shall be exploring next week. We saw a Heron doing a spot of morning fishing. Ted has "taken agin" Herons. One had the temerity to fly away in very close proximity to him, which frightened Timid Ted, such that he barks every time we see one, which is a pain! Ted has also taken agin swans, after one hissed at him and flapped its wings, protecting its cygnets. He took exception to its behaviour and will no longer give them the time of day.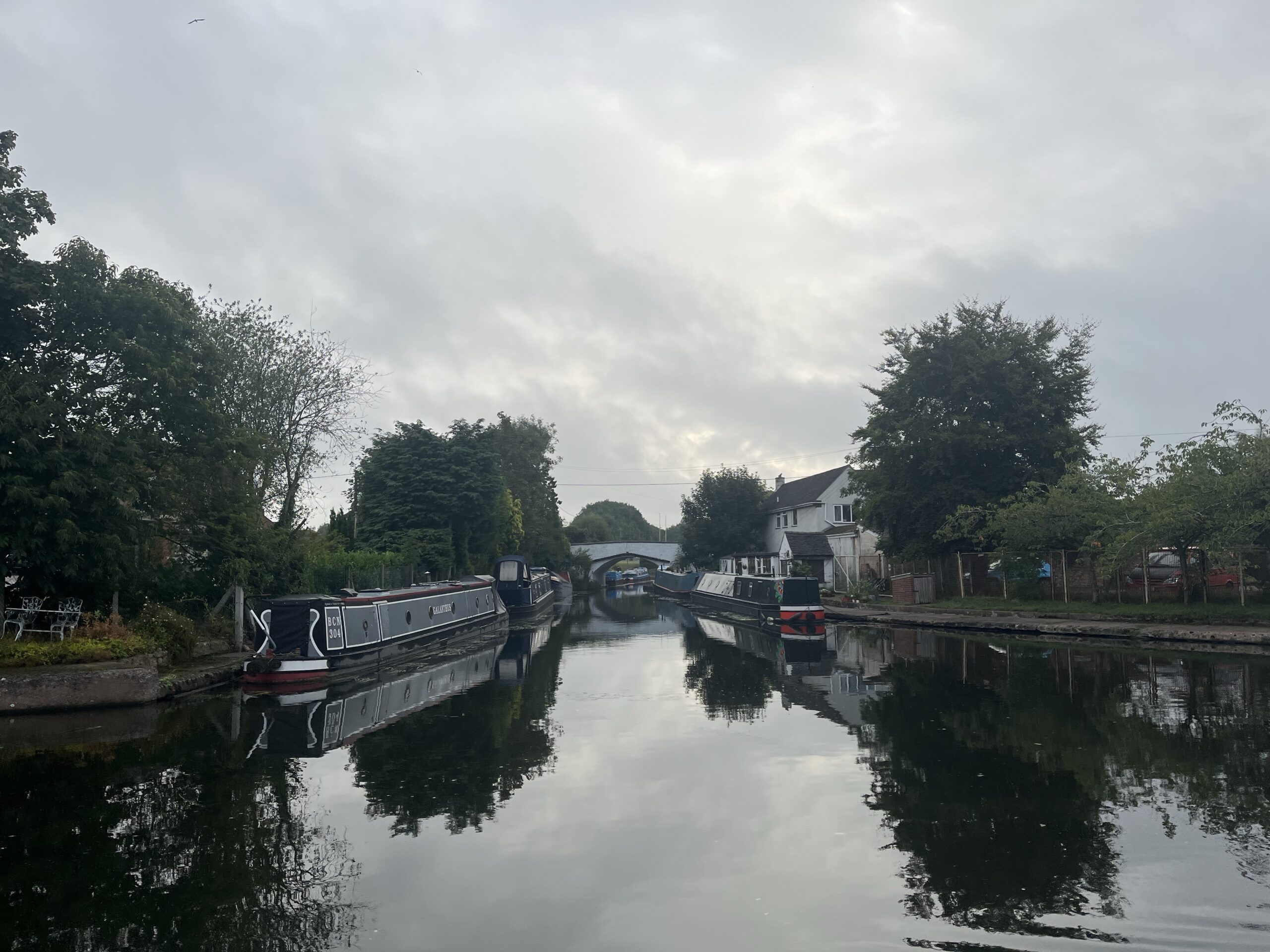 It was a showery, could not make it's mind up kind of a trip. George's brolley put in an appearance from time to time, but we soon arrived and got tied up. Paul did a recce at lunchtime to suss out the best place to direct the Ocado van. We will ask tonight if it's OK to leave a car there. Fingers crossed.
We were just leaving to go to the pub when we got the very sad news that our beloved and faithful queen had died. I was surprised at just how hard the news hit me. We knew it was imminent but gosh, it was almost like losing a family member. There was no-one else like her. King Charles has some tough challenges to face.
Our meal was nice and it was very dog friendly indeed – it seemed like at least one dog at every table. We sought permission to leave a car (Nick and Sarah's) and they were absolutely fine about it. We came back to the boat. I could not watch the coverage of the Queen's demise on the TV. I felt it would be the usual overkill and wanted to think my own thoughts. It will be strange waking up tomorrow as a Carolean or a Carolingian or whichever they settle on.
Friday (9th Sept) was the usual round of cleaning and provisioning – the latter of which seems to be getting more expensive every week. Sarah and Nick had the usual Friday journey and eventually arrived at around 18:30. It was too late to move on so we settled down to the real business of catching up.
We had Espresso Martinis while we waited for dinner. These require shaking but we had no cocktail shaker on board. We improvised by using the water bottle that Paul uses for walking football! It did the trick!
Sarah and Nick had brought this evening's dinner, so it was just a case of flinging it in the oven and cooking a few veg. After dinner, we spent the evening chatting and laughing and agreed on an early start for the next day – we had business to do!
We were under way by 8ish and had breakfast on the move. We were bound for Aldersley Junction – the Northernmost access point to the BCN. And immediately on the junction, there are 21 locks to take you up to Wolverhampton.
This was a bit of a baptism by fire for our guests, who had done a few locks on the Oxford when they visited in July '21 but nothing of this magnitude. But they set to with a will and we soon settled into a rhythm. Another boat arrived at the junction as we were in the first lock. I really felt for them. It's a bit of a pain following another boat up a flight of locks, especially if there are no other boats coming down the flight. You have to empty the lock and then refill it very time. We were lucky as all the locks were empty, ready to steer straight in and fill up. As a gesture of good will, we opened a paddle to start emptying the lock we had just left. We'd appreciate that if somebody did it for us.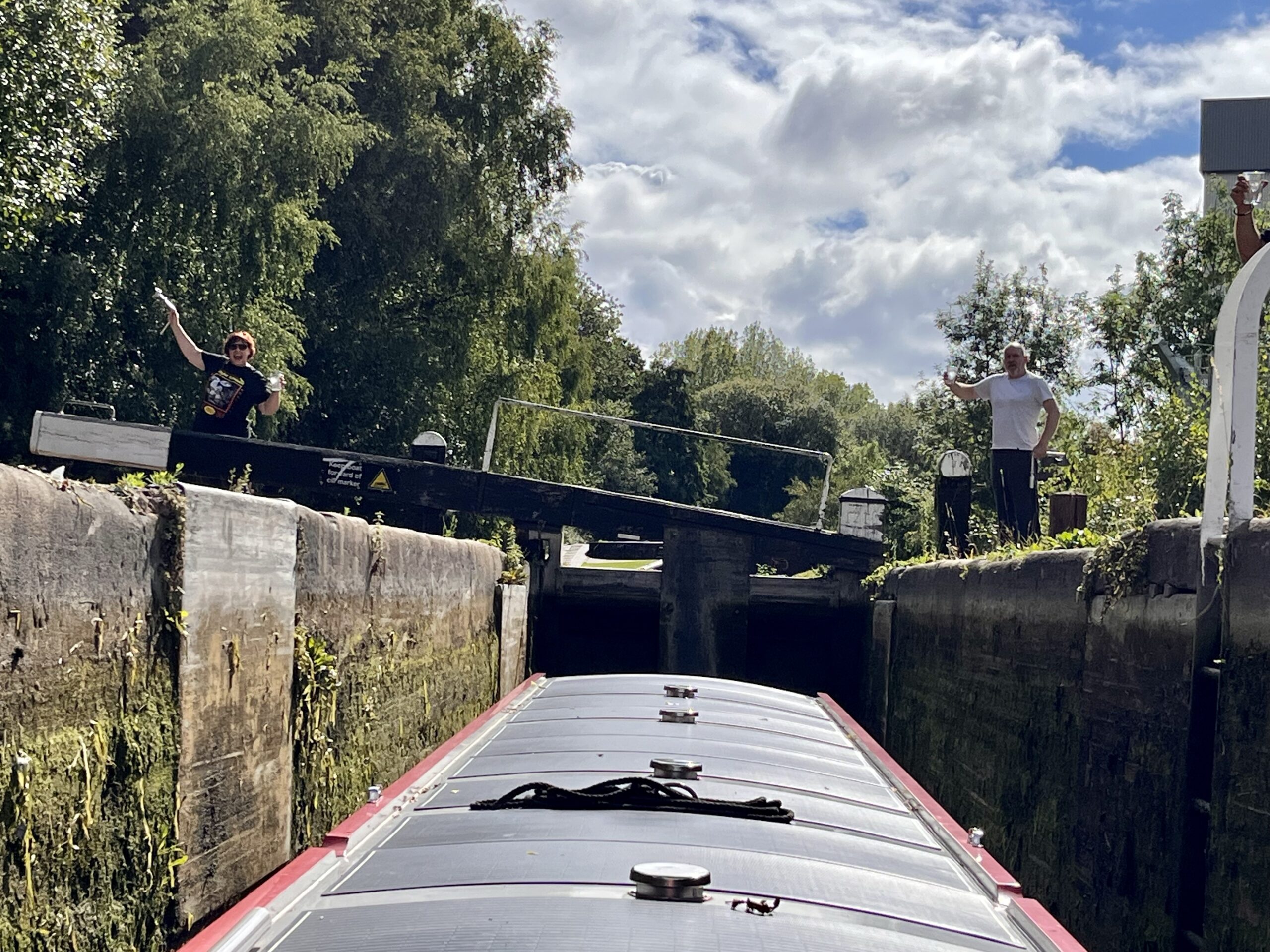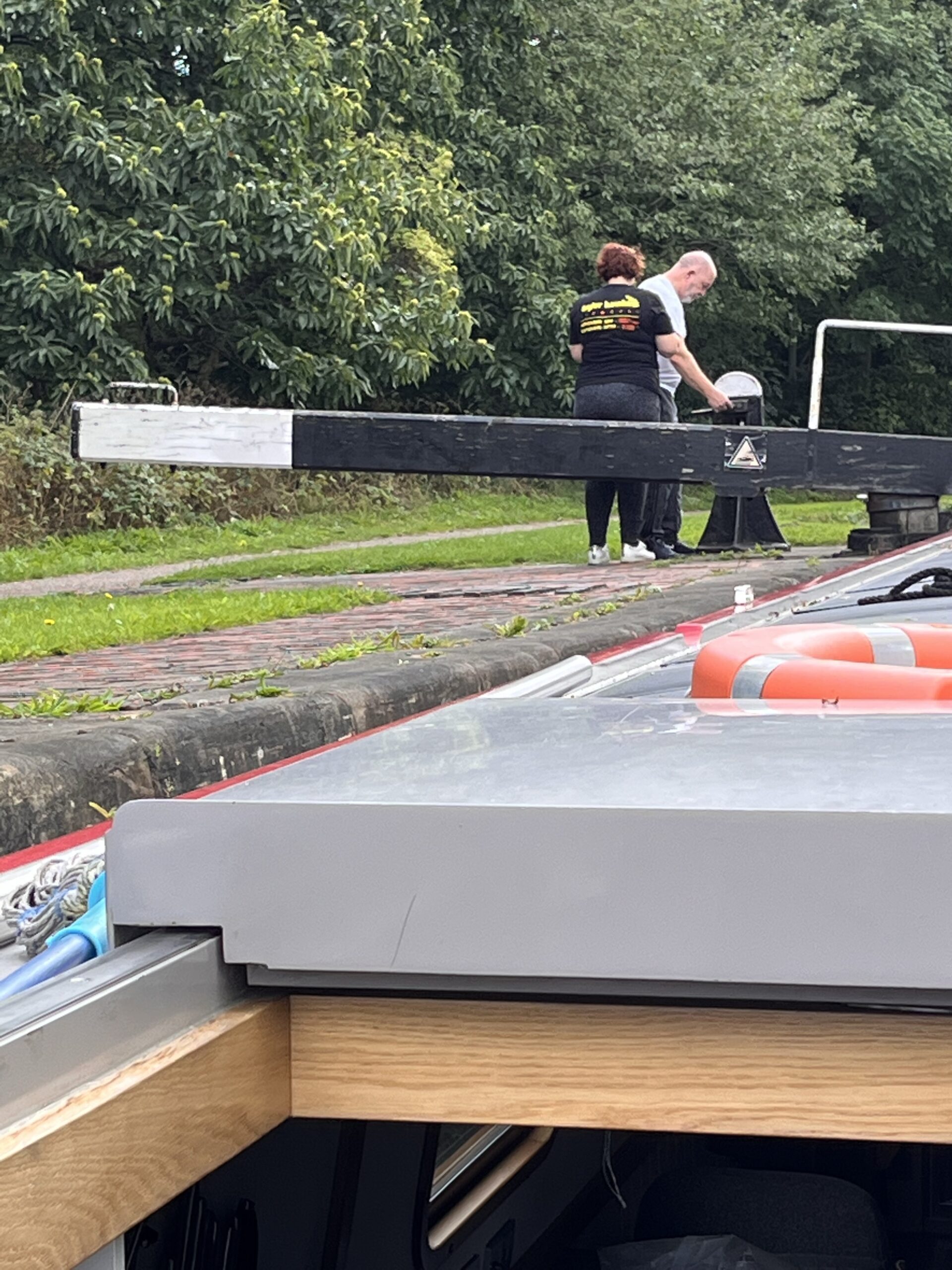 The canal was pretty weedy, with lots of plastic waste and progress was quite slow. You can usually tell if you have something round your propellor, impeding its ability to spin and propel you through the water. There is a juddering on the rudder and a sluggishness in forward motion. But we have the added bonus of our Ortomate boat management system. We normally cruise at 800 rpm, which draws around 30 amps, and this is clearly displayed on the screen. When there is weed (or worse) round the screw, the current needed to turn the screw can go as high as 80 amps.
Usually, a quick blast of astern will clear it and the amps will drop, indicating that the blockage has been removed. Sometimes more drastic action is required and we had a couple of trips down the weed hatch to clear the blockage. The culprits were plastic bags mixed with weed.
About 8 locks into the flight, Paul, who had gone on ahead encountered a single handed boater who had gone ahead and emptied a succession of locks without checking if any boats were on the way up, which held us up a bit. And then we encountered a pound where the water was so low, we could not get out of a lock. We had to flush some water down and stick strictly to the centre channel to progress to the next lock. This also held up us a bit. But we got to the top within 4 hours, which is not bad considering the trials we had encountered. We pulled into Broad Street Basin to use the services and quickly had our lunch while we filled with water. We had worked hard for that lunch and Nick and Sarah had thoroughly enjoyed their first experience of a flight of locks.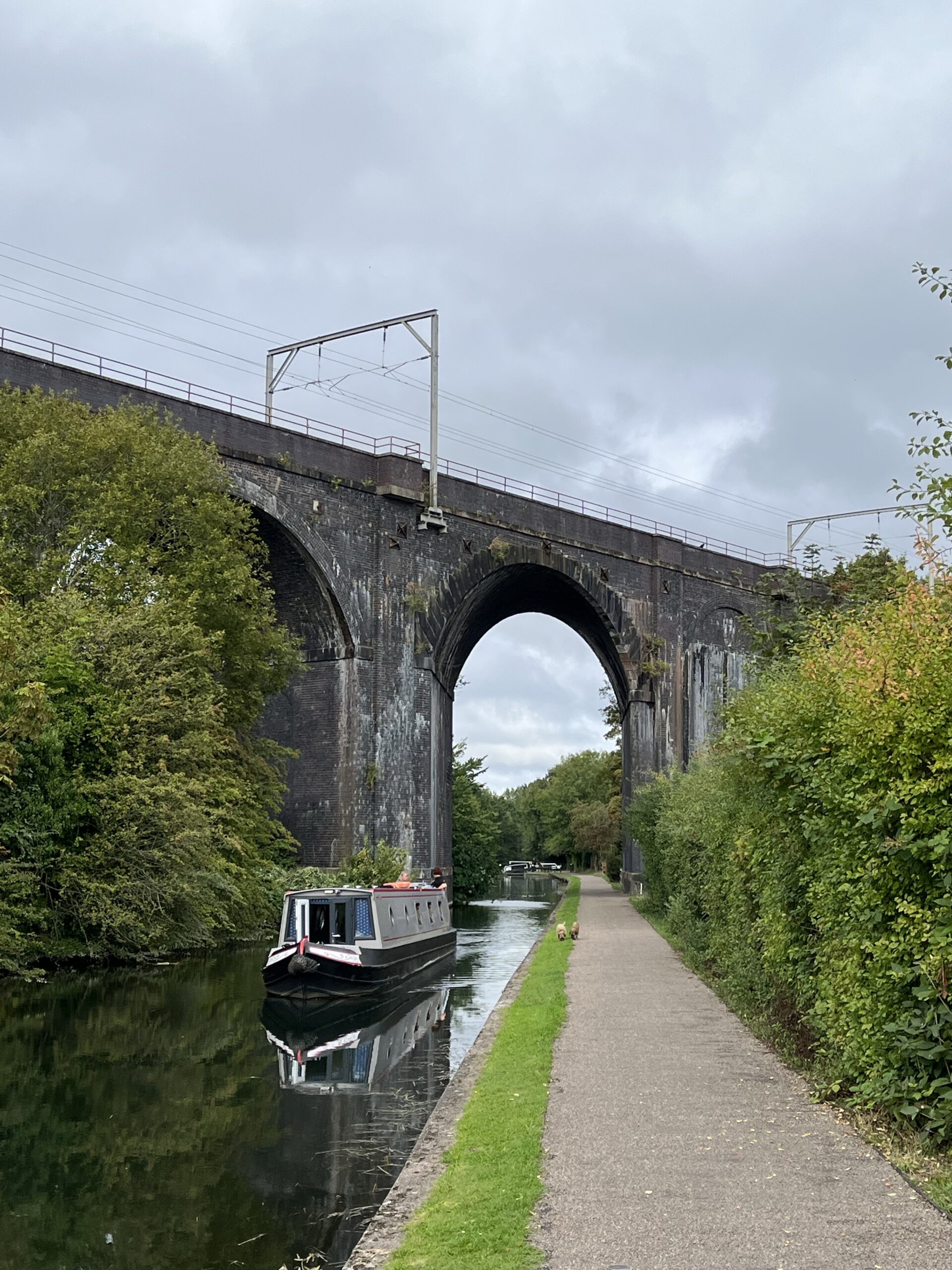 Fortified by our lunch, we set off again to Horsley Fields Junction and turned left onto the Wyrley and Essington Canal. A first for all of us. The canal was built to transport coal from the coalfields at Sneyd and Essington to the hearths of the people of Wolverhampton and Walsall. It's known affectionately as the "Curly Wyrley" because it is a contour canal, which is to say it skirts round hills rather than boring through them by means of a runnel or climbing them via locks.
This canal was very weedy/plasticy indeed, requiring more trips down the hatch as we made our way along. And, in common with other sections of the BCN, we felt like we were the only boat on the cut! It was deserted. We had a vague plan of mooring at New Bentley (where the Bentley Canal once branched off) , where there is a large leisure complex with pubs and restaurants and some CRT moorings. When we arrived, it felt a little too exposed and we felt we might become the target of "undesirables!, so we ploughed on. There were a couple of other mooring options a little further along. We arrived at the first of those options and it looked very suitable indeed. It was the mouth of the abandoned Short Heath branch, There is a photo of it here, from a while back, when it was much less overgrown. It's also known as Holly Bank Basin.
We turned in and tied up for the night, This spot felt much safer. Just a word about safety – it pays to be a little cautious in urban areas as there are stories of people being assailed by local youth, cutting mooring ropes, leaping on the boat and rocking it and throwing stones and generally making a nuisance of themselves. To give that some perspective, we have never had much trouble in all our boating life to date. We had some lads throwing stones from a bridge in Burnley and there have been a couple of occasions where we have felt a bit vulnerable, but nothing more. But it pays to be mindful and not take risks.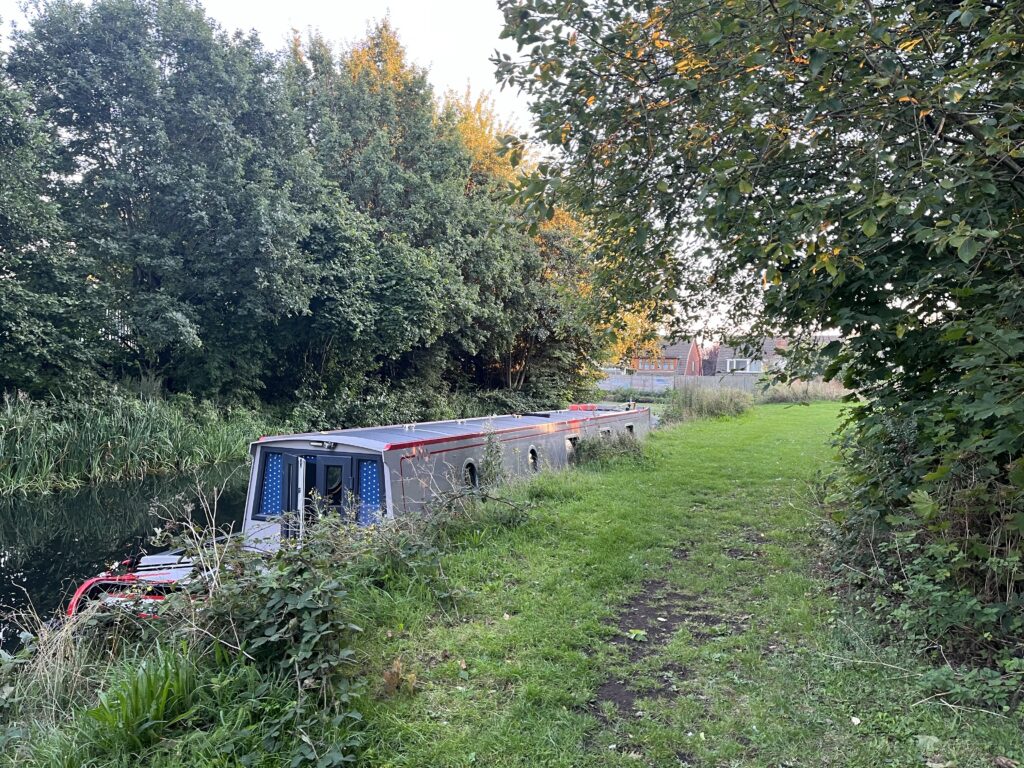 We had Margaritas and another fun evening playing The Game, although we were all tired from our exertions earlier in the day and were in bed not long after 10pm! It was definitely the exertions and not the whole bottle of Tequila that made us sleepy!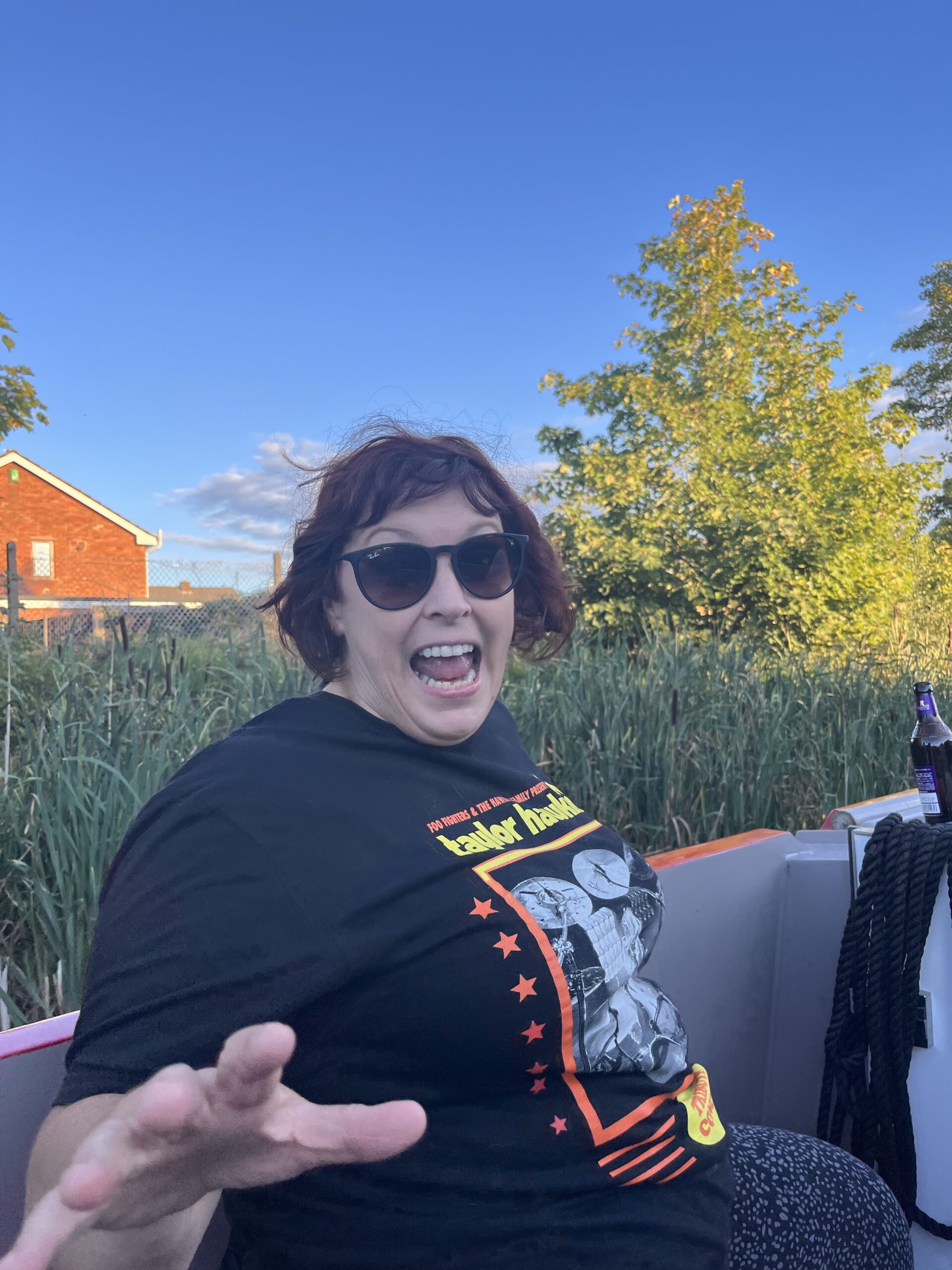 It was a lovely peaceful mooring and we got chatting to some friendly locals the next morning, who were pleased to see us and very interested in the boat. We had a bacon butty for breakfast and moved on to the second of the mooring options at Lane Head Bridge, which is a secure mooring that you need a CRT key to access – unless you are up to no good, in which case that would probably be little deterrent. But we needed road access as Sarah had to be at Heathrow for 14:30. We were glad that we had not moored there as it would have been pretty noisy. Uber turned up on schedule and we sadly waved them goodbye and went off to give our livers a break! What a fab weekend!
It's interesting – and perhaps sad – to note that, while you are permitted to moor anywhere on the towpath side of the canal (unless otherwise indicated) in practice, on some canals, it's an impossibility. Here on the W&E, the banks are choked with rushes, reeds and bamboo. The visitor moorings at Sneyd Junction, which in the guides are shown as being opposite the waterpoint, seem no longer viable, being covered with weed. It's only fair to say that the canals were not originally designed for leisure and were essentially a fast way of moving heavy stuff around. The boaters of old had very little need for moorings because they had to get to their cargo to the delivery location as fast as possible, where there would be facilities for them to moor. We leisure boaters are more demanding and CRT do recognise this.
We had a longish cruise to do, as we wanted to moor at Pelsall Junction, reckoned to be one of the prettiest spots on the BCN. The going was slow, with more trips down the weed hatch but along some very pleasant canal in warm sunshine. As we approached Sneyd Junction – a recommended mooring spot* – we saw another boat coming towards us! Moving!! And we were both heading for the water point and almost equidistant. We did the decent thing and let them go first. We exchanged experiences of the Curley Wyrley. They said the section they had come down had not been too bad, which gave us hope. We were using a lot of power on the weediness and would probably need to run the genny as the sun had disappeared. No biggy as we both wanted to shower when we arrived, which is a by product of running the genny. But diesel is in short supply on the BCN and we had not topped up for a couple of months.
*NB – we frequently refer to the very useful guide to moorings and services on the BCN, produced by the BCNS, of which we are a member.
The going was definitely less arduous on this section and we made slightly better progress. We even put our nose in to the Walsall Canal for a quick trip to Sainsers to replenish our ice stock, which had been thoroughly depleted at the weekend. Once stocked up, we reversed out, avoiding the carpet and large piece of plastic sheeting we had noticed on the way in, and back onto the W&E.
As we were passing through Little Bloxwich, the boat suddenly started tilting and we were tilted to a good 20 degrees off perpendicular. A few things shifted in the moment and a couple of (luckily nearly empty) bottles smashed in the incident. For a few seconds, I really thought the boat was going to fully capsize and then, as suddenly as it had happened, we could feel the boat slipping off the obstruction and righting itself. It was quite a shocking incident and once we were off I quickly took a W3W reference to report the obstruction to CRT. Once done, we mopped up the spillage and broken glass. No real harm done but we have never encountered anything like it in all our years of canalling. And never want to again!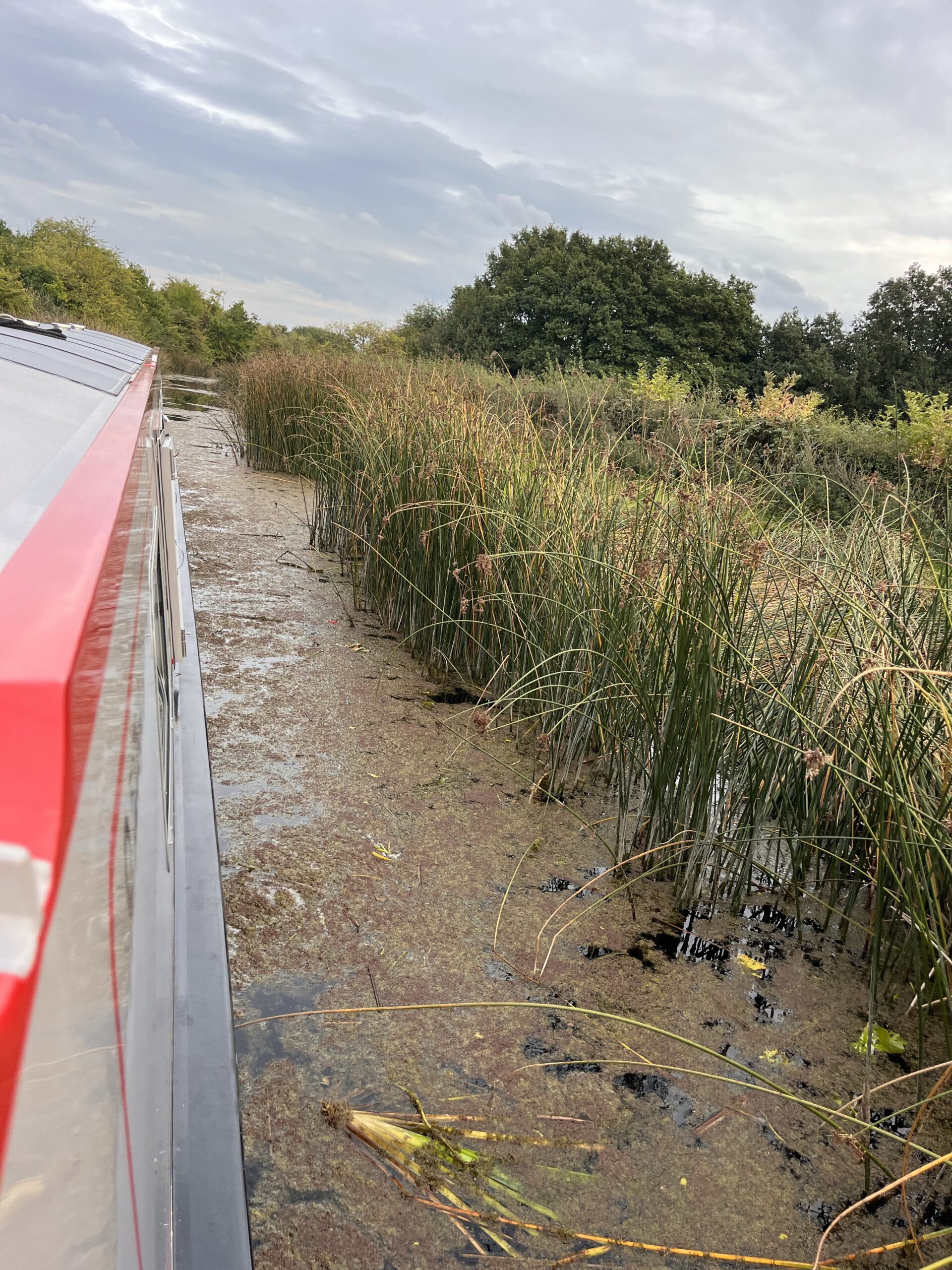 We reached Pelsall at around 6pm – and it was as attractive as its reputation. As we moored, we got chatting to one of the locals – a lovely chap – who was a member of the local history society and told us all about how the place had been when was he was a kid. He said he had learned to swim, jumping off the bridge at the junction. He clearly had a deep and abiding love of his little town.
Pelsall, in its past, had been very industrialised. The spot opposite which we had moored had formerly been home to the Pelsall Iron works, owned by one Boaz Bloomer. It had consisted of 2 blast furnaces, 40 puddling furnaces and about 7 mills and forges. This website gives more about the history of the area, but the site was razed in the 1920s and today it is a nature reserve. We liked it and decided we might stay here a couple of nights as we had washing to do.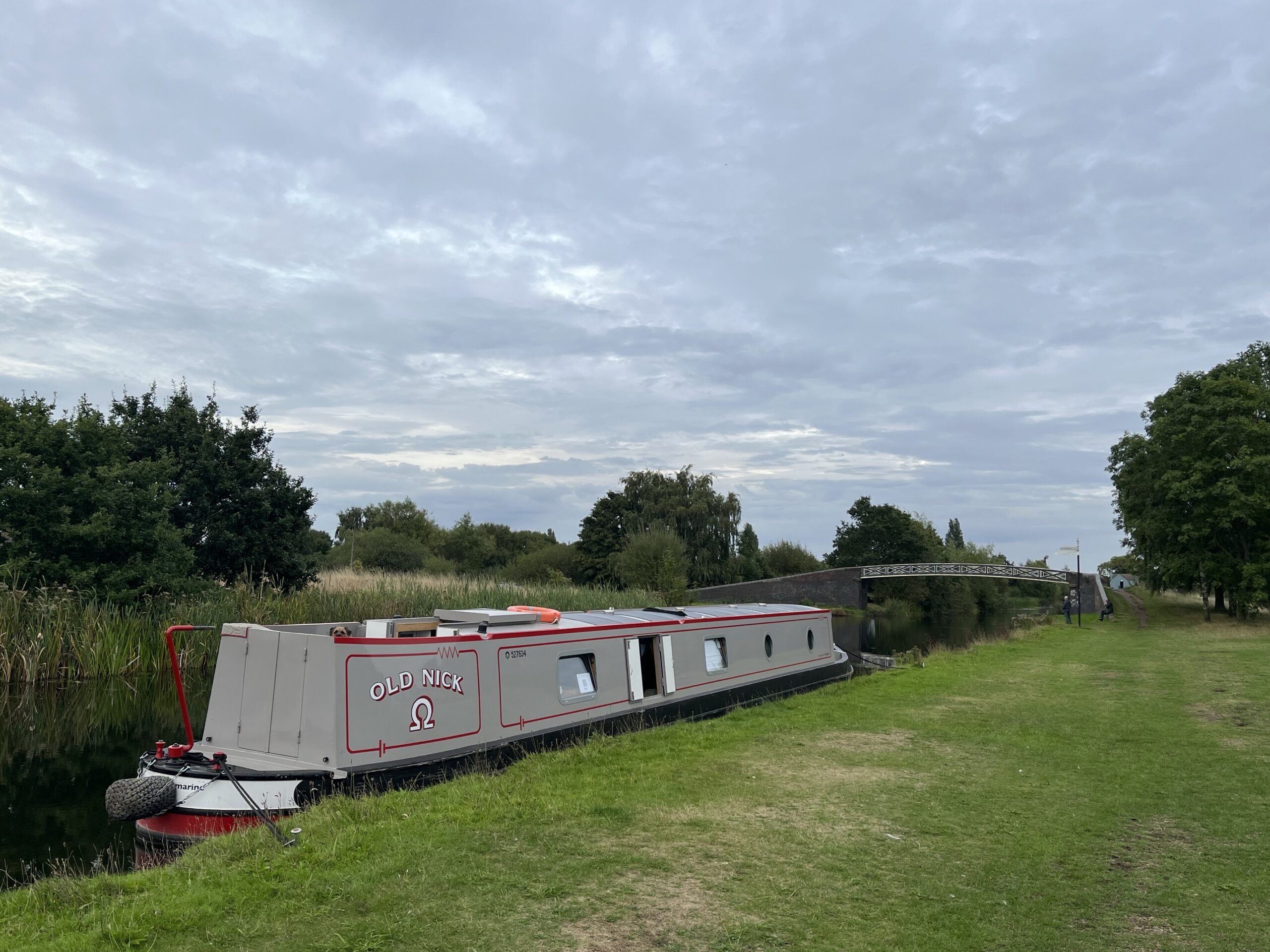 Next week – week 19 – will see us continuing to do battle with this canal. We hope to get to Daw End, where we abandoned our trip, back in June. And what we do after that is in the lap of the gods at present!