Happy New Year everyone! This post is to announce a change! New year, new marina. Yep! You heard that right. We are moving on.
Ever since Old Nick was launched, back in December 2020, we have been based at Droitwich Spa Marina. We originally planned to stay just two weeks and then move on to a more Southerly marina on the Grand Union. But we hadn't reckoned with Covid.
If you recall, the country was assigned different levels, with Level 4 being the highest level. Droitwich was assigned Level 2. The marina to which we planned to go was a Level 4. Travel between areas was curtailed and we were prevented from travelling from our Level 2 area to a Level 4 area. So we stayed put at Droitwich, who very kindly permitted us to stay on.
We already loved it at Droitwich, which has a delightful location in the beautiful Worcestershire countryside, a friendly, welcoming and helpful team and all the facilities required for a comfortable life aboard. It is also a very short distance from the very pretty town of Droitwich Spa, so very convenient. And we had begun to make friends.
Boat movement was restricted until May 2020, which was a little frustrating. We had a brand new boat and could not cruise it. It was like getting a new toy on Christmas Day and and then having to wait until the day after Boxing Day to get the batteries! Only worse.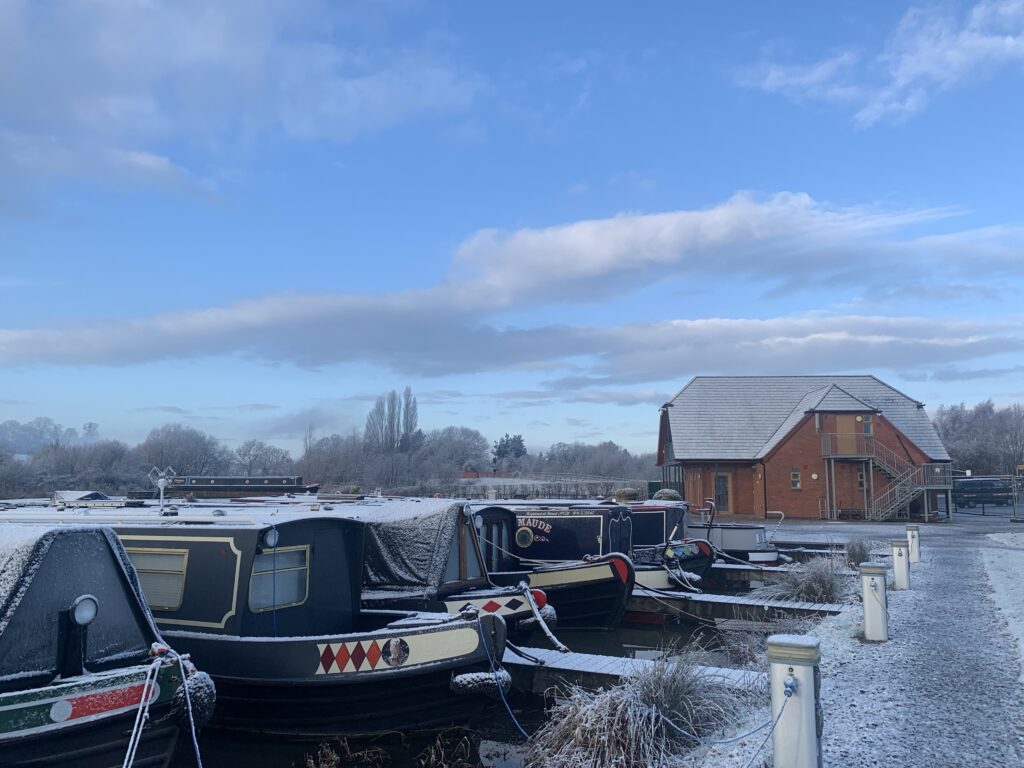 By the time boating restrictions were finally relaxed, we really felt at home at Droitwich. We were lucky enough to be in the right place at the right time when a mooring vacancy came up and we snapped it up.
We are now in our third winter at Droitwich and have reluctantly decided that it's time to move on. It has not been an easy decision, but the idea of the move is mainly to give us a new cruising ground. I'm pretty sure, though, that there will be tears when it's time to unhitch for the last time. But we have given our three months notice and will be leaving at the end of March.
You may recall that we popped in to quite a few marinas last summer. it was great seeing all the different set/ups and facilities and we really liked several of them. We loved Bosworth Marina on the Ashby Canal, we also loved Crick on the Grand Union Leicester Line. But the one that really caught our imagination was the Marina of Dreams, as it is known.
Its proper name is Brinklow Waterside and Marina, which is located on the North Oxford Canal, just North of Rugby, which makes it quite central and great base for new exploration. Indeed, there are 29 lock free miles of cruising to be had.
The site has all the facilities required and boasts a 22 acre dog walking area, which the boys are going to love. The management team are friendly and helpful and – by some amazing coincidence – Paul actually went all through school with the Harbourmaster! He's the chap on the right in the pic below. How cool is that?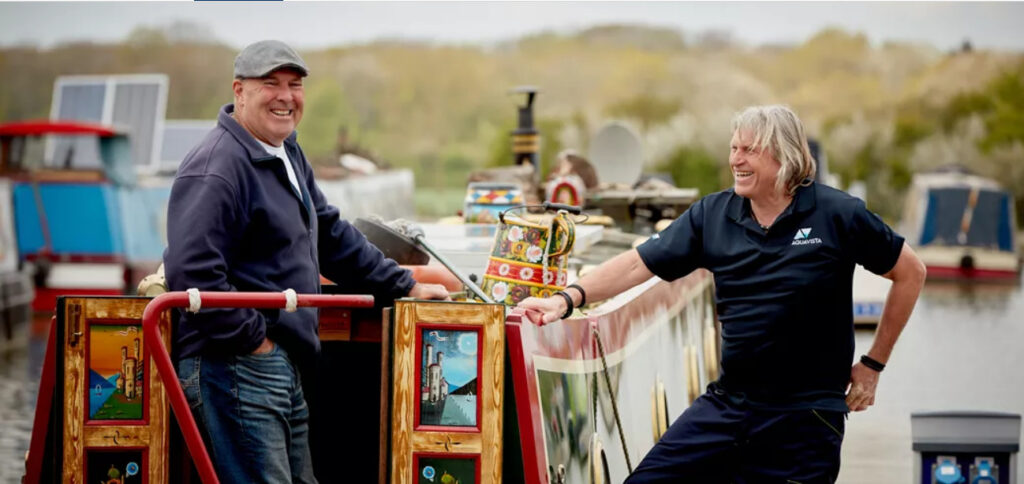 One of the benefits of mooring at Brinklow, aside from its excellent location, is that it is part of the Aquavista Group. They manage 29 marinas and their Explore 34 scheme allows us to stay for up to 34 nights at any of their marinas, free of charge. As an electric serial hybrid boat, with a penchant for bringing the batteries up to 100% from time to time, that benefit is going to be really handy. And there are other benefits, too, which we have yet to fully explore.
They are a very sociable bunch at Brinklow, too, with regular social events throughout the year, one of which is The Brinklow Bash, held in July, with live bands, traders and food and drink concessions. Sounds like a great laugh. And we hear great things about the local deli – Pumpkins – in Brinklow village and there are several pubs and a chippy. And Rugby and Coventry are only a short hop by car, so we will be well catered for. We are rather looking forward to exploring the new area!
It really will be a big wrench to leave Droitwich and we are so grateful to Nick and Sarah and the others in the team for their help, support and friendship since we arrived. We will miss our friends, but know that we will keep in touch. And this lifestyle we have adopted is all about moving on, and that's just what we will be doing. So – here's to new horizons, new adventures and new friends in 2023!