We have just had a lovely week on the South Coast seeing friends and family and arrived back to see Old Nick looking very smart indeed, with new blacking expertly applied by Nick and the team at Droitwich Spa Marina.
There are various essential jobs when you are a boat owner and ensuring the integrity of the hull is one of the most important ones. To do this, we apply a protective coating of what is known as "blacking" – largely because it is black!
Blacking protects the boat from rust in general, "pitting" – which is the corrosion of a metal surface, confined to a point or small area, which takes the form of a tiny cavity – and also protects against the general wear and tear of cruising, caused by, for instance, rubbing against the side of a lock or a mooring or another boat.
The boat needs to be removed from the water. At Droitwich Spa Marina, where we moor, Nick uses a slipway trailer, which is where the boat is floated onto a trailer and a tractor pulls the boat out the water. In other marinas, the boats are craned out (which can be expensive) or put into a dry dock , where the boat floats into a chamber, which is then emptied, to leave the boat high and dry.
Many people opt to carry out their own blacking and the team at Droitwich also offer a service to take your boat out of the water and place on blocks ready for DIYers to work on.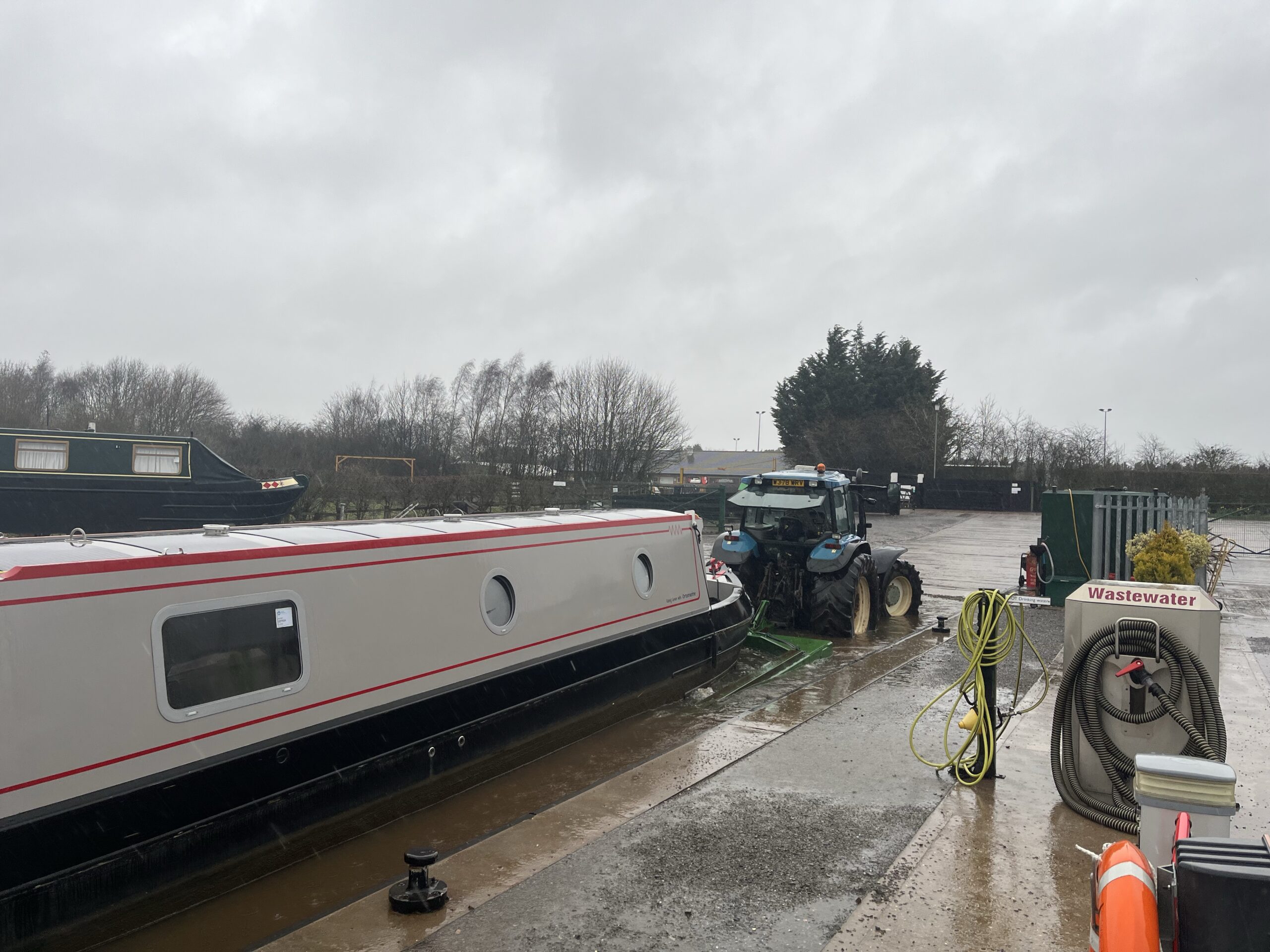 Once the boat is ashore, on blocks, the first job is to pressure wash it to remove the weed and other "marine life" that grows on a hull. When we first got Old Nick, we could not believe how quickly the weed grew. Within a just few weeks of Old Nick being launched, you could already see weed on the hull, below the waterline.
We did a visual inspection of the "anodes" – the bits that the electric current is "encouraged" to attack instead of the hull. See Paul's article about "galvanic corrosion" here for more information about this process. They look pretty good after 2 and a bit years in the water,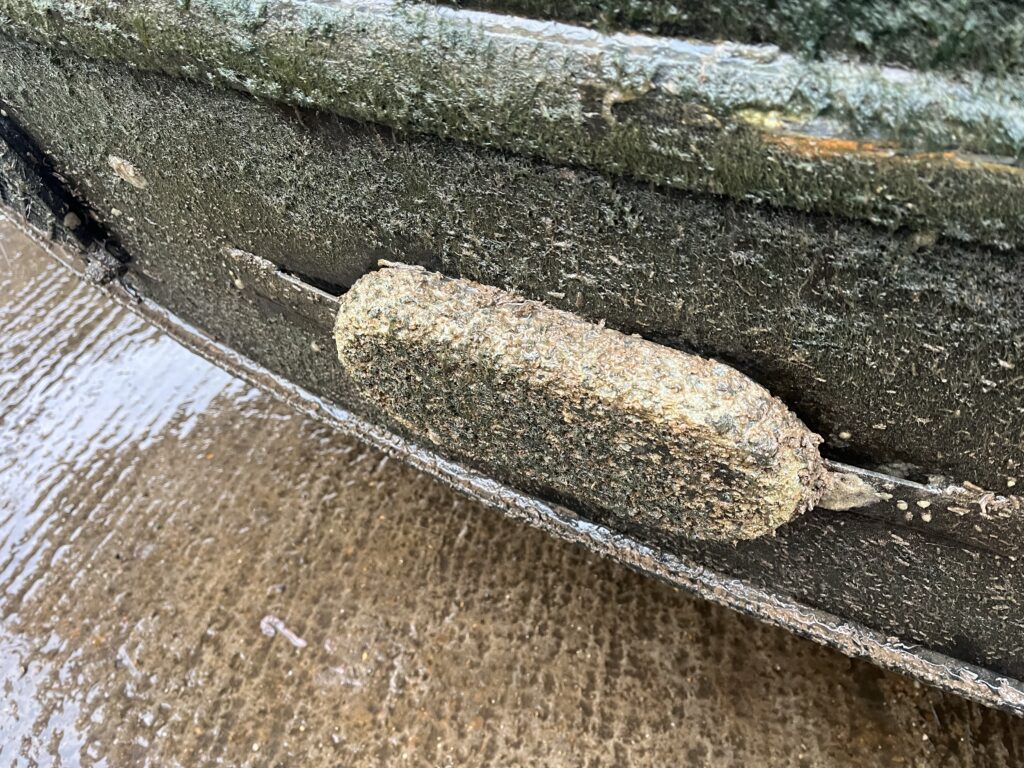 There are two types of blacking – "Bitumen" (that tarry substance that is used on flat roofs) and "Two Part Epoxy" (where the hull is initially primed with a rust-proof coating before bitumen is applied). We have this on Old Nick's hull. It's dearer but tends to last longer.
Old Nick had three coats applied. We have blacking up to the gunwhales (the bit round the top edge that you can walk on) as it's quicker and easier to touch up after a scrape (inevitable) than paint.
We arrived back at the Marina early on Monday morning and took a few "after" shots before Nick took Old Nick off the hardstanding and put her back in the water. Job done.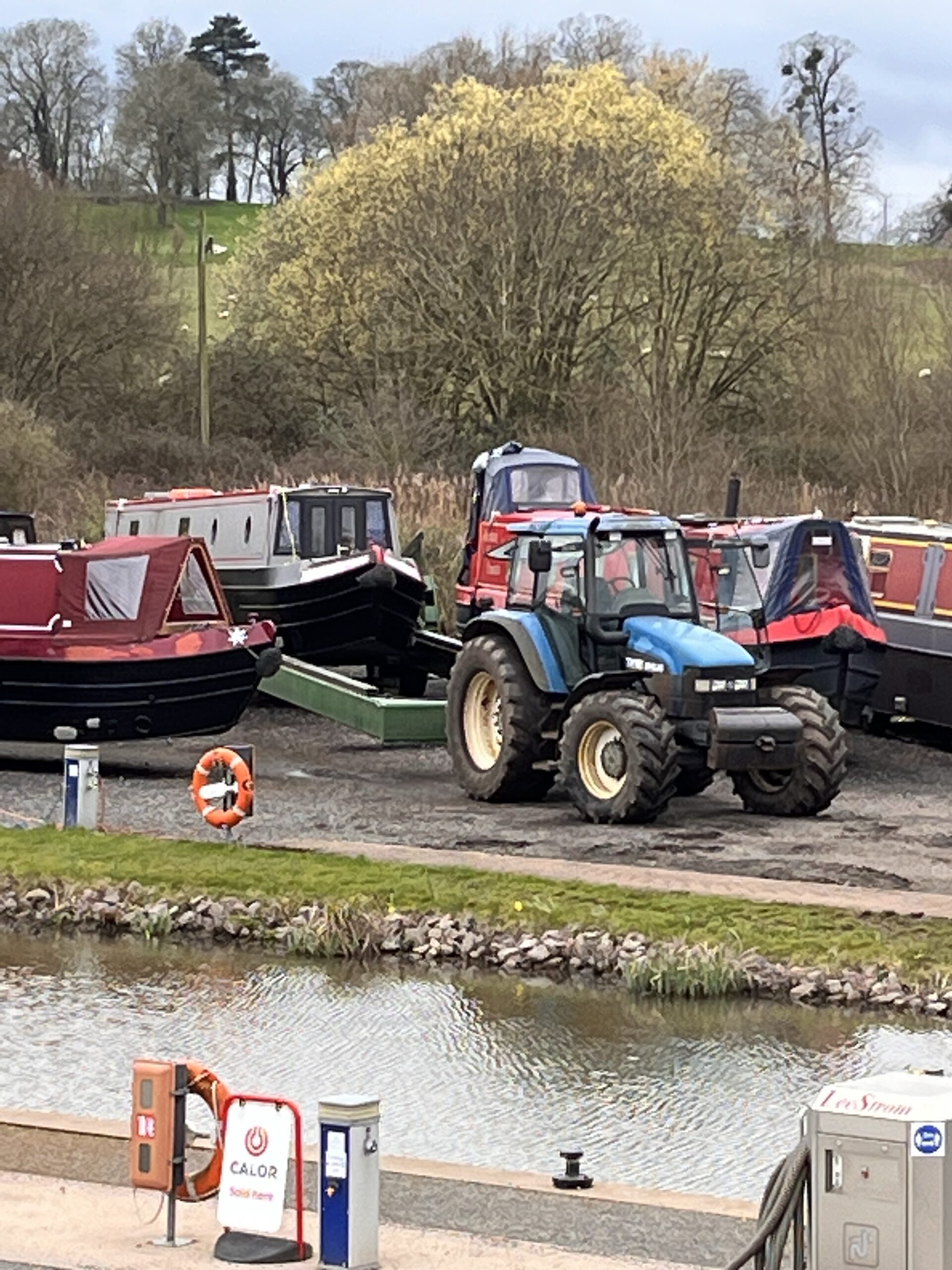 Now that the bottom half is pristine again, we employed the services of Jordan Fields from "Jetclean Black Country" to restore the showroom shine and protect our paintwork for another year. He did a great job, fuelled by the odd cuppa! We are very pleased. You can see it here if you have a Facebook account.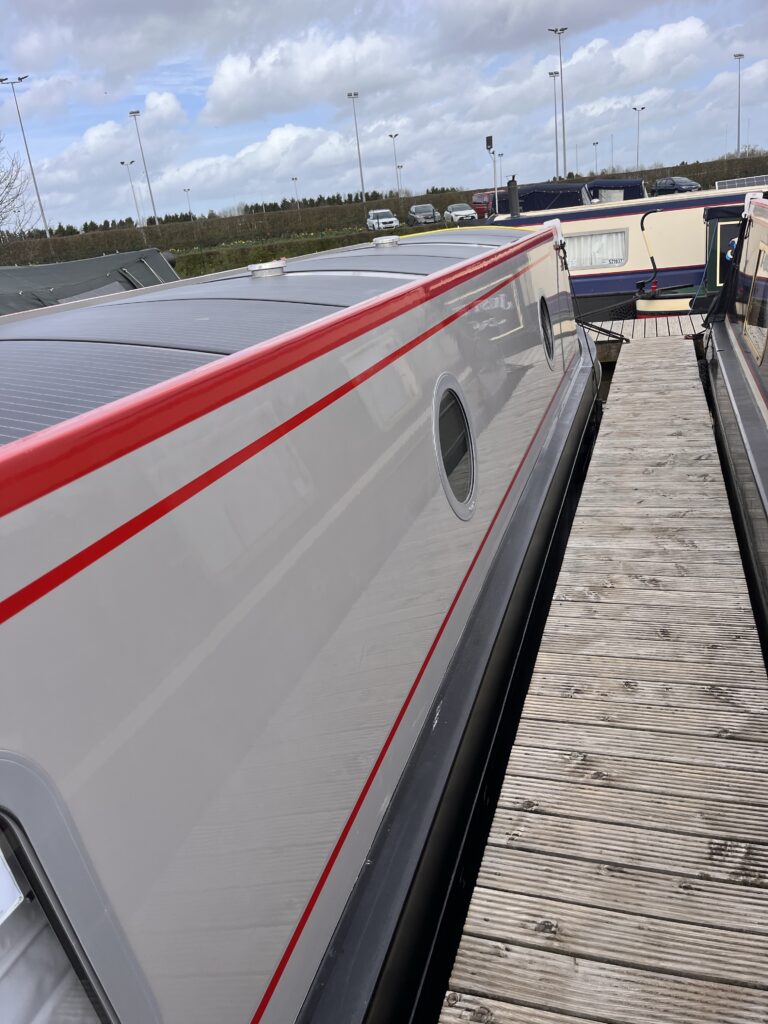 We are good to go then! Sadly, it really does not look as though the Severn will be safe to navigate by Friday, which is a real disappointment. It thus looks as if we shall have to resort to Plan C – actually our worst case scenario. Plan C involves going up the 3 locks to Hanbury Junction, up the Astwood flight (6), Stoke flight (6), and the 30 Tardebigge locks, bringing us to the summit. We then have to make our way through Birmingham and down the 3 Factory Locks and then down the Wolverhampton 21, which we did in the other direction with Nick and Sarah Holmes just last summer. With a total of 69 locks, it's the long way round, although 3 miles shorter. Our preferred route (via Stourport) has only 49 locks. But, with canals and rivers, you have to be flexible. And we may still be stopped by the weather at the last minute, as it looks pretty foul and I can't think of anything worse than doing those 30 Tardebigge locks in a deluge. So watch this space.
But before we leave, whenever that might be, we have a few jobs to do and we also had the opportunity to attend a public meeting of the CRT West Midlands group. Never having been to one before we thought we'd give it a go. We took our friend Roy with us too, as he was quite interested in what goes on at these affairs. There were refreshments pre-meeting and we met our friend David "Cruising the Cut" Johns and had a good catch up before the meeting began.
There was a series of really interesting talks, which served to remind us of the massive challenges that CRT face in order to keep the network running smoothly. They covered water management (getting water to the right place at the right time) and highlighted new legislation that has a cost impact on them, planned work in the region, with a very positive update on the use of bio-control for invasive species. You may recall I reported on the menace that is Floating Pennywort? Well the good news is that the bugs, which were imported from Argentina, are thriving and breeding and will soon start chowing down on the pest. It's a much better solution that mechanical retrieval – and don't worry. Before the bugs were released, there was 5 years of intensive testing to ensure that they don't impact on native species.
One of the things that I had perhaps not fully considered were the topics of vandalism and fly tipping. They showed some stats about the items that had been removed from one stretch since January and the figures were quite staggering. Numerous tyres, fridges, microwaves, motorbikes, bicycles etc. And it's not just a case of getting them out of the canal – they sometimes have to hire specialist equipment and also have to consider any impact on the waterway and its wildlife and dispose of all the stuff they pull out in the proper, safe manner.
They also talked about the cost of vandalism and damage to structures, such as bridges. It seems obvious that if a car hits a bridge then CRT should apply to the driver's insurance for reparation. But many of the incidents go unreported and thus they are left with the entire costs. And if that damaged bridge is listed, the price sky rockets.
They also talked about the massive contribution made by volunteers and stressed that they simply would not be able to keep the waterways going without them. A figure of 160,000 volunteer hours was mentioned. Even at the National Minimum Wage rate, that amounts to £1.6 million.
CRT get a lot of bashing for what they don't do or don't do properly, and it's irritating to see money apparently squandered – for instance on re-badging all their property, as happened a few years back. But it seems to me that having a charity tasked with the job of caring for our waterways is not really the right model. I think it's time the Government stepped up to the oche to rescue our ailing waterways. I think they have shirked their responsibilities. Enthusiasts spent many years fighting to get the canals that had fallen into disuse navigable again and it would be very sad to see them fall into disrepair again. They are an amazing resource for boaters, wildlife, walkers, cyclists and anglers. Miles and miles of linear water park. I'll stop bangin on now, but you get my drift. It's a real worry.