15th to 21st May – The Monty, the Meres and the Mosses. And the reappearance of Nanny Lynne!
Well after all manner of marvels of last week, this week is going to seem a bit tame! But we'll do our best! And actually, we've had a bit of a conflab and decided on a change of plan. We need time to enjoy the Anderton Lift and the Weaver, and that is a commodity we are running short of. As you may recall, we need to be at Brinklow by the end of June to await the birth of our new crew member. It would be different if we could cruise all day and did mot have to rush back but it is what it is and it was clearly time for a rethink.
Our new plan is to go straight to Brinklow, after we have been down the Monty, later this week. Our route will take us back to the Shroppie, down the Middlewich arm and up the Trent and Mersey to Fradley and then along to Brinklow. A journey of 132 miles and 91 locks, which should be doable in the time we have left.
We left our Sunday night mooring around lunchtime in bright sunshine but with that chilly wind breathing down our necks. We cruised (well, I did! – Paul was working) for about an hour until we found a lovely quiet spot that we had clocked on our way up – near where the cow was in the canal. The spot met all our exacting requirements and we moored for the day.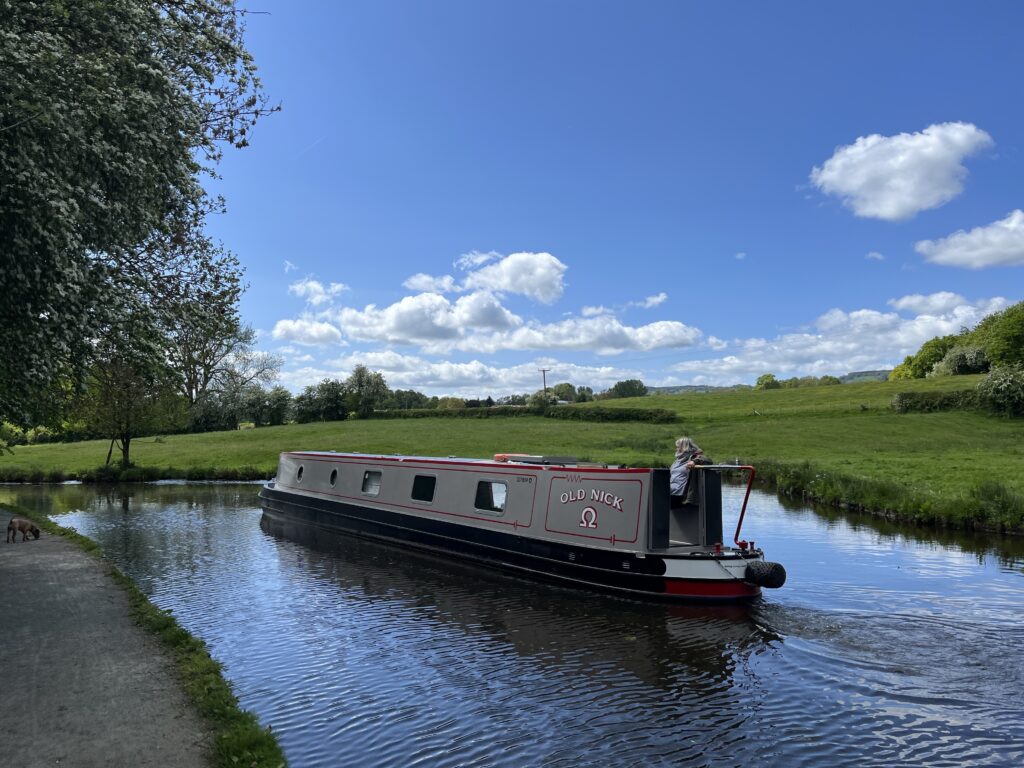 We are hoping to meet the fuel boat before we turn onto the Montgomery Canal (the Monty). We have booked our passage through the locks for Thursday and we plan to be at the head of any queue to go up through the locks that morning. It's not very far so we will be doing shorter days this week.
Just after we arrived, we heard a loud splash and popped out to see what was happening. We were just too late to see the young bullock get out of the canal but he was standing there dripping ,while his fellow bullocks stood looking at him, as if to say "You wally"! Can cattle look embarrassed? I think he did, anyway.
We had a lovely quiet night and would definitely return to this spot. Although the towpath is also a track and the vehicles that use it do so at one helluva lick!
I did some sewing while Paul worked and the day was broken up by the arrival of the fuel boat, which we have been waiting to meet up with. It was the Chamberlain Carrying Company's boat "Mountbatten", one of an old working pair – or boat and butty (the butty being unpowered and towed by the boat). The butty is called Jellicoe, All the boats in their class – the Admiral Class – were built in the late 50s/early 60s in Northwich. The couple who run them – Ruth and Richard Chamberlain – also have the care of Lindsay and Keppel – another pair of Admiral Class boats. Ruth also does canal painting and they have a gift shop on Jellicoe. They can be found at all the summer boat gatherings. They perform a great service and we very much prefer to patronise this type of business and are glad to have been in the right place at the right time. We topped up the diesel and bought some Marine 16 diesel additive.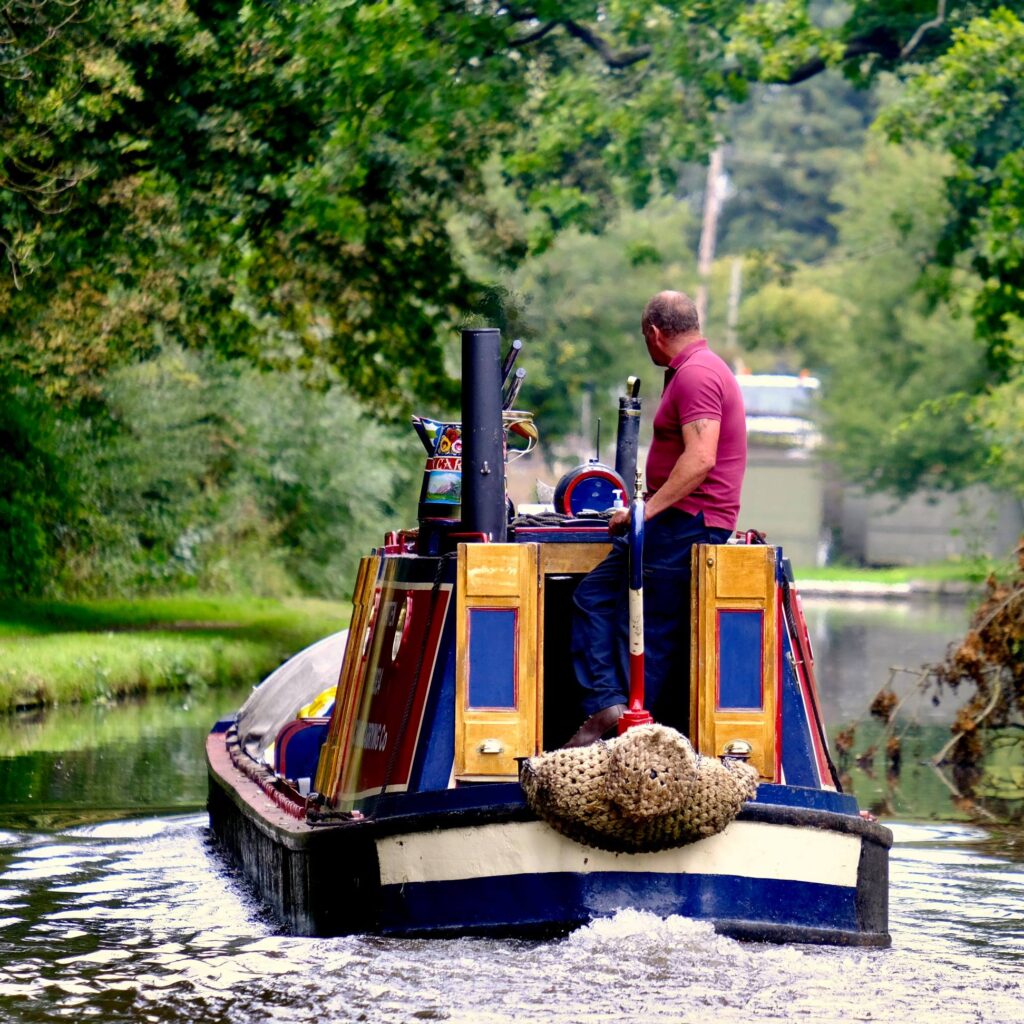 It was a lovely sunny afternoon and, once I'd finished sewing, I moved us down to just above New Marton Locks, ready to tackle them the minute Paul finished work. We love these lighter evenings – it gives us a chance to take two bites of the cherry, if we've the mind to. I'll miss my bullocks pals. So sweet, and so inquisitive.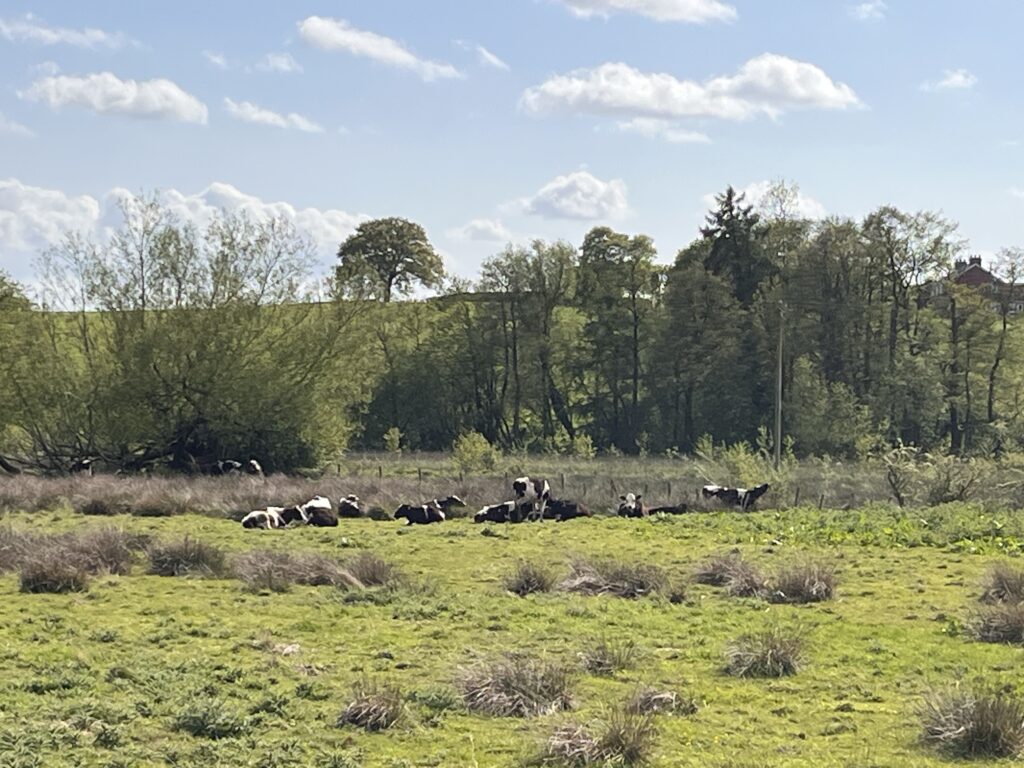 We set off after work and soon polished off the two New Marton Locks. It was a lovely evening and we decided to moor just below them for the night. There was a rather nice spot with our name on it! I cooked the dinner and we sat down to watch some TV. No dice. The signal was so bad we could not stream anything. This has actually never happened before. It rang alarm bells, as Paul needs wifi to work, so we decided we had better set off once again, in search of a good signal. What a nuisance!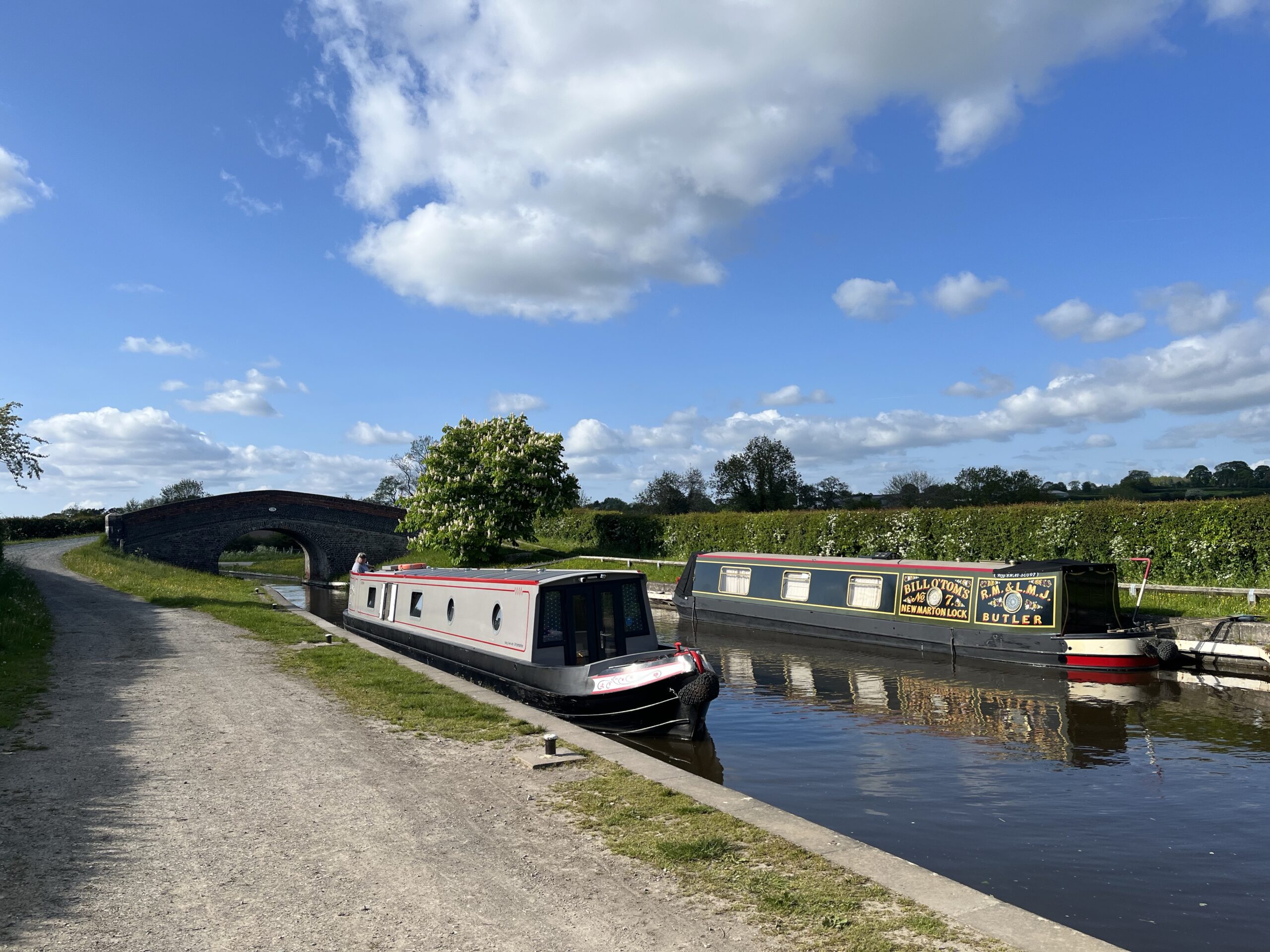 We eventually found a very pleasant spot (with a reasonable signal!) and pulled over. As we were dealing with the ropes, Paul saw what he thought was a water vole swimming along. It soon became evident that it was in some distress and could not get out on the bank because it was lined with Armco. Good for boaters, not so good for small critters. Paul grabbed the bucket and caught him in it and then quickly poured the water out on the bank. He sat there shivering for a while and then attempted to get out of the bucket, which we'd left on its side. We had to help him out and he sat there for a while in the grass, shivering, poor wee thing. It was – we think – a Field Vole, although it was difficult to tell as his fur was waterlogged. He may not have made it, but we do hope he managed to warm up and lives to tell the tale to his mates.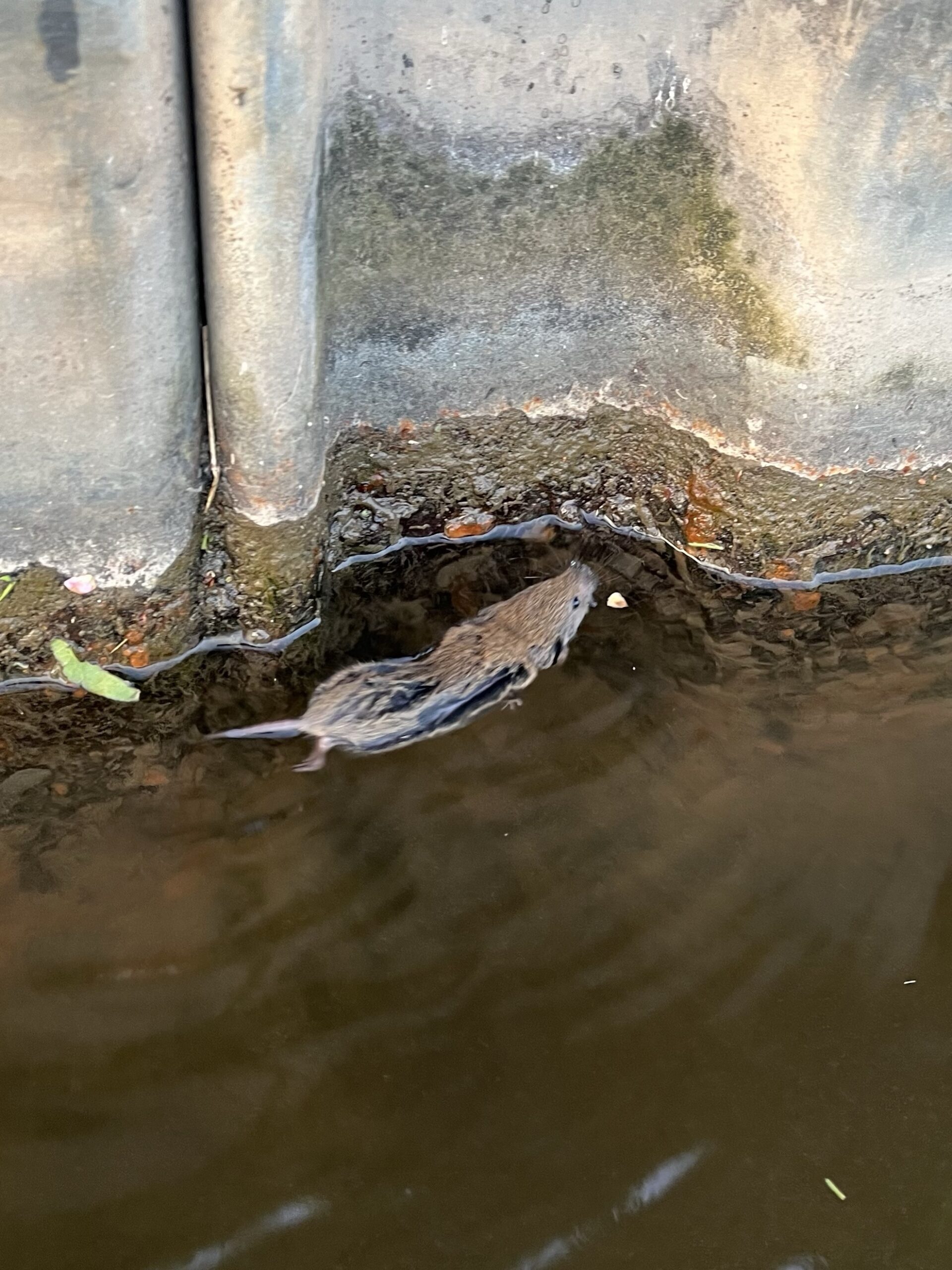 I set off at lunchtime on Wednesday to get us to Frankton Junction, where we'd turn right and commence our passage along this new-to-us canal. The locks are only open 9-12 each day and we will definitely be first in the queue for the morning, so our cunning plan worked! I spent the afternoon sewing, while Paul worked.
We were joined by another couple of boats during the afternoon and early evening. It was a lovely spot and we could glimpse The Wrekin again (from another angle). I woke up in the night and you could hear absolutely nothing, just the leaky lock noise. Bliss!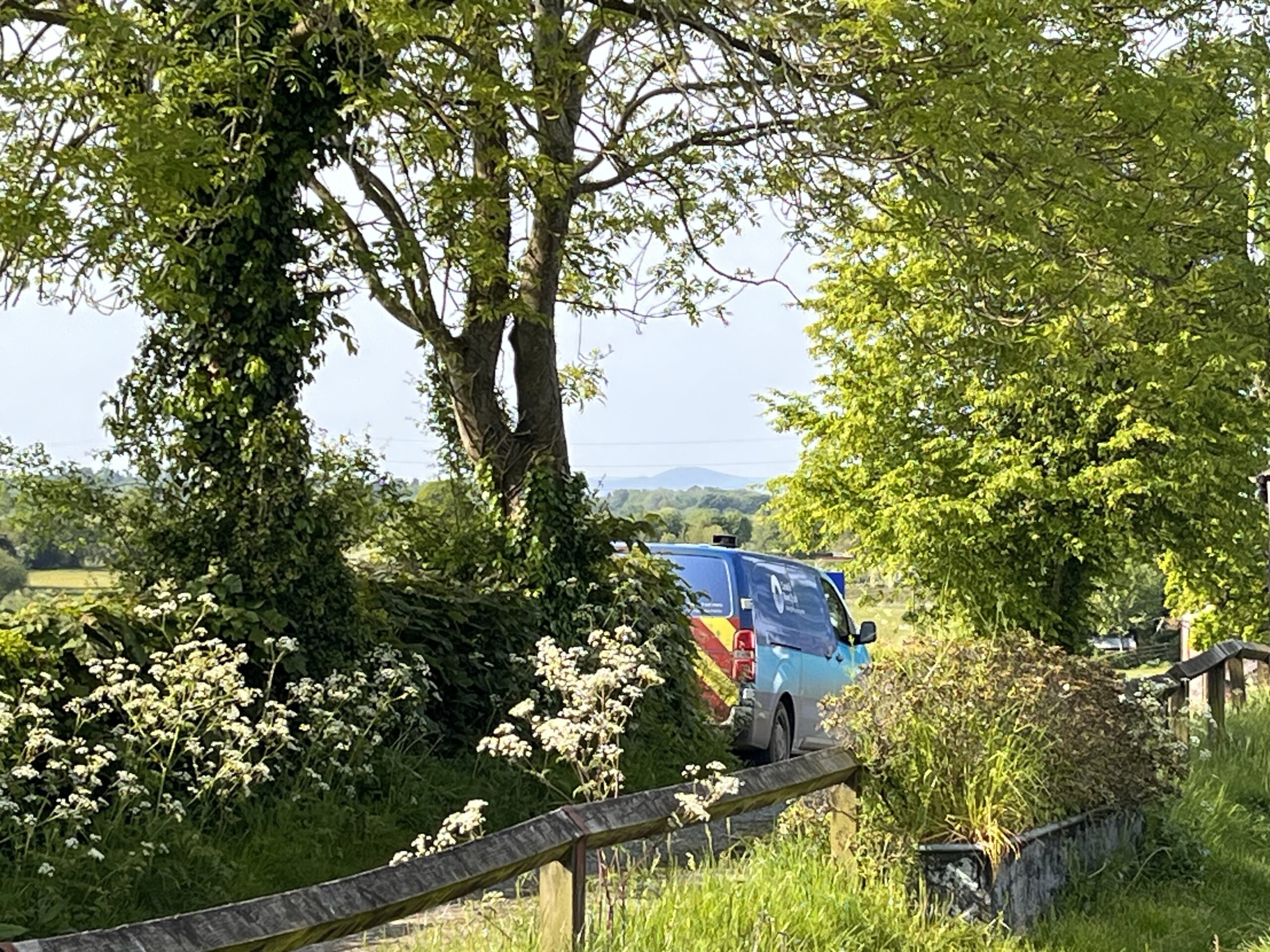 Paul was up and working at a très bonne heure today, to do a couple of hours work, so that he could take some time out to get down the four Frankton Locks. I slumbered on peacefully for a while. Lucky me!
The 4 Frankton Locks are a double staircase plus two single locks. They are managed and operated by CRT Volunteers and are locked outside the prevailing operating hours (this year 09:00 to 12:00). Today, 5 boats were due to go down and 6 up. The speed limit is lower than on most canals as the site is protected because of its wildlife. It's nice to be able to moor, safe in the knowledge that there won't be a succession of loonies racing by, hell bent on "doing the Llangollen" in a week. It's also very peaceful.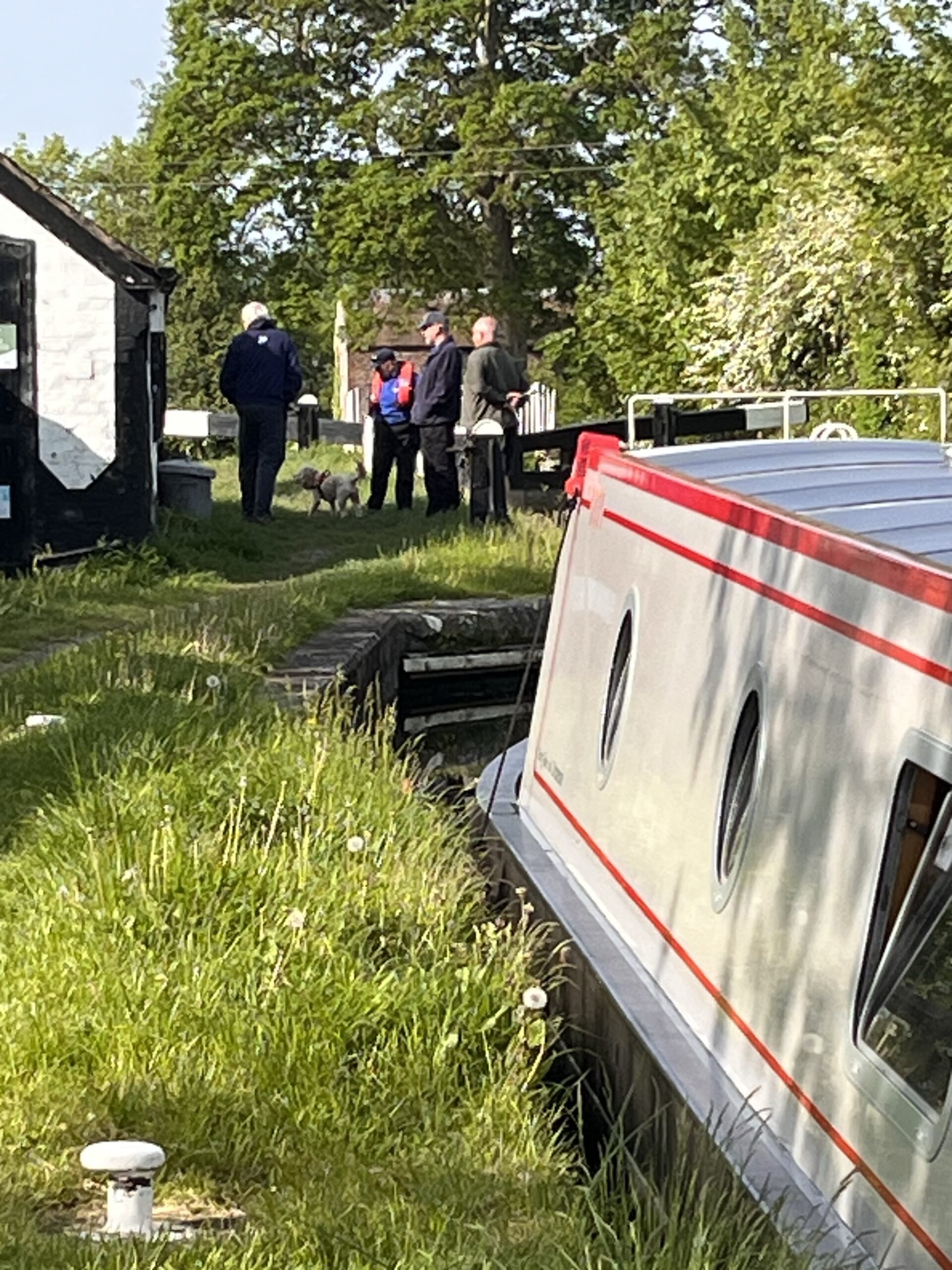 It was a beautiful day and we spent it on the 48 hr moorings by the services. It's a fab spot, with picnic tables. So peaceful, even though it's right by a road, Hectic! I recking there were at least 2 cars every other hour! I already feel like I don't ever want to leave!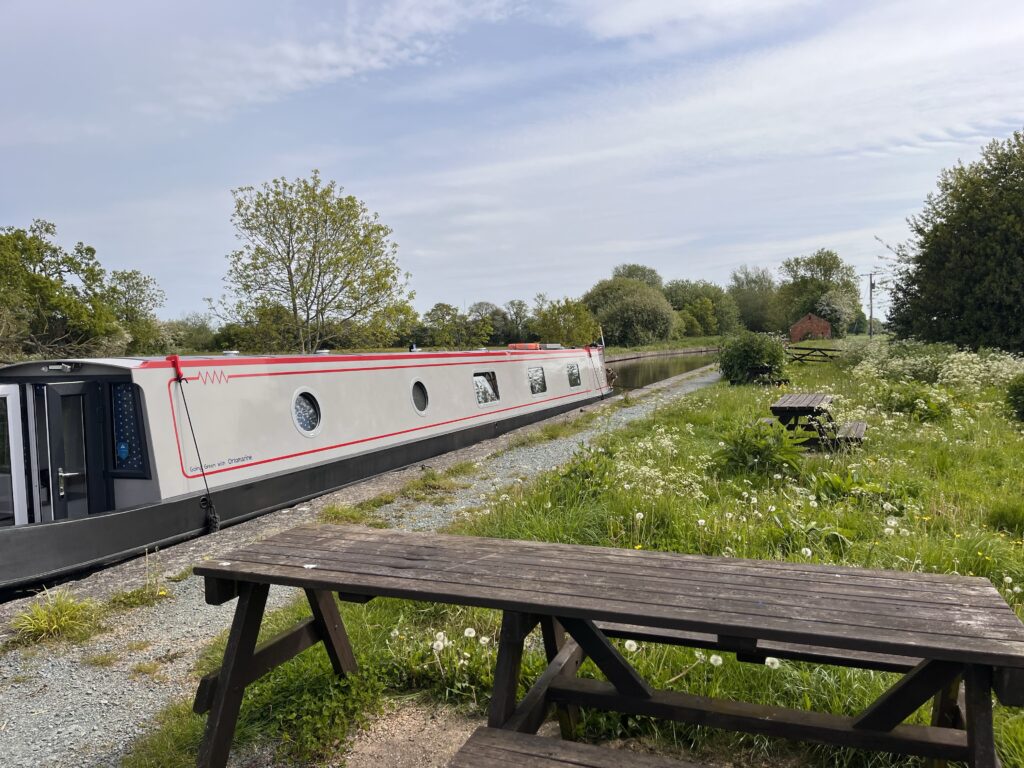 After work, we set off again. I had already prepped the dinner (Cauliflower Cheese) and it just needed shoving in the oven, so would be easy. We went through one lock – an interesting one with a very small fall. It wasn't there when the canal was originally built but was constructed during the restoration and there is a stone commemorating Graham Palmer, who founded the Waterway Recovery Group in 1970. The lock is also named after him in recognition of his tireless efforts in getting waterways such as this restored. There is an article about the restoration, the partnerships involved and their aims here.
A bit about the Monty. It was never a very successful canal, but struggled on until 1936 before closing and falling into disrepair, along with many other canals. The fact that it is being restored at all is down to canal enthusiasts. Part of it, at Welshpool, was nearly used as the route for a by-pass, but they fought that off. Frankton Locks re-opened in 1987 and they have been beavering away ever since. They recent received a grant as part of "Levelling Up" initiative and we were told today that we could actually go further than we expected. The hope is to restore the entire length of the canal, down to Newport (Powys).
We pulled over for the evening just before the Perry Aqueduct. A bosky spot with that ever present birdsong. Nowhere near any roads, which is just how we like it. And it was too late to be worrying about solar. It was utterly dark and utterly silent where we were and, it being a clear night, we could see loads of stars. We just love spots like this.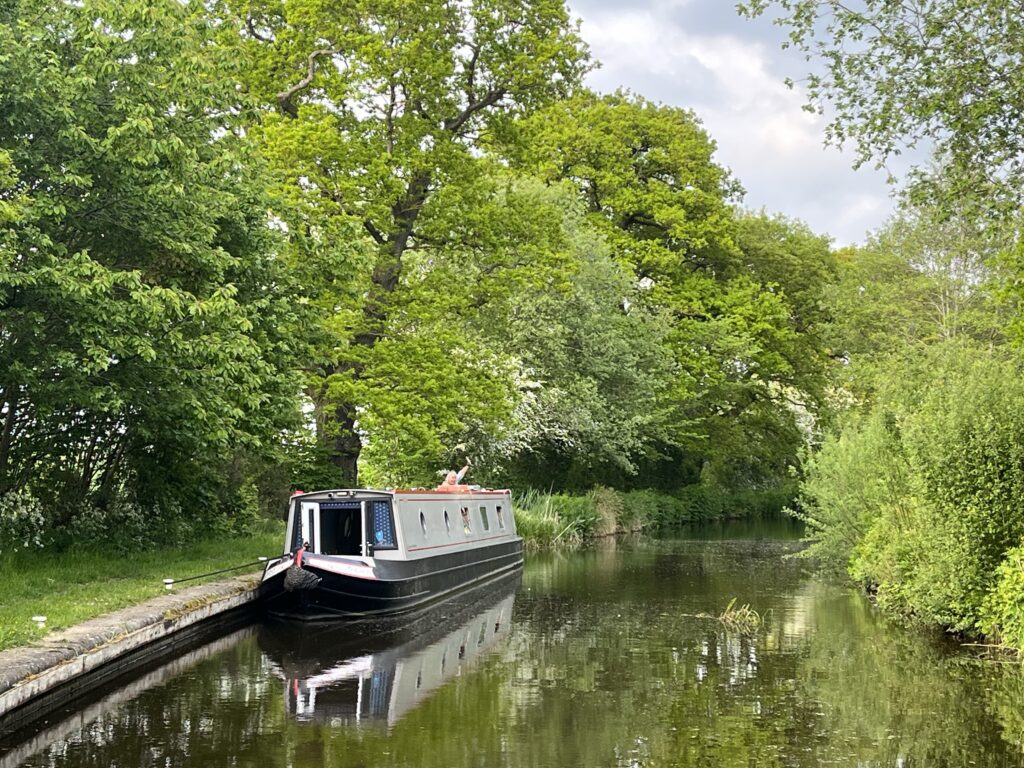 It was overcast/drizzly/chilly when we first set off on Friday so it was coat on and then the sun came out, so coat off and then it was chilly again, so coat on – on repeat for the entire morning! We passed by the place we planned to have dinner that evening – The Queen's Head at West Felton – renowned for its amazing Paella. And we also had a grocery drop scheduled at that spot.
The next job was the three Aston Locks, which we enjoyed, and then we cruised all the way down to the new end of this section of the navigation at – now at Bridge 84 – where there is a large winding hole and some nice moorings.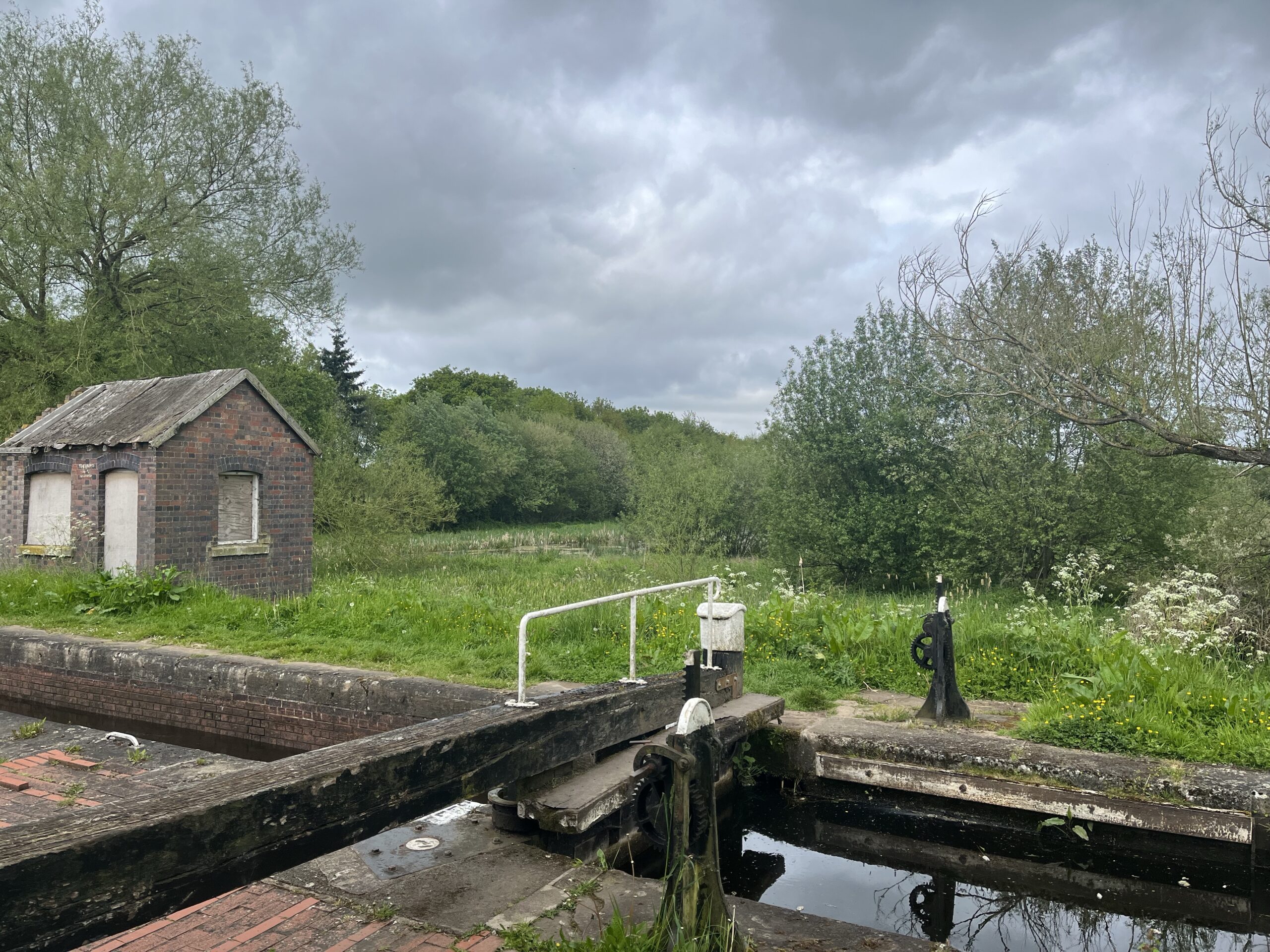 We turned and retraced our steps, back through pretty Maesbury, a former and very busy inland port, signs of which are still evident today. Such was the size and importance of the traffic that came and went to Maesbury's wharves that the canal company built an elegant and imposing 5 bed det house with offices for the chap in charge – aka the Wharfinger. The chimney of the old bone works is still intact and the whole area looks very "canally". Apparently the bone factory was a pretty stinky affair, producing glue and fertiliser. We had one in our home village of Portchester on the South coast. I can attest to the stinkiness! Particularly in the summer,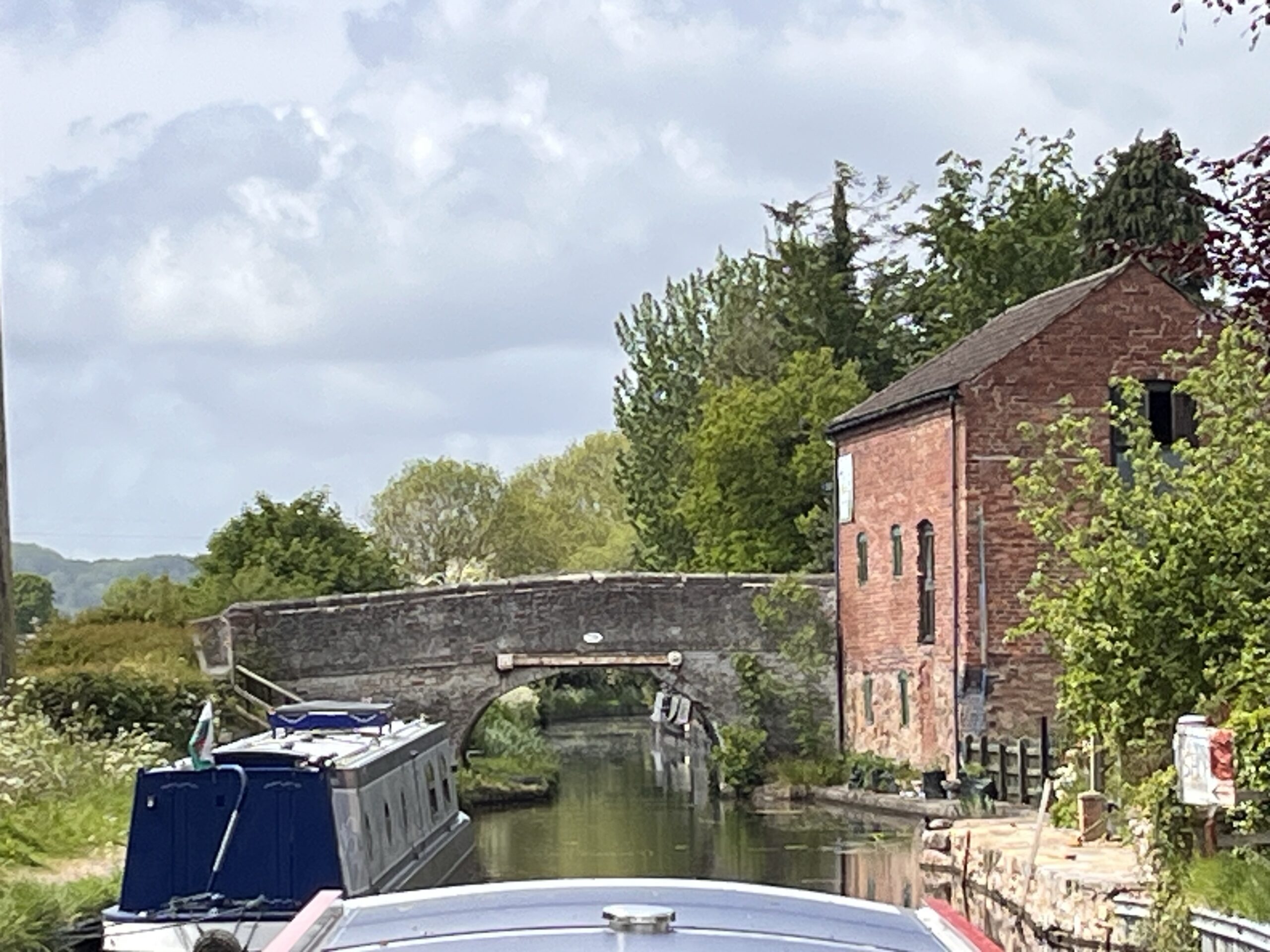 We made our way back though the Aston 3 and to our planned overnight spot. We had heard that there had been a big accident on the A5 and the nearby road was nose to tail with traffic. We guessed that our delivery might be delayed. By the time it arrived we had had another rethink and decided to press on after we had grabbed our supplies, rather than eat at the pub. It was just such a lovely evening.
We ended up spending the night in much the same spot as we had spent the day on Thursday and as we were within hose-length of the water tap amd services, we took the opportunity to have showers, dump the loo and rubbish and do a load of washing, ready to dry on the warm day promised for tomorrow.
The Montgomery Canal now holds the number one spot in my "Top Five Favourite Canals". It is beautiful, rural and really quite remote. We will spend a longer time on there, next time we come.
I managed to get a fair bit of sewing done this week too. I finished off a dress (Merchant & MIlls Trapeze Dress in pink chambray) and started making reusable gift bags for Christmas. Saves wasting all that paper, speeds up the wrapping process and helps save the planet. This work shall continue in the forthcoming weeks.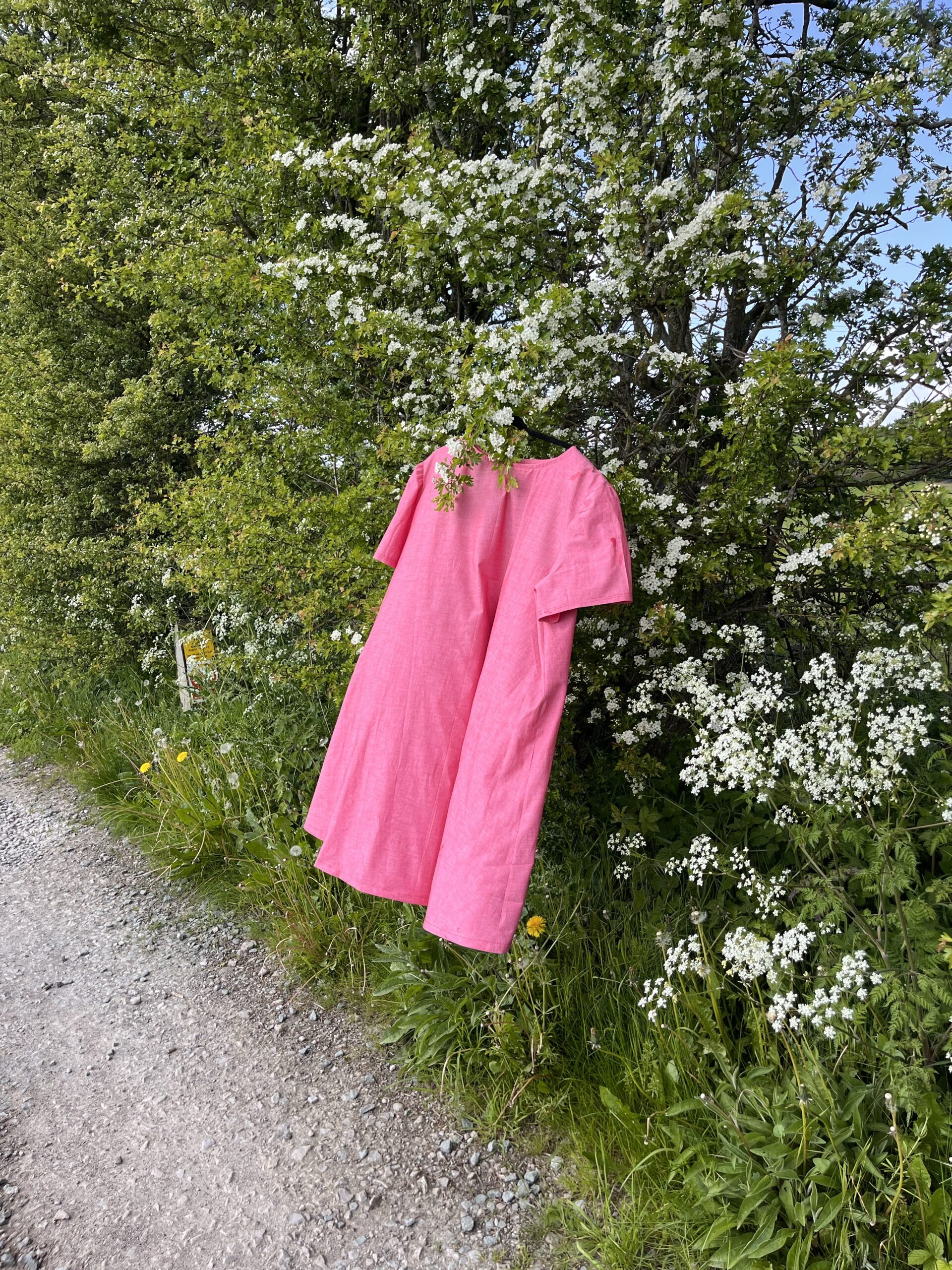 We were up early on Saturday morning and made our way down to the lock landing below Frankton Locks. The other boats moored near us had shown no signs of moving, so we did not feel too guilty about possibly jumping the queue. We had not been there long when the CRT guy came down and told us we were at liberty to make our way up through the two bottom locks and we slipped into the bottom lock just around 08:30 – half an hour ahead of schedule. Result!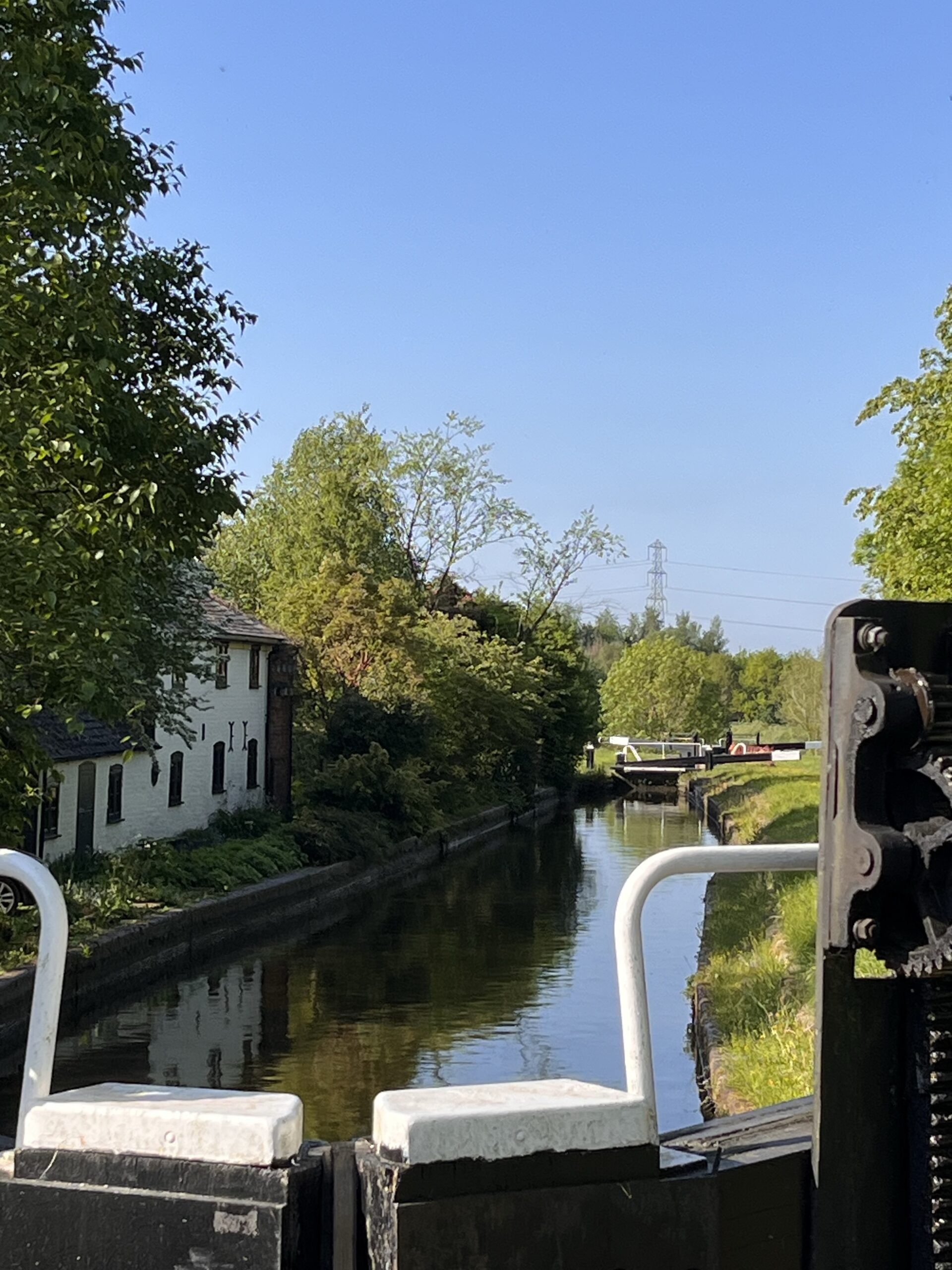 We had completed our passage through the locks before 09:15 and were on our way on a beautiful sunny morning, with the countryside looking at its very best. The blackthorn blossom is at its height now and the air is heavy with its scent. I love this time of year. And the washing, which I had put on the line the evening before, was already nearly dry.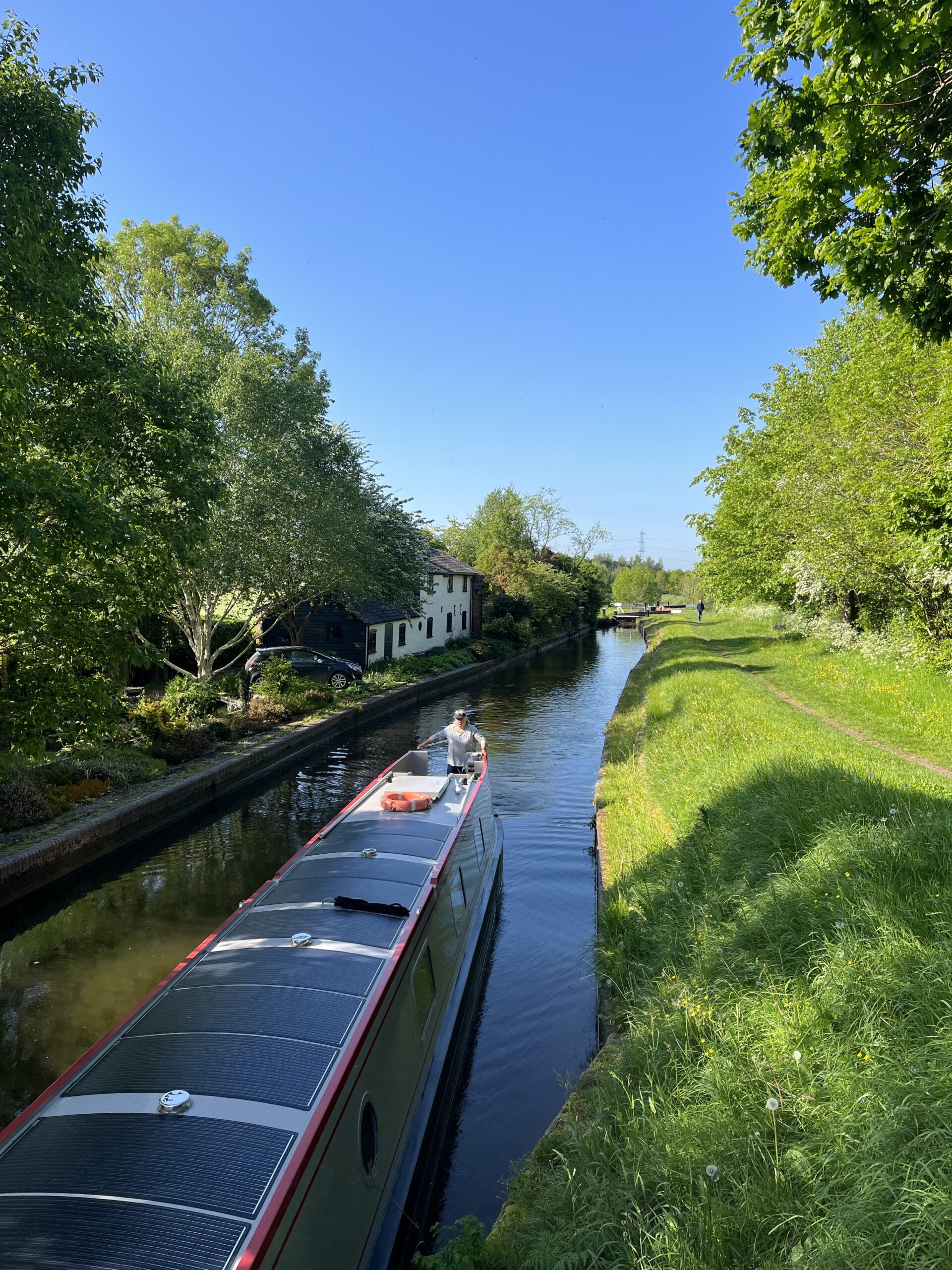 We were planning on meeting Nanny Lynne again in Ellesmere and there was plenty of room to moor along the arm, which is quite unusual. We got a nice spot again, right by the Tesco. We had arranged for a work parcel for Paul to be delivered to her house on Friday. Unluckily, they had arrived very early and she had missed their knock – if they did actually knock. I have been home on more than one occasion, when a delivery has allegedly been "attempted". They must be Ninjas or something?
Delivery to her local pick-up store was quickly arranged for Saturday and plans looked to be back on track. Although then the Law of Sod came into play. The wait for it to be dropped off at the agreed spot was interminable. It was obviously not going to be an early delivery today! We hung around in Ellesmere for a couple of hours but it was hot and very busy, so we decided to cruise down to the nearest canalside mere (Blake Mere) and moor there. I've always wanted to do it but it has always been the wrong time of day on previous trips. Or raining, or something. The towpath was in good condition, so Paul would cycle the short distance back to town to do the agreed meet-up – once the flipping parcel arrived. It was for work so it was pretty important that we got hold of the darned thing. It was doubly annoying ,as we had planned to get a fair few miles under our belts this weekend, but at least it gave us the opportunity to stay at the Mere. Obviously meant to be?
We finally got notification that the parcel had arrived at about 5.30. Nanny Lynne went to pick it up from her local, while we both cycled back to Ellesmere with the boys to meet Nanny Lynne. It was a lovely ride (even going through the tunnel!) and the boys thoroughly enjoyed themselves. We arrived just before Nanny Lynne and then she joined us for a quick hello and handover and that will definitely be the last time we see her, this trip. Or will it? We are once again indebted to her for her help and Paul is very sorry to have put us all though such stress! But it was all a happy ending, so no real harm done. And she more than deserves a glass of red tonight! And at last! A photo!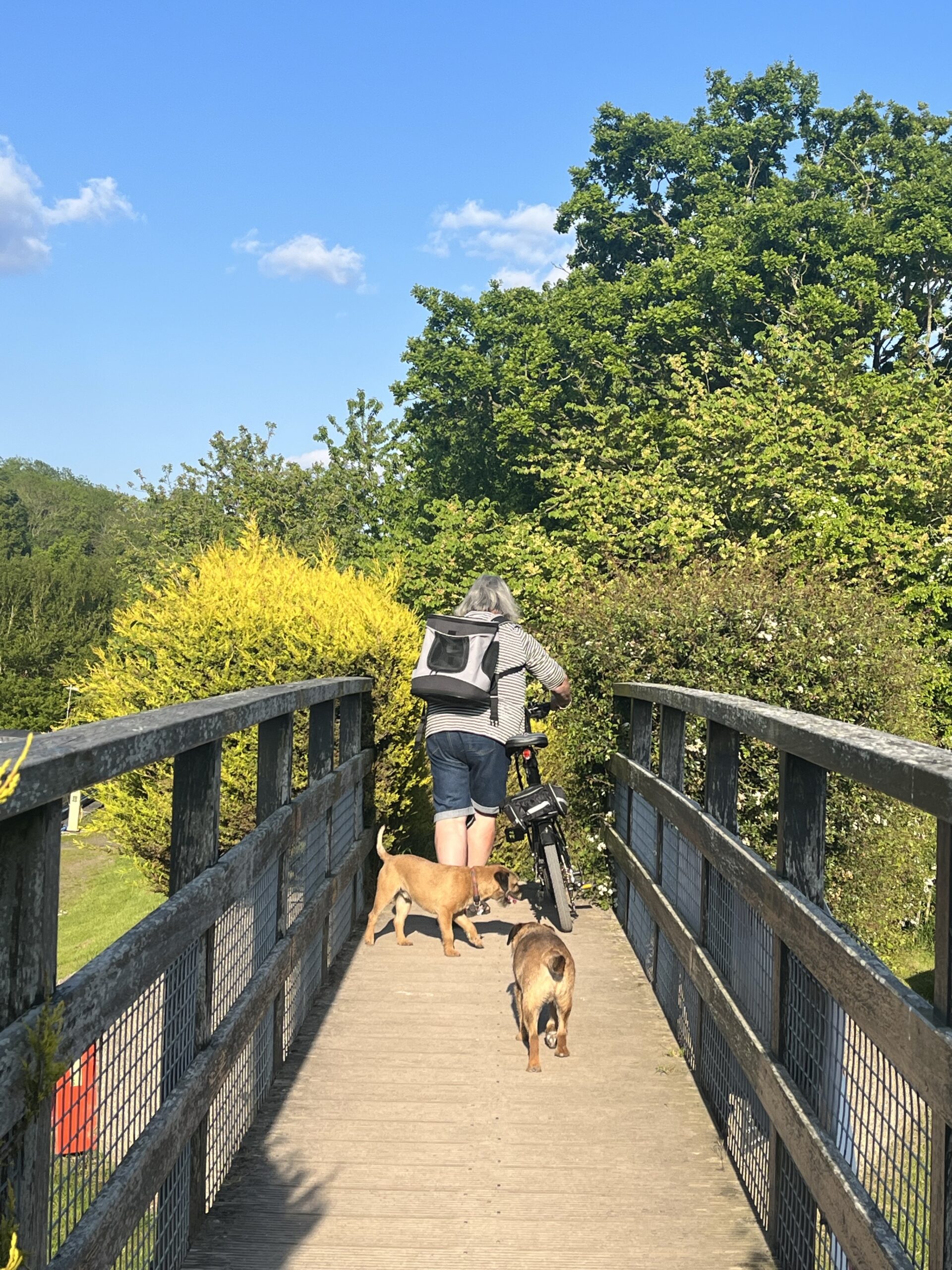 Having ticked off one of our canal bucket list items (staying overnight at a Mere) we set off on another glorious day. It was pretty busy, with lots of boats speeding through both ways. We let them pass and go on their way. There was no way we were going to speed though this wonderful bit of canal. The woods were alive with birdsong. It was absolutely heavenly.
We had no particular goal for the day other than to make progress back towards Hurleston, where we would turn off the Gollie and back onto the Shroppie for a short while. It was so lovely, we honestly couldn't think of many things we'd rather be doing – apart from maybe some white sand on a palm-fringed shore, a sunbed, occasional swims and a steady supply of refreshing cocktails! Still – we have the weather, finally, and that's a blessing.
We cruised most of the day, pulling over for a short break and lunchtime, after we had visited the new Mosses outlook tower, as we had promised ourselves we would on the way down. As you enter, the signage tells you that you are entering one of the rarest habitats on the planet. Peatlands make up only 3% of the earth's surface and grow at just 1mm/year, so it's quite precious. Peat stores more carbon than plants, trees and other types of soil, so it's an important weapon in the fight against climate change. And it's quite a sight from the tower. It looks like heathland, but is so much more.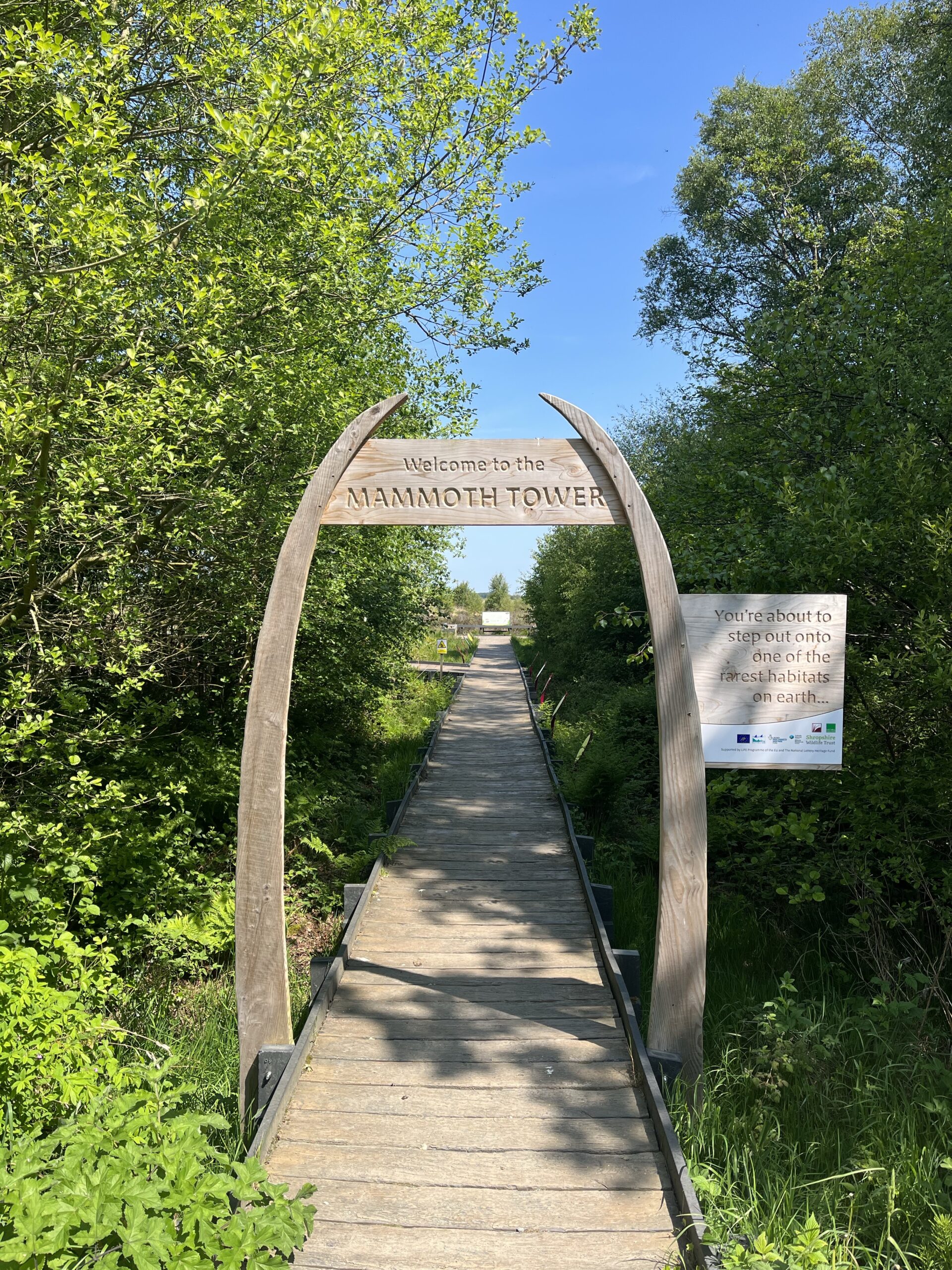 We cruised on and fully expected the Grindley Brook vollies to have gone home when we arrived at the top of the flight at around 4 pm. Not a bit of it! We were helped down the staircase three and then left to fend for ourselves for the remaining three.
You'll recall that a while back, Ted had a funny five minutes on a particular stretch of canal? He was obviously very disturbed/ frightened on that occasion, although we never did find out what had so seriously spooked him. I am most drawn to Sue's theory of The Walking Dead!
Well today he had another very strange reaction. This time to a man. He would not stop barking at him. We have never seen him display that kind of behaviour before. It was slightly uncanny. He actually looked terrified of the man, who joked that it might have been his shorts that Ted had an issue with. To be honest, I privately agreed. They were a very loud, orange, tropical pattern and would not have looked out of place in Miami or Hawaii. He really rattled Ted. I had to get him back on the boat and keep him indoors and he was edgy for a fair while after the man had gone. They say dogs can sense things? Maybe he was the devil incarnate? Again – we'll never know.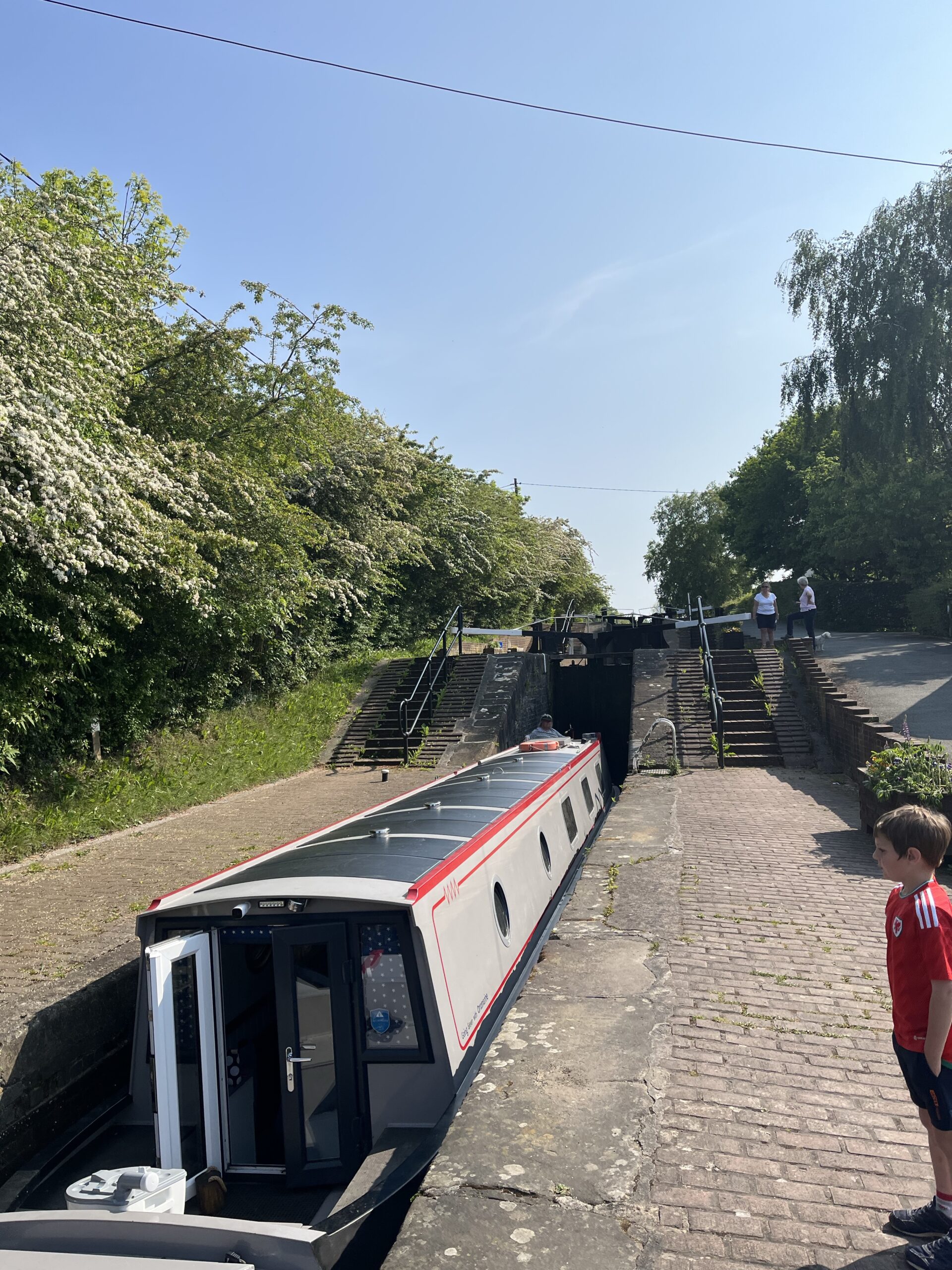 Once through Grindley Brook we began to look for a nice night spot. and we found it, just before the next lock, out in the beautiful countryside. We tied up at around 6pm. It had been a long day and we were both glowing from the sunshine. And that's the end of Week 6!
| | |
| --- | --- |
| Miles | Locks |
| THIS LEG | |
| 39 | 24 |
| TOTAL 2023 | |
| 172.5 | 122 |