29th May to 4th June – Leaving Stoke and heading towards Great Haywood
Yet anther Bank Holiday Monday! There has been a bumper crop of them in May, but now we shall be in a jollity desert until the end of August. Sigh……..
But for me, every day is a bank holiday! And we had locks to do on this day – which used to be Whit Monday until 1971 when, with effect from 1972, the then ruling Conservative Government decided to permanently replace it, following a five year trial period, with a Spring Bank Holiday on the last Monday in May.
We had a fair way to go and 16 locks to get to Harecastle, where we had a passage booked through the famous Tunnel. so it was another early morning. We wanted to arrive in plenty of time and maybe have a beepy when we got there.
We got into a nice rhythm with the locks and hardly saw another boat. We passed through a pair of locks that were the site of what used to be called "Thurlwood Steel Lock". This was a very unusual structure and the result of a failed experiment in lock building. I'm pretty sure I have an old photo of it somewhere, I remember it being a real curio, but it has now been dismantled and the conventional lock is the only one of the pair still in use. There is a video here, made in 1979, and a blog here that might be of further interest.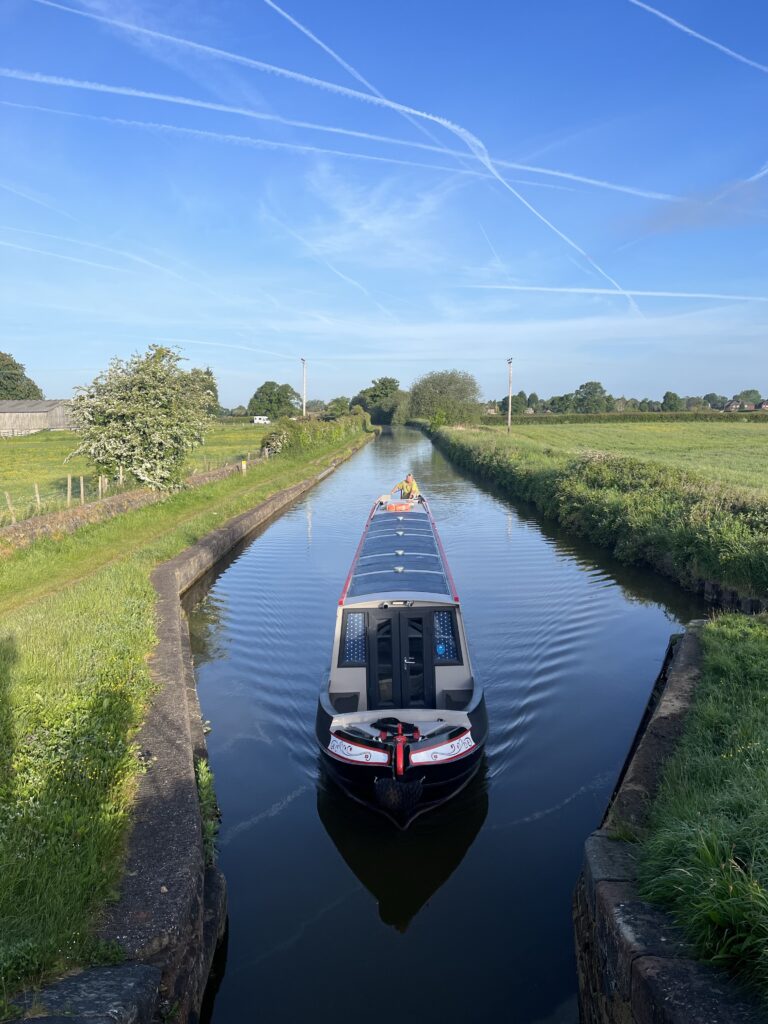 It took us until late morning to get up through the remaining locks – we weren't hurrying, just doing it our way. They can be pretty fierce actually, and can take you off guard, trying to fling your boat against the top gate. Luckily we have done them a fair few times so we knew what to expect. I noticed, while sitting there, waiting for the locks to fill, that some of the bricks bore what I think are stonemason's marks. I also spotted some pretty vegetation, almost like seaweed on the lock wall.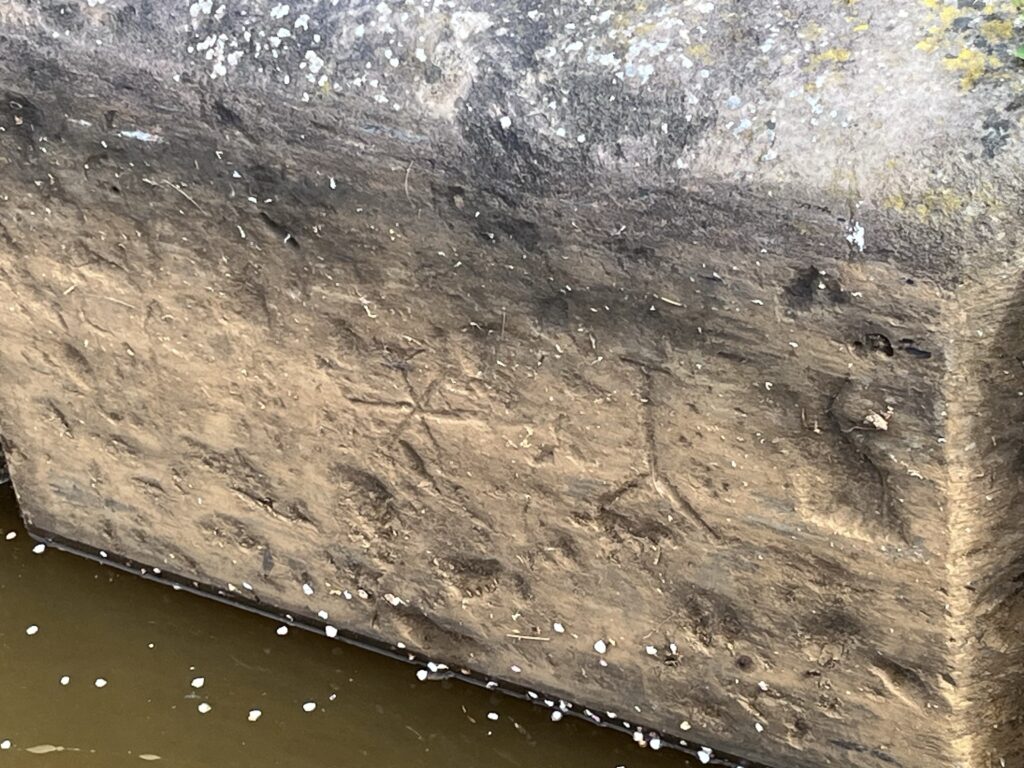 As we approached Red Bull yard, I got a phone call from the tunnel-keeper to confirm our passage. I told him where we were and he said that we would probably get though earlier than our 4 pm slot at that rate. Good news! We emerged from the top lock at around 11:30 and spotted the handy new canalside Aldi. Shame we were fully stocked but useful some other time, I'm sure. We then arrived at Hardings Wood Junction, where the Macclesfield Canal turns off and then over this canal and the A50, on Pool Lock Aqueduct and Red Bull Aqueduct respectively. Nothing to do with the "energy" drink by the way!
By now, the water was getting more orange by the yard. We'd been Tango'd! It's actually more dramatic when travelling in the other direction – you enter the tunnel on normal sludge coloured water and emerge to a bowl of Heinz Tomato soup!. The colour is a natural discolouration due to groundwater containing iron oxide leaching into the canal.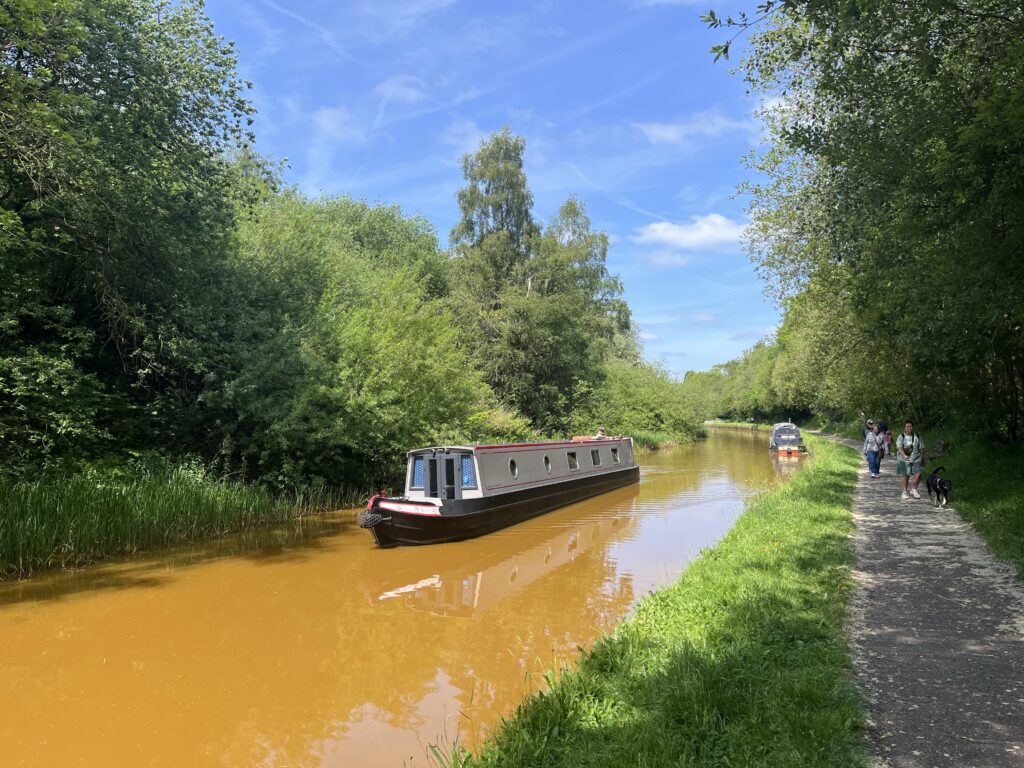 We arrived at the Tunnel portal to be told that a boat was just about to emerge and we'd be able to go in – all on our own – shortly after. Traffic is strictly controlled by the tunnel-keepers – volunteers, these days. We had our briefing, although without any gas, or fires on board we were a pretty safe bet. We then had our light and horn checked and off we went.
Harecastle Tunnel is actually two tunnels, although one is no longer used. The original, now disused tunnel, was built by Brindley in the late 1700s. It was 2,880 yd (2,630 m) long and had no towpath, so boats had to be legged through. It was a slow process and caused a real bottleneck. By the time the Industrial Revolution, with its insatiable demands for coal had hit, something had to be done. Thus a new tunnel was commissioned and built by Telford, one of the other big names in canals. As the new one had a towpath, horses could now pull boats through the 2,926 yd (2,676 m) tunnel. A much faster process. The new tunnel was originally used in tandem with the older Brindley tunnel, with each tunnel taking boat traffic in opposite directions. The old tunnel, when built, was twice the length of any other tunnel in the world. It finally closed for good in 1904, due to subsidence.
For safety reasons, the towpath in the tunnel was removed in the 70s. I can still remember a passage through with it still in place and it did make for a tricky passage. The roof is pretty low in places and its cold, dark and drippy. Just like any other tunnel. You spend about 40 minutes underground and we spent the time singing and marvelling at the wonder of the acoustics. It's always a relief to come out of a tunnel into the warm. The tunnel keeper at the other end congratulated us on our performance. He clearly has a very good musical ear.
We had researched places to moor in Stoke as it has a a bad reputation. Only the day before we had heard reports of lads throwing stones on passing boats from a bridge. We also spoke to the tunnel-keeper, who advised that the best thing to do was keep going until we got past the Stoke City FC stadium, to the south of the city. As we had already been going some 6 hours, that was not going to be possible. He agreed that Westport Lake was probably OK and so we made our way there.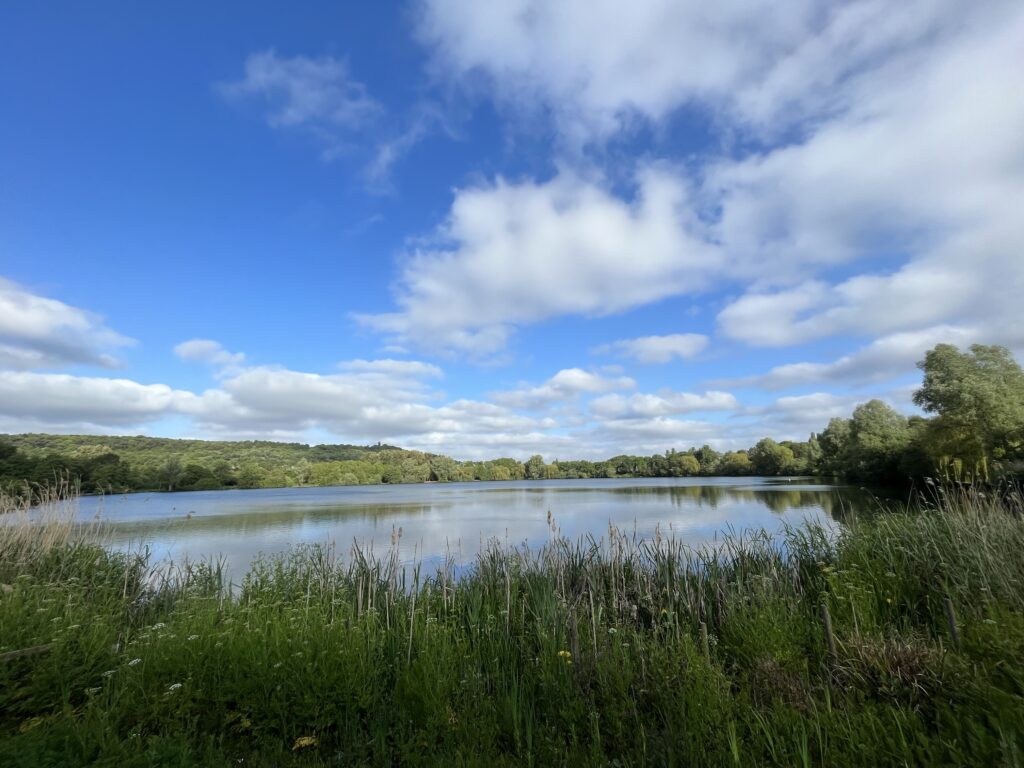 Westport Lake is a nature reserve and is the largest body of water in the Stoke area. In the 1890s the lake was developed as a pleasure resort, and was a destination for locals who did not have the time or the wherewithal to get to Rhyl or Blackpool. It later became a wasteland and was an early landscape regeneration project of Stoke-on-Trent. it was opened in 1972 as a recreation and conservation area. Its an important site for over-wintering birds and seems particularly popular with Canada Geese. There is a liberal top-dressing of goose-s**t absolutely everywhere!
It's a beautiful spot, though and well used by families, runners and dog-walkers. We had a peaceful and undisturbed night there, although we did keep the camera on – just in case. I say undisturbed, by which I mean by lowlife. Canada Geese are a flipping noisy lot and very argumentative and there was much honking and beating of wings on the water. All night. We stayed there Tuesday morning until about midday, when I took us down to Etruria, another possible overnight stop. If we didn't fancy it, we could go down the five Stoke locks and out into the countryside in the evening.
I love the passage through Stoke. It's an interesting mix of new and old. As you'll probably know, Stoke is made up of 6 smaller towns (Burslem, Fenton, Hanley, Longton, Stoke and Tunstall) – aka the Potteries. Stoke was the centre of the British pottery industry in the 1800s and there were over 300 "potworks" at the turn of the century. The industry went into decline after WW2, which continued into the 21st Century. Factory closures – largely as a result of cheaper foreign competition – reduced ceramics employment in the Potteries from 45,000 in 1975 and 23,000 in 1991 to 13,000 in the early noughties.
Clay had, for centuries, been used to make all kinds of pots, but the process was revolutionised by the discovery that adding ground up flint and later bone, made a finer product. Etruria was the fourth site for the Wedgwood pottery business, which had originally been based in Burslem. It was opened in 1769 and was named after the Italian region of Etruria, home of the Etruscan people, who were well known for their pots. The site covered 350 acres (140 ha) and, as well as Wedgwood's home, Etruria Hall (now an "events" centre"), it included the Etruria Works which remained in use by Wedgwood until 1950. It is now a museum and the Wedgwood factory is now in Barlaston, which is close to where we finally moored on Tuesday.
And of course Josiah Wedgwood was one of the chief instigators of the Trent & Mersey canal. He saw the benefits of cheap and rapid transport and commissioned the local engineer James Brindley to build it. Prior to this, packhorses had been used to transport his goods and now, china clay and other goods needed could easily be brought right to his front door. And his fragile pottery would be less likely to be smashed if transported by canal.
I passed the new and modern looking HQ of Steelite International pottery – who grandiosely declare that they are a world leading manufacturer and supplier of award winning "tabletop and buffet solutions" for the hospitality industry. Some of the workers were on their break and they looked a little like surgeons in their scrubs-like workwear. And then shortly after that, Middleport Pottery loomed into view. It's the home of Channel 4's entirely wonderful Great British Pottery Throwdown. It was originally a BBC programme but they cancelled it. C4 saw its potential and revived it and it has become must-watch TV for many people including us!.Middleport also appeared in an episode of Peaky Blinders. There were lots of dilapidated ex-potteries, sadly,. on my journey through.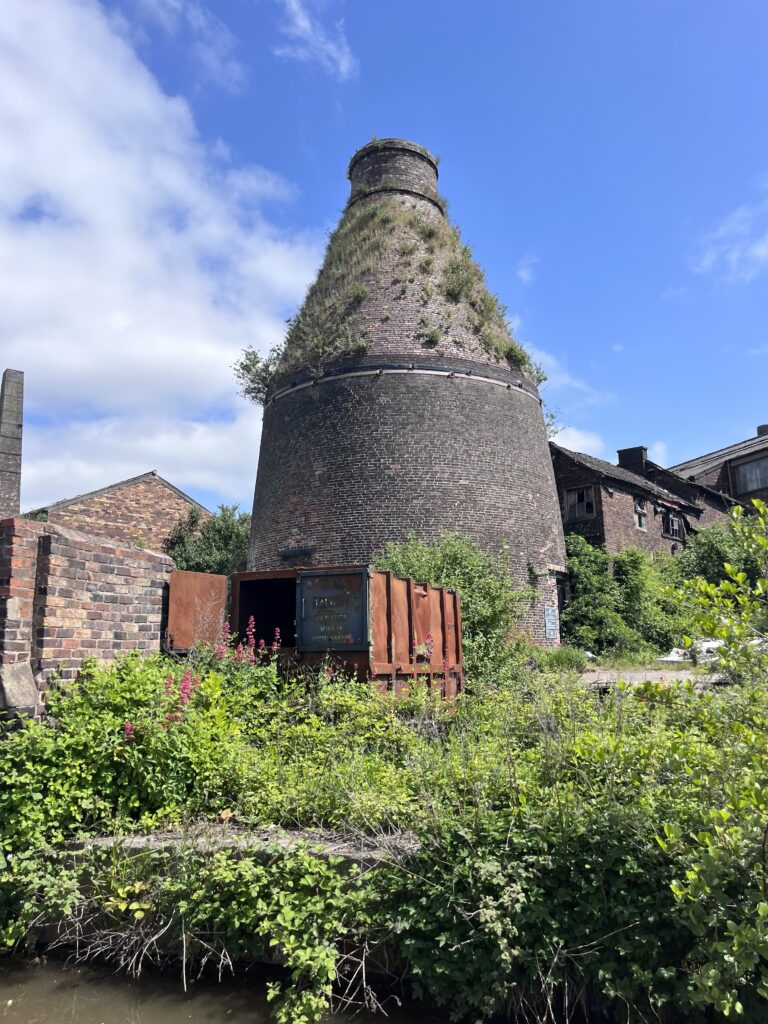 It took me around an hour and half to burble down to Etruria and we spent the afternoon there. There was a lot of footfall and some e-bikes and scooters thundering past. And we were right by an alleyway leading to an estate. It didn't really feel like the sort of place where we'd want to spend the night. So, the very minute Paul had finished work, we set off down the 5 very deep locks that lead out of Stoke. We passed the Flint & Bone Mill and the massive Hanley cemetery, which we have always joked was the "dead centre" of Stoke. One thing I noticed, during my lonely vigil at the tiller, is that Stoke has noticeably less graffiti than poor Birmingham. And yes – I am very firmly in the camp that graffiti has no place on Victorian or earlier brickwork. It's not art in that case. It's vandalism.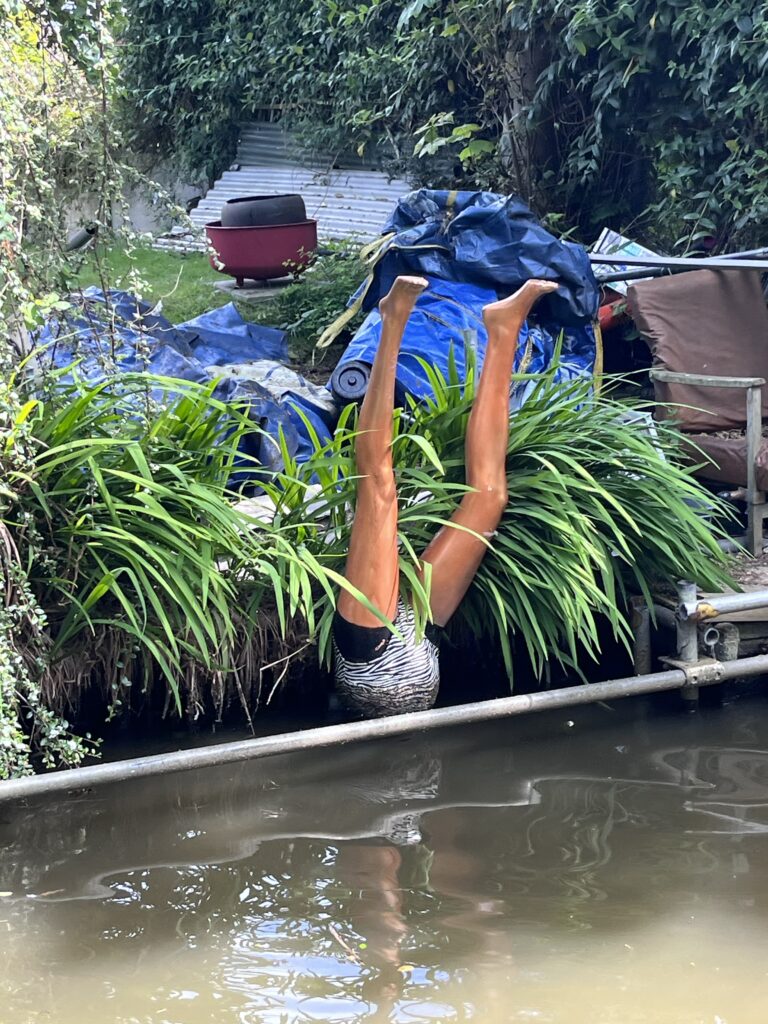 Once through the 5 locks, Paul went back to work a bit longer, while I got us the hell out of town! We passed the Bet 365 stadium but decided to press on a bit further still. I had to call Paul out to help me through Trentham Lock and we pressed on until we finally found the perfect spot. Cows to left of us, horses to to the right. Good solar and wifi. Boom! By now, though, it was 20:20 and I was starving. Luckily, I had a couple of ping-ping curries in the fridge, ready for just such an occasion. We fell upon them! But the spot was so nice, we decided we might actually stay a couple of days.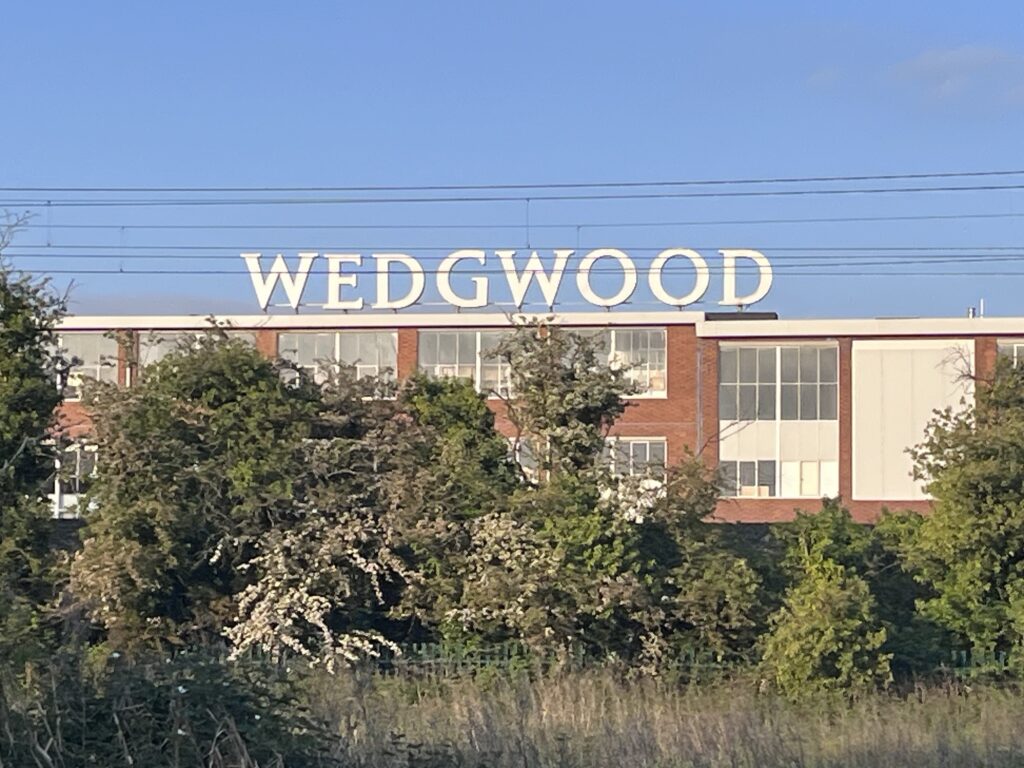 And stay a couple of days, we did. More sewing for me, more working for Paul. It was such a very pleasant spot, with plenty of wildlife to entertain us, including a couple of very vocal and quite bold crows who were very close to taking bread out of my hands by the end of the couple of days.
On Friday morning we set off just before 9 and cruised to the foot of and down the four very lovely Meaford locks and then through Stone which has changed quite a bit since we last went through. The one thing that is the same is the old Joules brewery building, their bottle store, which has looked pretty much the same for as long as I can remember. The brewery closed in 1972 but Joules are now back in town in the form of new venture Crown Wharf. There was a family watching the boat going through the lock at the famous Star pub (no two rooms on the same level, as I recall – although that might have been the beer) and Paul let the young lad have a go at winding the lock gear. He really enjoyed it.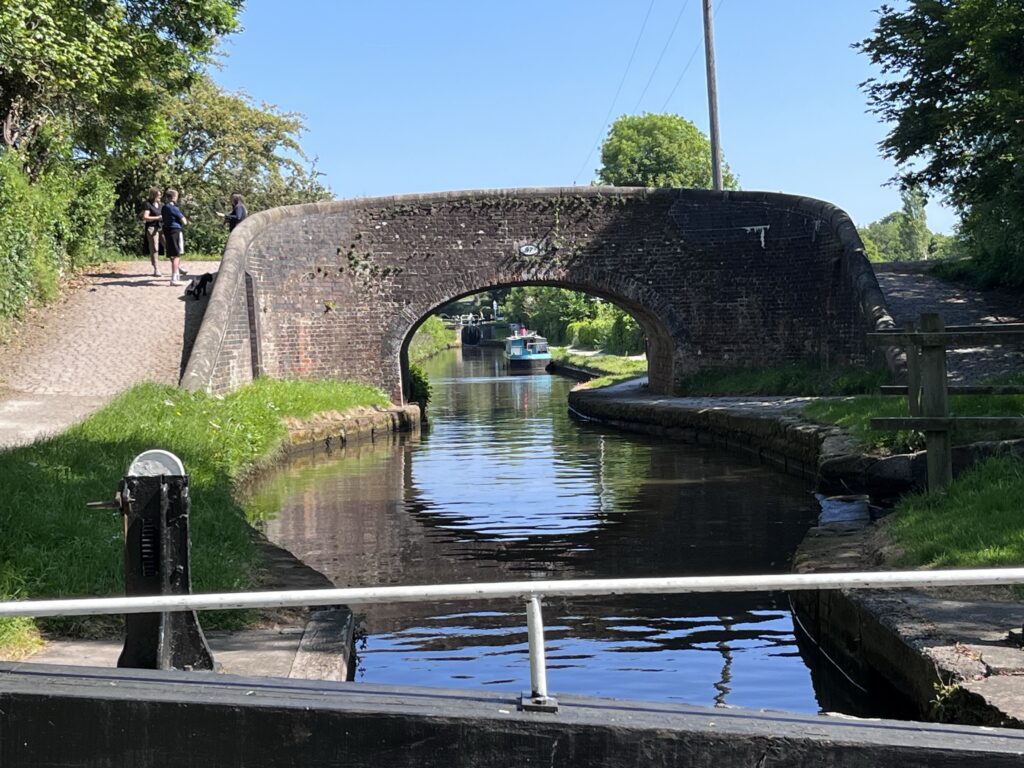 As we were leaving the lock we were told that a tree had come down just below the next lock – Stone bottom lock. A team from CRT were already on site and working on it, and it actually suited us quite well as it allowed Paul to quickly nip into town and buy a couple of bits for lunch. By the time he had returned, the CRT guys had removed enough tree to allow passage to recommence and as the lock was in our favour, we set off again.
It was a bit tricky below, hire boats and the CRT dinghy plus the remains of the dead tree, but we were soon on pur way again. Our destination was Aston Marina, which opened in 2009. We had a meal booked at the restaurant there that evening, and a grocery delivery the next morning. Our friends Matt & Toy on N/B Paintbrush had left their boat there and gone to Chester for the weekend. They must have known we were coming! But seriously, we were sad to have missed them as we have not managed to catch up with them since last summer.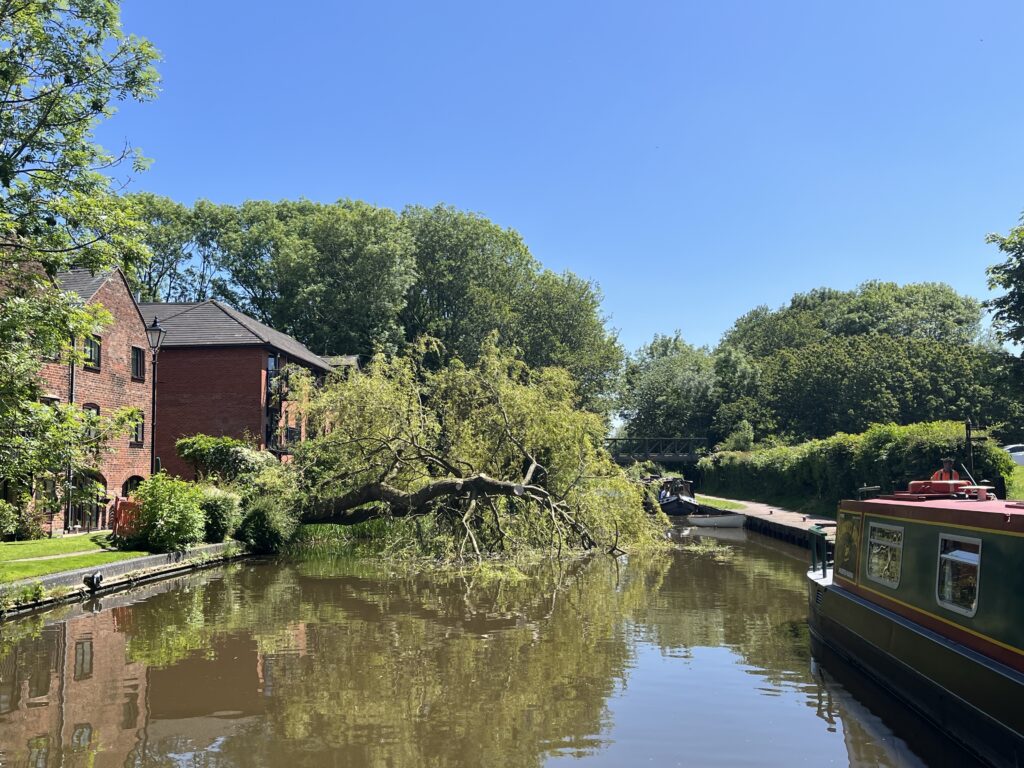 We had booked a table outdoors in the Courtyard area at the restaurant, so that we could have the boys with us. This turned out to be a bit of a faux pas, as it was completely devoid of any sunshine and the breeze made it very chilly indeed! I was frozen..But the food was delicious and I thoroughly enjoyed my Pineapple Rum Sour aperitif, too! I could have drunk a few of those! Maybe they'd have warmed me up or maybe I wouldn't have cared about being chilly?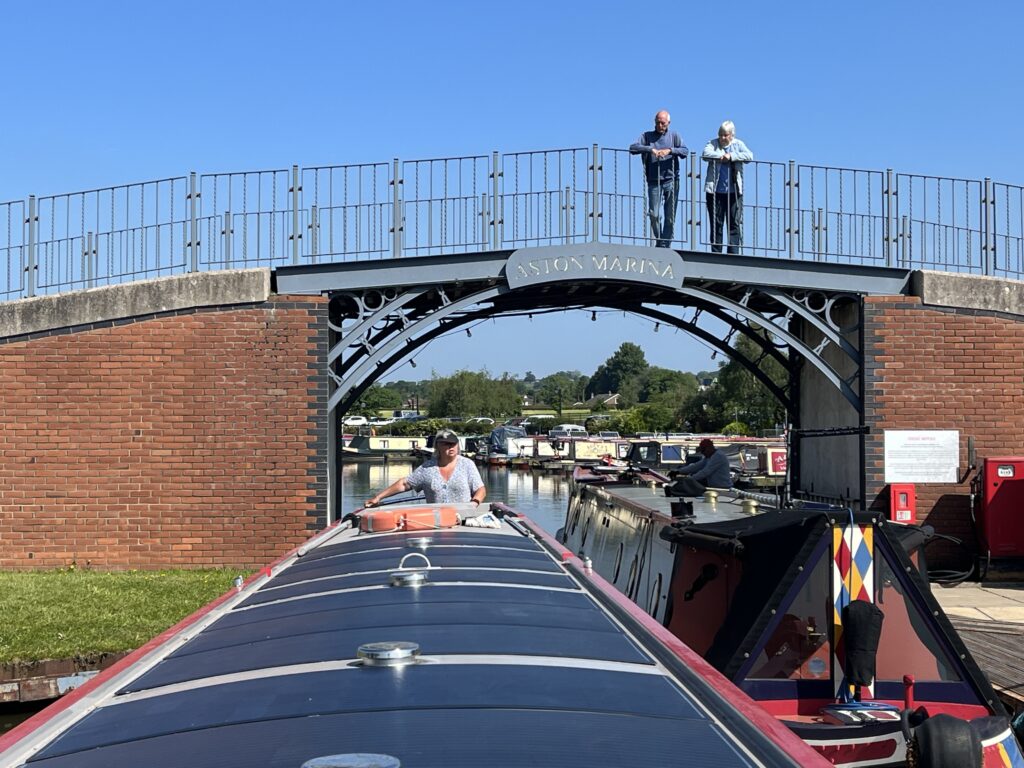 We left Aston, which we really liked, at around 10:15 after a grocery drop, taking on water and emptying the loo. We had a lovely cruise through the beautiful Staffordshire countryside, through Sandon, where someone was obviously getting married, judging by the joyous peal of bells, Burston and Hoo Mill. We turned right at Great Haywood, hoping to find a spot at our favourite Tixall Wide. Hoo Mill, by the way, was the birthplace of my Dad's boat, Sam Gunter, the shell of which was built by Mike Heywood there. .
It was very hot and we were praying that we would find a spot at our (and everybody else's, to be fair) favourite, Tixall Wide. It was pretty busy but there was a spot about 100 feet long, with a couple of chaps fishing at around the 70/80 feet mark. Being the polite souls we are and conscious of the need to share these precious waterways, we politely asked if they would mind if we popped our boat into the first 60 feet of the bank, leaving them plenty of room to continue their fishing. They made some very negative and disparaging comments and we got the impression that they weren't keen, so to avoid conflict, we pressed on a little further to another gap. It wasn't "pole position" but would do. And there was just about space for another boat if it was required.
We were amused to note that another boat had come along and inserted themselves in the gap we had enquired about. We went about our various tasks (paul was watching the FA cup) when we suddenly felt a bump. I looked up and realised we had been hit by another boat! Only gently, luckily, but nonetheless a bit of a shock. It transpired that they had been a bit more direct than us and told the fishermen they were coming into moor at the spot we had tried. They had received a very hostile response, with the fisherman quoting a "12 metre rule" and saying the he would report them to the authorities. He became quite abusive and foul-mouthed, and, much shaken by his tirade, they had decide it was best to move. It was clear that the fisherman was not prepared to share this bit of waterway. We managed to squeeze them into the gap near us, by moving a short distance closer to a neighbouring boat. It was all a bit nose-to-tail. but they thanked us profusely and we all settled down for the night.
As it had been so hot, Paul suggested that we do an early start to "beat the heat". This made sense, so we found ourselves waking at 06:00 on Sunday morning to set off for the final leg of this week's journey. We are booked into King's Bromley marina for a couple of free nights as part of the mooring deal that we get as Aquavista moorers.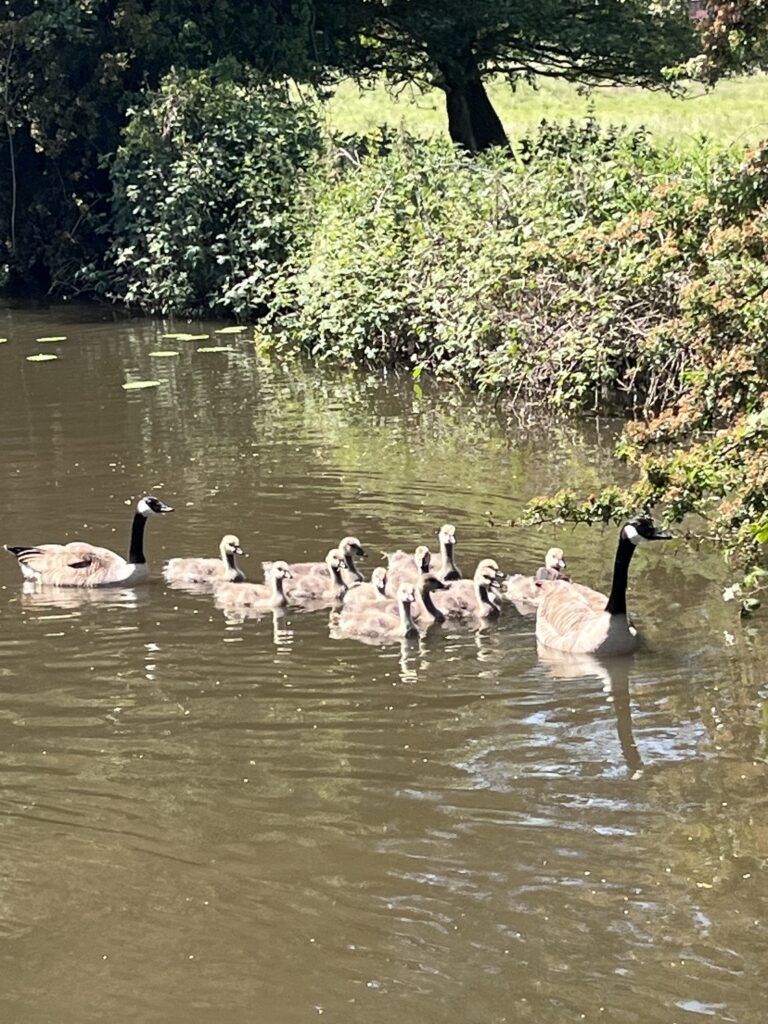 Far from being the warm, rosy morning we expected it was distinctly chilly. I ended up putting my coat on plus my furry snood scarf and still I was cold. Properly cold. It was not great for the first couple of hours, to be honest, but the sun did eventually burn through and warm us up. As we proceeded towards Haywood Lock (paddles left up and gates left open) we saw the Cheese boat. We'd have loved to have patronised them, but an 06:30 wake-up would probably not have been welcome! Luckily it looks like they are heading in the same direction as us. The next lock (Colwich) had also been left with the paddles up and the gates open. Either a newb on hire boat or a lazy so and so!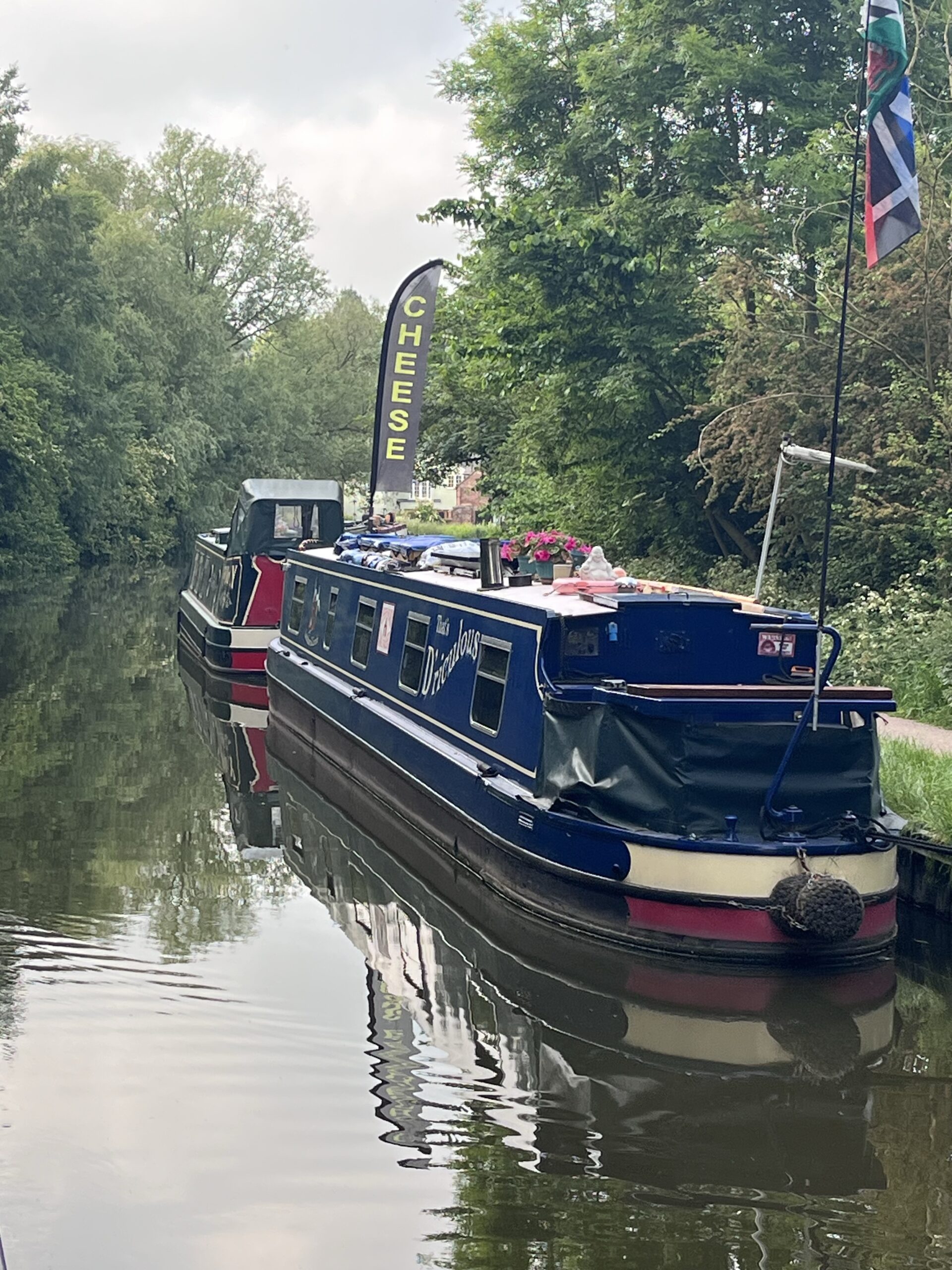 We passed through Rugeley, Handsacre and Armitage (which we had also passed through last year) but in the opposite direction. You may recall the single-file ex-tunnel, in Armitage, which is always a rather a curio? We spotted the tyre fender boat and flagged them down. We bought a couple of large go-kart tyres to add to out battery of defence against speeding boats and underwater shelves! By now it was getting pretty warm and we began to look for a place to pull over, as we were nearly at our destination, although we did not want to arrive there until Monday.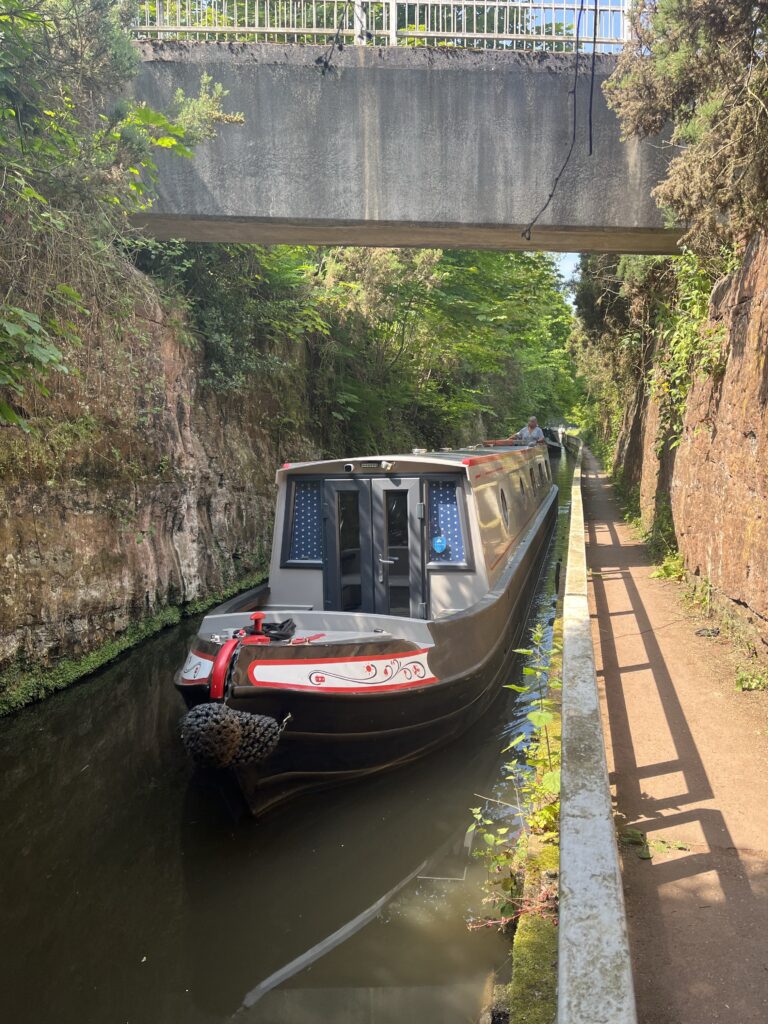 We found a spot out in the country that was to our liking and moored. I had already put on a load of washing before we arrived, so whilst we were waiting for that to finish, we cleaned the back end of the boat until it sparkled once more. Cleaning is a never ending job if you want a smart boat – and we do. But nature always conspires against you, dropping leaves and seeds and suchlike all over your roof and decks. And let's not talk about what birds do, although I think you can guess! Then, even after all this dry weather, towpaths can be muddy, causing doggy and human footprints on the deck. Good job we don't mind applying a bit of elbow grease, although in this hot weather it's quite enervating. So we ended this week with a beepy! Zzzzzzzzzzzzzz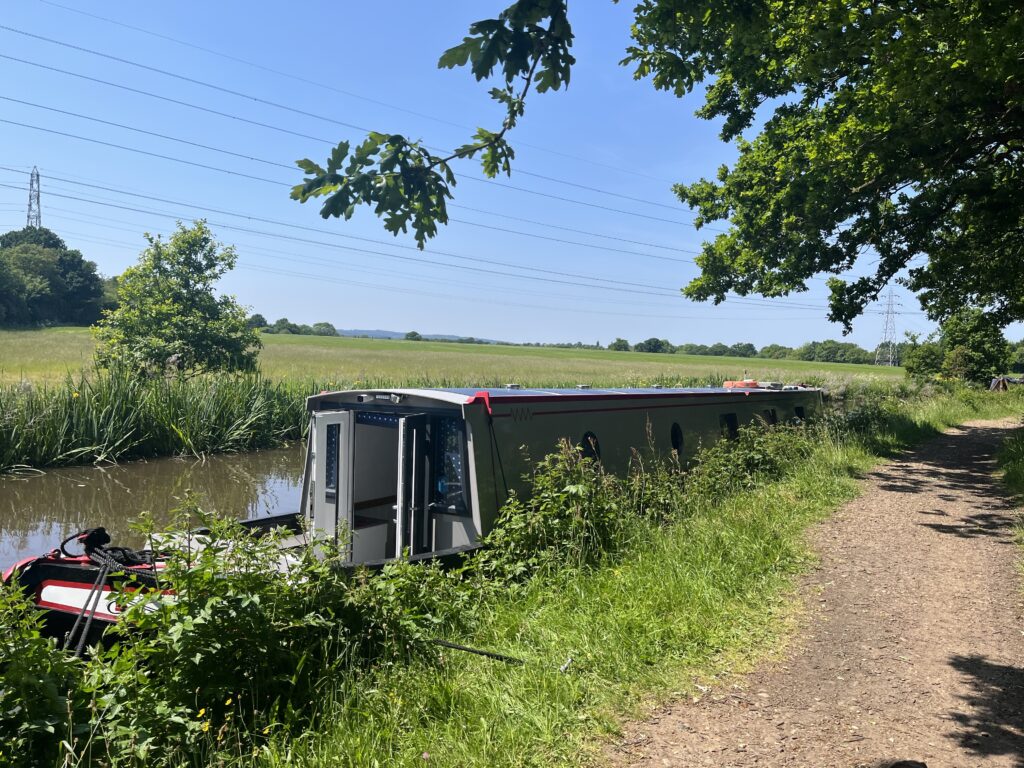 Next week we will be heading further south, slowly, towards Brinklow, our new base, which will mark the end of Summer Cruise Part 1.
| | |
| --- | --- |
| Miles | Locks |
| THIS LEG | |
| 38 | 36 |
| TOTAL 2023 | |
| 242.5 | 197 |