5th to 11th June – Getting work done and going back to the Cov
Crikey! That was a busy stretch and not many of those passing boats bother to slow down. It's ironic that the fastest boats seem to be the working boats used by CRT's contractors and – dare I say it – a couple of heritage boats who made no effort to slow down at all. Just tonked past. It was pretty uncomfortable being shunted back and forth (yes, we were well moored) so, late morning, I decided to move us along to the marina where we'd be spending the next couple of nights.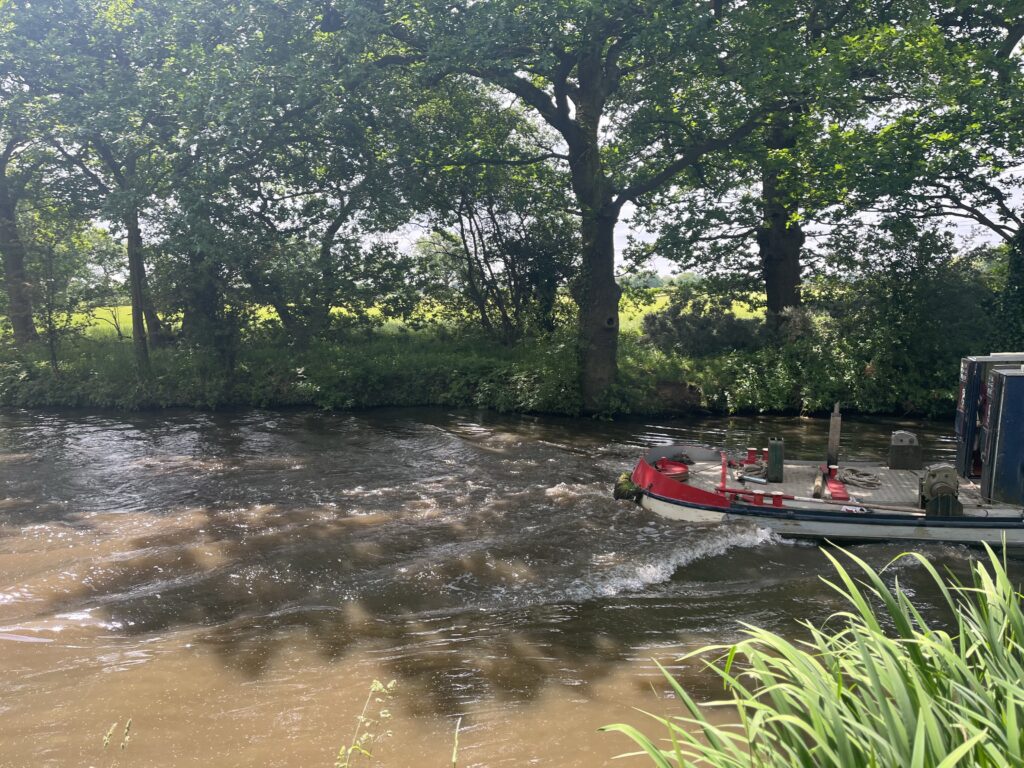 We had a little "incident" in a lock last week, which resulted in us popping a weld on the side hatch. At Rob's (from Ortomarine) suggestion, we contacted Tim Tyler, who made our hull and who is fairly local to us ,to ask if they could recommend someone to fix it and they could not have been more helpful. The upshot was that one of their guys (Sam) would meet us at Wharf Barn Farm Marina on Tuesday to fix it. It meant a bit of hanging around but it really needed to be fixed. We immediately booked Monday and Tuesday night at King's Bromley Waterside and Marina (we had a night there last year too).
To explain about that incident – we were locking down and when you lock down there is a risk of what we call "tiddlers". The lock walls themselves can sometimes be a bit leaky, resulting in little gouts of water spraying out from the lockside. Often tiny but sometimes a bit more serious. For this reason, you always close the side doors when locking down. If not, you risk a tiddler depositing itself inside the boat, and it's amazing how much they can deposit! We are usually quite scrupulous about it, but that day we had forgotten.
As the boat was entering the lock, Paul noticed that the doors were open and, fearing for my laptop, decided to close them quickly. Unfortunately he had not noticed a protrusion on the lockside and the door caught on it and broke the weld on one of the hinges. Needless to say, he was mortified and spent the rest of the day kicking himself. It was an easy mistake and sometimes s**t happens. And it's fixable. so no worries.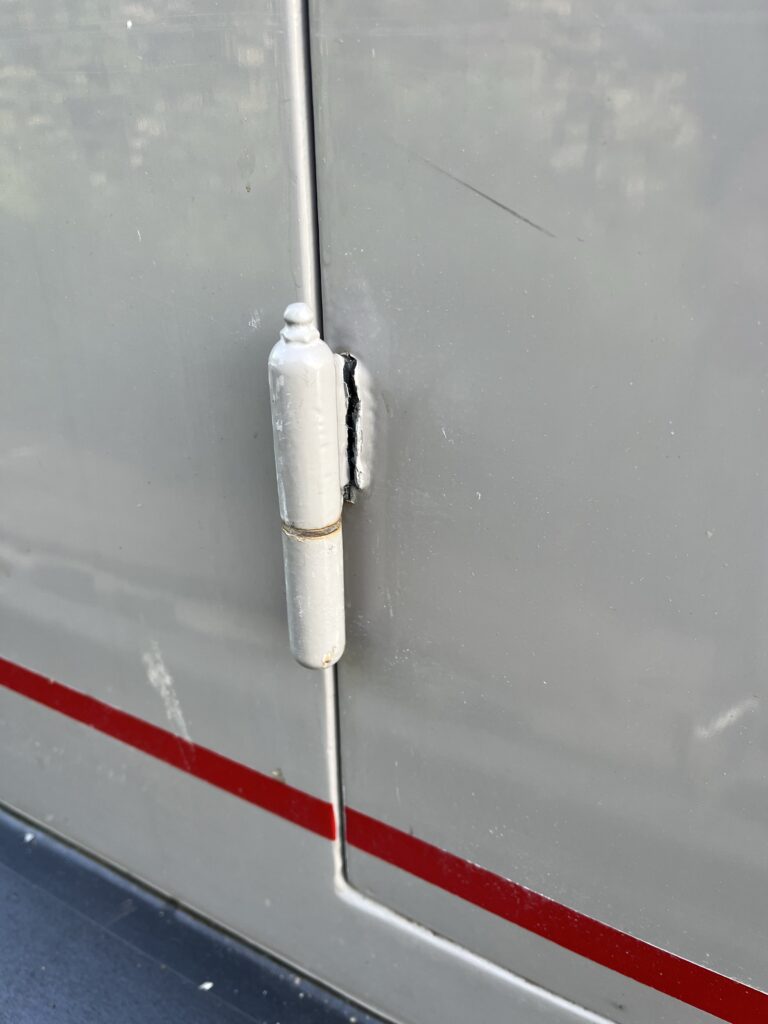 It was a very short journey (see pic below) from the Marina to Wharf Barn Farm Marina, home of JF Boat Building, where we were scheduled to meet Sam from Tim Tyler boats. We arrived in good time and the guys at JF Boat Building (Jamie and Rob) genuinely could not have been more helpful. They had to do a bit of jiggling boats around to get us to a place where Sam could work. Sam arrived bang on time and Paul turned the power off, so that he could start work.
Isolating the batteries on a steel boat when arc-welding is recommended for safety reasons. When arc welding, high currents are involved, and welding can generate significant heat. Isolating the boat's batteries helps prevent potential electrical hazards and damage to the boat's electrical system. It's a belt and braces approach really, because, in theory. we should be OK as our electrical installation is properly isolated and grounded, but it is better to be safe than sorry.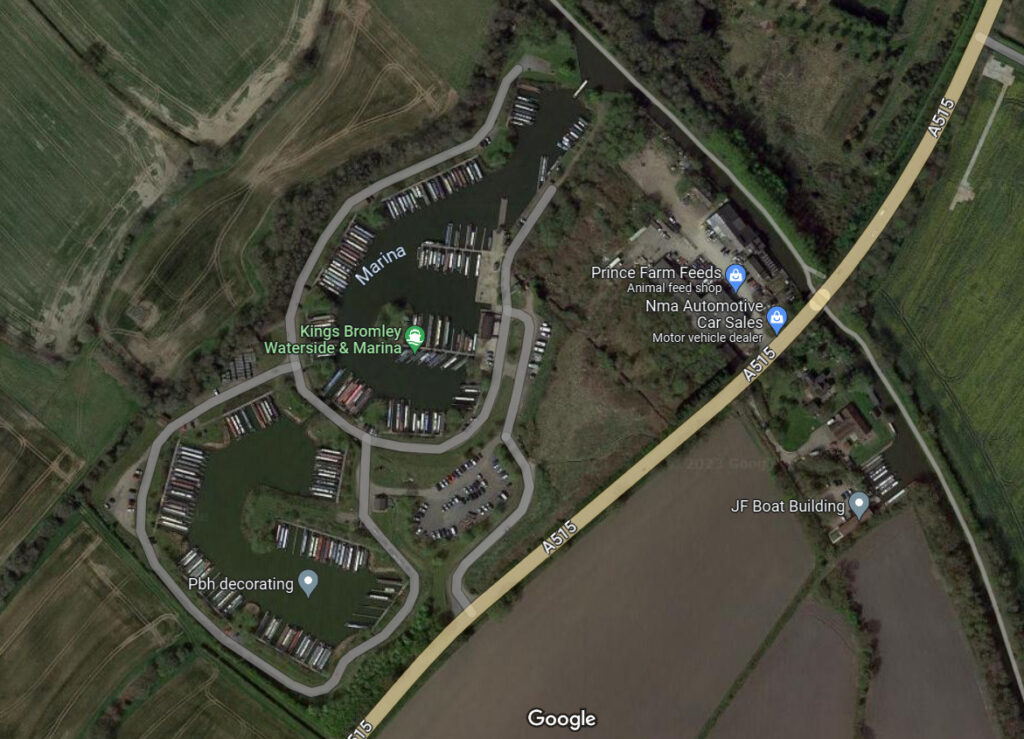 It was a pretty quick job and Jamie even bunged some primer on for us, until we could get some paint on over the weld. What a star. And not one of them would take any money from us. And all the while we were serenaded by Sam, who has worked at Tim Tyler for 30 years! Such excellent service from Tim Tyler and also from JF Boat Building – and we weren't even a customer of theirs! All three of them thoroughly nice chaps and excellent at what they do. In recognition of and thanks for their efforts today, we have donated some money to the IWA, who are currently spearheading a campaign to protect the future of our beleaguered waterways, which are under threat from lack of funding. Once the work was done we popped back to the Marina for another night.
We left the Marina, where we'd had a very pleasant stay at around lunchtime on Wednesday. The plan was for me to take us down to a spot just above the four locks that would deposit us at Fradley Junction. We'd then do the locks when Paul finished work that evening, or possibly the next day if we decided we liked the mooring. The short cruise included a stretch with the most wonderful Rhododendron display. I know they are an invasive species in the UK, but they have been here since the 1700s! No excuse I know. Once we arrived, I did a spot of outdoor cleaning and finished off the final few Christmas Gift bags. I've thoroughly enjoyed making them and – whilst time-consuming – I will reap the benefits come Christmas time. In case you feel like having a go, too, I used this tutorial because it demonstrated two good techniques for ensuring that the inside of the bag is as neat as the outside. I just need some ribbon to finish them off.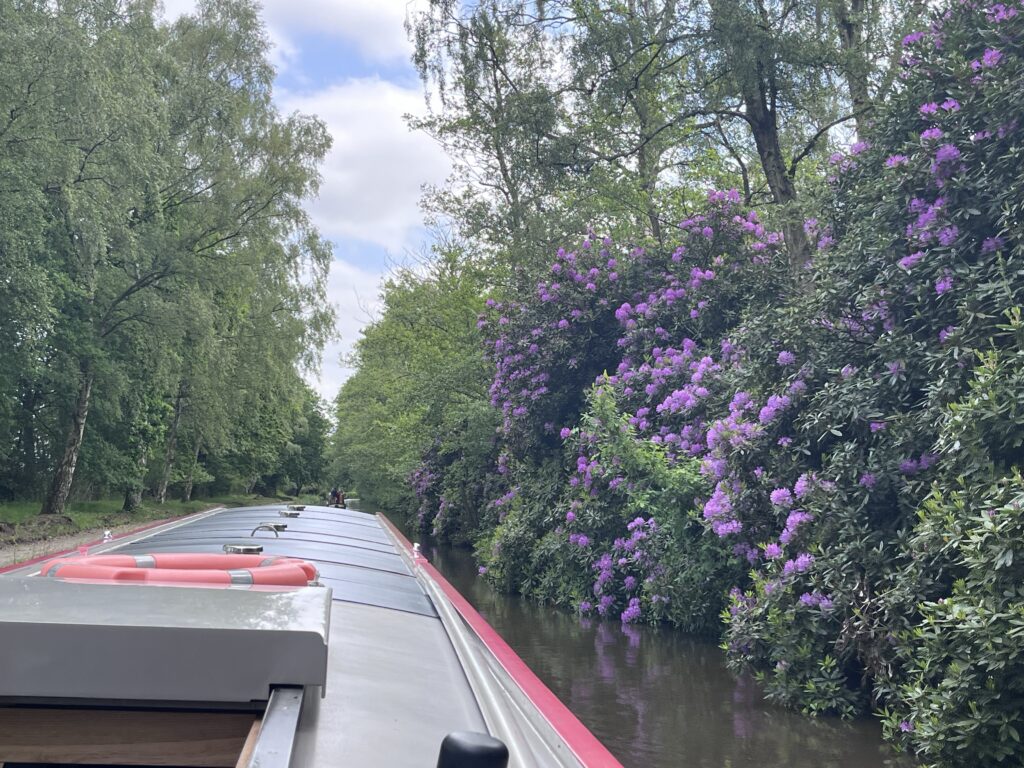 Well I can report that we did like the mooring, but decided we'd move on anyway. We went through the single lock and then the three that lead down to the junction, which is probably one of the most photographed spots on the system. We came through here last year on a busy Sunday morning. It was much quieter today, although there seemed to be a motorcycle meet at the pub (The Swan) so it was heaving! There was also a beautiful vintage car of unknown make. We turned right onto the Coventry canal, through the little swing bridge and past a long line of moored boats. The section between Fradley and Huddlesford, where the currently disused Lichfield Canal meets the Cov, is a new stretch for Old Nick, although we have done it a quite few times in other boats.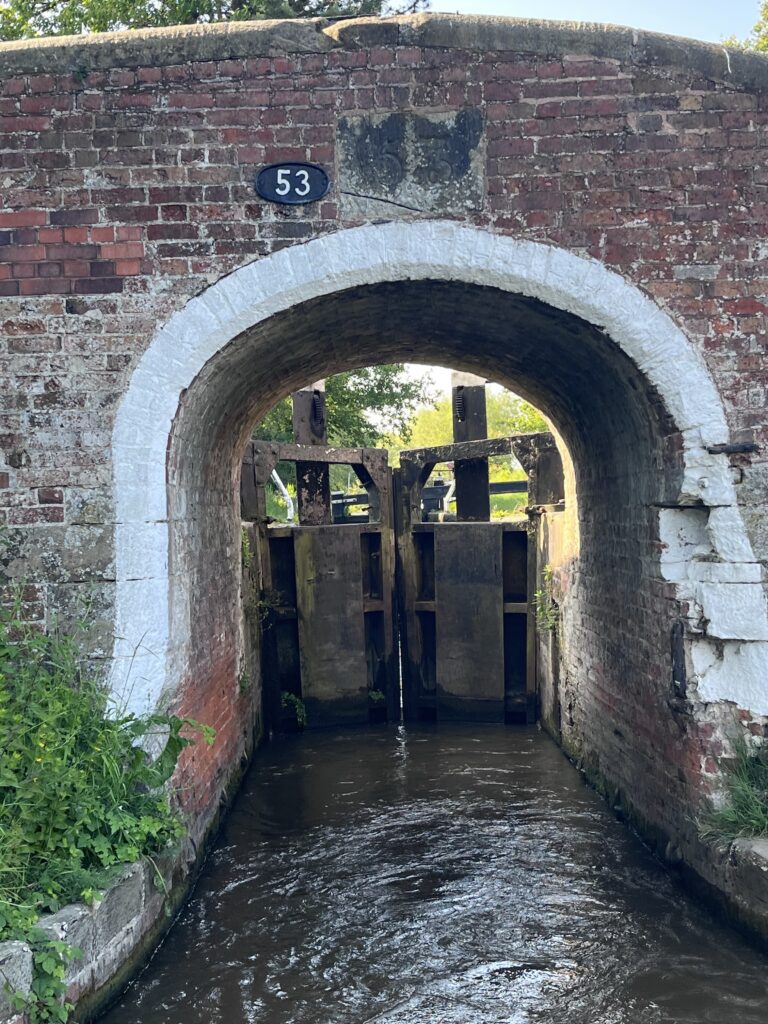 One thing I have noticed this week, is that suddenly everything is in full bloom. All my hedgerow and bankside favourites, including Dog Roses, Foxgloves and Yellow Flag Irises and, in the urban gardens, Lupins, Peonies and Hollyhocks. Mind you – this year seems to be hurtling by and I can't believe we are only a couple of weeks shy of the summer solstice, No! I'm not ready for nights to be closing in!!
We pressed ever on, as the banks were not really suitable for mooring against and if there was a bit of Armco, you could guarantee that there would be boats on it. But it was a lovely evening, so it was no hardship. I used the time well, making dinner which we ate as we cruised along, made my daily call to Uncle D, did a few calculations for the next week and finally tied up just after 20:00, just opposite Streethay Wharf, where we stayed until Friday morning.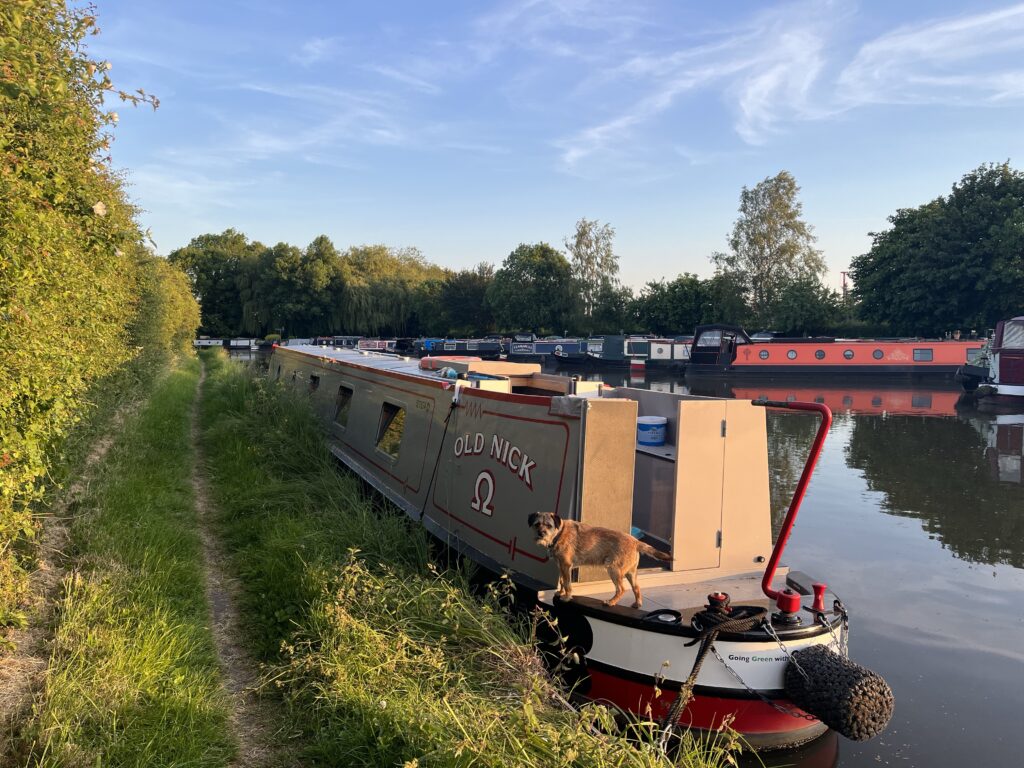 It had been breezy whilst we were on our Streethay mooring and all the lovely blossoms that had so delighted us previously had deposited their numerous petals on the roof, so Paul spent the first half hour of our journey sweeping them off while I steered. If it rains after they have deposited on the roof they stick like glue, so it was well worth doing.
Our destination for Friday was The Tame Otter in Hopwas, handily placed right next to the canal with very easy access from their carpark. The perfect spot for a grocery delivery! And dinner. And – as it turned out – lunch! A lazy day for me. Whoop! Actually, we wished we had stopped short at lunch – a very nice Fish Finger sarnie. I'll enlarge on this in a tick.
We were a little apprehensive as the chap on the boat we had been following had told us there was no mooring there (he'd walked up to check) but we pressed on with hopeful hearts. You simply cannot imagine our joy when, as we approached the bridge, we saw a boat pulling out of the perfect spot. Cock-a-hoop does not come close! It was under a tree (for shade on that very hot day) and right by the car park access. The Gods were definitely smiling on us.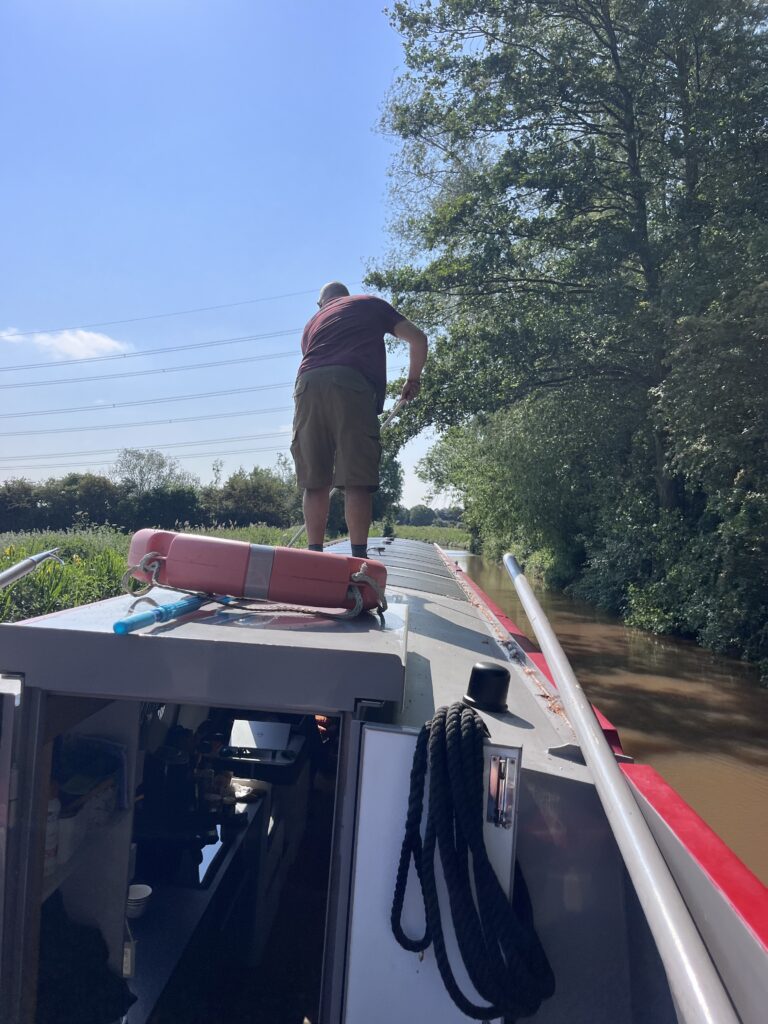 Paul did a bit of work while I pottered and fed the ducks and ducklings. We had a dinner table booked at 6:30pm and an Ocado delivery between 8 and 9 pm. The Tame Otter is immediately opposite the Red Lion – another canalside pub and it was pretty noisy. We decided that, as soon as the groceries had been delivered, we'd hightail out to the countryside for a quieter night. And this is when the Gods' smiles turned into a rictus.
Firstly our meal at the pub was pretty much so-so. For the 2nd week running, my steak had been overcooked – I like mine rare, still mooing, but it was at best medium. Paul's meal did not win any prizes either and they took ages to arrive, as the pub was very busy on this beautiful summer evening. We decided against a dessert as it was nearing the time for our delivery. Or so we thought.
There is a phenomenon, which I have dubbed "Sainsbury's Law". The law states that if you have nothing to do or nowhere to be or if you are late arriving at the designated delivery spot, the delivery man will inevitably ring and say he's running early and can he deliver a little early or will arrive on the dot of the earliest time of the delivery slot. However, if you are waiting to go out or have an appointment the delivery will, without exception either be late or at the latest time in the delivery slot. I think you can guess what happened. He actually arrived at 21:10 full of apologies. By which time it was a touch too late to head off. We resigned ourselves to a noisy night, but actually, it was pretty quiet by 23:30, so no problem.
BUT! Just before 08:30 the next morning, Mr Strimmer arrived with his noisy brush-cutter and proceeded to strim the living daylights out of the bank directly opposite the boat. A very rude awakening, when we had planned a bit of a lie-in! And to add insult to injury, we had foolishly moored beneath a sycamore, which gunked up every flat surface with it's sticky, gunky sap. Another sojourn on the roof for poor Paul. Even the deck made that sticky noise – like you get in a rowdy pub or nightclubs. Annoying!
We had a couple of locks to do at Glascote on the way out of Fazeley, but other than that it was plain sailing – or cruising all the way. It was so unbelievably hot, we pulled over for lunch and stayed put until late afternoon. We wanted to get to the bottom of the Atherstone flight ready to tackle them the next day. The route was pretty familiar as we had only gone through there last July and had actually stopped in Atherstone to visit the vet to get Ted's cut paw re-dressed.
We finally tied up at around 19:30, about a kilometer away from the locks. We had stopped a little short, as we feared that there might be a queue of folk waiting to go up the locks the next day and so no mooring space for us. As it turns out, we could have moored directly at the bottom.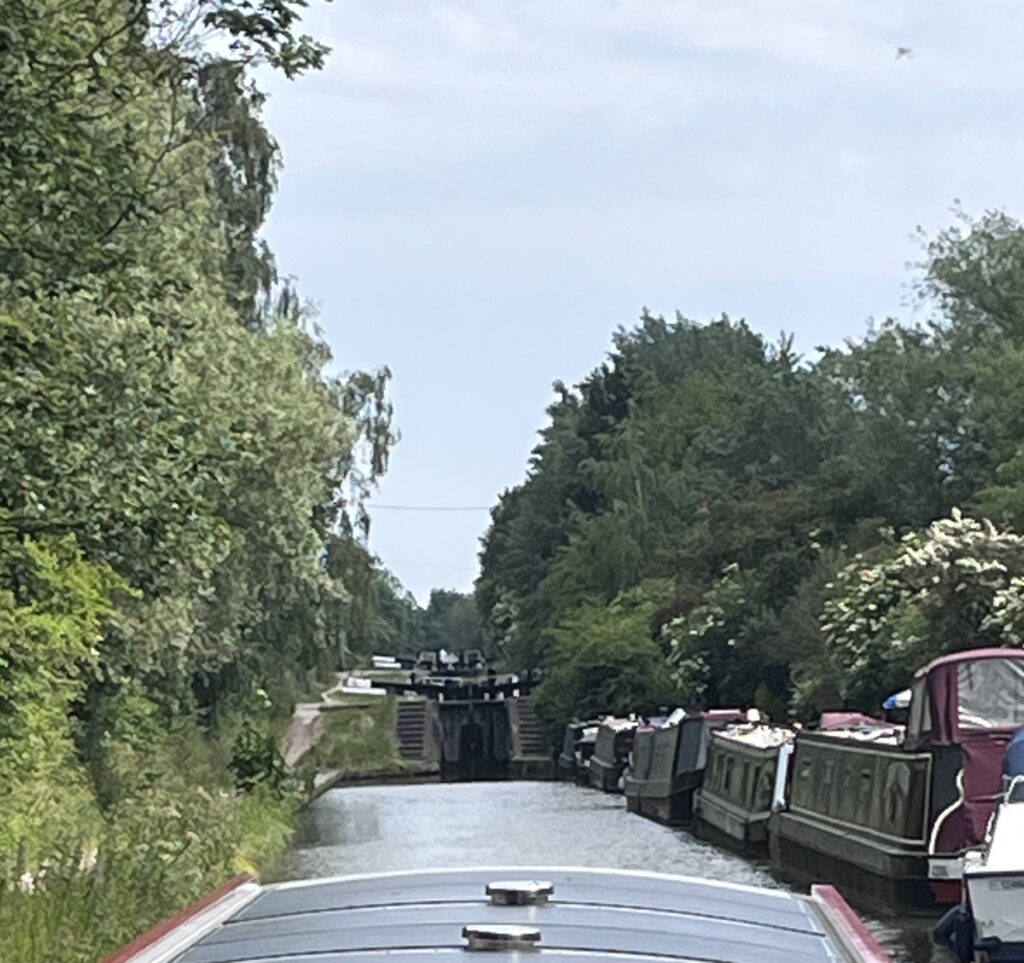 We had agreed that we needed to get the locks out of the way before the 29ºC day that was promised really heated up. This being England, there were also thunderstorms promised. The English summer – 3 hot days and thunderstorm. And it's so true. Thus, we set our alarms for 06:00.
Unlike last week, you could tell it was going to be a scorcher and there was no need for coats. We had a smooth passage through, not seeing any other boats on the move until we neared the top of the flight. We entered the last lock, where we would also take on water and dump rubbish and toilet, just as the volunteers started their day. We had been a shade apprehensive about Atherstone locks as they seem to be beset by lack of water and only Friday we had seen a report of a totally de-watered pound. But we needn't have worried. It was all good and we were soon on our way in search of a quiet spot in the country to sit out the heat. We ended the day back at a spot where we had stayed last year when we came through. My trusty What 3 Words moorings database came up trumps, once again.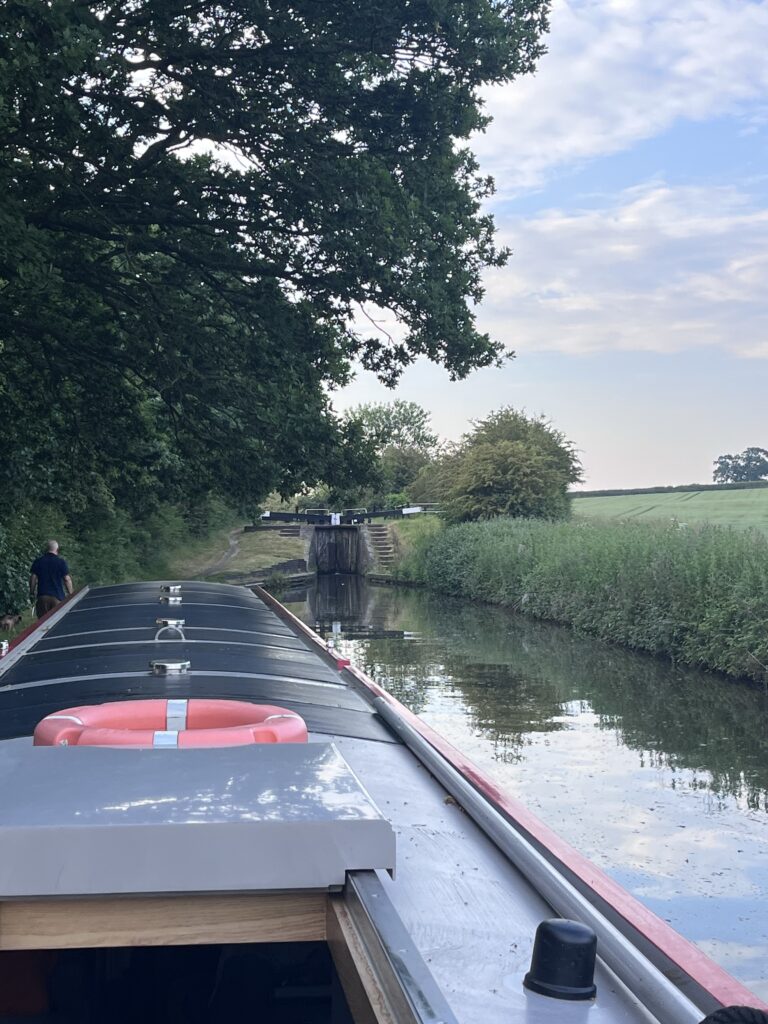 We pulled over with a sigh of relief, near Mancetter, ravenous having had no breakfast and already a bit too hot. And that is pretty much the end of week 10, and very nearly the end of Summer Cruise Part 1. It's now only a few weeks until we get to meet our first grandchild and excitement is mounting. I'm feeling very sorry for our lovely daughter-in law, Bethany. being pregnant in this heat is no joke, poor love.
Next week we will continue our journey along the Coventry to Hawkesbury Junction and then onto the Northern section of the Oxford Canal, taking it slowly in this heat, which is also promised for the week ahead.
| | |
| --- | --- |
| Miles | Locks |
| THIS LEG | |
| 26 | 16 |
| TOTAL 2023 | |
| 268.5 | 233 |