26th Jun to 2nd July – still at Brinklow!
Our second week at Brinklow, and it's starting to feel more like home. Everyone has been very friendly and it'll be good to know that, when we have finished Summer Pt 2, we aren't going to be strangers to the area.
I did more sewing this week – mainly dog bandannas – but I also took the opportunity to re-cover my sleeve board as it was looking a bit tired. Mind you, I have had it a fair while. It's a useful gadget and looks like a miniature ironing board. It's used for pressing small and narrow pieces such as sleeves or trouser legs and childrenswear. Because it's small, I use it a lot on board for pressing my sewing.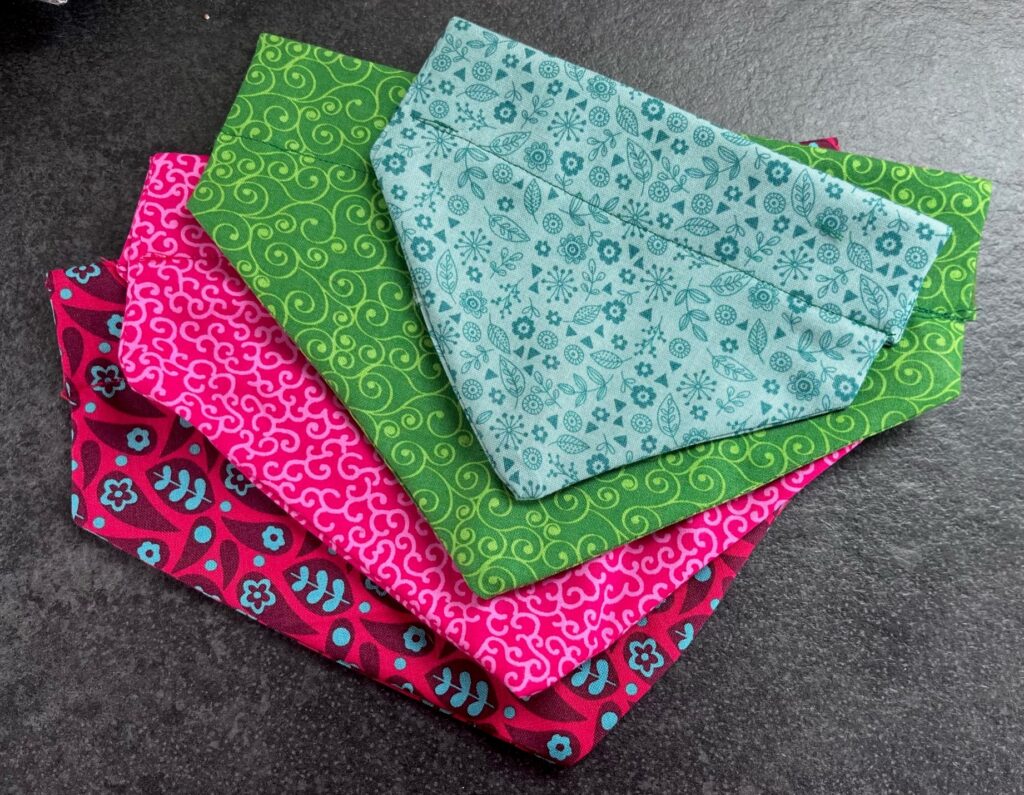 The oven engineer came on Tuesday and had trouble diagnosing the issue with the oven, so we are going for a process of elimination. The first thing to be tried is the temperature dial. The part was ordered and he'll be back when it arrives. I'm not liking the sound of that! It sounds an expensive process.
There is a handy Village Store and Post Office in Brinklow village, which is just under 2 miles away, but we had seen a Co-op in the neighbouring village of Newbold on Avon, so we decided we'd take a look, as they are often very good for nice bread and their fresh produce is usually pretty good too. It's only just under 3 miles away and we are slowly getting used to the windy lanes around here. We noticed that there was a chippy near the Co-op and a quick look at their menu revealed that they did Spam fritters. We both have fond memories of school dinners featuring this delicacy and simply had to have one. The regular portion of chips would have fed a small family and I reckon at least 3/4 of them got thrown away! Paul had also been seduced by the battered mushrooms and I have to tell you they were a delight. Deep fried in a tempura style light batter. Top notch. We rarely have fried stuff and even more rarely have a chip supper so it was a real indulgence. I think we will be back to Fishsmiths!
The Marina is adjacent to a field where there are a variety of horses and quite a few foals. They are lovely to watch. The boys – particularly Bill – are always very interested in horses. They seem to find them fascinating. It's so tempting to feed them but we know it's not a good idea. And Paul would probably object to me giving his apples away anyway!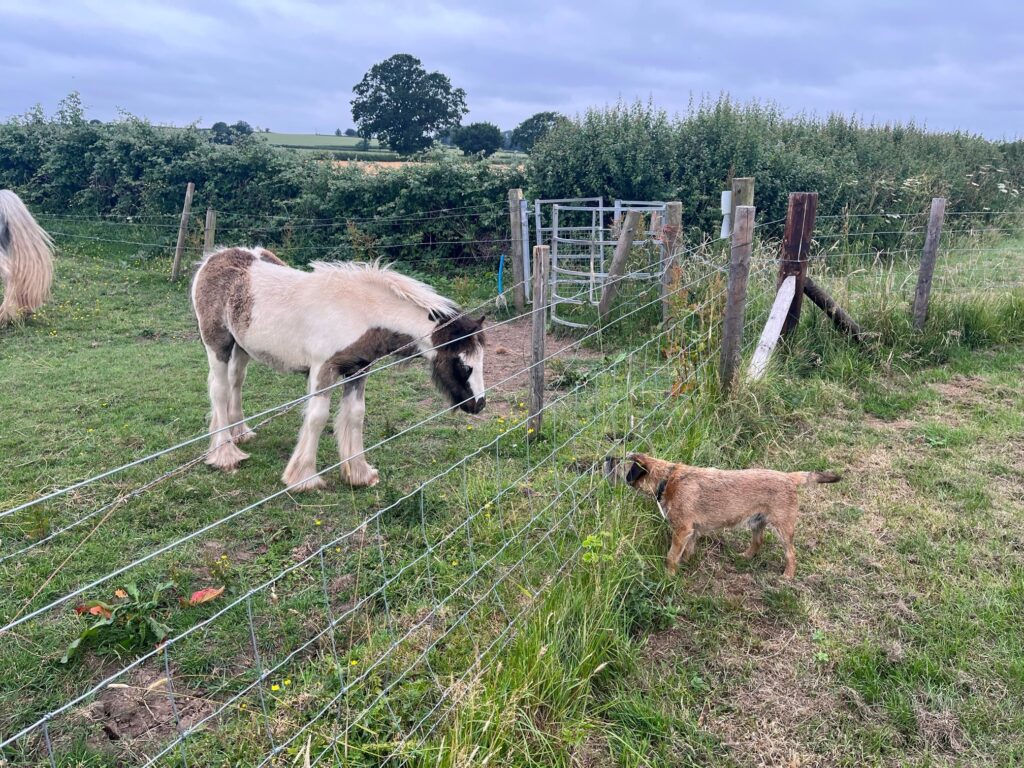 We have found, since we got back and rather annoyingly, that the blower for the air con on the car is not working. Paul had a quick diagnostics check and it's not the fuse, so we have booked it in to a local garage to have look at. And while it's there, it will have it's annual service. One less thing to worry about.
We popped to Rugby again on Friday, mainly to get me some sewing bits and I wanted to familiarise myself with the route so that I can take myself there when we are back here for the winter. Mind you – I'll probably have forgotten by then! And later on Friday we went to the quiz run by the lovely crew of The Village Butty, which is essentially a community space/music venue on a historic butty. And no – it's not a sandwich. In the heyday of canals, boats worked in pairs – one with an engine and one without, They were known as a boat and butty. Anna and Richard propel the vintage butty along with an equally vintage push tug called Lion, built in 1943. They have extended their range a bit since this video was made, but it's such a fab idea.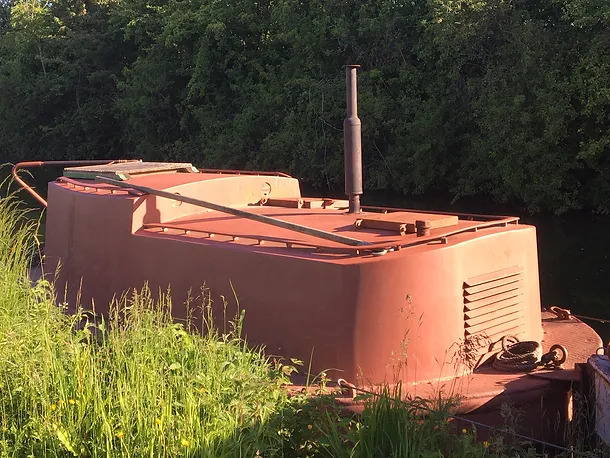 We had a great evening, although it was blowing an absolute hooley! The beer helped and we actually won. Our nearest competitor was a team of 6 people so it was doubly gratifying. Our prize was a round of drinks. Nice! We returned to the boat slightly less steadily than we had left (!) and began the process of thawing out before retiring victorious.
On Saturday, while Paul looked after the boys, I attended the ukulele workshop and had another blast. We learnt 4 chords, which enabled us to play 3 songs. Anna was an extremely good tutor and we were soon strumming confidently. We had the afternoon to practice before our performance that evening. But before we left the seating area, we took advantage of the dog wash. What an excellent resource. A powerful shower with hot water. The boys loved it and now smell like baby talc rather than terrier! Thank you Aquavista/Brinklow, We really appreciate this facility. And so do the boys! We also appreciate the separate pet bedding washing machine. SInce having a dog on a boat is almost de rigeur, I'm sure both will be extremely well used.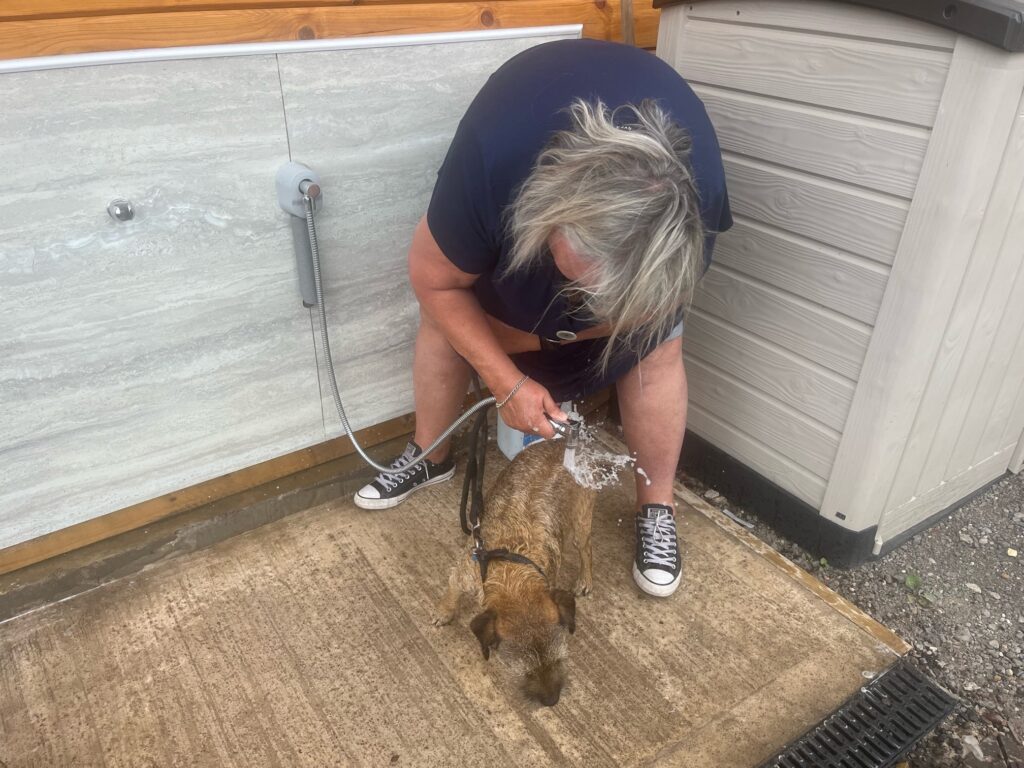 The evening arrived and we gathered to check tuning and then it was time for our performance. We had quite a decent and very appreciative audience and our three songs, led by Anna, went without incident. We gave them You are My Sunshine, Folsome Prison Blues – complete with train whistle – and Blue Suede Shoes. It was such fun to be a part of. And then it was the turn of The Relatives aka Richard and Anna to entertain us. Their self-penned songs, mainly amusing (Deptford to Nunhead) and a heart-string tugging song about losing a dog called Honey really hit the spot. There were opportunities to join in and a good time was had by all. And the whole evening was enhanced by the delicious barbecued food available. All in all a stonking good evening. Again – well done Aquavista/Brinklow. A capital idea all round.
And the wait for Baby Sumpner continues. As I write this, there is about a week and half until the estimated due date, but of course, nobody tells the baby that date and they come when they come. I think it's fairly sure that our little one will have a July birthday, though. Can't wait to see them and hold them in my arms for the first time.
Next week, we have an Ortomarine farewell do, Ortomarine friends Mel and Phil arriving on their boat Hunky Dory, Sue, Paul and darling Lulu the next day and at the weekend, it's the Brinklow Bash. Lots to look forward to!
PS – here is a short video of our performance