18- 25th June – What we're up to at Brinklow
Well, of course, we have stopped movin' – for now. We have arrived on our new berth and are settling in nicely. Just starting to find out where everything is and get acquainted with our new area and with our neighbours.
It feels very odd being tied up at this time of year, right, smack bang in the middle of the cruising season but needs must. We made better time than we thought we would, but we are still glad that we abandoned our earlier plans, because we would have felt a bit under pressure. So – we arrived a little earlier than planned but no matter. And the first thing we noticed about Brinklow is how quiet it is – not that i would have called Droitwich noisy, but there was always the rumble from the M5 in the background and the speedsters on the B4090, which runs alongside the marina. There is a road by this Marina too, but it's more of a lane and seemingly very little used. As I'm writing this, I can hear the chatter of skylarks and not much else!
I thought it was worth showing a map of where we travelled on this half of our summer cruise. We are still mulling over what to do with the latter half of the season. In case you'd like to know how to do this, I wrote an article about it last year. It's here.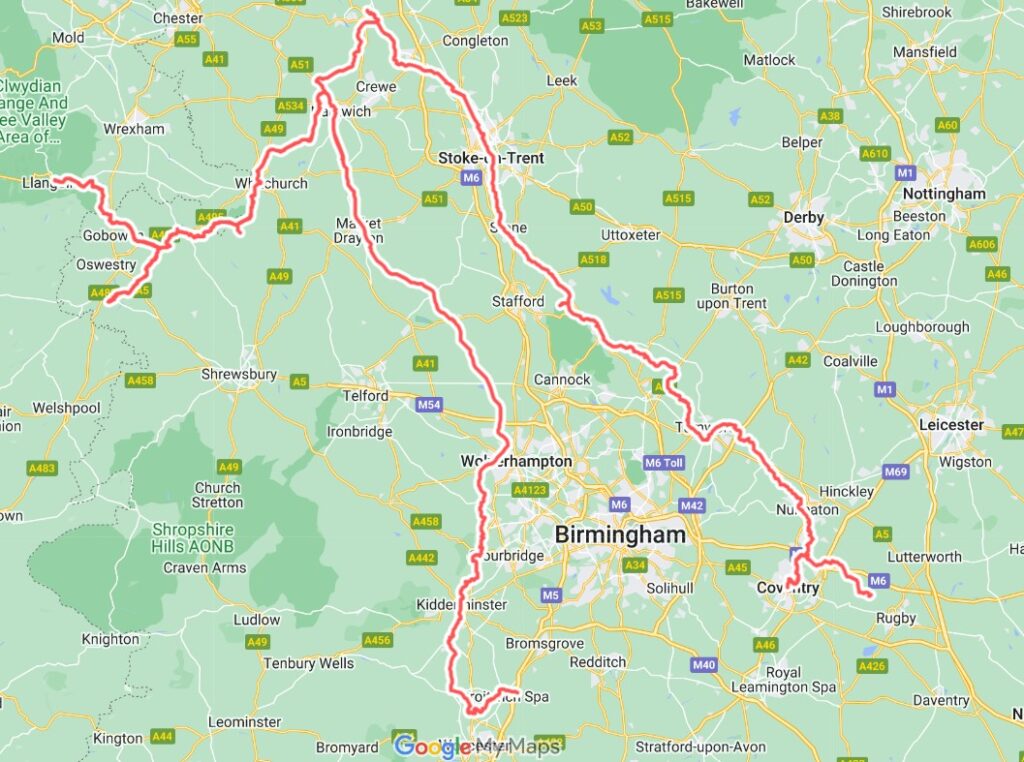 We plan to get a few things sorted while we are here, the first of which is our oven, which is playing up – annoyingly just a little outside the 2 year guarantee period. It's a funny fault – you set the temperature and all looks well and then it suddenly sets itself back to 160 and if you haven't kept a close eye on things, you then have no idea how long or at what temperature the item you are cooking has had. It's really annoying, and seems to be a common fault with Neff ovens, expensive though they are. We have someone coming out to look at it on Monday and it seems, from what I have read, it's the thermostat at fault.
We also have a few rust spots to deal with, so popped out to buy some Red Oxide paint, some sanding paper and other painting accoutrements on Friday. Our nearest town is Rugby, which seems to have everything you might need in one handy retail park. I also popped to Mo's fabrics, a little independent store in town, to buy a couple of bits and pieces for my sewing. It's a fabulous shop – all the fabric is arranged by colour and the owner could not be more helpful. I could have bought the entire shop! We also drove to Draycote Water, to give the boys a walk but no dogs are permitted, which is a shame as it looked lovely. We will have to find other places to go.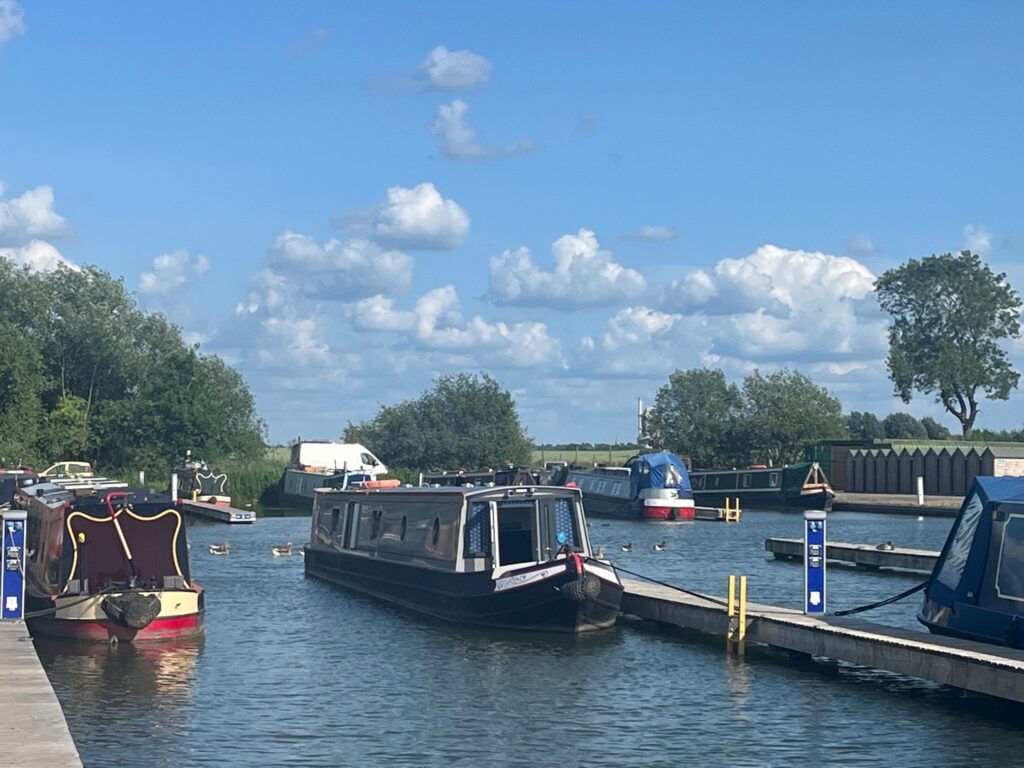 We stopped at Pumpkins Deli in the Village (Brinklow) to pick up some lunch to take back to the boat. We phoned our order in (2 New Yorkers – Pastrami, Dill pickle, Swiss cheese, Coleslaw and Mustard Mayo) and picked it up on the way though – along with some very good-locking Sausage and Caramelised Onion Rolls, for the next day's lunch. And I can report that they tasted as good as they looked – and you'll have to take my word for it as I didn't photograph them! The sandwiches too, were delectable. We'll definitely be back!
There are three pubs (The Raven Inn, The Bull's Head and The White Lion) which we will have to try out, a village store, a Chinese Takeaway and a Chippy, so we won't go thirsty or starve! And there's also a Hairdressers (Salon 79), doctor, pharmacy and even a dressmaker – Sister Susy's Sewing Service .
Brinklow Marina is famous for its sunrises and sunsets and we caught our first sunset on Saturday evening. I also saw a beautiful rosy dawn when I got up for a pee, but i really could not be bothered to grab my phone.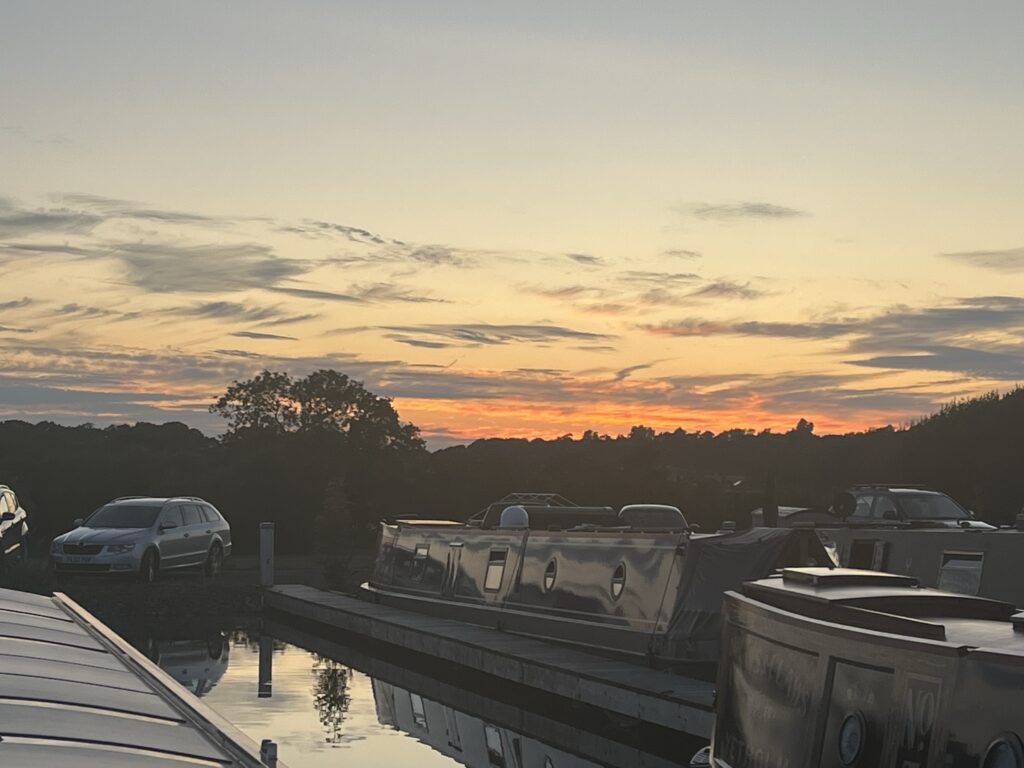 There are quite a few water fowl in the basin, including a big flock (gaggle?) of grey geese of varying ages. I have dubbed them the Brinklow Goose Massive – or BGM for short. I think I'm going to have to dig deep to keep them fed! Those in the video below are not the entire flock!
Next weekend there is an event here at Brinklow to look forward to, with a quiz and hog roast on Friday night, an opportunity to learn three songs on the ukulele on Saturday afternoon, live music on Saturday night, which includes the debut performance of the newly formed Brinklow Ukulele Orchestra. and a barbecue. The music side of things is being taken care of by The Village Butty, which is an Arts Council funded floating music venue, which tours the waterways, doing events like this. . Sounds like my kinda weekend! I shall have to dust off my uke!