14-20th August – a week's holiday with the girls – Fazely to Middlewich
Well, we all woke up clear headed on Monday morning, after our excess of Mojitos the night before. We had a leisurely breakfast and set off in good spirits and in better weather than forecast. As it was Linda's turn to cook the dinner, she busied herself with whipping up a tasty chilli con carne, to allow the full flavours to develop throughout the day. Well – that was the plan.
We were following a dayboat as we approached Streethay Wharf and they lost something off the roof of their boat, which seemed to cause great consternation. We set about helping them to find whatever it was and, in the process of giving assistance, went pretty spectacularly aground. We heeled right over. Linda had literally just stepped away from the hob to go for her shower and the pan containing the freshly cooked steaming hot chilli flew off the glossy surface of the hob, hit the sink unit door and deposited its contents on the mat.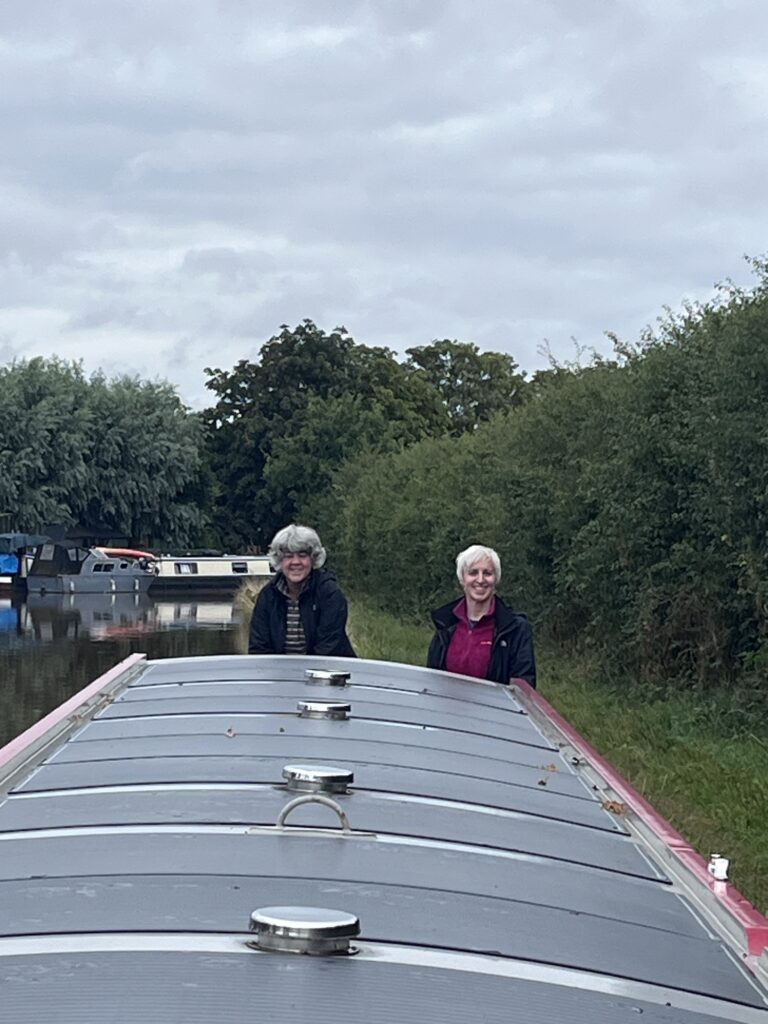 I quickly grabbed the mat – luckily made of polypropylene – and passed it to Paul to dunk in the canal, while Linda employed kitchen roll to mop up the remainder of the spill. The pan had a massive dent and there was probably enough left in the bottom of it for a child's portion. What a calamity! Although it was lucky that Linda had not been standing there or she might have been bathed in freshly cooked Chilli! Shortly after that, we pulled over for our lunch and it was then we spotted the splatters! On the ceiling the walls and windows, but luckily not on the blinds! We sat and directed as Anna expertly dealt with the splatters.
After lunch we popped over to the Wharf to have a look in the shop. Paul came back with some expensive bits of rope for our side fenders and some polish to bring up the paint on the hatch and grab rails, which has gone a bit "flat". And not much change out of £60!!
We carried on cruising, eventually arriving at Fradley Junction and turning left towards Stoke on Trent and Middlewich. After we had polished off the three locks, it was time for that night's cocktails – Pimm's Turbo made with ginger ale. It was the first time we had tried it made with ginger ale and we very much liked it. Slightly less sweet than a conventional Pimm's, made with lemonade. And the Turbo aspect? A jigger of gin per person – just to zhuzh it up a bit!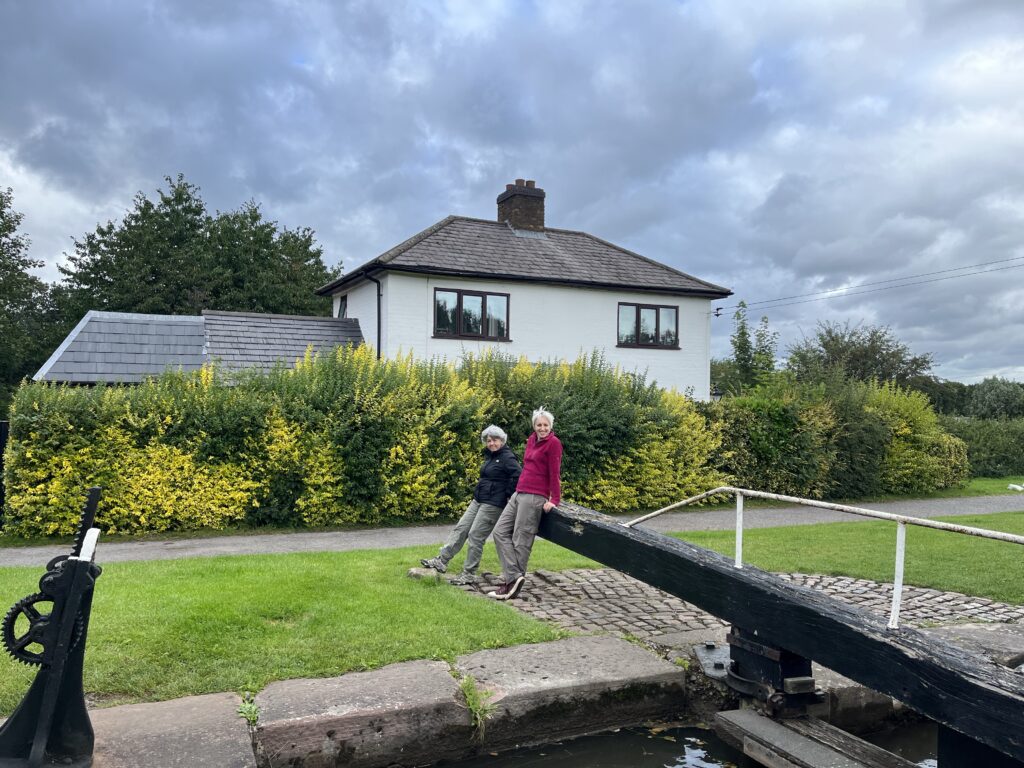 By dinner time, we had arrived at a lovely mooring (views across the countryside and no-one else about) I had devised a rescue plan for the chilli. I keep a couple of cans of Stagg's Chilli con Carne in my stock cupboard, for emergencies. So I added one of these to the Chilli remains, plus a can of beans and we pretended we were on I'm A Celeb, living on rice and beans! Perfect.
The boys had a great time running madly up and down, while we took turns trying to play Dad's bugle, which we keep on board for sentimental reasons. It seems that it's mainly alcohol that brings it out, and he always enjoyed a drink or two, so it 's kinda fitting. It was another early night – this boating lark is pretty tiring! I'm absolutely certain it had nothing to do with the booze!
The next day started very sunny, and we set off after breakfast. We were hoping to make it to Great Haywood to get some water and dump the loo, passing through Handsacre, Armitage and Rugeley and out into the beautiful Staffordshire countryside.
We stopped off in Handsacre and picked up a few supplies, of which the most important was ice for our drinks, and ploughed on, arriving at Great Haywood Junction late afternoon. Sadly, the water point was out of action. Luckily the nice people at the Anglo Welsh hire base said that they were happy to let us fill up the next day for the princely sum of £3.
We reversed off the water point and turned onto the Staffs/Worcs canal, hoping that there would be room for us at lovely Tixall Wide, where we have spent many a happy night. It didn't look too good, to be honest. Lots of boats already in place and then suddenly, we spotted an Old Nick shaped spot on the bank and smartly pulled in, directly opposite the famous gatehouse. How lucky were we?
The daily cocktail was one of my favourites – a frozen Strawberry Daiquiri. You may recall that we keep an ice-crushing blender on board, specifically for the purpose of making frozen cocktails. A frozen Pina Colada is another of my favourites! The Daiquris were very well received, as was our dinner shortly after. The sunset at Tixall never disappoints and tonight was no exception. Another spectacular mooring.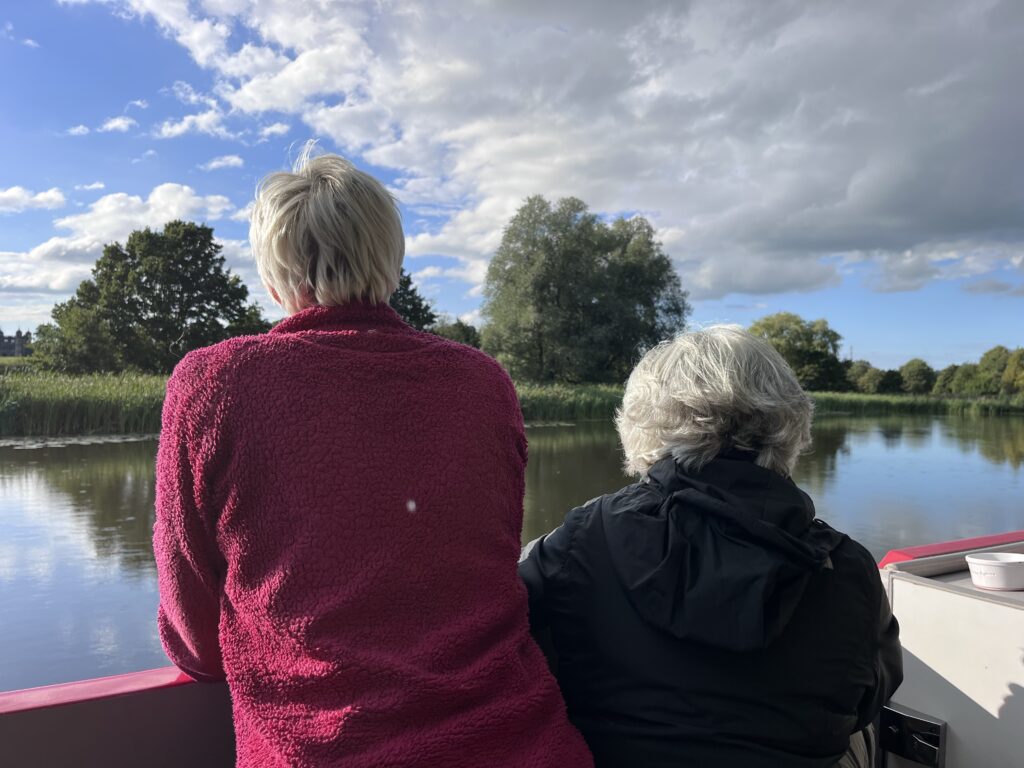 And now some sad news – about 3 or 4 months ago, Linda underwent some quite extensive surgery on her knee. She has been meticulous in obeying her surgeon's instructions and also in doing the exercises prescribed for her, such that her recovery progress has exceeded all expectations. Sadly, the clambering about you need to do on a boat has aggravated her knee and she is in increasing pain. She was also frustrated that she could not jump off the boat and operate locks as she always has.
On Wednesday morning, we sat down and discussed things in a very grown up way and we all decided, for fear of setting her knee recovery back, it was probably best if they curtailed their visit. We were all very disappointed and there were some tears as we had all been looking forward to this week for a long time. Linda had taken a week off from her contract at Chichester Festival Theatre (almost unheard of!), Paul and Anna had also taken a week off, but it just couldn't be helped. And there would be plenty of other times in the years to come. So the die was cast.
Paul and I began to work on a plan and agreed that Aston Marina would be a good place to get a taxi back to Fazeley and we would reach there later that day. We rang and secured a berth for the night and then set off, calling in at Anglo Welsh for our water top-up as we returned to the Trent and Misery.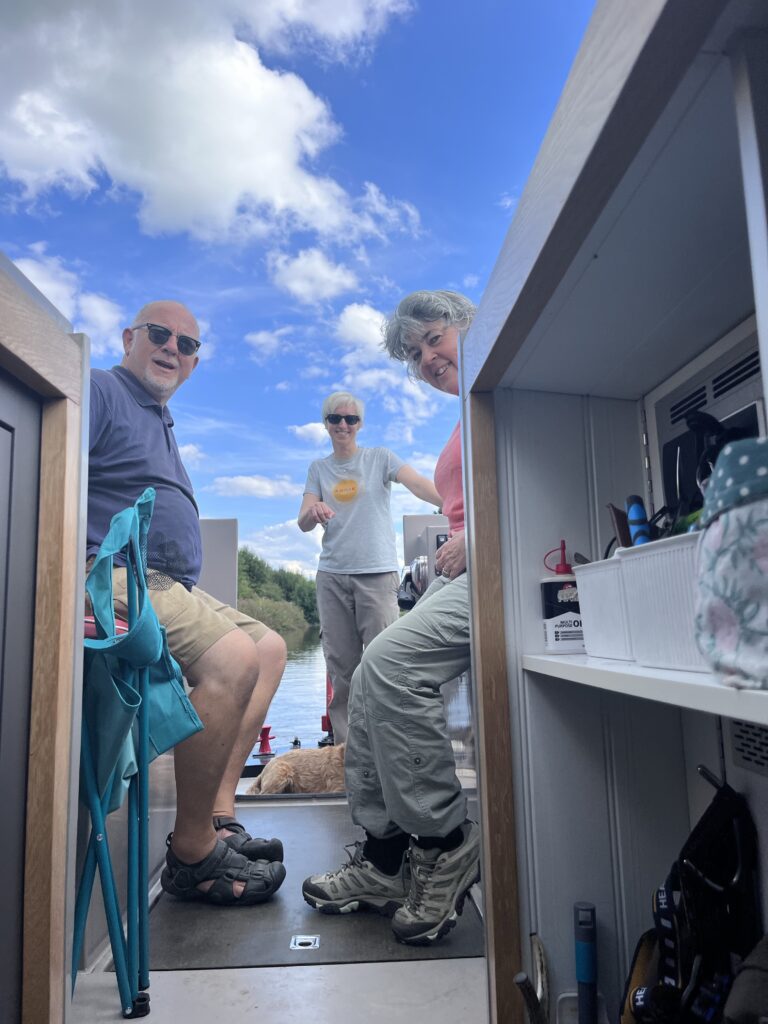 It was a lovely day and we had a few locks to do through Weston, Sandon and Burston, before we arrived at the Marina late afternoon. We found our berth easily and got tied up and hooked up and showered. We decided to scrub round that evening's dinner (a curry, which I had made at lunchtime) and have an impromptu birthday celebration at Number 26 – the onsite bar/restaurant. The curry would keep and it would cheer us all up a bit to be celebrating Linda's birthday together, as planned. Not long after we had tied up, Anna shouted to us all to come outside and we were happy to see that an air balloon was being inflated next to the Marina and that we would have a grandstand view of take off! How wonderful. I've never forgotten my flight in one for my 40th birthday.
The girls and Paul popped over to the bar for what my Dad would have called "a swift half" and book a table, while I showered and then we mixed some Margaritas and chucked a few of those down our necks before heading out to eat. We had to eat outside with the dogs and it was a bit chilly but we had dressed accordingly.
We girls all went for steaks and Paul went for the Venison Pie – a proper pie – not one of those flipping awful dishes with a puff pastry lid that masquerade as pies in so many places. And while we were waiting for our food, three chaps flying paragliders flew over and did a quick stop in the field next to the pub before taking off again. How lucky were we?
They very helpfully created a diversion, which allowed Paul to slip into the pub with a birthday cake for Linda. The steaks were excellent – nicest I've had for a while – perfectly seasoned and cooked just right. After a short break, we gave the signal for the waiting staff to bring the cake out and they also provided a Happy Birthday plate. We also gave Linda her present and sang Happy Birthday. All in all , it was a nice evening and cheered us all up a bit.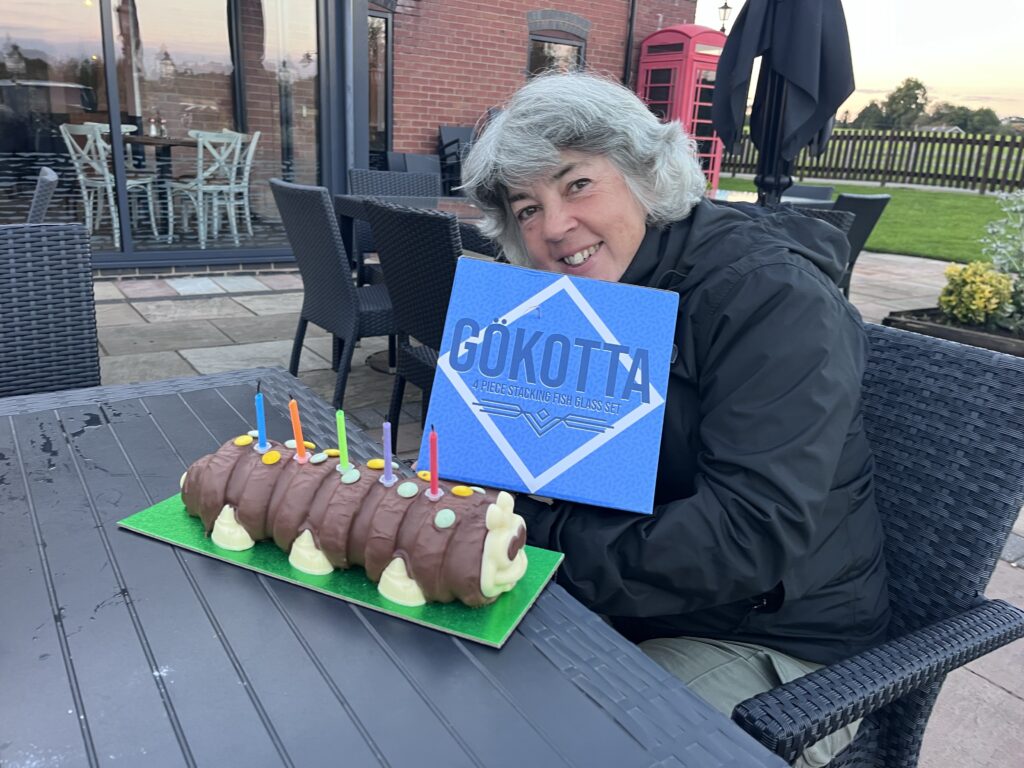 The girls had booked a taxi for 10am so we had breakfast and they finished packing while we got the boat ready for the off. Paul helped them out with all their gear, we said our farewells and they were off. A sad moment, but all for the best.
We worked our way through the locks up through Stone and beyond. We needed to be in Barlaston to get to the pharmacy (Kitson's) there on Friday morning. We encountered a bunch of very lovely ladies, out on a hire boat for the very first time. They were attempting to wind but A) it was very windy and B) they had gone into the winding hole stern first. They were very flustered but finally managed it, too many cheers and whoops!
We encountered some low pounds (10/12″ down) at the the top of the Stone flight and going up the Meaford flight, which I reported to CRT. And then we met a couple of CRT employees at the penultimate Meaford Lock, who explained that there was a problem with one of the paddles, caused by a boater, they said. We presumed that this was the cause of the low pounds.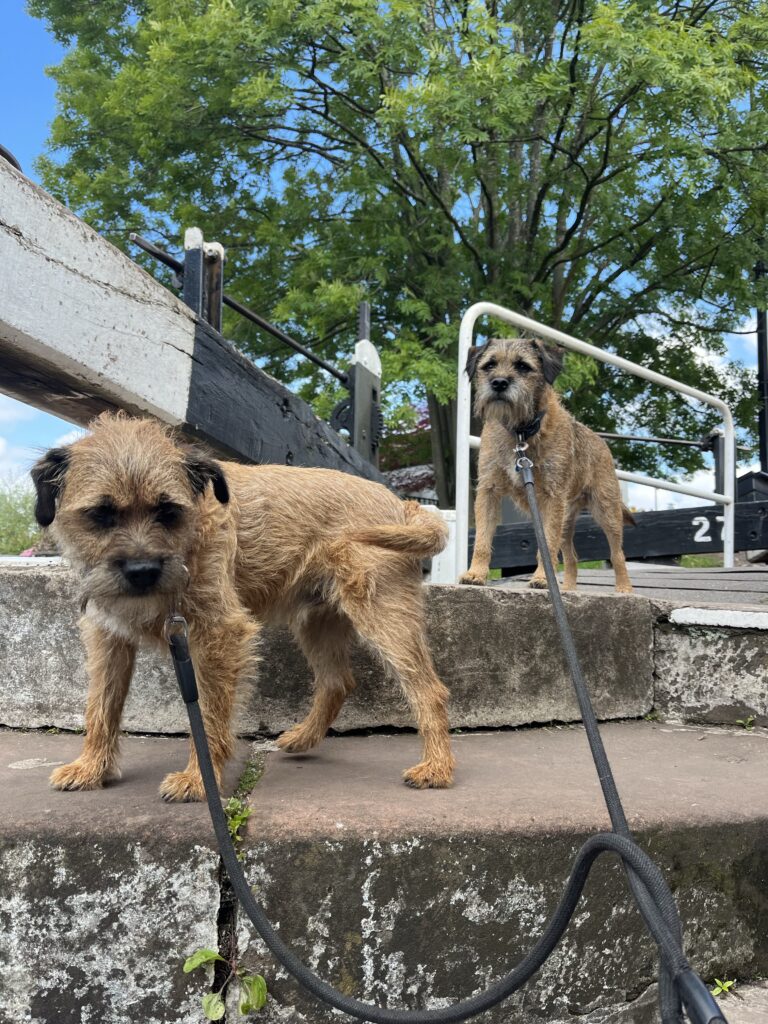 We moored in our lovely spot just below Barlaston village, horses one side, cows and geese galore the other. And it was just a short cycle ride back into Barlaston to pick up our meds. It's a lovely spot and the towpath is very well-used by everyone from proud Mums and Dads with prams to cyclists, presumably practicing for the Tour de France, judging by their speed!
It was forecast to be rainy the next day and Paul cycled off in his rain cape to get the meds while I readied the boat for the off. The chemist – Kitson's in Barlaston gave excellent service. We have learnt that it is worth phoning ahead, to check all is well, before rocking up, expecting everything to be there and being disappointed.
We both sat outside under the brolley, wondering why on God's good earth we were boating in the rain. The reason is that we need to get somewhere! We wanted to get through Stoke on Trent – never a place to linger – and out into the country past Kidsgrove by the end of today.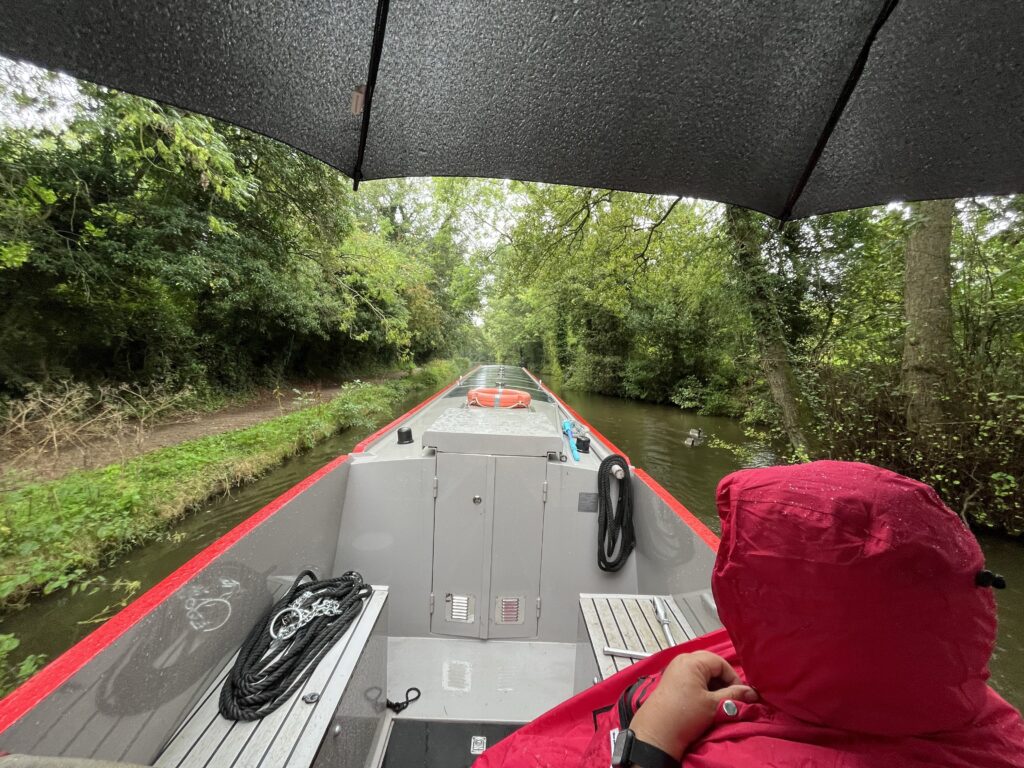 We decided we would cruise with the genny on so that we could go a little faster than the speed at which we usually prefer to cruise – averaging just under 2mph. We had to get through the 6 locks up to the summit at Etruria Junction, where the Caldon Canal branches off and then all through Hanley and Burslem, past Westport Lake and along to the Southern Portal of the Harecastle Tunnel. By 3 pm. Luckily, the rain petered out at about 11:30 and the rest of the day was dry.
We arrived at the tunnel with about 3/4 hour to spare, watered, and eventually set off in convoy with another couple of boats into the dark. 50 or so minutes later, we were ejected into the outskirts of Kidsgrove. We stopped here for a quick pop to the very handily placed LIDL, where I bought a packet of fish fingers, some biscuits, some Frikadellen, a cement mixer, a paddling pool and and two drills. That'd see us through the next week!
We then knocked off 6 of the Heartbreak Hill locks, mooring out in the countryside as planned. A nice mooring, it was, where the ever-present railway line has briefly veered away from the canal. And back came the rain. We were glad to be inside in the dry. We had planned a barbecue with Linda and Anna but had not had it by the time they went home. We therefore had an indoor version, with food cooked in the oven. Not at all the same or as much fun.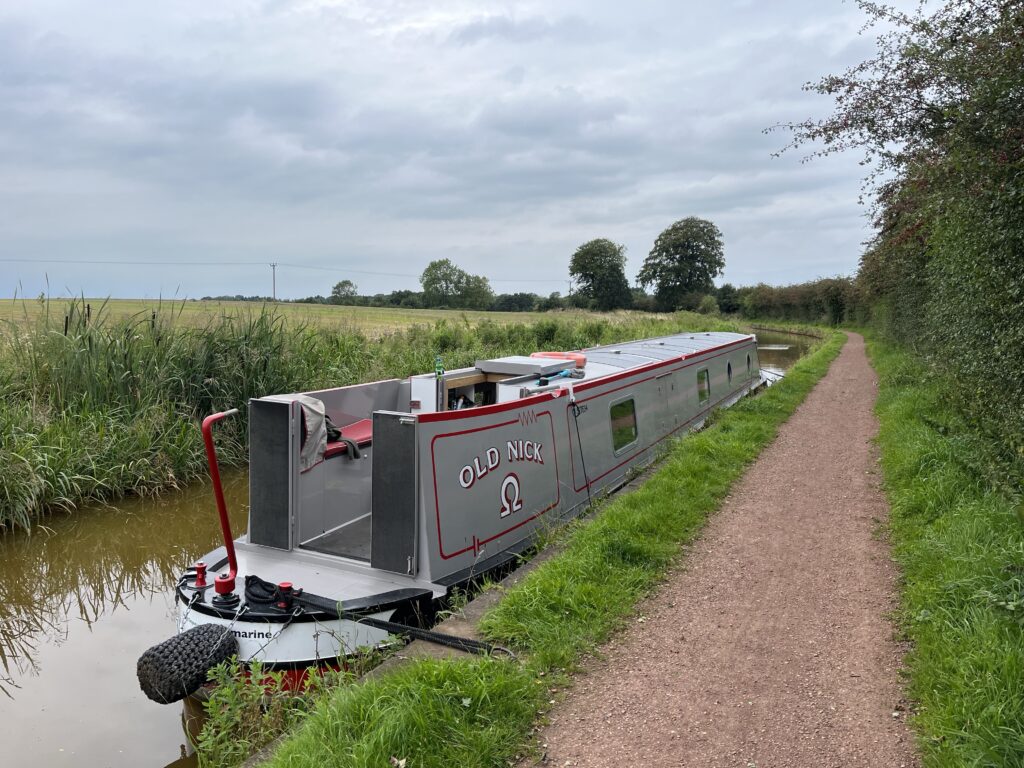 Saturday was much better weather wise and I set off on the bike to get the next lock ready. I had just opened the first paddle when Ted fell in and I had to run back across the lock to oik him out. He came up covered in reeds and cut grass! But no harm done. There are, you may recall, 31 locks in the Heartbreak Hill flight and we were determined to smash our way (not literally) through a good chunk of the remaining 25 today, stopping only for lunch (left over BBQ and home made potato salad).
We picked up some kids (with their Mum's permission of course!) and gave them a lift through the last couple of locks leading down to Wheelock. They were very excited and, I think, it made their day. Neither of them had ever been on a narrowboat before. After a couple of locks, we returned them to their Mum and waved them all farewell and then finally pulled over between Wheelock and Ettiley Heath. 20 locks. Boom! That left us with the remaining 5 locks of Heartbreak Hill to do plus the 3 in Middlewich and the Big Lock. A much more manageable day after the last couple of days.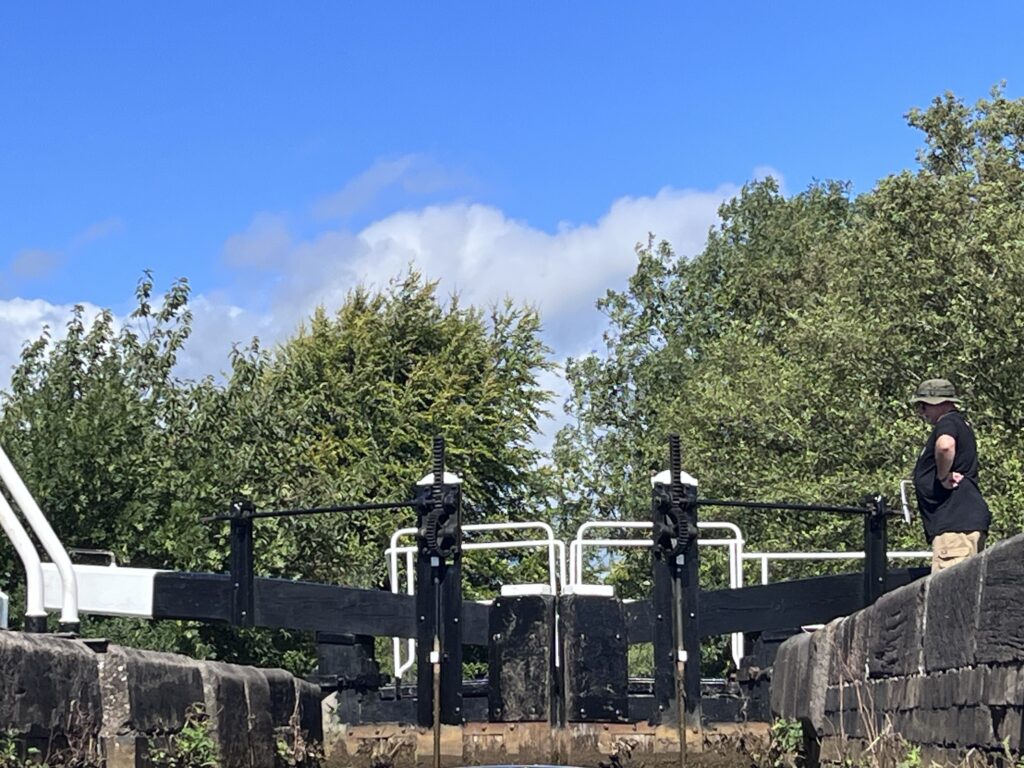 Sunday was a lovely day, although we awoke to find ourselves surrounded by the start of a fishing competition! Anglers to the left of us, anglers to the right! And that competition went on for miles. It was apparently a doubles match and the anglers nearest us were pretty grumpy about the distance they had been made to walk with all their gear. We heard one on the phone complaining loudly to someone. It made us chuckle.There were a lot of questions about Old Nick as we went by and we managed to slay a few myths about electric narrowboats. But it was a long, slow old drag past them all. One of the joys of Sunday mornings on the canal.
The pounds were down again on the stretch after Ettiley Heath and one boat ahead of us went quite badly aground. Paul had to help them get off, meanwhile I had to stay in the centre of the cut in a very stiff breeze. No mean feat!
We stopped for a quick bite of lunch (Sushi – yum!) and then entered the final lock – Kings Lock. There we met a couple who said "Oooh! It's Old Nick". It turned out that they had a very similarly Vetus-specced boat to ours (N/B Tethys) and had been referred to our website for technical info. It was really nice to meet them and we had a good chat before finally locking down the last lock on Heartbreak HIll.
Next on the agenda were the narrow locks down through Middlewich – these took quite a while for one reason or another – none of which were down to us. We stopped at the water point and while I was watering, Paul nipped to Tescos to pick up some essentials (milk mainly). After that we made our way down to the Big Lock, passing Dad's bench – for once not obscured by another boat – and then passing through the lock. We hoped to find a space where we had moored earlier in the summer, near and struck lucky. No neighbours and a delightful spot. A longer week in terms of distance than we originally expected, but after the girls went home, we really went for it!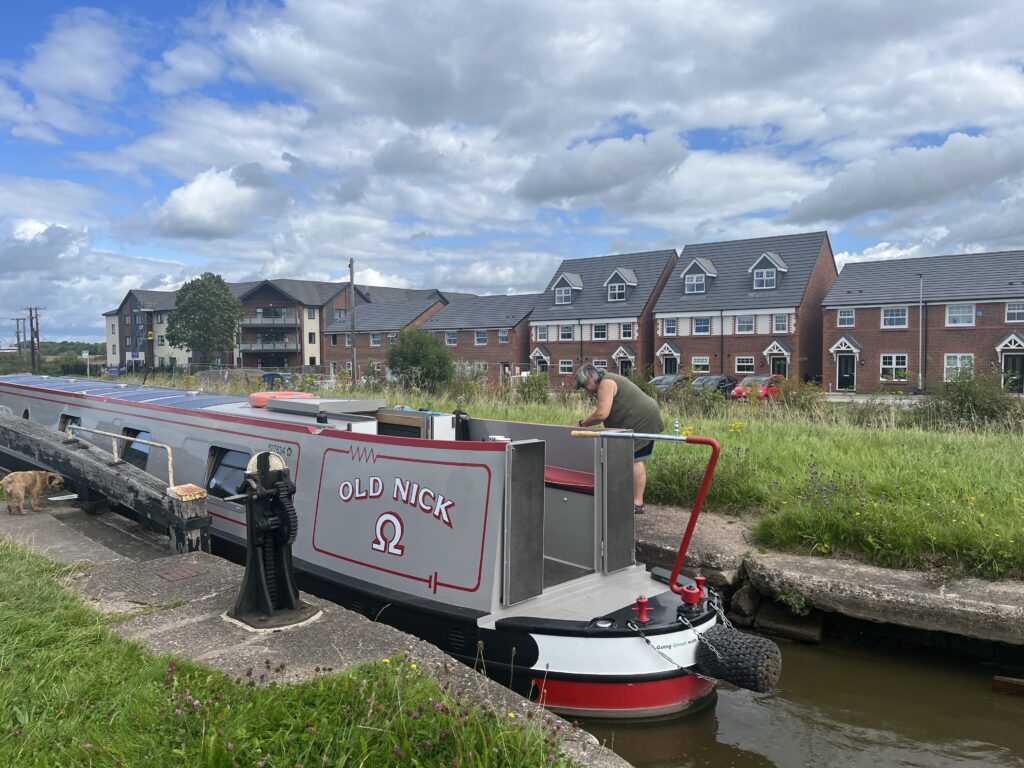 In the coming week, we will be joined on board by Bruce and Lenny. Really looking forward to seeing them. And – I'm saying this very quietly, so as not to tempt fate – we hope to take our first descent on the Anderton Lift, to spend a week on the River Weaver Navigation – another first for us. Please pray it doesn't break!
| | |
| --- | --- |
| Miles | Locks |
| THIS LEG | |
| 62 | 58 |
| TOTAL 2023 | |
| 425 | 292 |