7th to 13th August – heading North again
We waved my brother Bruce off in an Uber after breakfast and set off towards Fazeley Junction, where the Coventry Canal meets the Birmingham and Fazeley Canal. at a T Junction. We planned to turn onto the B&F and go up to the lovely RSPB Middleton Lakes Nature Reserve, where we had stayed a couple of nights last year on our way out of Birmingham.
It was one of those days where the weather changes in an instant – one minute you're boiling hot and have to take a layer off, then the sun disappears and it's distinctly chilly, so you need to put it back on again. On repeat. It's a nice mix of rural and suburban canal and it made a change to be heading North – the last couple of times we had cruised this stretch we had been heading South.
We had just finished our lunch when we arrived on the outskirts of Tamworth, to find a queue of boats, all waiting to get through the two Glascote Locks. I noted the time – 13.30 – and we pulled over. The word on the street was that the wait was caused by the number of boats that had attended the Historic Boat Gathering festival at Alvecote over the weekend. I guess they are either making their way home or heading up to Birmingham, where there is an event this weekend to highlight the funding required to keep our wonderful canals alive and properly maintained. This issue was already a concern but fears have recently been heightened by the Government cutting support to CRT. The spectre of cuts in maintenance, potentially leading to decline and even closure of some waterways is very real. Sadly, we cannot take part on this important event as we have friends coming, but will do our best to support the campaign in other ways. We'd really appreciate it if you could sign the Petition, if you have a moment. It can be found by clicking on the link here.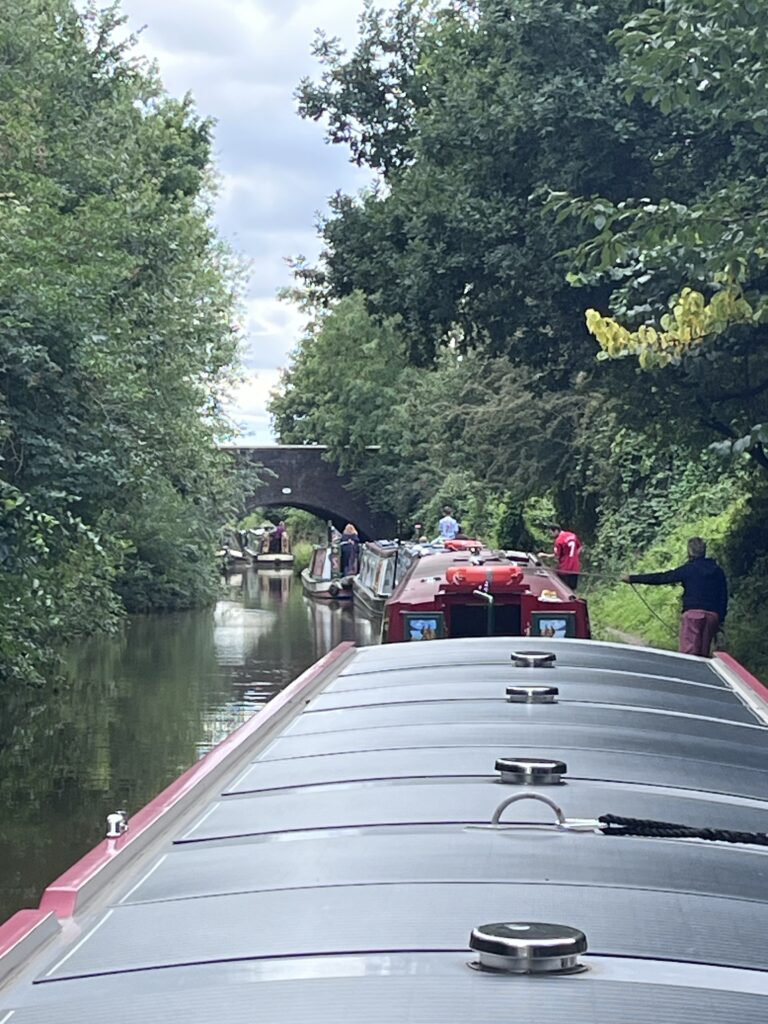 It took us two and a half hours to get through the locks, which really put a dent in our cruising time for the day., but we did manage to turn onto the B&F. The B&F is adjacent to the busy A4091, which is quite noisy. It does veer away from the canal after a while and we pulled over on a stretch of Armco shortly after. I woke up in the night and it was pretty much silent and we'd probably stay in this spot again, if we had to. There was a lovely sunset and I could not resist a couple of shots. I'm a sucker for a sunset!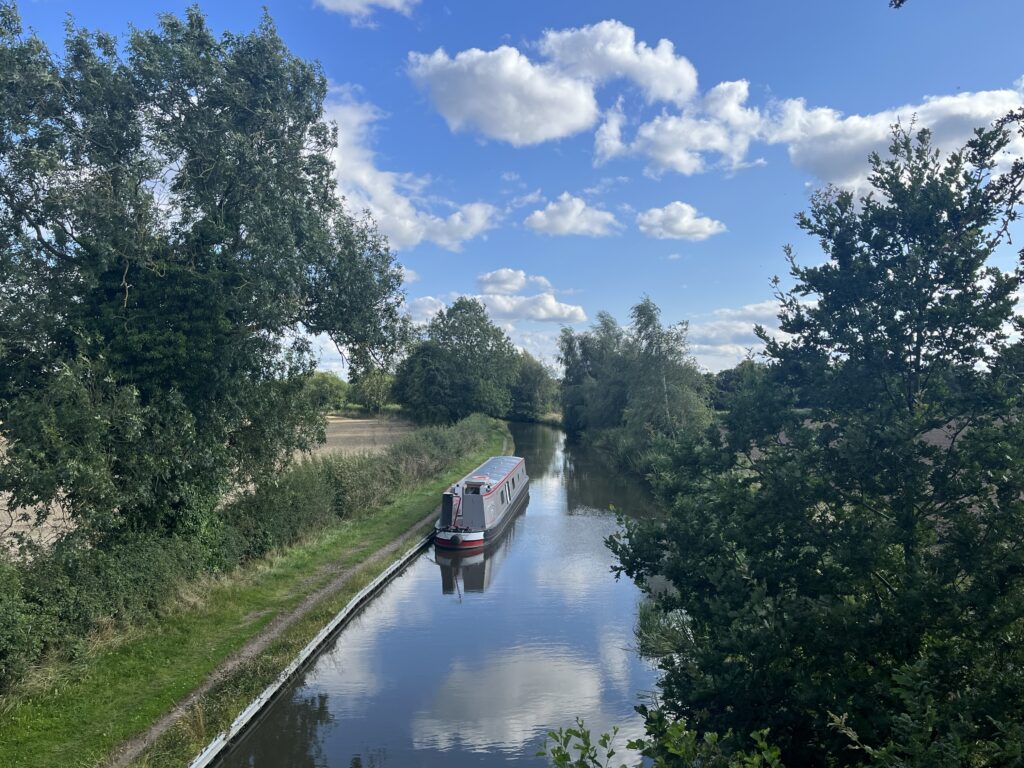 We stayed where we were on Tuesday night but on Wednesday, I took us along to the foot of the first lock of the 38 locks on this canal, Curdworth bottom lock. The winding hole there is not physically marked but it's pretty obvious when you get there. There is a tree growing out into the winding hole, which makes winding a bit trickier then it need be. If we'd had time, we'd have got the loppers out to make it easier for others, but Paul was working so it was not possible.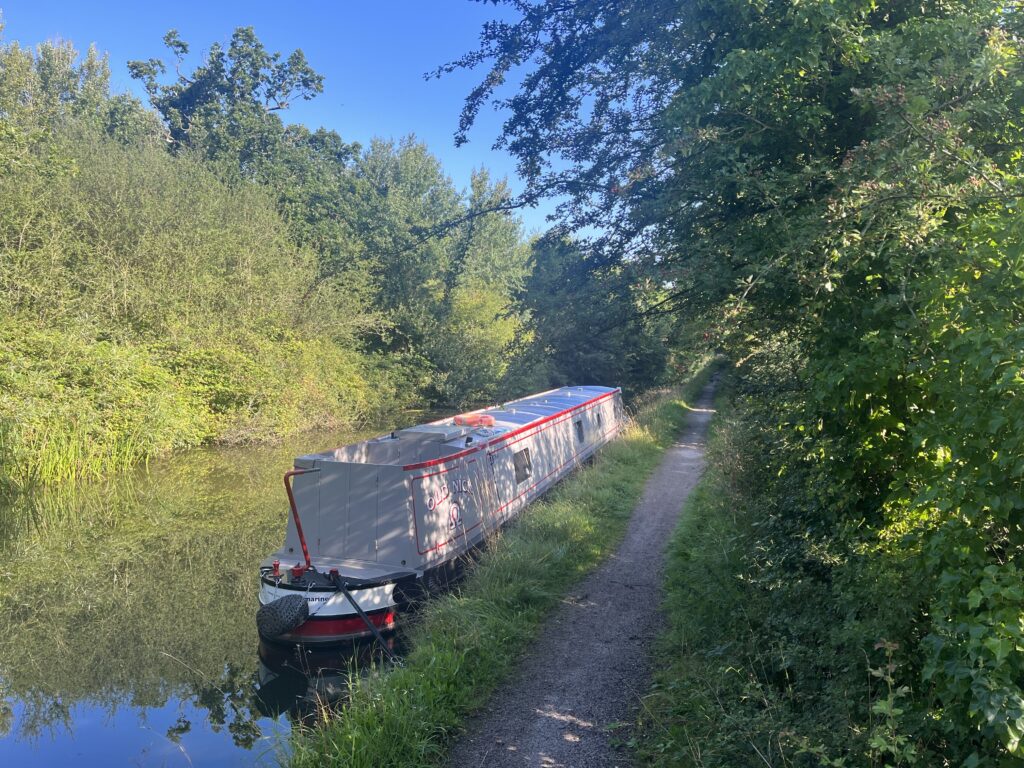 I had noted on the way down that the spot we fancied had several boats on it, so we decided to moor elsewhere. We chose a wooded stretch, which we reckoned would be quiet enough and it was not so overgrown that there was no sky. It was a hot and sunny day for once and we had to employ the fan for the first time for ages.
Whether it was the location, or whether it was the unusual heat, the biters came out in force on Wednesday evening, despite using Jungle Formula Max strength insect repellent. We spent Thursday using our Bite Away pen on our myriad bites! In case you've never come across one, it is a device that uses heat to alleviate the itching caused by bites. No nasty chemicals required. And it seems to work. You place it on the bite, press the button and it heats up. It gets pretty hot and just when you think you can't bear the heat, it switches off. If the site is still itchy, you can reapply it until the itching stops.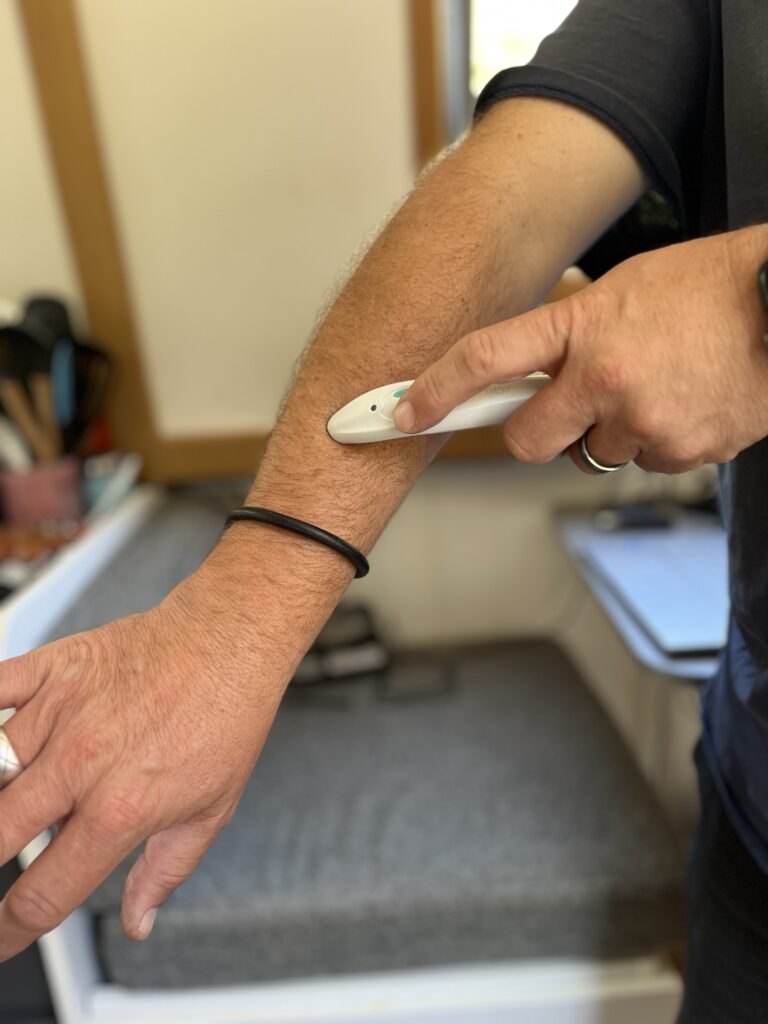 And it's time for an oven update! I got a text to say that my part had arrived. They can't fit it this week and we'll be on the move from Sunday, so it will be very difficult to agree a time and place. We agreed to wait until we are back at Brinklow in October. I'll have to live with the stupid fault until then. Deep joy!
I have started work on a new crochet project, although I don't yet know exactly what it's going to be! I'm just doing loads of squares and then we'll see! Here is the pile so far. 28 squares in toning colours.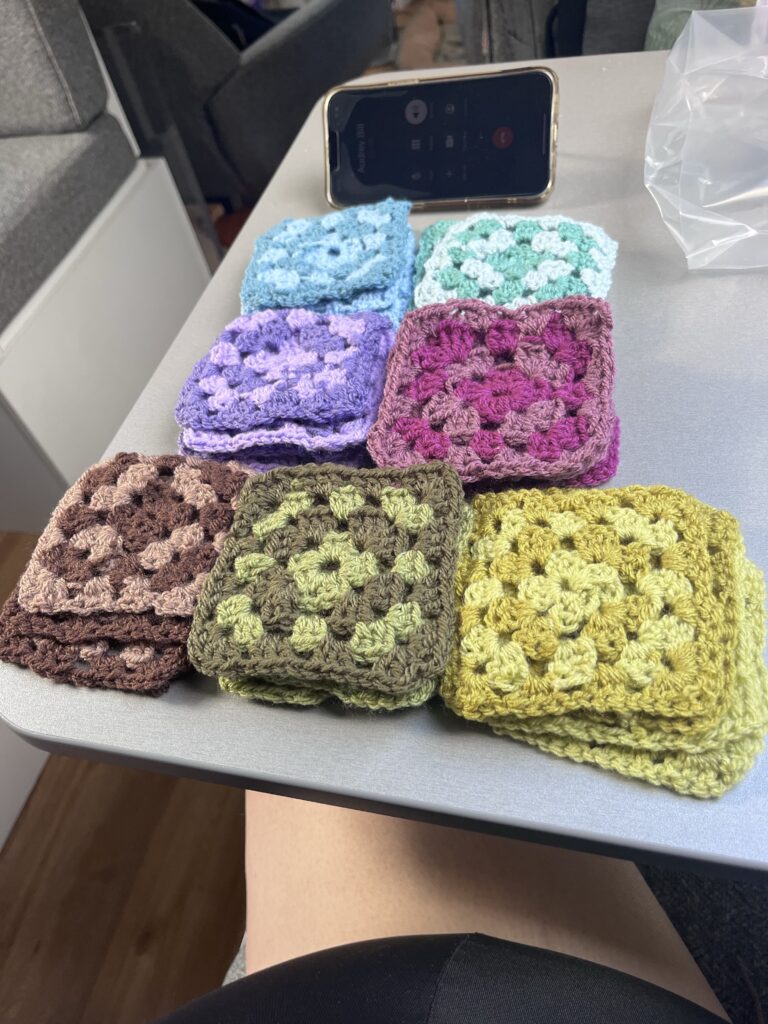 We had a notably less bitey night on Thursday, but the itching kept me awake a bit. I'd stupidly left the Bite Bonger in the main cabin. Laziness (or perhaps the reluctance to get vertical and walk about, thus making me fully awake) triumphed over the itch until the early hours. Oh the sweet blessed relief when I finally did apply it though!
We had a slow start and I did a load of washing and pottered in the kitchen while Paul finally found the time and the right weather to properly attend to the painting of the side doors, after their repair. A good job jobbed. And as were were thinking of casting off, along came Neil and Linda on Eau de Folles – fellow Ortomariners. They were on their way to the rally in Birmingham but pulled over for a quick catch-up. Lovely to see them. I didn't envy them the climb up to Birmingham in this heat – although they have press-ganged some volunteers to assist. Smart move!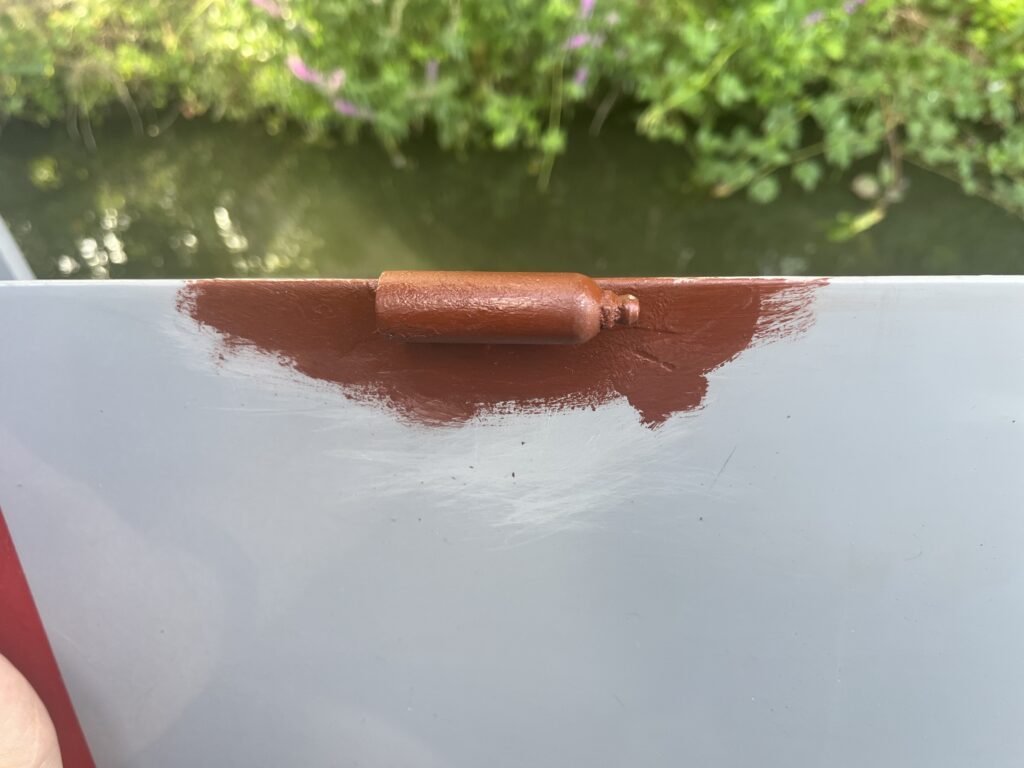 Once the second coat of red oxide was more or less dry, we unhitched and set off for the short trip back to Fazeley Mill Marina, where we had stayed last July. We were staying a couple of nights and meeting friends Linda and Anna there. And the Marina had agreed that they could leave their car there.
We arrived and went to our allotted spot. Right under some Oak and Beech trees, so all the cleaning we did of the well deck, roof and rear deck is now covered in acorns, beech mast and leaves! Grr! So irritating, but that's boat life!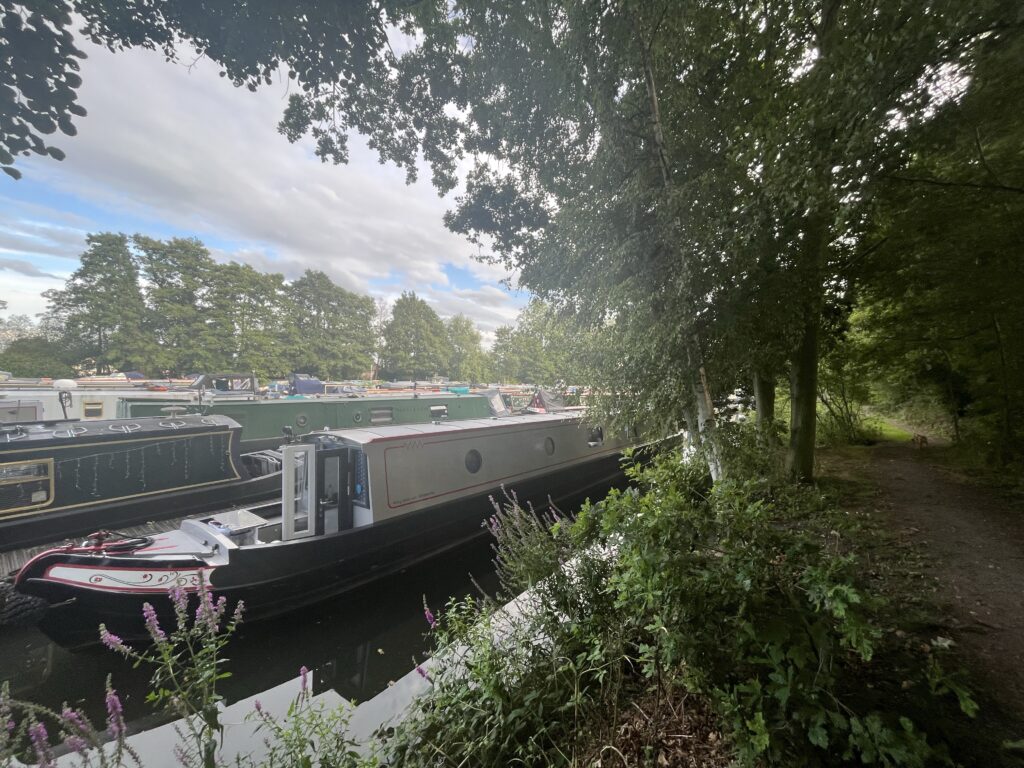 We spent most of Saturday cleaning, sprucing, making bread and a cake and generally getting ready for our next set of guests. It's their first visit together, although we have had several boating holidays with them in the past and Linda spent a few days with us the year before last. The plan is to celebrate Anna's 50th and our being together on holiday (Paul has a week off) by having a different cocktail every night. We'll see how that turns out, eh?!
Our guests arrived at just after 1:30pm on Sunday, so we had lunch before setting off, up to Fazeley Junction and turning back on the Coventry towards Fradley Junction. It was a pleasant afternoon and evening and we had a jolly good catch up. We pulled over aboy 5:30pm at a nice spot, with a towpath wide enough for a fire pit. Time to test out our new flat-packable Fire pit!
Paul got all the bits for the fire pit, including fire starters (non chemical of course) and kindling and put it together. It's a very simple job and we soon had it lit. While all this was going on, I was duty barman. The Beverage du Jour was Mojito. My first mistake was forgetting to buy Soda Water. Luckily, we had a bottle of Belvoir Farm Lime and Soda, which was perfect for the job The first drink slipped down very well and it was very soon time to make the next – this time using a Belvoir Farm Cucumber and Mint Presse. Different characteristics but equally quaffable. By the time we got to the last round the recipe had gone out of the window and it was a case a sloshing a bit of everything and topping up with San Pellegrino Mineral Water. Necessity is the Mother of invention, eh? We had a great evening, with much laughter and silliness and were all tucked up in bed by 10pm. Nuff said! I had a large drink of water before bed – just to be on the safe side!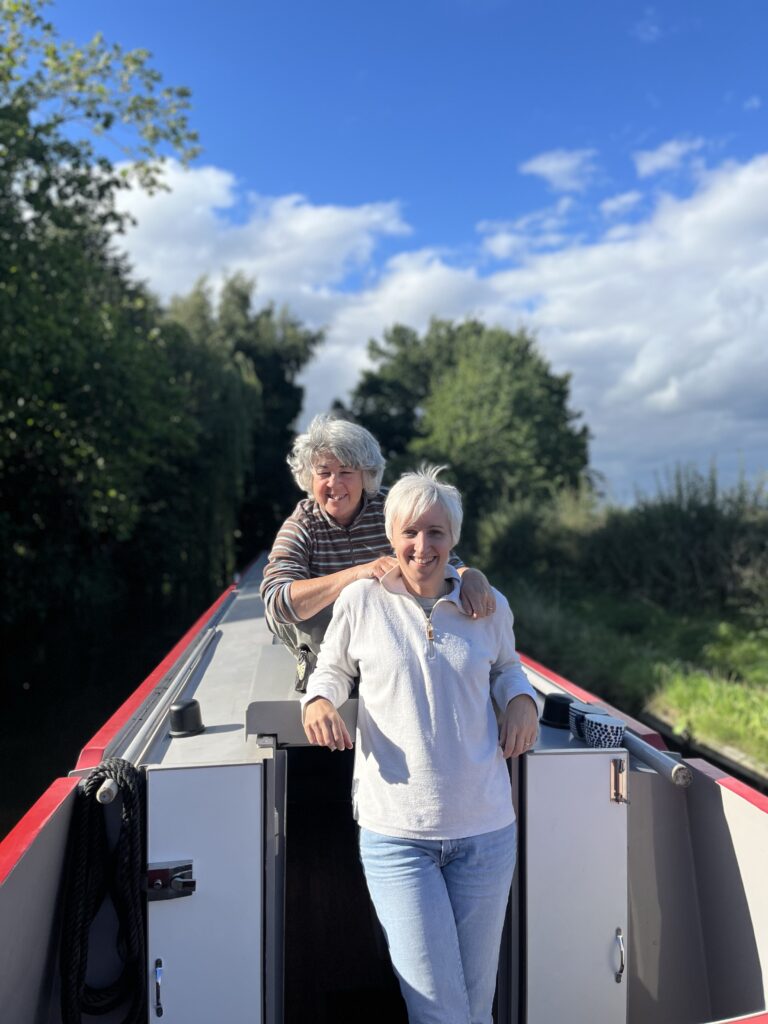 Our plan for the coming week is to head up the Trent and Mersey towards Middlewich – the weather looks mixed and how far we get will partly be dictated by that. I won der which cocktail it will be tonight? Hic!