Once we had decided to "go electric", the single biggest and most difficult decision was which batteries to choose. I like to think of myself as pretty technical but the breadth of technologies, suppliers, models and conflicting information, really surprised me and it was a struggle to understand the pros and cons of each technology and which would be the most suitable for an electric serial hybrid.
Most electric engines for pleasure and smaller work boats are now 48v, which is a high enough (but still safe) voltage to generate the kilowatts of power required, without having such high currents that you need cables the size of your arm to supply them.
The only real, recent point of reference I could find, were articles on NB "Shine", which was a serial hybrid, built in 2019 that had a 10KW engine, 6KVA generator and a 48v 600 ampere hour (Ah), Lead Carbon battery bank. In particular, it was the article published in Waterways World, when they cruised from Teddington down the Thames to Limehouse and arrived with 55% battery capacity left, that really gave me a benchmark of what I needed to achieve for "Old Nick". It was also the first proof that an electric serial hybrid would allow us to do a hard days cruising without completely flattening the battery bank.
I must admit, that this was the first time I had heard of Lead Carbon batteries and so I started doing further research. On the various boat electric forums, I found a few mentions of Lead Carbons, but nothing particularly positive and all of the focus seemed to be on either;
The cheapest Lead Acid batteries (ideally from Halfords for convenience and good returns policy)
Wet cell T105 type "Trojan" batteries
Lithium LiFepo4 batteries, which seemed to be perfect, except the price!
I had to remind myself that the vast majority of people on the forums, were selecting 12v or 24v batteries for domestic (or starter) use and so the criteria for their choice was different to mine.
I started chatting to Phil Brooke-Little who is both a 12v expert, an administrator of the Facebook 12v Boating Group and one of the most patient and helpful people you will meet online. He agreed that the claims about Lead Carbon performance, appeared to be very good, but that there was a distinct lack of objective test data to back up the claims and so he struggled to recommend them. On hearing my plans, he wished me luck and looked forward to me providing some real life data.
In search of more evidence, I had a long chat with Rob at Ortomarine, and he confirmed that they had good experience of Lead Carbons on "Adventure" an all electric trip boat, they had recently built. Hearing that Ortomarine, had already installed Lead Carbons, definitely helped boost my confidence and I started looking at the LRC2-1000 batteries that Ortomarine had fitted.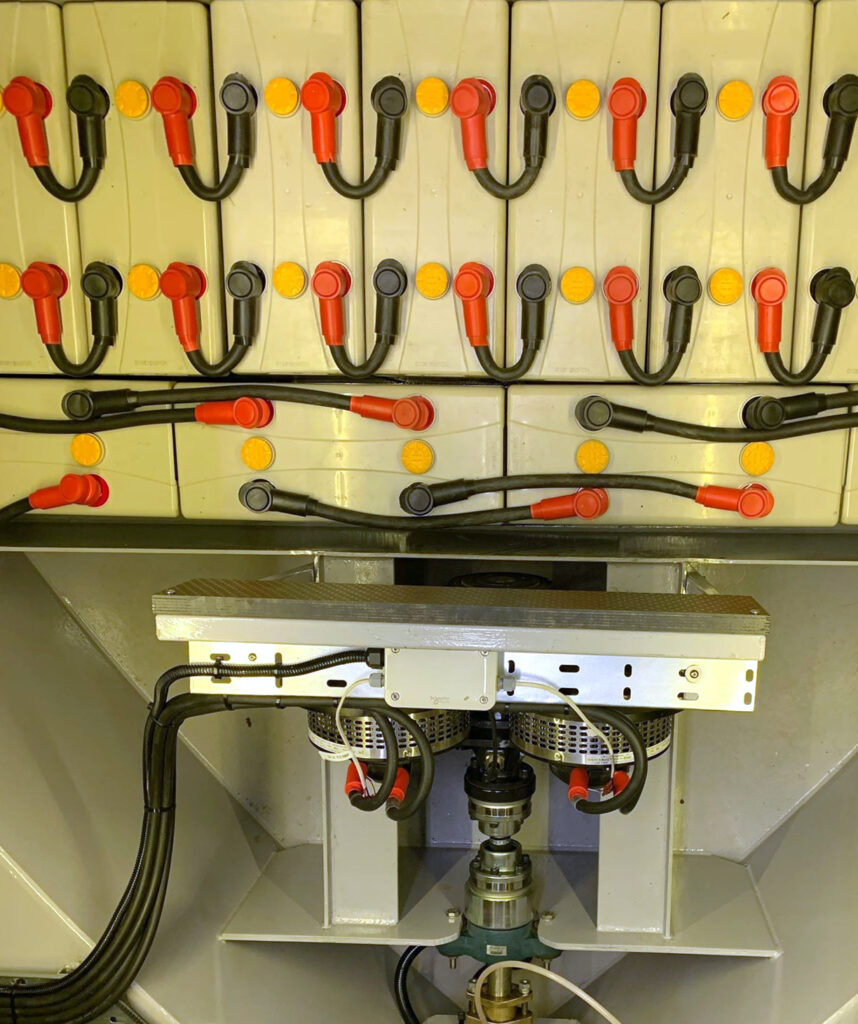 It was at this point in the investigation, that I made contact with DBS Leoch the UK distributor of LRC2-1000 batteries and was introduced to Stuart James, who knows a thing or two about batteries and also electric narrowboats, being the Chairman of the Electric Boat Association. We had a really good discussion about the pros and cons of different battery technologies and this conversation was the catalyst for me putting together the following comparison table of battery technologies.

The above table has, what I consider to be, the main selection criteria for batteries to use for electric propulsion. As I mentioned earlier, if I was choosing domestic batteries or starter batteries, I would be looking at different battery features, but for electric propulsion we need:
A minimum of 48v and 600Ah
Batteries that can be used all year round
A regular "Depth of Discharge" (DOD) of 50%
Life cycle of 3000 or more discharges
Zero maintenance
Non-vertical mounting option for flexible use of space
Survives regular Partial State of Charge (PSOC)
Will not completely blow my budget

Based on these requirements, there were really only two options; Lead Carbon or Lithium (LiFepo4). If money had been no object, then Lithium would probably have won the day, although I do have concerns that:
Each Lithium battery has its own Battery Monitor System (BMS) inside, any one of which could fail
Some sources say it is better not to fit Lithiums in series, but rather buy 48v Lithium batteries (which are more expensive)
Some popular Lithium batteries state they should not be charged below 5ºC, making their winter use on UK canals a potential problem

In reality, my budget is not unlimited and deciding to "go electric" had already stretched it to the max, so economies had to be made. Lead Carbon ticked most of the boxes and, aside from depth of discharge and speed of recharge, matched Lithium in most areas. They are heavier, but weight is not such an issue on a narrowboat as it would be in, say, a sailing yacht and with the cost of a good LiFepo4 setup being about three times dearer, there really was no doubt in my mind that Lead Carbons were the best choice for "Old Nick".
Studying the Leoch catalogue, it became clear that there were two ranges of 2v Lead Carbons; the LRC2 range that Ortomarine had previously used and a cheaper LC2 range that were lighter (about 12KG per battery) and had about 25% less cycle life (3000 compared to 4000 at 60% DOD). I reckon we will probably do no more that 300 days cruising a year and it will be pretty rare that we get as low as 60% DOD, so by my estimations, we should get a minimum of 10 years of life out of the LC2 batteries and their design life is 12 years or more.
So it was that the final decision was made, to go for LC2s, and use the money saved in not fitting LRC2s, to increase the Ah from the required 600 Ah to 800 Ah. These should fit nicely in the available space in "Old Nick" and give us a whopping 38.4KW battery bank.
I can see why Lead Carbons are not attracting the attention that Lithiums do, as they do not excel in any particular area. They are, however, strong in pretty much all areas and are used extensively in the renewable energy storage market (solar and wind). As battery technology for electric propulsion on a narrowboat, I think they deserve more attention than they currently get. I will be doing my best over the coming months (and years) to provide real-life data on their performance and confirm their suitability for this application.
Ortomarine have now placed an order for 24 x LC2-800 batteries, with DBS Leoch and they will be turning up in 8 weeks – I can't wait, everything is starting to get very real!