This is a very exciting post for us, as we can finally announce that "Old Nick" will be the first electric, serial hybrid, narrowboat, where the complete hybrid propulsion system is from one company – a "one stop solution".
The company in question, is the world renowned Dutch company Vetus who for over 50 years, have been designing, manufacturing and trading one of the largest catalogues of marine equipment in the industry. Best known for their diesel engines, generators and bow thrusters, these are just a fraction of their complete product range and they are one of the few companies that can provide the whole propulsion system, from fuel tank to prop and everything in between.
Much respected in the inland wateways industry, Vetus have just announced an exciting new series of electric propulsion products, including a 10KW E-Line engine which will be fitted to "Old Nick". Their tag line is "Vetus – creators of Boat Systems". And that's just what they will be doing for us.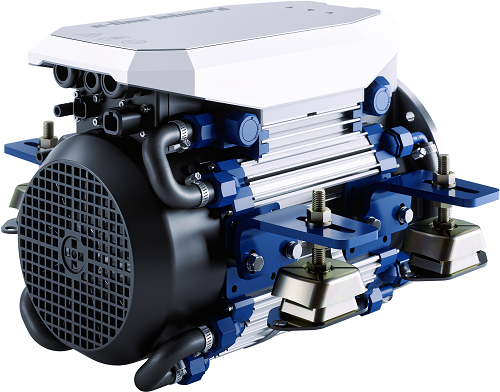 UPDATE – New E-Line information has just been released by Vetus and can be viewed by clicking here.
In addition to the E-Line engine, there will be a Vetus 6KVA, 1500RPM generator (GLX6,5SIC), one of their latest brushless Bow Thrusters 65kgf (BOWPRO65AC) and a whole list of other equipment including; stern gear, tanks, calorifier, pumps, prop, driveshaft, etc. There are not many, if any, other companies that could have supplied this range of equipment and certainly none that have a competitive new electric propulsion solution.
For a boat builder, such as Ortomarine, and ultimately the boat owner, there are many benefits to sourcing from one supplier:
Simpler procurement
Easier installation
Better compatibility
Lower order processing and shipping costs
Improved package pricing – "The more you buy, the more you save!"
One point of contact for sales, service and support
Whilst studying the Vetus catalogue, which has nearly 4000 parts in it, and trying to work out how much we needed for "Old Nick", I was very grateful to be put in contact with Richard Lythgoe, from the Vetus sales team. Richard guided us through everything, patiently answering our questions and giving us the benefit of his extensive knowledge and experience.
There are a number of companies now selling electric engines, but the engine is just one part of an electric serial hybrid system and we felt strongly that choosing a well known and reliable company, who could supply the complete package, had to be a good way to reduce some of the risk in embracing a new technology. We want "Old Nick" to be a good blue print for others wanting to "go electric" and keeping the equipment list as simple as possible with the fewest number of suppliers, seems like a good plan.
In my professional life, I have seen Vetus products at many shows and trade events, plus followed some of their recent NMEA 2000 work on bow thrusters and electric propulsion and have always been impressed with their product design. Being their first E-Line customer in the UK is a really unique opportunity and one that we are really looking forward to. Over the coming weeks, we will cover each of the major components in more detail but for now, we just wanted to share our exciting news.