Late last night, we got confirmation from Ortomarine that our hull has finally been ordered! This is a moment for which we have been waiting for so long and it has finally happened.

As we have mentioned before, our hull is being built by Tyler Wilson, whose hulls are renowned for their excellent handling (apparently because of their long swim*) and for their elegance. We love the fact that Tyler Wilson have family links with the late Mike Heywood, who built Kay's dads boat "Sam Gunter". It just feels right. And the hull is scheduled for late September. That sounds mighty real to us.
*The swim is the aft (back) underwater part of the hull that goes to a point to allow a cleaner flow of water over the propeller. So now you know!
We also now have a copy of the internal layout of the boat, which means that we can now actually show you, instead of just telling you, how Old Nick will be laid out.
Starting from the stern, as you go in through the doors, there is a locker on the right for wet gear. It also contains the calorifier. I'll leave Paul to explain what that is and why we need one! And then you're into the galley. The kitchen units will be from Howden's "Greenwich" range. Specifically the "Linear" series, which gives lovely clean lines.
Next we arrive at that dinette. We're so looking forward to putting that baby through its paces. We have still to select the fabric for the dinette and I'll be doing a specific post about the soft furnishings and the colours we have chosen later.

As we progress through the boat we enter the saloon area. This is where we will spend most evenings – particularly in winter. There will be a wall mounted 32" smart TV for our viewing pleasure and it will also be the screen for our PC. Our Sonos 5 speaker will also be in this space.
Our next port of call (see what I did there?) is the bathroom. In older boats, the bathroom was located off a quite narrow corridor, which gave rather a small space in which to carry out one's daily ablutions. More recently there has been a tendency towards "walk through" bathrooms, where the doors are staggered, as you can see. This affords a much larger space – we even have room for a decent-sized (900mm x 700mm) shower stall. It's eminently practical for two people who know each other very well (35 years!). When we have guests, we will have to work out a system. But we don't feel it's a big issue.

Penultimately we enter the bedroom. We have opted for a fixed 4' 6" bed ( with gas struts that lift to reveal the large storage area underneath). This slightly constricts the passage way to the forward well deck, but – after we have banged our shins on it a couple of times – we'll soon get used to that! We don't want a TV in the bedroom, but our Sonos 1 will be in this room.

Turning to the outside space, up front we have the well deck, reached via double-glazed double doors from the bedroom. There are storage lockers either side and a large space for storage in the "pointy bit". In winter, this area will probably be covered by a "Cratch Cover" which goes over a "Cratch Board" and forms a sort of tent over this open area on the boat. It looks like this.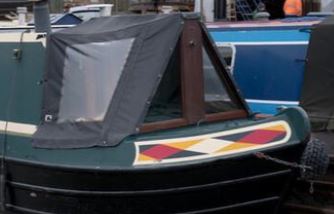 At the stern – which is a "semi-trad" stern, there is a semi-circle for the steerer and – forward of this – there are a couple of seating units – one each side – which are also storage lockers. This layout makes a nice sociable area. We plan to have a table that we can erect between the two seating units for summer dining.
In winter, this area will probably be covered by a "Pram Cover" – another tent-like structure that covers this rear space. Note that I say "probably". Whilst of practical use for providing extra space in winter, neither are great for actually cruising which, stoppages (locks etc closed for maintenance) permitting, we hope to do all year round. Added to that is the issue of storage. We will definitely not want them on in the summer, but where to store them is the problem.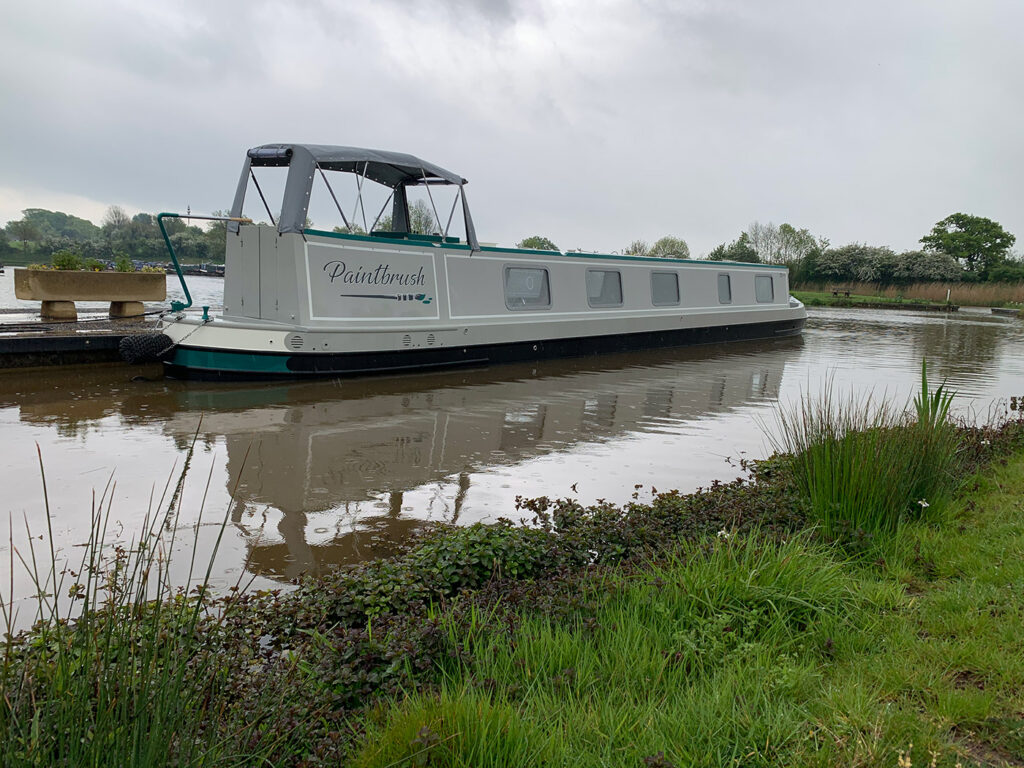 I have a business idea for Marinas or farmers or someone with a bit of land and money to start a business. Cheap canal side storage for boaters. I simply can't believe we are the only boaters who have nowhere to store their cratch frame and cover and pram cover and frame. I guess it would be a seasonal business though……
Anyway – we may try to get through our first winter without and see how that goes?
I hope you have enjoyed this virtual walk through of our boat-to-be. if you have anything questions or suggestions, pop them in the comments below and we will respond very quickly.

"