I mentioned that I'd be doing a few craft-type posts from time to time and as I finished my "magnum opus " yesterday, now seems a good time for the first one.
As you may know, Old Nick will be quite a sleek and modern boat. Whilst I love the sheer tradition of roses and castles, scumbling and so on, the world of lace plates, horse brasses and Measham Teapots is not really for us. We like a minimalist look which is pretty much the polar opposite of the traditional narrowboat interior.
I think a few traditional touches would not go amiss, however, and with that in mind I set about making a rag rug. Old folk like me might remember their grandparents having them or making them? And I think they were pretty old school then! But the recycling aspect appeals to me and boaters were fond of them.
The tools of the trade are
The rug gauge – this is used to ensure that each of the strips of fabric are the same length. They can be found for less than a fiver on Amazon.
The proggy or proddy – this is used to push the strips of fabric through the holes in the hessian. These can also be found on Amazon or Ebay – again for less than a fiver.
Scissors
A hessian base – I buy mine ready hemmed. You can also buy rag rug kits from Ragged Life, although they use a hook rather than a proggy. They will produce a hemmed rectangle (or square) to your spec for a very reasonable price. You just email them with your dimensions and they will send you a quote.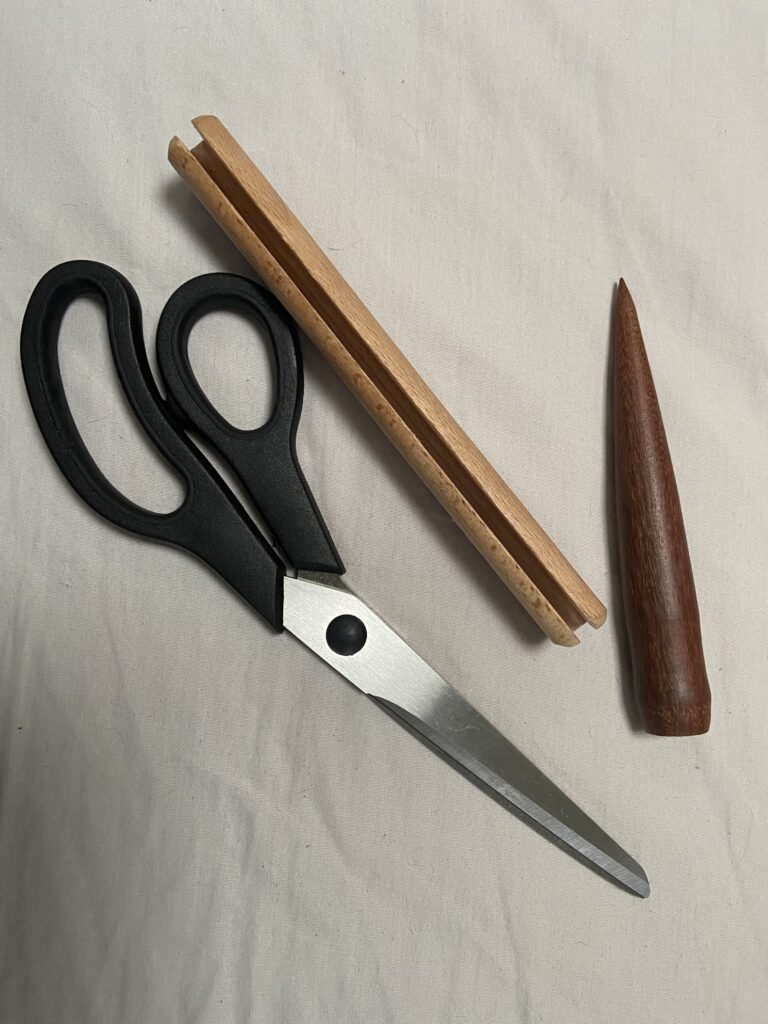 Once you have all these items, the only thing that is holding you back is a supply of fabric and your imagination! I used cotton fabric but you can use old t-shirts or fleeces or even old jeans. The only thing I would suggest is not to mix the weight and type of fabrics.
I used up some of my stash of fabrics left over from dress-making and craft projects, and pestered friends and family for their old cotton clothes. I occasionally bought material – either fat quarters or remnants, mainly – but most of the fabric has some memories – dresses I made for my niece when she was little, things I made for friends, fabric left over from teaching my niece how to sew her own clothes and from teaching my daughter in law how to make clothes for her niece and herself. I love the fact that , when I look at it I'll think – oh that square was the apron I made for Sue. That square was from the costume I wore in a show and so on.
There are plenty of online tutorials and workshops but it's a cheap and easy craft to learn viz:
1 – draw out your pattern on the hessian rectangle. I went for squares. You could do stripes, create a picture or you could also just completely freestyle it. Look online for inspiration.
2 – tear your fabric into roughly 3/4 of an inch to 1 inch wide strips ( 19-25cms). It's not an exact science!
2 – wrap a strip round the gauge and cut along the groove with scissors. Discard any odd lengths.
3 – start poking! Poke one end of your strip through the loose weave of the hessian to about half way, then poke the other end up a couple of spaces (in the weave) away. Repeat. And repeat. And repeat! I reckon this rug took me around 140 hours! And much of it was done through lock-down. I was glad of it to keep me occupied, to be honest.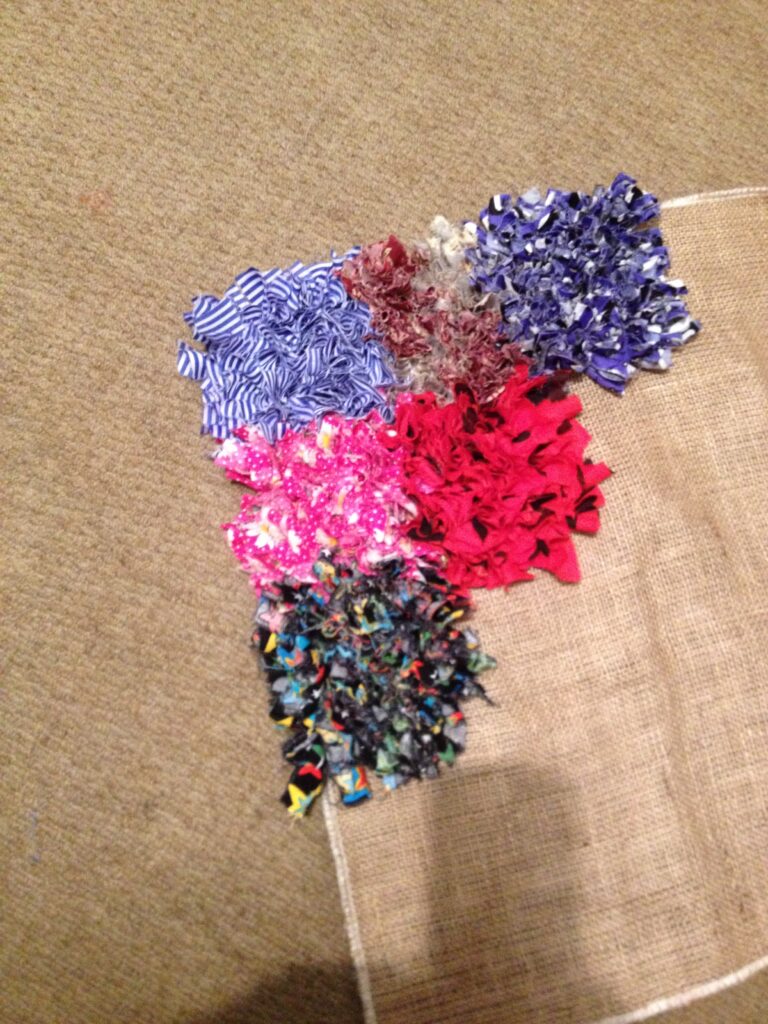 You can use a similar technique to make these attractive hearts using florist wire bases (12″) from Ebay or Amazon. I use these and of course other shapes are available – you could make a wreath for Christmas, for instance?By the way – I don't use the gauge for these – they are a bit too short to tie. I just cut the strips about 2.5 to 3" long, but experiment – that's what I did. Once you have cut your strips, all you need to do next is simply tie them onto the frame. Just 1 knot is all it takes. I think they are very striking.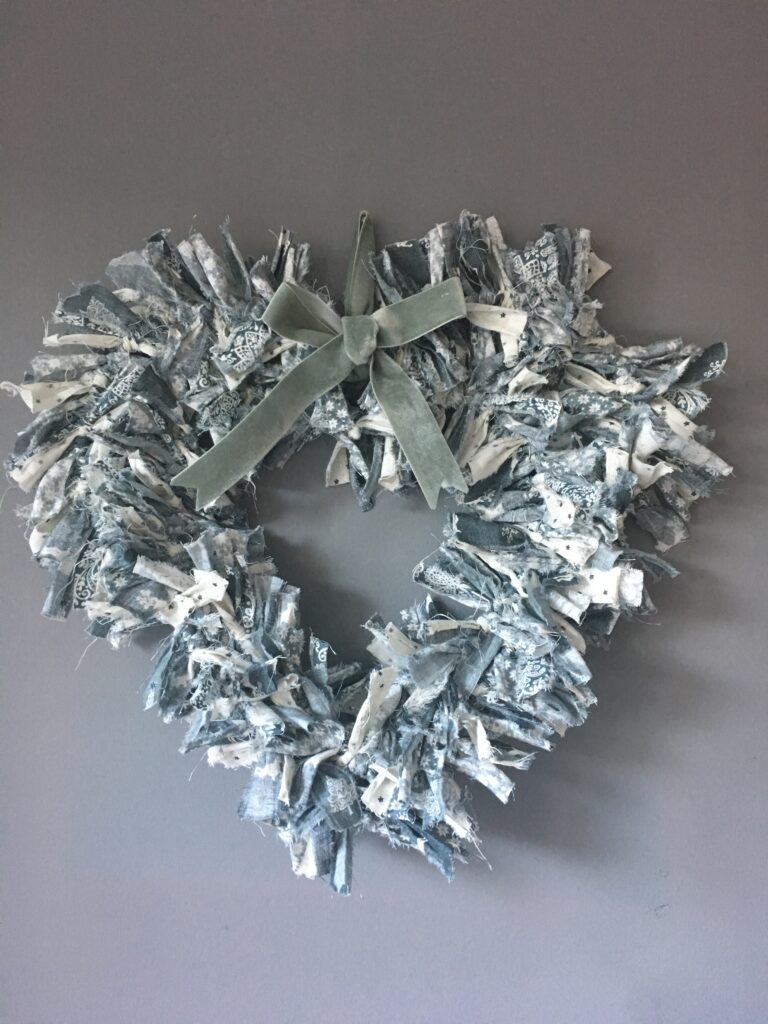 I haven't quite decided where on Old Nick the rug will go – either the bedroom or the sitting room, I guess? Plenty of time to decide! Anyway – I hope you have enjoyed this quick overview of rag-rug making and may even be inspired to have a go yourself? If you have any questions click here to send your question or you can leave a comment on the blog and I'll get back to you asap.