Yesterday was the biggest milestone yet. We had travelled up to Ortomarine's unit near Kidderminster, with our friend Linda, to witness the arrival of Old Nick, in the "flesh" – or maybe in the steel?
There was a slight hitch initially from Tyler Wilson's end, but only a delay of an hour. Having waited this long, an hour was a trifling matter! Paul and Rob were, as usual, soon talking over technical matters and Caroline was busy putting the finishing touches to another boat, the very handsome Bersara – which is Malay for "retired" – what a great name! Luckily for us, Caroline found time to show Linda and I the finished boat, including that dinette! I could hardly believe that, just a few weeks from now, it would be Old Nick being readied for transit!
It's a case of one in, one out here, by the way. Old Nick would arrive by lorry, be craned off the lorry and onto the grass outside the unit. Bersara would then be hauled out of the unit and craned onto the now empty low-loader, by Stourport Crane Hire, ready for its short journey to the lovely Droitwich Spa Marina. An efficient use of resources, don't you think?
A little while later, there was a sudden little frisson of excitement and then Rob told me he'd just seen a boat on a low-loader that looked as if it was making its way to the unit. It was Old Nick being delivered by narrowboat transporters R & J Dempster!
I can't express how excited I was – we all were! I'll never forget that first glimpse! There was a certain moistness in my eye and in Linda's as we saw Old Nick and actually touched him.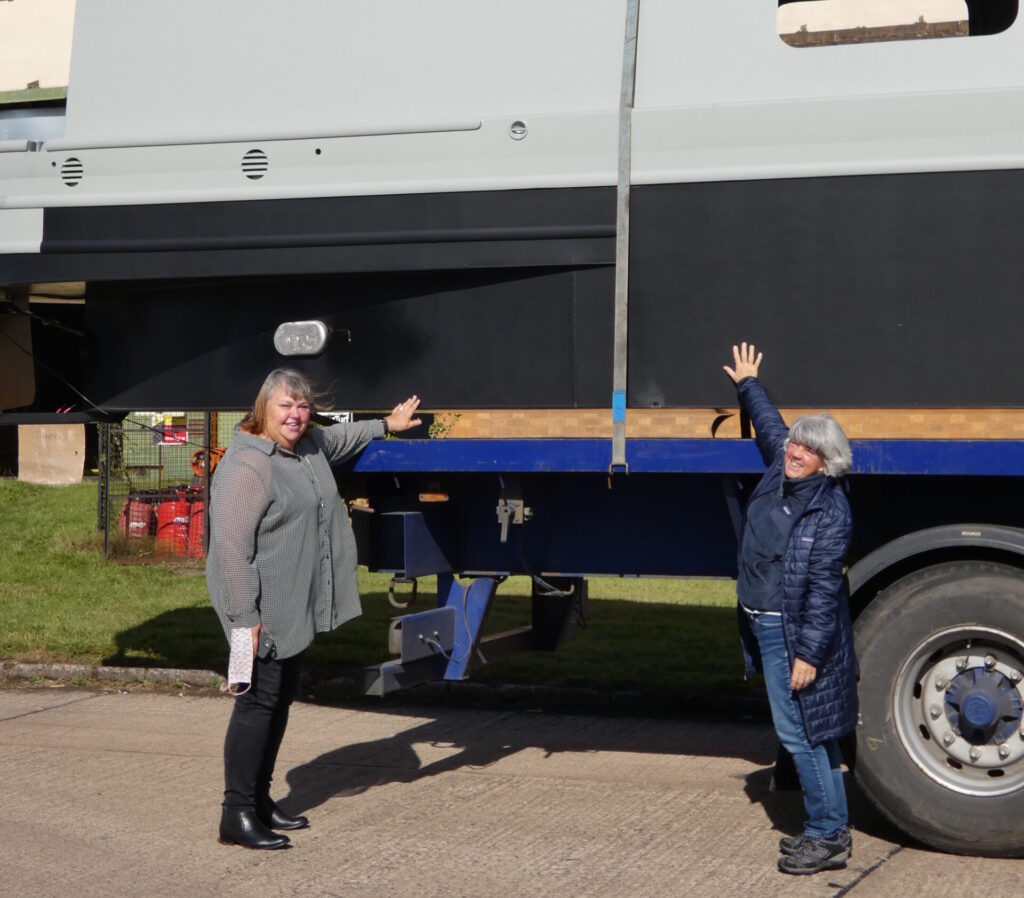 Now I know convention dictates that vessels are known as "she" and "her" but it feels wrong calling Old Nick her. I hope we don't enrage the water gods by referring to him as her. Or – worse – it!
It was a fascinating process to watch and a little scary – although I had full confidence in the team, because they carry out this process every couple of months. The whole team – from the Ortomarine lads, lead by Dom, to the lorry driver, to the crane driver – all under Rob's watchful eye, made it look so easy. Although it was, of course, very obvious that it requires skill and concentration from all concerned. But they really didn't put a foot wrong, and the three stage process was soon complete, as can be seen below: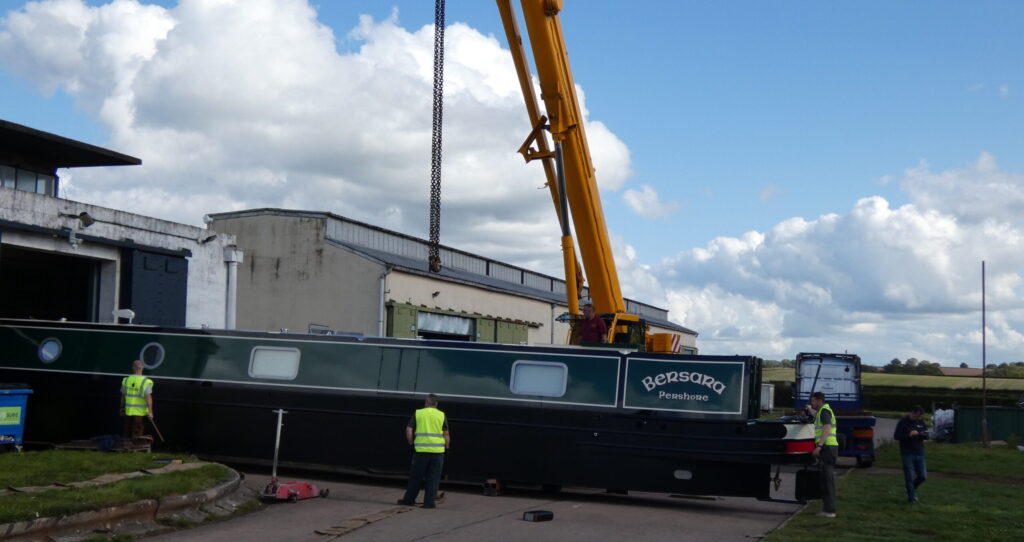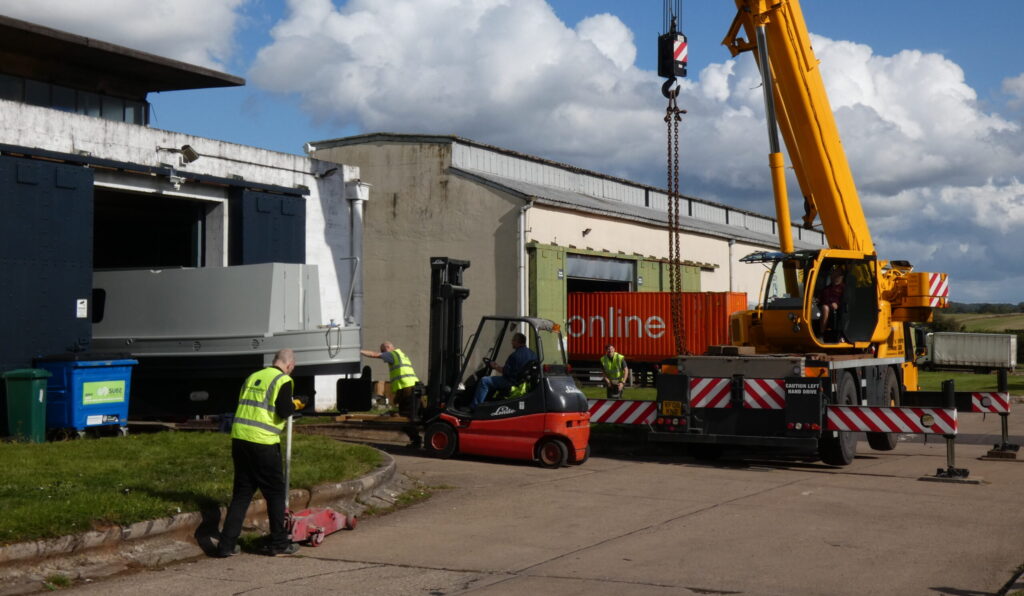 They use a set of wheels – a little like a large roller skate – plus a fork-lift truck to roll the boats in and out of the unit and Old Nick was soon nestling inside, waiting for the initial work to commence. These jobs include a thorough delivery check, a bit of ballast, temporary flooring, insulation and so on.
We had originally decided not to be there for Old Nick's arrival, but changed our minds at the last minute. I am so very glad we did! I would not have missed that experience for all the world. We'd really like to thank all involved for letting us be there and watch it all unfold.
Ortomarine provide daily photos of the build and we will be able to watch from afar, as Old Nick goes from pipe-dream to reality. We'll keep you involved in this process either on here, or Facebook or Twitter .