We all like our creature comforts and after we are fed, watered, connected to the internet and sheltered from the elements, the next most important issue is keeping warm.
At home, we are used to gas or electric central heating, kicking in as soon as the temperatures drops, but on narrowboats, slightly different solutions are found. The two most common methods of heating boats until the late 1990s, were the calor gas fuelled "Alde" boiler or the multi-fuel stove. Both of these could be connected to a series of radiators running through the boat (a back boiler was required for the stove) and were very effective if expensive methods of heating the boat.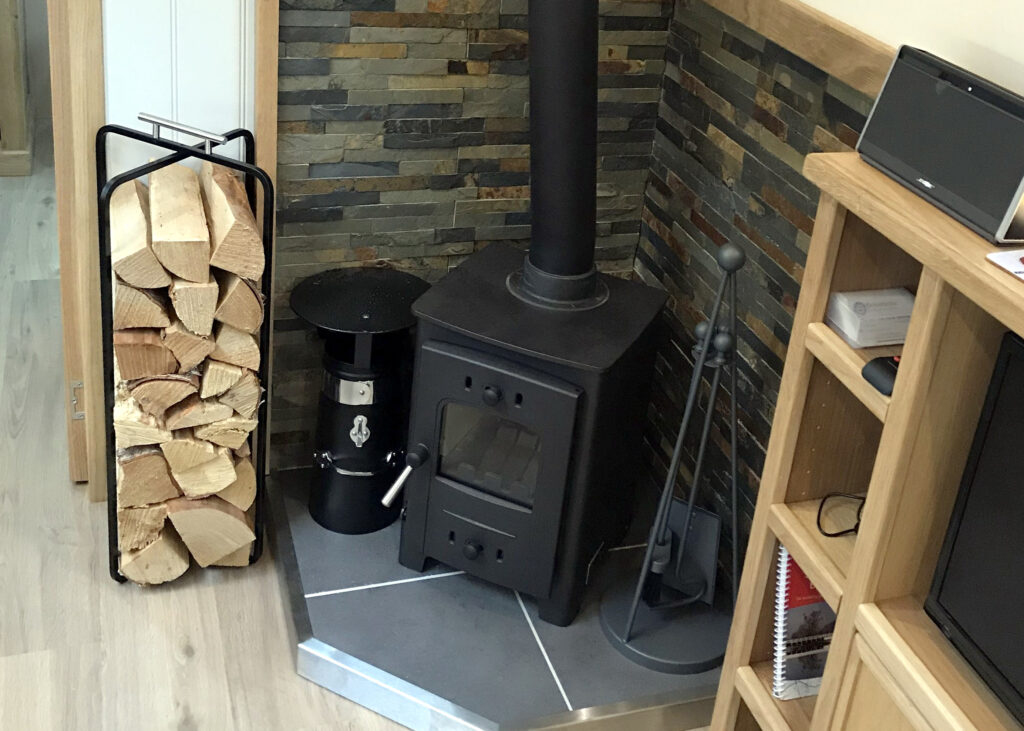 In more recent years the most popular method of heating a narrowboat has been the diesel fired boiler and companies such as Webasto, Mikuni, Hurricane and Eberspächer all offer quiet and efficient diesel fuelled water heaters that can heat the boat and the hot water supply. For Old Nick, we will be having an Eberspächer HS3 D4E (12v) which is one of their latest and most popular models and found in all sorts of vehicles – not just narrowboats.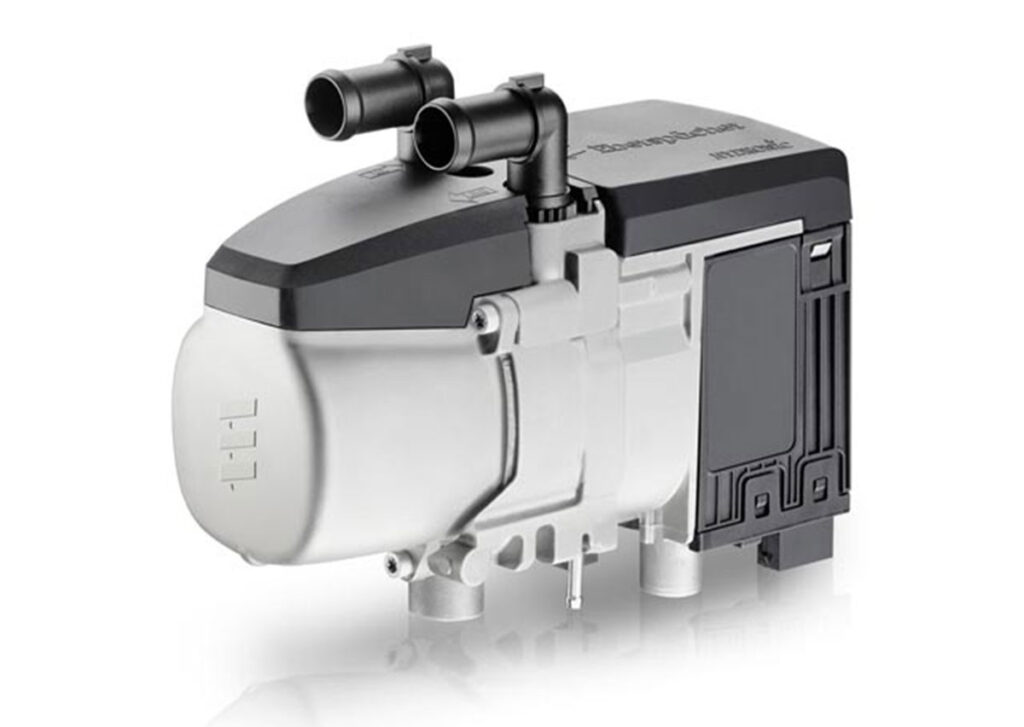 The Eberspächer system consists of the heater unit, a water pump, diesel fuel metering pump, exhaust, controller and all the connecting pipework. It will be plumbed in to the same diesel tank as the generator uses and it's efficient combustion chamber and convector should result in consumption figures of between 0.11 to 0.51 litres/hour.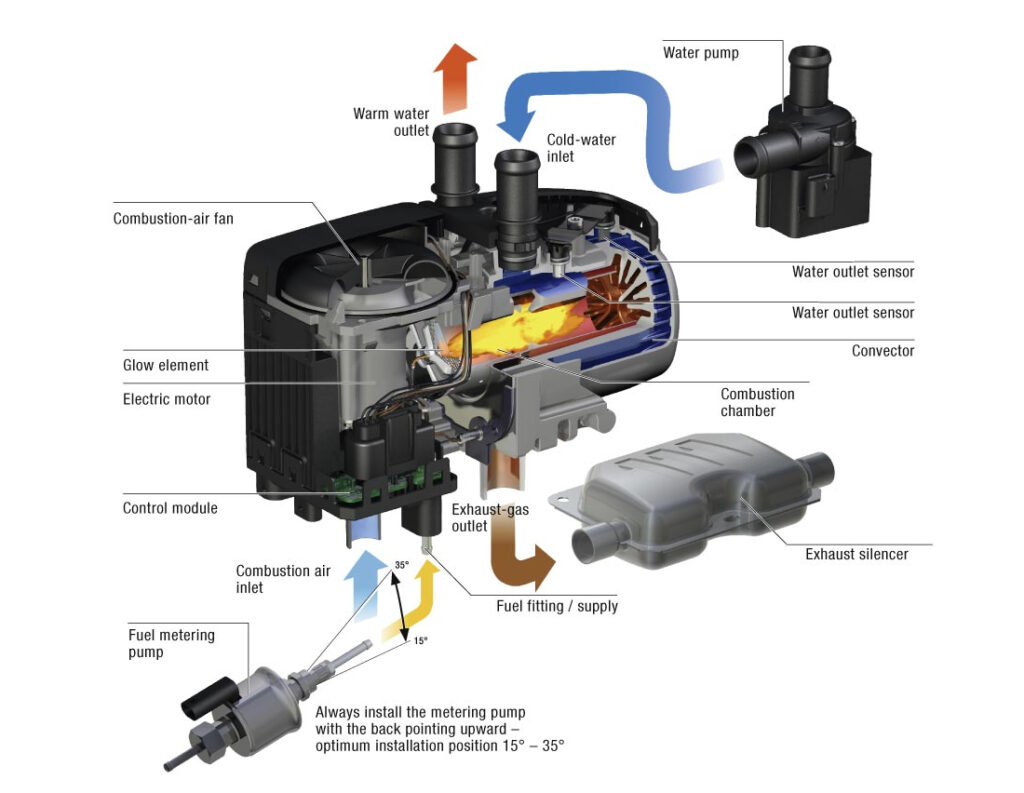 The Eberspächer will not only heat the boat but also the hot water, which it does via a Vetus WHT50 calorifier. A calorifier is a very efficient hot water tank that indirectly heats the water via other heat producing devices. It then stores the hot water for later use in a well insulated stainless steel tank.
One of the reasons we chose a Vetus WHT50 calorifier, was it's two independent heat coils, through which hot water is pumped, heating the water inside the tank. The first coil will be connected to the Eberspächer, while the second coil will be connected to the Generator. Whenever we run the generator to charge the batteries, we will also be using the coolant water from the generator to heat the hot water.
A diagram of the system is shown below. For simplicity, I have not shown all of the components of the system such as shut-off valves, header tank, extra radiators, etc. but, rest assured, these will all be fitted in the relevant locations.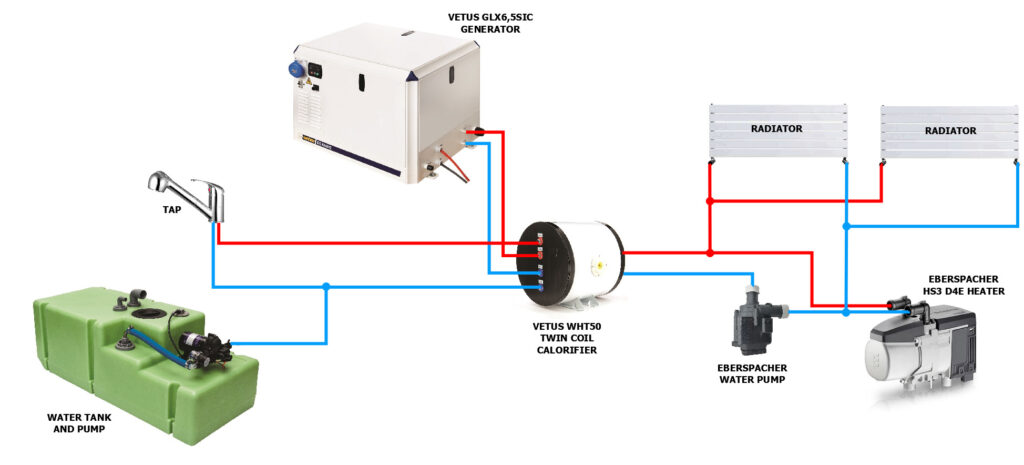 Finally, there is one last method of heating the water and that is a good old fashioned immersion heater element. Although not the most efficient method, as it consumes 1500W, we will be using the surplus electrical energy, generated by our solar panels during the summer months. By using this free energy source, we should be able to avoid running the Eberspächer or generator for at least 4-6 months each year.