Since launch, the control column on the stern of Old Nick has been protected from the elements by a very serviceable but not-very-attractive plastic bag, held on by high-performance magnets.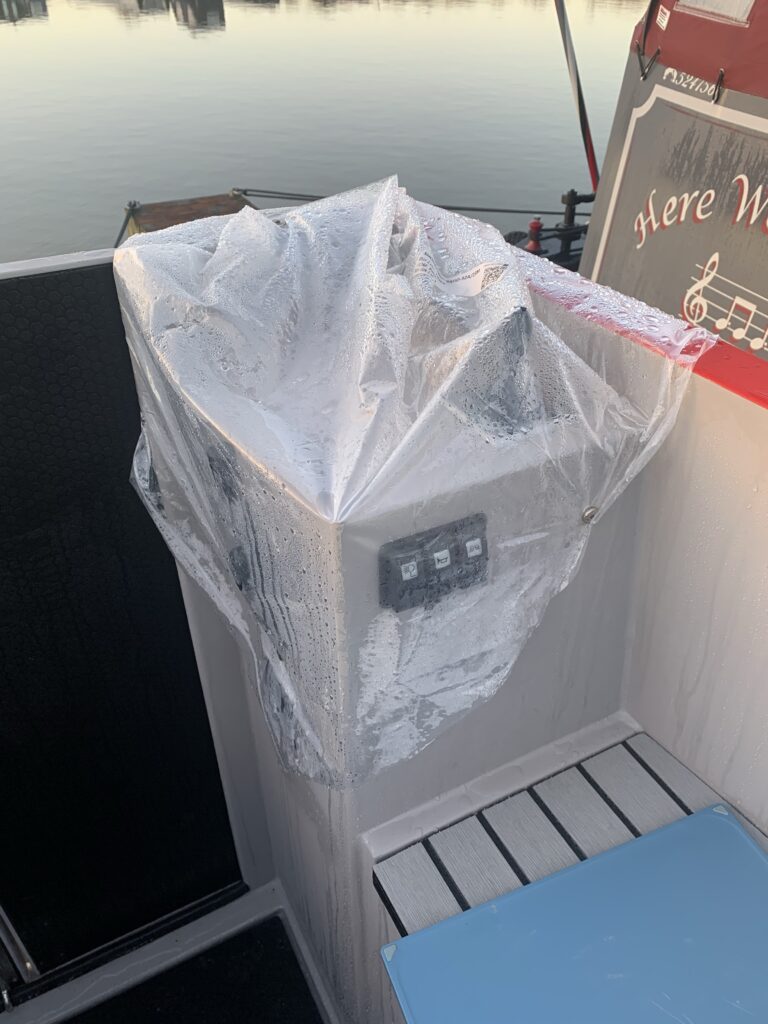 The column houses the Vetus Bow-thruster joystick, E-Line electric engine controls and indicators plus a switch panel (horn etc). Being in the marine electronics trade, Paul felt it was essential to protect these techy bits – even though they are designed for harsh environments.
To be fair, the jury-rigged plastic bag and magnets did sterling work in the weeks that they were employed, but we needed a more elegant and permanent solution. We trawled the internet for an "off the peg" solution but came up with nothing. It was going to have to be a bespoke job.
We were put in touch with Harris Hoods, based in nearby Upton upon Severn. We sent them an email, outlining our issue and sending photos of the column.
As luck would have it, Chris was doing another job at Droitwich the next day and was able to drop by to see us and assess the job in socially-distanced person. We agreed that fastening by magnets was probably the best solution and ordered some samples to be delivered to them at Upton.
Chris took some measurements and went off to make a pattern. A couple of days later, he was back with it. In the dressmaking world it would be called a "toile" – a mock up of the design in cheap fabric (like muslin) made to ensure a garment fits properly, before cutting into expensive fabric. He fitted it and made a couple of tweaks and then left with the prototype.
A few days later we got a call with a price for the job. At £60, it was very much within our estimated budget and so we asked them to go ahead.
A couple of days later again, we had a call from Sally to say she would be delivering our cover the next day. How exciting!
We are are so incredibly pleased with the finished article. The colour match is spot on and it will do a great job of protecting our electronics. We've actually ordered a spare too, as you never know. It could get stolen or (knowing us) left somewhere.
We were very impressed indeed with the customer care and the product from Harris Hoods and would have no hesitation in recommending them to others. Indeed – if we ever decide to go down the cratch/pram cover route – they will be our first port of call. Thanks Chris and Sally for a great job.