Many of our friends and family have asked whether we are warm enough on "Old Nick". The answer is a resounding YES and a combination of good insulation, an efficient heater and radiators in every room, ensures we are "as snug as bugs in a rug".
When we first imagined our dream narrowboat back in 2017, we definitely wanted a solid fuel stove, as we had romantic visions of winter nights cuddled up by the stove with a mug of cocoa. However, once we decided to "Go Electric" and create a more environmentally friendly boat, it only took a suggestion from Caroline at Ortomarine, to make us reconsider our requirements.
Whilst there is no doubt that a solid fuel stove provides more than ample heat and an attractive focal point, they also take up a lot of space, generate mess, create storage issues and are not good for the environment. It was a leap of faith, but in conjunction with going gas free, we decided it was best to say goodbye to the stove.
We knew that there was a chance that we might live to regret that decision, but we are delighted to report that the Eberspacher heater has been great and even with this Winter's snow and ice, things inside were very pleasant.
With the heater in the engine room and our bedroom in the bow, it is always the last room to warm up, but that is fine by us, as we dislike sleeping in a hot room. We do however have a heated over blanket, which is great for warming the bed before bedtime. We take it off when we go to bed, though.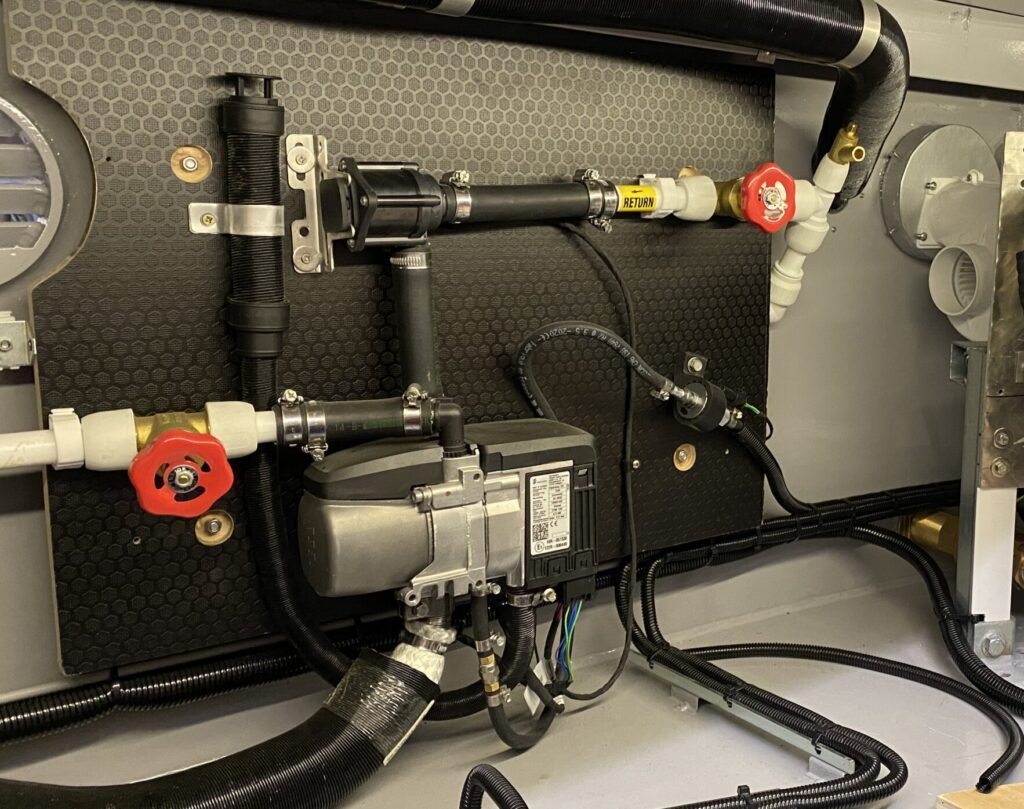 We have had the heating on during the day, when it has been below freezing outside, but it does not take long for the central heating to get up to temperature and we often find we have to knock the thermostat down when we get too hot!
Which brings us nicely to how the central heating (and water heating) is controlled. When we were living in our house (seems a lifetime ago) we had a Hive controller that let us setup the heating schedule, remotely control the heating (when away from the house) and quickly turn on a boost program when necessary. The great news is that with Ortomarine's unique Ortomate™️ system, we get all of these features and more.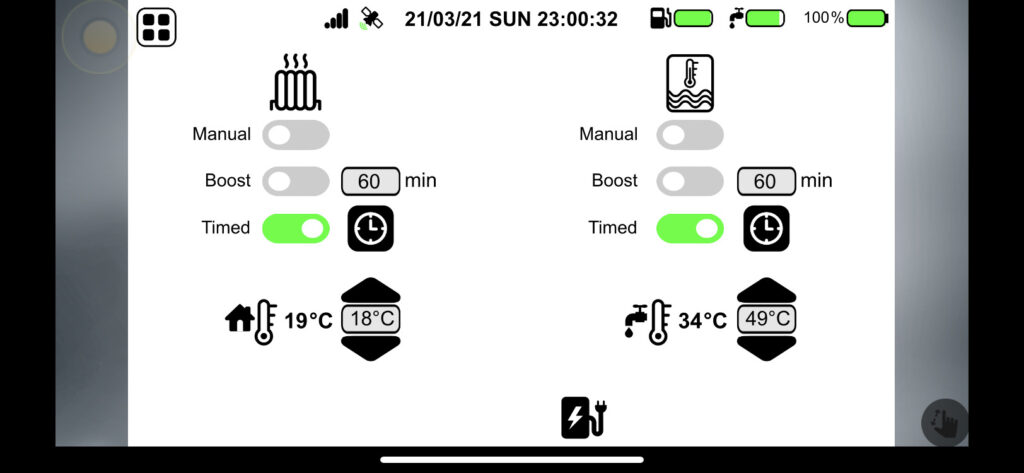 From the colour touch screen controller, our iPhones or computers we can easily check the status of the heating and configure all of the settings. What is more, we can use the Easy Access app to do all of this when we are off the boat as well. We use the timer function to ensure that we get up to a lovely, toasty boat and it works a treat.
For anyone considering a new build narrowboat, we can confidently state that there is no need to be worrying about being cold, even when living aboard in the depths of winter on a frozen canal. A good diesel heater, will keep the boat very warm and cost around £16 per week (average) between December and March.