March 29th – the first day of the beginning of the relaxation of lockdown had finally dawned. CRTs advice was that "the official stay at home order ends on 29 March, but people are encouraged to stay local. Limited local boat movement is possible but you should avoid travelling if your boat is not located close to where you live, and only those living aboard are permitted to make an overnight stay."
We interpreted that as the "green light" for finally getting some local cruising in. For a variety of reasons, with which I won't bore you, but which may have involved walking football, we could not leave until Saturday morning (3rd April).
Saturday morning was bright and sunny and we set off with not a little excitement in our our hearts. We came out of the Marina around 10:30 and turned right, towards Droitwich town. The first locks hit you almost immediately – a rather impressive staircase pair. A staircase lock is where you come out of one lock, straight into another, with no pound in between. The most famous example of these in the U.K. is probably the set of five locks at Bingley. Quite an exciting passage – last undertaken by us in 2016.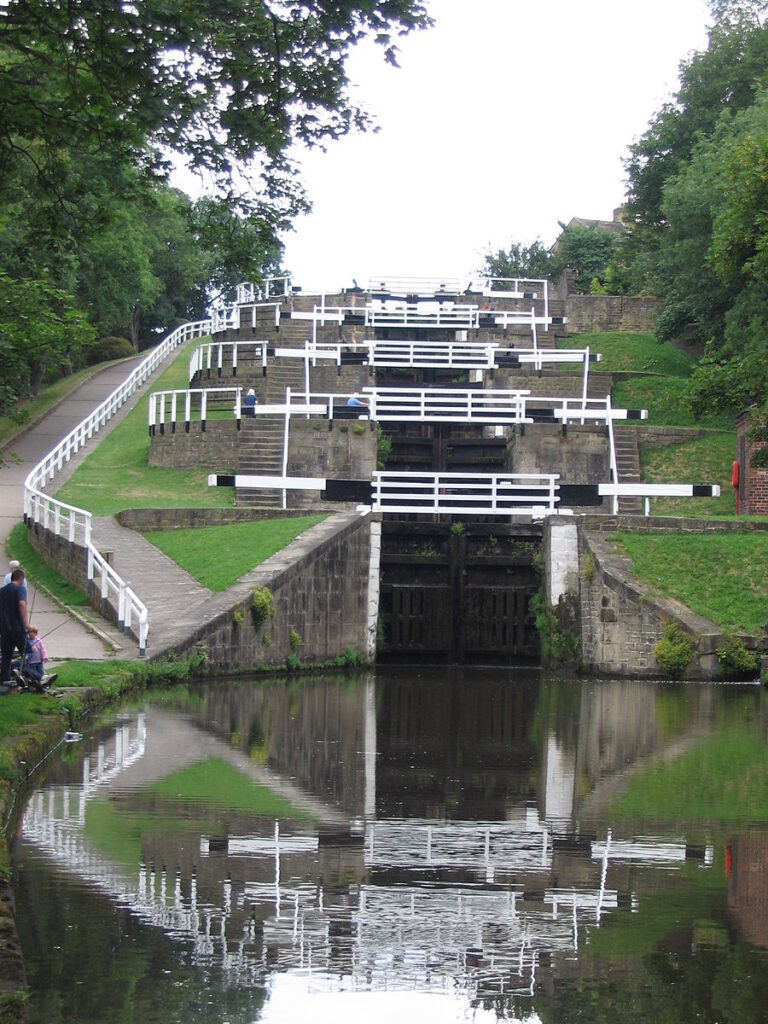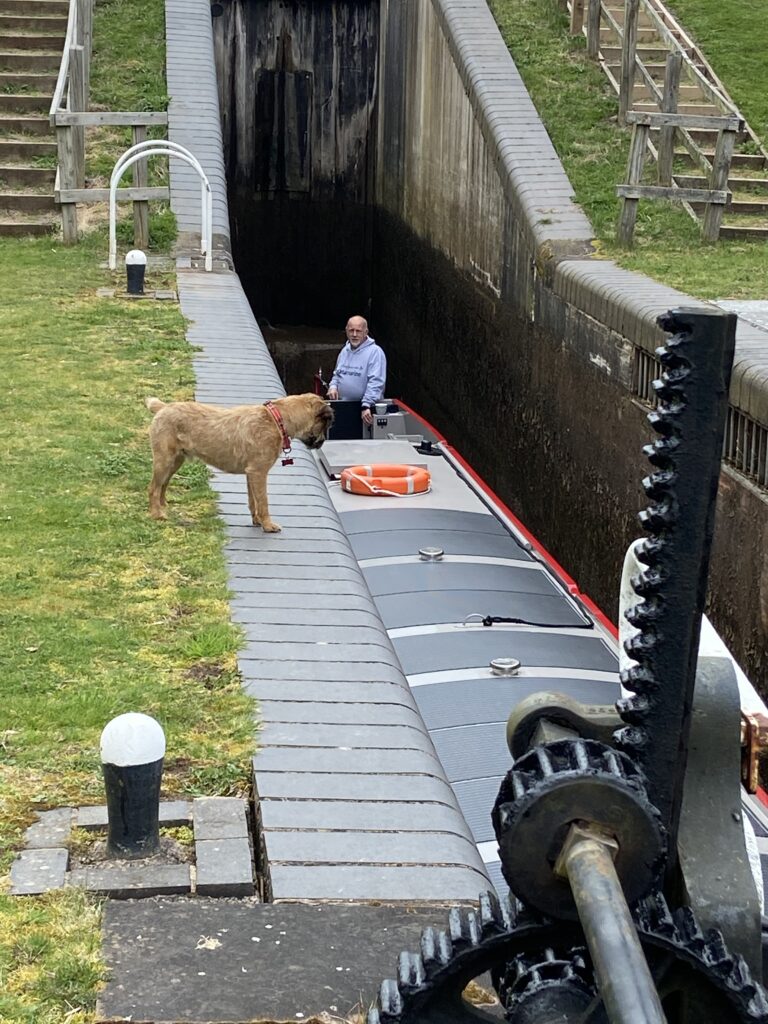 We soon polished this off together with the single lock below them and were soon facing the next feature that the Droitwich canal throws at you – the very low tunnel under the M5. This was formerly a culvert before the canal was restored and reopened in 2011 and has a nominal air draft of only 6 feet. Luckily, Old Nick has a very low profile and we snuck through it with no worries.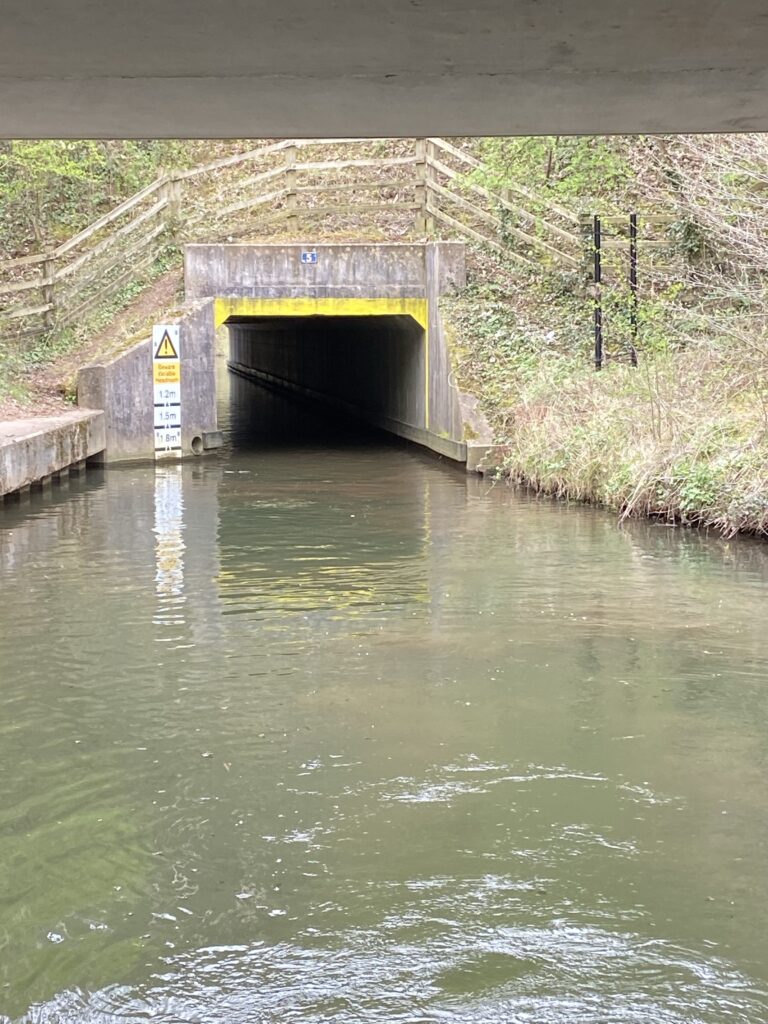 Next came the series of "barriers" as you go through the very attractive Vines Park, with its adjacent and very handy Waitrose. There is a stop lock, with a swing bridge over it, then two more swing bridges – rather heavy brutes! And then you're through! Lots of gongoozlers on this Easter Saturday morning (although it doesn't look like it in the picture below!)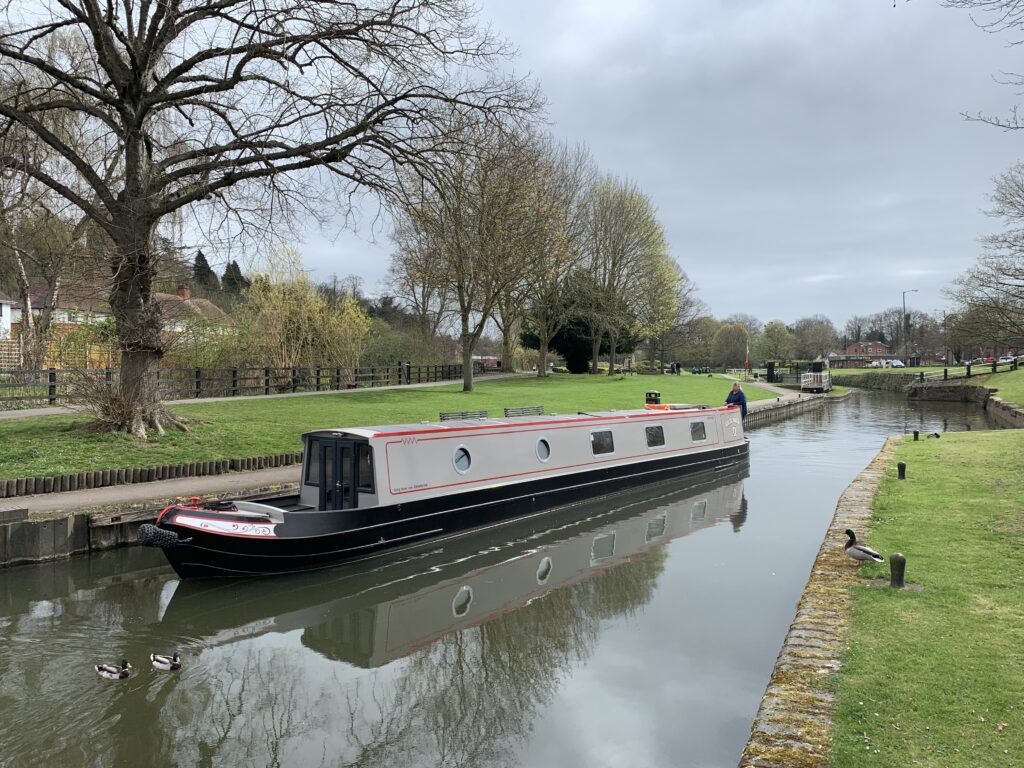 We are very taken with this canal – it's extremly pretty as you wind through the outskirts of Droitwich and out into the countryside. Punctuated by the five locks in the Ladywood flight and always accompanied by the winding River Salwarpe, we thoroughly enjoyed everything it had to show us on this, our first trip on it.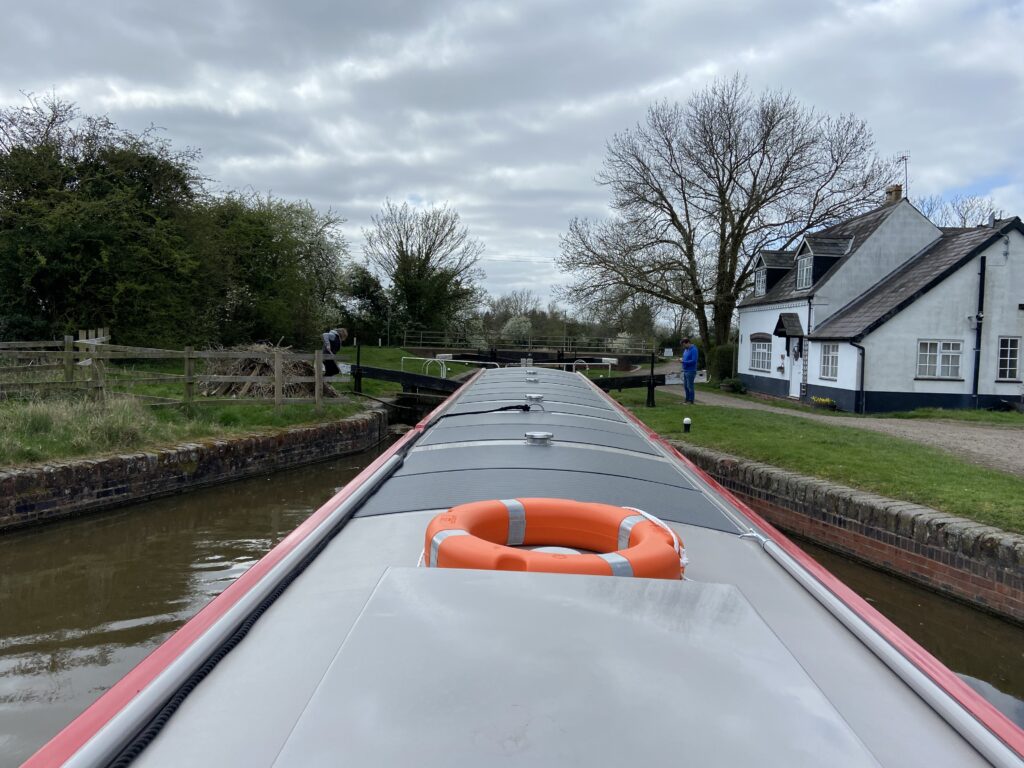 The lady who lives in the cottage at the bottom of the flight clearly enjoys her interactions with passing boats. She – and indeed pretty much everyone we encountered (from a social distance) – remarked on how smart and quiet Old Nick was. I imagine that, in time, this may become a bit wearisome but for now we purely revelled in their comments.
We reached our mooring spot above the two Hawford locks around 15:30 and decided we'd save a foray onto the mighty Severn until the next day. The traffic noise from the nearby A449 seemed a bit loud and we hoped that it would die down as the day waned.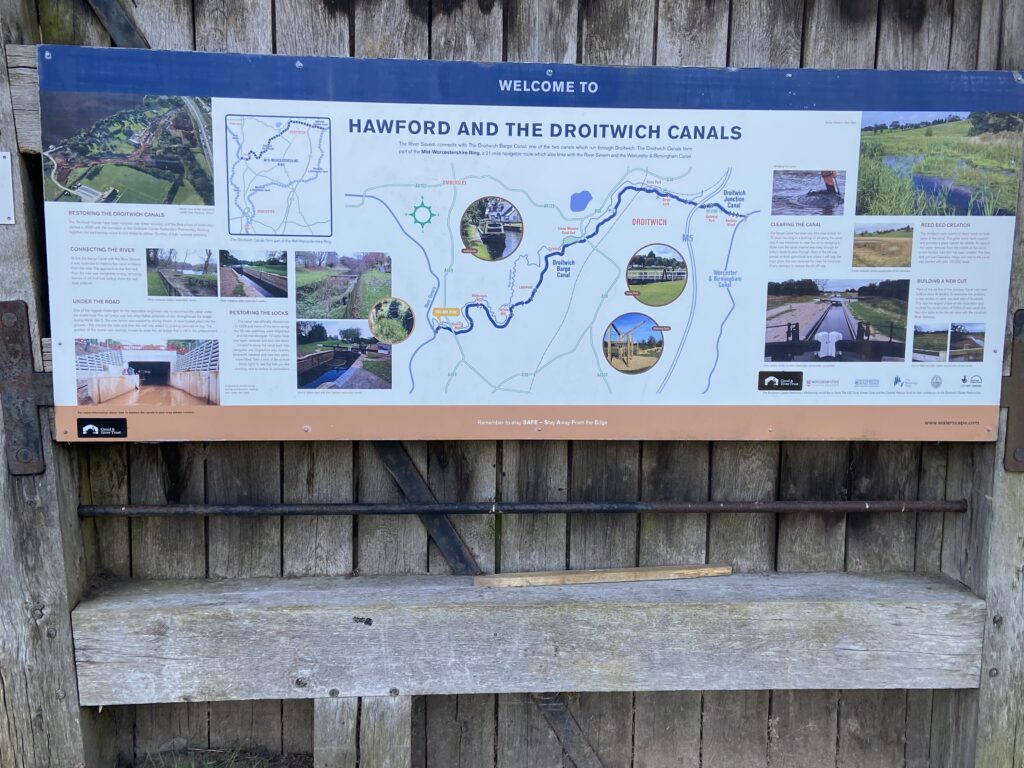 We took the boys for a walk, both for their entertainment and ours and then returned to the boat for a bit of R and R. It's been a while since we did a day's cruising and we had rediscovered some muscles we had forgotten about! By the way – note that the signage says Droitwich Canals – this is because the current canal is an amalgam of two separate canals – the Droitwich Barge Canal and the Droitwich Junction Canal. The Barge Canal was a broad canal which linked Droitwich Spa to the River Severn at Hawford. The Droitwich Junction Canal was a very short and narrow canal, which linked Droitwich to the Worcester and Birmingham Canal. Both were built to carry the salt, for which Droitwich is famous, and were abandoned just before WW2. Consider yourself informed!
The state of charge (SOC) of the batteries, when we had left the Marina that morning, was 95% and by the time we moored it was down to 76%. We thus decided to run the generator for an hour, bringing the SOC back up to 85%, as we planned to do some bread making and cooking that evening. By the morning the SOC was back down to 75%, so we ran the generator again for 50 mins, while we had breakfast, bringing it up to 78% – plenty of power for the day ahead.
After a very chilly, but peaceful night, we awoke refreshed and to a frost. But it was the most beautiful Spring morning, calm and sunny. The heat of the sun soon steamed off the frost and we made swift progress down the two locks and onto the Severn, assisted by the CRT operative who turned up at just the right time. Very good of him, we thought!
As we slipped upstream, against the flow, we wondered how Old Nick would fare on its first foray into a river. We need not have worried. As you can see from the two screenshots from Ortomarine's very clever Ortomate™ control and monitoring system below, Old Nick comfortably managed 2 MPH up river, consuming 35 Amps in near silence and about 2.6 MPH down river using a miserly 11 Amps.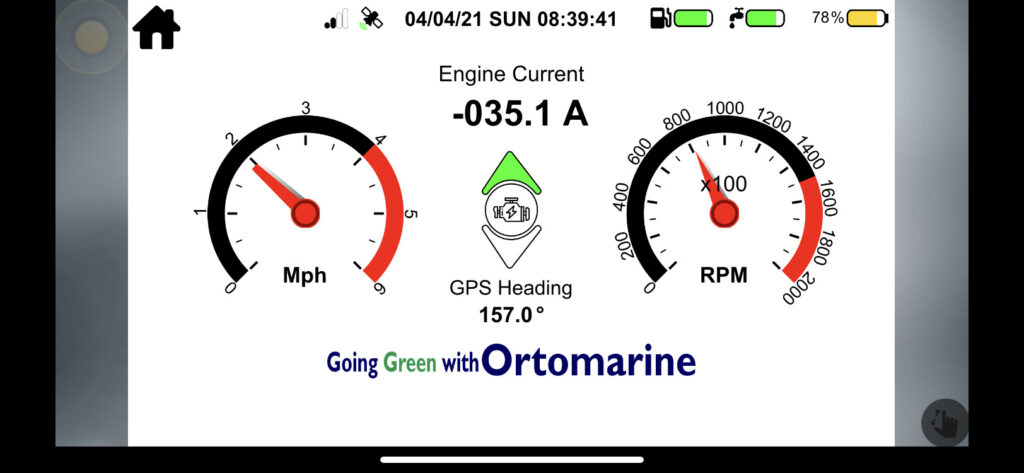 We had plenty of more power that we could have called upon, but were more than happy with our balance of Speed v Consumption and let's be honest, we are rarely going to be in a hurry to get anywhere. Especially on such a beautiful stretch of river, as can be seen in the video below.
The river – which is very often unnavigable after heavy rain – was at its beautiful best. We were alone. Only the occasional jogger or dog walker for company, a swan and the sun sparkling off the water. It was a moment of pure happiness. Moments like that are the reason we chose this life and we were so happy to be getting a brief taste of what has been denied us by this grisly virus.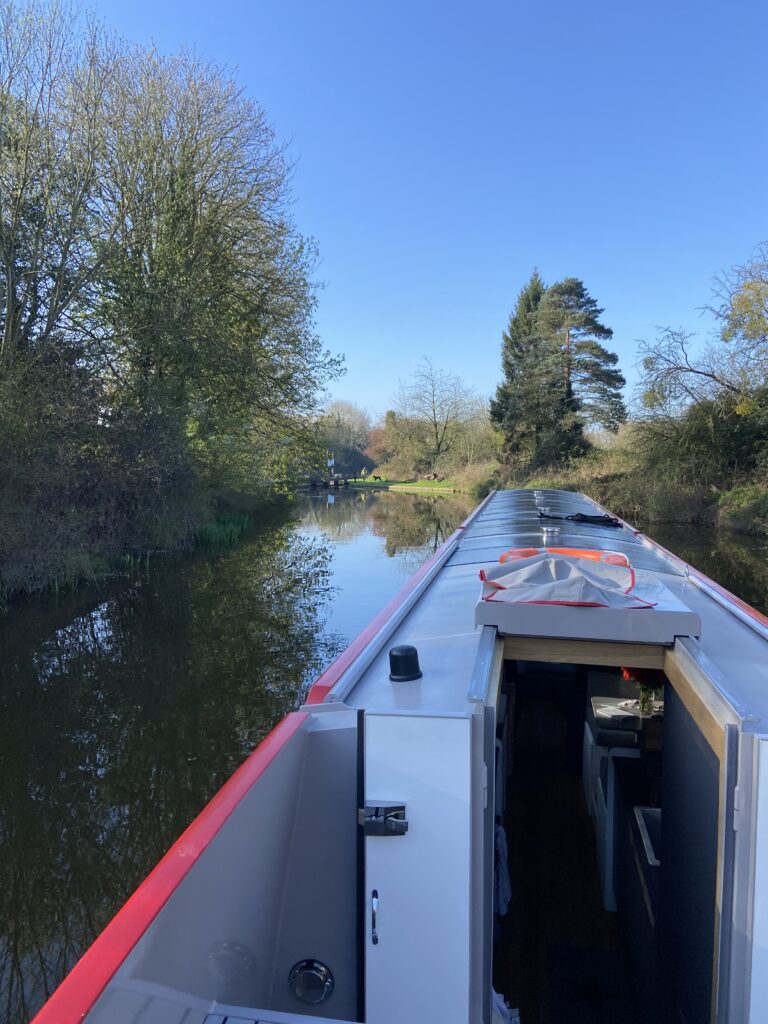 We turned around after a while and made our way back to Hawford, this time with the flow and started retracing our steps, back up the canal towards Droitwich.
It being a Sunday, as is often the case, there was a fishing competition, with anglers stationed at 5 yard intervals all along the canal bank. They compete for the biggest fish, the heaviest total catch and suchlike and it's a deadly serious business!
This was the first time we had encountered such a thing on Old Nick and – because of how quietly we cruise – we did not quite know what to do to alert them to our presence. We did not want them falling off their stools into the cut in shock at our sudden appearance!
On a diesel boat, they can hear you, but they were very unlikely to hear Old Nick. What to do? It seemed a touch rude and imperious to toot the horn, so I tried loud coughing, then a cheery hello. Eventually – as they were an unusually cheery bunch – we asked them how we should announce our presence. Some suggested tooting (which makes me uncomfortable) and some suggested a holler. There was no concise message.
The competition went on for some miles and we learned that the fish were being particularly recalcitrant today. Knowing that there was usually some kind of prize, I offered them some fish fingers from the freezer, suggesting we could peel the breadcrumbs off and pass them off as catch – about which we all laughed uproariously. And the beauty of this is that as your audience is linear, you can repeat the hilarity at regular intervals. How we laughed!
All too soon, we were back at Vines Park, today the scene of much family activity, complete with ice creams and ball games. There was also steady stream of people on the towpath and much interest in us tackling the staircase again, this time uphill.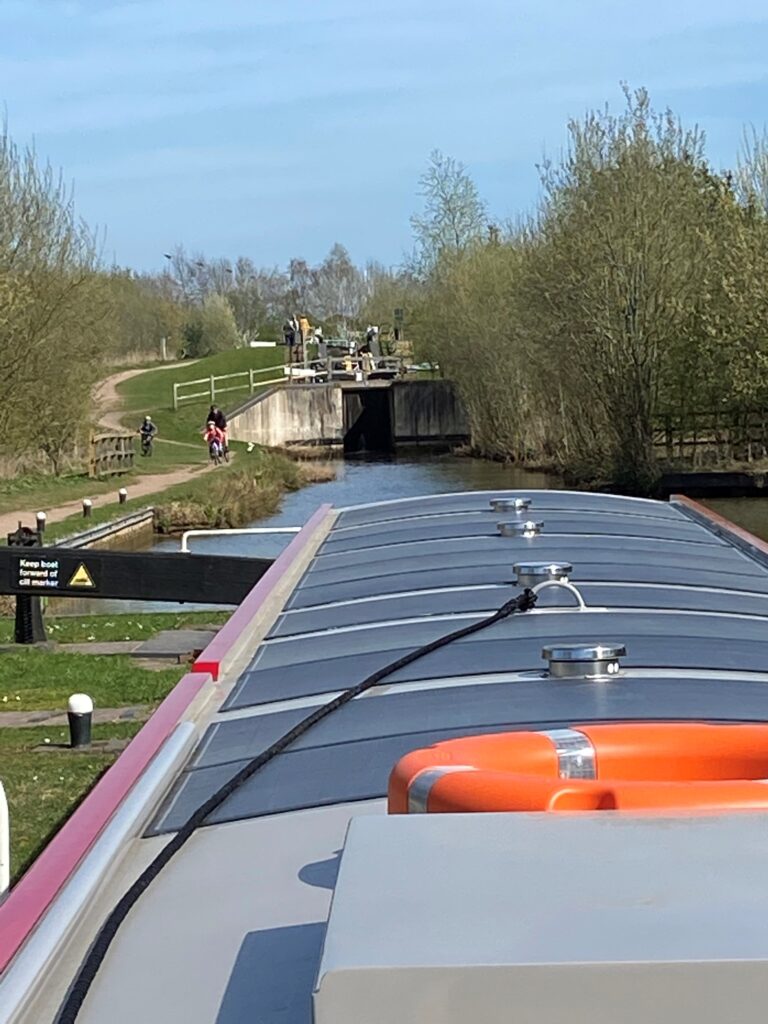 And then we were back – both actually a little sunburned! We had had such a lovely time and, as Paul had another two days off, we resolved to go out again tomorrow, after our delicious Roast Lamb dinner.
Our trip today, ended with an SOC of 66%, the lowest we have so far gone down to, but we were happy to have been able to cruise and live on board for two days, with less than 2 hours of generator usage, especially at this time of year. And there was no need to worry, as by the morning, an evening on shore power had restored the batteries to 100%.
Easter Monday was a day of extremes, weather-wise. We had everything from sunshine to sleet, hail and even snow showers! But did that daunt us? Not a bit of it! We set off at just before 11, this time turning left out of the Marina and immediately into our first of three locks. These unusual locks are all above average depth. The bottom lock has a rise of 10'7″, the middle 11′ and the top lock 11'1″, giving a total rise of over 30 feet in a pretty short distance. Thanks to Mick Geraghty on NB Oleander for supplying this data.
They are unusual in that they each have a side pound, and whether locking up or down, these must be emptied (going up) or filled (going down) into or from the lock before using the ground or gate paddles. They are a very clever water saving device – saving half a lock of water each time they are used.
We turned right at Hanbury Junction – a tricky little manoeuvre in the wind, but assisted by our trusty Vetus bow-thruster we made it round and moored by the pub. We were now on the Worcester & Birmingham canal. We were also the proud possessors of a very welcome Roast Pork bap! Paul had noticed earlier that the pub by Hanbury Wharf – The Eagle and Sun – were advertising their availability and we had deliberately had no breakfast in anticipation.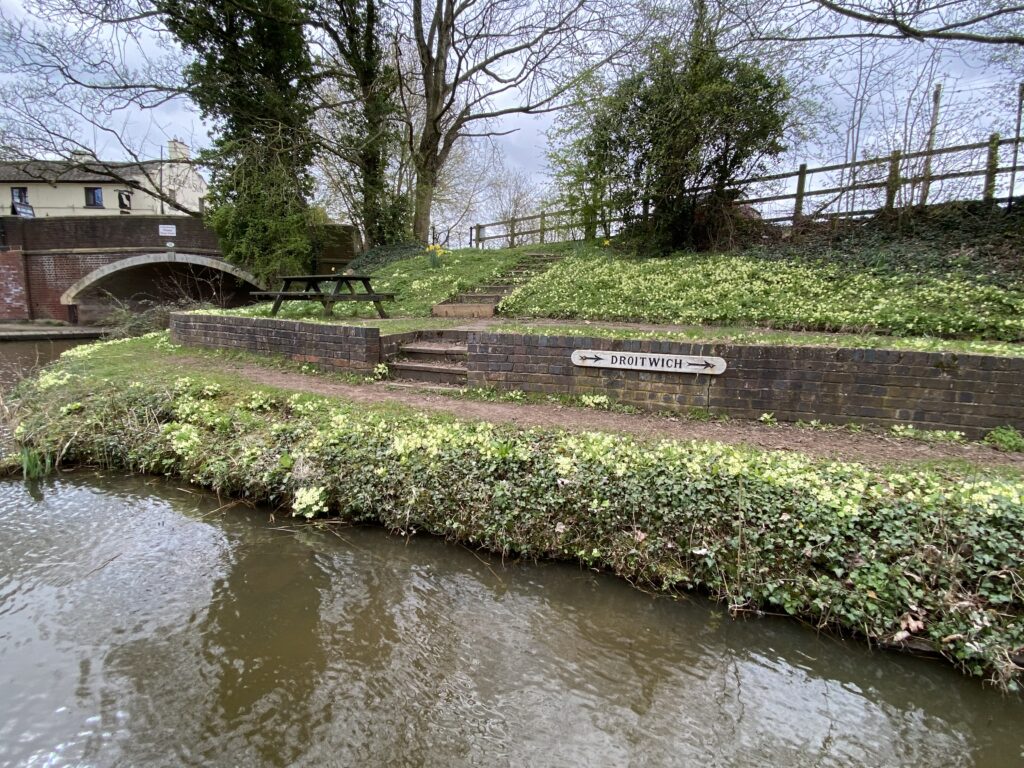 Reader, it was worth the wait! All four of us (!) enjoyed them very much! Thus fortified, we pressed on. The blossom was breathtaking – the hedgerows were like a succession of blushing brides all decked out in frothy white blooms. Spring is such a wonderful season.
We got to the winding hole (where you can turn your boat round) above the next set of locks about 14:00 and retraced our route, back to the mooring spot we had clocked on our way down. A little too close to the railway line to be the perfect mooring but nonetheless a beautiful spot opposite the village of Oddingley, with its cute church. And we suspected that the railway line, which only had sporadic (and largely empty) trains along it would be quieter overnight.
We were pleased to note that the SOC was holding up at 90% and no need to run the genny. In fact by 17:00, the solar had recharged the batteries back up to 100%, so a whole day of free power!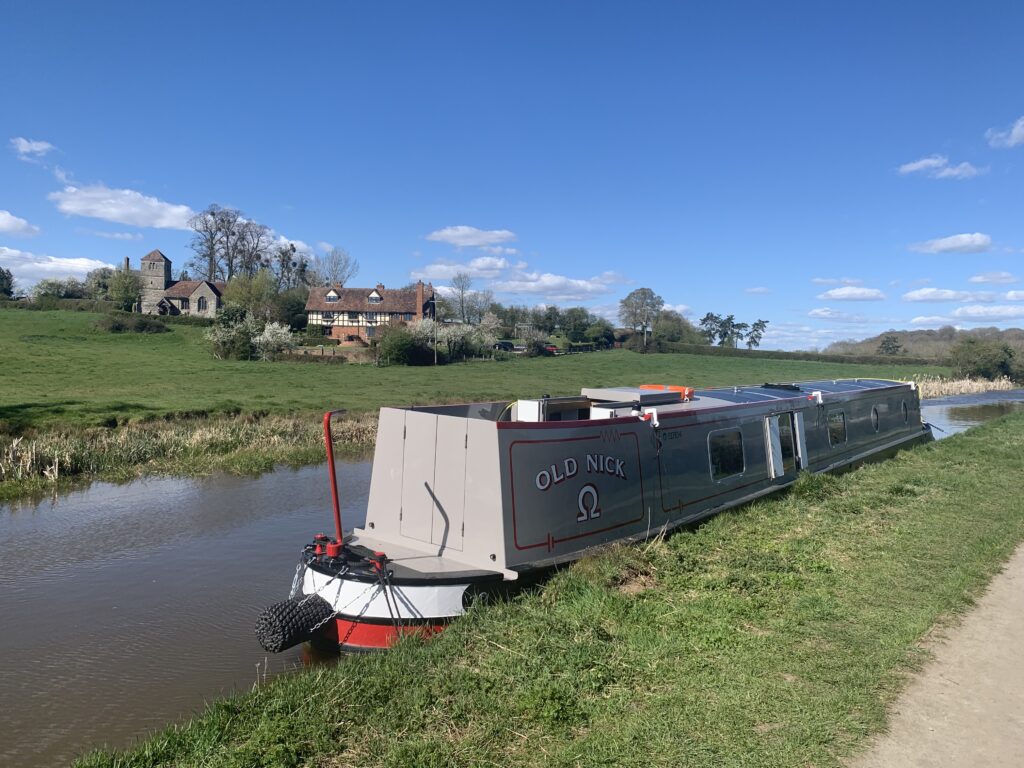 It was another cold night and there were signs of snow or hail (snail?) on the towpath when the boys went out for their walk. On their return, we noted the SOC was now 86%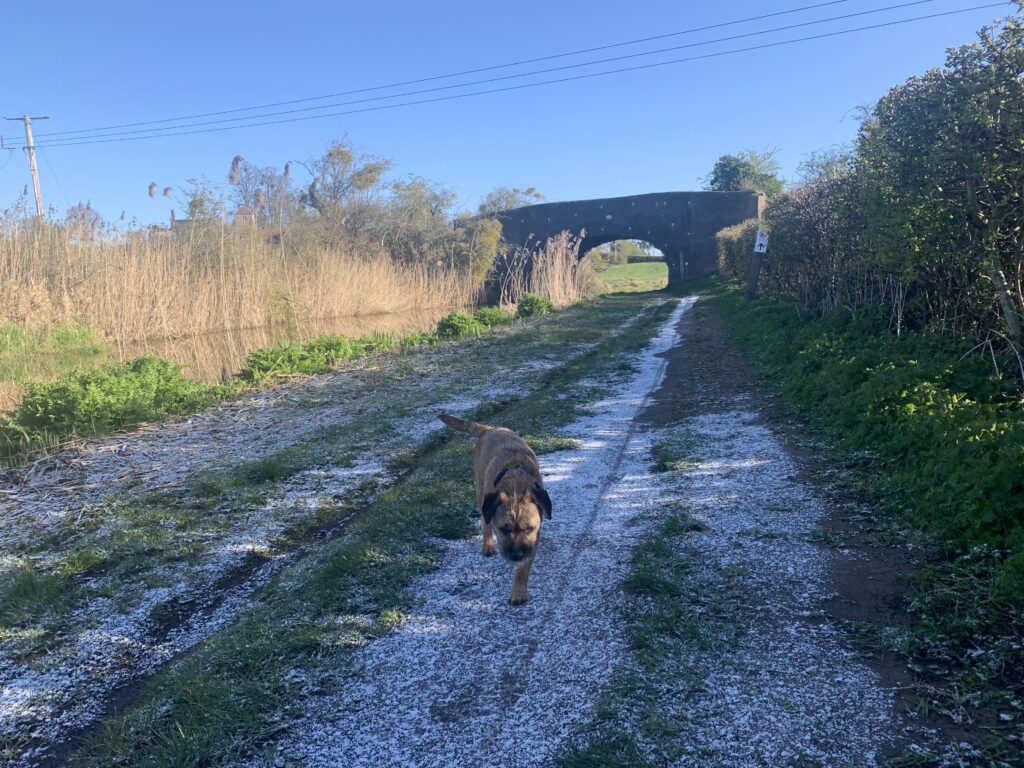 We set off for home in a biting wind. I'm not normally a chilly mortal but I had to resort to gloves and a scarf, so it was pretty Arctic! We whistled down the Hanbury three in good time, aided and abetted by some CRT folk. Rather a novelty! But very welcome.
As we turned back into the Marina, we both felt a little sad. We are so looking forward to a time when we will no longer have to keep returning to base and can just keep going wherever our fancy and the four winds take us. Effectively that won't be until early June – Covid willing. Much as we love it hereat Droitwich Spa Marina, it can't come soon enough.
We also learned a handy tip from them, after struggling with the bottom lock gates on the top lock , which refused to stay open. On each lock gate is a piece of wood that says "Not to be removed from lock", which Paul had noticed and thought rather odd, but turned out to perfectly wedge the gates in place to avoid such shenanigans – who knew?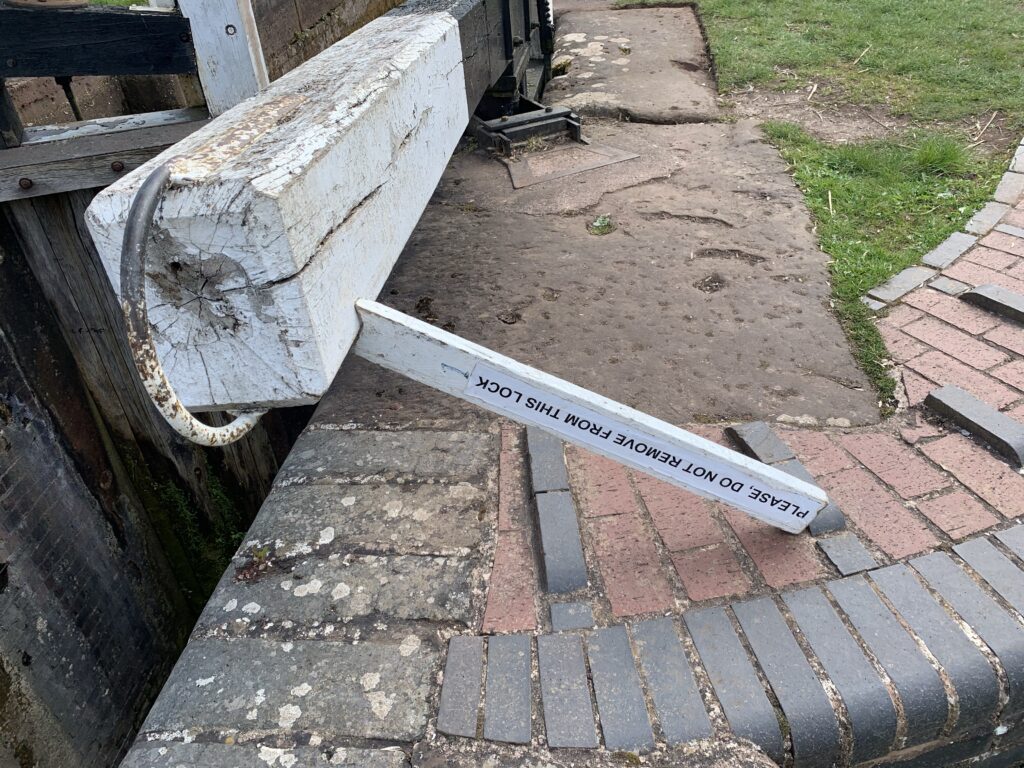 Once again the SOC had held up well during the day only dropping 8% which was soon recovered with the afternoon sunshine, giving us another day of free energy. We intentionally did not plug back in to the shore power, until nightfall and were very pleased with having two cruising days without running the genny or using shore power.