A post about our first guests aboard Old Nick
This weekend saw us welcoming our very first overnight guests on board. We have pretty much been in lockdown since we took delivery of Old Nick, but the regulations have finally been relaxed, allowing us to mingle indoors. And mingle we jolly well did – although being sensible and refraining from hugging still! Our friends Anne and Gray Robertson, with whom we have done many shows over the years and also shared boating holidays, were to be our "guinea pigs".
Old Nick is set up to be very comfortable indeed for two people. We had no idea what it would be like and how it would work with more. I had thought it through and forewarned our guests to bring as little as possible. And luckily they took us at our word. We ask our guests to bring their own bedding – apart from a bottom sheet, which we provide, meaning that we can have the bedroom looking clean, tidy and welcoming ready for their arrival.
We plan to give up our bedroom as it affords our guests a little privacy. We are happy to sleep on the dinette, which very quickly makes into a small and pretty comfy double. It also means that we can get up and reset the dinette back to its day position ready for breakfast, without disturbing our guests.
Our bedding, pillows and other nighttime accoutrements fit neatly into two IKEA bags. These are stored on the bed during the day, leaving the saloon and galley relatively uncluttered. It works very well.
Thursday 20th May
Anne and Gray arrived at around 7pm. It was an absolute delight to see them, as we have hardly seen a soul throughout lockdown. We unloaded the car, had a quick cuppa and then ordered some Fish and Chips from our local chippy, Queens, in Droitwich. They serve massive portions and we found that a large portion of chips easily feeds four – to bursting!
We spent the evening catching up and playing several rounds of cribbage (the girls won!) before our beds beckoned.
We got a routine going quite quickly. At bedtime, Anne & Gray ferried our two IKEA bags and the boys' crates in to us and then used the bathroom, while we set up our bed. We then used the bathroom and clambered into the bed. We had opted for the small double configuration, as the king size requires the addition of our large table top and a couple of extra cushions. We thought we'd see how we slept on the small bed and we slept just fine, thank you, which was good news. It's definitely (obviously!) not as comfy as our proper bed, which is wonderfully comfortable. We've never slept better! But it is definitely fine for when we have guests. Which we hope will be often!
Friday 21st May
In the morning, after a good night's sleep, we packed the bedding away and our guests ferried the bedding and crates back to the bedroom, upon which we had breakfast. Paul had nipped out early to get a loaf of our favourite Alex Gooch sourdough (from Waitrose) which we and our guests thoroughly enjoyed, toasted.
Our guests had also slept well, so much so, that Anne asked for details of the mattress, with a view to buying! The mattress – in case you are interested – is from BodyMould and is genuinely the most comfortable bed we have ever slept in. Ours is the "Supreme" version.
We set off on our weekend voyage round the "Droitwich Ring" at around 9:30, in rather chilly and showery weather. Our SOC on departure was 91%.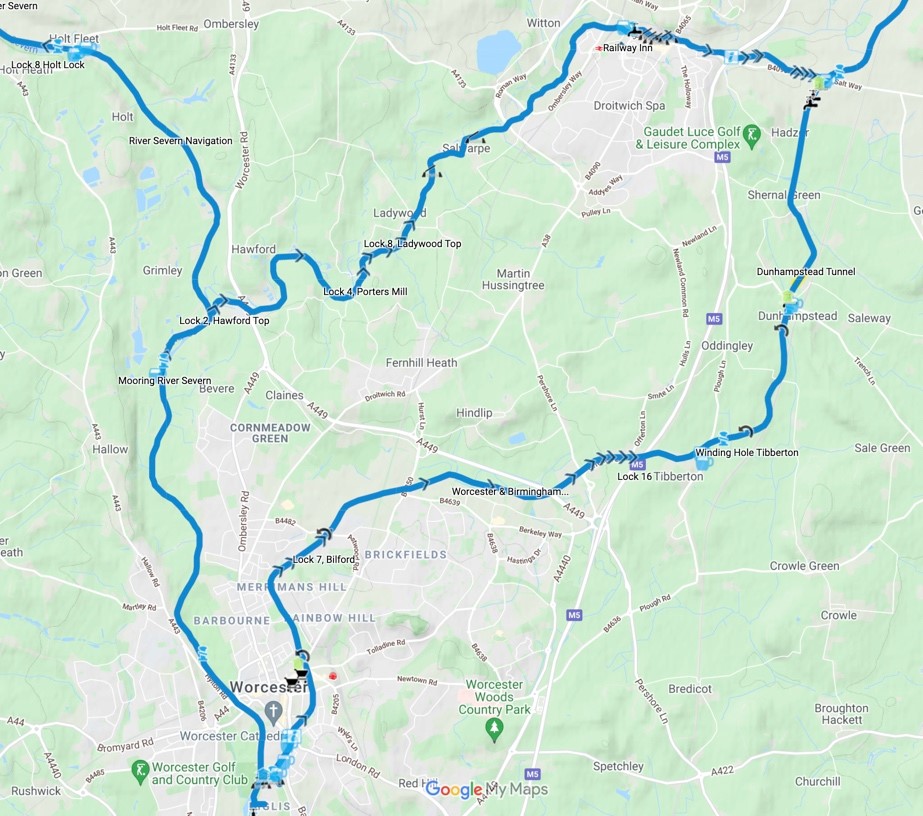 It has only been possible to cruise the Droitwich ring since 2011, when the two canals which make up one of the legs – the Droitwich Barge Canal (which has wide locks) and the Droitwich Junction Canal (which has narrow locks) – were restored.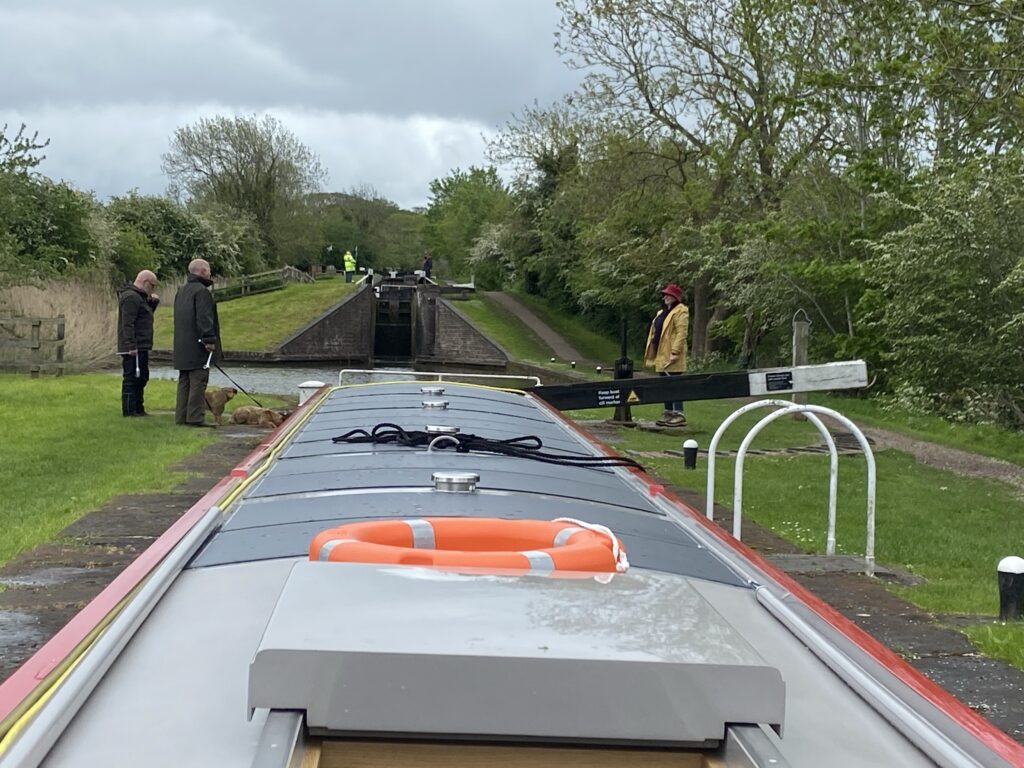 We polished off the 3 deep locks which mark the end of the Droitwich Junction canal in good time and then turned right at Hanbury Junction onto the Worcester & Birmingham canal, which runs from – yes, you've guessed – Birmingham to Worcester.
We had a berth booked overnight in Diglis Basin, in Worcester itself. This leg of the ring, down to Worcester is roughly 9 miles and 14 locks, so would take around 6 or 7 hours, if things went well.
As it happened, things didn't go so well! When we arrived at Tibberton (AKA Offerton) Top Lock, it was cordoned off with incident tape. Oh no! Would our trip be scuppered, almost before it had begun? Well luckily not. There had been an incident – a pound had been complete de-watered – whether as a result of human error or some sort of equipment failure, we never established, but the local lock-keeper (whom we have met before) had to flush several locks full of water down to fill the empty pound, before navigation could recommence.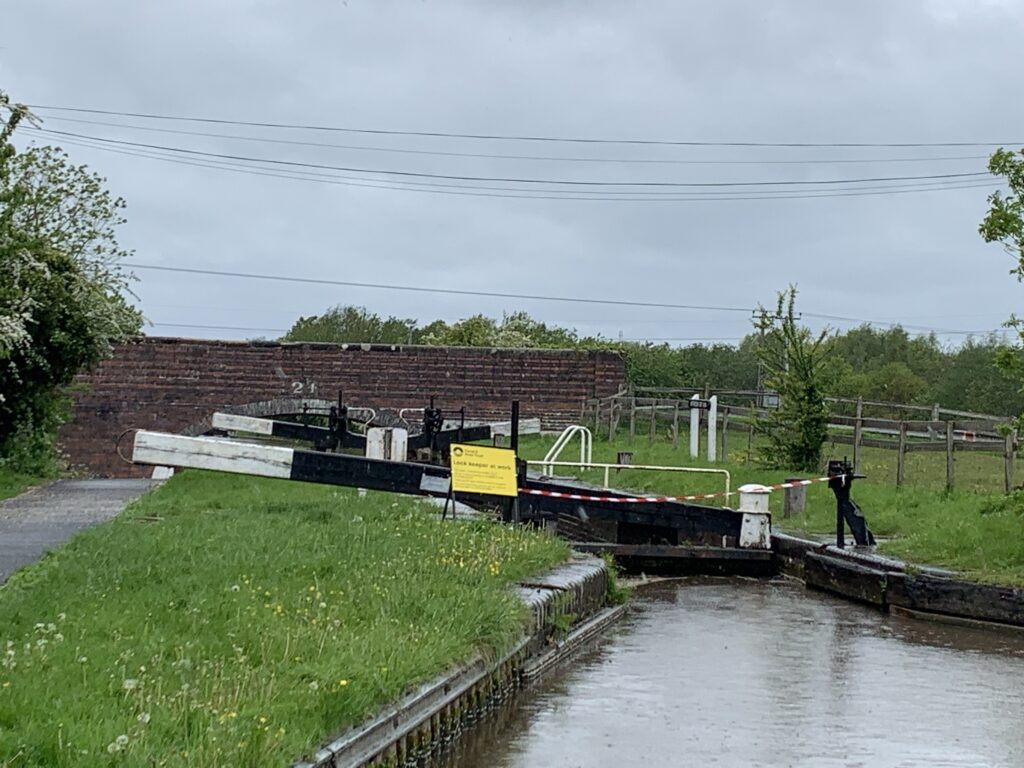 The wait was about an hour and a half and we put the time to good use by having lunch, thus not too much impact on us. I also took the opportunity to phone Diglis to let them know we would be late arriving. They were able to give me our berth number and where to find it, which was handy, as you shall shortly see!
We did the locks down to Worcester in a variety of weather, most of it damp and with a biting wind. Our gallant crew were undaunted though and we actually had a really great day, despite the unseasonal May weather!
Anne and Gray had not seen the boys for a good few months and they had lots of cuddles with two of their favourite people, as you can see!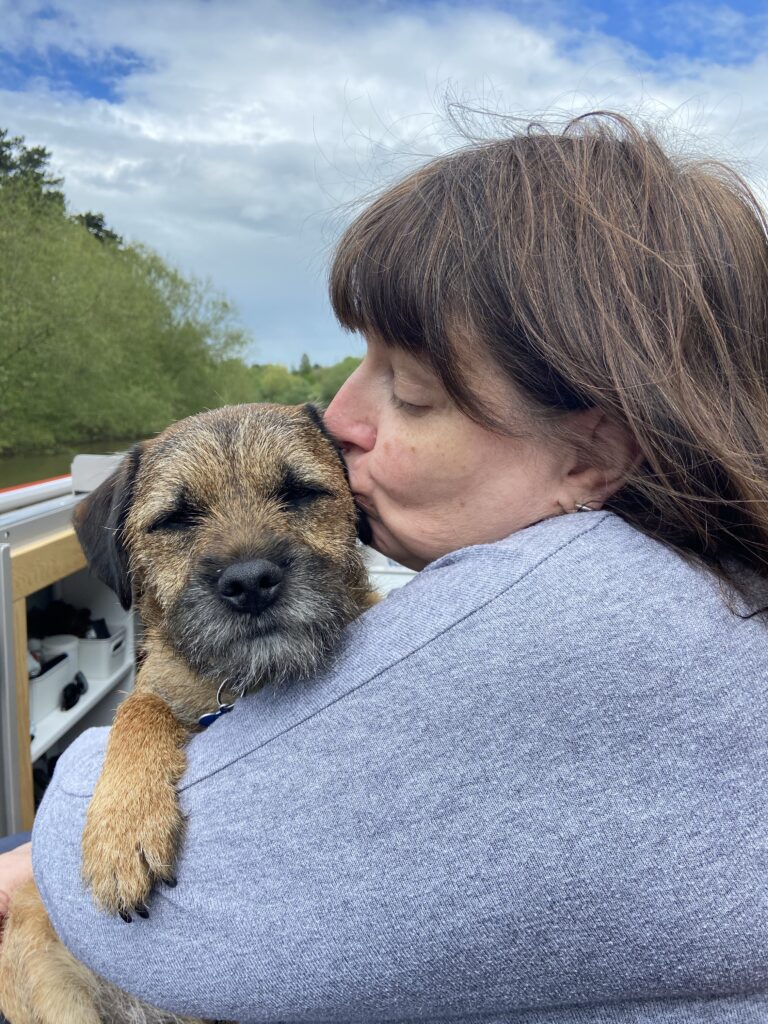 We were all glad to get indoors by the time we eventually arrived at Diglis Basin Marina at around 19:30. I had popped the heating on about an hour before, so when we went indoors it was toasty and radiators were warm and ready to dry our damp gear. Poor Gray had discovered that his trusty old walking boots had sprung a leak and had soggy feet.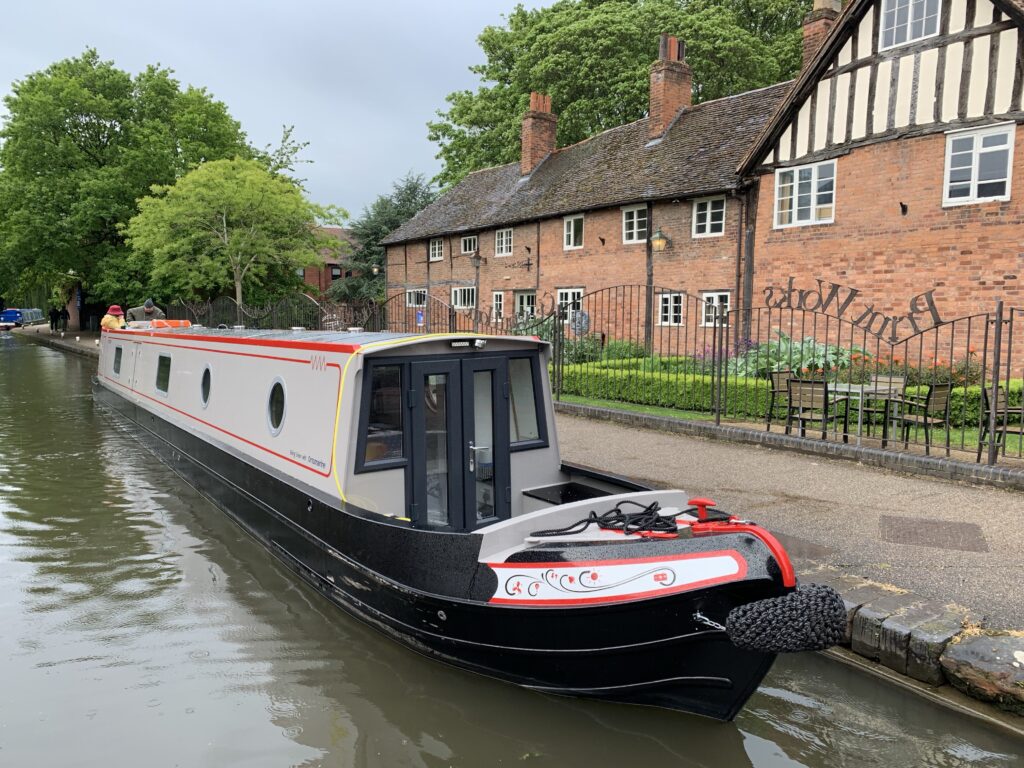 The Marina had advised us that we could get a key and an electricity card from the nearby shop. Unluckily, we had arrived after the shop shut. Bad news. Good job we knew which berth we were on otherwise we'd have been in trouble.
Having spent a bit of time in a Marina now, we knew that sometimes there is some residual power available (you usually buy it in £5 or £10 chunks, and you can't take it with you, you see). Luckily for us, someone had left a generous chunk of power which we happily gobbled up, re-charging our batteries, after a very low solar yield day at 65% SOC, back up to 100%, ready for our trip up river the next day. Result!
We had no plans to leave the Marina so the lack of a key wasn't so much of an issue. Not until we realised that we'd have no way of getting the boys out for a comfort break. Doh! Paul went off with them and got out. Unluckily, he had forgotten to take his phone with him and it took a while for him to attract our attention to get him back in again! How we laughed…. Oops!
We finished the day with another few rounds of cribbage – the boys absolutely decimated the girls. And boy, did they crow about it!!
Saturday 22nd May
After another good night's sleep we all showered and got ready for the day ahead, which looked very much nicer than its predecessor. Thank goodness. We had a plan for Gray to make his way on foot through the town, buying a new pair of boots on the way and then meeting us at the moorings we shall be using for the Electric Propulsion Trials event that we shall be taking part in next week.
Gray set off and we followed suit shortly after, descending the two big locks out of the basin and onto the river.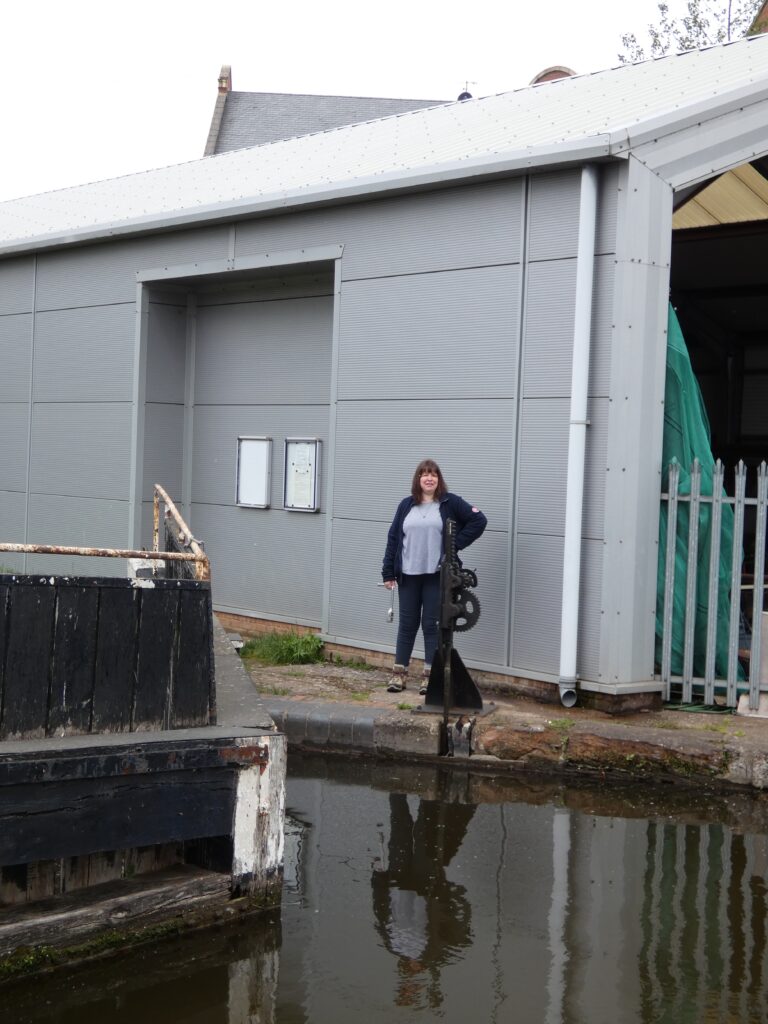 After the recent rain, the Severn was "on Amber" – this means that water levels had risen and that we should "proceed with caution". So we did!
The sun was shiny as we cruised past the lovely buildings that line the river bank. The Cathedral looked particularly lovely against the blue sky, and we were surrounded by swans (in their hundreds) and rowers.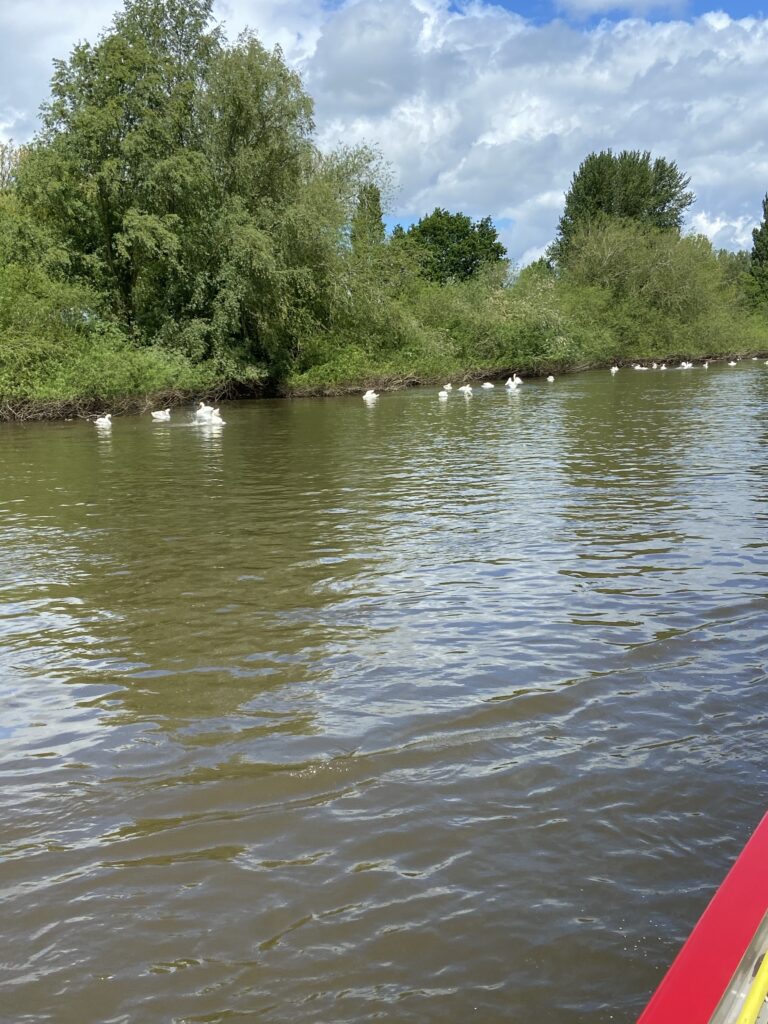 We made quite slow progress as the stream was running at about two or three miles an hour. We rang Gray to say that our estimated time of rendezvous was going to be exceeded, but it was such a lovely day with delightful views so he was unperturbed.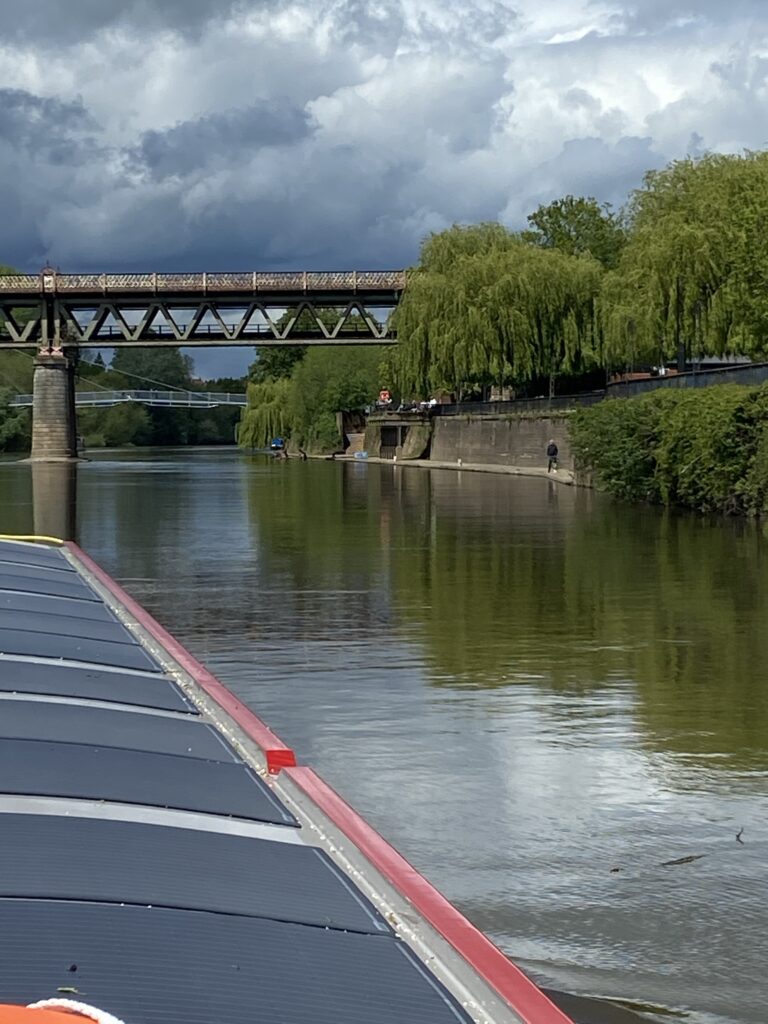 We picked him up – complete with shiny new boots – and set off again. Progress was quite slow and it soon became obvious that we were unlikely to make it to our planned overnight spot in Holt Fleet- a journey which – in good conditions – should only have taken 3-4 hours. We rang the pub to release our table and went in to Plan B. We'd spend the night at Hawford.
As we pushed on upstream, we saw the Camp House Inn and, after a quick call, we went into Plan C – overnight at the pub.
We approached the pub and dropped off our menfolk to tie us up, but it soon became evident that most of their moorings were well under water, and that bit that was not submerged was pretty sketchy and also short, which meant that the fast flow kept trying to pull our nose away from the banks. We exercised our skill and judgement and agreed to abandon Plan C as a bad job. We got the chaps back on board and set off for Bevere Lock, (which you and I would pronounce Beveer, but which locals call Beveray!), which was in sight, just a little further down the river.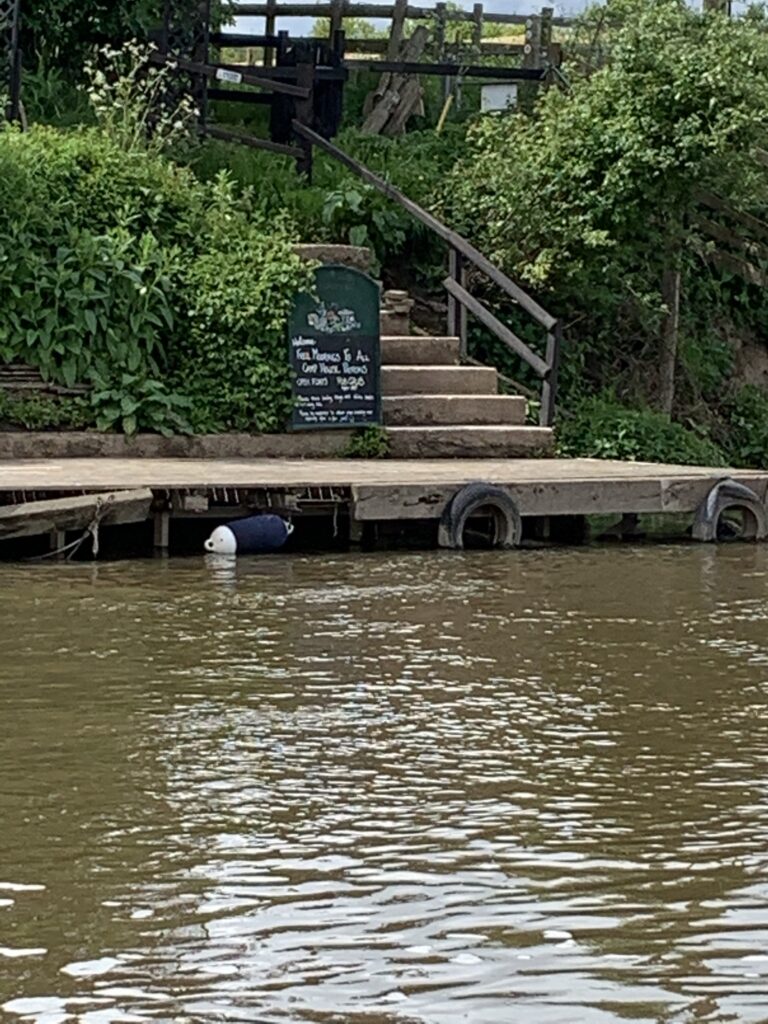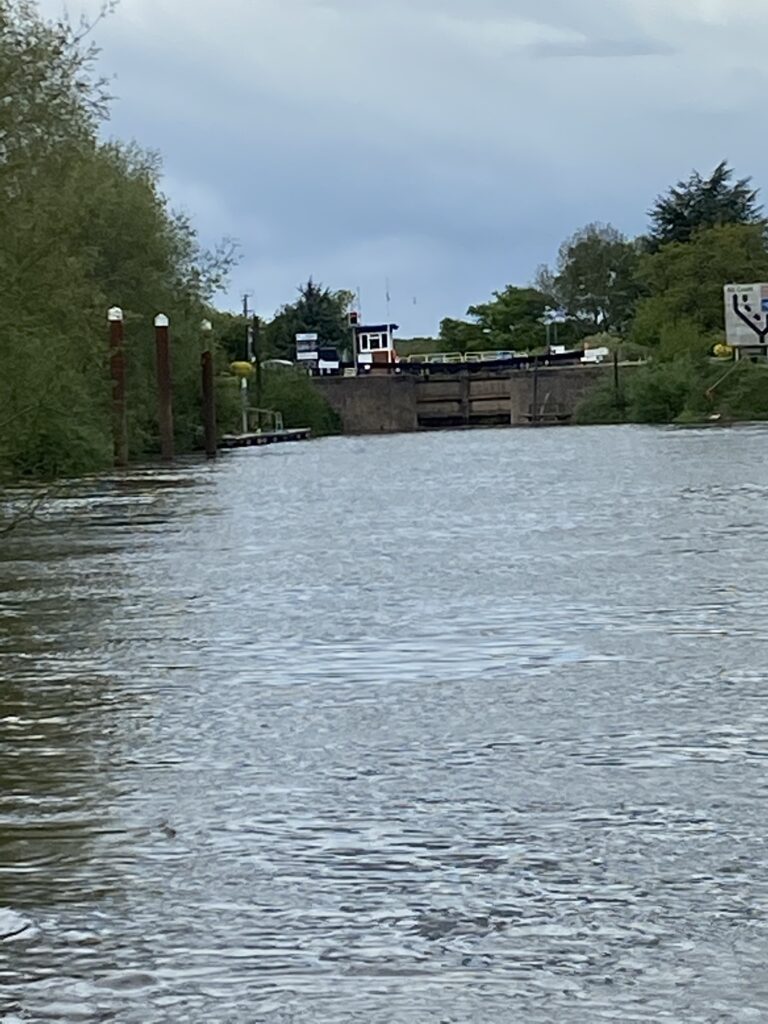 By this time, the boys were clearly in need of a comfort break, poor things. We asked the lock keeper if we could tie up for the night at the lock landing, and he gave us permission so to do. We had a Plan D!!Once we emerged from the lock, it became evident that the bank was so high at this point, that the only way we could have got the boys up was tuck one under an arm and climb a steep, vertical ladder. Plans D was rapidly abandoned in favour of Plan B and we set off for the short hop to Hawford bottom lock and the entrance to the Droitwich Barge Canal. Ditherers? Us? Perish the thought!
Never were two dogs so glad to see dry land! They made use of it very promptly, as you might imagine. We went through the two locks at Hawford and moored just above. It's a very pleasant mooring and you may recall we had stayed here on Easter weekend?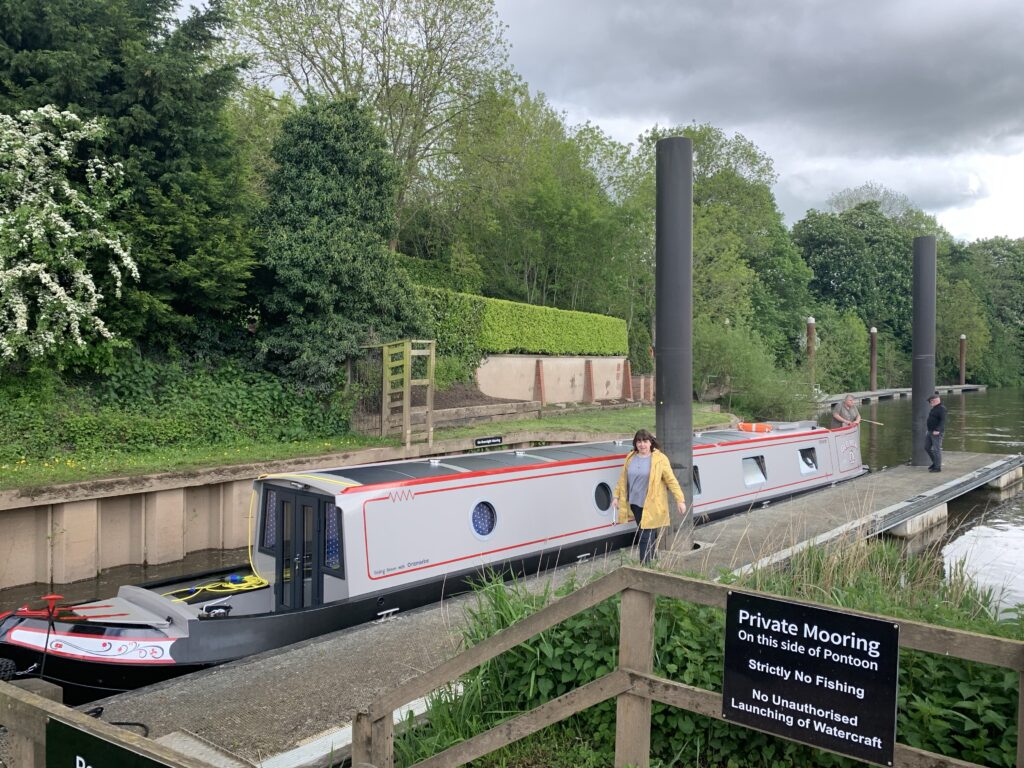 It was an early stop at around 4pm, but we amused ourselves variously until dinner time. Anne and I played a new 2 person game called "A Little Wordy" – from the same firm that brought you "Exploding Kittens". It was good fun and suitable for all ages from reading age upwards.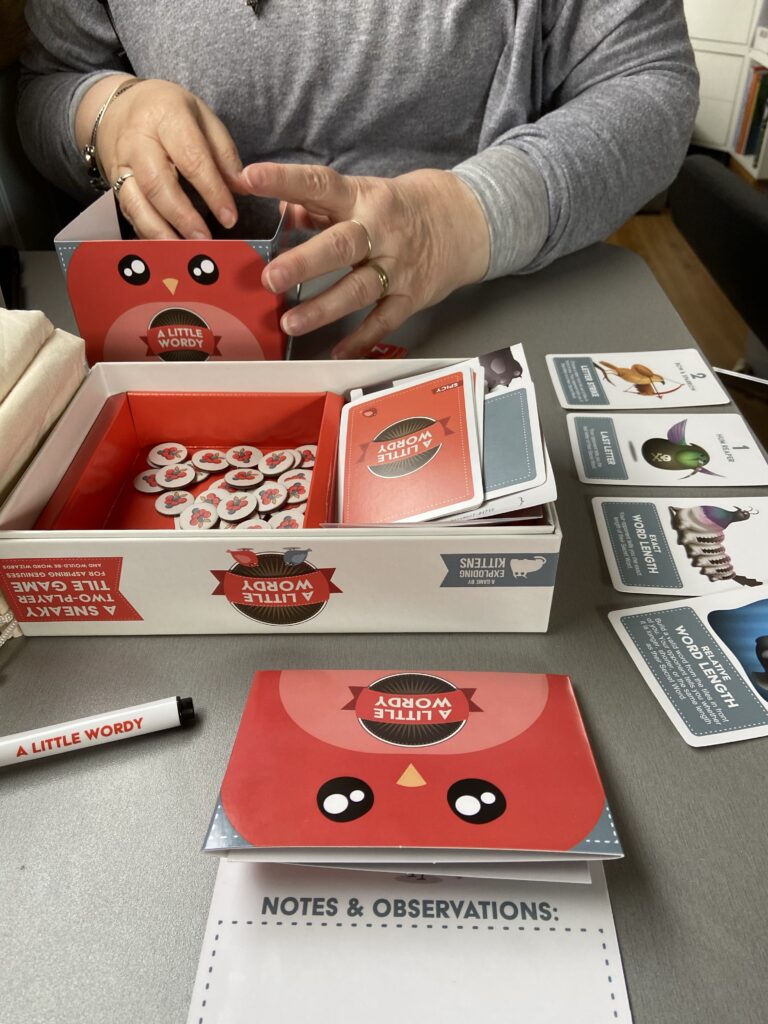 The boys did – well whatever it is that boys do when at a loose end. It's one if life's little mysteries!
Paul and I went for a stroll after dinner, with the boys, to look at the river as the sun set. It was fairly scudding along! The boys had a great game – one of their mad periods, which culminated in Ted falling into the canal (Ted 4 – Bill 3). Just what we needed! A wet dog.
We dined and then spent the evening playing cards – another trouncing for the girls.
Sunday 23rd May
We awoke to a day which looked reasonable but with threat of rain. Paul took the boys for their morning comfort break and spotted a) that the river was now on RED – do not proceed at all and b) that the cygnets we had seen the night before seemed to be stuck in a culvert. He collected Gray and a fishing net and set off to the rescue. They returned , having failed to rescue the cygnets, mainly because of the stress to their parents. We had a quick surprise visit from Rob & Caroline who live nearby. It was nice to see them "off duty", as it were. After they had gone, we had brunch – boiled eggs and toast and then set off.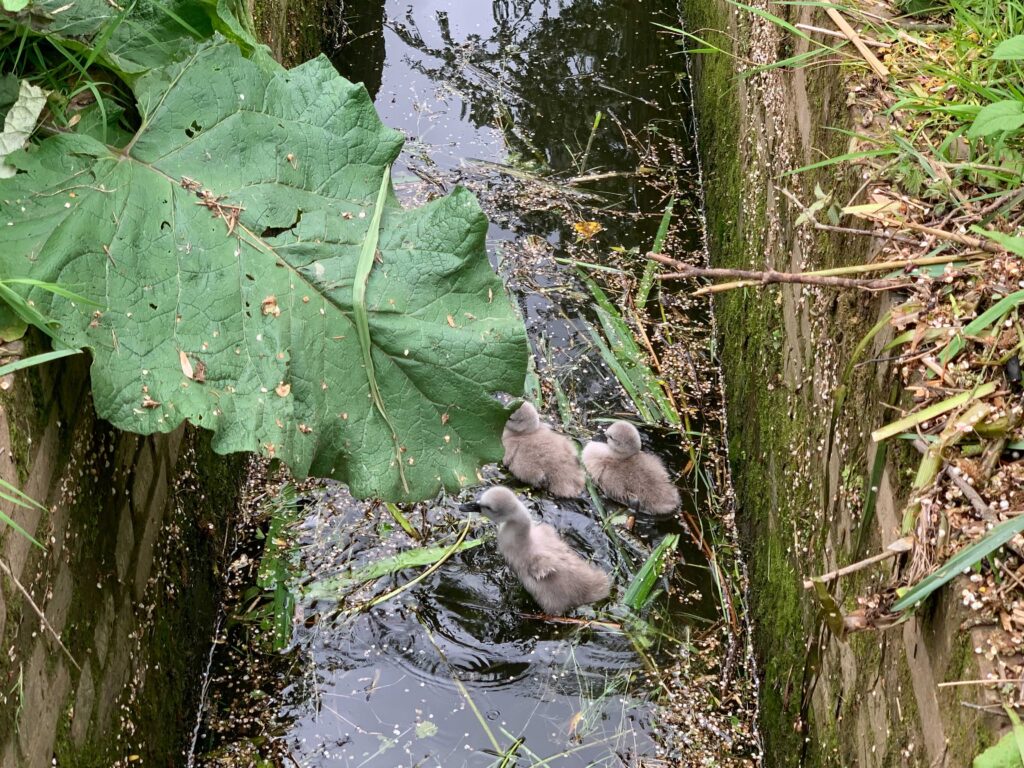 Being a Sunday morning, there was the inevitable fishing match – pretty much all the way from Hawford to the outskirts of Droitwich! But they were a cheery bunch and we had "good bants" with them.
The rain threatened us pretty much all day, and we were also accompanied by a police helicopter most of the way, circling around. It was clear they were looking for someone – a felon perhaps, we thought??
Further investigation showed that a young lady (38) had gone missing near Ombersley and that there was growing concern for her safety. One could but empathise with her nearest and dearest. Luckily she has now been found but the full details of what happened have still to emerge.
We made our way along this very pretty canal without seeing another boat until we arrived at the stop lock in Vines Park Droitwich, where the Barge Canal becomes the Junction canal. The remaining 4 locks – including the very impressive staircase – were done in style and we turned into the Marina just as the heavens opened. A lucky break indeed.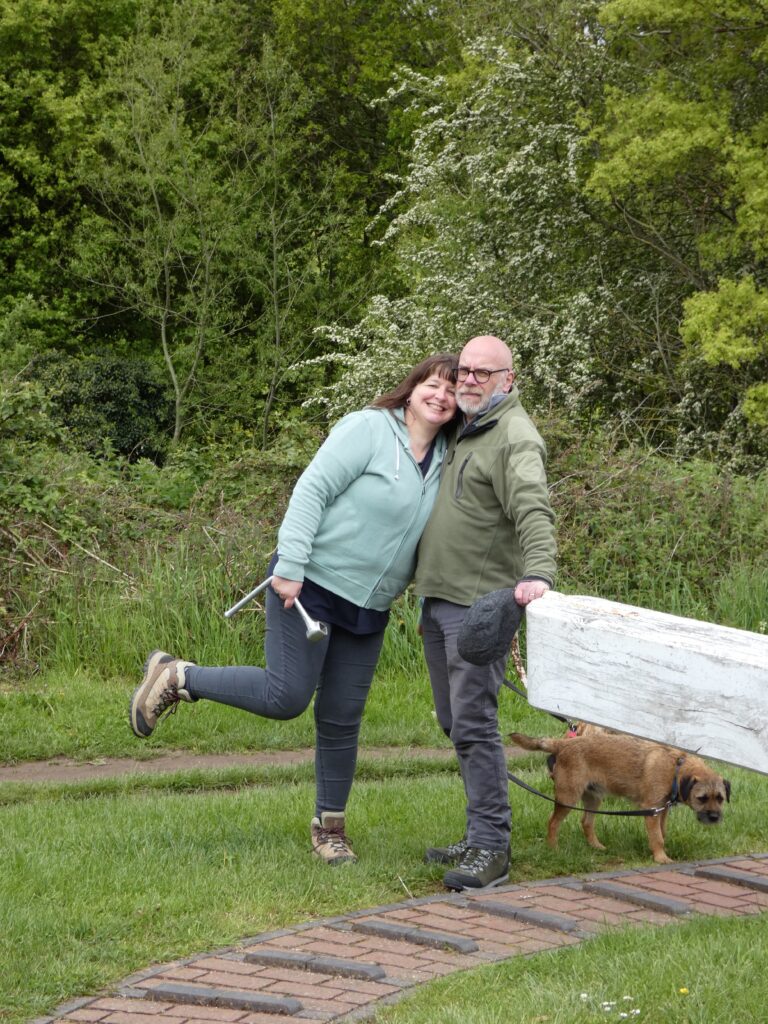 Another evening of cards followed and a reversal of the girls' fortunes. It had been a lovely weekend, full of laughs, food and lots and lots of weather. And we had proof that having guests on board was easily achievable.
Monday 24th May
Paul was up early as he had to be at work. I made breakfast while our guests got their bits and pieces together, before setting off on their journey home.
Thanks to Anne and Gray for being model guests. Here's to their next visit. And looking ahead, our next post will be about the Trials event next weekend – watch this space!!