Heading South down the Staffs/Worcs – some old stomping grounds
Monday – being a Bank Holiday (29th Aug) – was a non-working day for Paul. We made the most of having the whole day and travelled from King's Bromley Marina, leaving late morning, down through Handsacre, with a chippy and a pub right by the bridge, Armitage – home of Armitage Shanks, makers of sanitary ware.
There has been a pottery in Armitage since 1817. It only began making sanitary ware, though, in the 1850's. It became Armitage Shanks in 1969, when it merged with Shanks Holding in Barrhead, Glasgow. It is now part of the Ideal Standard group. The factory seemed to be in use as we cruised by but looked pretty dilapidated. I seem to have a memory of piles of toilets outside the factory, back in the day, but that might just be fanciful! Flushed with success, we continued on our merry way, towards Armitage Tunnel, a very narrow section, hewn out of red sandstone, where it is recommended that you send crew ahead to check for oncoming boats. No room to pass.
As we approached, Paul – now on the bank – indicated that there was a boat on its way through the tunnel, so I pulled over to the side to await its arrival. They assured us that there was no-one behind them so I set off. Tunnel is a partial misnomer these days, as much of the roof was removed in the 70s, due to subsidence caused by coal-mining in the area. What remains is a wide road bridge and a very narrow cutting.
Rugeley was the next town through which we passed – we spotted a handily located Tesco at Bridge 66. All the way, now, we travel cheek by jowl with the Trent – a lesser waterway in these parts, but it makes for some very attractive views. There is a right angled turn where the canal crosses the Trent on a Brindley built aqueduct. I stumbled across a very nice video of a boat crossing it when I was researching bits for this blog, although we were coming from the opposite direction.
It's difficult to get away from the railway line along this canal. We share the valley with it and the Trent. We ended up mooring alongside the Trent near the Wolseley Nature Reserve. The boys liked the river but ended up very muddy indeed. We have a black streaked dog towel to prove it! Tsk.
Tuesday was yet another non-working day for Paul. He had taken the day off to maximise the Bank Holiday. We set off with one goal in mind. To get a spot at Tixall Wide! Of which more in a minute.
We passed through the charming Colwich lock – and its a beautiful stretch of canal at this point, with the beautiful trees of Cannock Chase on the hills. Shortly after the lock, we got our first glimpse of Shugborough Hall – home of the Anson family, the Earls of Lichfield, until the mid-noughties. The last Earl to live there was probably the most famous in modern times. None other than Thomas Patrick John Anson, 5th Earl of Lichfield – known to his mates as Patrick Lichfield, Royal photographer. It's a beautiful house and grounds, now owned by the National Trust. I have visited a couple of times over the years and would thoroughly recommend.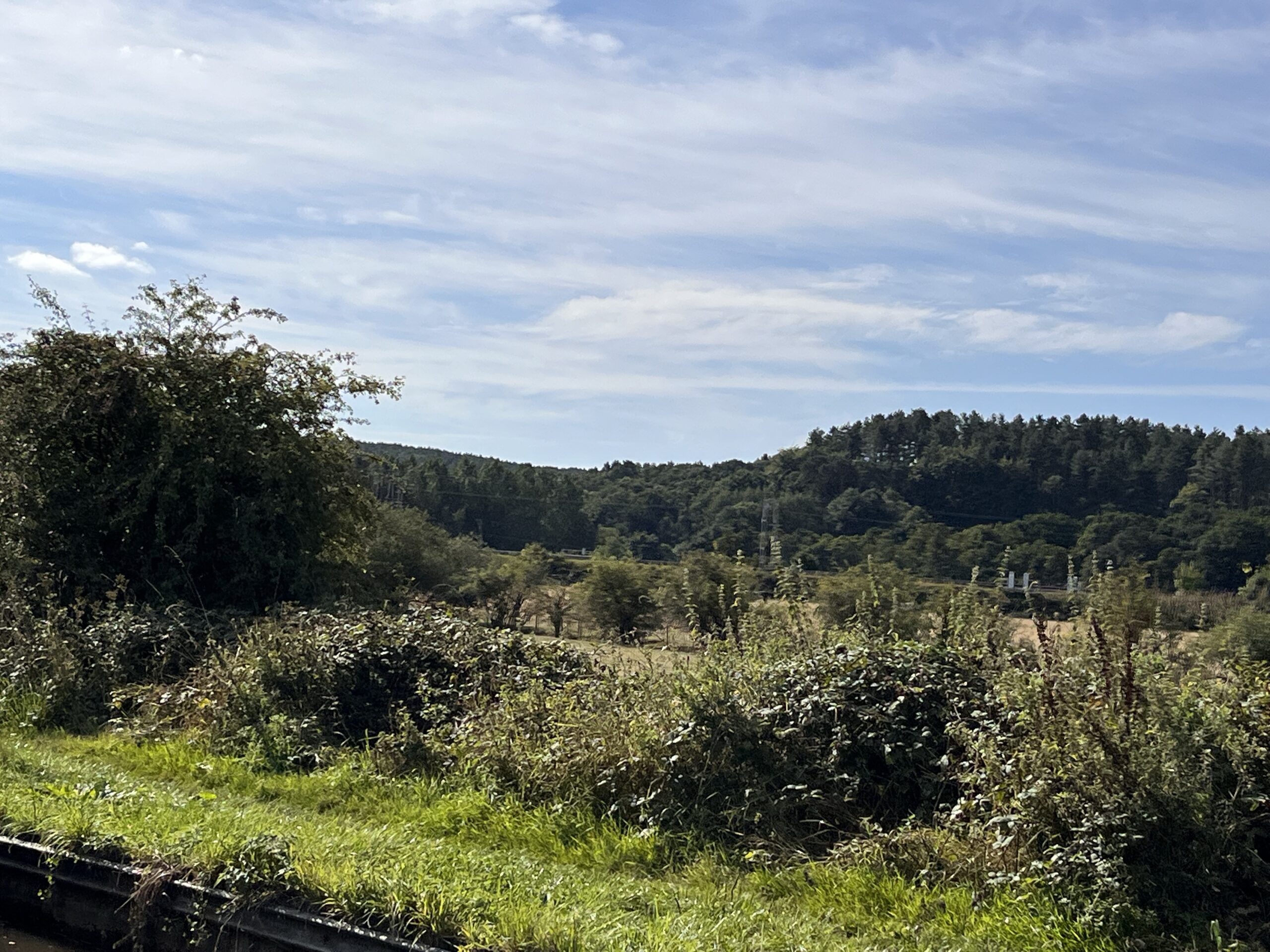 We made the turn off the Trent and Misery (as we always call it) onto the Staffs/Worcs at Great Haywood Junction, where there is an Anglo Welsh hire base. Tixall Wide was about a kilometer away at this point and we were ready to be disappointed as we approached it. But no! Unbelievably, there was plenty of room. Enough for us to have a choice! Unheard of. People who we'd talked toon our way had all laughed at our plan, and I have to admit, it's been tricky on other occasions we've stopped there.
As we approached, there was one other boat – it was our neighbours, Gail and Mark – the people who we moored right next to at Droitwich – in their boat, Autumn Sunrise. What a flipping coincidence! Tixall is one of my favourite spots on the whole system. We have visited many times. From the canal, you can see the last vestiges of Tixall Hall – the very impressive Tudor Gate House. The Hall itself was demolished in 1927, but once acted as a prison (for two weeks) for Mary, Queen of Scots. The gatehouse was bought (for £300!) in the late sixties by the Landmark Trust. They restored it and you can now rent it our for 4 nights (it sleeps 4+2) for around £500. Who's up for it?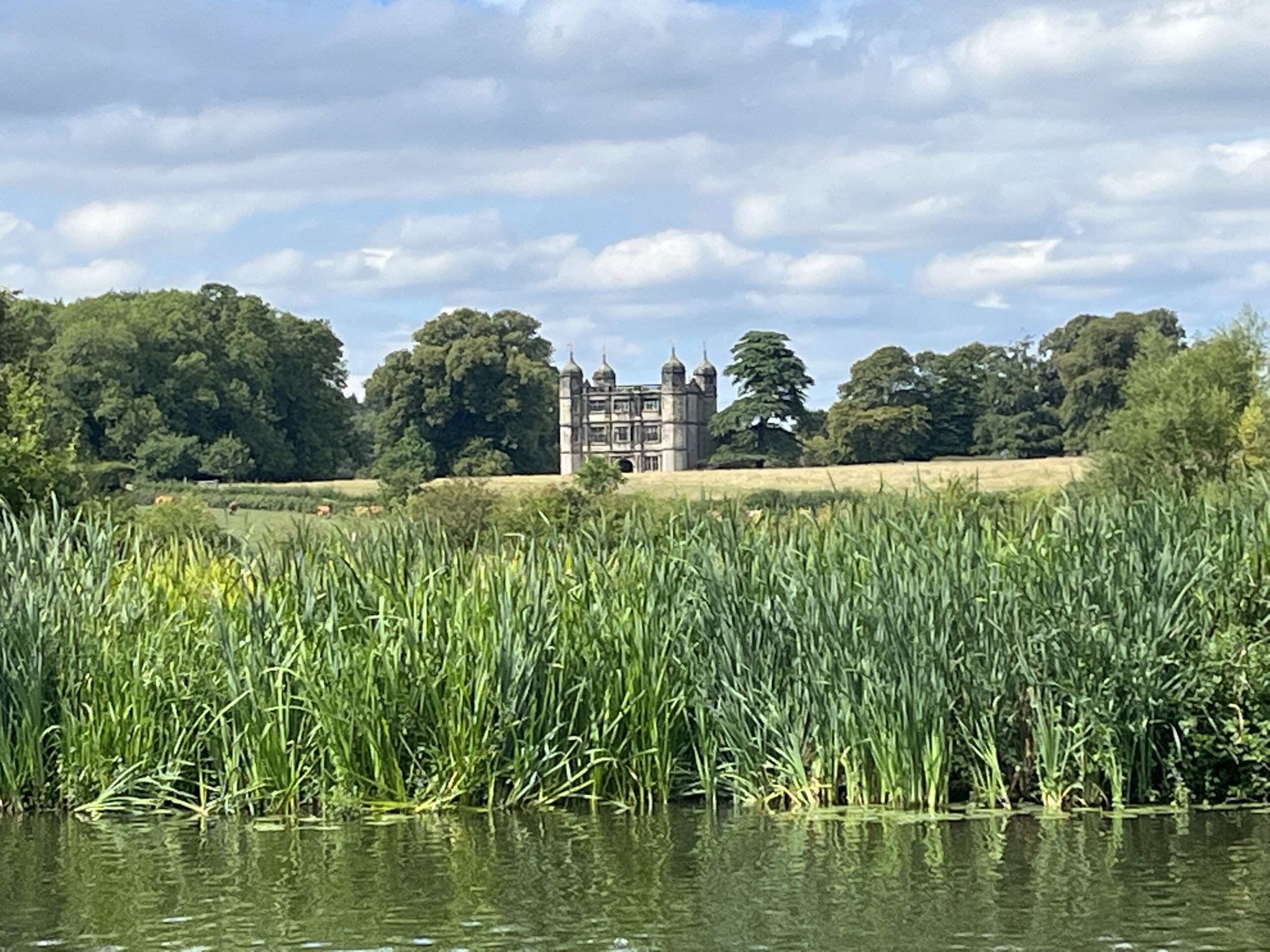 In our experience, Tixall has always been a home for many and various waterfowl, including Great Crested Grebes, who have entertained us with their diving – where will it pop up? But today there is scarcely a bird to be seen. Very odd. And quite sad. Incidentally – the reason why Tixall is wide? The story goes that, when the canal was being built, in the late 1760s/early 1770s, the local landowner (one Thomas Clifford) would only let the canal to pass through his land if it was made wide enough to look like a lake from his house. Oh to have that kind of clout, eh?
We had a quick cuppa with our former neighbours, who have recently left Droitwich Spa Marina to continuously cruise (i.e they no longer have a home base). We had a good catch up on what we had both been up to and it was great to see them, finally living their dream.
It was so quiet over night – I woke up at one point and listened, quite intently. Absolutely no discernible noise. Back where we used to live in an urban area, there was never a truly silent night and I love such nights and feel very privileged indeed, to be so completely removed from the hurly-burly. And to add the icing on the cake, each night at sunset, this lot fly over, on their way back to their night spot. Its a wonderful sight. Sound up for the video!
And suddenly, I woke up and it was the last day of summer (31st August) . This time of year makes me feel a little melancholy – I seem to associate it with things coming to an end. I wonder if it dates back to school years – the end of the long summer holidays? I used to feel the same when George was at school., so perhaps it is? But it's also a time for looking forward to a new season. Autumn can be beautiful on the canal – indeed every season brings its own beauty. So I need to snap out of the blues and look ahead.
We had stayed put at Tixall, so I made a batch of Welsh Cakes in anticipation of our visitor from overseas. And I started looking at our route for the next few weeks. And this is where the Change of Plan comes in.
You may recall that we left Birmingham a little before we had originally planned, earlier in the summer, due to a long-term stoppage. That work is still ongoing, but they have lifted the no navigation notice and boats can now go through on a restricted passage basis and must follow the instructions of the contractors still working on the bridge (Black Cock) on the Daw End Canal. There is still an issue with water levels to contend with, though. Notwithstanding, we plan to have another bite at the BCN, which we will access via the Wolverhampton flight of 21 locks. Only time will tell whether this was a good decision, or not!
We had an fairly early start on Thursday (Sep 1st) as we needed to go back up to Great Haywood Junction to get some water and dump the loo. And it seemed like everybody else had the same idea – and the scrum was compounded by someone mooring right on the junction (bit naughty) but we all sorted ourselves out, amicably.
Mission accomplished, we set off back to Tixall Wide, through Tixall Lock, bound for Radford Bank on the eastern edge of Stafford. It's a journey we have done many times and of which we have many happy memories. An old pal from early ONS (Office for National Statistics) days was from Stafford and we visited quite often. Happy memories of days gone by.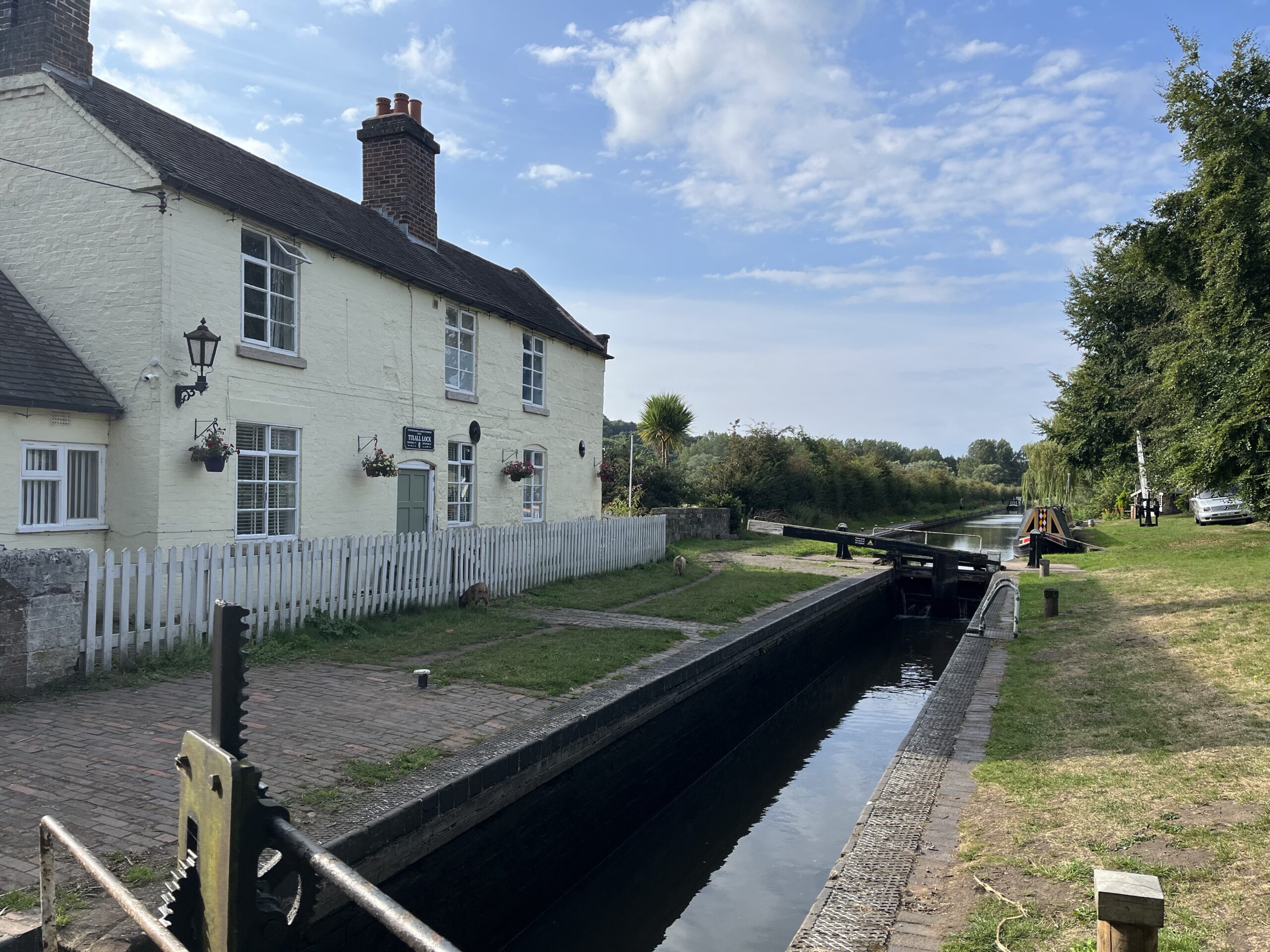 Bridge 99 is famous (see above) – or perhaps infamous – for the spot where, walking back from the pub (then called "The Trumpet") one night, one of the lads decided to jump across the canal. He misjudged it and ended up in casualty with a couple of broken ribs. Those were the days!
On Friday(2nd Sep) we awaited the advent of another old friend from ONS days and also PP (Portchester Players) days. She now lives in Vancouver and is over to visit family and friends. The last time I saw her, I caught the train from Seattle to Vancouver to visit her. That was in 2017. She is now coming by train to Stafford. That's friendship for you!
As it happened, her train was delayed because of an unfortunate event (you know what I mean) and she did not actually arrive until around 18:30, poor love. But we bustled her aboard and set off. Our plan was to wind at Acton Trussel that evening and return to Tixall the next day. The plan was slightly amended as we did not end up winding until Saturday morning as we lost the light. Another reminder that Winter is on its way. We moored just above Deptmore Lock and spent the evening yakking! There was a lot of catching up to do!
We had a nice sunny morning up to Acton Trussel, where we winded and started the journey back to Tixall. Still yakking. We stopped for lunch by the aqueduct over the R. Sow and eventually arrived back at the Wide late afternoon. We were lucky enough to see, very briefly, the sunset. The sky turned rapidly from a slight rosy tinge to a deep, fiery red and then back to normal, all in the space of just a couple of minutes. It was a joy. We also managed to get "pole position" at Tixal – right opposite the Gatehouse, so we got some better close-up pics. Such a beautiful building.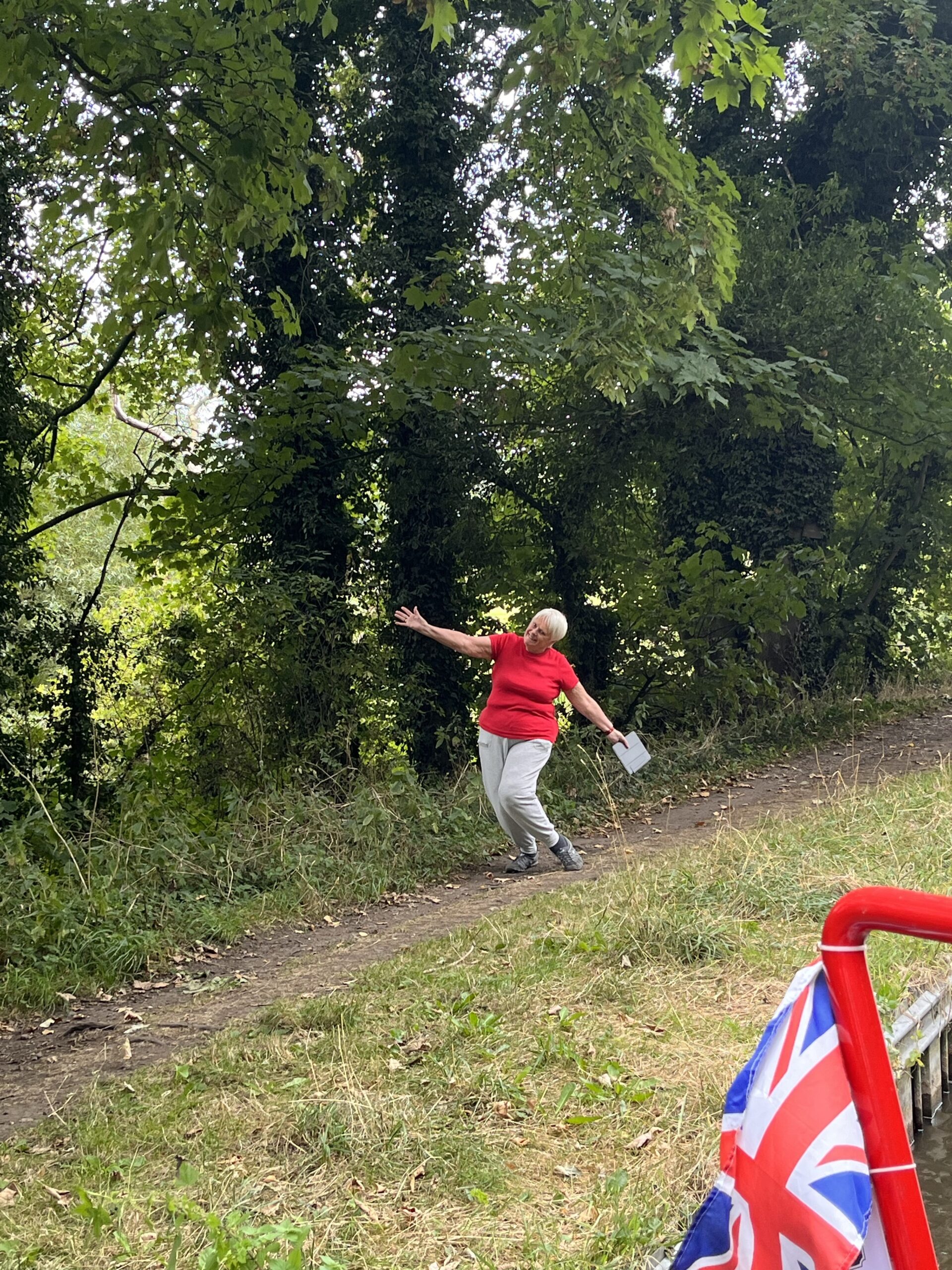 We spent the evening – yep, youv'e got it, yakking – although we did introduce Sue to one of our favourite programmes, which is set on Vancouver Island and is about a logging/sawmill company. It's called "Big Timber" and follows the Wentob family's struggle to keep their heads above water, as one of the few independent lumber companies on the Island. The scenery is gorgeous and the family are genuinely funny and interesting.
On Sunday, we made our way down to Great Haywood Junction to water and do the loo – always worth doing even if tanks are not empty (or full). Especially with extras on board. We had a couple of light showers on the way back to Stafford and then – without warning – the skies opened. It was a real cloudburst, and Sue and I scuttled inside while Paul steered on, under George's big brolley.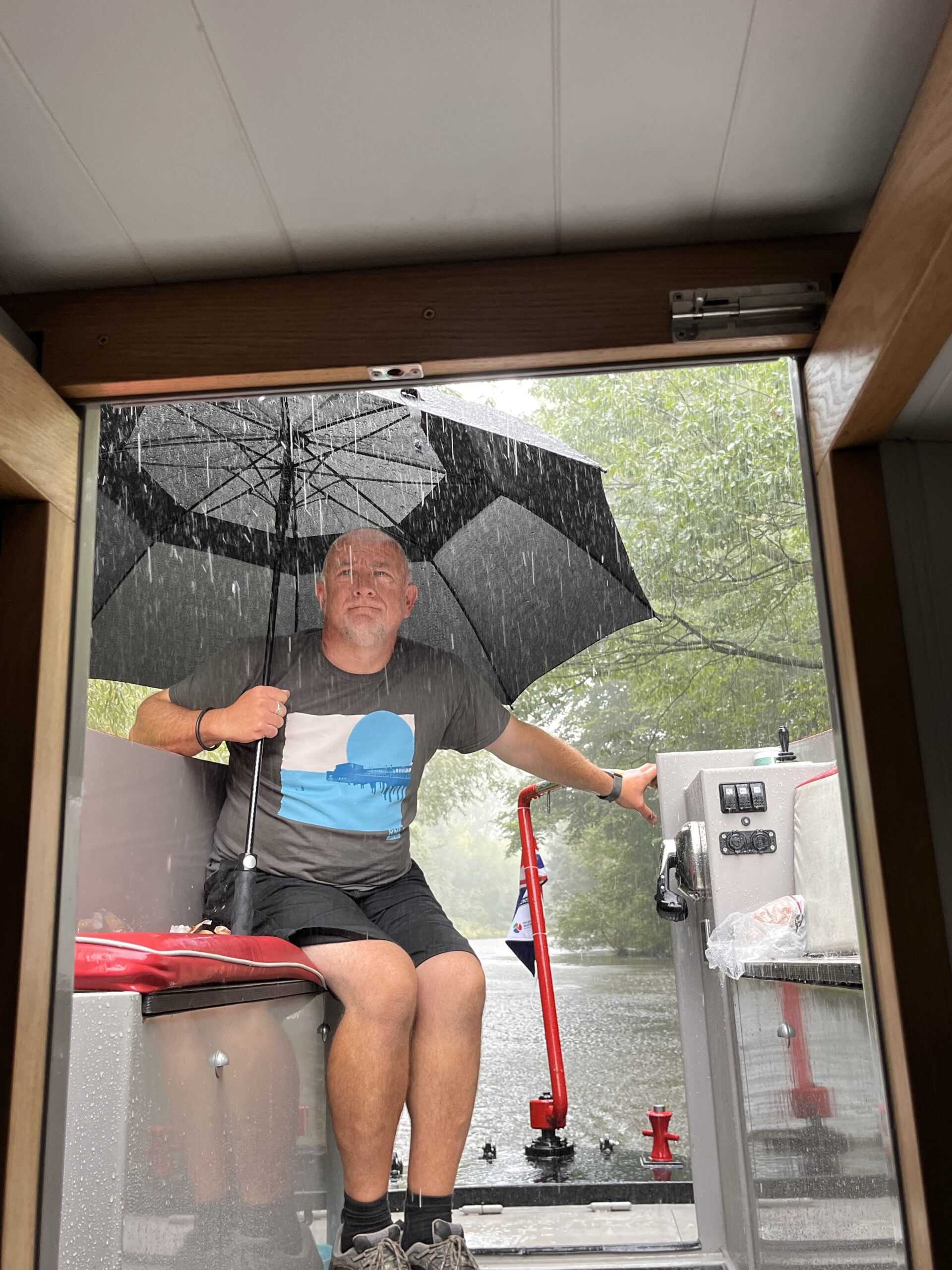 Sue and I had absolutely no choice but to have a chat to while away the time. We laughed and chatted and tried to remember the names of people we had worked with and people we'd done shows with – with varying degrees of success! So funny. And that's pretty much how the weekend went. Never a dull moment.
There was a massive thunderstorm overnight with quite the most stunning display of sheet and fork lightning and the rain was of truly Biblical proportions! But Monday morning dawned bright and sunny and then – as quickly as she came – she was gone. It had been so lovely to see her and we don't know when we will meet again, so a very precious time. Still – it gives as an excuse to return to beautiful Vancouver, some day soon!
I think Sue was quite taken with canal life and the peace and the wildlife – particularly the swans at our Stafford mooring, who now come and knock on the window to get some grub. They particularly like Rice Krispies!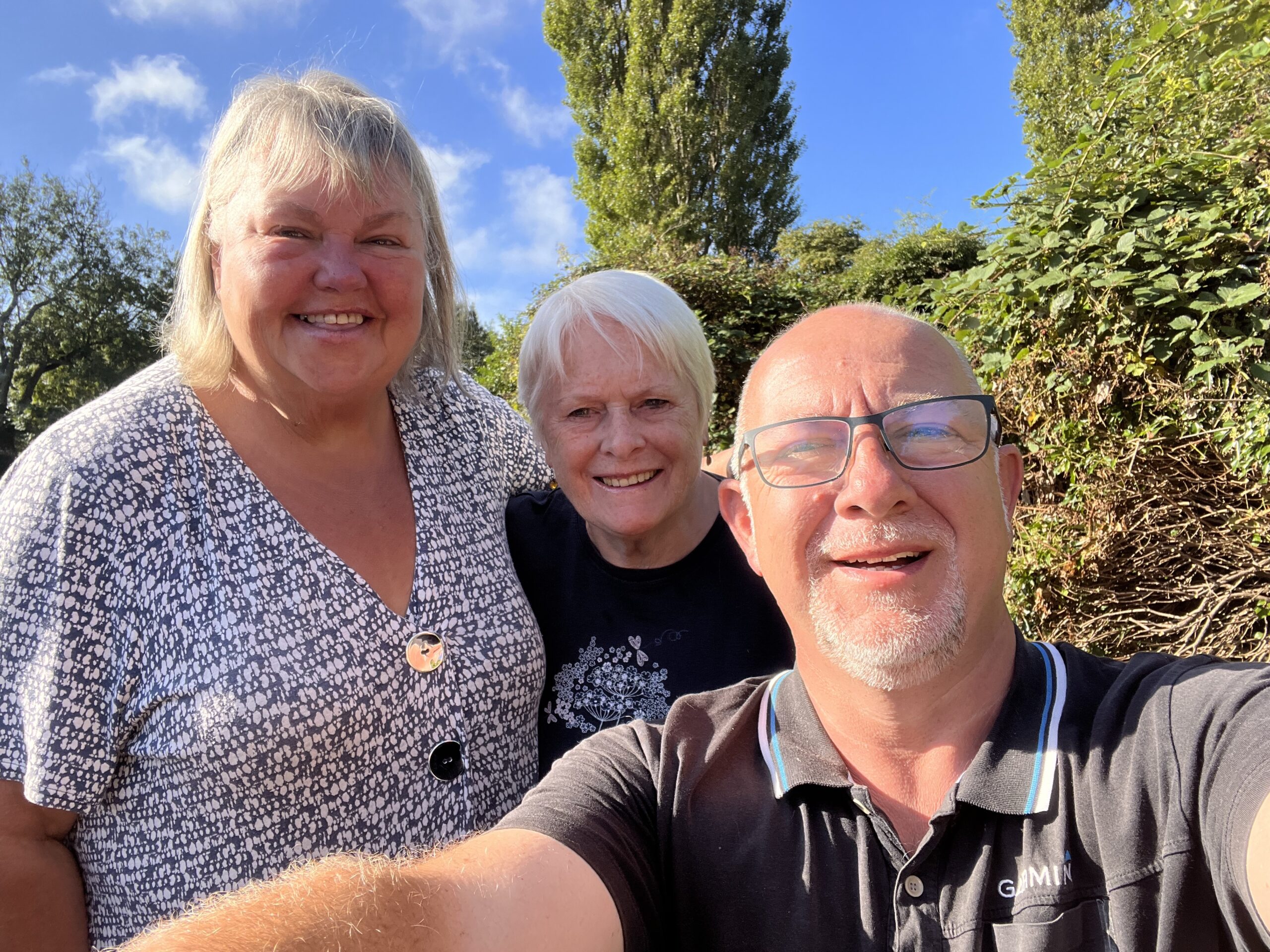 We have more guests next weekend and are heading South towards Wolverhampton. The weather for the week ahead looks a bit changeable and we will probably be dodging showers all week, if the Countryfile long-range is anything to go by. But we can't complain and the country does need some rain. It may be a damp Autumn? We shall see.