Along the Trent and Mersey and down to Fradley Junction
We stayed put at Sawley on Monday – rain was forecast and we have become such fair weather cruisers, these days. But then, if you have nowhere in particular to be and no particular schedule, why would you voluntarily get soaked?
We are – very loosely – starting our journey back to Droitwich, with a view to arriving there in late October/early November. We plan to travel there via the Trent & Mersey canal, the Staffordshire & Worcestershire Canal, the Severn and then the Droitwich Canal. That's the current plan anyway – 89 miles and 76 locks. But you know plans – good to have but not cast in iron!
We set off at around 06:15 on Tuesday morning (23 August), bidding adieu to the mighty Trent at its confluence with the River Derwent, through Derwent Mouth Lock and onto the Trent and Mersey (T&M) Canal. In the picture below, the River Derwent flows in from the right, the Trent trundles off to the left and we head straight on to the T&M.
The T&M is almost 100 miles long, with 76 locks, and runs from Derwent Mouth to Preston Brook, near Liverpool, but we shall not be cruising its entire length. We shall be leaving it at Fradley Junction to join the Staffordshire and Worcestershire Canal aka the "StaffsWuss" for short. The T&M locks are broad until after Barrow on Trent and then become single width, until you get to Middlewich (in Cheshire). I don't much care for the locks on this part of the canal. They are a touch irksome.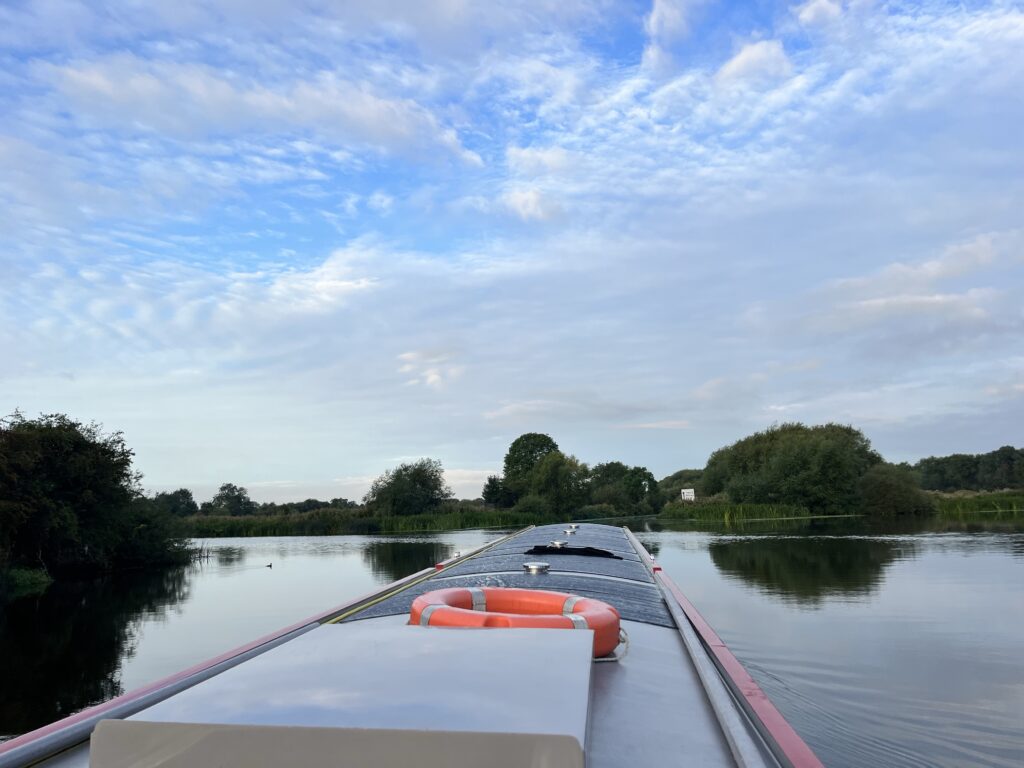 We didn't go terribly far this morning – maybe 3 miles and 3 locks? But we passed through Shardlow, once an inland port of some renown. During its heyday (1770s to1840s) it became referred to as "Rural Rotterdam" and "Little Liverpool". These days, Shardlow is considered to be Britain's most complete, surviving example of a canal village. Passing through, it looked a little sad – faded glory, I'd say.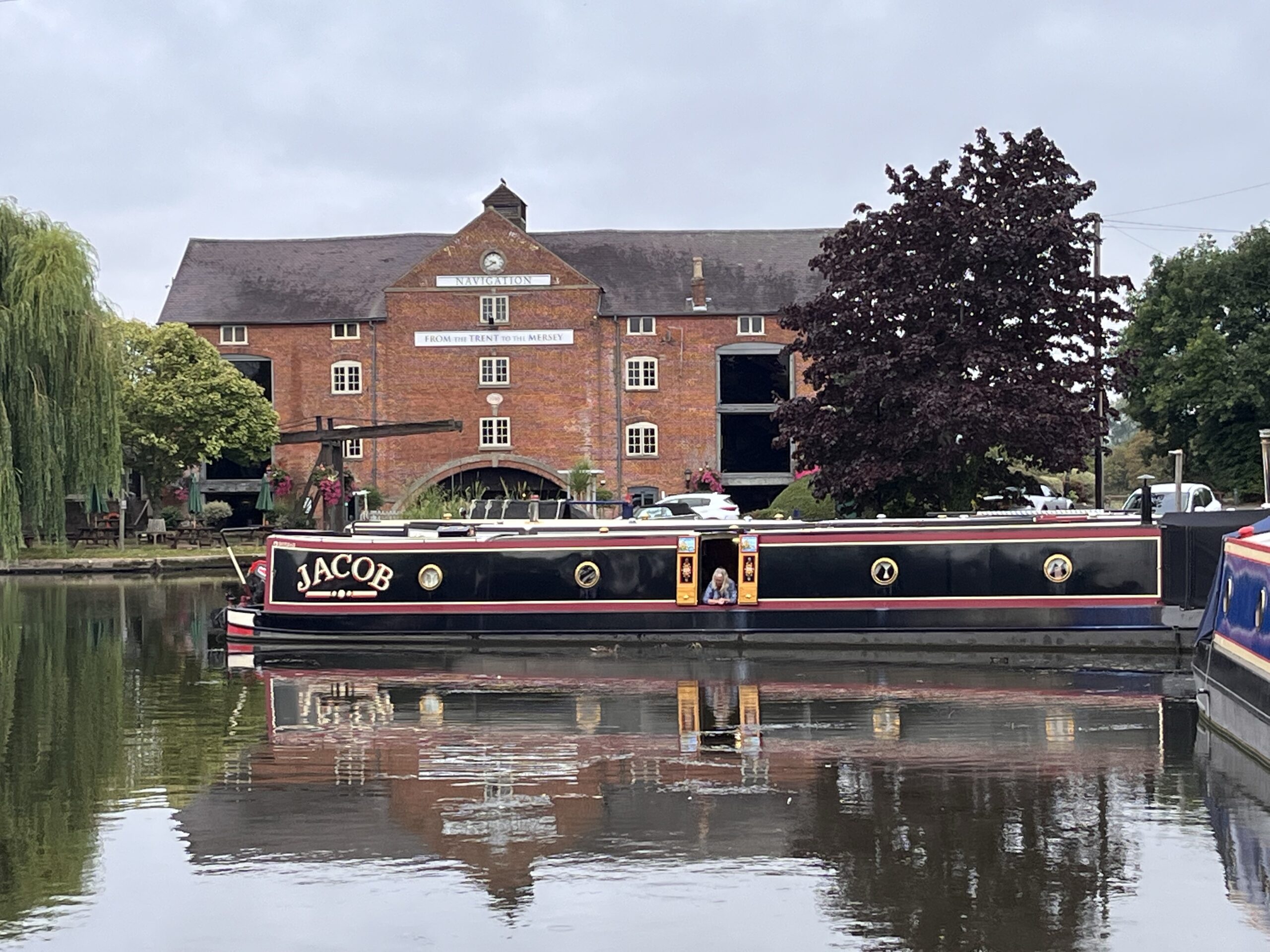 We found a spot that seemed quite quiet – even though it's by a railway line, trains seem to be few and far between. And we could always move on, later, after work, if we found it didn't suit us.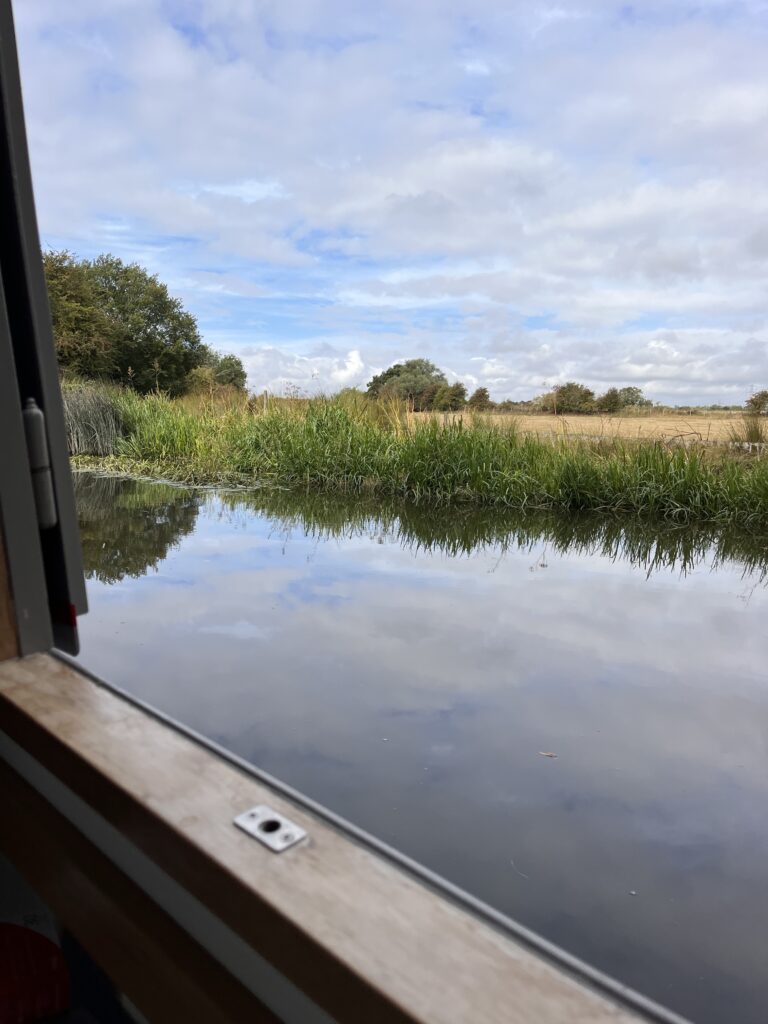 I had a notification from Towpath Talk, a canal related publication with a strong online presence, that they had posted a video from Sandiacre Lock on the morning of Sunday 21st August. "Oooh!" I thought – "we went through that lock on Sunday morning. Imagine, then, my surprise when I saw first Steve, then Old Nick and then the boys! And – eventually – a glimpse of Paul. It was us! We did not notice that they were filming and it was a such nice surprise. Here's a link to it (although I think you may need a Facebook account to view it?)
https://www.facebook.com/TowpathTalk/videos/441506394583149
Steve had been filming at the weekend, too. Having edited it, and added sound (him on guitar) he sent me a link to it on YouTube. It's a lovely memento of a fab weekend.
Well, it was a tad noisy, with rattly goods trains, aircraft taking off and construction work nearby. But it had settled down by bedtime and we had another early start planned, so it wouldn't be an issue.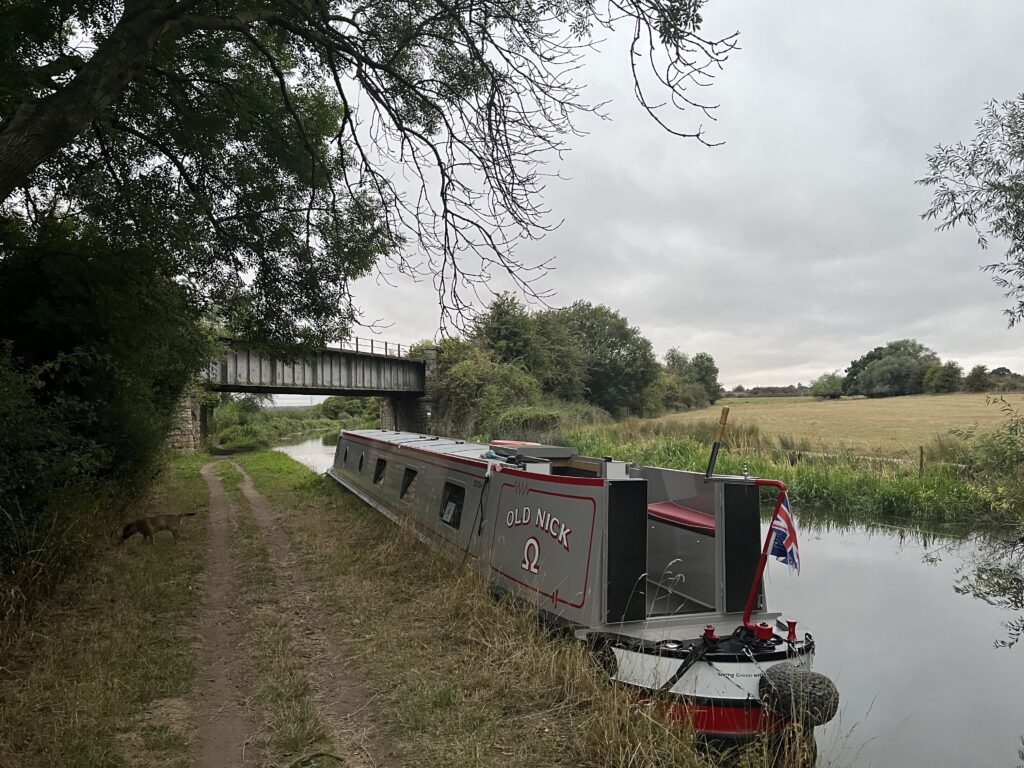 It seemed like the middle of the night when the alarm went off. It was only just light and as we cruised along to our first lock of the day, it was cloudy, but there was a tiny rip in the cloud, through which a rosy-orange dawn was bathing the tops of the trees. It was quite magical and a moment we would have missed, had we slumbered on. Sadly, the photo does not quite do it justice.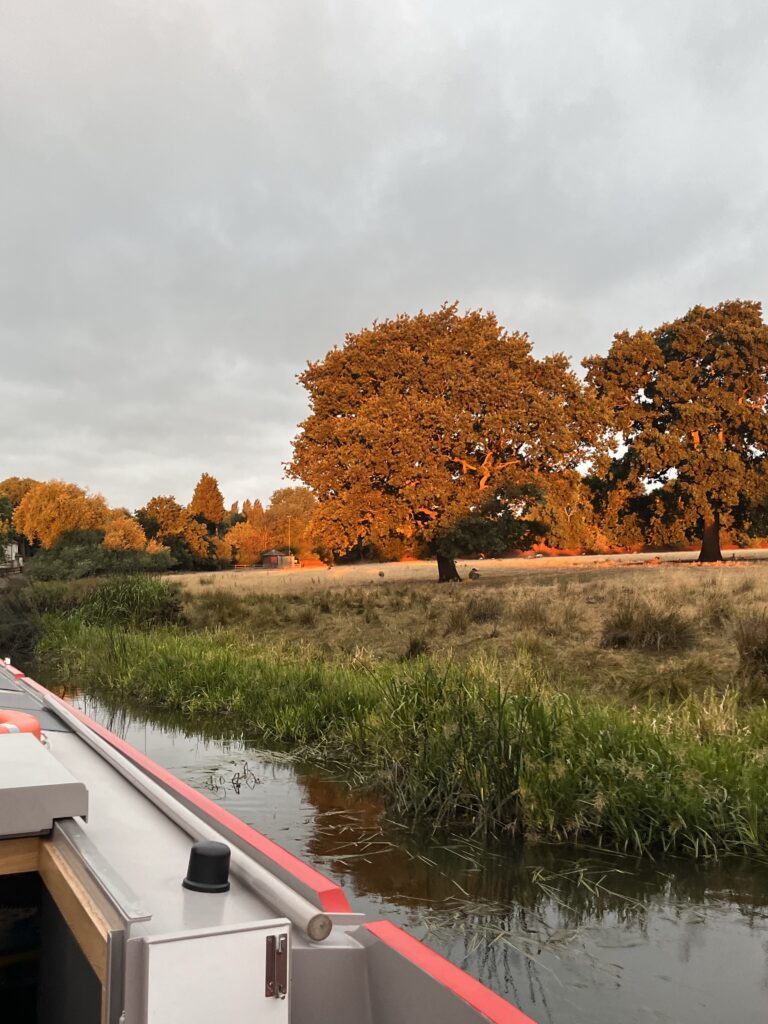 We passed through Swarkestone, with it's CRT yard and out into the country again. And it is beautiful. We passed a boat with a cage on the back. It contained two fully grown owls. It made me feel sad – although they may, I guess have been injured and be recuperating? But I am not a fan of a caged bird. Of all creatures, birds should be free to soar, in my opinion.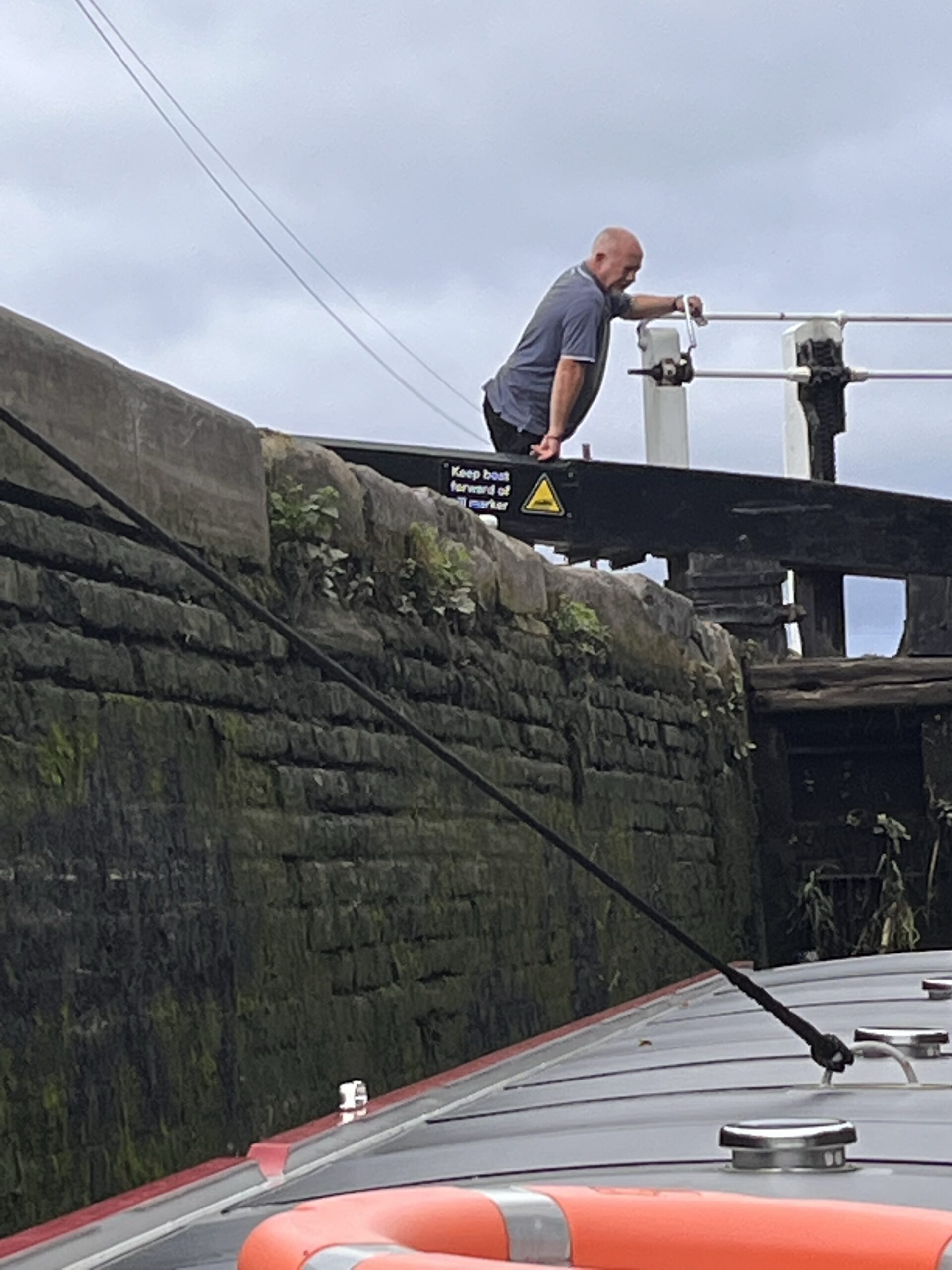 We arrived at our destination – Ragley Boat Stop and found plenty of space to moor. We have booked for dinner here tonight. We noticed several Electric Hook-up bollards and a boat that looked like it was preparing to leave. Paul nipped along the mooring to get the lowdown on the hook-up situation. The guy explained that you could buy a card at the pub, but offered us the use of his remaining credit. How very kind – and a tenner's-worth as well. Nice.
Much as I have loved the rivers we have cruised this season, the one thing I prefer about canals is the freedom to moor. Generally, on rivers, you moor where there are recognised moorings. On canals – you moor wherever takes your fancy – as long as you can get close enough to the bank. It makes for much more spontaneous mooring. Some times there's a view and you think yep, I want to moor there. I like that kind of impulse/latitude.
We had a very nice meal at the pub. Tapas – ordered waaaaaay too many (we were hungry!) and have the remains for lunch today! It was very busy for a Wednesday night – both with boaters and landlubbers. But the staff worked hard and efficiently and we were soon back on board with our doggy bag. Not that the boys were getting any of it!
It was a slightly noisy night but still a shock when the alarm went off. A little later than the past couple of mornings as we did not have far to go. Our destination was Mercia Marina – a very swish affair, with shops and restaurants and cafes. We just wanted to see what it was like. They have a strong social media ethos and we are always seeing posts from them. It would be good to see what all the fuss was about.
We had just one lock to go through – at Stenson. But it's a bit of a brute – quite deep (12′ 4″), with a massive cill. and huge, heavy gates. Stenson – like Shardlow – is one of those names in the canal world. I associate it with boat building, which has been going on there for many years, and still happening to this day. There is now a cafe in the old Lock Cottage. It was not there last time I passed through here, but was opened in 2002 in a bid to try and save the historic building from dereliction. And it seems to have been very successful, being much used by local walkers and gongoozlers.
Stenson is also renowned for a pub called 'The Bubble'. It's a quirky name and is so called because of the sound (and actual bubbles) that the overflow stream to the south of the lock makes, as it emerges forcefully into the canal below the lock, through a culvert.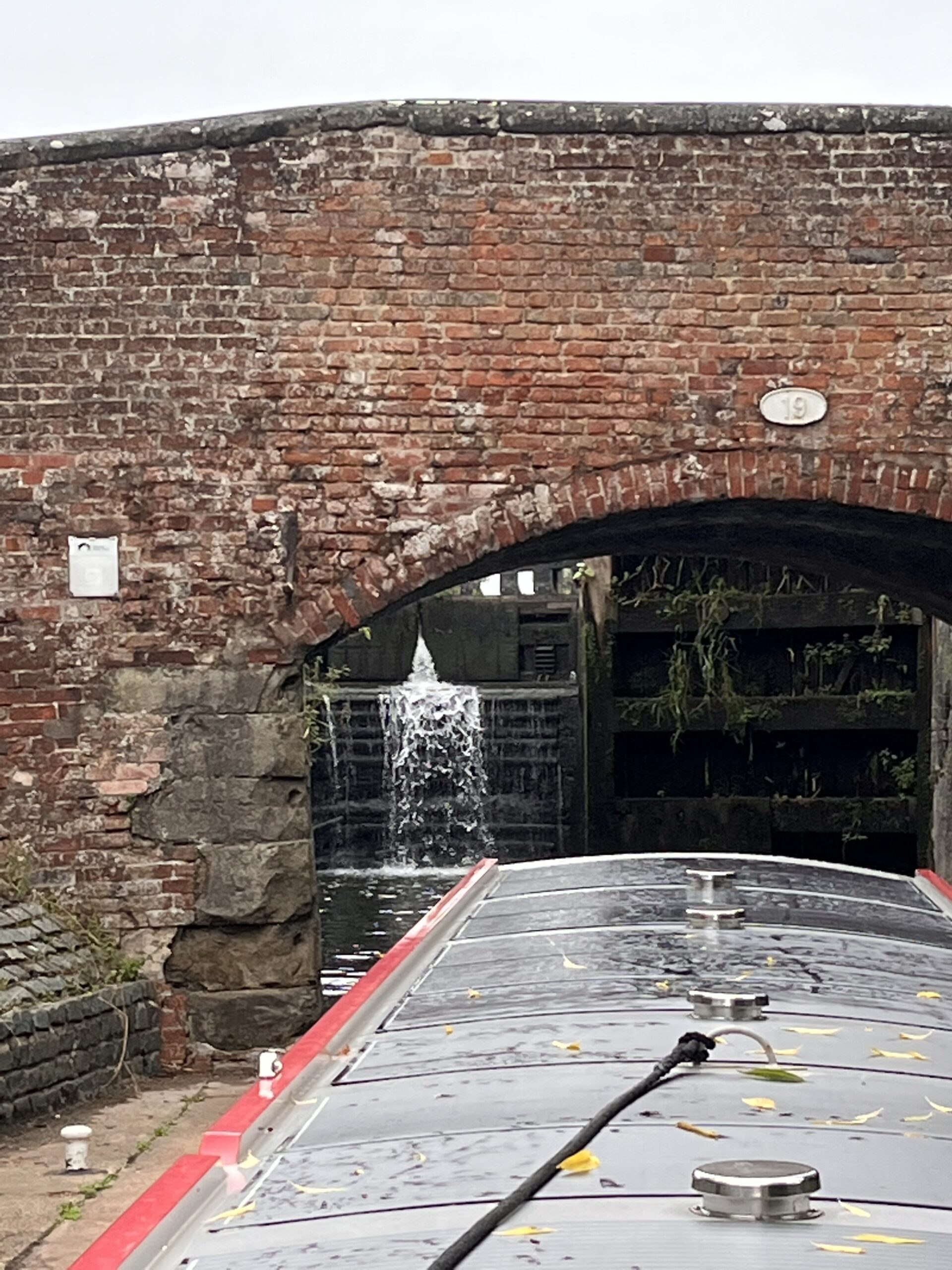 As you can see from the pic top left above, there is a very cute little brick-built bridge over the lock approach. As I was going under it, a transporter lorry, laden with cars, sped over it. There was a loud graunching noise as it went through. It had obviously clipped it. It made me feel very sorry for that little bridge. It was clearly not built for that kind of traffic. CRT and others spend a great deal of money each year repairing such bridges, more often than not where some boy racer has completely cocked it up and taken out the parapet. It's no joke. As I write this, I hear that beautiful Eckington Bridge on the Avon is currently closed to navigation, as a car went into the river in the early hours of the morning.
POST DRAFT UPDATE – tragically someone was killed in the accident, which also took out a large chunk of the ancient parapet. Very sad news all around.
We arrived at Mercia at around 09:00 – a shade early but they did not seem to mind. I have a facial booked at the on-site beauty salon and we are eating out again tonight at the Boardwalk restaurant, by which we are moored. I also plan a little light retail therapy, if something catches my eye! Quite exciting. Although it has started raining – which may dampen my enthusiasm!
Once we had arrived, I had a call with a friend who is visiting from Canada, making plans for her to visit, of which more next week.
I thoroughly enjoyed my facial at the on-site beauty salon. – Elegant Touch Beauty. – they used Elemis products, which smell divine. The facial includes a face, shoulder and arm massage (I passed on the scalp massage as I'm not keen on them). The girl who did it was lovely and we chatted throughout. I left feeling way better than I had before I walked in. I think that's a pretty good result!
The food was also very nice, although we were lucky to get any, as there was only one chef on and they were only serving pre-booked diners. I was glad I had booked. As it was the chef could not cope with any desserts – not even an affogato! But my Barnsley Chop and Paul's Fish Pie – complete with its mahoosive prawn garnish – were both delicious. And it was a beautiful evening with a great sunset.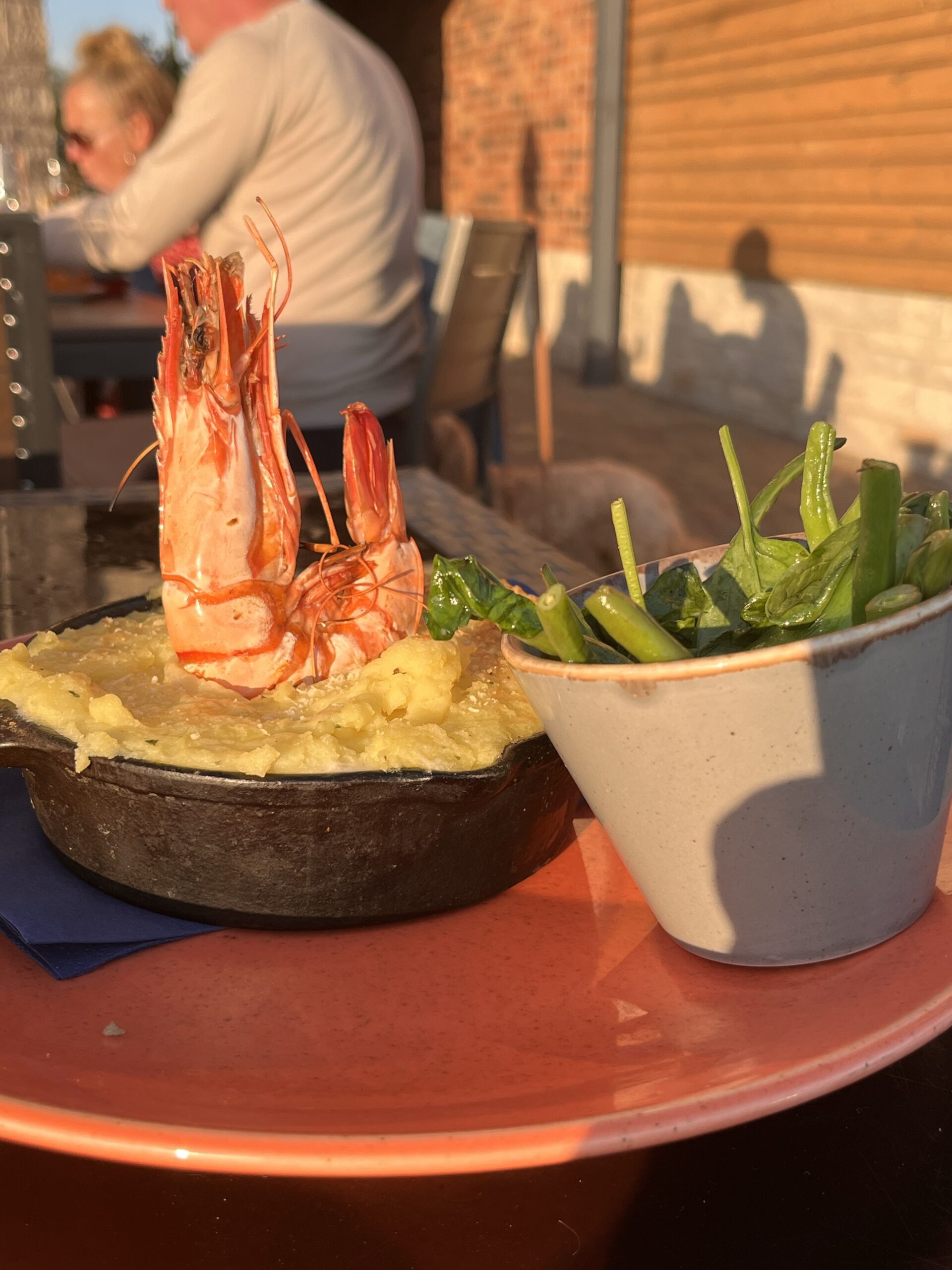 The Marina, which was built in 2008 is beautifully landscaped with little picnic areas, much greenery and sculptures dotted about. Somebody with vision spent a lot of money designing and building it. It's quite beautiful and I can certainly see why it is so popular. We'd definitely return.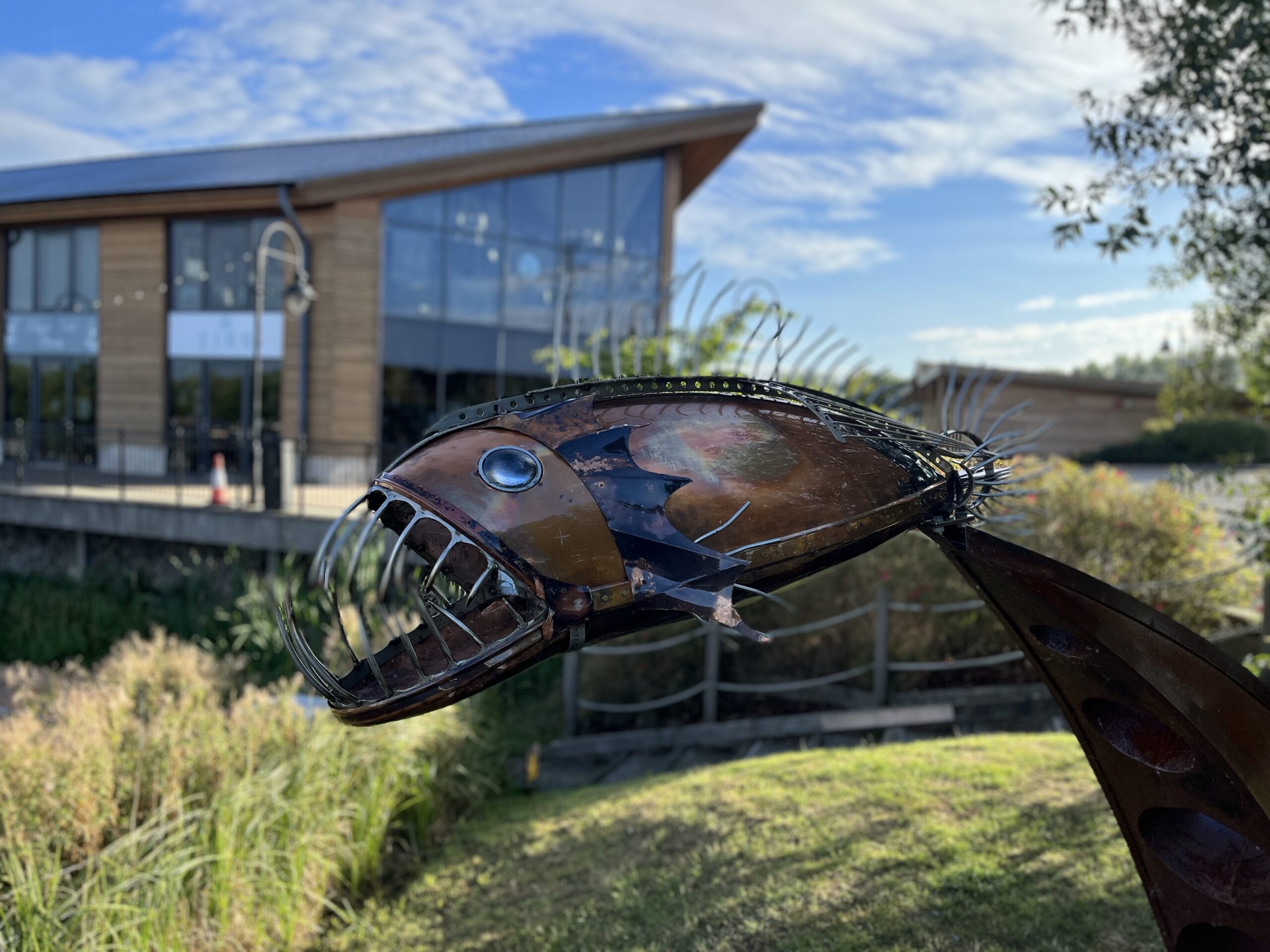 As we left on Friday (26th Aug) we spotted a fire crew in a dinghy nipping around the basin – we presumed it was a drill as no one seemed particularly bothered!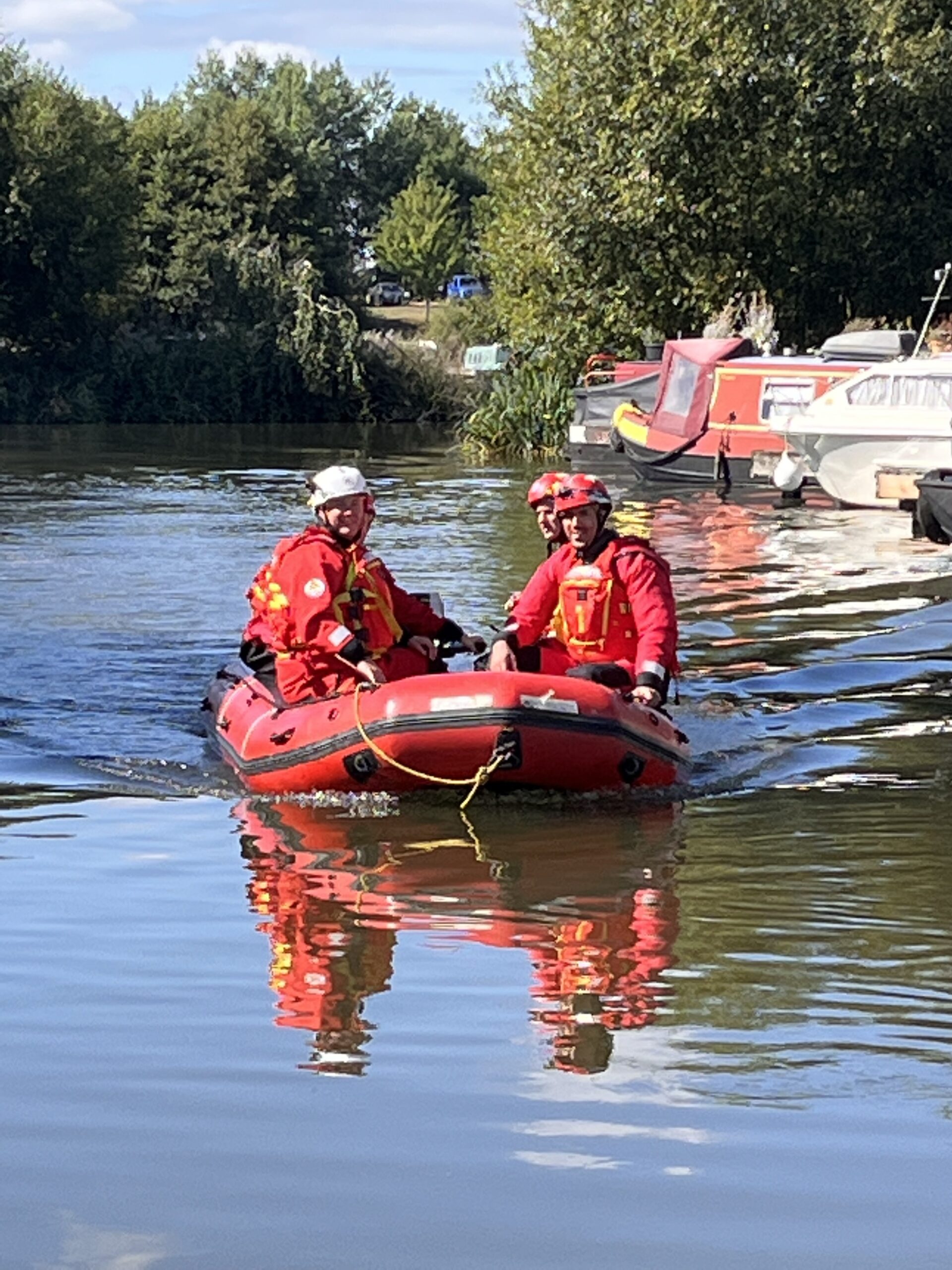 We made our way up through Burton upon Trent, where there was a festival on this weekend. It was pretty busy – we even had to queue at a lock, our first one of this season. All the boats (I read that that there were 72 booked in on the specially reserved moorings) looked very festive. It's not really our cup of tea, though, so we pressed on through town and out into the peace of the countryside.
Burton, by the way, is famous for brewing – formerly accounting for 25% of all UK beer production. A process called "Burtonisation" is named after the town. The process consists of adding sulphate to the brew to bring out the flavour of the hops. Burton is also home to the National Brewery Museum, which is open – so it's advertising claims – every day except Christmas Day, Boxing and New Year's Day! Names which will be recalled today include Marstons, Ind Coope, Worthington and Bass. Today there are now just 2 companies – Molson Coors (who subsumed, among others, Bass and Ind Coope) and Carlsberg, who now own Marston's.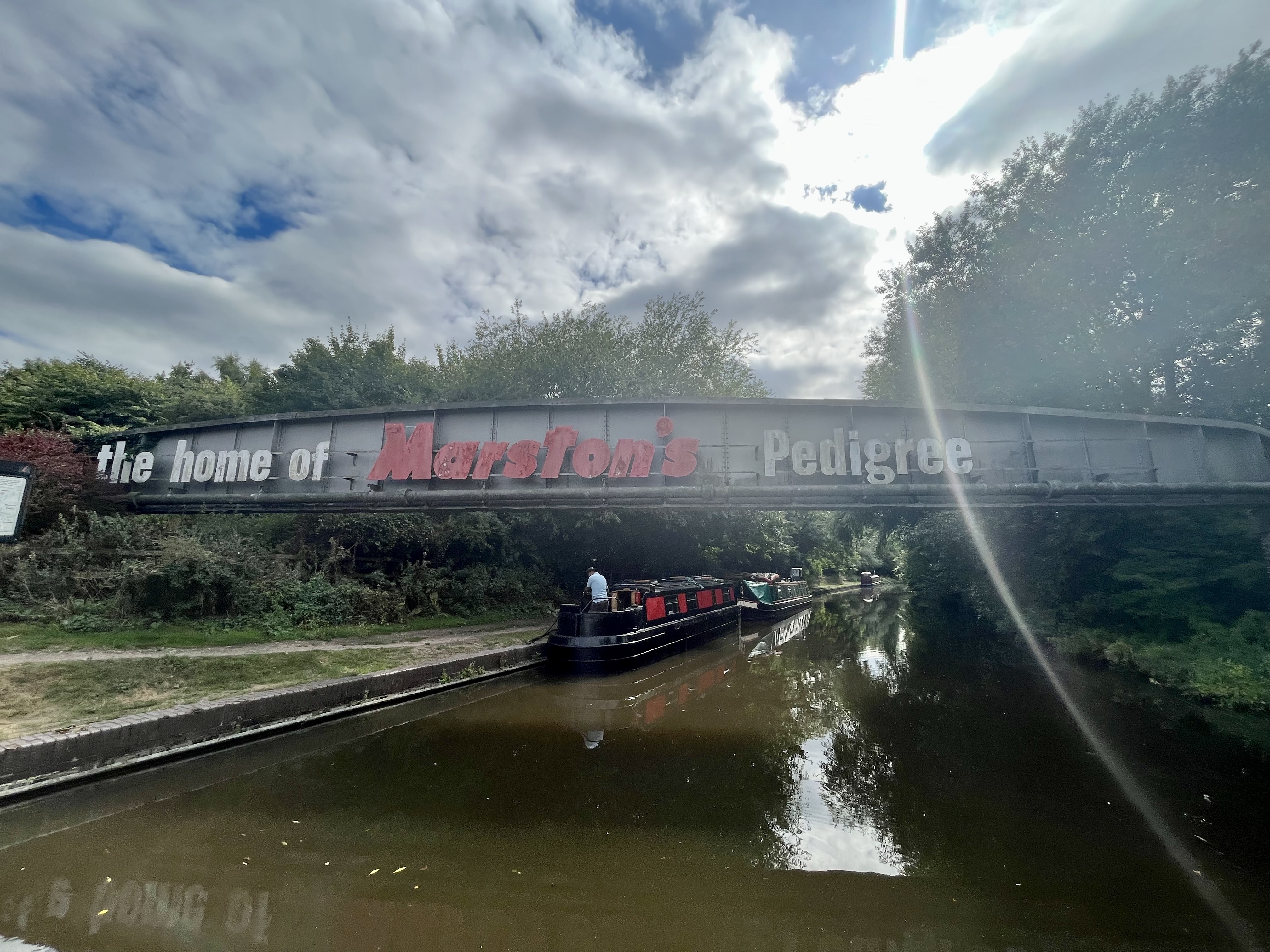 All that brewing produces waste product and it's no coincidence that yeast based spread, Marmite – beloved of some but scorned by others – has also been made in Burton upon Trent, since 1902. It's a complex process to produce that delicious brown gloop, but thank goodness someone bothered. Breakfast would not be the same without it! There's a short history of Marmite here if you're interested.
From here on – it's single locks! woo hoo! We moored just below Tattenhill Lock and drifted off to sleep to the trickling sound of the leaky lock gates. Who needs sleeping apps when we have our very own white noise to drift off to?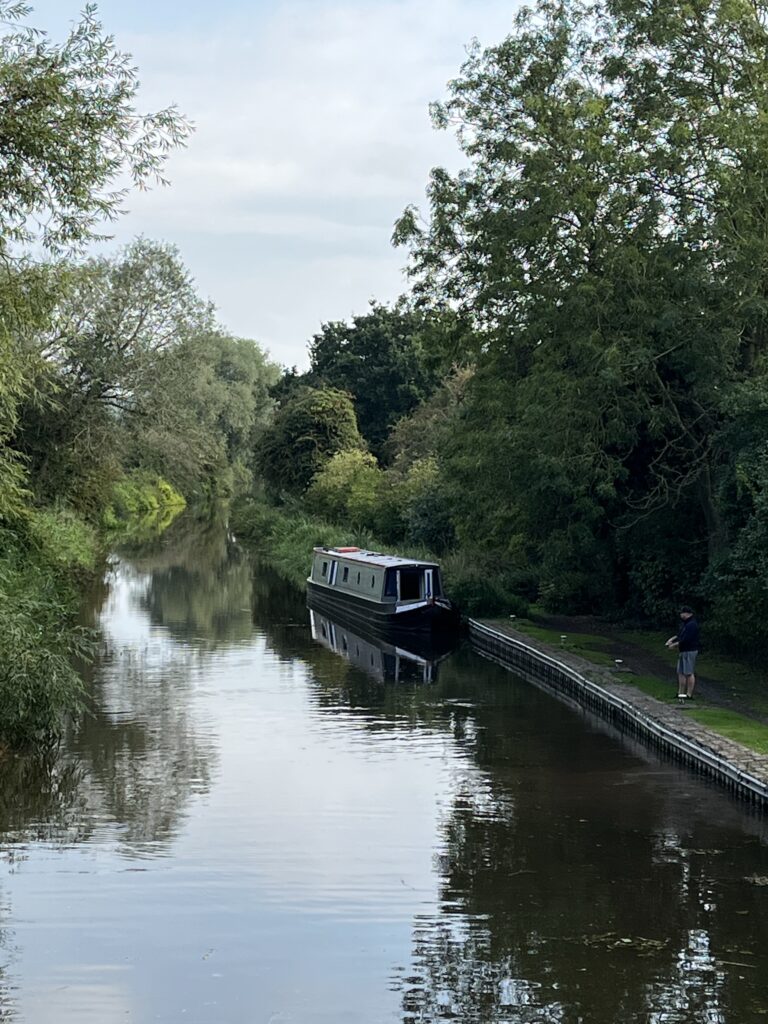 Saturday saw us trundling along the Trent & Mersey, accompanied much of the way, in the early part of the day, by the very noisy A38. West Country afficionados among you may know this road as the Devon Expressway as it goes all the way from Mansfield (Notts) to Bodmin. Nearly 300 miles. It was an absolute contrast to our meandering, watery and silent route. We were very glad when we moved away from it and out into the pretty Staffordshire countryside, near Wychnor.
From then on, we were accompanied by the Trent which flirts alongside and then cuts through the canal, often on high walkways. The water was often very clear and sparkling and it is a beautiful stretch down to Alrewas – pronounced Ol-re-woz – unless you know otherwise?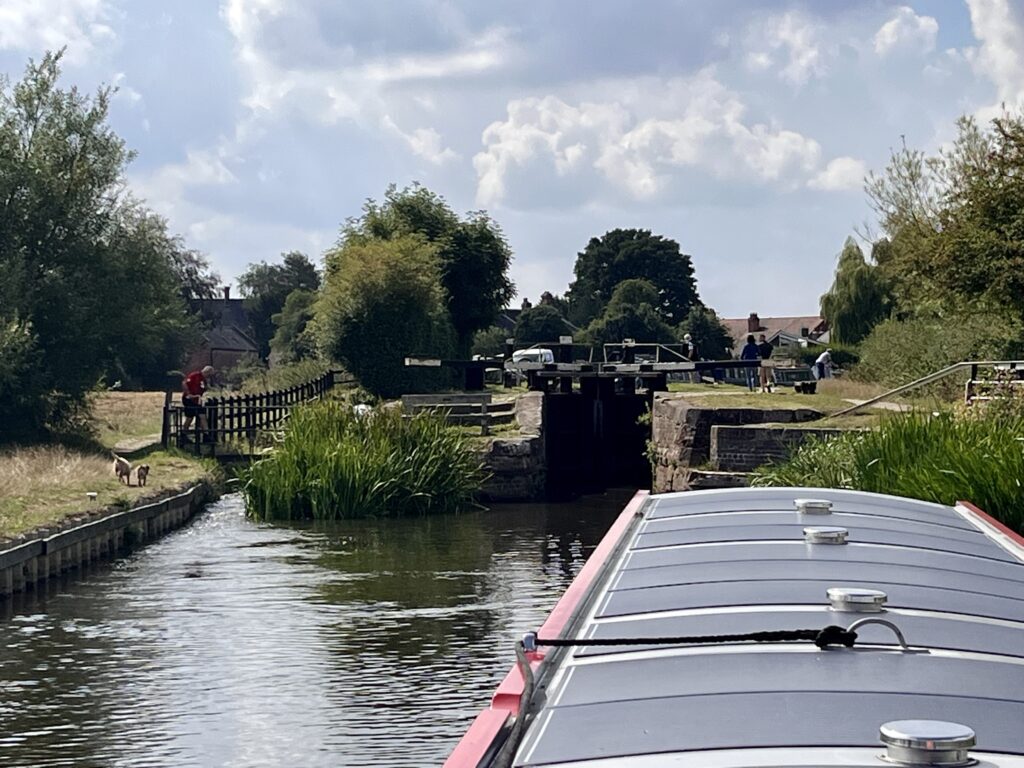 There was an Arts Festival running there for a week from 20th August. It had a blue and white theme, which we noticed, but had passed through before I did some research and found out what we had missed. We moored on the outskirts and could hear – mid-evening across the fields – a couple of voices absolutely slaughtering "Island in the Stream". More Uncle Bryn and Ness than Dolly and Kenny! And that's doing the former a big disservice!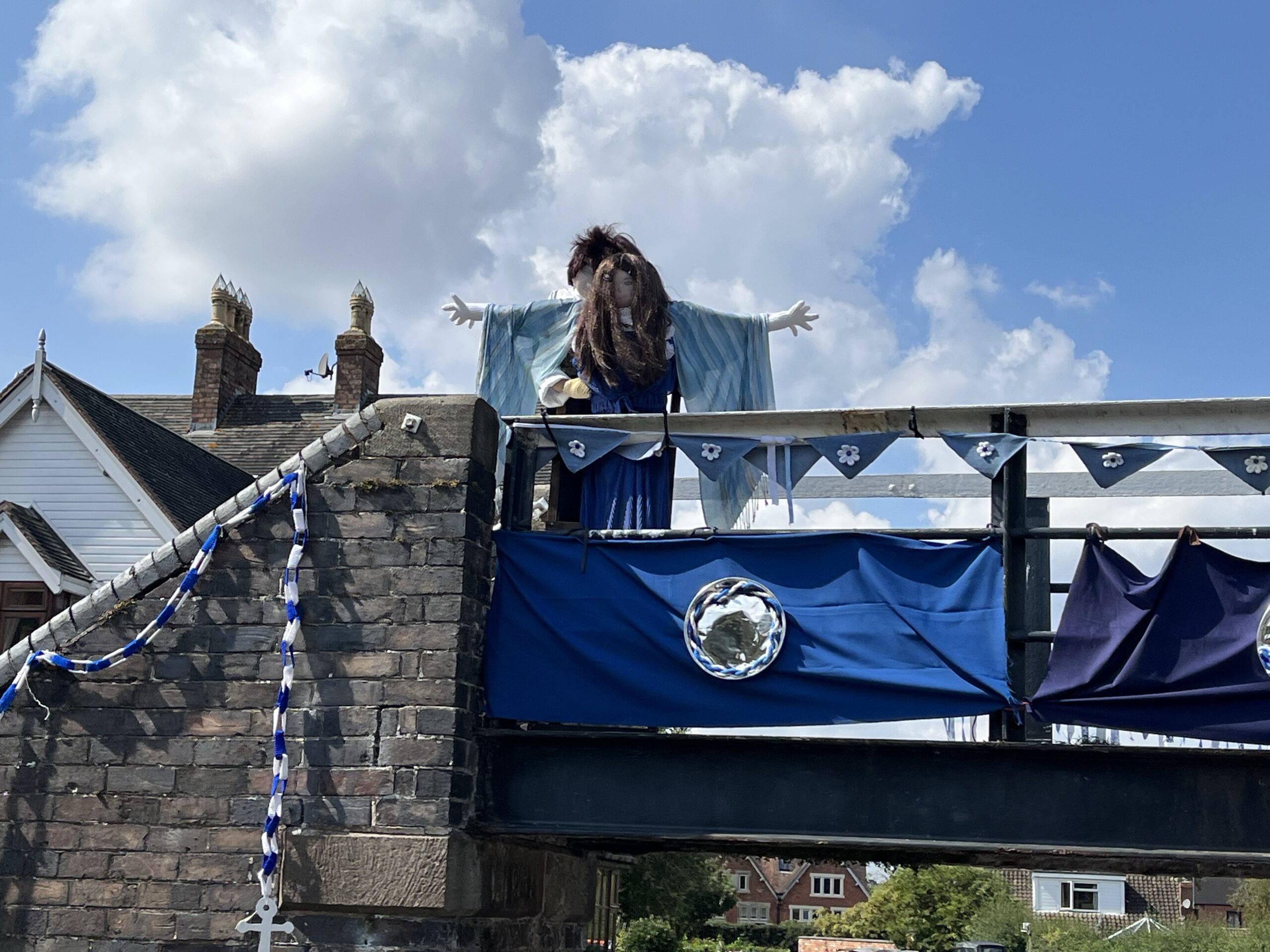 We were just off to bed when we heard the sound of a cabin cruiser, still cruising, by the light of their tunnel light. They were respectfully quiet when they passed us, and bid us goodnight. But a couple of boat-lengths downstream and they were blaring out the dubstep big style! Ah well. There's no law against it. It's not our style but you live and let live.
It was a dewy night – another hint that Autumn is knocking on the door, but a beautiful morning as we made our way down to Fradley Junction. The four locks up to Fradley were very pleasant to do and we soon arrived at the T junction, where the Trent and Mersey meets the Coventry canal (coming from Fazeley, where we had met Anne and Gray back in early July. That seems like an eternity ago!). Here's a video of us entering one of the very picturesque locks:
Fradley has changed a bit in the many years since I last passed through. There is now a very popular cafe – the Laughing Duck – just before the junction, at the old Fradley CRT yard. Then there's The Swan (or the Mucky Duck for some reason, which I always thought was a black swan?) – possibly the most photographed pub on the entire network, which has always been there (well – since the late 18th century!!). It must have had to up its game to compete with the Laughing Duck and also the new Canalside Bistro, attached to the holiday park behind the Swan, which is new to me. Spoilt for choice, these days!
As ever, it was a bit mad at the junction, with boats coming off the Cov – either turning left or right and no room for anyone to moor to queue for the locks. In the melee, we lost our place on the queue, but it's hard to get worked up, travelling at this speed. We'd get where we wanted to be maybe 20 minutes later?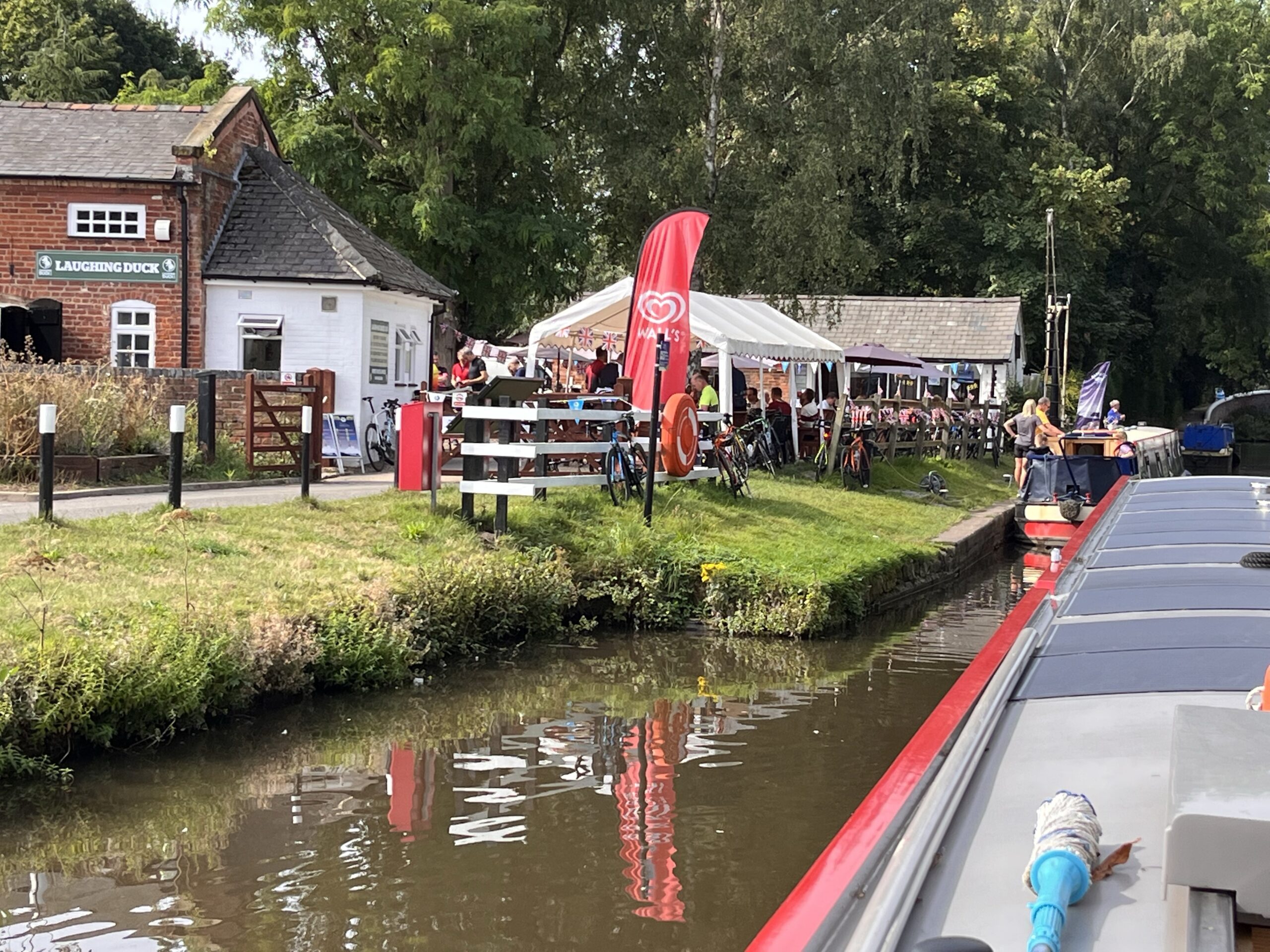 We passed through two more locks and then out into a breathtakingly beautiful wooded stretch. I love the dank, bosky smell that you get along such bits. And then we saw it – my pet hate. Ancient woodland ripped up by the HS2 gang. Horrible. There was much anger locally but to no avail. The £106 billion white elephant – that's £307 million pounds per mile – the most expensive HS train route in the entire world. Let that sink in – continues on its devastating path. Shortly after, we arrived at this afternoon's destination, King's Bromley Marina. We will be staying the night here.
. And then we saw it – my pet hate. Ancient woodland ripped up by the HS2 gang. Horrible. There was much anger locally but to no avail. The £106 billion white elephant – that's £307 million pounds per mile – the most expensive HS train route in the entire world. Let that sink in – continues on its devastating path.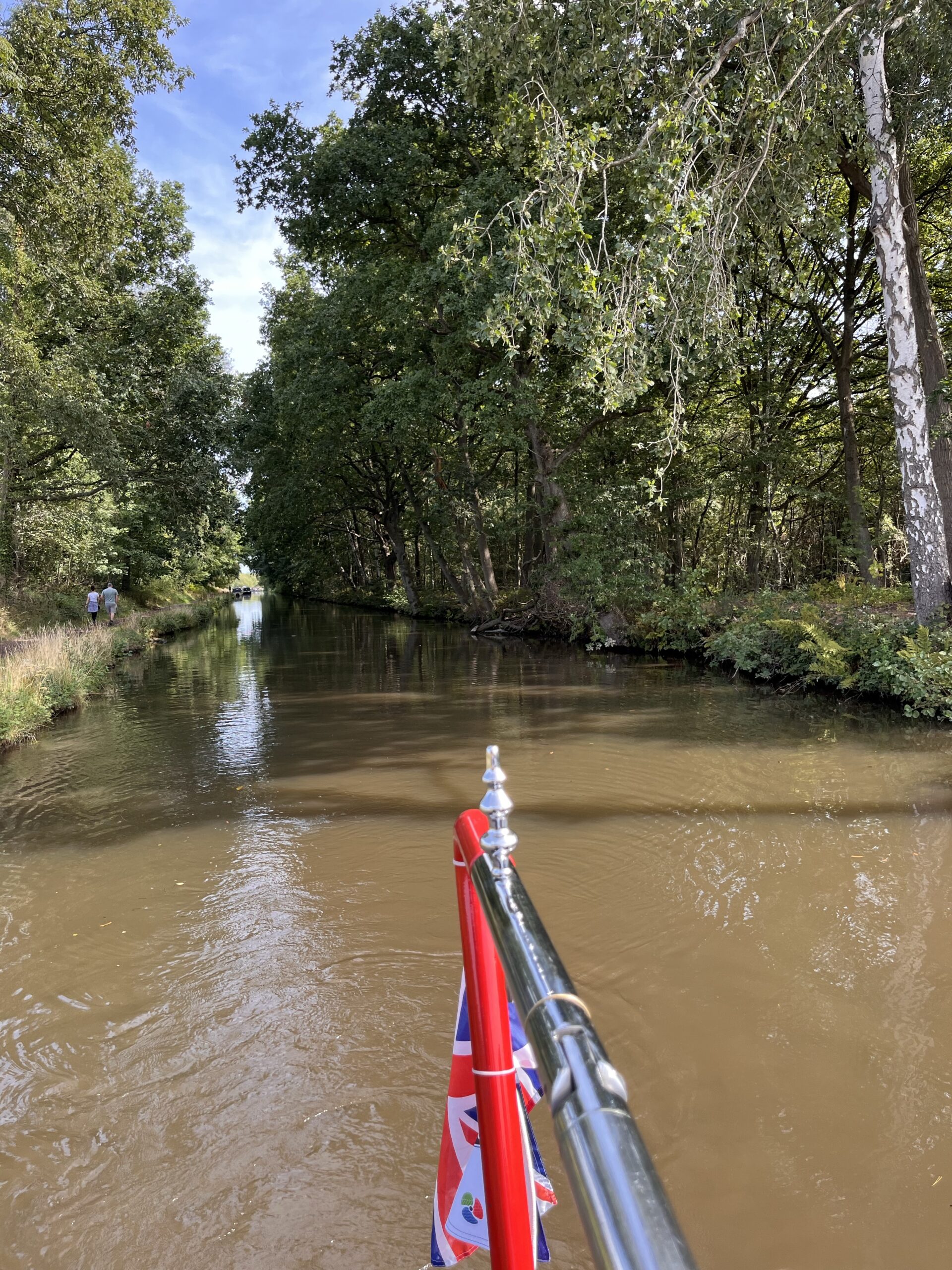 Shortly after, we arrived at this afternoon's destination, King's Bromley Marina. We will be staying the night here. And so we come to the end of another week. Next week, we'll be heading off down the Staffordshire and Worcestershire canal, we have a visitor from British Columbia and there's been a change of plan. Predictable, but life is full of twists and turns! Here endeth week 16.