10-16th April – Leaving the Severn and joining the Shroppie
This is the earliest we have got away since we have had Old Nick. You forget what a lot of weather you get in Spring. One minute it's scorchio and thoughts turn to shorts and the next it's a hailstorm. The old adage about not casting clouts until May is out knew what it was talking about! But we are loving every minute of being out cruising. whatever the weather.
We had just left the river on Easter Sunday morning and our first port of call was the services to dump rubbish, sewage and take on water. I'm going to call these WSR stops henceforth! And then up through York Street lock and on along the lovely Stour valley, under the mighty Falling Sands viaduct, through Kidderminster, with it's beautiful church and out onto a more rural stretch.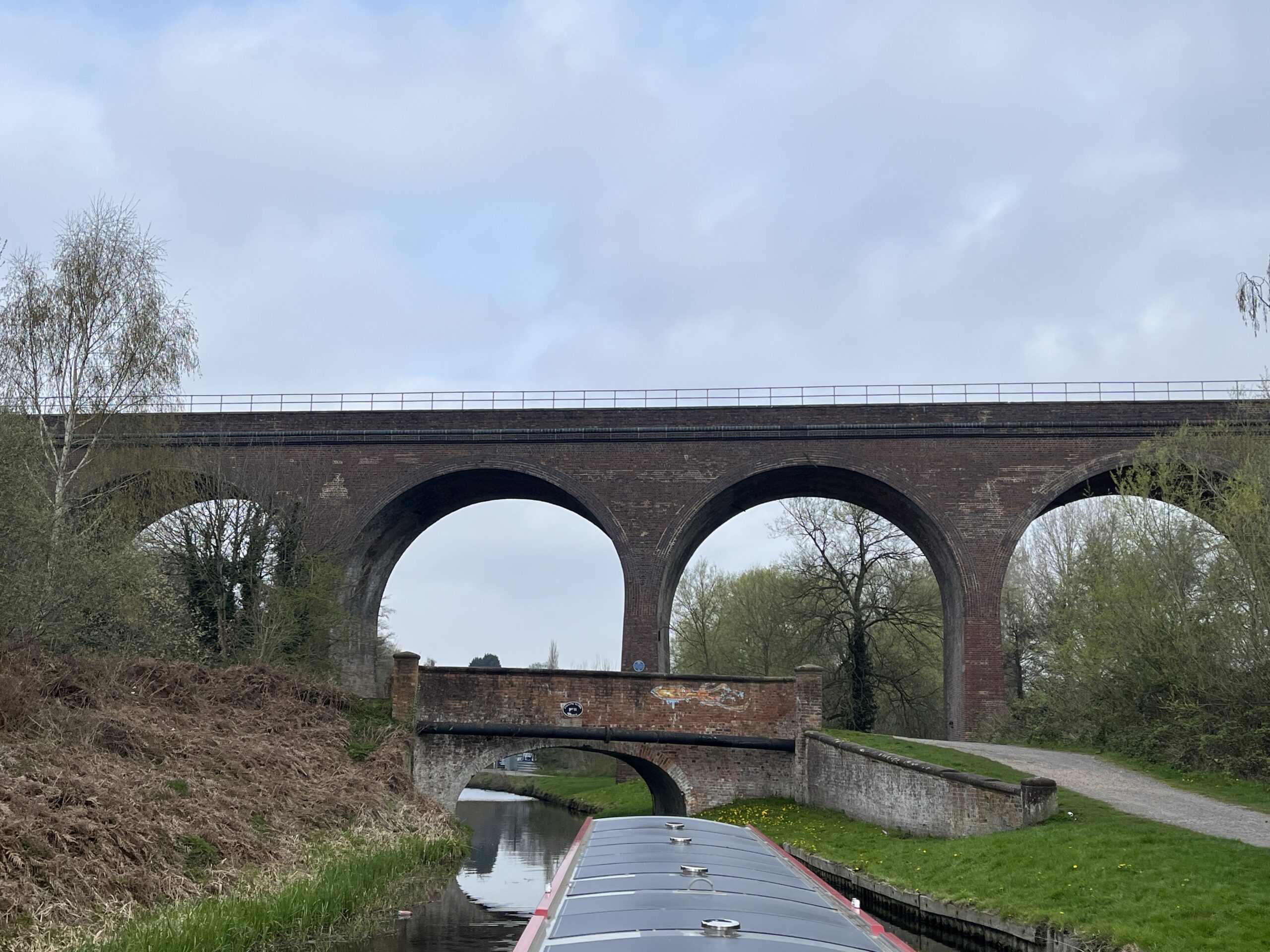 As usual, there was a mighty throng of gongoozlers at the Lock Inn at Wolverley, all in Easter mood in the sunshine. We chatted with them as we rose up and the boys were, as usual, much admired.
We finally pulled over mid-afternoon just above Debdale Lock, on the Visitor Moorings. And as it was Easter Sunday, I made a lovely lamb roast for our evening meal. It went down very well.
When I think about this Southern end of the Staffs Worcs canal, it's always red sandstone that comes to mind. In places, the canal is hewn into the very bedrock and there are some very narrow bits. At Debdale Lock, there is a red sandstone cavern beside the lock, which used to act as stables for the towing horses, it's said.
The canal is quite an early one, cut by James Brindley, famous for his contour canals. He always took the line of least resistance- something which one of my early teachers spotted in me. She wrote "Kay will always take the primrose path! Perceptive! I think me and Brindley would have seen eye to eye.
Easter Monday looked changeable weather-wise, so we only did a short hop, going through Cookley Tunnel – short but sweet, with its row of quirky cottages atop and on to a quiet, rural spot in tue Stour valley. Right on the border between Worcestershire and Staffordshire.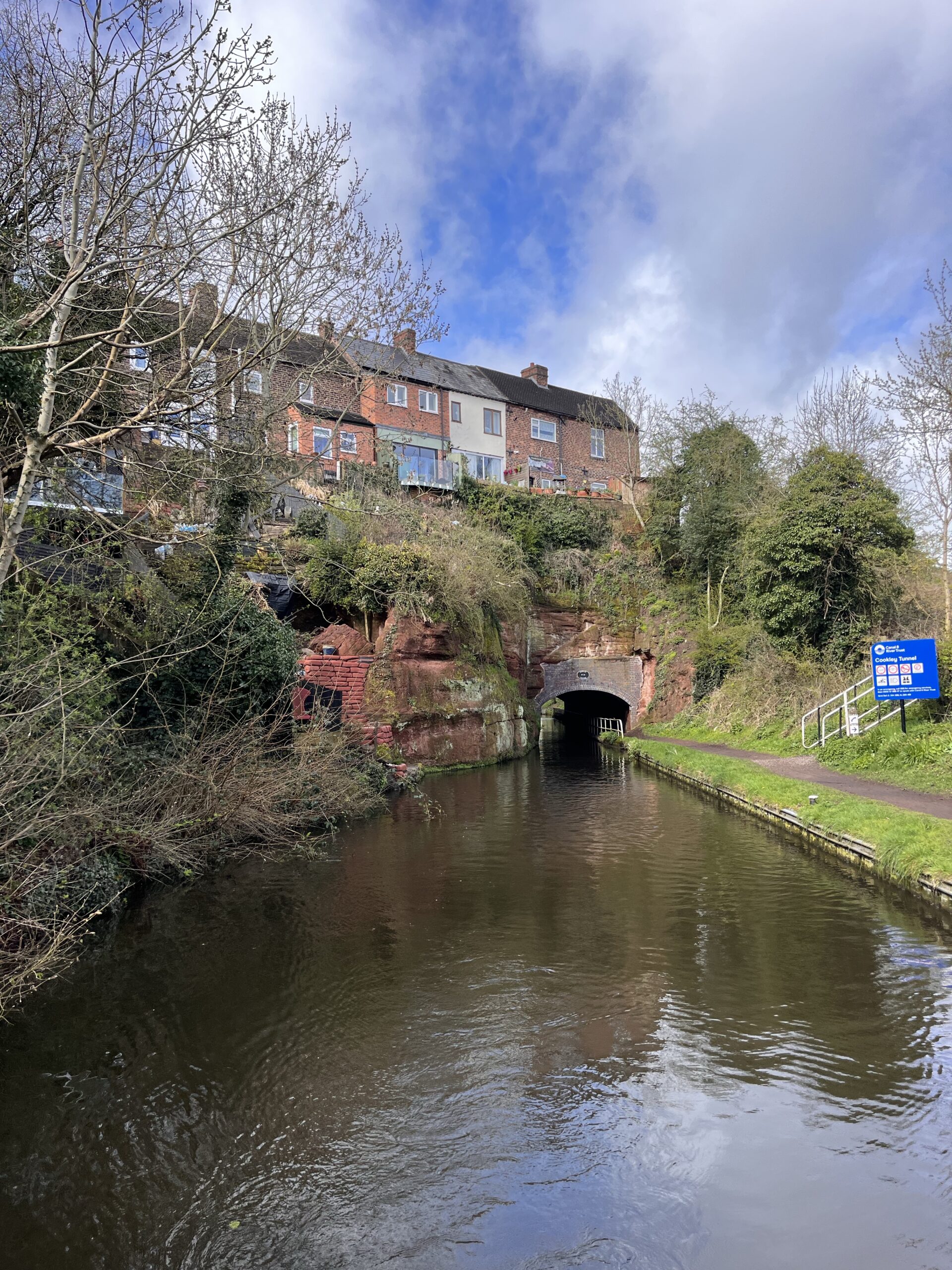 It was a much walked towpath but we did spot a muntjac briefly. Too quick to capture a pic, sadly.
Whilst there, we were passed by a small flotilla of Droitwich boats, including two Ortomariners in the form of Rob & Keren on board Mordiford Dragon , a parallel hybrid, and Guy and Sally on Mokoro, a diesel boat, accompanied by N/B Pamela, all out for a couple of days cruising. We stayed two nights here as it bucketed it down pretty much all day on and off.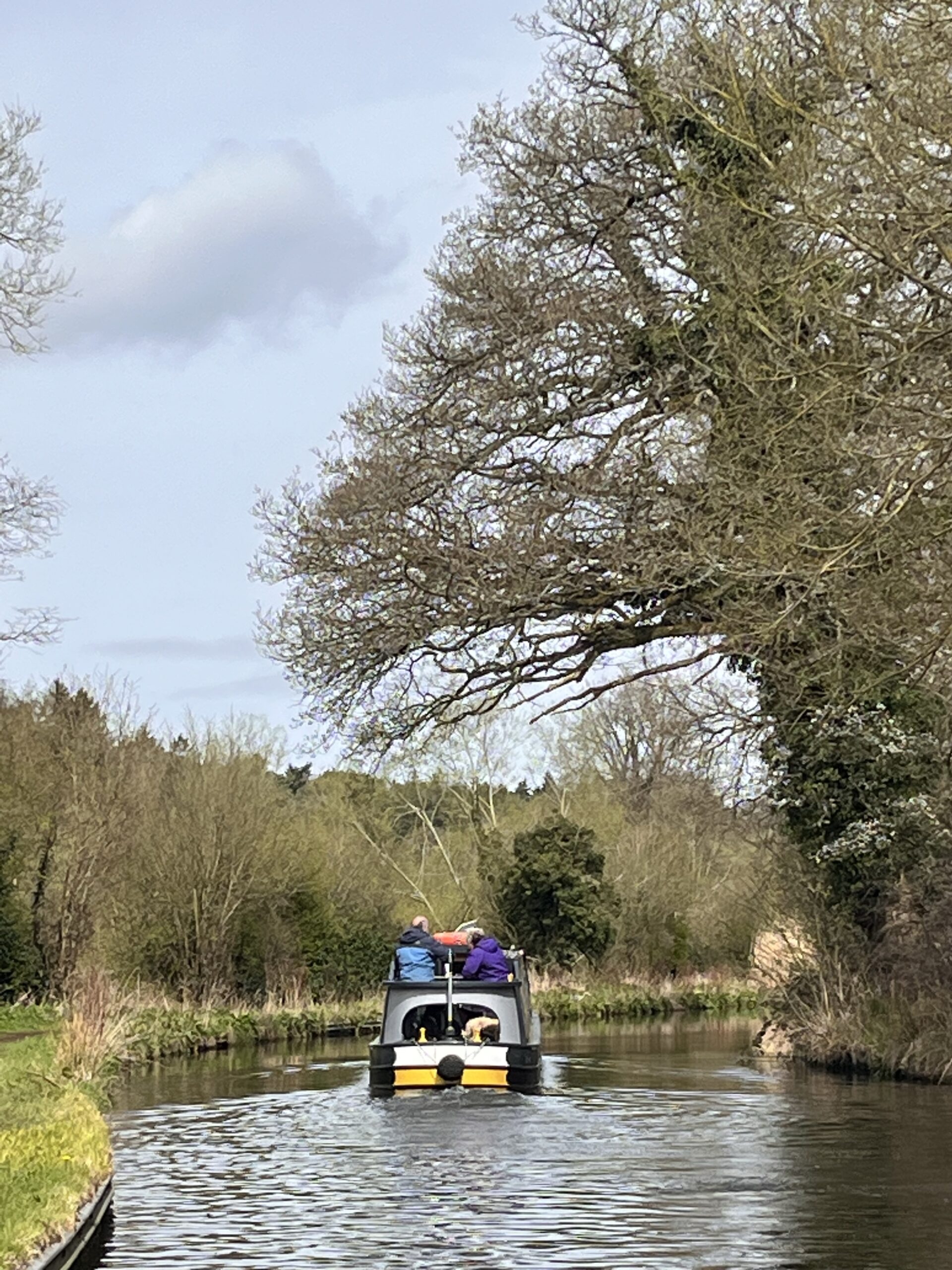 We got up early to do another short hop before more rain and it was a beautiful but crisp spring morning that saw us arrive just below Kinver lock. Paul was at his desk by 08:30.
The promised rain came but we still managed to garner just under 3 kWh of solar for the day. That's enough to boil our kettle for one solid hour!
We made another early start on Thursday, and came up through a couple of locks and also did a WSR stop. We had our eye on a spot above Hyde Lock and as we approached it, we saw the Droitwich Three, just about to set off for the day, as we arrived. We quickly nipped into to a good spot for solar and settled down for the day. We were right opposite (by accident!) a Canada Goose, sitting on her clutch of eggs. she seems quite happy that we are here, though.
As we were sitting there, after lunch, the fuel boat, Roach came by and we flagged him down to buy some blue for our loo. These boats perform an important role on the waterways and we are always keen to support them. There are actually quite a few of them that traverse the canals selling, coal, diesel, logs and other boating necessities, in all weathers. You can find a full list here.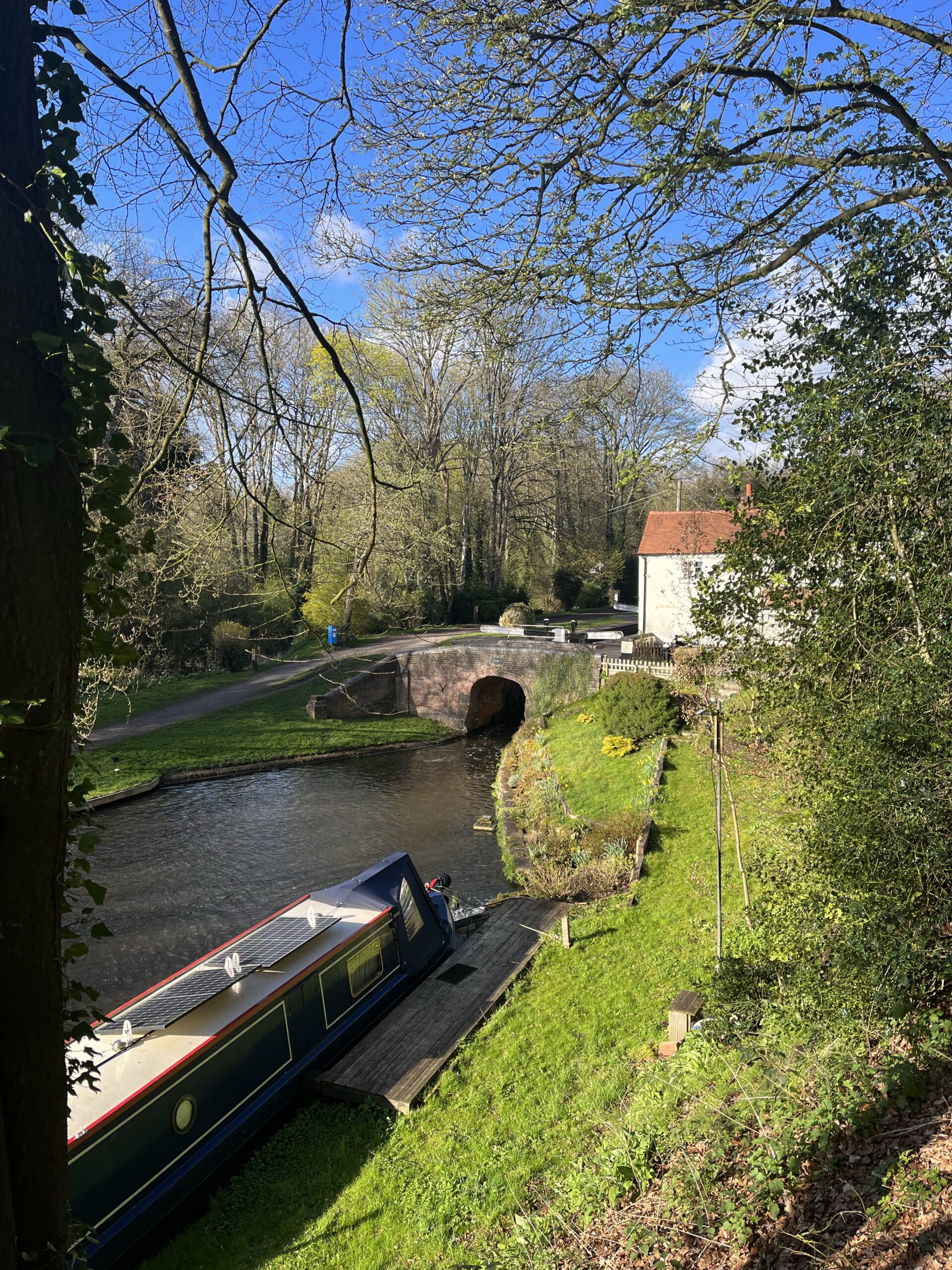 Friday looked a bit dodgy weather wise. Showery and unpredictable, but we set off anyway. It was a case of wrap up and bring the brolly into play. We went through the curiously named "Stewponey" Lock. I was intrigued and found that the origin of the name 'remains uncertain'. One theory is that it was was a local pronunciation of 'Estepona' and the nearby Estepona Tavern was so named because the founder of the tavern had been quartered in Estepona and his wife had come from there.
We went through Dunsley tunnel – which begs the question when does a bridge become a tunnel? We must look to Dunsley Tunnel for the answer to this as, at just 23m long, it bears the title of Shortest Canal Tunnel and also Oldest Navigable Tunnel. No need for the tunnel light, that's for sure! And anything under 23m is a bridge. Now we know!
This canal is famous for its circular weirs and there is a picture below of a fine example at Greensforge lock.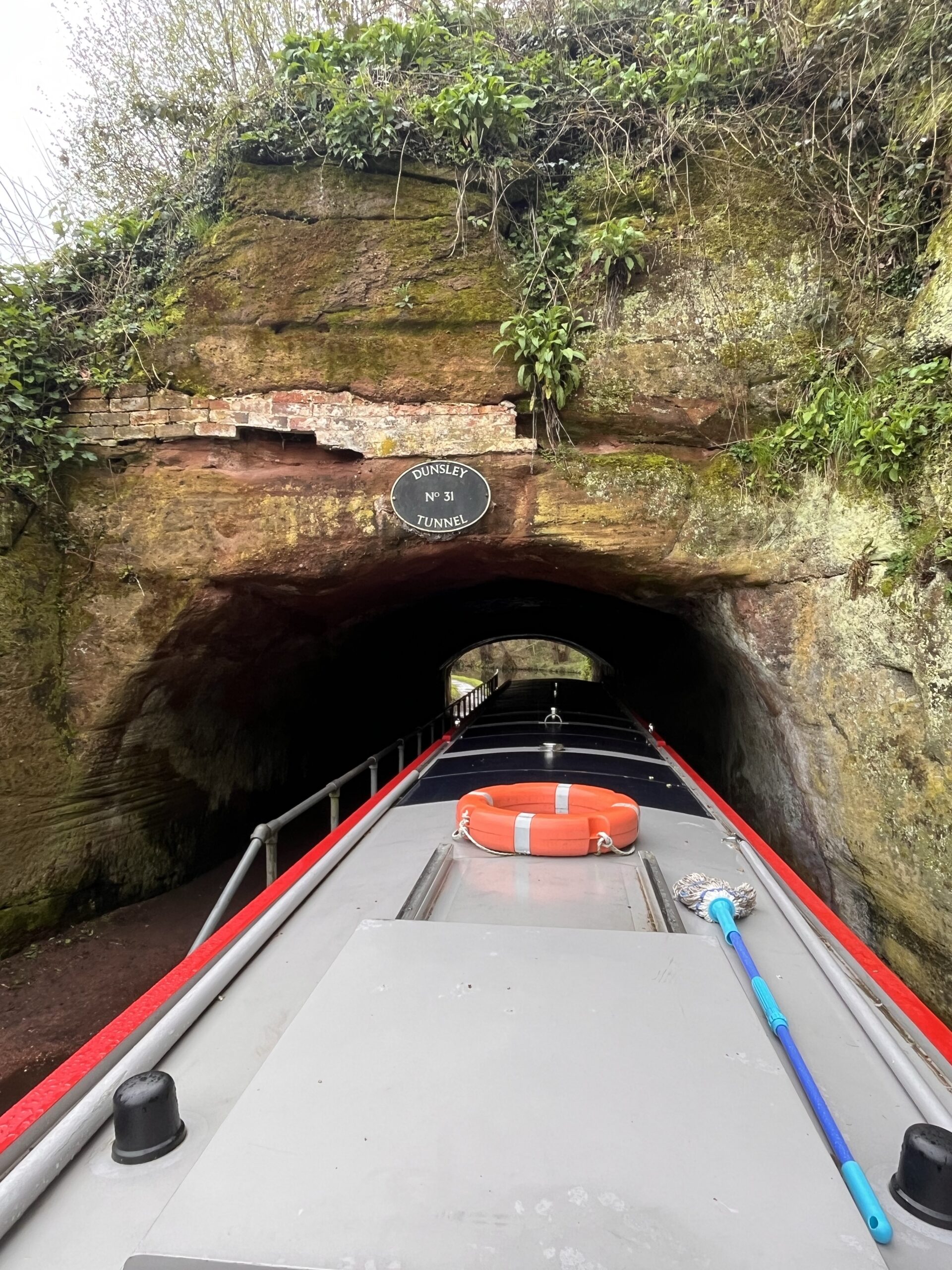 We passed Stourton Junction, which we'd last visited in October 2022, with Anne & Gray Robertson, whom we will be welcoming aboard very soon. This marks the start of new ground for Old Nick, plus it's been a fair few years since we did this canal too. And we are thoroughly enjoying it.
We finally gave in to the rain and moored just above Hincksford Lock on the outskirts of Wombourne, near Wolverhampton. It turned out to be a good call, as a period of prolonged and quite heavy rain ensued. We ended a fairly dreary day with a fish supper from Mr Smith's Fish Bar in High Street, Swindon. Very nice they were, too.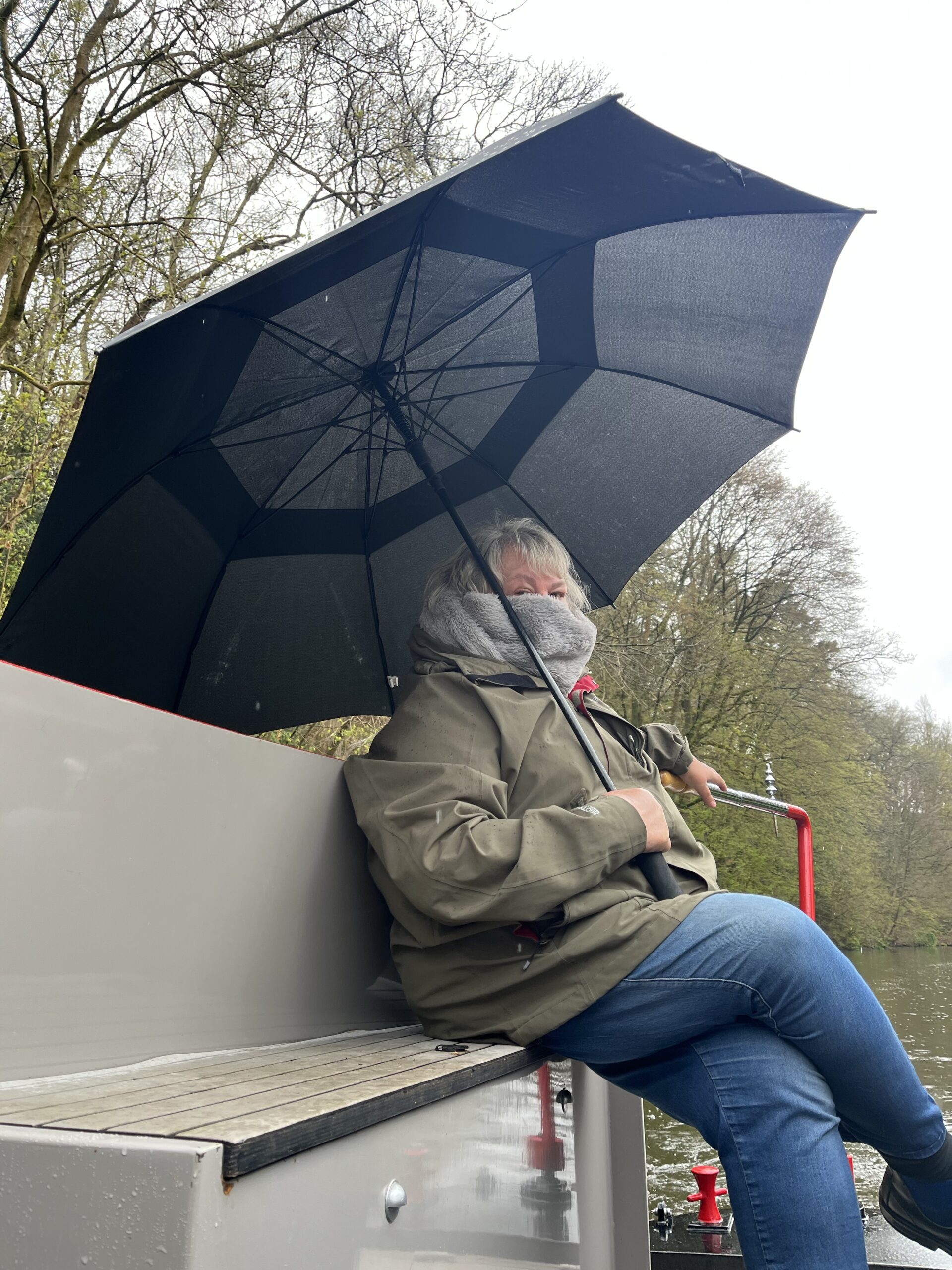 The rain did eventually cease and we were left with a beautiful sunset and the promise of a better day, if shepherds are to be believed.
After a very quiet night, we awoke to a much more promising day and we slipped our mooring about 08:30. We made our way up through a few locks – notably the Botterham Staircase locks, built in 1772. A very cute pair indeed although perhaps in need of a little TLC in the near future? Here is a speeded up video of our transit through Botterham.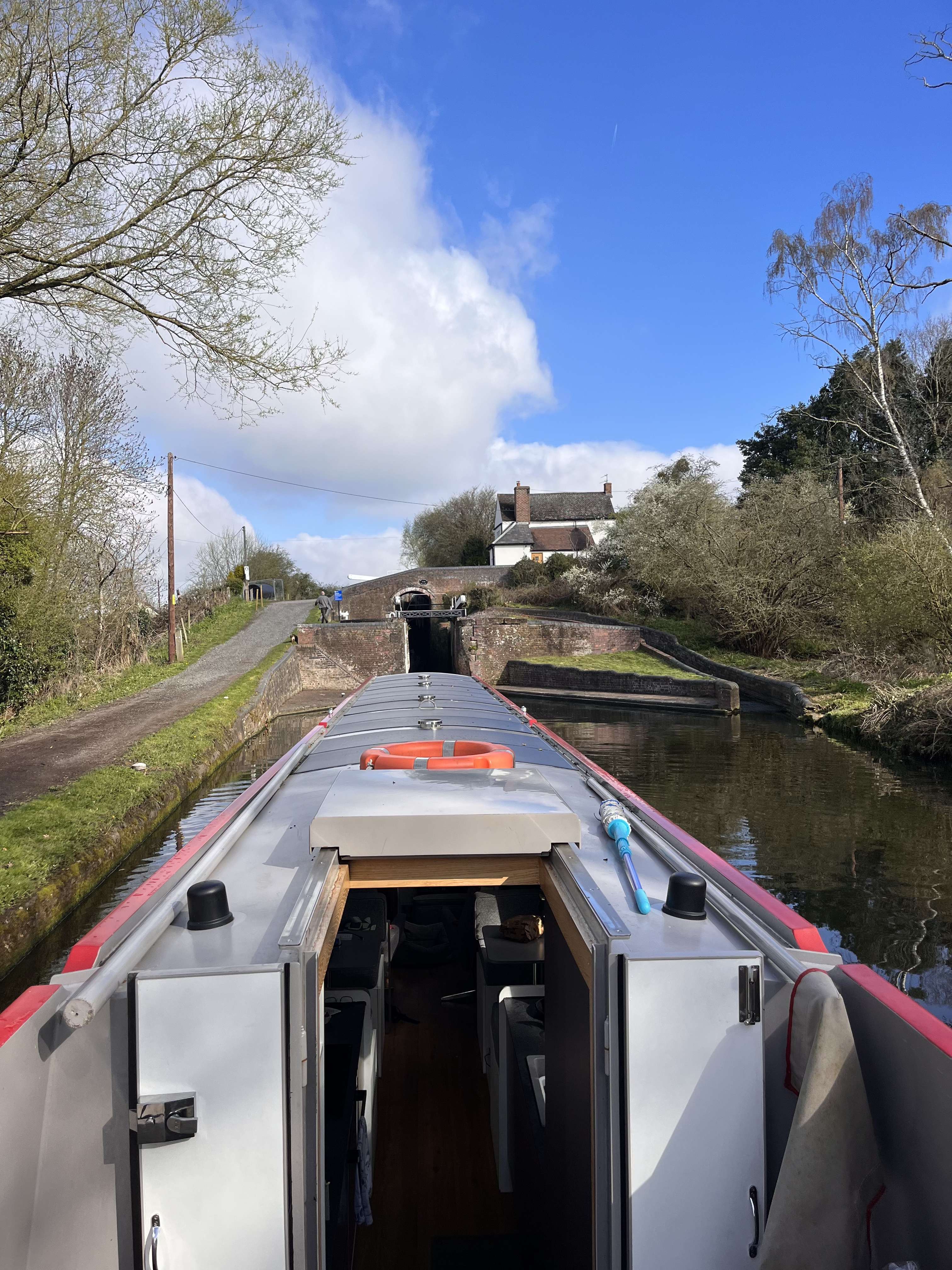 We were also on a mission. We had a table booked for lunch at the Waggon and Horses in Wombourne and a cheeky grocery delivery in their car park. We also needed to give the boat and ourselves a bit of a chamfer up before that, but we had plenty of time. We swept and tidied and showered, even relaxed for a bit and rocked up at the pub just before 1 pm. We were expected. They had put out a bowl of water for the boys. How nice. But, sadly, the food wasn't up to much, to be honest, although the service was very pleasant. The groceries arrived ahead of schedule and we carried them back over the bridge and down to the boat and set off again. There were a few grey clouds but they didn't amount to anything to worry about.
We moored for the night just below Awbridge Lock and did a spot of external cleaning. Little and often is the key, we find. And then we had drinks out on deck, listening to the frogs calling, probably on the look-out for mates! And I don't mean pals!
Sunday was another drizzly, grey day and we made a late start after banana and blueberry pancakes for brekker. Delish – and used up a few overripe bananas, to boot.
Our first lock of the day was the beautiful Awbridge Lock. There is nothing about this lock that I dislike. From its beautiful road bridge to its pretty little cast iron footbridge. It's a real cutey. Note that the pics below were taken on Saturday evening, before the sun deserted us.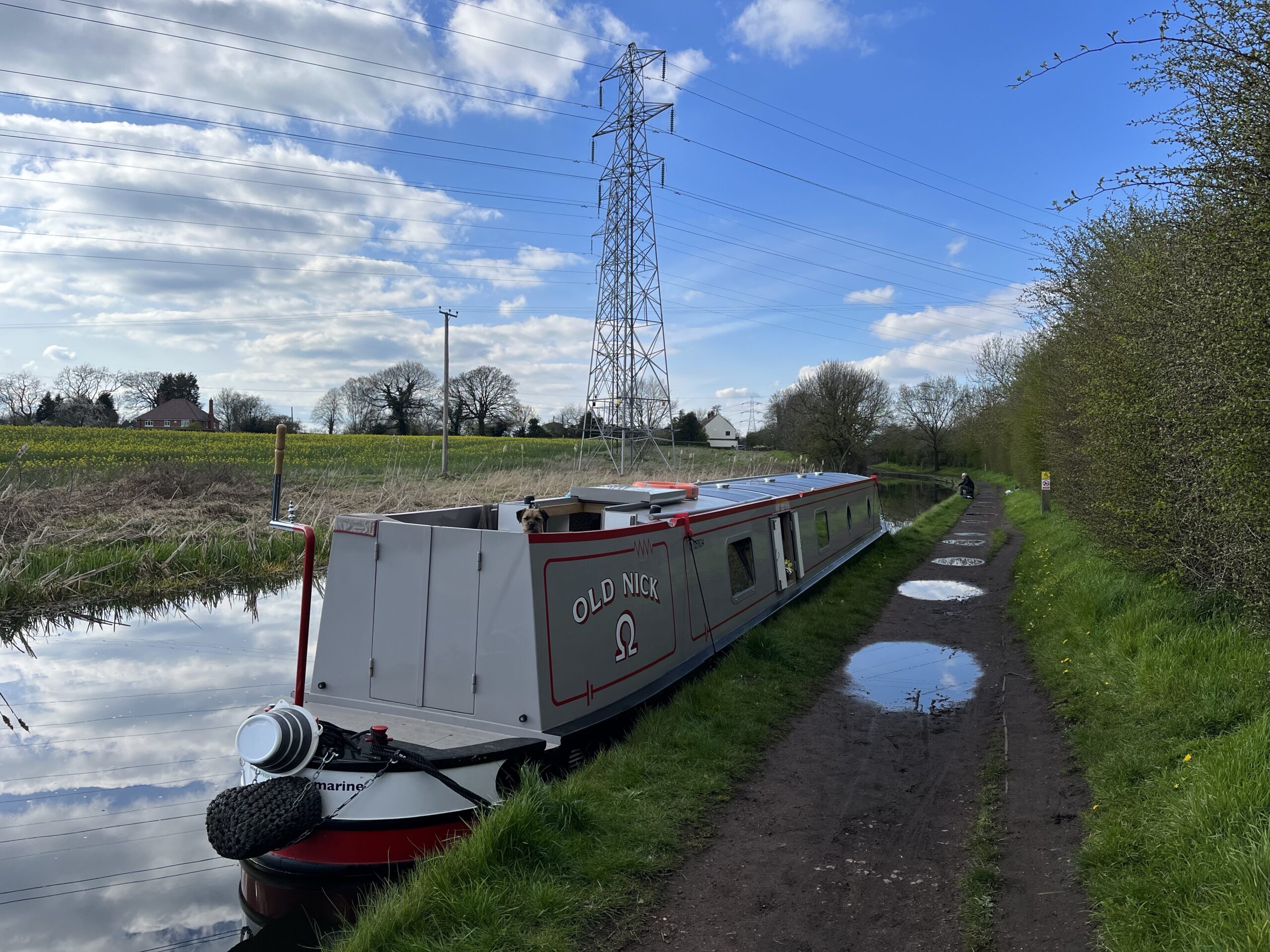 We were looking forward to doing (another) one of the wonders of the waterways – the Bratch. This is a set of three locks – originally a staircase, but later re-engineered as three separate locks with 6 gates. Their operation is unusual as there are in effect double gates between the locks. The penultimate pic below clearly shows the double set of gates. There are also two bridges, a toll house, and a keeper's cottage. Nobody today seems to know quite why they were changed. But, whatever, they are a bit of a thrill.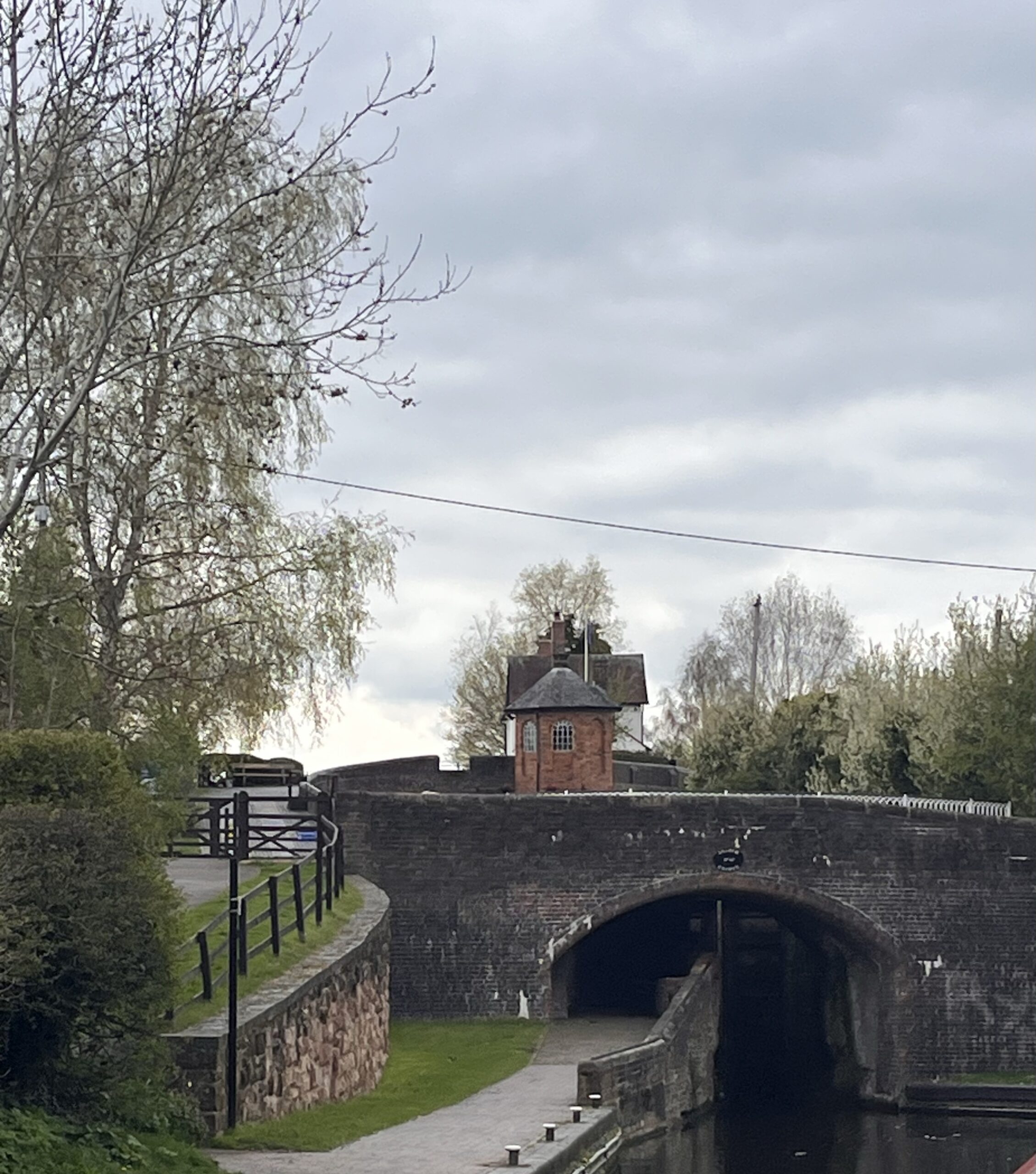 There are often vollies on the locks to help people through. Not today however. We were being followed by a couple who had just bought a boat, with absolutely no boating experience, and were moving it to a new marina. They had only had it two days and were a bit daunted by the Bratch. Paul helped them through the first chamber, explaining what they needed to do, although it is fair to say that the signs provided by CRT are very good and the paddles are colour coded to help.
I need to mention the smell that you get at locks. It is unique to locks . I have never smelt anything like it anywhere else. And it's very hard to describe. It's kind of wet wood/gushing water/wood preservative. Almost spicy. I'm not doing well with my description here, but I absolutely love that smell. I wish you could bottle it! You need to experience it to know what I mean. Anyone got a better description?
We wended our peaceful way along this lovely canal, tiptoeing round the outskirts of Wolverhampton and eventually passing Aldersley Junction, which takes you up the 21 lock flight to the centre of the city. We went this way with friends Nick and Sarah Holmes last summer. I think they enjoyed the workout?
It's then a short hop to Autherley Junction, and it was on that short stretch we saw Paul Lumsden on board his boat Wee May. We had last seen him when we took part in the flotilla through Birmingham for the Commonwealth Games, when he sang from the stern of his boat. I distinctly recall his great rendition of Amarillo as we went through Brindley Place. He has a good canal vlog called "Narrowboat Natterings".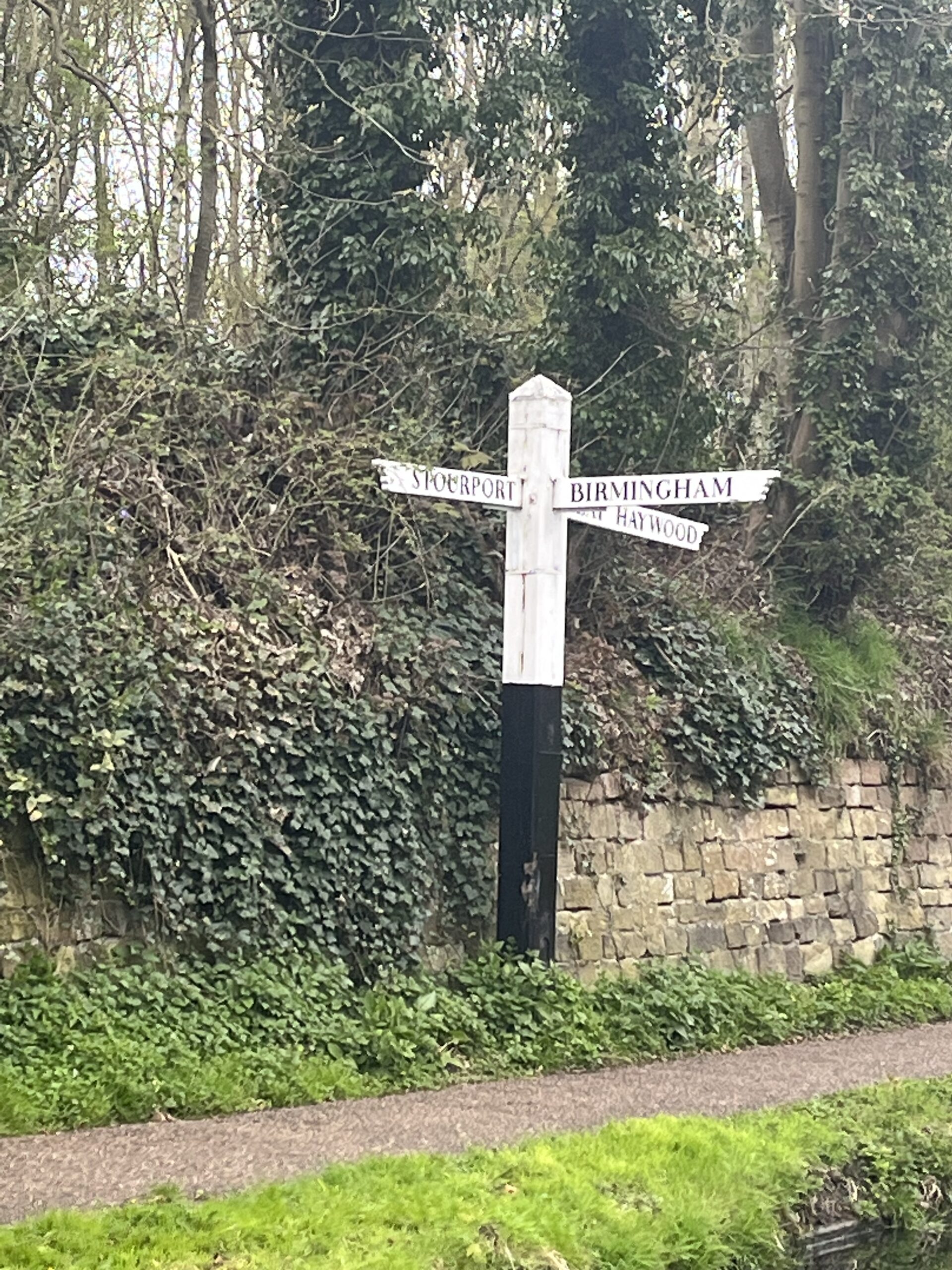 We turned left at Autherly, forsaking the Staffs Worcs in favour of the beautiful Shropshire Union, which heads up to Chester and beyond, to Ellesmere Port, where it meets the Manchester Ship Canal. 66.5 miles and 47 locks. But we shall be turning off before then, to head into Wales. We pottered on for about 3 miles and then pulled over for the night, just out of earshot of the M54.
There is a stop lock at the junction (12″ rise/fall!) and a tollhouse, where money for using the canal was collected and this is the highest point of the Shropshire Union (or Shroppie, as it is known by boaters). We thought it all looked a bit tired and dilapidated since the last time we had been through. There used to be a lovely flower bed by the lock side, in front of which we have a pic of our old dog Archie, as a young dog. But that is no more, and, sad;y, neither is he. It made me a feel a bit melancholy.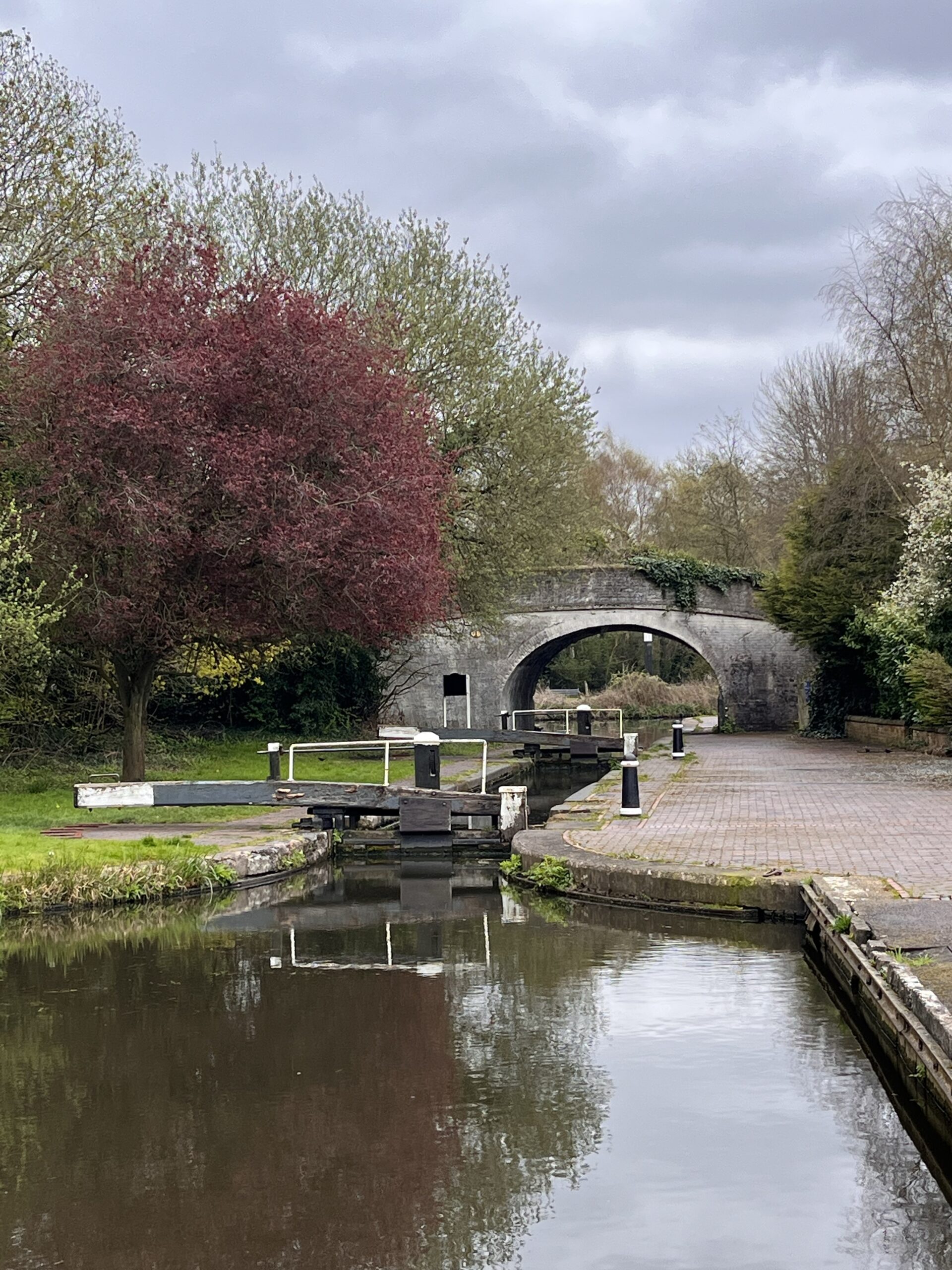 I can't quite believe that this marks the end of our first full week of cruising. It has gone very quickly. And, at the end of next week, we have our first guests of the season – Anne and Gray Robertson, of whom it has often been said. Let's hope for some better weather for them. Cross everything!
| | |
| --- | --- |
| Miles | Locks |
| THIS LEG | |
| 28 | 29 |
| TOTAL 2023 | |
| 43 | 49 |