17- 23 April – Our first week on the Shroppie
Well I hope it doesn't rain until September! But it feels like it might. It's all good though – canals need water and earlier this year there was talk of drought. We don't want another year of restrictions and closures, although they didn't actually affect us last year, thankfully.
It was very quiet over night but boy! We saw more boats pass us as we were moored than we have seen in the entire time since we left Droitwich! No word of a lie. We decided to stay put and stay Monday night, as it was nice and quiet.
I had just finished moaning about rain and then Tuesday came along. Cloudy at first then bright sun, with a stiff breeze. The perfect drying day! On went the machine and I had a line of washing out before you could say Jack Robinson. Albeit slowly!
And then the most amazing thing happened. After nearly 17 years, I finally saw my Dad's old boat. As you might know, Old Nick is named after him. I've hoped/dreaded seeing "Sam Gunter" (named after my stepmum's Dad) coming towards for so long, and today was the day. We waved and Paul ran out to take a pic. He reversed (he also went aground!) and told us that his name was John and he said he'd bought the boat from Lynne Carter (my stepmum) in 2007 and had owned it ever since. He asked if she was still alive and sent his regards to her, which we duly passed on.
Sam Gunter does not look the same as she did. Her livery was green and red, and is now (rather spookily) grey with red, but other than that it sounded just the same – same old SABB throbbing away in the engine room. Probably the same smuts blowing out of the exhaust. I did have a little tear as he departed. we had such happy times on that boat and I miss my Dad, always.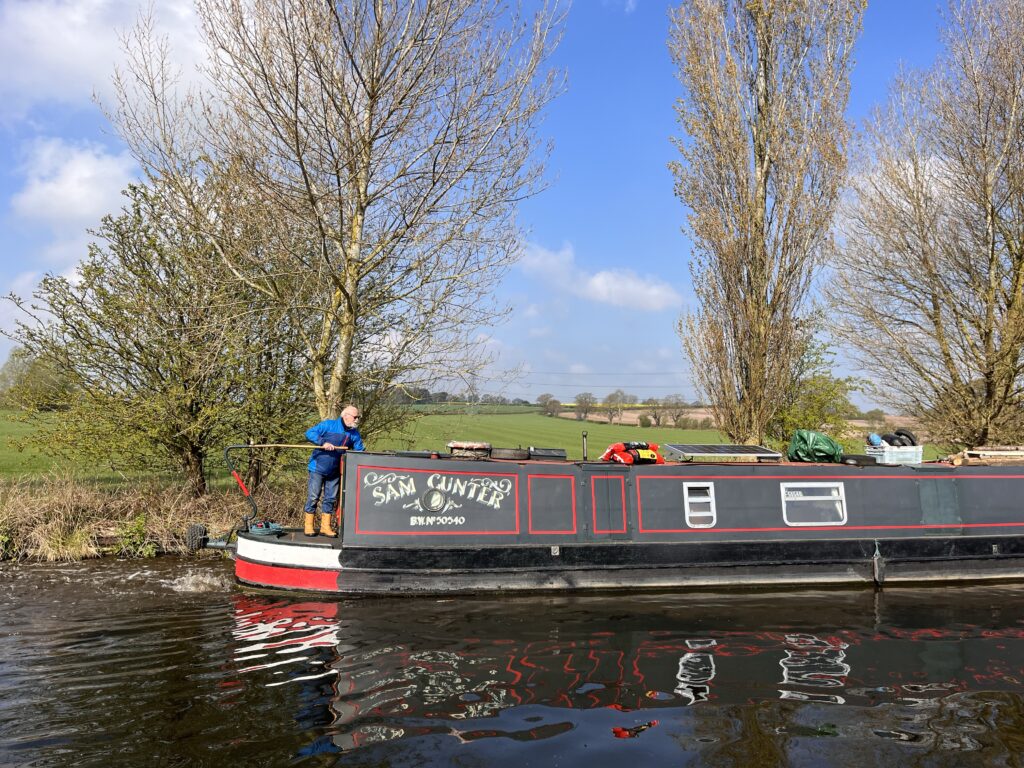 We decided to pootle on down to the little town of Brewood in Paul's lunch hour. Luckily the washing line is portable and it fits neatly in the well deck at the bow for travelling. I was a little worried about it blowing in as it was so gusty, but it was fine. Having had that happen once, I didn't really fancy re-washing everything, just as it was nearly dry!
We passed under the almost tunnel-like and quite ornate Avenue Bridge, presumably ornate at the landowner's behest, because the road it carries leads to nearby Chillington Hall, seat of the Gifford family for 800 years.
As we approached Brewood (pronounced Brood by the way) the majestic steeple of St Mary the Virgin and St Chad, which holds the remains of many an ancient Gifford, came into view. It's an impressive building and makes good use of the local red sandstone, as it dominates the skyline.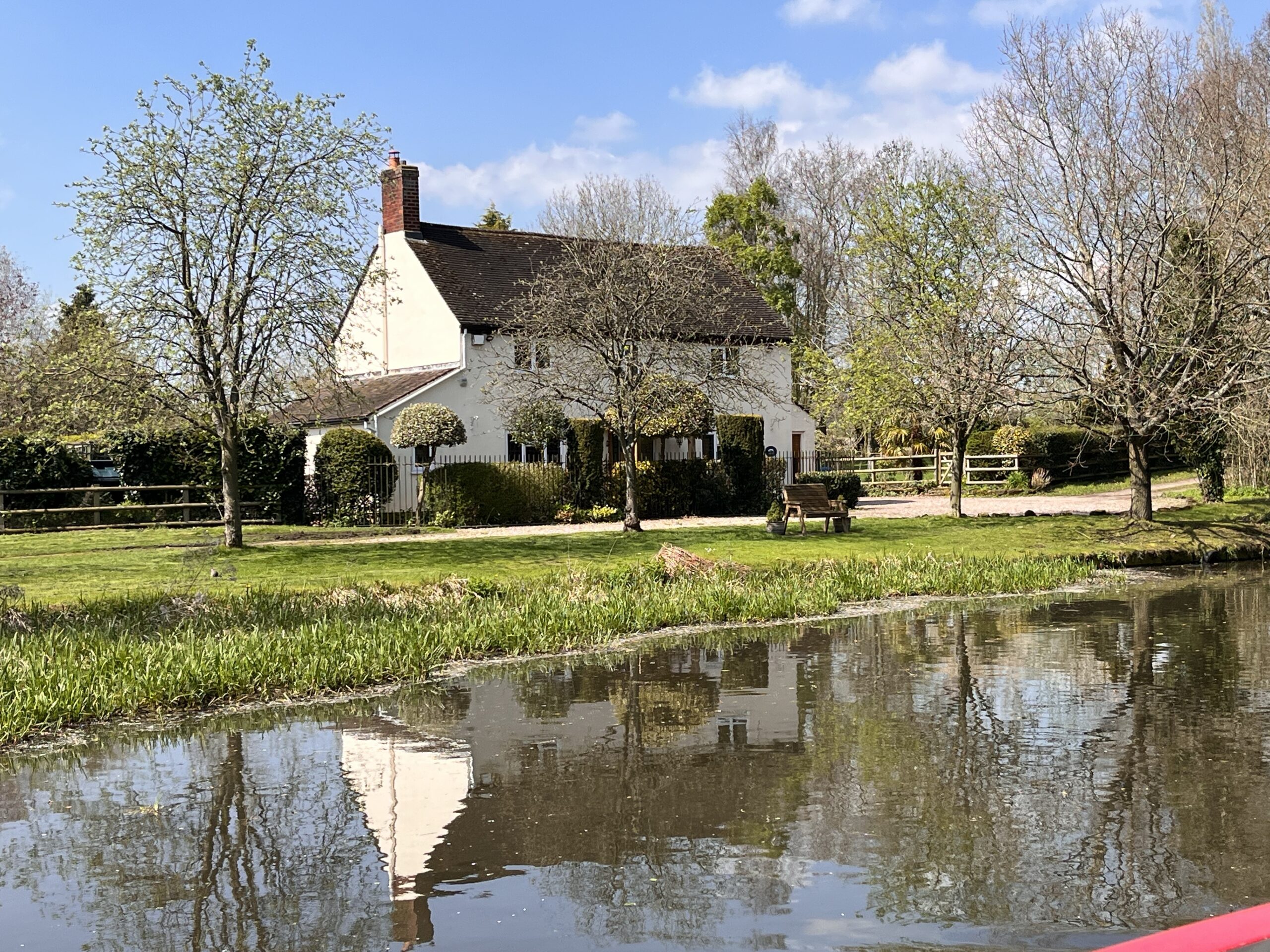 As it was a pleasant evening, we decided to get the bikes off and go out for the first ride of the season. The boys got very excited when they saw what we were doing. They clearly haven't forgotten the fun of a bike ride. The towpath was in good fettle so we decided we'd set off along there for a while to tire the boys out, so that they'd be happy to get into the backpacks for a rest and we could safely have a tour of the town.
It's a pretty little town with some pretty black and white houses and some notable buildings, such as Speedwell Castle, more info about which can be seen here. It's variously described as a "peach" and a "delectable folly". It's certainly quirky!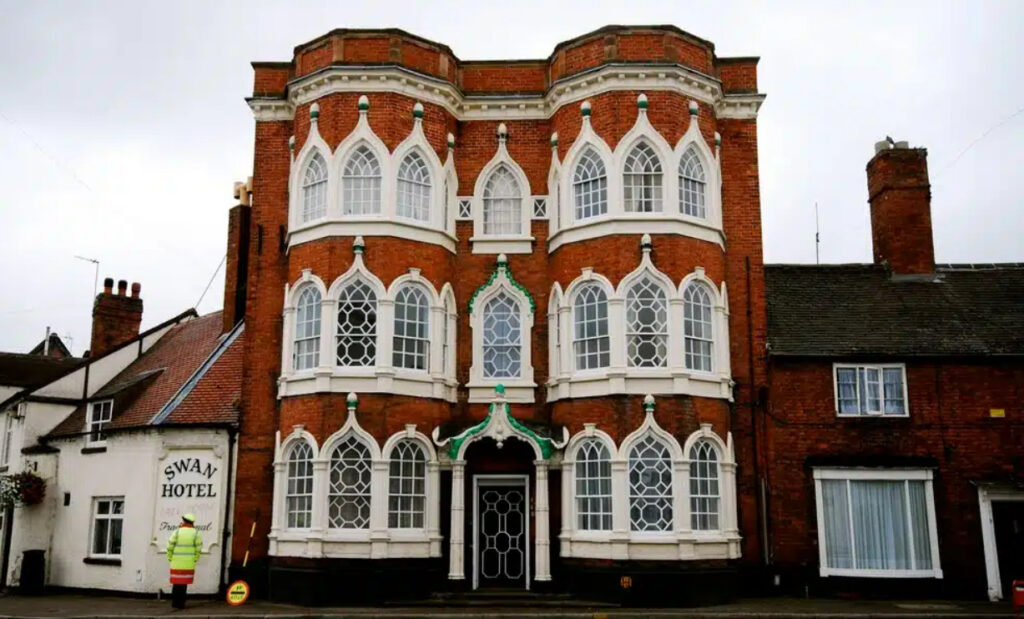 We ended our evening with a visit to the Bridge Inn for a well earned drink. And yes – there was water for the boys. We cycled back to the boat and I noticed a few muscles letting me know they were there after a bit of a break from cycling!
I cycled into town again, solo, on Wednesday morning to grab some fresh baked goods from the Bakery, including some Corned Beef and Salad rolls for our lunch. Yum!
We needed to get to Wheaton Aston for a WSR stop , so once I'd arrived back from town, I set off for the short trip. We saw Sam Gunter again as we were leaving, but they had turned and were going to be going away from us. Shame, as I'd like to have had a chat, but it wasn't meant to be.
I had timed the trip so that Paul could help me through the lock and do the WSR in his lunch break. We went over the charming Stretton Aqueduct, a cast iron affair, built by Thomas Telford, which carries the canal over the busy A5. We got a toot from a cheery lorry driver as we went over. I couldn't help but notice it's sadly dilapidated state. It definitely could do with a lick of paint. Just the sort of job for canal volunteers, I would have thought. I guess, when money's tight, cosmetic jobs like this get a low priority. I'd gladly pay for the paint, though. And as my friend Paul Rogers will readily attest, keeping the water out is half the battle when it comes to rust!
All the bridges on this cut have very deeply grooved rubbings strips. It always makes me marvel that this was done by the ropes worn by the tow horses. Incredible. Interestingly, these seem to have been freshly painted.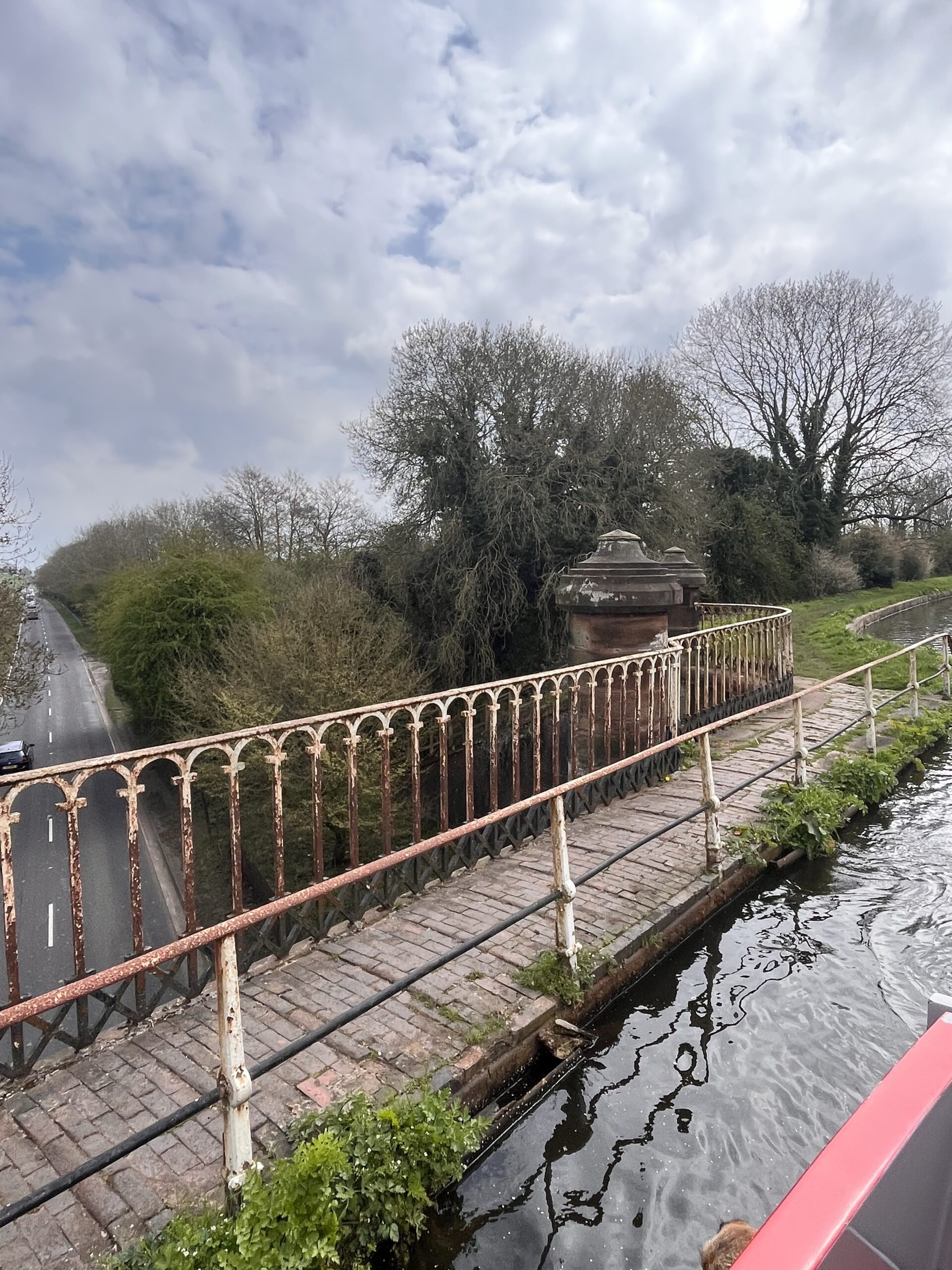 WSR done, Paul went back to work while I looked for a spot to moor for that night. It didn't take long! One good thing about having a bow thruster is that you can easily moor single handed. Useful for when Paul is beavering away at the keyboard.
As the evening unfolded, it became clear that I had picked up a tummy bug and i didn't have a very comfortable or peaceful night. It was a glorious day though, and the washing machine went on again. You have to grab the chance while you have it! Once that was all pegged out, I set off. We needed to get to Gnosall for Friday and it would probably take a couple of hours.
The Shroppie is a largely rural canal and I had a very peaceful cruise, accompanied by bird song and my breakfast. A glass of water! It's famous for its cuttings and embankments. A canal needs to be level and this is achieved by a number of means, but cuttings and embankments are probably the simplest. They help iron out the land. A cutting is where the canal is lower than the surrounding land and an embankment is built up higher than the surrounding land, both in an attempt to maintain the level, instead of using locks and tunnels. There are some famous cuttings on the Shroppie, especially Woodseaves and Grub Street. Shebdon Embankment also springs to mind. One minute you're down in the dumps and the next you are King of the Castle.
The section I took us along was mainly cutting and I'd been going along for maybe an hour when the vista opened out. It looked like just the spot to me. Quiet, rural and great solar opportunities. I lost no time in getting us moored. This is our favourite type of mooring and whilst we are sociable types, we do love a bit of solitude! We were quite dismayed when a boat came through the bridge ahead and looked as if they might pull in too. Luckily, they had a change of heart and continued on their way, with pleasant greetings from us, which may have sounded a bit like relief!?
The boys made the most of the sunshine and had a pleasant bask on the bank. What awful lives they lead, eh?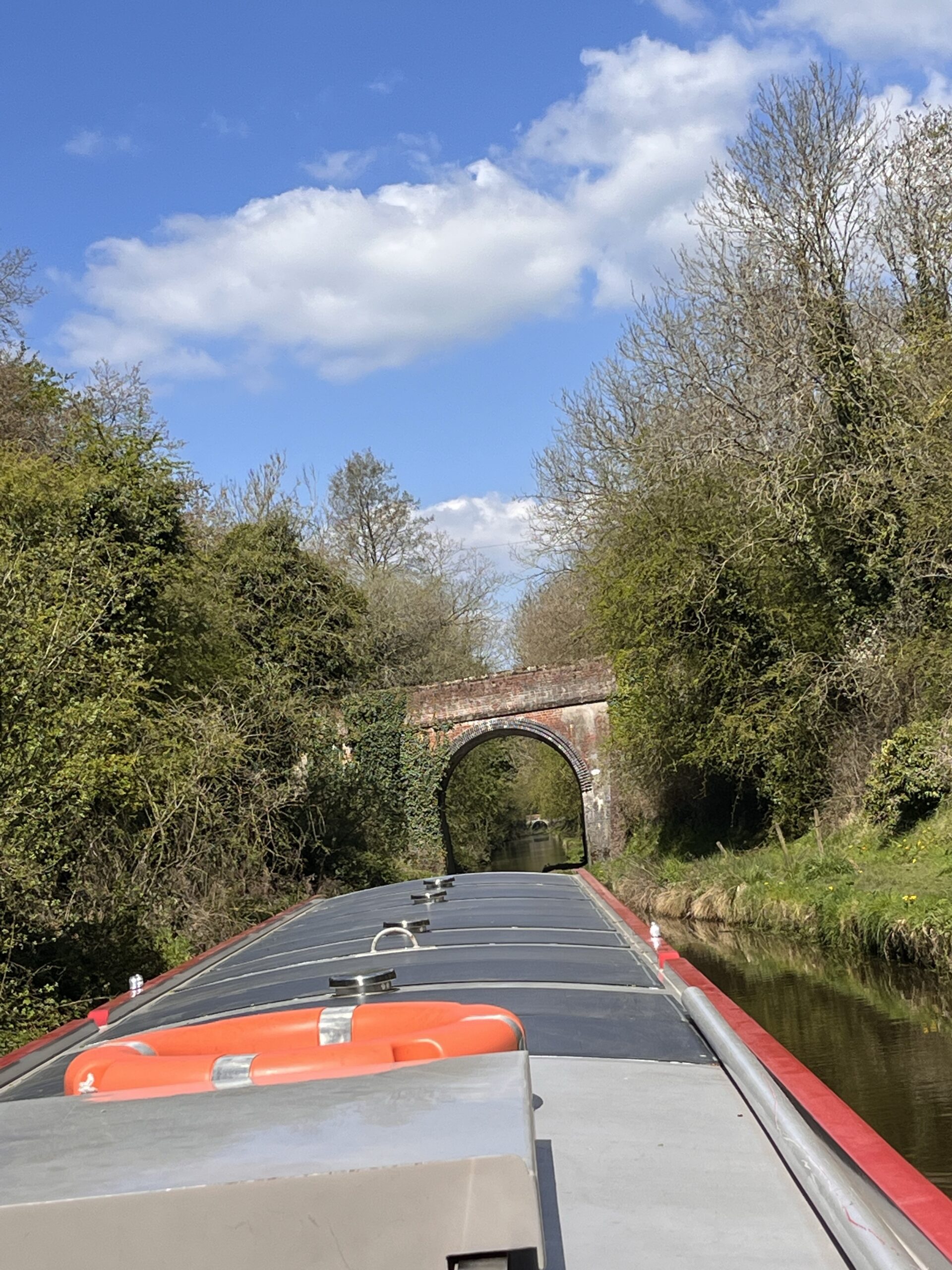 Our solitude did not last long, sadly, but they had the good grace not to moor too close. I sound curmudgeonly, don't I?
Our journey to Gnosall, where we were scheduled to meet the Robertsons, was not lengthy but was pretty damp! Poor Paul was lashed to the tiller whilst I busied my self with making some soup for our lunch on Saturday and a Ginger Cake for out guests.
We arrived at The Navigation Inn in Gnosall at around 11 – in plenty of time to take on some water and and find a suitable mooring spot. Sadly the moorings outside the pub are also the mooring for the water point (which seems a bit daft to me?), so we reversed back through the bridge and along to the spot we had clocked on the way through. We were in prime position and ready for our grocery delivery and for our guests who would be arriving around 6 pm.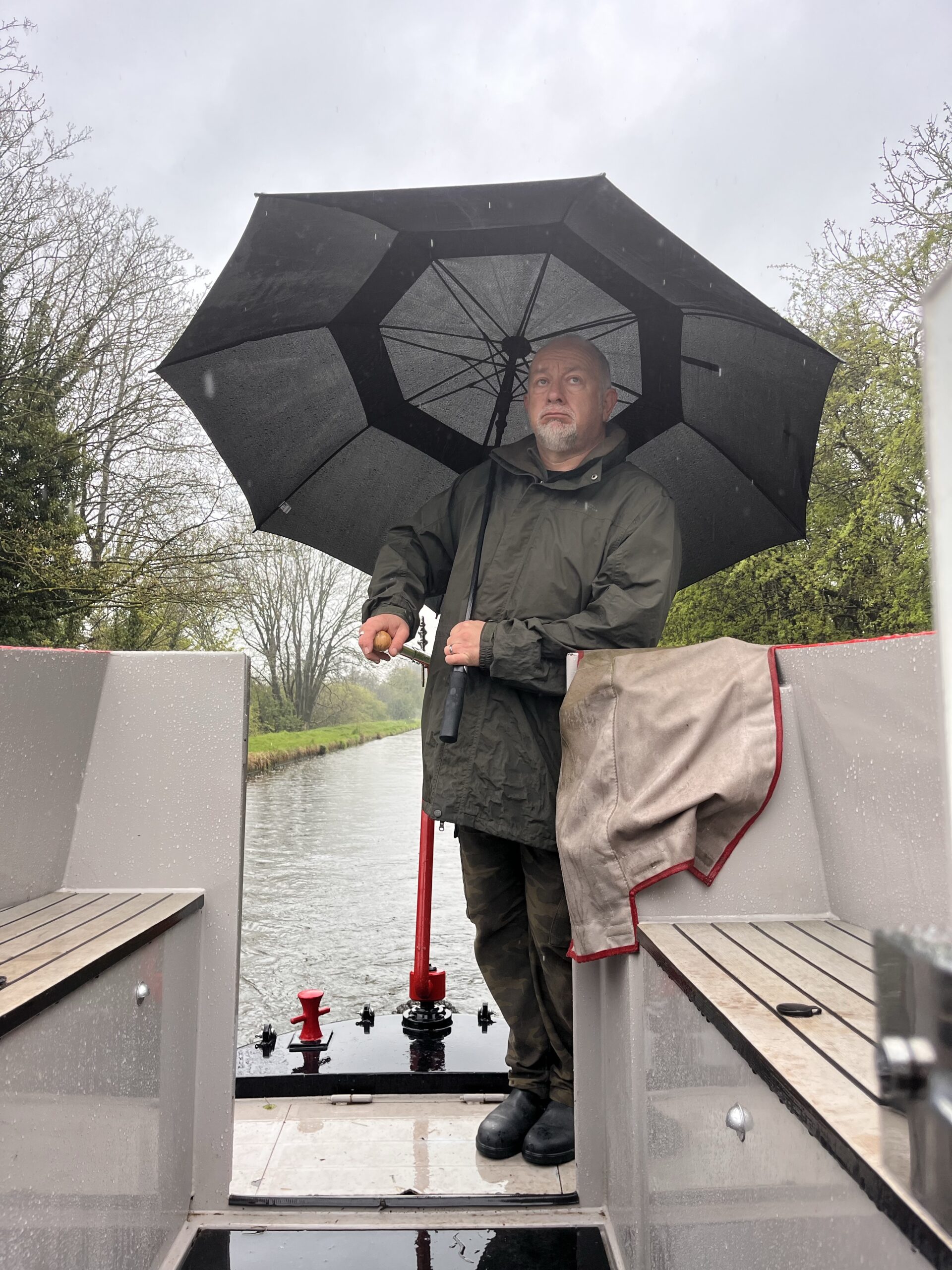 We finished tidying and cleaning and were ready for them when they arrived – a little ahead of their published schedule.. We had a quick catch up and a cuppa and then repaired to the pub for dinner. We then spent the evening doing more catching up and lots of laughing. It was great to see our friends,
When we awoke on Saturday, it was to sunshine, and we had a great day cruising through the beautiful Staffordshire/ Shropshire countryside, with glimpses of The Wrekin on the horizon. The Wrekin is a cone-shaped hill, which can be seen for miles around. There is an Iron Age Fort on its summit, and also a beacon, which emits a red pulse of light every few seconds at night. The beacon was used to warn aircraft in WW2.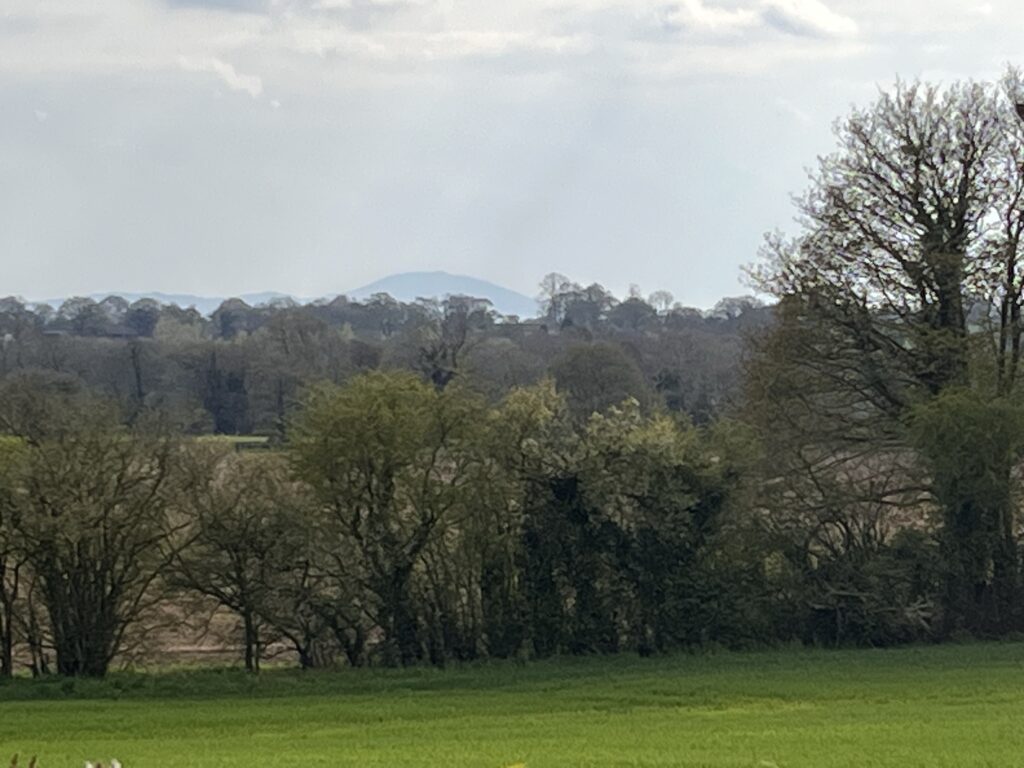 It was a lock-free day so we could all relax in the pleasant sunshine, although it was pretty chilly when the sun went behind the clouds. We first called in at Norbury Junction, where the now defunct Newport Branch of the Shropshire Union, which originally terminated in Shrewsbury, heads off to the west. We did a WSR exercise and got chatting with the volunteers who are trying to restore a couple of old Grand Union Carrying Company working boats – one of the few pairs that are still together. We made a donation to their fund and went on our way.
We passed through Grub Street Cutting, which bears one of the most iconic bridges on the Shroppie. indeed on the whole system – Bridge 39 aka HIgh Bridge. It has two arches, the upper of which is a "strainer arch". A strainer arch is one that is inserted into a space to strengthen the overall structure and resist inward pressure. In 1861 the "United Kingdom Electric Telegraph Company" installed telegraph cables along the entire length of the canal and the strainer arch was subsequently used for the siting of a telegraph pole. The telegraph wires were replaced with telephone wires in 1870 and, although the wires have now been removed, the telegraph pole still survives in-situ. It's another " Sumps's Wonder of the Waterways" .and a listed structure – and rightly so.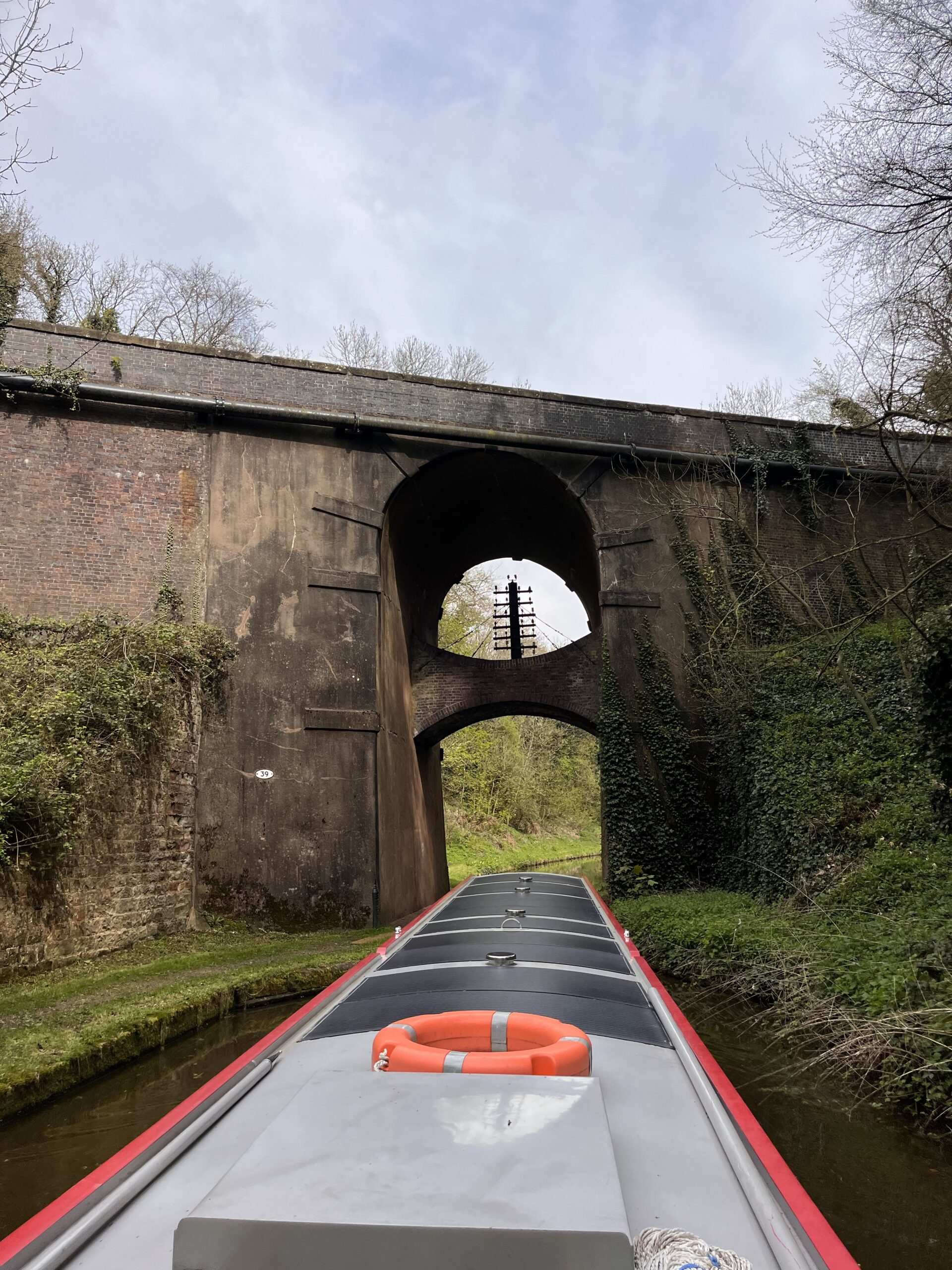 Our lunch stop was at one of our favorites on the canal system – The Anchor at High Offley. It's a quirky old pub and it's a traditional stop for us. Paul went off with his tankard but, sadly, the pub was not open until the evening, so he returned empty-handed. The Pea and Ham soup that I had made went down well, though and his spirits were soon restored.
Our journey continued after lunch and took us past the old Cadbury wharf at Knighton, where "chocolate crumb" was produced and then sent, by boat, to their factory at Bournville. Chocolate crumb is the secret ingredient that gives British milk chocolate its distinctive taste. It's made from a blend of sugar, milk and cocoa liquor which, when vacuum-cooked, can be dried and milled to form a powdered crumb product. The milk came straight from all the local dairy farms. It's also known as Lord Talbot's Wharf, and was recently on the market for a cool £850,000. So now you know as much about it as I do! . But it's a real piece of canal history and you can imagine all the boats and maybe detect the smell of chocolate!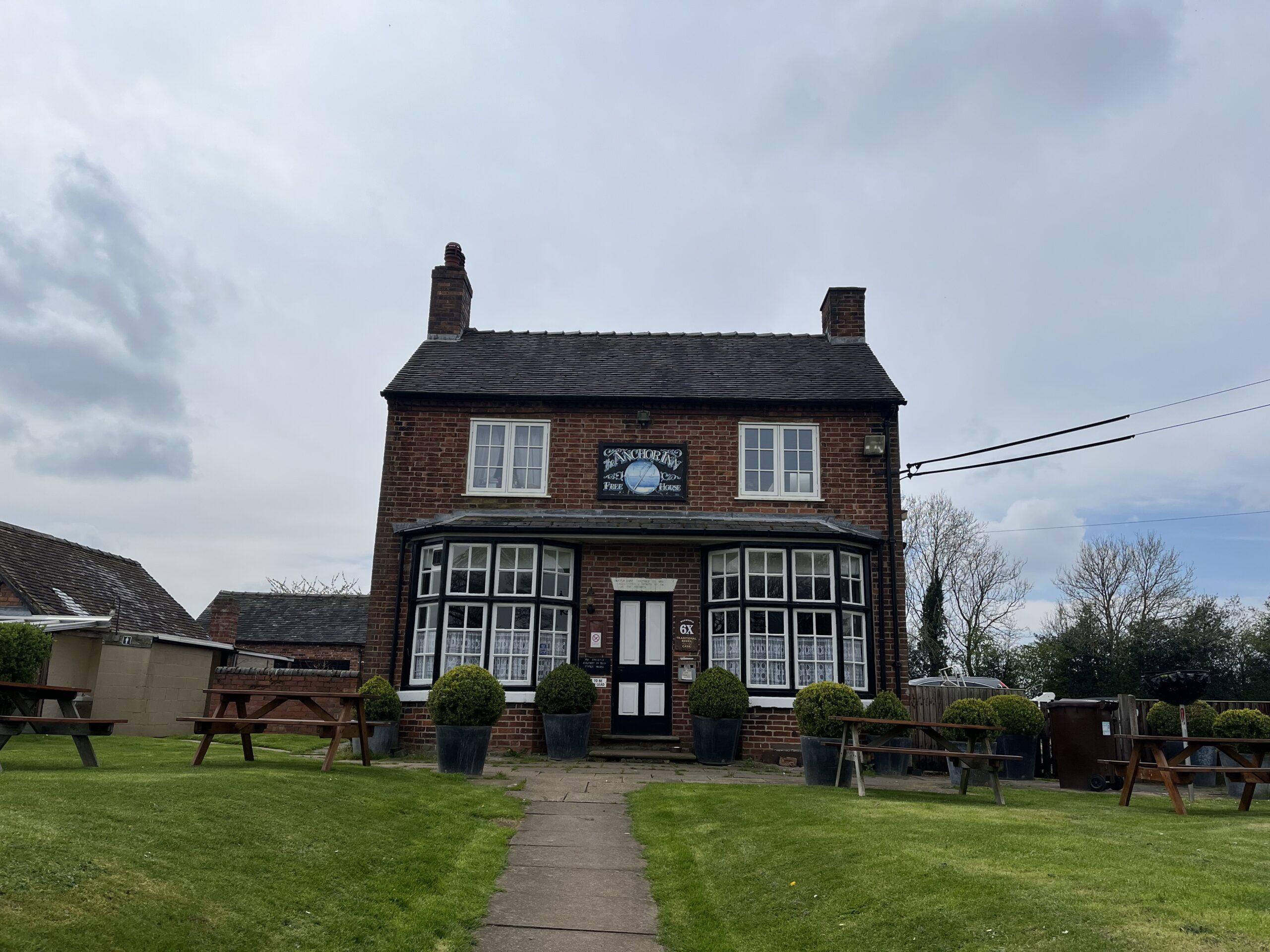 In common with many of our guests, Anne and Gray had brought with them our mail from home and a few things that we had ordered, the most important of which were a pair of 10″ pneumatic sack-truck wheels. "Why on earth?" I hear you cry! Well – the Shroppie is notorious for its "shelf" – an underwater concrete protuberance that was installed to prevent bank erosion. It can be found along much of its length and makes mooring a tad tricky. The solution is to dangle pneumatic wheelbarrow tyres in the water to keep you away from the bank and its shelf. Paul set about making these just before we moored for the day, just after Gladstone Wharf. Here is his "instructional" video.
They seemed to do the trick, when the first boat went by. The first boat was actually Heidi Manning – aka the The Narrowboat Pirate, one of the more famous canal vloggers, whose YouTube channel can be found here and also a musician. I cooked a Chicken and Mushroom Risotto and then we played games all evening, accompanied by copious chocolate! And red wine for those that fancied it.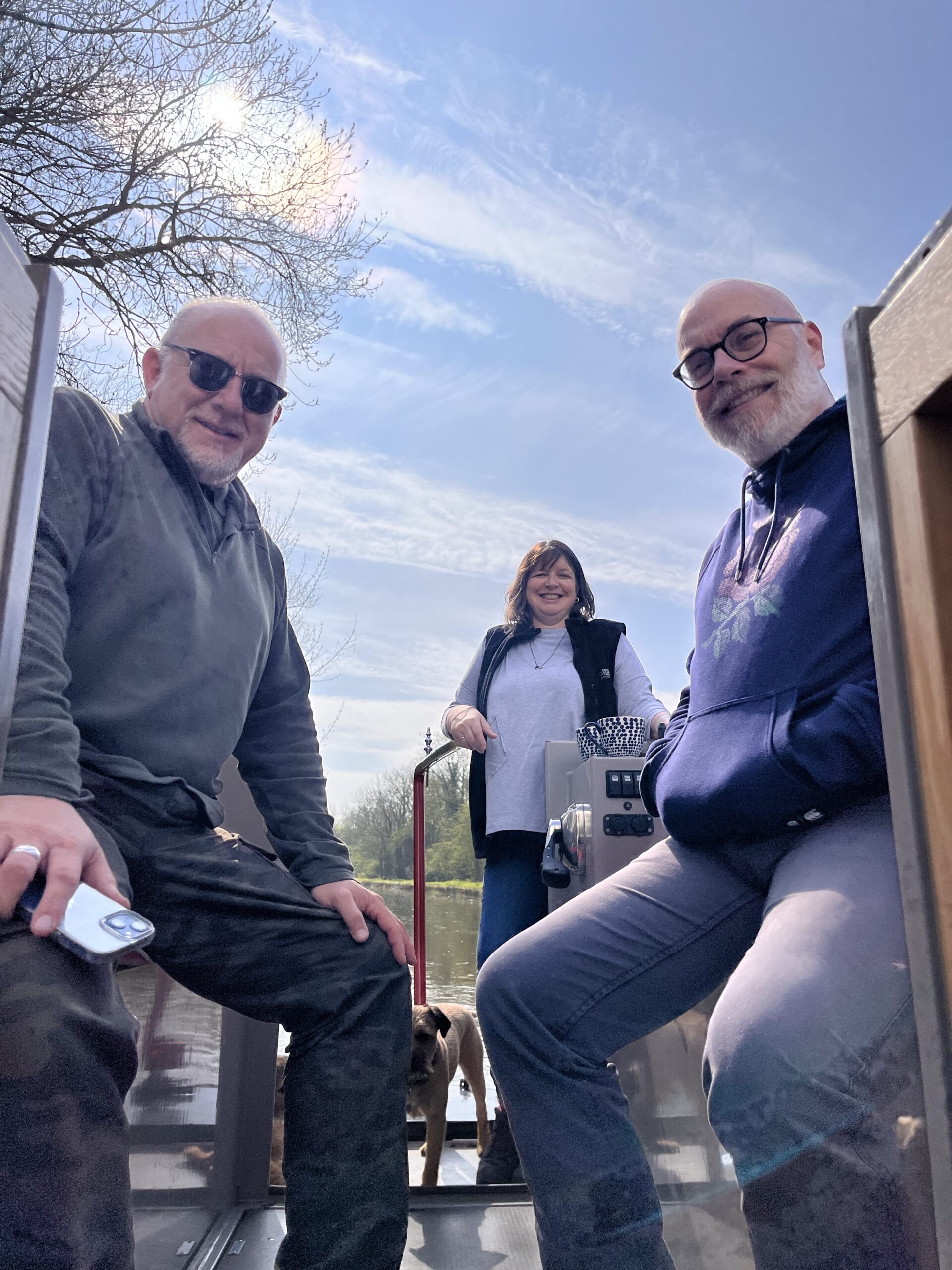 Sunday was a much more changeable day and it was quite misty as we progressed through Woodseaves Cutting. Woodseaves is the longest canal cutting ever built in this country. It's 3 km long, almost 100 feet deep in places and is always damp, no matter what the weather, in my experience. We could see where there had been landslides and also feel them under the water. It's quite narrow and we encountered a couple of boats, one of which had gone aground, which held us up for a while. But that's canal life for you! And it could just as easily have been us.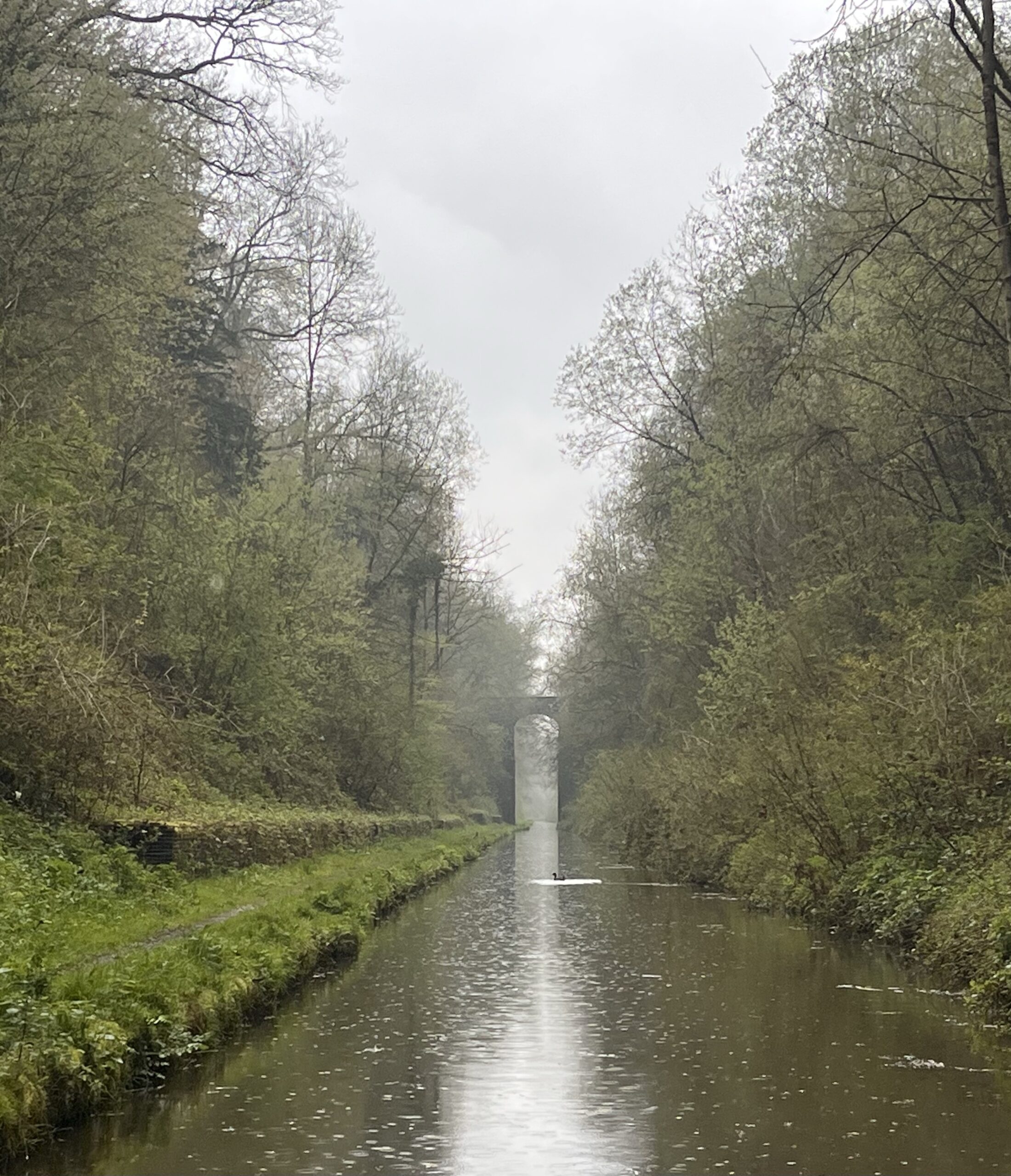 We arrived at Tyrley Wharf, where we dumped some rubbish and then tackled the flight of 5 very attractive Tyrley Locks They have a reputation for being a bit tricky, because of their fierce by-wash. A by-wash, by the way, is a "spillway" or "weir", which is designed to permit the escape of surplus water. The water gushes out at a heck of a rate and many a helmsman has a come a cropper on them. And today was no exception – although not for us. It's less of a problem when you are locking down, as we were. But a boat had gone aground at the penultimate lock and Paul and Anne assisted them in getting afloat again before we could complete our passage.
We finally arrived in Market Drayton, home of the Gingerbread Man, and were fortunate to find a very handy mooring with easy access to the road and to town. We needed a taxi to return Anne and Gray to their car, back in Gnosall. We rang round every single number we could find on Google, including a chap who had retired from taxiing 15 years ago! And all to no avail Uber was also found wanting, as was Go Carz (shudder!). There was nothing for it. Gray was going to have to cycle the 14 hilly miles to get the car. Stalwart chap, he returned sweaty but unbeaten after a couple of hours, grateful for the help of my e-bike. Disaster averted. They departed at around 4 pm, after a restorative cuppa and the last pieces of the Ginger Cake. A lovely weekend having been had by all, thus ends week 2!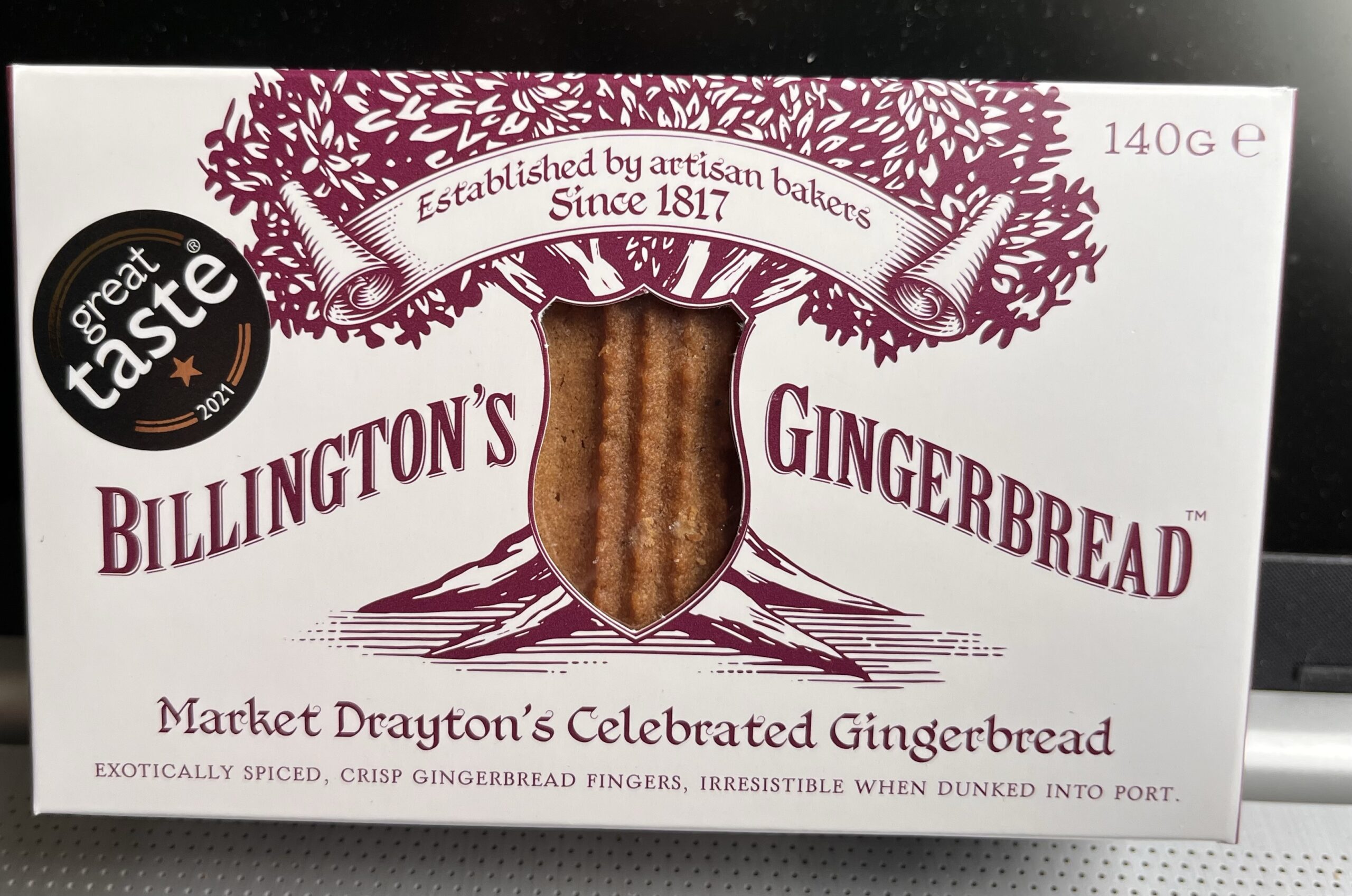 | | |
| --- | --- |
| Miles | Locks |
| THIS LEG | |
| 23.5 | 6 |
| TOTAL 2023 | |
| 66.5 | 55 |
Post publishing note – the Gingerbread is very nice indeed!