7-9 April – Leaving Droitwich Spa Marina
Finally! Paul dropped the car off at Brinklow Marina, where we are leaving it for the next couple of months and returned by train and taxi. This was the first stage of moving on and felt like a bit of a landmark. We said our thanks and goodbyes to all the guys at the Marina, which felt a bit sad. But we were leaving – despite the River Severn's capricious ways. If it didn't play ball, we'd wait it out at Hawford.
Good Friday dawned bright and crisp. There'd been a frost overnight but it was bright sunshine as we left. We had said goodbye to our friend Roy a week before because he was going out cruising for a few days and Jayne and I had been out for a farewell cuppa earlier in the week. This was it.
As we slipped away from our pontoon, Roy, who had arrived back the evening before, popped out to wave us off. I was alone on the boat as Paul had walked on ahead with the boys to set the locks. I must admit to shedding a few tears as I turned right for the last time and lost sight of Roy. As I suspected, it's a real wrench to leave but it's time to move on.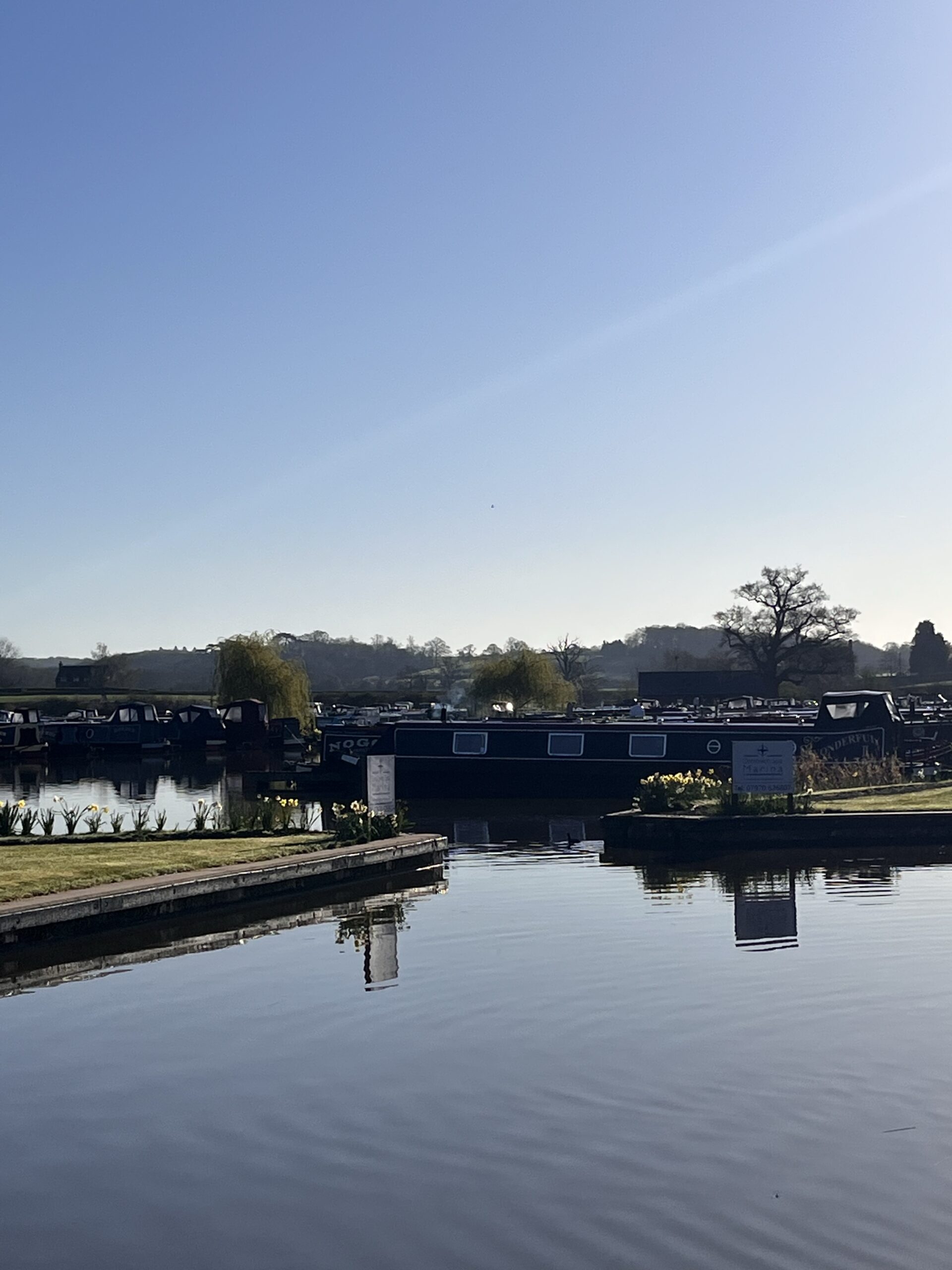 All the locks were against us on the way down to Hawford. We stopped briefly in Vines Park to grab our last Alex Gooch sourdough loaf from Waitrose and then pressed on. As I was waiting in Vines Park, our friend Gary went past in his van and gave me a wave. Sniff.
I had been keeping a close eye on the River Severn for the past few weeks and was pretty confident that it would be OK. We planned to stay overnight at Hawford and then go out onto the Severn on Saturday morning, however, I received an email to say that the river had reopened from Worcester up to Stourport. We had a quick conflab and decided we'd scrub round staying at Hawford and venture out onto the river that very day.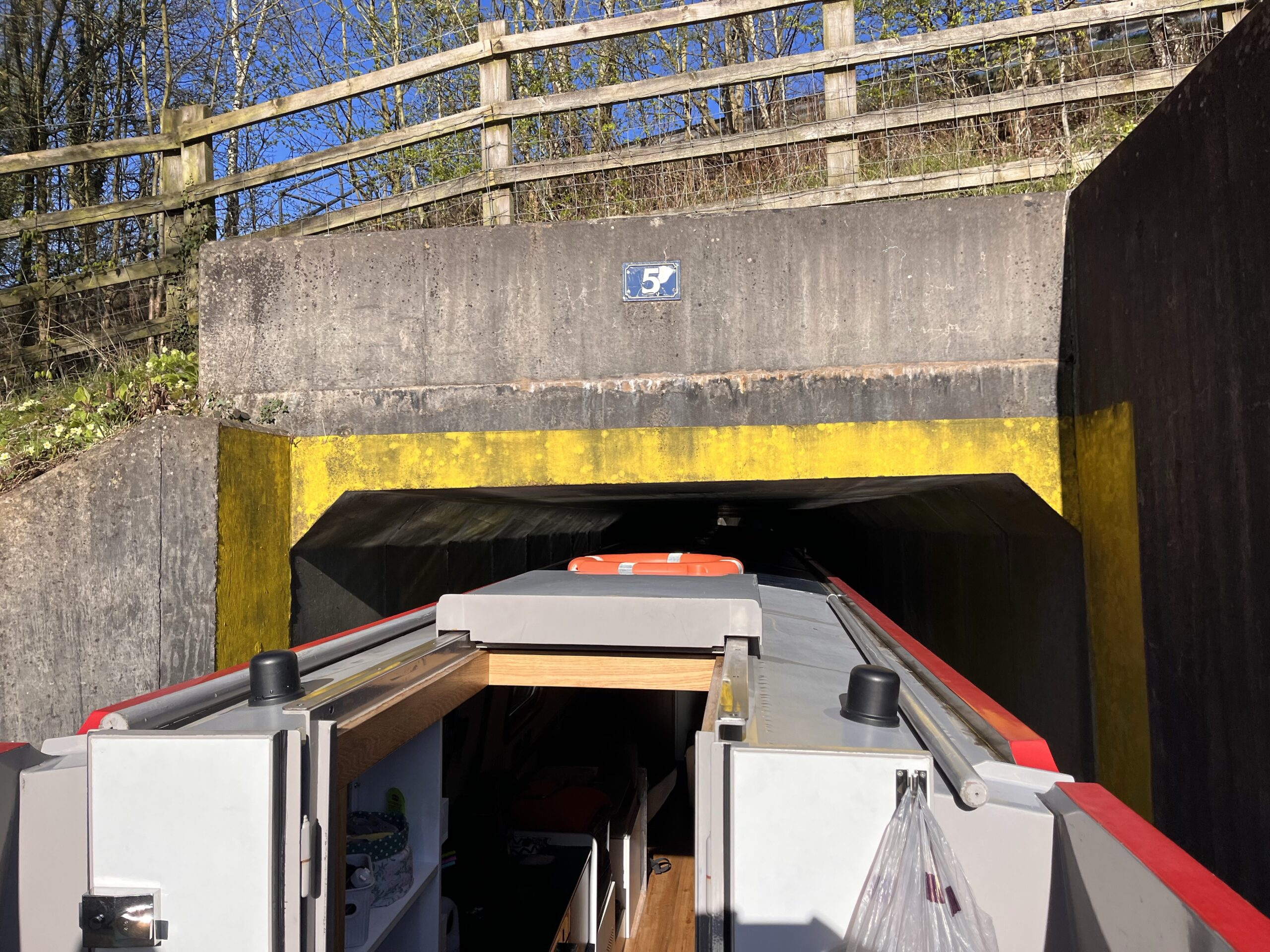 We thus pressed on and were eventually caught up by another Droitwich Boat, which was usually moored right by us. Just Heaven was the boat – owned by the Heaven family (what a fab surname!) and they accompanied us all the way down to the junction. They were going down towards Worcester and we were going in the opposite direction so we bid them adieu. Boaters find it hard to actually say goodbye. We prefer to say "See you down the cut" as very often you do see people on your travels, and it's always a joy. I like that, It's not so final as goodbye..
The river was definitely quite lively and progress was quite slow. We don't tend to "open it up" as many diesel boats do, as we are more conscious of the energy usage, but it's like the tortoise and the hare. We both get there! And it was a glorious day so we settled down in the lovely afternoon sun. We decided we would do this leg in two bites and stop overnight at the Lenchford Inn, where there are reasonable moorings – and maybe a pub supper! And – I think it's fair to say – the Severn is pretty boring. Probably the most boring river we've ever cruised. I mean, it's beautiful, but very samey, with few outstanding features.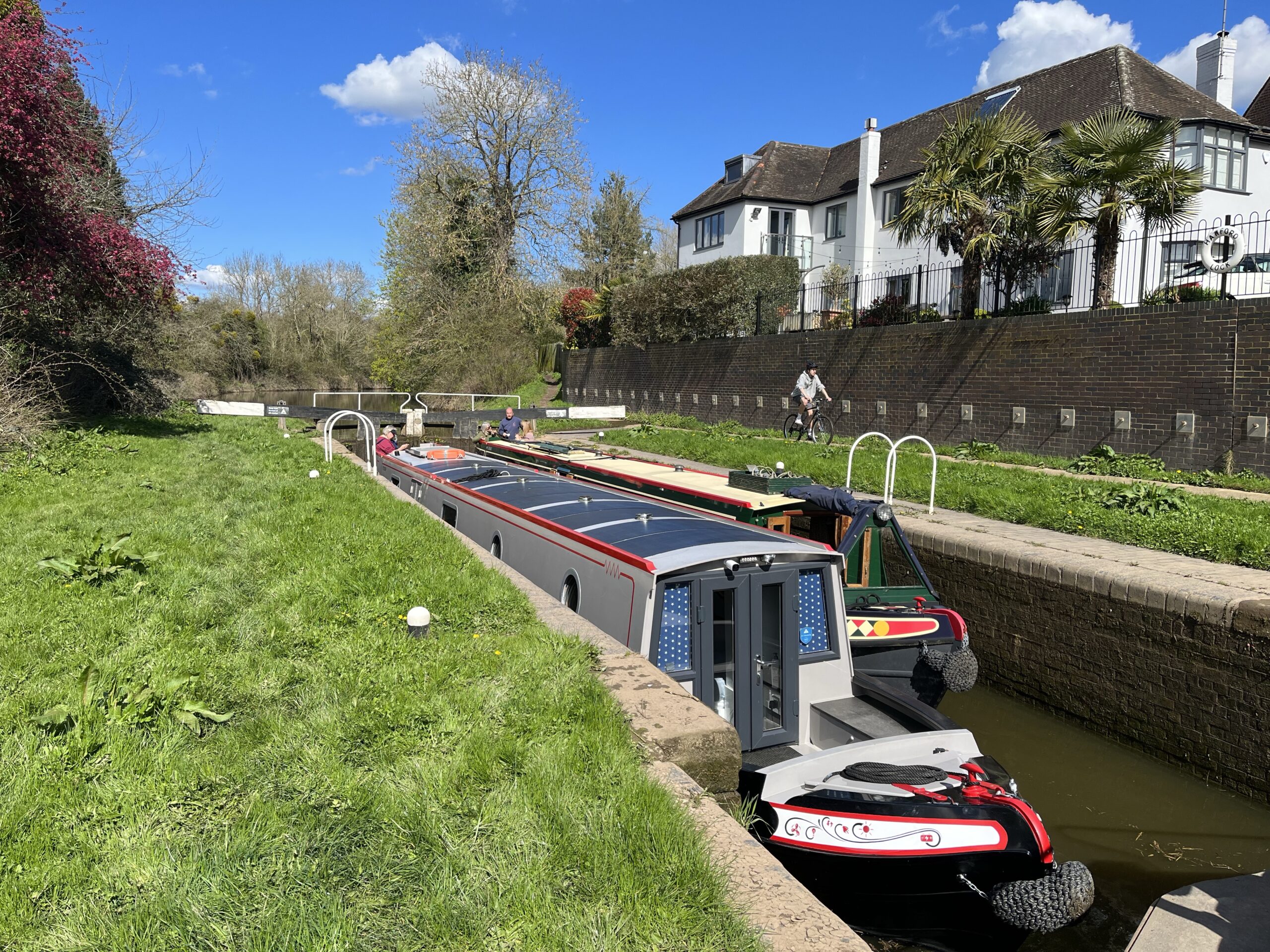 We passed through Holt Lock – note that all Severn locks are manned and, unlike the Thames, cannot be used out of hours – and arrived and tied up at the Lenchford. Paul popped ashore to book a table, in case it was a busy Good Friday. Sadly, they explained that they were closed for a refurb and would be reopening later in the month. Beans on Toast it was then! And very tasty it was, too. We retired quite early as it had been an earlyish start. It was a very quiet night.
Easter Saturday was another lovely, sunny day and we made our way up through Lincombe Lock, where we stopped to let the boys have a comfort break and then on to Stourport. We decided we'd stay on the river and moored at the end of the Visitor Moorings (VMs), hoping not to be joined by other boats. We had barely seen another boat at all on the Severn.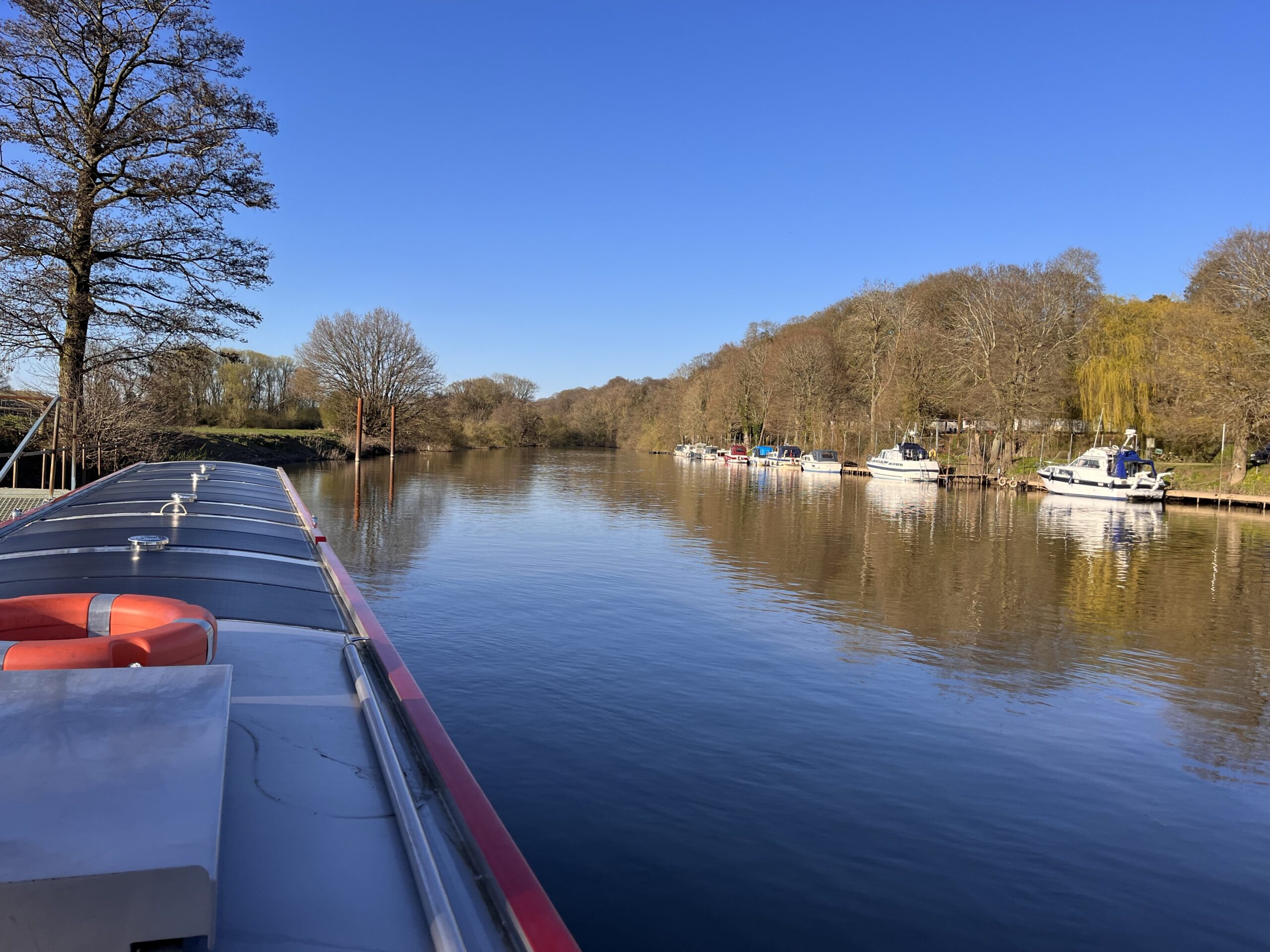 The VMs are just below "The Angel" pub and we decided to order our lunch from there. Bad move. There was a reduced menu and they were absolutely heaving. We waited 35 mins for some lacklustre pulled pork baguettes. Except that they had run out of baguettes and it was more like pulled pork, drenched in sickly barbecue sauce, between two slices of toast! Pretty dire.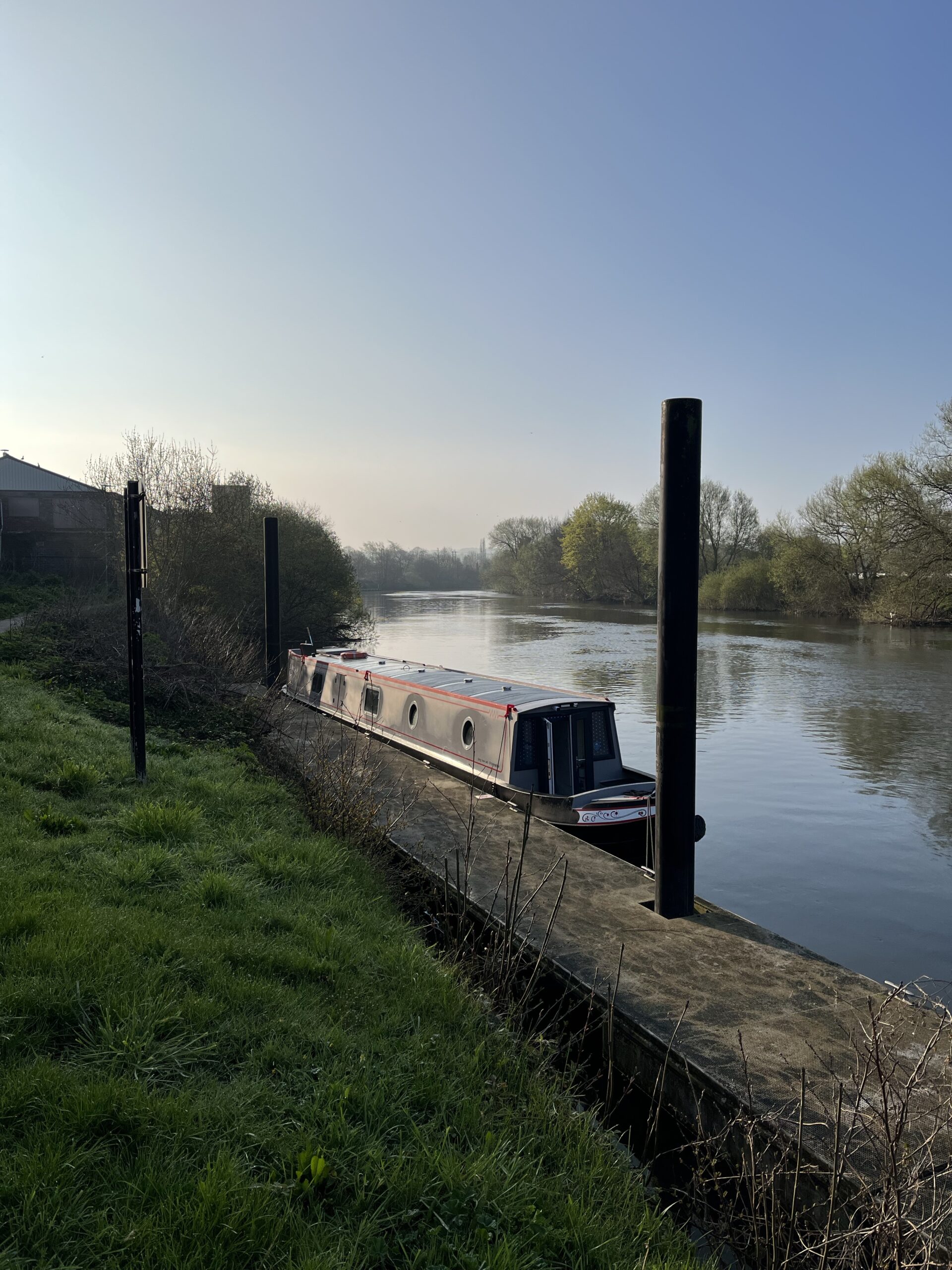 We had a snooze and then showered and were joined in the evening by Rob and Caroline from Ortomarine. We had a good old catch up and it was a chance to say if not goodbye, perhaps arrivederci. We will miss them being close by.
Many years ago the Rowing Club had kept us entertained one summer's evening at their Saturday night bash. The popular song at the time was Roy "Chubby" Brown's collab with Smokie and it was much played that evening. It was a very hot night and we had every orifice open on the boat. We drifted off to sleep to the strains of "Alice, Alice, Who the F**K is Alice" being roared out by a posse of excitable rowers. They were not quite so noisy tonight but we distinctly heard renditions of Valerie. You can see the Rowing Club in the top left of the pic above.
We set off earlyish on Easter Sunday morning, through the two cute pairs of staircase locks that take you up from the river, after which we pulled over to dump rubbish, take on water and empty the loo. And then we were off! Back on the canals and heading out for Summer 2023 Part 1!
I say Summer 2024 Part 1 because we are expecting a happy event in mid-July so we will be cutting our cruising in two halves this year. We plan to pop up to Llangollen and maybe Chester, maybe the Anderton Lift and then drop back down South to our new base, at the Marina of Dreams, by the end of June to await the birth of our first grandchild. Exciting times! So this post was mainly about finally getting away. April is definitely living up to its showery rep so far! Thankfully – unlike the days when we were hiring and had to get somewhere – we can just decide whether or not to cruise. Such a luxury!
| | |
| --- | --- |
| Miles | Locks |
| THIS LEG | 20 |
| 15 | |
| TOTAL 2023 | |
| 15 | 20 |
*