24-30 April – Our second week on the Shroppie
I love this time of year, when the oil-seed rape comes into blossom. The sight of fields of grassy green wheat juxtaposed with the acid yellow of the rape makes my heart soar. So much so that I wish I had taken a flipping photo. Missed opportunity – but I WILL find one.
We decided to stay another night in Market Drayton and I started the week by cycling the 1.5 miles into town to pick up our prescriptions. And that is a performance I have no wish ever to repeat. We are both on regular meds and need to do this every couple of months. We usually have no problem, thanks to the introduction of electronic prescriptions and the NHS app. But today was an exception. It was a bit of an ordeal, as they did not have one of the items on my prescription in stock. They ordered and told me it was likely to arrive in their 4pm delivery. I was to ring back. There was also some sort of controversy over another couple of items and I had to cycle back and ring the doctor, then call the pharmacy and then go back to the pharmacy, later in the day to collect the stuff. The pharmacy had rejected the prescriptions because they thought they had been submitted in error (because of our home address). Doh!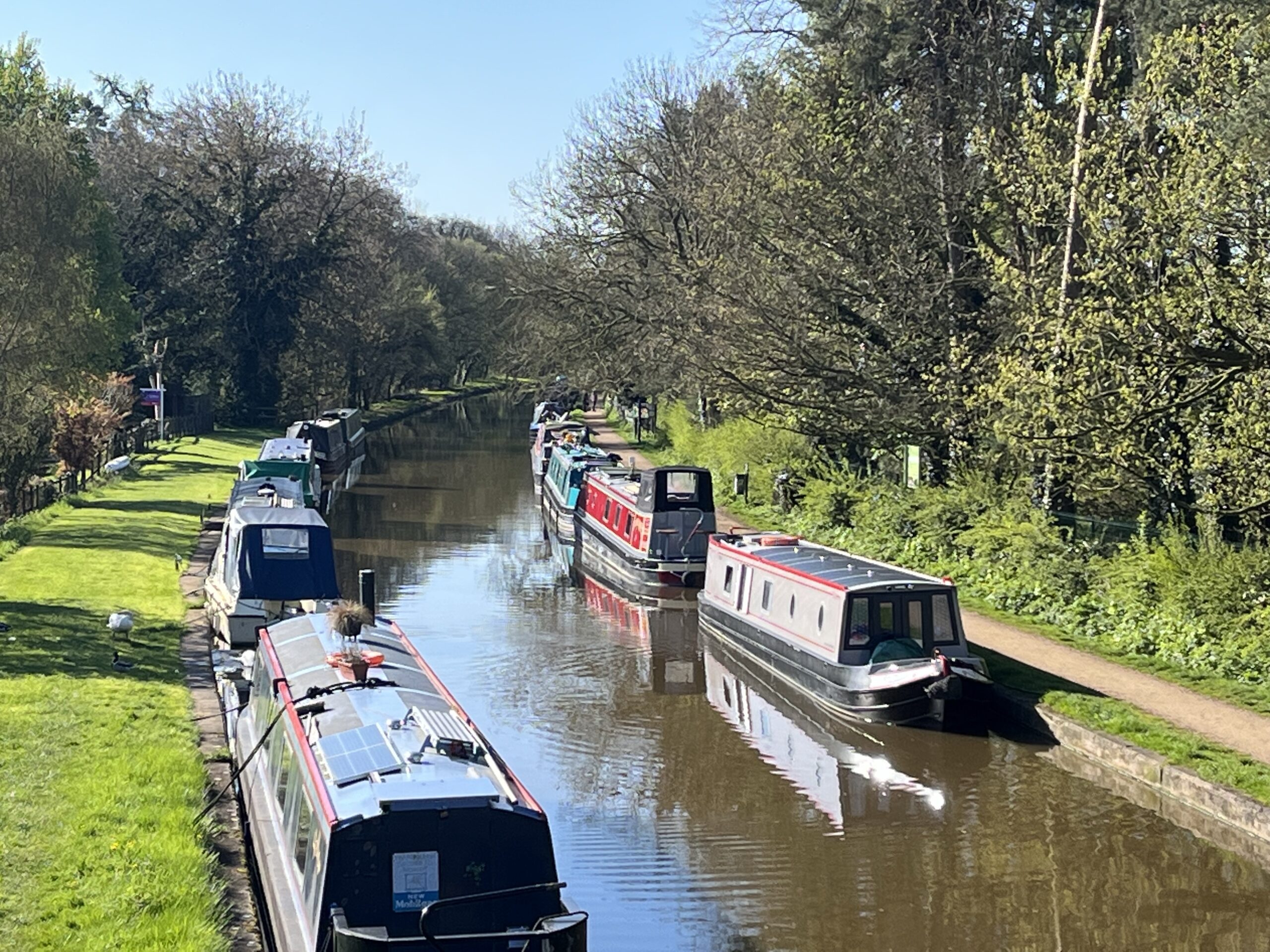 I decided to cycle in to town, again, at lunchtime to buy some of the famous Billington's gingerbread. It was well worth the cycle! Delicious, slightly peppery and not too sweet.
I had been instructed to call the pharmacy after 4 pm to check if the missing item had arrived. It had! Hurrah. BUT!!! They had not had another item in stock and it would not be delivered until after 11 the next day. Oh dear. Bang went our early start. Ah well. But we had a pleasant evening and a quiet night. – although the temperature went down to minus 1C around midnight. Brr!
I whiled away the time doing Wordle (fail!) until it was time to cycle into town again and it was with some trepidation that I sped off. With justification, as it transpired. They could not find me on "THE SYSTEM". Well you know what that means. It means frustration. In all, l lost another 30 minutes or more of my life, while they ran around like headless chickens and I stood there stoney faced! I don't know if they are under resourced or under-financed, but they sent another couple of customers off to Boots because they did not have the item required in stock. I have refrained from naming and shaming as it might just have been an unlucky occasion for me. Although I suspect not.
The plan was for us to set off at Paul's lunch time to do a WSR exercise and then I would bring Old Nick along to the top of the next set of locks – another clump of 5 known as Adderley Five Rise, although we would still be locking down. And this is exactly what we did.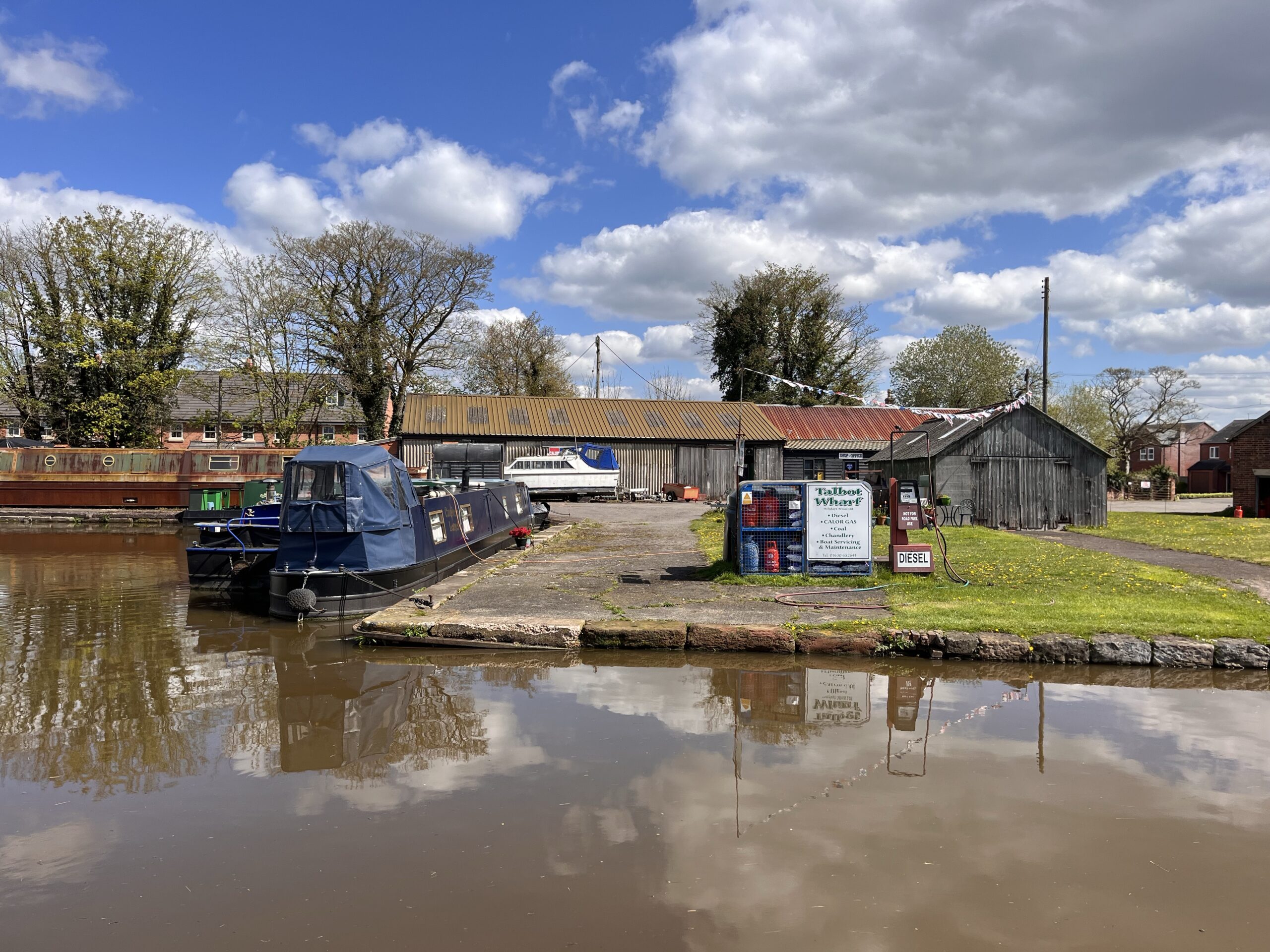 We arrived in position above the locks, on the marked moorings (complete with rings) at about 2.30 but were a little dismayed to find that, despite there being some moorings rings, the shelf was very pronounced and reached out about 18″ from the bank. Too big for our new "Shroppie Shelf" tyres! We decided to moor there anyway and that I would look out for boats and use the pole to hold us off the shelf as they passed. It was only ever a temporary mooring as we planned to go down through the locks after Paul finished for the day. Luckily it was very quiet and nobody came by.
Around 5:30 pm, a hire boat arrived up the locks and tried to turn round in the nearby winding hole, to go back down. I listened for a while and then felt I had to go out and offer to assist. I tried to pull them round from the stern but they were a 70 footer and it was pretty tight. In the end, I went aboard and managed to get them facing the way they wanted. His problem was that he did everything on full throttle. I explained that sometimes you just have to let the boat float and that less was more. By the time I had finished, Paul had finished work and so I helped them through the first couple of locks (there were only two of them – a husband and wife). Once they were on their way, I went back up and reset the locks for Paul to bring Old Nick down the flight.
It was a beautiful evening for locking and we soon caught them up, so used up the time we'd need to wait by only opening one set of paddles, meaning that our lock emptied slower. We finally tied up just below the locks at around 7pm. A delightful flight and a delightful, rural mooring. And we saw our first air balloon of the season, just as we were tying up.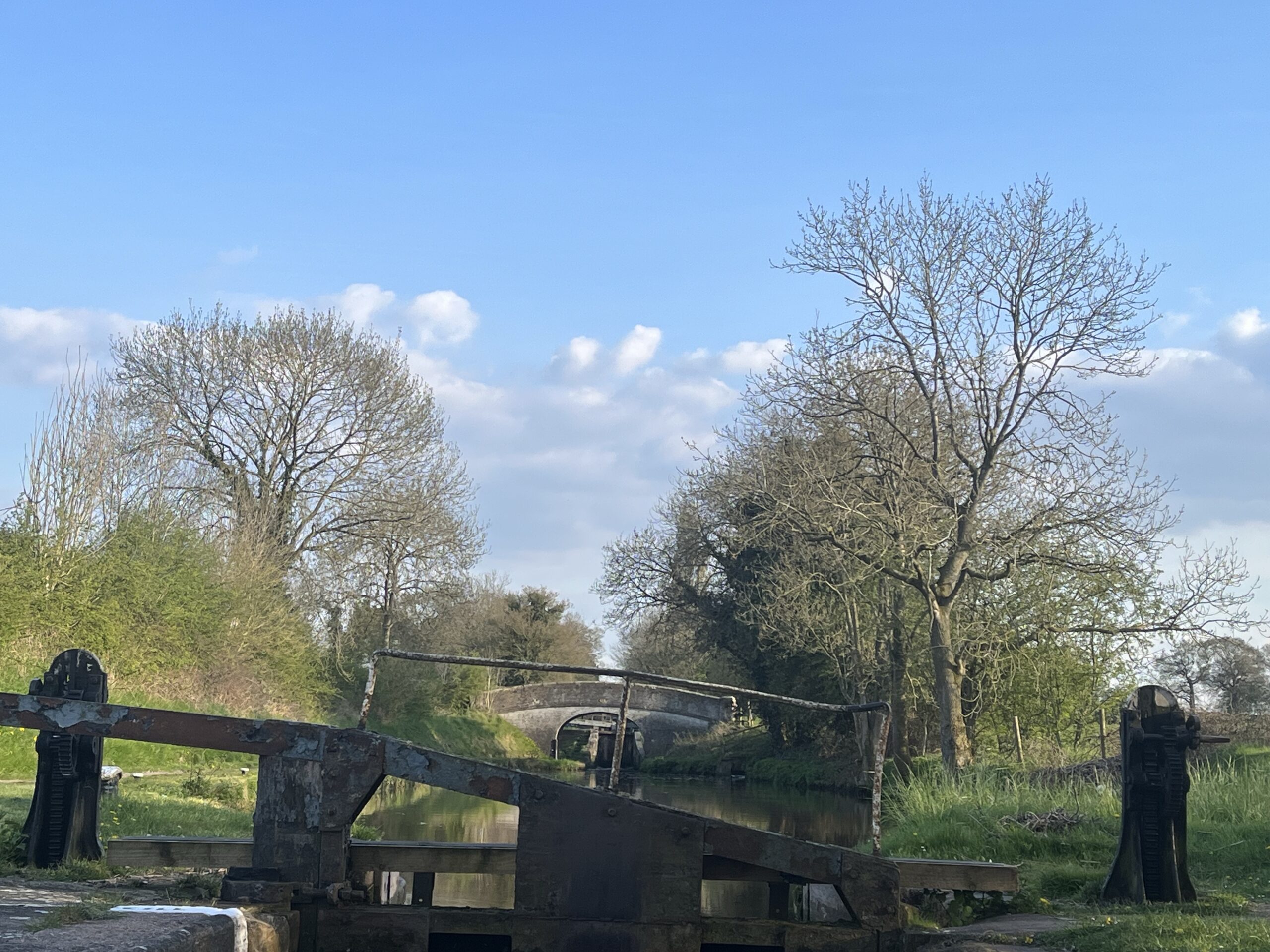 Wednesday's job was defrosting the freezer. I have a great routine for doing it, so that it only takes about 45 mins soup to nuts. We liked our mooring so much, we decided to stay another night. And it had good road access. This was important as our friend Joel, the Vetus engineer (and amatuer magician) was coming up to fit a new governor spring on our generator. We moved closer to the bridge below us and Paul asked the farmer if it was OK to leave a car there for a while. He was fine with it.
Joel arrived around 10:00 on Thursday and soon had the old spring removed and the new one fitted and after checking everything was working as it should, left us to while away the day at the same spot.
On Friday morning,we were up and at it first thing, on a grey, overcast and quite chilly morning, tackling the 15 locks that would carry us down to the village of Audlem. Although, strictly speaking, there are only 12 locks to Audlem and a further 3 after the town.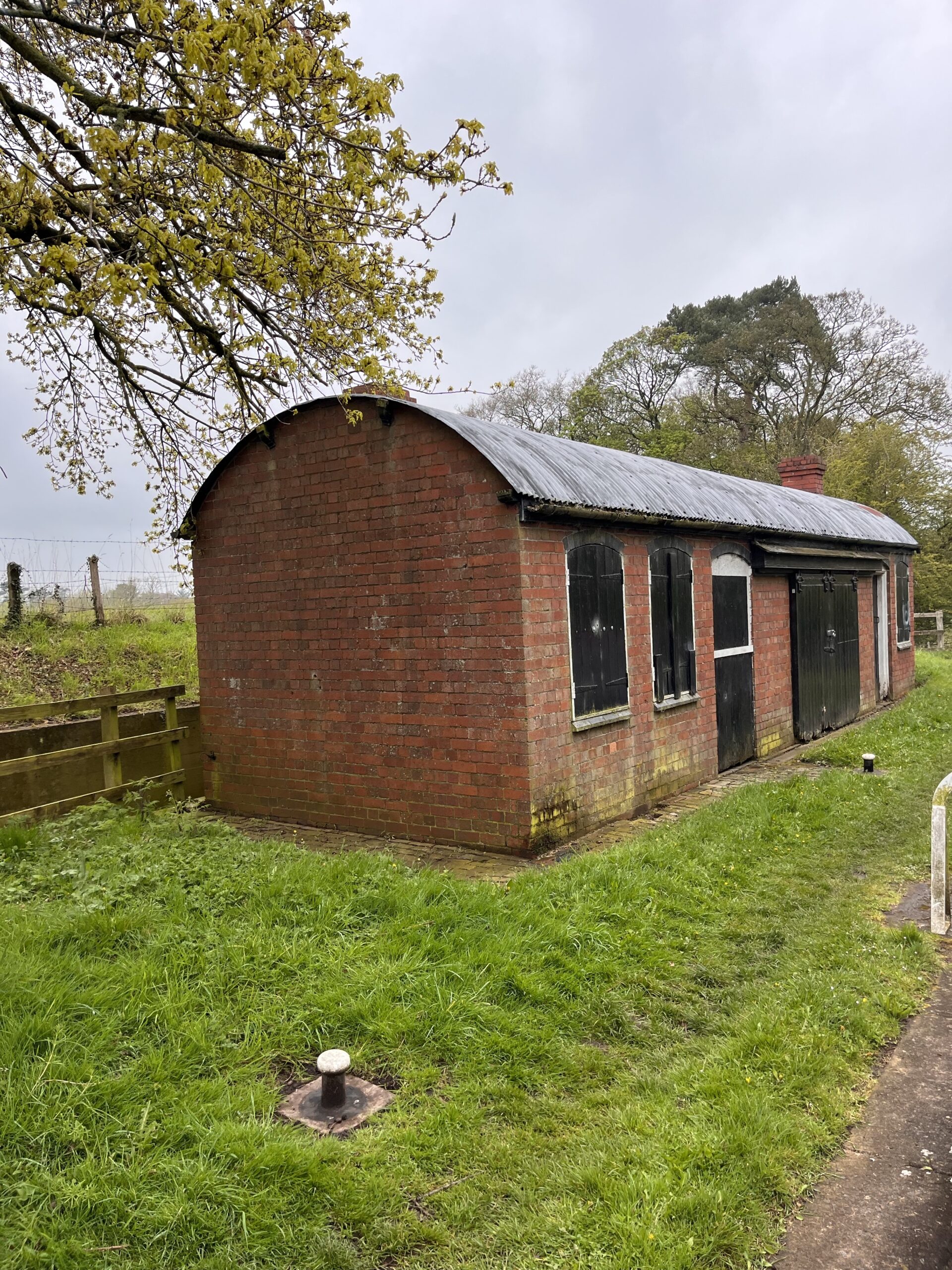 They are a lovely flight, dropping you down nearly 100 feet over a mile and a quarter, and we soon settled into the easy rhythm that we have when there are just the two of us. We were soon at Audlem and tied up for a quick visit to the handy and very well stocked Co-op. I also popped into Brambles, the lovely cookshop there, and bought a little present for Paul. It's a nice village with some handsome buildings and the perfect spot for replenishing dwindling supplies.
There are a couple of canalside pubs too, The Bridge and the slightly more famous and oftimes beleaguered Shroppie Fly, named after a fleet of "express" boats, which carried cargo from the heart of Birmingham to Ellesmere Port. As they needed to travel fast, the horse driven Fly Boats were given priority at locks, the crew of 4 worked shifts and 24hrs a day. They travelled at 3 miles an hour, the horses were changed every 20 miles. The journey from Gas Street to Ellesmere Port and back took just week.
We left the boys on board and I think they were quite happy to have a little snooze after their exertions at the locks.Audlem, by the way, is in Cheshire, which makes it the 5th county we have visited this year, along with Worcestershire, Staffordshire, the West Midlands and Shropshire.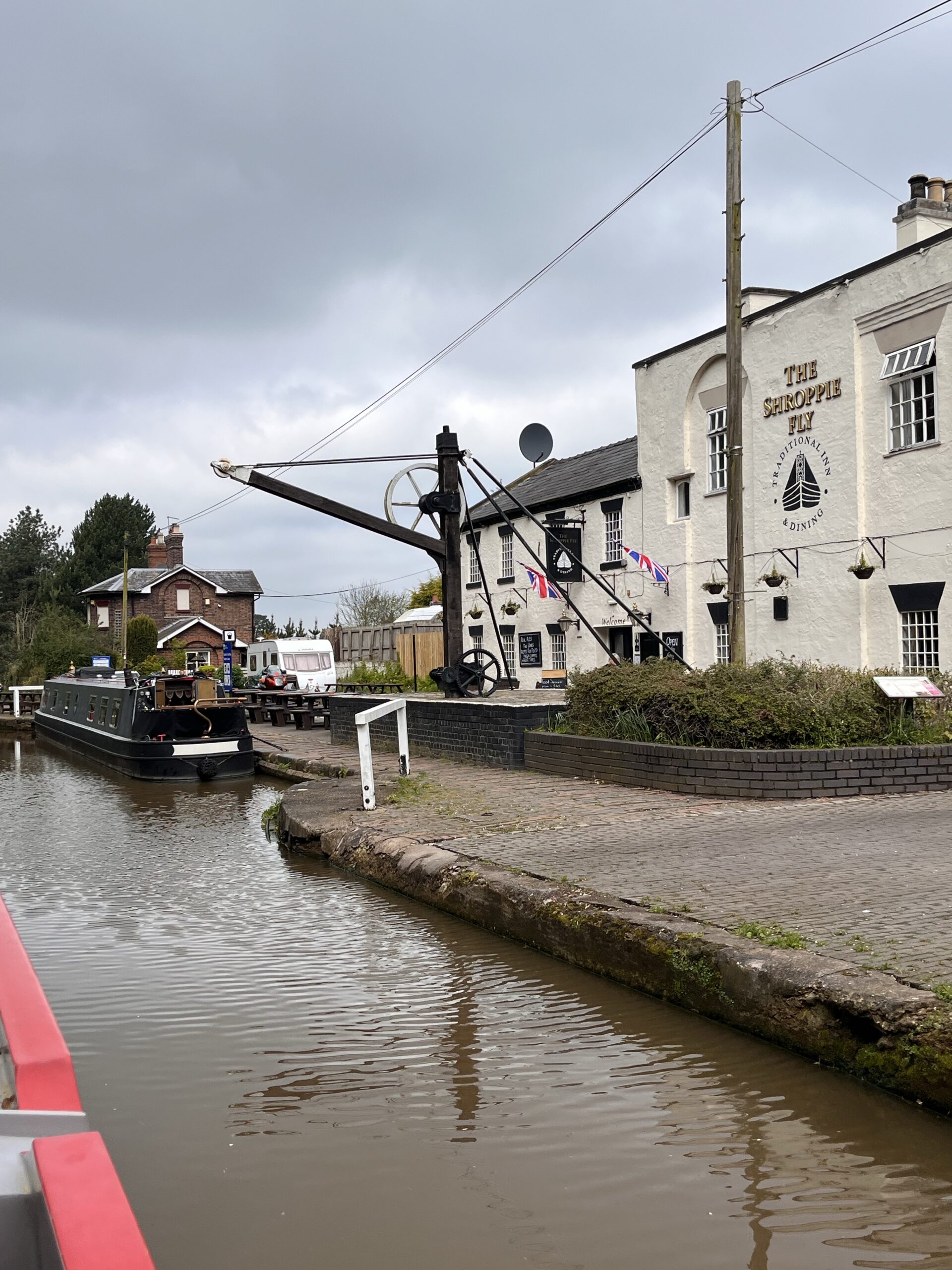 We finished the remaining three locks, spotting a charming little lock-keeper's hut, which we always call "Linda Houses" (after my dear friend). They were used as places where a lock-keeper could keep his tools, shelter from inclement weather or go to warm up and make a brew. CRT have produced an interesting, short video about "Small buildings and features by the canal", which is well worth a watch.
Locks done, we found yet another lovely mooring to add to my database for future reference. It was on the embankment near Moss Hall Aqueduct, which carries the canal over the River Weaver, which is quite small at this point. It overlooked a valley with a couple of lakes, where there was much waterfowl action. It was a lovely sunny day once midday had passed and as the day wore on, we were joined by more boats, some of whom were mooring before tackling the 15 the next day and some who had just finished.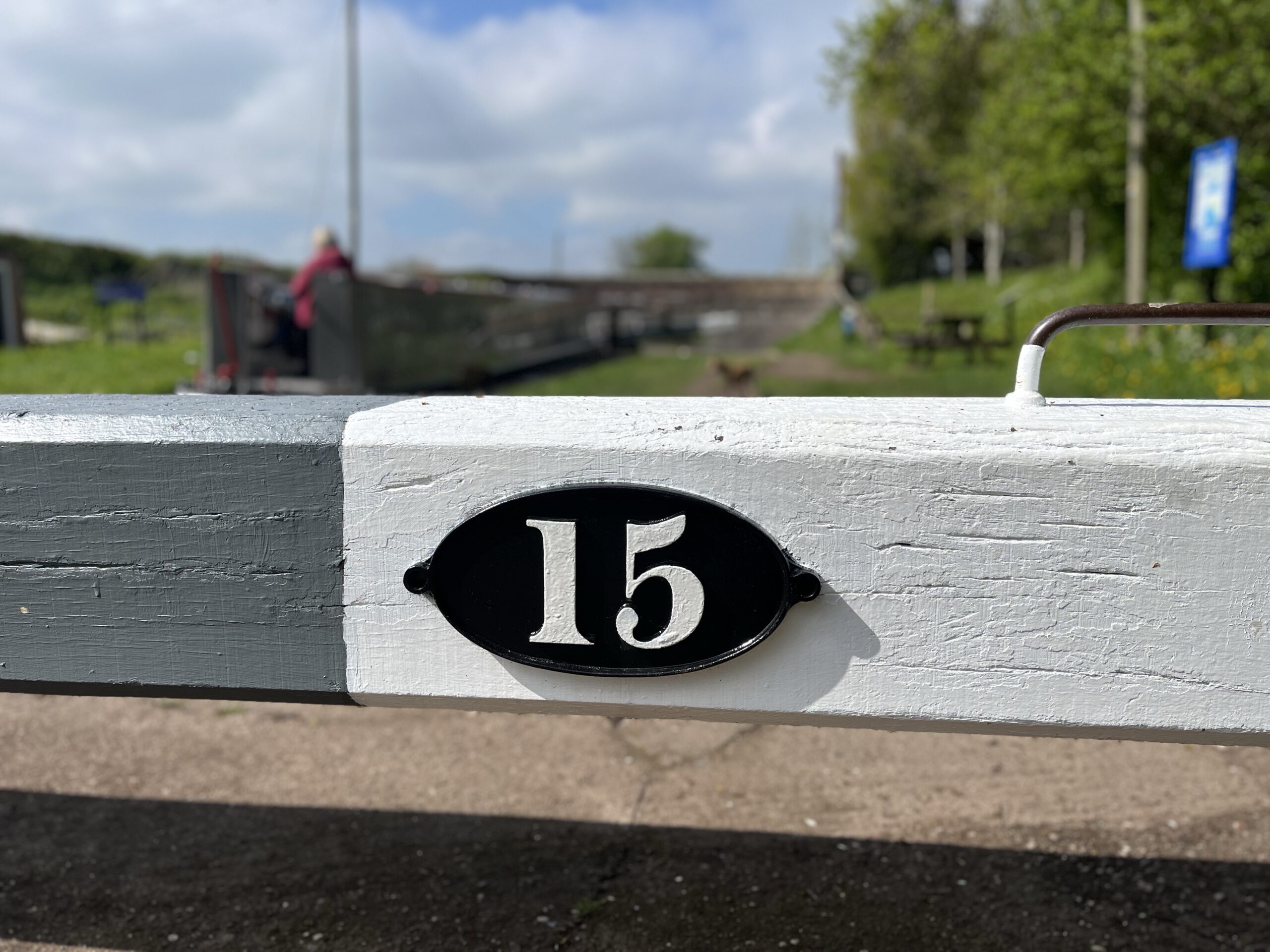 One of the boats that joined was a chap whom we had met before on the Ashby Canal. You might remember he had built a tiny, battery powered replica narrowboat, which I filmed pulling along his kayak. You can see the video here, on our YouTube channel. We had a nice chat before his wife came and called him for his dinner. It was such a pleasant spot that Paul sent the drone up so you can see how nice it was. You can watch the video here. The mooring spot was very near Overwater Marina, where we would spend the weekend and meet some friends.
We had a leisurely start on Saturday as we only had a short distance to go to the Marina and didn't want to arrive too early. We rang ahead and said we were on the way in and Dave came out to meet us. He gave us a lovely warm welcome and was interested to note that we were an electric boat. So much so, that he hopped on board to accompany us to our allotted spot, right at the top of the marina. It was in an area called "Foxglove" on the map below.
There are a lot of waterfowl on the island in the middle and around the marina and they can make quite a racket when fights break out, as they inevitably do! But it's generally very quiet and peaceful and there are great facilities, which we immediately made use of. We stripped the bed and bunged the bedding and towels in a bag, walked over to the reception, where the laundry is located and set them to wash while we sat and had lunch at the on-site cafe, "Cafe at Bridge 80", which is open daily 9.30-4. Delicious cheese and bacon toasties in the bright sunshine.
There is also a boat service – The Audlem Lass – which transports folk from the Marina to Audlem bottom Lock (and back), from whence it is a brisk 10 minute walk into town. It runs every weekend and on Bank Holidays and is manned by volunteers in aid of the RNLI. We also spotted a specially adapted boat, run by a charity – Overwater Wheelyboat Services – which offers wheelchair accessible boat trips on the Shropshire Union. What a lovely idea.
As we had guests arriving on Sunday, we later set about doing a spot of cleaning and tidying and then relaxed with a good film in the evening.
Sadly, the weather for Sunday was not as good as we had hoped and it started raining shortly after our guests, Chris Fry (an old ONS colleague) and his wife Sharon, arrived. Paul very gallantly offered to steer in the rain (under the capacious shelter of "George's umbrella") while we sat and chatted indoors. We did send out a nice cup of coffee for him, though, so he should have been grateful!
AccuWeather told us that the rain would stop at about 1pm and we ventured out, just in time to do the two locks at Hack Green, just near the Hack Green Secret Nuclear Bunker, which is of course no longer secret because there is a big signpost directing you to it. It opened to the public in 1997. I am sorry to say that we have never visited it, but it is reckoned to be well worth the effort.
We went down the two locks, winded and then pulled over for lunch, after which we retraced our steps, giving Chris a turn on the tiller. He proved to be a good helmsman and we were all too soon back at the Marina and it was time to say goodbye. We'd had a lovely day, despite the uncooperative weather and look forward to seeing them again – maybe for a whole weekend? We hope so.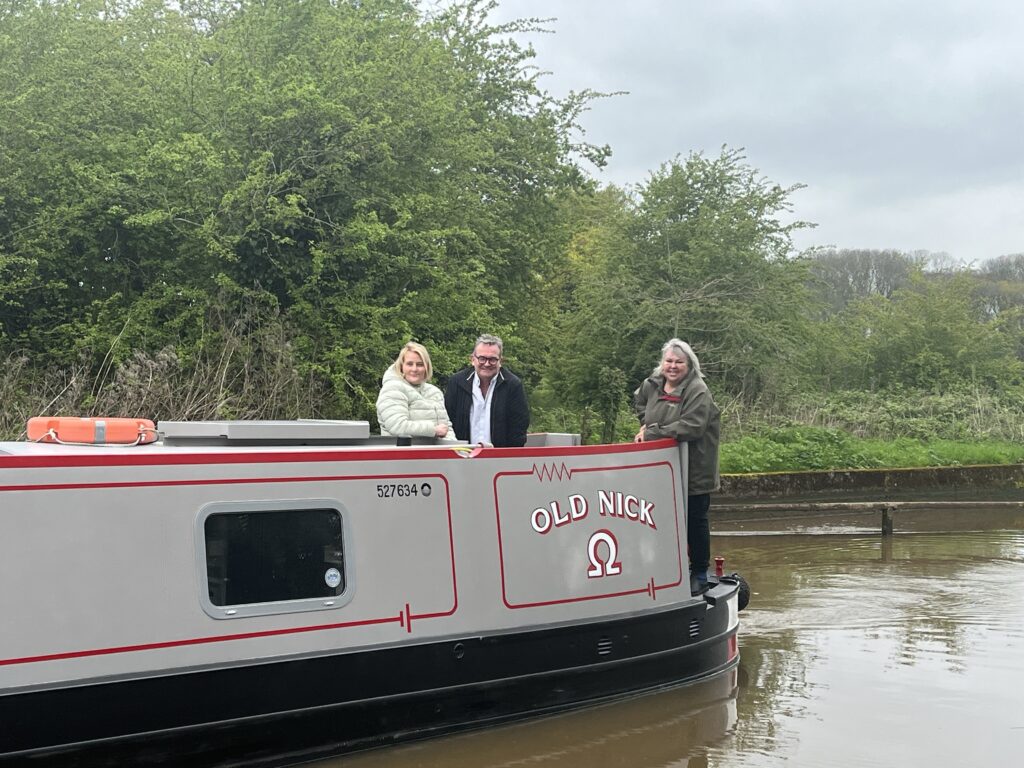 Another week over (our 3rd, now) and we are really looking forward to joining the Llangollen Canal in our 4th week of this, our third season!
| | |
| --- | --- |
| Miles | Locks |
| THIS LEG | |
| 15 | 26 |
| TOTAL 2023 | |
| 81.5 | 81 |