1-7 May – In which we leave the Shroppie and join the Gollie, heading towards Wales
It was another overcast day, where the sun played hide and seek with the clouds, accompanied by a biting wind as we left Overwater. We'd had a very pleasant stay and had achieved our goals of getting everything washed, topping the batteries up to 100% and meeting friends. You'll laugh when I tell you it was late on Friday before we realised that it was a Bank Holiday weekend. When I was at work they would be writ large in my diary and my all my leave optimised to take advantage of them. How things change!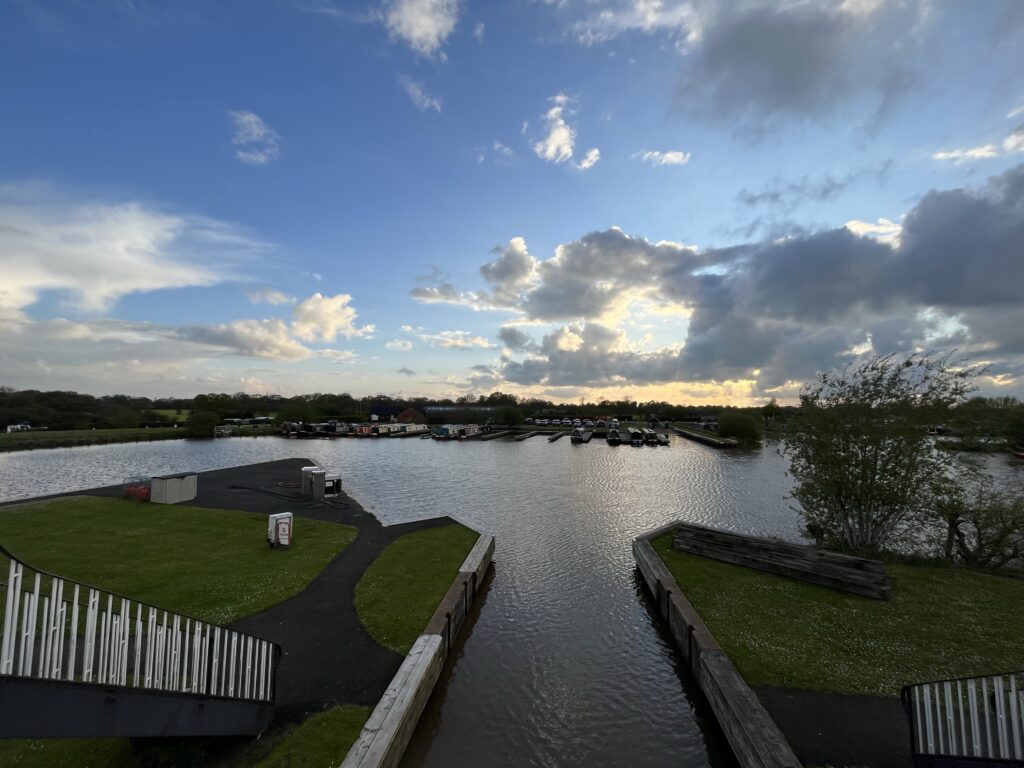 Just to explain about the battery top up, we spend most of our summer cruise with the batteries on a state of of charge (SOC) of between 60 and 80 percent, and they are quite happy like this. But the state of charge becomes less and less accurate over time and re-charging the batteries to 100% resets it. The same thing will happen to anyone who has a generator and solar – it's not just us!
You can see, in the screenshot below, when the smart shunt battery monitor (or shunt for short) suddenly "realises" that the battery is actually fully charged and jumps the SOC to the correct value of 100%. And then we are in business again, for a while…………….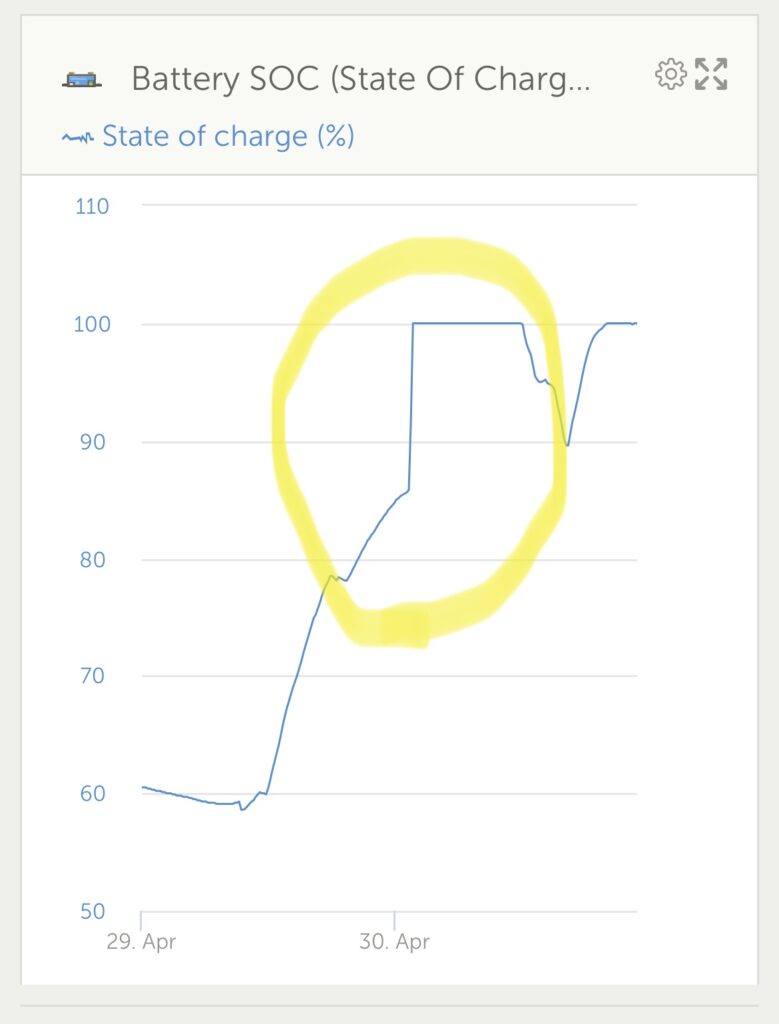 As we left the marina, we went by a fisherman who said "That's a very striking paint job on your boat. It looks very smart indeed", which gave us a nice warm and furry and then, while waiting to allow a boat through the next bridge hole, as they passed us, the lady said "Oooh! Old Nick! I read your blog. It's very good" – our second warm and furry of the day. It just shows how important it is to say something nice to someone – even if it's just something quite banal, like "I love your jacket". It makes them feel good and we all need that to keep us going, don't we?
It was a long, straight stretch, with nothing to distract until the two locks at Hack Green that we'd already done the day before, so we had what we call "breakfast on the hoof". I think you can guess what that means.
Just as we got to the last bridge before the locks, a boat – which had clearly seen us – pulled out, heading towards the locks. This is not considered good form. It means twice as much work at the locks, unless there is a boat coming up the locks from the opposite direction. It's not too bad when it's a just a couple of locks, but on a longer flight, it can be a bit irksome. Thinking about it, there is quite a lot of etiquette around locks, all based on common sense but it's worth mentioning a couple.
If you are waiting to use a lock, it's good manners to go and help the boat currently using the lock to go through, which helps everyone. But it's also important never to start opening paddles until you have checked with the tiller-person that they are ready for you to do so. And there's usually some conversation around whether they would prefer you to take it slowly or open the paddles full bore.
If two boats arrive at a lock at the same or similar time, from opposite directions, the state of the lock dictates who gets to go through first. So if you are locking down and the lock is full of water, allowing you to enter, then it's your lock (it's FOR you). If it is empty and requires filling before you can enter, then it's their lock (it's AGAINST you). If the lock is FOR you, you enter and empty the lock to take you down to the level of the waiting boat and they can go straight in.
If you arrive at a lock that is AGAINST you, and can see a boat heading towards the lock from the other direction, you are actually required to wait and let them go through first. It's always important to check whether anyone else is on their way, where practical to do so, before taking a lock that is against you. This common, water-saving, courtesy is particularly important in times of drought.
The Cheshire Plain that we were travelling through, you will recall from your Geography at school, is famous for its dairy farms and we saw many fields of the classic black and white cows that provide our milk. When you look at a field of cows and add up the cost of feeding and caring for them, it seems a bit mad that a pint of milk costs "only" 90p. I say only because the price has rocketed recently, you could have bought two pints for that in 2021. But the price the farmer gets is scandalously paltry. You wonder why they bother when they see only a penny per pint. Thank goodness they do. It would be sad to have to import our milk., that's for sure.
We noticed a great deal of new (to us) housing as we approached Nantwich on the embankment above the town, and a lot of boats moored, which made for a slow crawl through. We were fully provisioned and had no need to stop, but it's a handy town for topping up, with four or five supermarkets and a famous cheese shop. which stocks both local cheese, including Nantwich Blue, and cheese from much further afield.
Nantwich, which is a "salt" town, as are all – like Droitwich, Norwich – that have "wich or wych" as a suffix of their name. It had its own "Great Fire" in the 16th Century, which burnt for 20 days and which made half the population of the town homeless. Our good Queen Bess got to hear about and organised a nationwide collection to help rebuild the town and even stumped up £1,000 of her own cash to help out. There was also a Civil War battle in 1644, where the Parliamentarians gave the Royalists a right royal thrashing.
I noticed, as we went over the Telford designed aqueduct that crosses the B3541 Nantwich to Chester road, that the paint was in fine fettle and that it looked more like such an aqueduct has every right to look.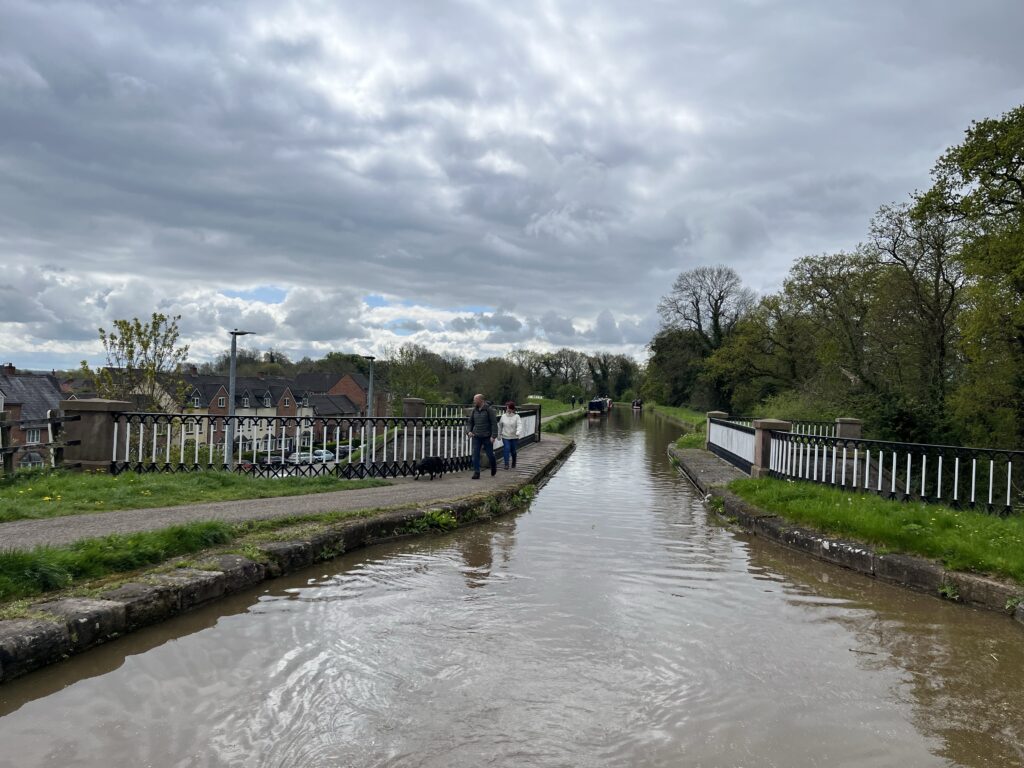 Once through Nantwich, we arrived at a place that was a popular spot for meeting and dropping off people in my Dad's boating days. It's where the A51 crosses the cut and was always quite a quiet spot. Today there are boats moored, looking fairly permanent, all along that stretch. And all their cars parked by the bridge. You'd be hard pressed to get a boat in there these days.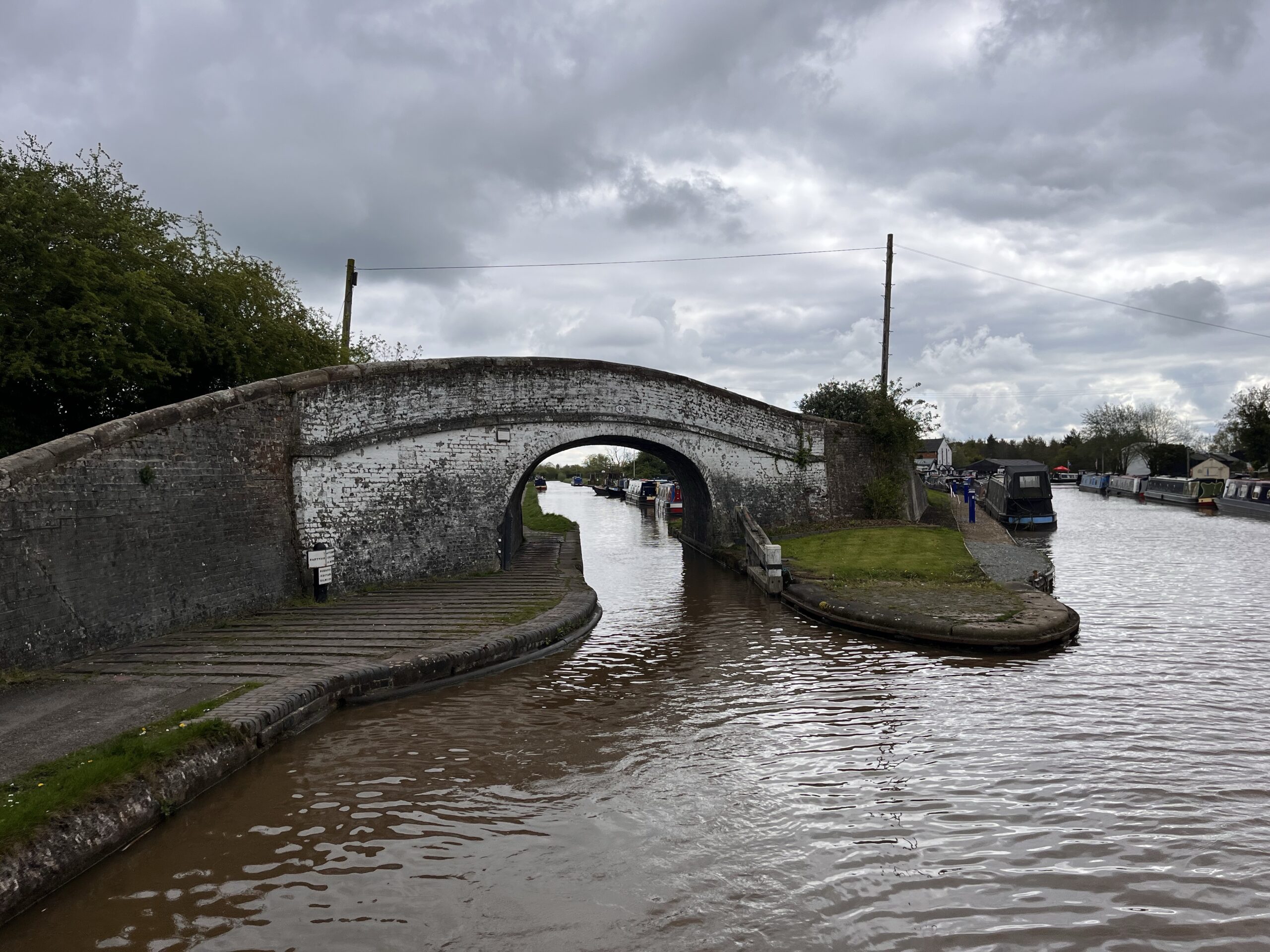 We were very near the point where we'd say farewell-for-now to the Shroppie, as we would be turning left at Hurleston Junction onto the Llangollen Canal, which heads west towards Wales, although it won't be until around Chirk that we cross the border. Better get the passports ready, though!
Before we leave the Shroppie, the eagle-eyed among you will have spotted that, unlike the majority of canals, the Shroppie has grey, tipped with white balance beams. Most canals have black tipped with white. It's anecdotal, but the common reason propounded for this, is that there was a great deal of battleship grey paint on the market after The Great War. The Shropshire Union Canal Company, being strapped for cash, bought a job lot and the rest is history. I rather like that CRT have continued the tradition, though.
By the time we arrived at Hurleston, where a flight of four locks leads you up onto the Gollie – as the Llangollen is often known – the wind had freshened quite considerably. Wind and narrowboats don't always get on and as a consequence, I made a right fist of the 90 degree turn. And it seems, from all the dents on the Armco to the right of the junction, I am not alone. Luckily, I didn't actually make contact but let's just say it was not the most elegant of manoeuvres, and probably afforded the angler at the lock mouth no end of amusement. Because of COURSE there would be someone to witness my shame!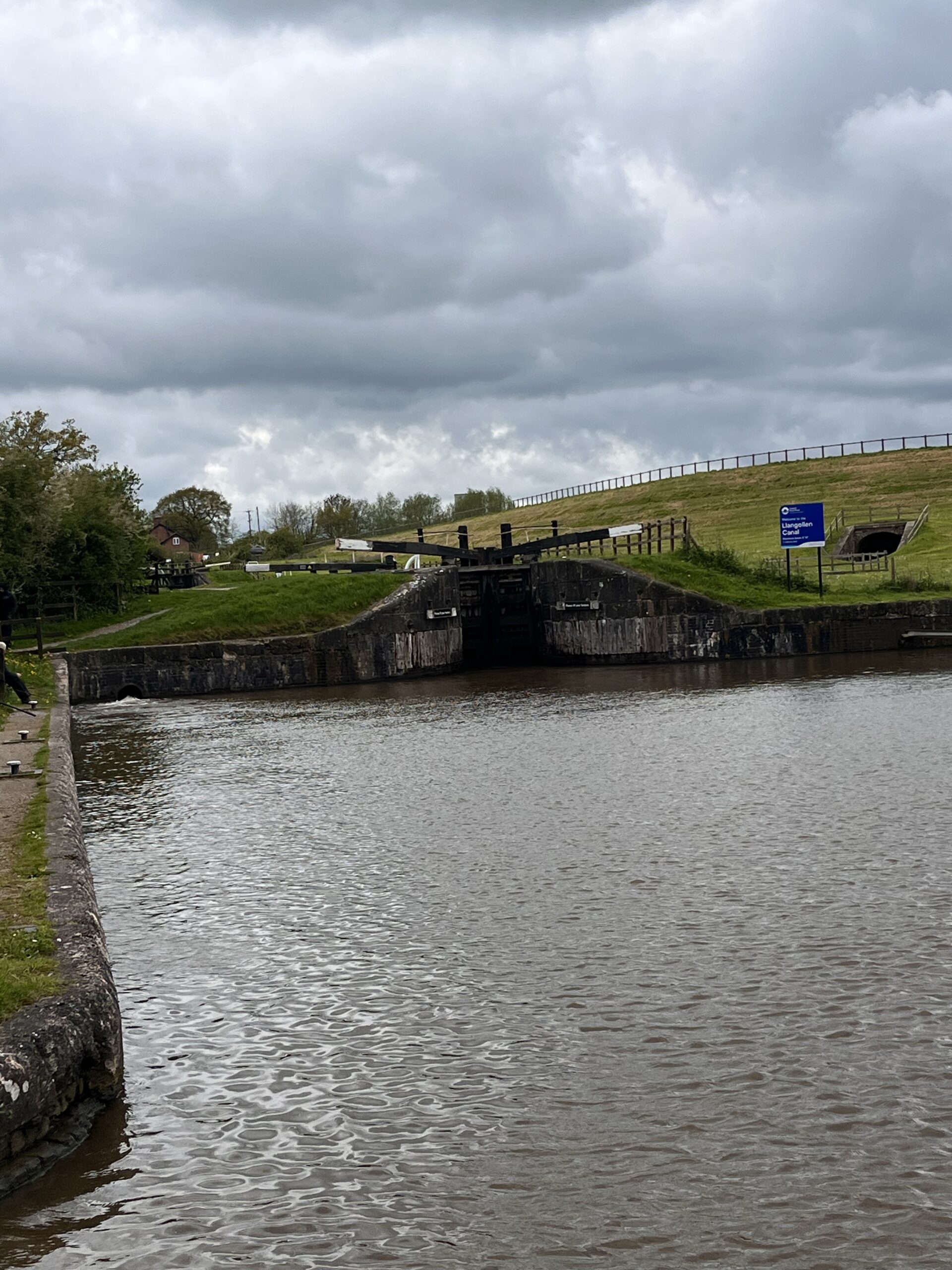 A luxury for us, since we last travelled this way, was a set of CRT volunteers on the locks. This is our third season with Old Nick, and we still cannot get over the sheer luxury of vollies. And yet canal culture has changed so much, that some people see it as a right and are properly miffed when there are no vollies. We, having managed most of our canal careers without them, still marvel at them and are always very appreciative of their help. It does seem a bit of a waste of free labour to me, except at more complex features like staircases. But what do I know?
As I emerged from the second lock I had to manoeuvre round a – well – lets just call it a work in progress. It was a craft, entirely covered by a tarpaulin, which had no engine, so the owner was pulling it through on ropes. It was quite a tricky manoeuvre, especially in the brisk wind, but this time I came good! The vollie later told us that there was a mini moke under the tarp and that he had another boat at the top of the locks with which he towed the mini-carrying, engineless boat, Sounds like hard work to me! But it takes all sorts! Oh – and the Vollie said "Oh, Old Nick, I follow your YouTube channel". Nice!
We popped in to drop off some rubbish at the now (since at least 2017) defunct services at Hurleston, Luckily the loo did not need emptying as there is nowhere now until = well that remains to be seen as I write this! The canal has a quite a flow going down to the junction, which you can really feel going through bridge holes. We were fast approaching the spot where there had been a collapse of a bit of bridge (a wash wall, apparently, whatever that is!) into the canal. Advice was to approach with extreme caution. So we did. We were fine, but the bridge awaited repair and the towpath was closed between bridges 1 and 3.
We found a lovely quiet spot, shortly after, with good solar possibilities for the morrow, and pulled over for the day. Just as the sun came out! Ted immediately found a log, which he set about destroying and seemed very pleased with himself.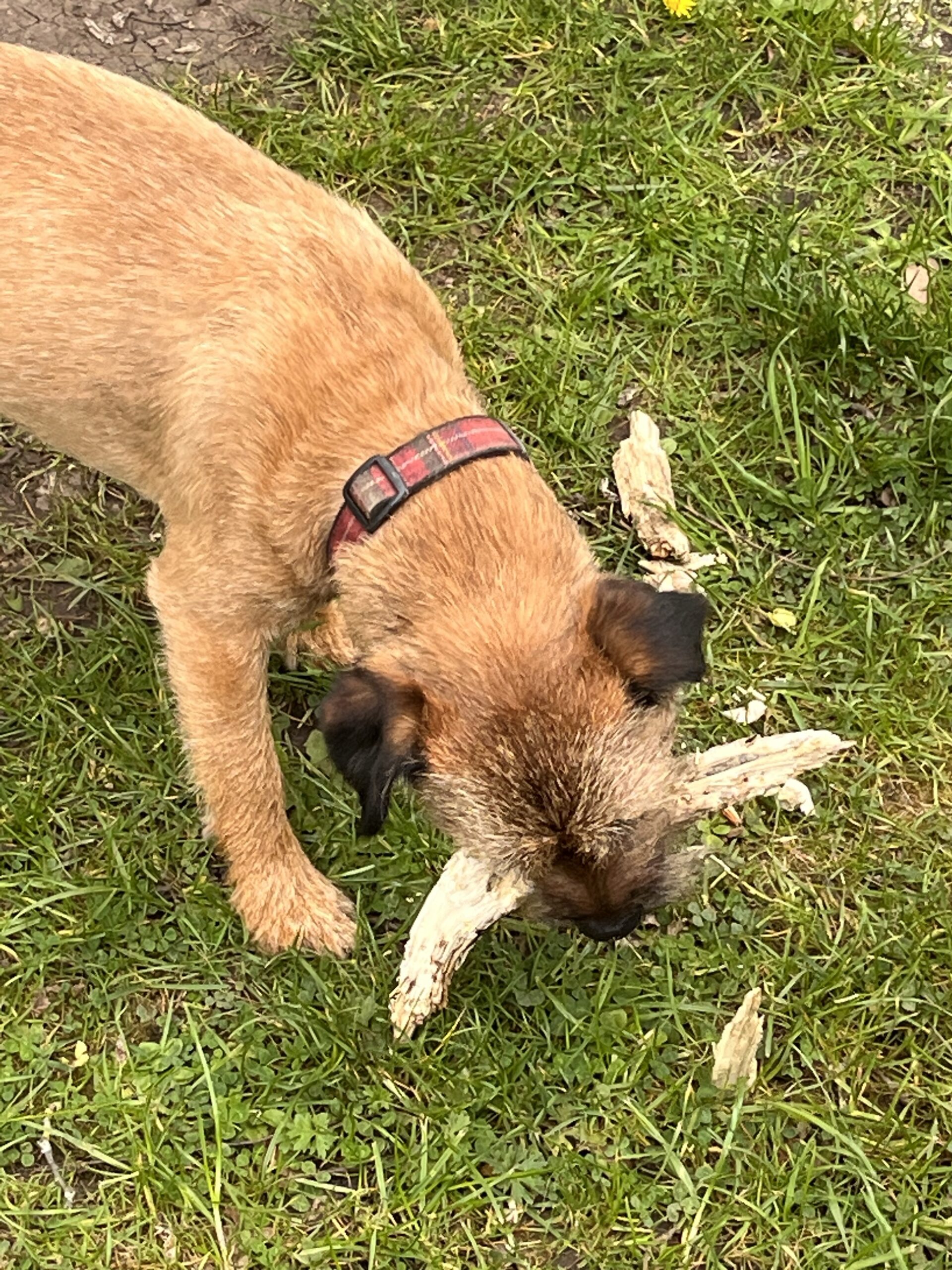 We stayed put most of Tuesday and I caught up with blogging and then, at teatime, a short while before Paul would be stopping work for the day, I set off solo to take us down to the next lock. It was a beautiful evening – warm, even – and I thorough;y enjoyed myself singing and whistling my way along the canal. i chat to the sheep and birds and always greet the cows with "Hello Girls"! I think I may well be slightly batty but it amuses me.
I had a bit of an "incident" with another boat on the way to the lock. There was a moored boat on my left, to which I was definitely closest. I naturally assumed that the oncoming boat would hang back while I passed the moored boat, after which he would proceed. This is the usual way of things. As I started passing the moored boat, it became evident that he was doing no such thing and he continued coming towards me, full tilt. We would have to pass each other whilst also passing a moored boat. Nobody wants that, but it was now unavoidable. Annoyingly, he was a much shorter boat (and thus more manoeuvrable) and was actually planning on stopping just ahead of the moored boat! How much easier would it have been to wait? Luckily no harm done – although the moored boater may have choked on his tea!
We arrived at the lock and had to wait a while, as a single hander had claimed it (even though we knew it to be in our favour as we'd seen a boat go down). We waved, but he feigned ignorance of our presence. Bad manners but hey ho. He was obviously in a rush.
We polished off that lock (Swanley) and began to look for somewhere to moor. There are several criteria that must be met to qualify as a suitable mooring. It must have good solar potential, it must have a good phone signal so that Paul can work, we'd prefer to be solitary and quiet and we need to be able to get close enough to the bank, so not too shallow. Good views are also a big consideration! Other than that, we are pretty easily pleased.
We had not found anywhere by the time we reached the next locks – a flight of three at Baddiley – and by now the sun was low on the horizon and that chilly breeze was back. Tsk. As it was getting late, I went in to start cooking dinner and we ended up in a compromise spot. One that certainly did not meet the good view criteria, but would do. It did meet the quiet criteria though, and we had a very peaceful night.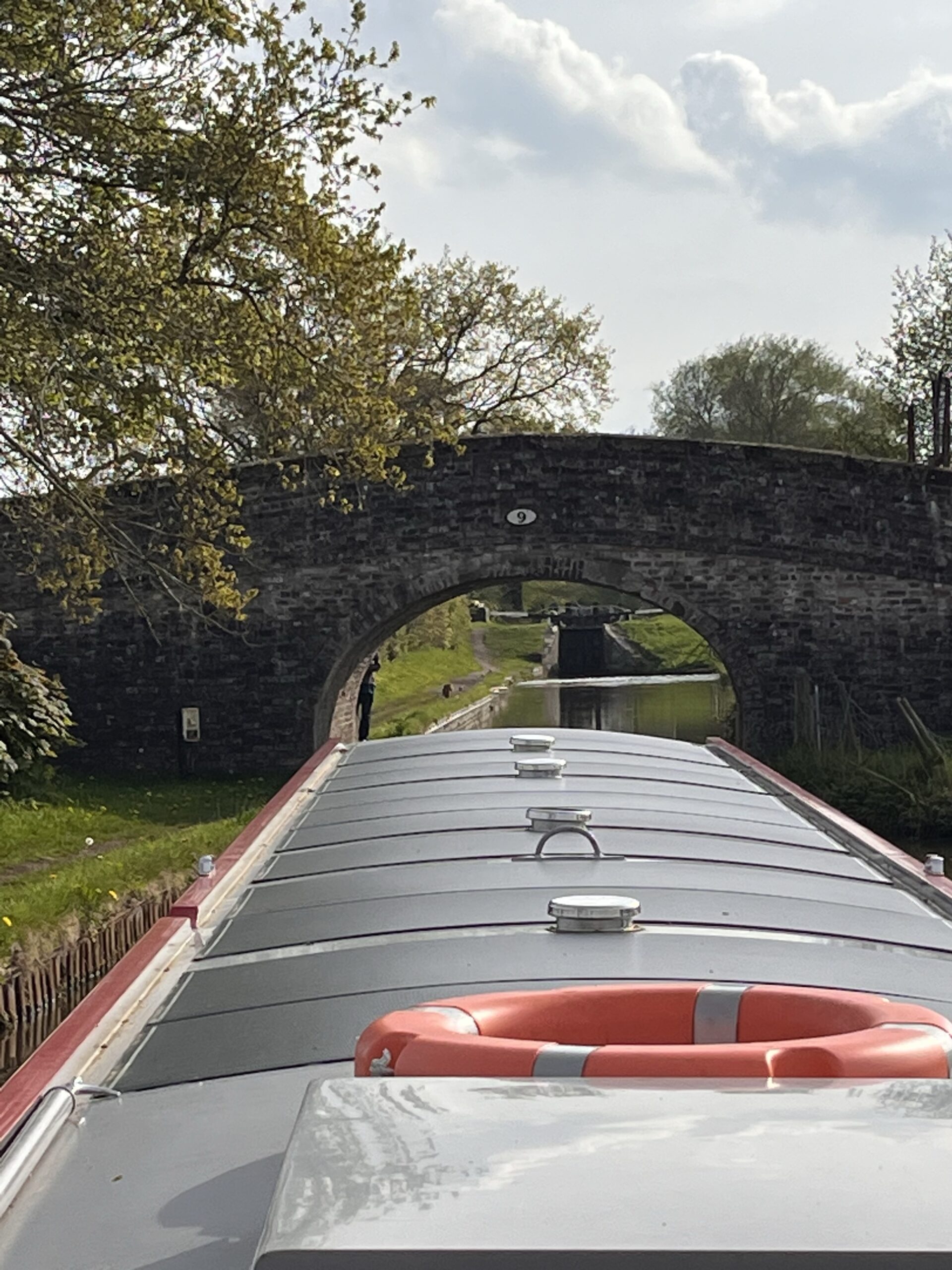 Whilst we were trying to find that elusive mooring, we saw a bird of prey swoop through a bridge hole ahead of us. As we emerged (and because we are pretty silent) he was sitting on a fence post. Once he realised we were there, he was off and flew into the tree you can see in the pic, where he was immediately set upon by a narky crow. It was great to watch. And then, we saw a tree with three squirrels playing chase around the trunk. all totally oblivious to our presence. It's one of the joys of the near-silent cruising you get with an electric motor. We really must learn to keep the decent camera on deck for such moments, though.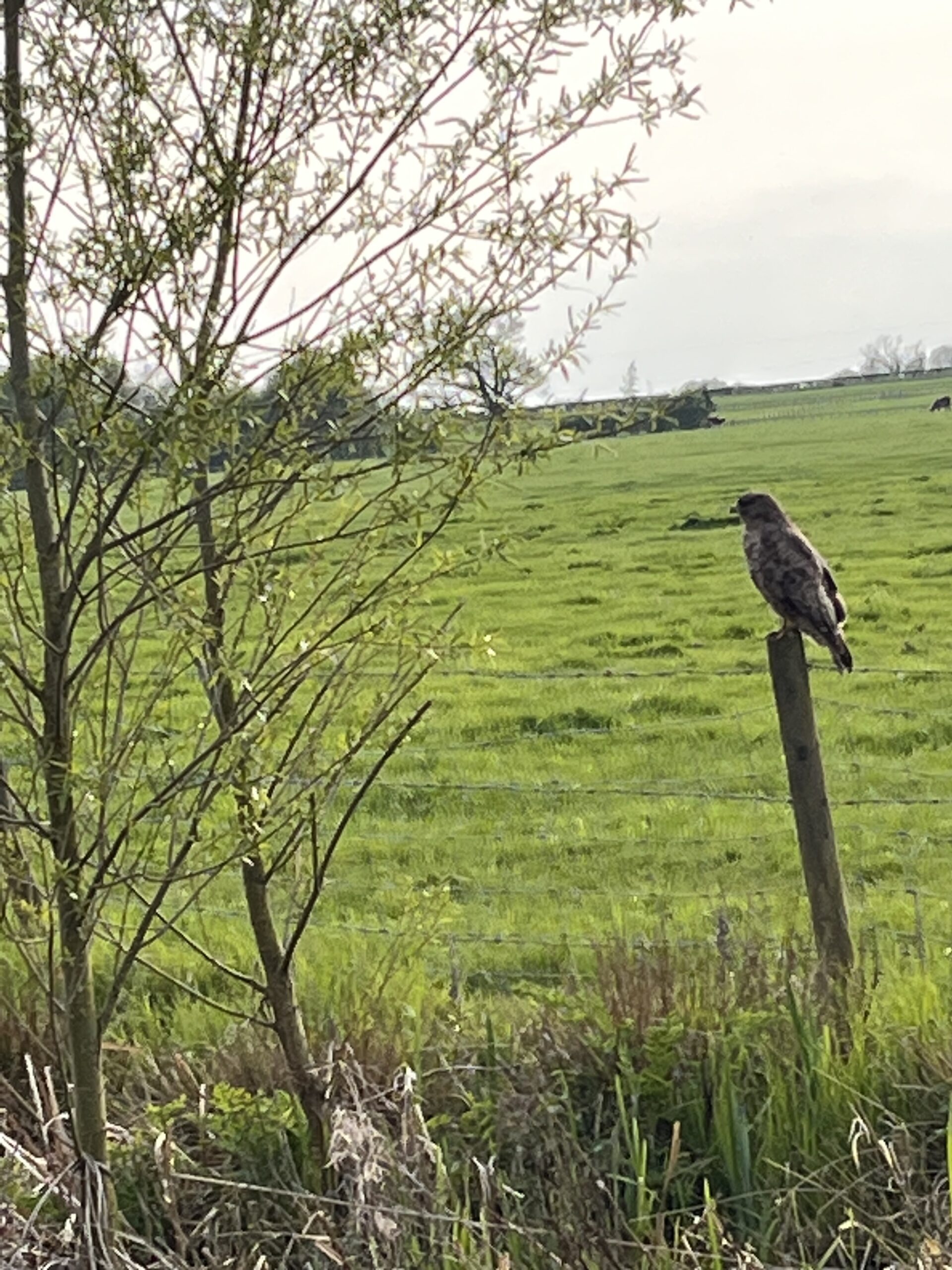 As our mooring was not the nicest spot, I set off late morning and we eventually encountered our first (of many to come) lift bridges. It's what I think of when I think of the Gollie. Obviously the big Aqueduct, but swing bridges and the very fast spillways at the foot of the locks, that have a tendency to push you out of line – all say Llangollen to me.
We pulled over just on the outskirts of Wrenbury, before the powered swing bridge, where you stop the traffic. Larks! We'd tackle that later after work. And as we'd be cruising into the evening, I cooked our main meal at lunchtime – spring lamb and a Jersey Royal, Asparagus and Lancashire cheese gratin, which was very tasty and made good use of seasonal produce. I spotted the recipe on the Waitrose site and if you like the sound of it, you can find it here.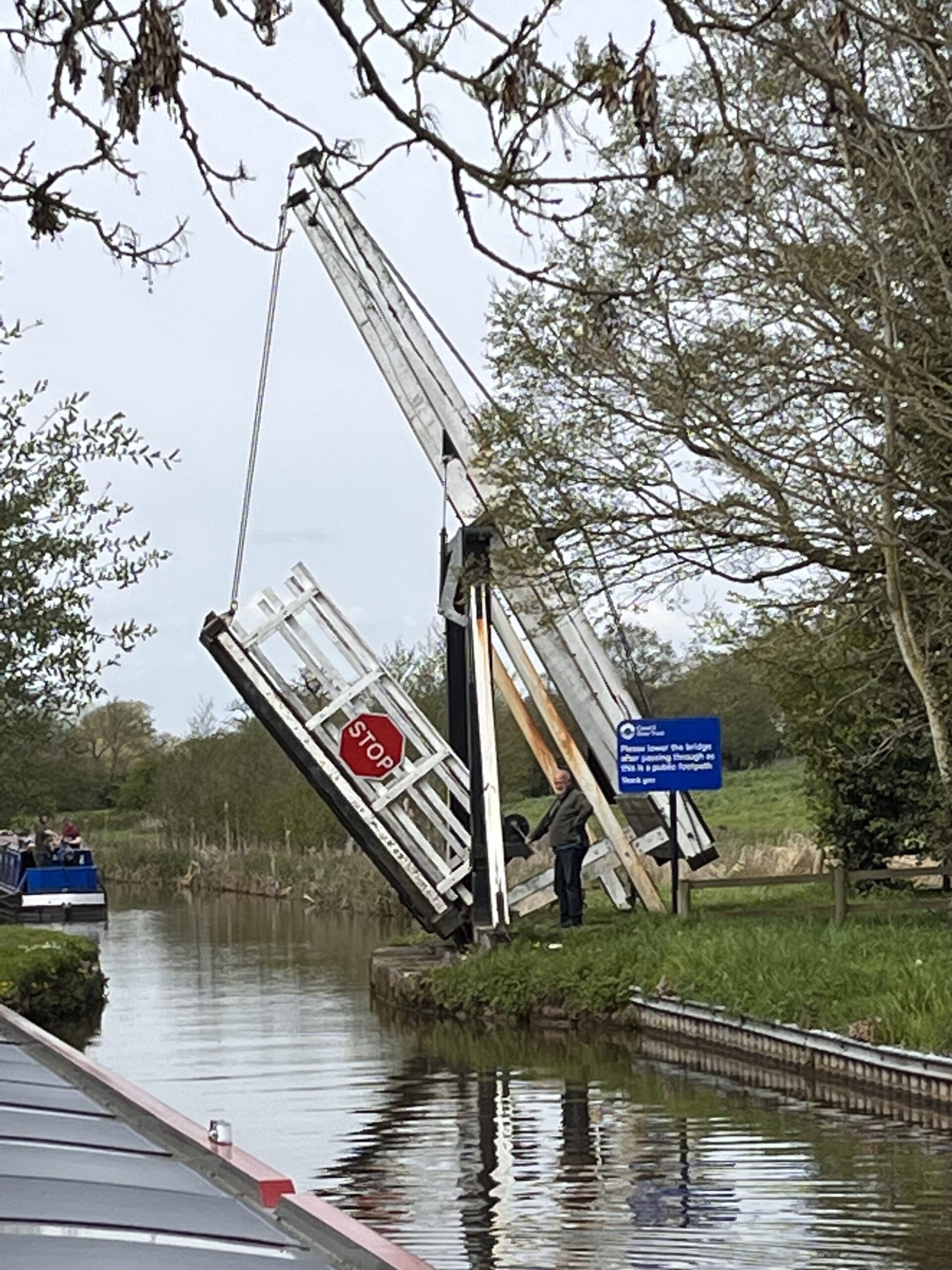 It was another lovely evening as we set off, but that pesky chilly breeze, that seems to be a permanent feature at the moment, stole a bit of the warmth from the waning sun. By about 6.30, I had to pop a coat on!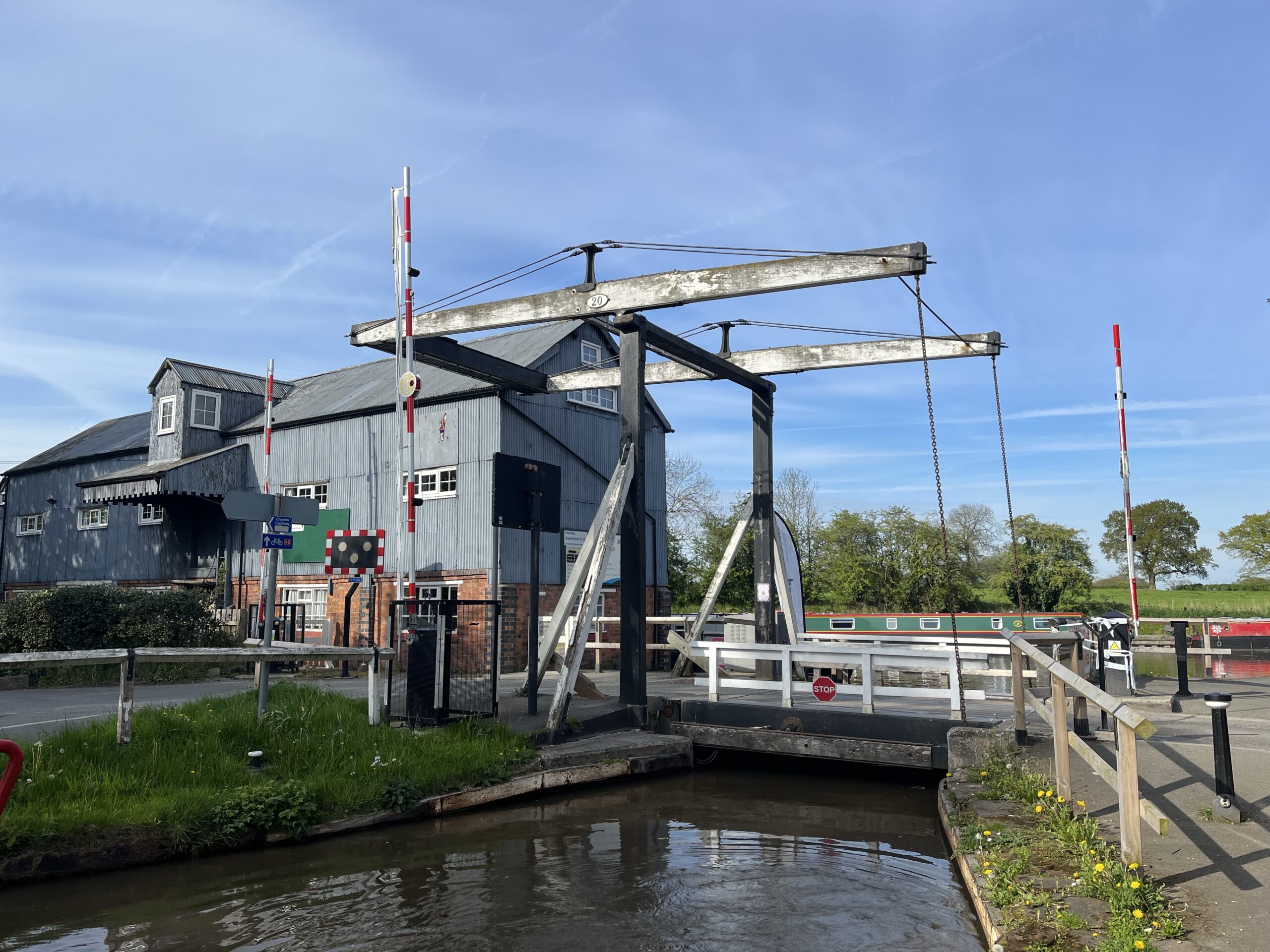 We passed through the Wrenbury Mill lift bridge shortly after setting off again. This is an electrically powered bridge and you have the power to stop three lots of traffic as it is on a t-junction,. Such power! It's probably one of the most photographed features on the Llangollen although the Pontcysyllte Aqueduct obviously takes pole in that particular competition.
One thing we have noticed about this canal is the speed at which people are taking it! You can see their bow waves as they come towards you and you can certainly feel it when you are moored! Is it because it's a dead end? It's not hire boats – there don't seem to be many of those about yet. It's mainly older men who are the culprits. The "slow down for moored boats" and "don't create a breaking wash" rules seem to have gone out of the window. We even saw a CRT boat doing it! Rant over!
We passed a wood full of bluebells, too far away to get a decent picture but the smell, borne on the breeze was amazing. We also watched a farmer ploughing late into the evening. They really put the hours in these guys and we should treasure them.
We eventually found a spot that met all our criteria and as we moored, the bell ringers in the nearby village were doing their practice. Such a lovely sound – especially from a distance. Makes me feel wistful, although I couldn't say why. There was a wonderfully bright moon when the boys went out for their late night pee-before-bed. It was a magical sight (not them peeing!), especially as there is very little light pollution here. And lots of bats flying. Perfect.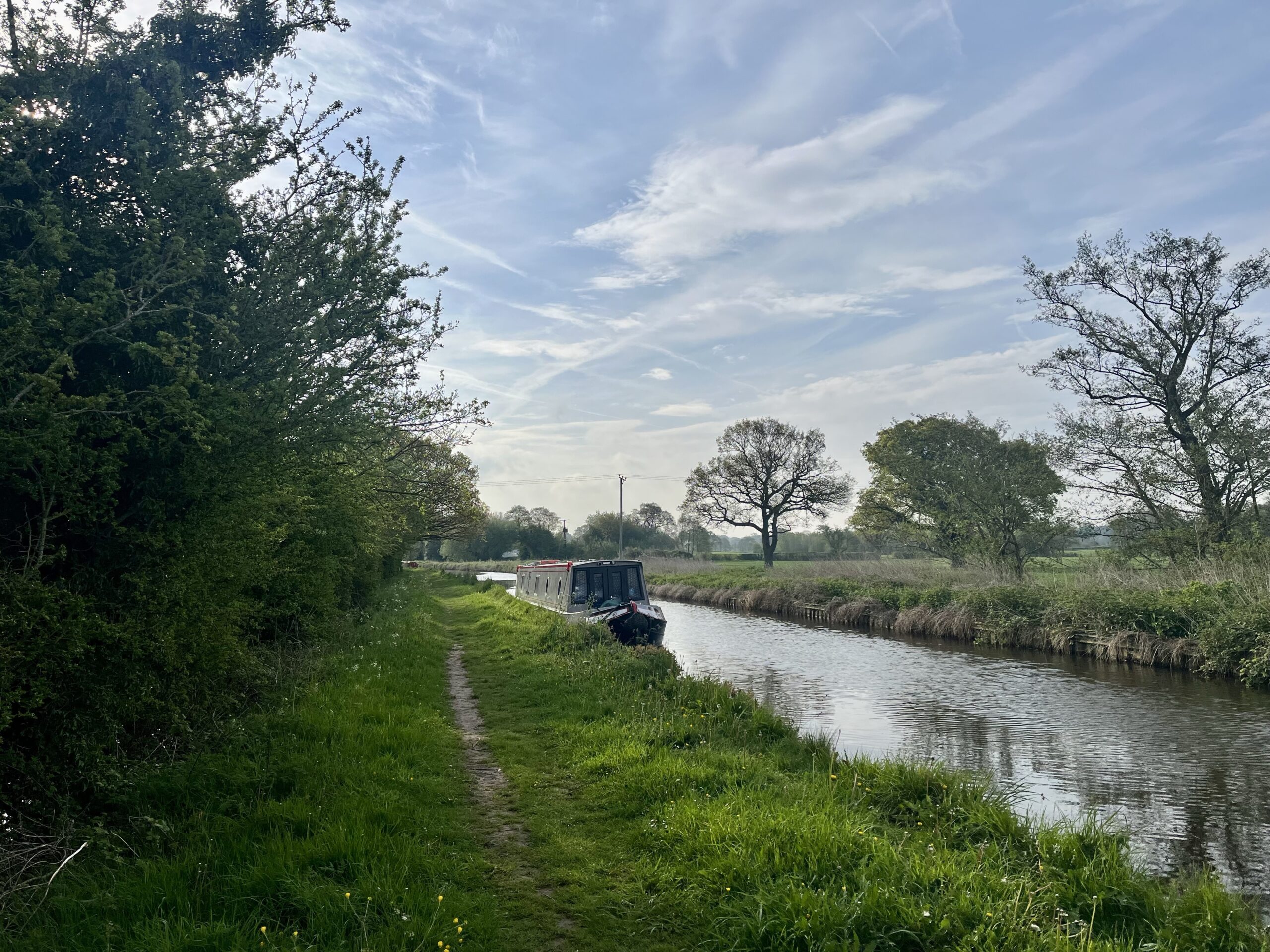 It may not look much in the pic above, but I was a little sad to leave this pleasant spot, but we have somewhere to be. I don't know exactly where it is yet, as we try to avoid planning ahead wherever possible. We prefer to be spontaneous. It's one of the many lovely things about this life we have chosen. Anyway. I set off solo early afternoon to do the section to the next lock (Quoisley), with the intention of going through during Paul's usually non-existent lunch stop. And it worked out perfectly. I cruised to the bottom of the lock, Paul nipped out and did the biz and then went back in to pound his keyboard once more.
Actually, today, we did have a planned stop just below Willeymoor Lock. We are dining at the Willeymoor Lock Tavern tonight and getting a grocery delivery to their car park too. We checked when we booked and they said it was fine and actually thanked us for asking, because most people don't bother, which I find odd. Good manners cost nothing.
We arrived and got a great spot. The pub car park is actually on the opposite side of the canal to the pub and there is a footbridge over the lock to allow punters access. We moored as near as we could without mooring on the lock moorings – unlike the hire boat that was there, taking their lunch at the pub and tied on, only by their centre rope.
Paul had a conference call at 2pm and I had to sit in silence until it was over. That's not easy for me! Luckily it wasn't too long or I might have burst! I spent the afternoon writing this and then it was time to shower, ready for our evening out.
We had our meal in record time, Paul had a pint of Coronation Ale from Weetwood brewery, which is in nearby Tarporley. He pronounced it excellent – so much so that he later went back and got another pint to take away in his tankard. It was lucky that we had eaten early as the delivery guy rang to say he was ahead of schedule. We received the goods, carted them down the towpath, stowed them away and settled down for a pleasant evening's viewing. Currently really enjoying the 3rd series of Race Across the World.
Paul awoke at his usual time and as rain (and, possibly thunder!) was threatened later in the day, we decided to set off right away. It was a lovely morning and we flew through Willeymoor and Poveys locks and were soon on our way up the 6 locks at Grindley Brook. The first three are conventional locks, with pounds in between, but the second set of three is a triple staircase.There is a cafe at the bottom of the staircase, with great opportunities for gongoozling. Trade was brisk, even at 10 am, so there were plenty of them!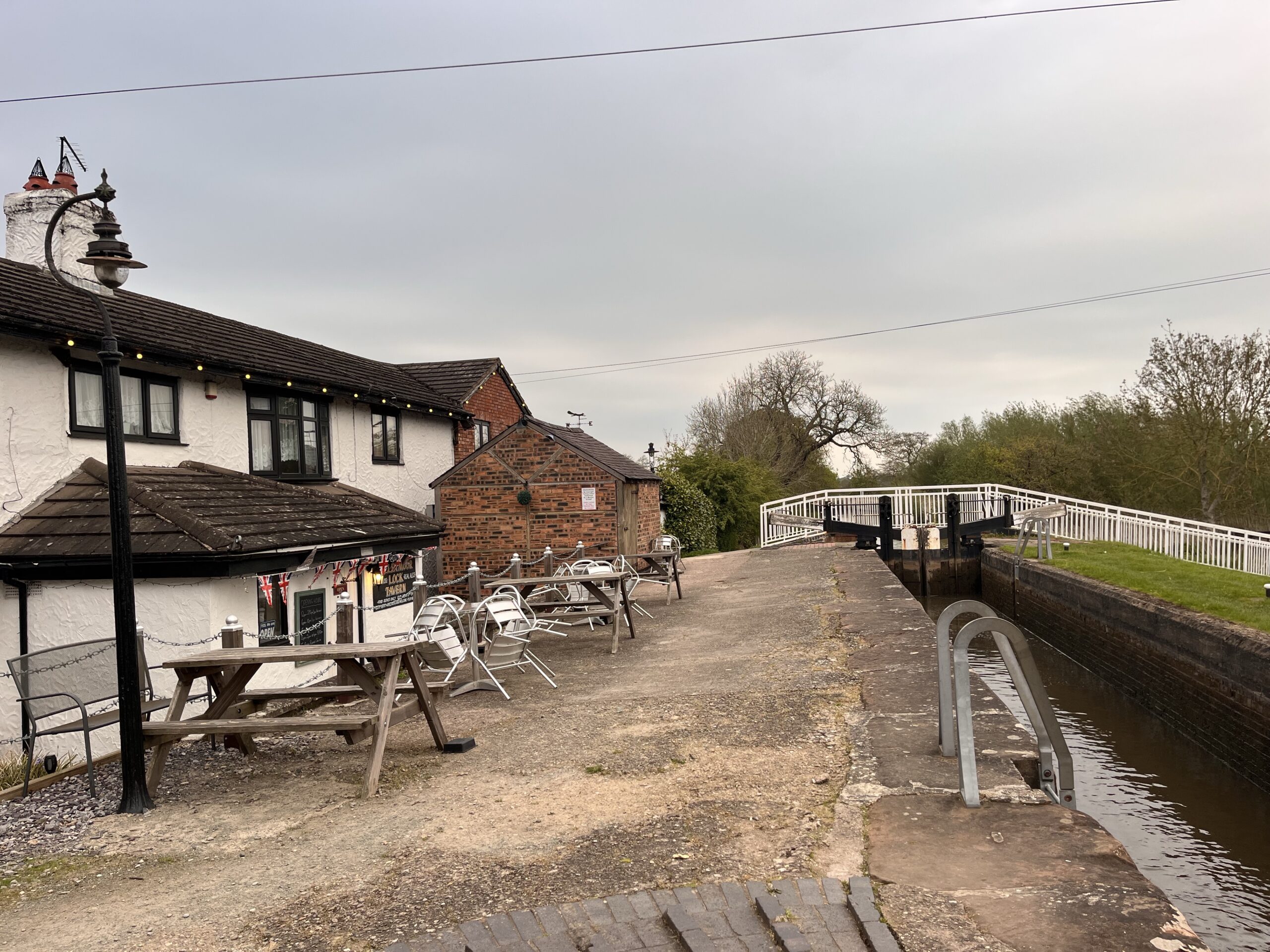 The total rise of the six locks is just under 40 ft or around 12 metres and we'd finished them by 10:30, helped on our way by the CRT volunteers. At the top of the locks is the first Elsan disposal point since joining the Llangollen. A most welcome sight. We were approaching critical mass! And experiencing what my Dad used to call "snappers". I'll say no more! Also at the top is a Grade 2 listed Telford-built lock cottage, which I have always rather coveted.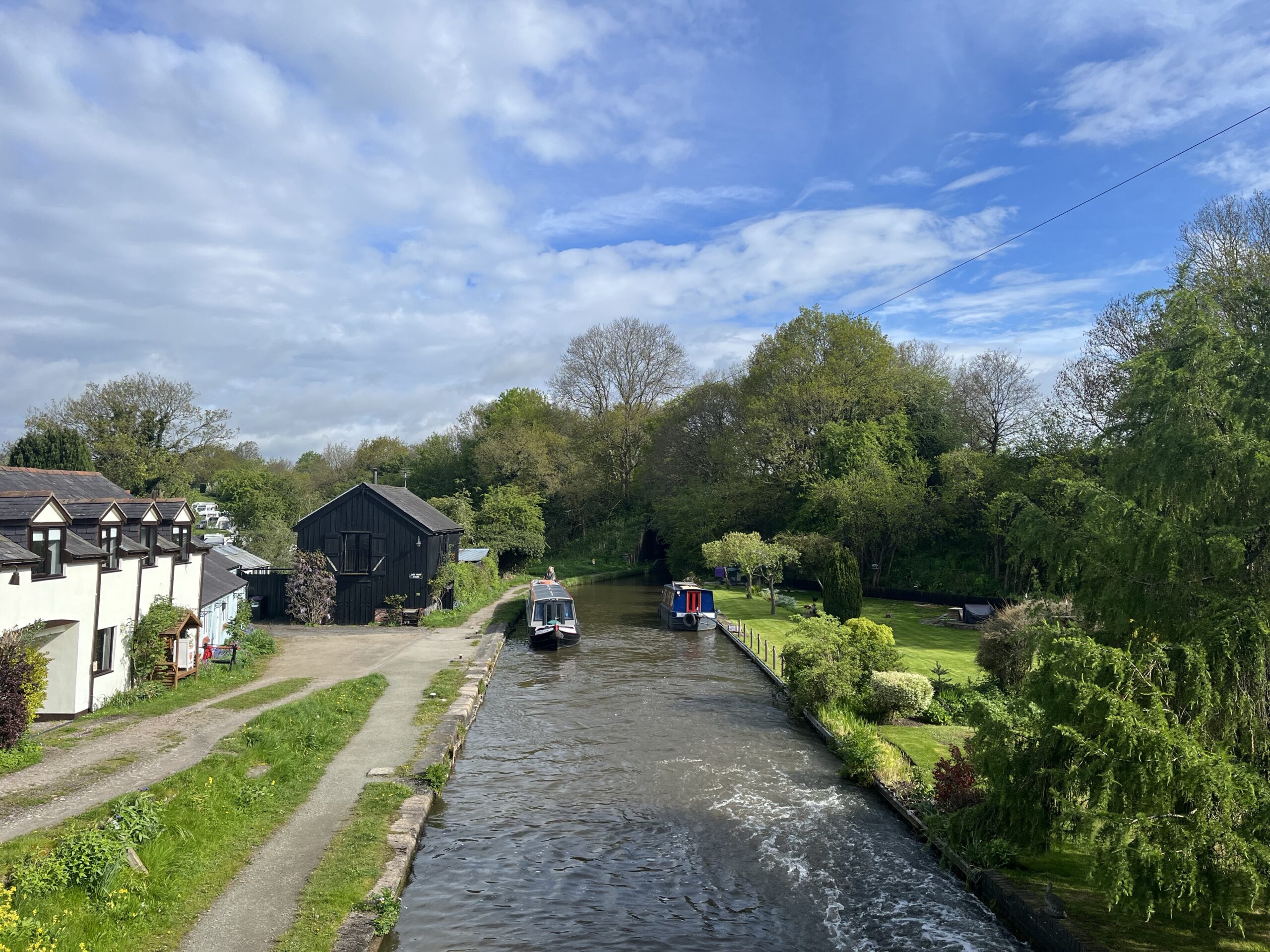 We also dumped rubbish and took on water. A classic WSR triple! Jobs done we pressed on. Straight into a cloudburst! Still – it could have been worse. It might have done it whilst we were doing all the jobs.It was a short but sharp shower and gave everything a good soaking. Thank goodness for George's brolley!
Once the sun came out again it was lovely and warm and prompted the ceremonial donning of the sunglasses! We have not yet broken out the shorts but it's only a matter of tim, now. We pulled over for lunch at a very quiet spot and whilst eating our sarnies heard a very loud rumble of thunder, but it didn't amount to any more at that point.
We went past a house that had its very own lift bridge. Imagine! And they also have old lime kilns on their property. How very unusual. Remember I said that the weather hadn't amounted to much? Crikey! The heavens opened and literally dumped a deluge on us! It was of biblical proportions. And it happened so suddenly that we would have got more wet trying to pullover than just soldiering on. I scuttled indoors and Paul again deployed the now famous "George's umbrella" and soldiered on. He said he'd never encountered rain like it! As a gesture of good will, I provided him with tea and cake. And today I heard my first cuckoo of the year.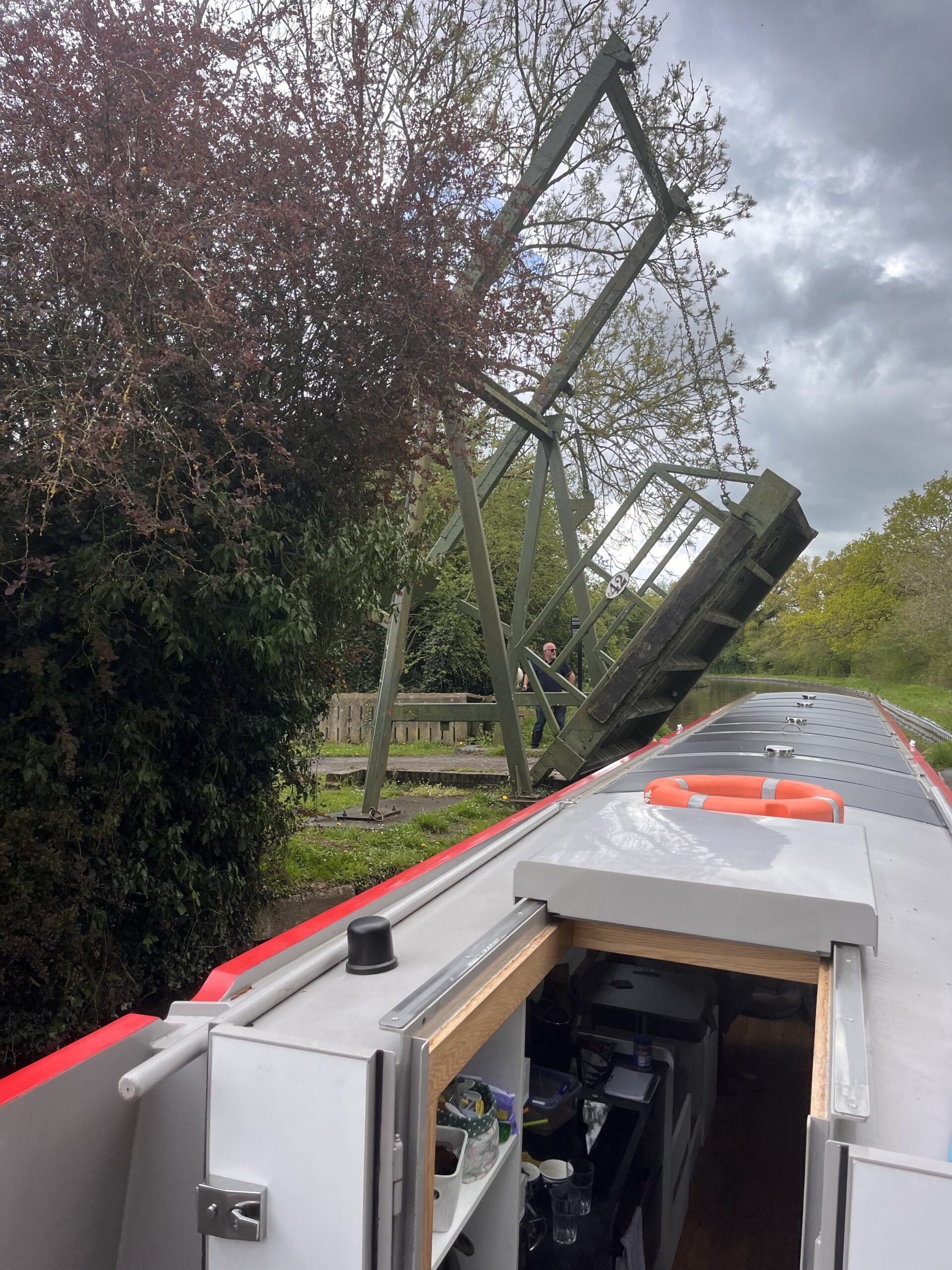 We were in a pretty bad signal area, which was a bit of a nuisance as I needed to phone round a few vets to try to get the boys vaccinations up to date. My step-mum "Nanny Lynne", who lives nearby, had very kindly agreed to act as chauffeuse and ferry us to the vet and back. I found a whiff of signal and quickly made a few calls and found one at my third attempt. It was at "Park Issa" practice. They were very helpful and very open to our situation, unlike the first two I rang, who shall be nameless. I secured a double appointment on Tuesday of next week. That's a weight off my mind.
We decided to take a quick tootle down the Prees Branch of the Llangollen, which we'd never ventured down before. It's a short arm today, with a hire base at the end of the navigable section. It had a chequered history and was never actually completed due to lack of funds. Today, it's essentially a quiet backwater for all kinds of water creatures, including water voles and otters, and all the usual water fowl, especially the bit after the navigation ends, which is still in water for quite a way. Apparently, lurking in the depths of the canal are some very rare pondweeds, which give it its SSSI status. It's pretty quiet along this short arm and we decided we'd spend the night there. And for your delight, a quick video of us operating a manual lift bridge.
We were up early again on Saturday morning as we wanted to maximise our cruising time while Paul was unfettered by work. We very soon rejoined the main line and set off towards Ellesmere. The journey takes you firstly through "the mosses", a large area (2.500 acres)of peat bogs which suffered near destruction when industrial scale peat cutting took over from manual peat cutting. Luckily, sanity prevailed and the environmentally significant site, which is an important store of carbon, was rescued and is now protected. The most The canal runs alongside Whixall Moss and there is a new viewing tower (the Mammoth Tower) with boardwalks, by the canal. We promised ourselves a visit there on our return leg. In olden times, when the peat bogs were dug manually, for fuel, by a chap with a cutting tool, the cut was the size of a big book (each individual peat block measured 22.5cm (9in) x 17.5cm (7in) x 10cm (4in) and they were referred to by the name "Whixall Bibles".
In WW2, a large area was taken over by the military for 'Operation Starfish' which involved the installation of a huge number of braziers. These were lit remotely to decoy German bombers into thinking it was
a large town or city so that Liverpool and Manchester were spared the worst of the bombing. It was apparently a very successful operation
After the mosses, you cruise through "the meres", close cousins of the mosses. They were all formed by retreating glaciers during the last Ice Age. There are nine meres and you pass by Colemere and Blakemere on the canal. "The Mere" at Ellesmere is the largest. As it was drizzling (as it did most of the day to be honest) as we went through, we decided we'd also save this for a visit on the return journey and maybe an overnight stop?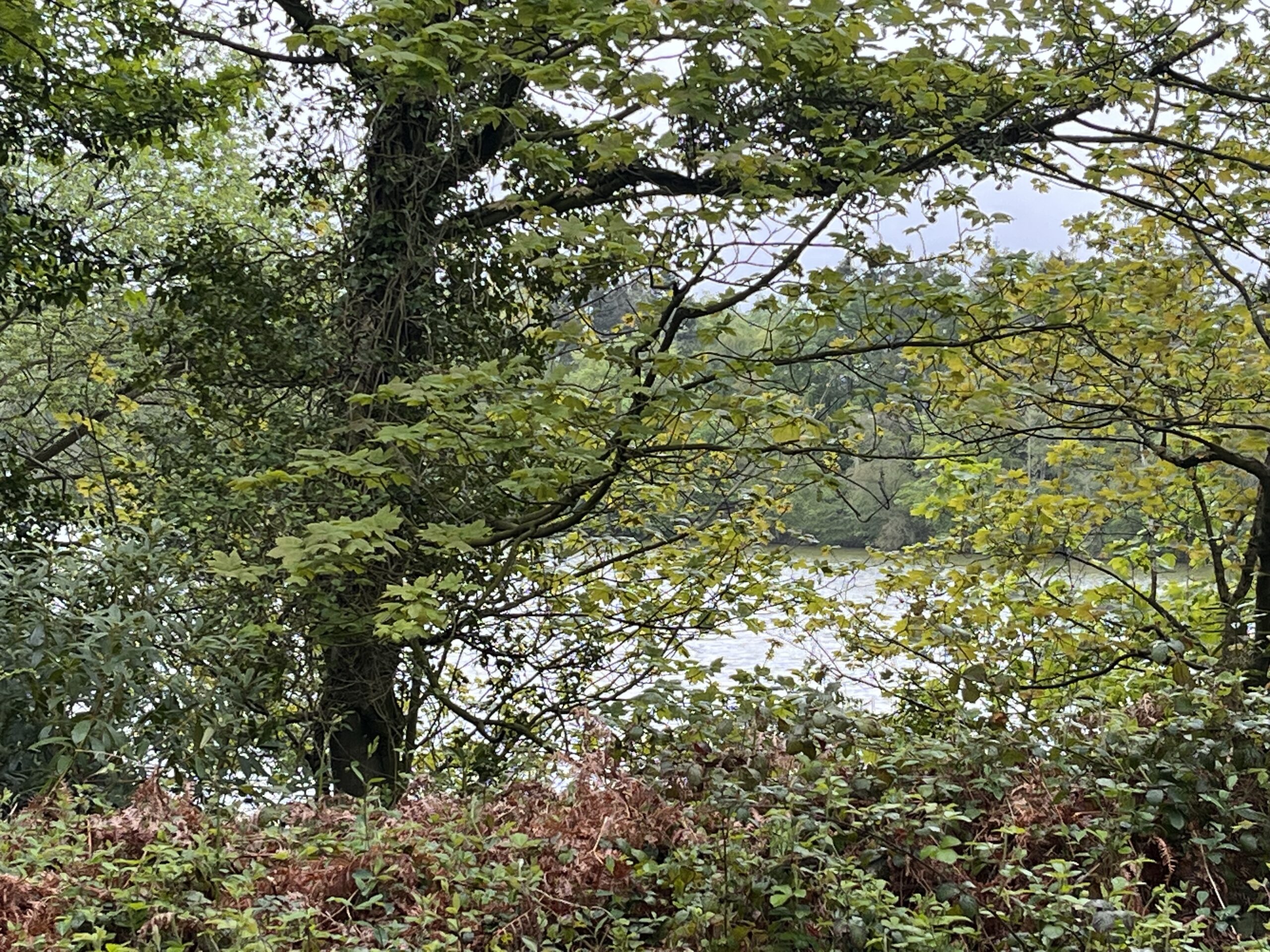 We watched bits of the Coronation as we passed along the canal. It was enough for us. I am glad we have a Monarchy but it does need modernising, I feel. Anyway – this is not a political blog so enough about that!
We chugged down the short arm to Ellesmere basin, where there is a new (to us) Tesco, right by the canal. I nipped in for a few bits for lunch and then we chugged back onto the mainline. (Note to self – Electric Serial Hybrid Boats do NOT chug! I need a new word for that. How about burble? We burbled our way down the cut. I like it!) The basin is a little different than last time we were here, but the Shropshire Union Canal Co. Warehouse is still there, although looking a little sad. I always thought it would have made a lovely dwelling with a bit of money spent on it, but I suspect that ship may have sailed. It would take more than a bit of money now, I suspect. The fine Grade 2 listed Telford-built house "Beech Cottage" looks pretty smart though. Heavy rain was threatened and we did not want a repeat pf the previous day, so we decided to pull over at a nice quiet spot. Annoyingly. the rain never really materialised, but that was OK. We'd done a good few hours cruising. And tomorrow is another day!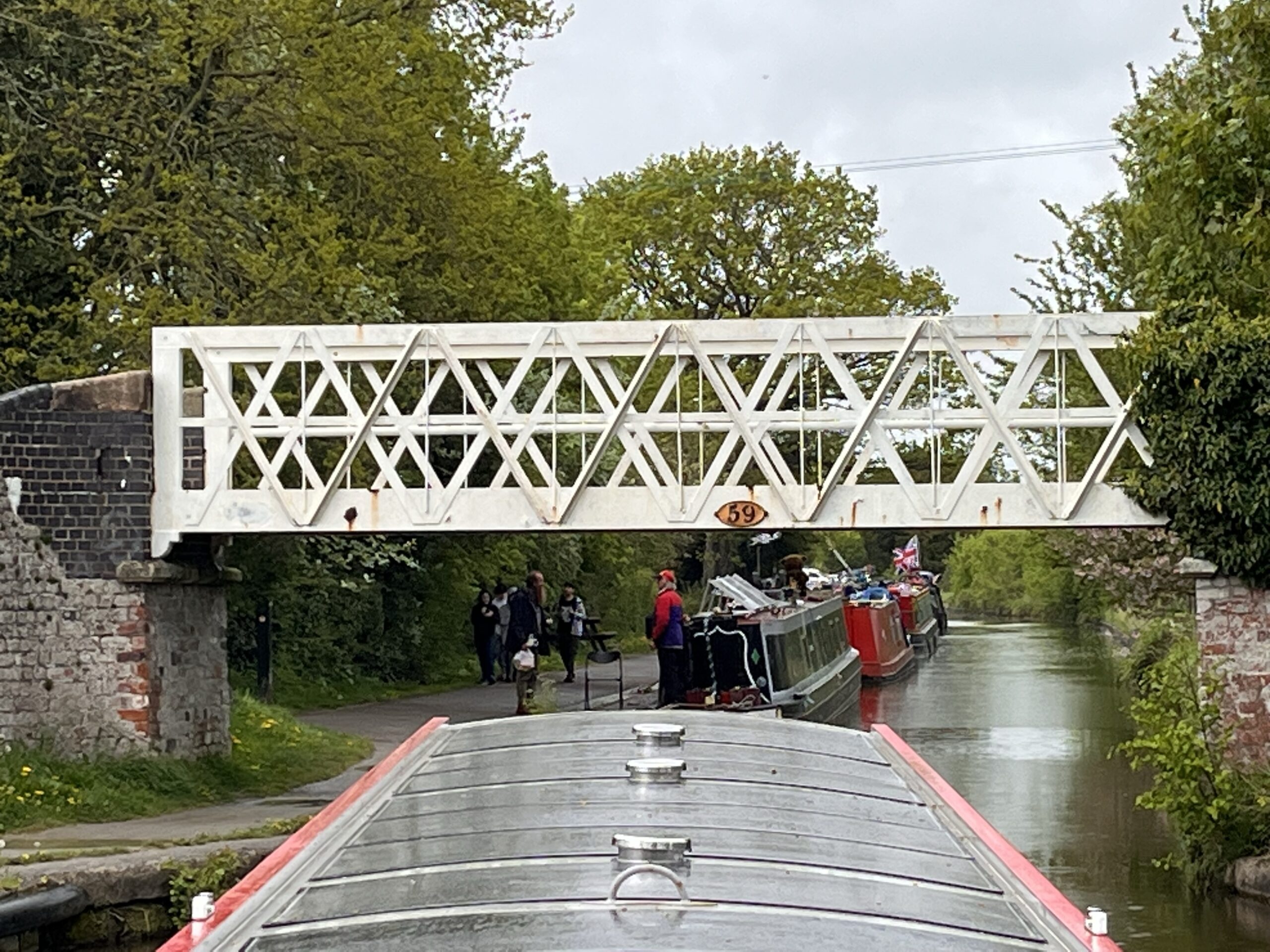 We had a leisurely start to Sunday, eggs for brekky and then showers, finally setting off at around 10:30. And what a beautiful day it was, too, in contrast with the previous day especially! And I can announce that Sunday May 7th marks the start of shorts season. The Donning of the Shorts is commemorated by the ritual post-winter Shaving of the Legs. Mine, not Paul's! I suspect the shorts may well be removed again tomorrow, because the weather looks pretty grim!
But back to today, We found this to be a delightful stretch, with tempting glimpses of the Welsh hills on the horizon. And we found that we remembered very little of it, so it was a nice fresh bit of canal, ostensibly. I'm pretty sure that George was still of an age to willingly come on canal holidays with us, last time we came along here, though, so it's not surprising we are a bit hazy!
We passed Frankton, which is the junction with the Montgomery canal. We look forward to visiting it on our return leg, later this month. It has been the subject of a restoration programme and has opened up (partially) since our last trip. At this point, the Bridge numbers on the Llangollen mainline revert to 1 and each one heading towards Llangollen now has a "W" suffix.
We passed through the New Marton pair of locks – not without incident as the crew of a day boat were using a lock for the very first time and had to be helped. They told Paul that they had overshot the recommended turnaround point and were going to be rather late back. I bet they were popular, on a Sunday, too!
Some of the cows in the adjacent field had managed to find a way through the fence, out of their field and were standing by the lock,. Tinkers! And then a little further down the way, we could see some sort of kerfuffle, which turned out to be several boats trying to help a cow back out of the canal. The farmer turned up after it was all over and I mentioned the other escapees and suggested he might ring the farmer, if he knew him, which he did.
We really enjoyed our day's cruising this lovely canal and eventually pulled over near Weston Rhyn, which lies between Chirk( in Wales) and Oswestry (in England). I was actually a little sunburnt, I noticed! But we are in place, more or less, ready for our visit to the Vet on Tuesday. So that's a rather lovely week 1 of the Llangollen Canal done and dusted.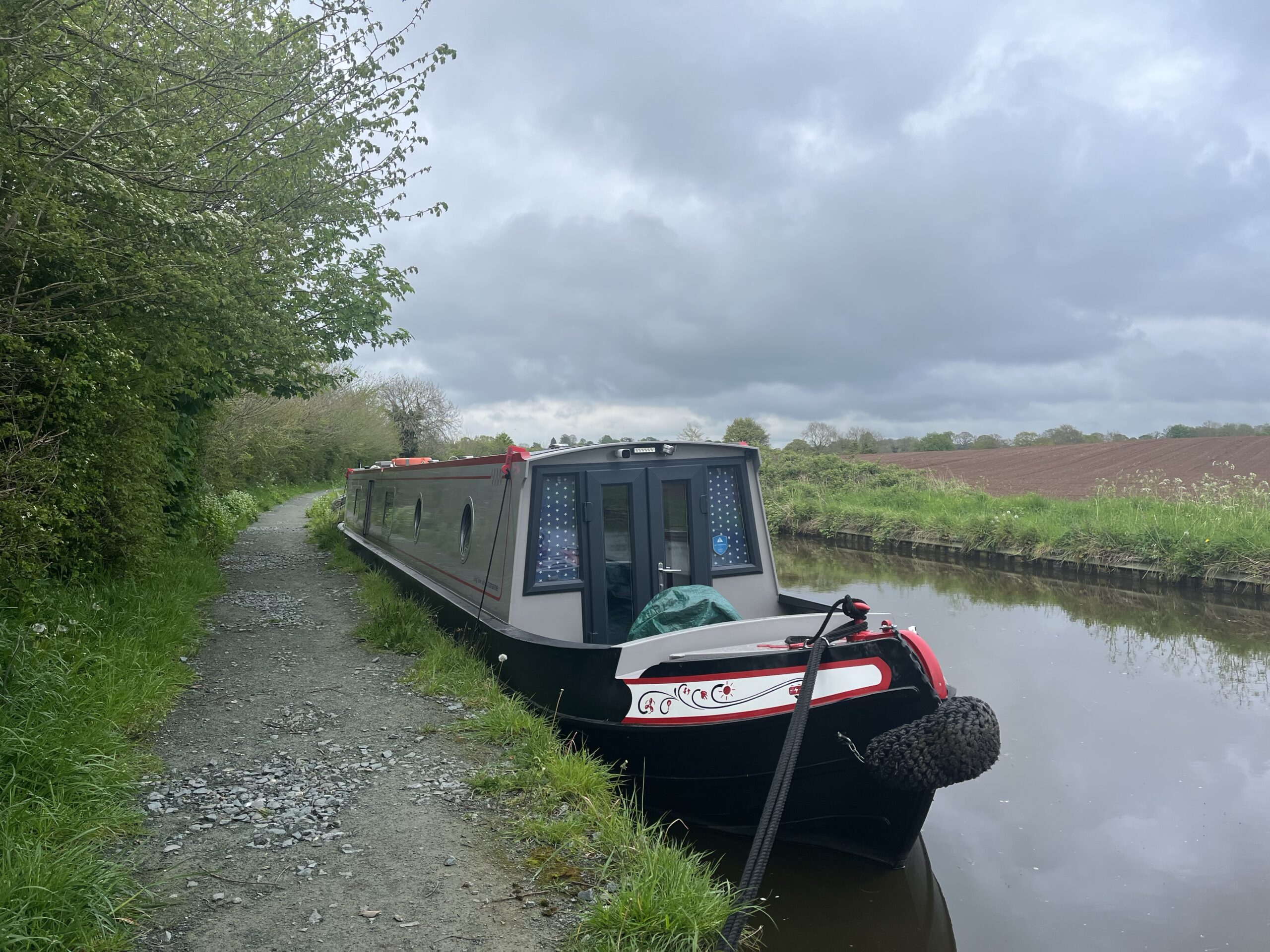 | | |
| --- | --- |
| Miles | Locks |
| THIS LEG | |
| 34 | 17 |
| TOTAL 2023 | |
| 115.5 | 98 |
And finally – the Rape money shot, which I promised a picture of last week!