Sep 11th to 17th – getting cooler as we slowly continue our journey back to base
Monday morning was showery/light drizzly. We needed to dump the loo, so it fell to me to move the boat along to the next Sanitary Station at Norbury Wharf. I waited until late morning, when the weather looked better, and so that we would arrive there in time for Paul to "do the loo" in his lunch hour. Lucky boy.
It was a pretty slow crawl from our moorings to Grub Street Cutting, The cutting is home to the very famous Telegraph Pole Bridge – which I'm reliably informed (by a local) is known .as "Monkey Man" Bridge because of several sightings of a large and hairy monkey-like creature. Perhaps we also have Bigfoot in the UK? You can read more about it here.
It was a slow passage because of the sheer number of moored boats – mainly but not exclusively – on the off-side. But it was quite nice to say hi and shoot the breeze with the owners as we passed. As I was just approaching Grub Street I gave way to a passing boat (I flashed my lights at him which is recognised as an invitation to come on through) and a succession of a total of 5 boats followed, one after another, through the bridge! I think the boat behind was a bit miffed that I had given way but it was the right thing to do.
We saw another makeshift home in the woods at Grub Street – complete with chairs. I wonder whether these structures are built out of desperation for a roof over their heads or whether they just want to drop out of society? Or maybe a bit of both?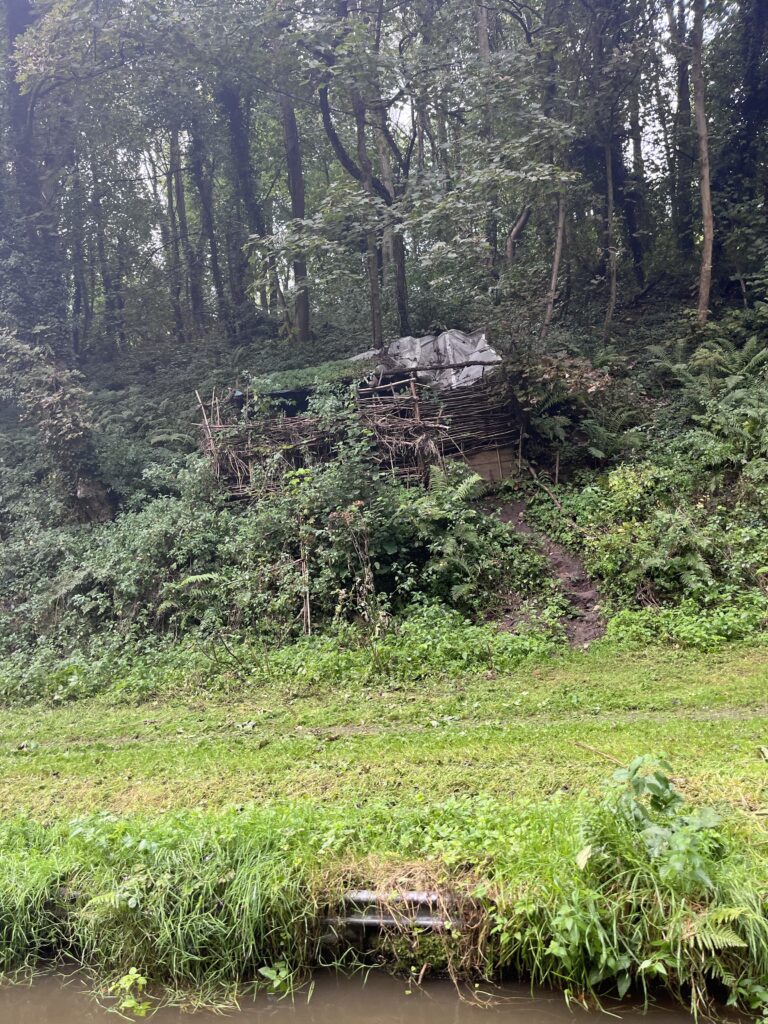 The cruise through Grub Street was uneventful and very lush and green. You could almost feel like you were travelling down the Amazon – although thankfully no Anacondas or Crocodilligators showed up! Almost as soon as you emerge from the cutting, there are more moored boats and some VMs. As I approached, an oncoming (private) boat suddenly dived into the bank and then seemingly changed his mind and came straight back out, right into the path of the hire boat behind him – and me. The hirer did a great job and no collision ensued, thankfully. I just hung right back, letting the situation sort itself out before I passed through.And no doubt irritating the boat behind me again, who seemed to be in a bit of a hurry, again, but it couldn't be helped.
We arrived at the service moorings and swung into action with the bins and the water and the loo and were soon sitting on the nearby VMs, where we would stay the night. It seemed like it would be nice and quiet. The one bad thing? Just as we were sitting down for dinner (Chicken Fajitas, thank you for asking) the farmer started spraying the adjacent field with a very mature slurry. It absolutely reeked. Gagworthy and I am usually pretty inured to a rural smell!
Tuesday was also rainy – that very fine soaking drizzle. Nevertheless, we planned to move on. The weather looked like it might brighten up in the early afternoon, so I waited. And while we were waiting, we spotted an unusual sight – a Great White Egret (Ardea alba) . We see the occasional little egret (Egretta grazetta) but this is a much bigger bird. It's about the size of one of our common Grey Herons. The RSPB estimate that there are only 8-12 breeding pairs in the UK so we are quite lucky to have seen it. Initially, it was standing on the bank right by the boat but flew off to another spot a little further down the bank.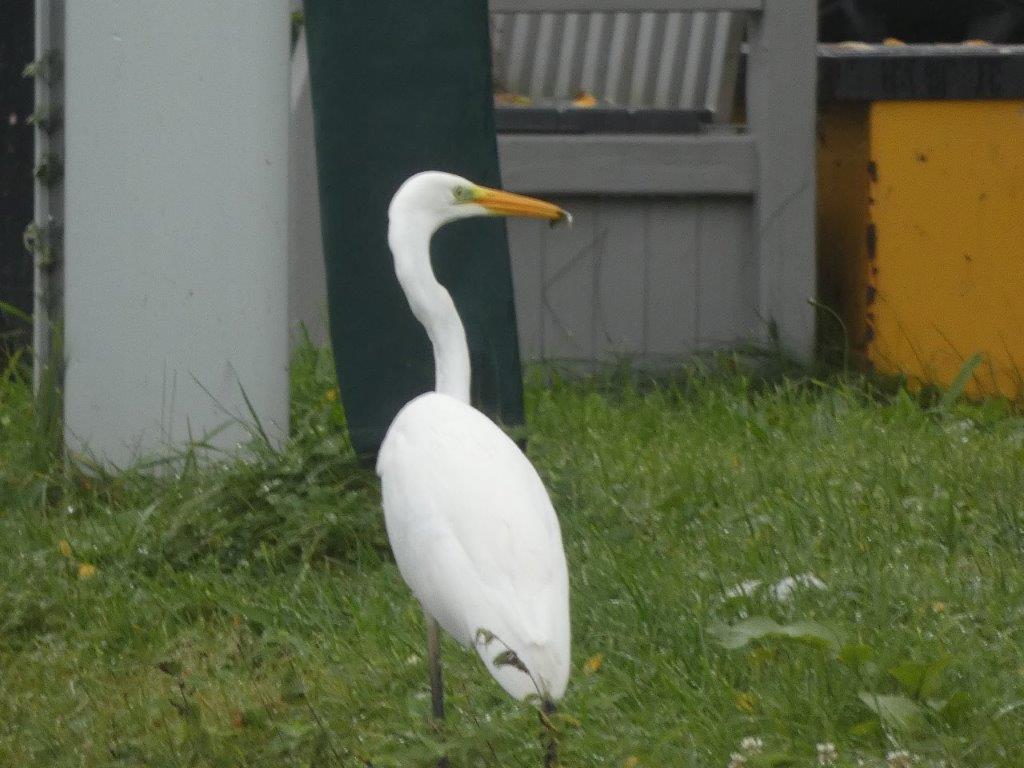 The weather didn't improve and so I eventually set off (note that the shorts are still on – they stay on until mid-October), with George's trusty brolly and a song in my heart. The first part of my journey was on Shelmore Embankment, a particularly troublesome part of this canal's build, which took 6 years – and probably much cursing – to complete. Apparently it had never been Telford's intention to build such a vast embankment here at Shelmore. Originally, it was planned that the canal would take a much more direct course from Grub Street to Gnosall, to the east of its present route. Unfortunately, local landowner, Lord Anson refused to allow the company to bring the canal through his game reserves in Norbury Park. He alleged that the disruption would disturb his fowl!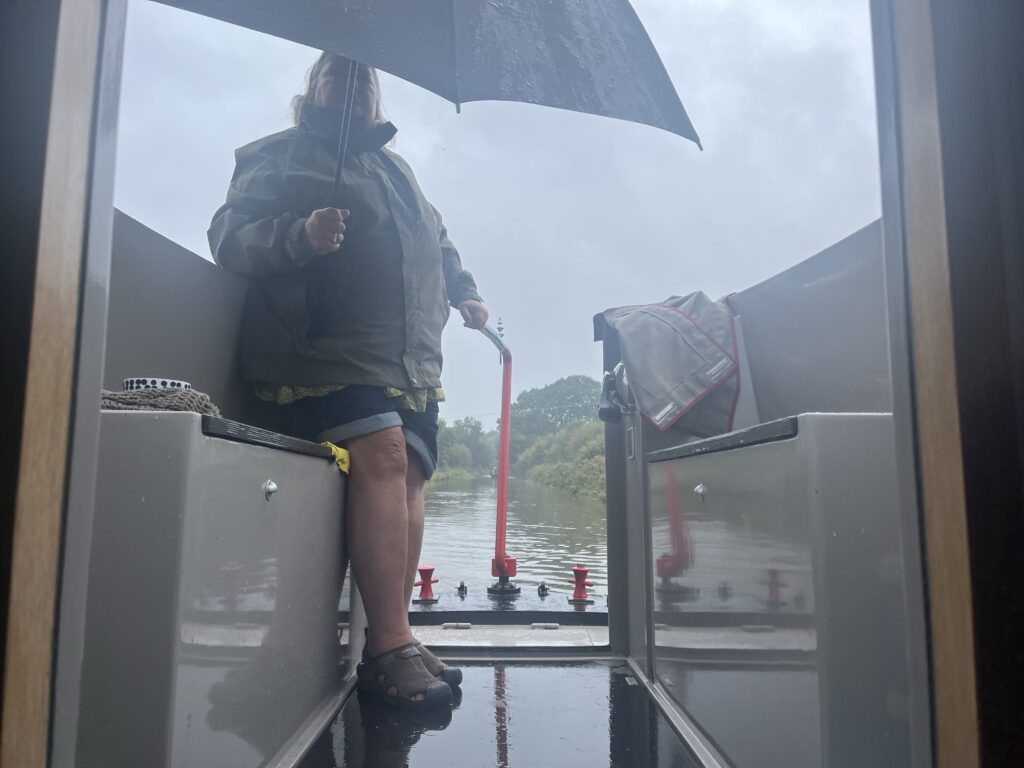 Our planned stop was Gnosall, where we had met the Robertsons way back in April. It was not the most pleasant of cruises in that weather, but I soldiered on in solitude until we arrived at our destination. Tomorrow looks a much better day, so we will see what it brings..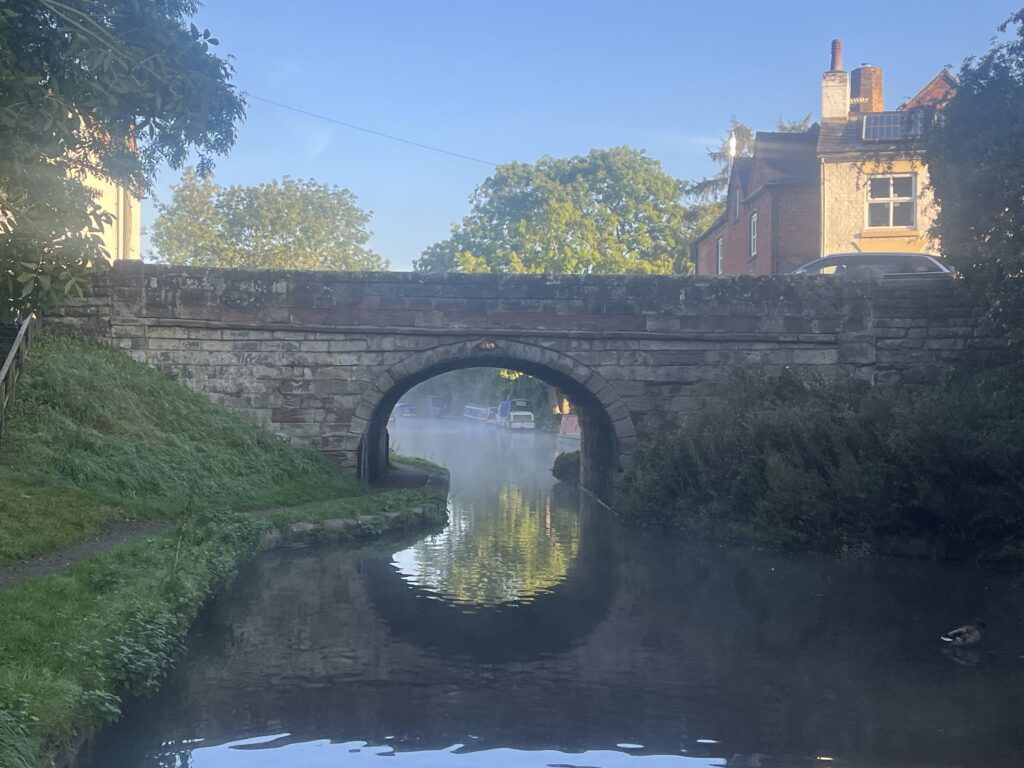 Well for once the weather forecast had got it right! We awoke to a lovely day and it was nice to set off into sunshine again. But before we set off, we heard much revving of engines and shouting and popped out to see a boat with a quite elderly crew, struggling to get their hire boat into the space in front of us – in the face of two oncoming boats. They had one lady ashore, who was really struggling to pull the boat in so Paul leapt ashore to assist.. By this time, the steerer had gone aground on the opposite side of the cut and the stern rope was too short to throw ashore. Paul suggested he use the boat-pole to push himself off and then throw the rope. Paul deftly caught it and pulled them in and they were soon tied up and thanking Paul for his assistance.
It was just over 5 miles to our planned spot for that night and almost immediately, I went through the 81 yard (74m) long Cowley Tunnel. Completed in 1835, it was originally planned to be 690 yards long, but the sandstone through which it was hewn proved so unstable that most of it ended up as a cutting instead, and we are left with the wide, rough hewn, red sandstone tunnel you pass through today.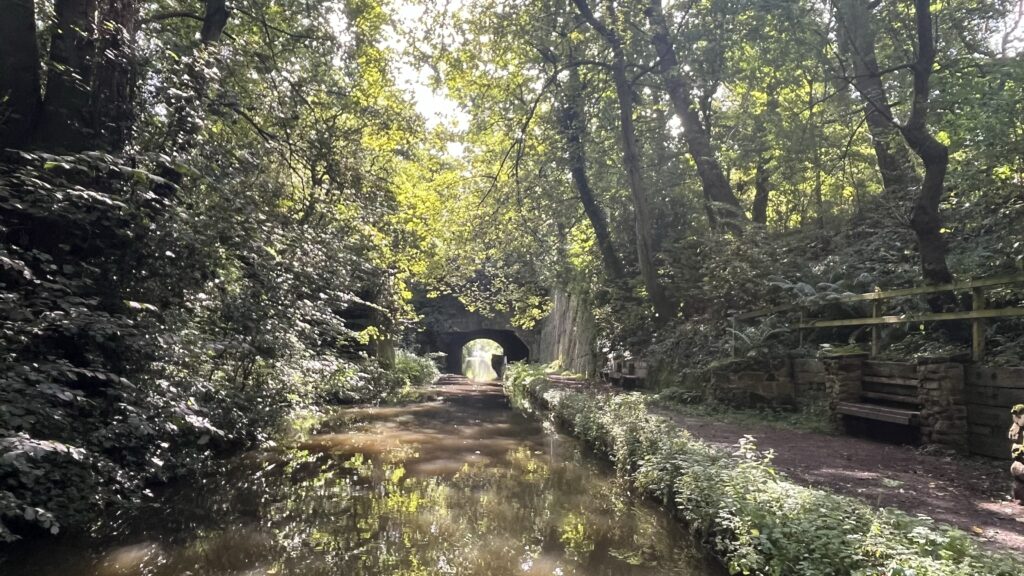 The rest of the journey is a mix of embankments and cuttings and largely pretty straight. And a teeny bit boring on your own, if I'm honest. But the weather was lovely – warm and a bit Autumnal – which is just as it should be. Unlike last week, so I shouldn't be grumbling. I saw very few other boats on the move and spent my time singing and thinking my thoughts. Although i was jerked out of my reverie by some chap on his boat's roof – "Is that electric?" quoth he. I replied in the affirmative, to be told "Nah – mate – get a diesel. Much better!" OK, I thought – I'll rush out and buy one this very day, as I have clearly made a major error in opting for a hybrid boat! Silly me!
As I cruised on solo, I mused that we had seen the fields being planted at the beginning of our cruising year in early April, had seen the seeds sprout, burgeon forth and then witnessed the crops in their prime before harvest. And now the fields are all stubble, awaiting the next year. It feels quite a privilege to have witnessed it all at such close quarters.
We eventually arrived at Wheaton Aston – home of very cheap fuel – and moored in more or less the same spot as we had moored in April, again. And there we stayed until lunchtime the next day, when we left to "see to" the loo and go up the one lock. The service moorings were a bit clogged, but one boat said they were just off, so we hovered until they had gone. They said that the other boat on the service moorings had been there for some while – like a couple of days. Very selfish – particularly as CRT were carrying out some work and had a boat moored just below the lock and another just below the service moorings, leaving very little alternative space. The Towpath Telegraph tells us that – rather annoyingly – the owner of that boat very often puts it there.
We saw fellow Electric Serial Hybrid "Morning Star ll" approaching the lock, with Paul of the "Narrowboat Life Unlocked Vlog" at the tiller. As he was single handed, Sumps told him to stay on board and did the lock for him. Once he was out, I slipped in in his place and went up. Paul had done a recce earlier and we moored shortly after the lock, Not a long cruise that day. Not the best weather either – drizzly and a bit chilly.
We began to wonder if we'd picked the wrong spot when the Malamute on the boat opposite where we were moored started howling, unchecked, at the top of its voice, about every other minute in the early evening. It was an unbelievable racket. I didn't fancy it going on all night. Luckily it quieted down later – we think the owner had gone out and left the dog on the boat and, thankfully, returned, as we did not hear it again.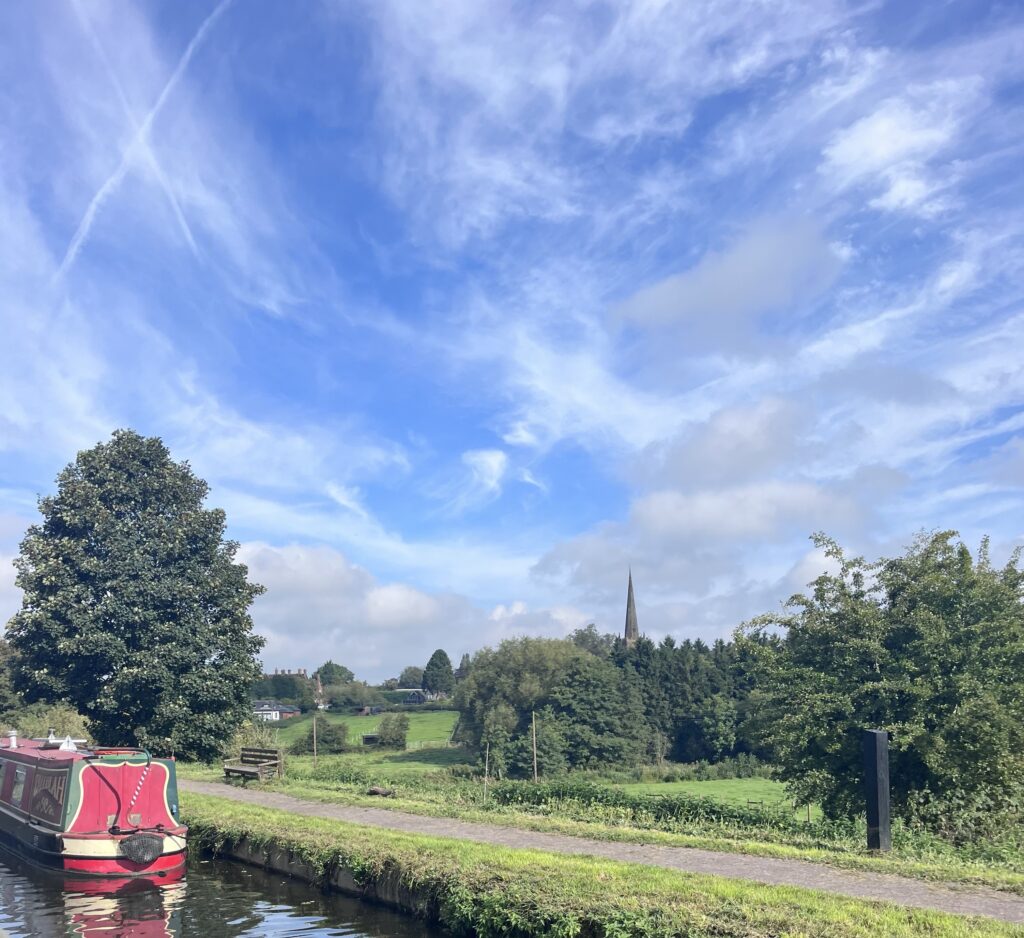 We set off the next day for our final leg of the lovely Shroppie. It was a very pleasant day, warm and sunny with a just a hint of Autumn in the air. I don't know why, but Autumn always makes me feel a bit melancholy. And it's often such a lovely season. We passed through the lovely Staffordshire countryside – across the sadly dilapidated Stretton Aqueduct – and on to the junction at Autherley, where we passed through the stop lock. We turned onto the Staffs Worcs canal and immediately pulled over for a brief lunch stop. We then pressed on to our night spot – the Anchor at Coven Heath, where we had met friends Nick and Sarah Holmes last year. We nabbed the best spot because we had arrived early afternoon and had a quick nap before taking delivery of our groceries and going out for dinner.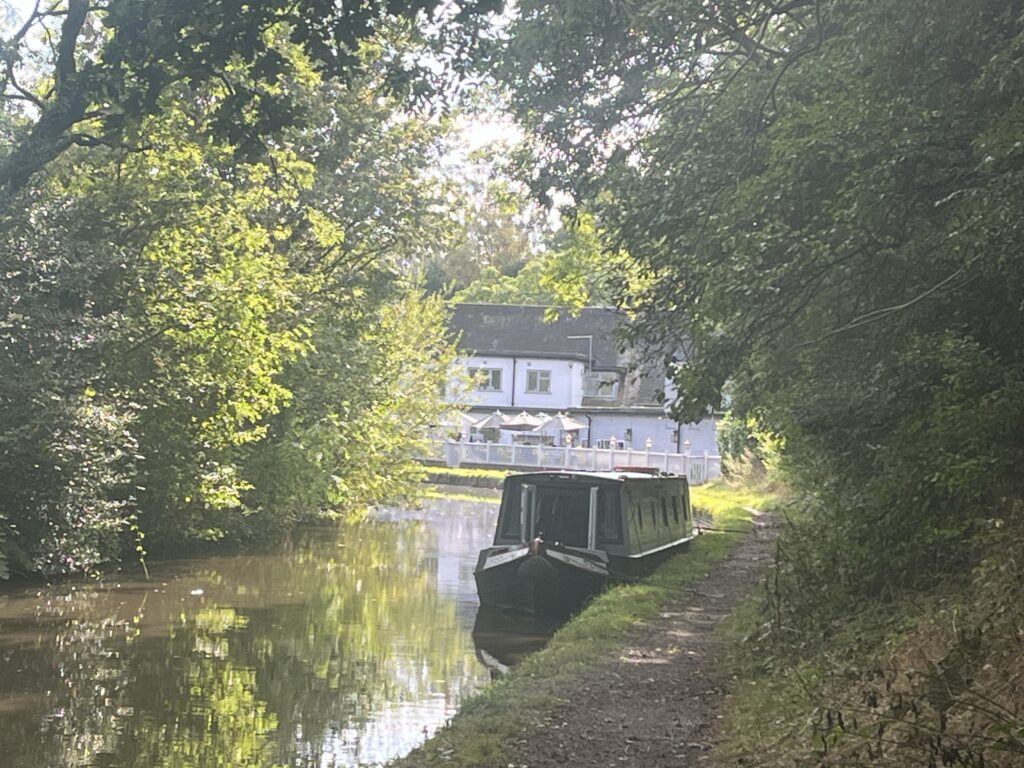 Saturday was another day of cruising. and it struck me how serpentine this section of the Staffs Worcs canal is. It was the first canal built by James Brindley, who was very much the contour canal man. The Shroppie, in contrast – was built by Mr Cut, Fill and Blast Your Way Through" himself – the great Thomas Telford almost 100 years later and is predominantly straight.
We had a few locks to do and wondered if Gailey, with it's distinctive roundhouse might be a bit chaotic, because there is a hire base there, but it was very quiet. Water levels we lower than usual and I nearly came to a complete halt outside one of the locks – the very leaky Boggs Lock. The pound below the lock was unbelievably low (12-14″ or 30 35cms I'd say). I started my exit from the lock and came to a halt. I was stuck fast. Paul had to flush a couple of locks-full of water down to actually get me out of the lock. I thought it best to report it to CRT as, if everyone had to do this, it would result in more problems. As we eventually proceeded, sticking closely to the centre of the canal, we warned oncoming boats of the troubles they might face.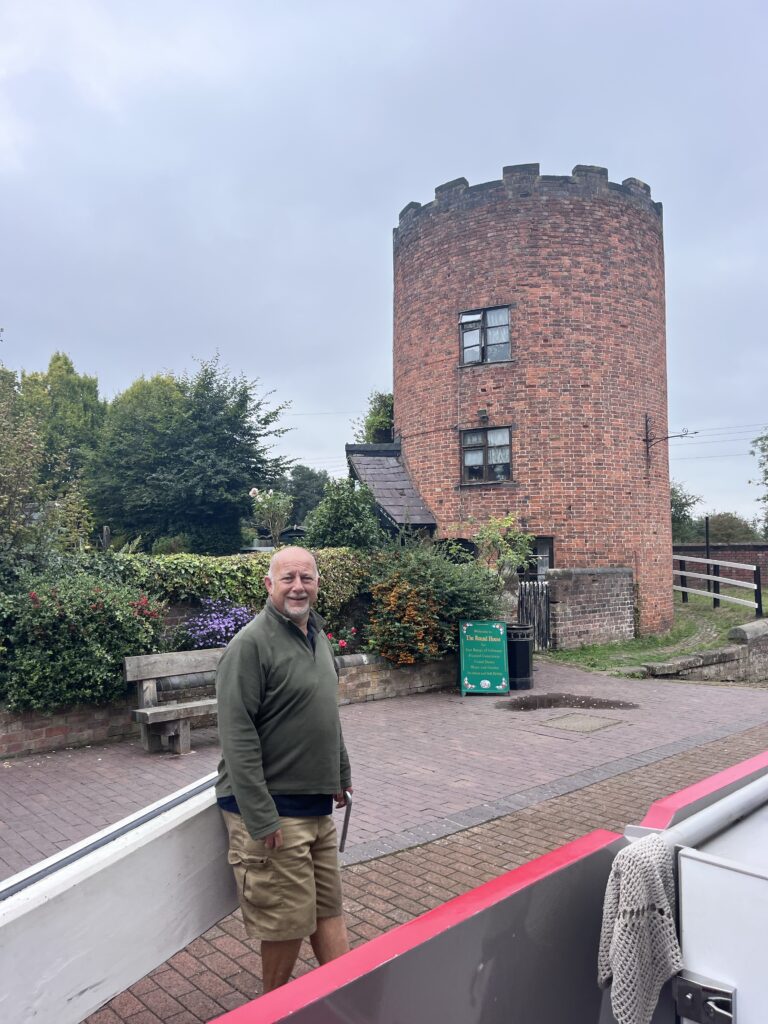 As we approached Penkridge Lock ,we saw a familiar boat with a familiar livery – none other than our Ortomariner friends Matt and Toy Hoff on NB Paintbrush. We pulled over and had a brief chat with them before we both went our separate ways. Shame it was such a brief reunion, but lovely to see them.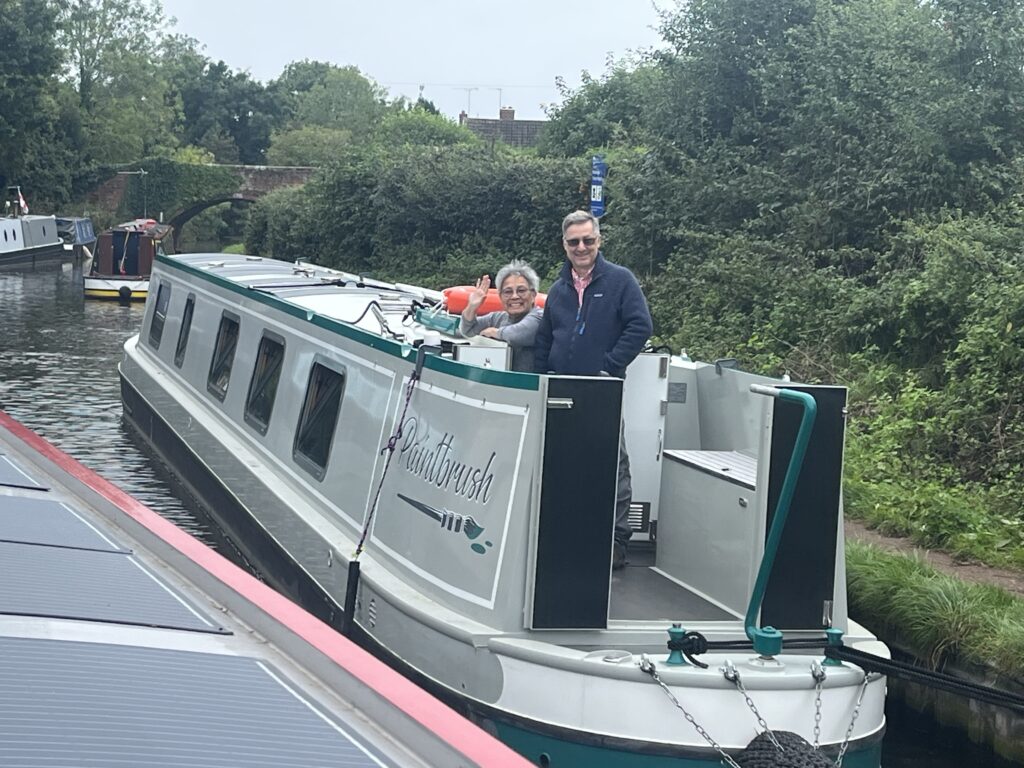 We finally pulled over about 17:30 in a lovely quiet spot between Acton Trussell and Stafford. It had got quite chilly by the time we stopped and I was frozen. I even had cold hands, which is very unusual for me. It took me ages to warm up, too. I should have put more layers on earlier instead of thinking I'd be OK. Lesson learnt!
Sunday was a much more pleasant day, but I was not going to be caught out again. I added an extra layer before I went out on deck. We had just two locks to do – one just a short way along from our overnight stop and one just before Tixall Wide, where we plan to stay Sunday night.
A couple of boats had passed us, just as we were leaving, so we knew there'd be a queue for the 1st lock of the day. And there was! Not too bad a wait, though, and then, once again, as we were leaving the lock I went aground. There was another boat waiting to enter the lock and I told him to go ahead, hoping that his passing would free me. It didn't! We eventually got free by a combination of Paul heaving on the boat pole, the boat in full ahead and me going down to the front to take some weight off the stern. By this time, I had of course thrown off my extra layer!
We passed through Baswich, on the outskirts of Stafford and on towards Tixall. Our third visit this year! And as we approached meadow bridge |(b99|) we saw that the fuel boat Halsall was stuck in a the bridge hole. We quickly pulled over and Paul jumped off to offer assistance – just as they got free. Halsall is an old working boat with a very deep (3ft/Im) draft and they said said that they'd got stuck in pretty much every bridge hole on this canal. Glad it's not just us! We warned them of the oys to come and they thanked us for the offer of help.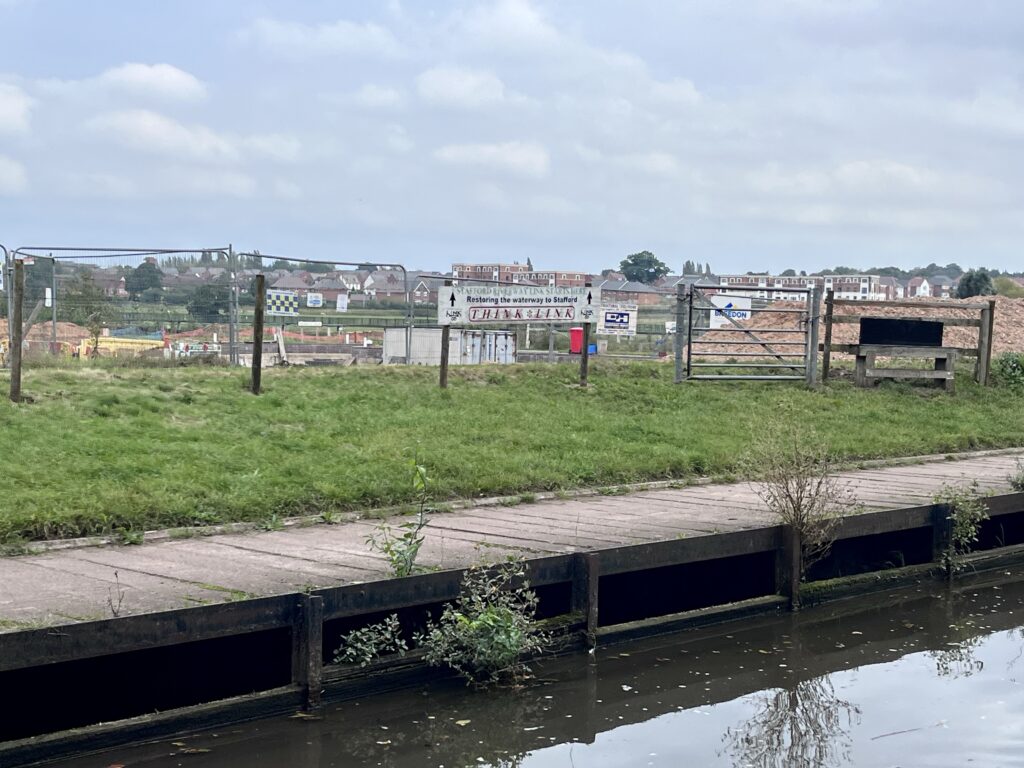 .We noted that quite a lot of work seems to have been done on the restoration of the Stafford Riverway Link. This is a new name for the waterway that used to be called the "Stafford Branch Canal" or the "River Sow Navigation". It connected the Staffs Worcs canal to Stafford town centre, but fell into disuse in the 1920s. Local enthusiasts saw benefits to the community in restoring the link and set about trying. It has been a lengthy process and, as always, funds and manpower are an issue. I struggled to find any very recent news, but this article was written in March of this year. I do hope the project has not stalled, but in the light of CRT's funding woes, it might not be surprising.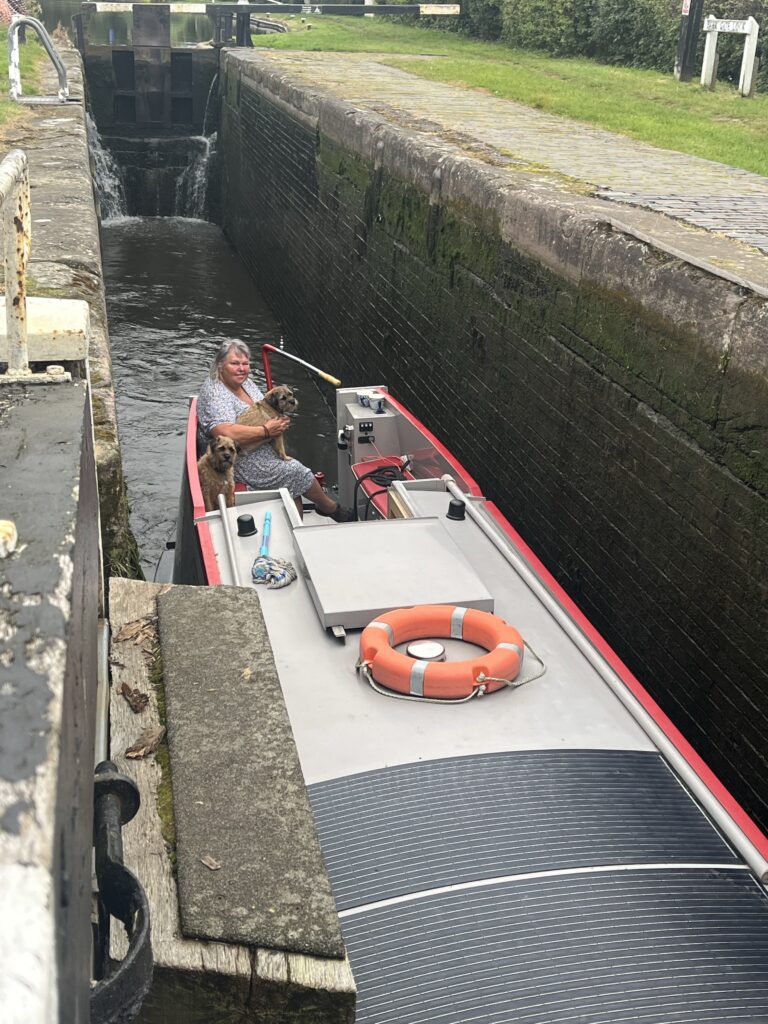 When we came through earlier in the year, there had been work going on upgrading the towpath. I think that work might ben complete. It goes all the way from the junction at Great Haywood to Bridge 108 – just over 2 miles of pristine towpath. We soon arrived at Tixall to find plenty of room and a nice spot with lovely views either side of the boat. And there goes another week.
Next week will see us heading back onto the Trent and Misery as we make our way back down to Fradley Junction and possibly beyond. The weather is not looking too great and this will, to some extent, dictate how far we will get.
| | |
| --- | --- |
| Miles | Locks |
| THIS LEG | |
| 38 | 14 |
| TOTAL 2023 | |
| 557 | 353 |