18th – 24th September – we're on our way home – Tixall to Fradley
Monday morning dawned quite fair but soon deteriorated, but it didn't matter because we had no plans to go anywhere that day. We had been a little apprehensive because one of the locks in our immediate path was damaged late last week, thus closing the canal. The balance beam had split but not fully broken Luckily CRT have a fix for just such a thing – they encase the beam in a strengthening brace or splint as per the pic below. This will buy them some time to hopefully get a new gate made. We heard this morning that it had been fixed. Let's hope the fix lasts long enough for us to get through in the next couple of days. It's a pretty busy stretch.
There's an interesting article from CRT about lock-gate manufacture here and our friend David "Cruising the Cut" has also done a video about it, which you can see here, Mind boggling that every single lock has a unique set of dimensions.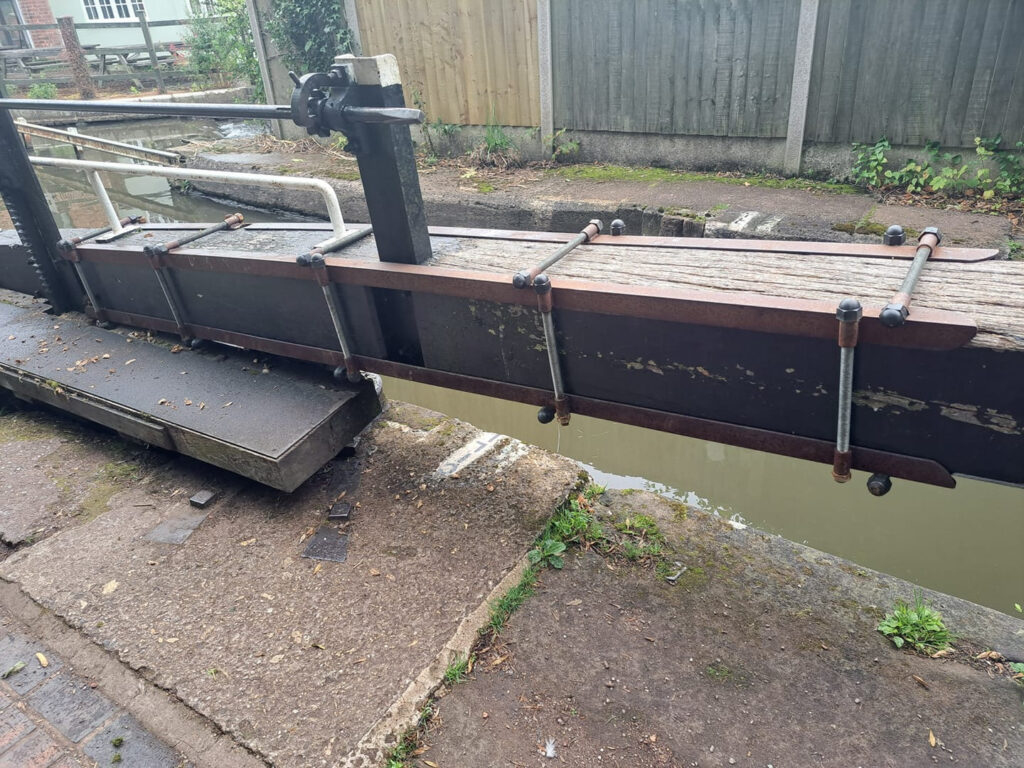 It's never a hardship to stay at Tixall, even in iffy weather, but we decided to move on around lunchtime on Tuesday. I moved us down to the junction and Paul quickly did the loo while I filled up with water. As we were filling, a lady came bustling over the bridge just to say that she enjoys the blog, is fairly new to boating, she reads every word and that we own the boat of her dreams. How kind of her to make the effort.
Chores done, we then nipped through Shugborough lock, which I noticed also has a brace on its beam. It was pretty windy and I wanted to be sure that we were not too close to big trees that might blow over on our mooring that night. We found a spot that I was reasonably happy with and moored up. Another short day's cruising!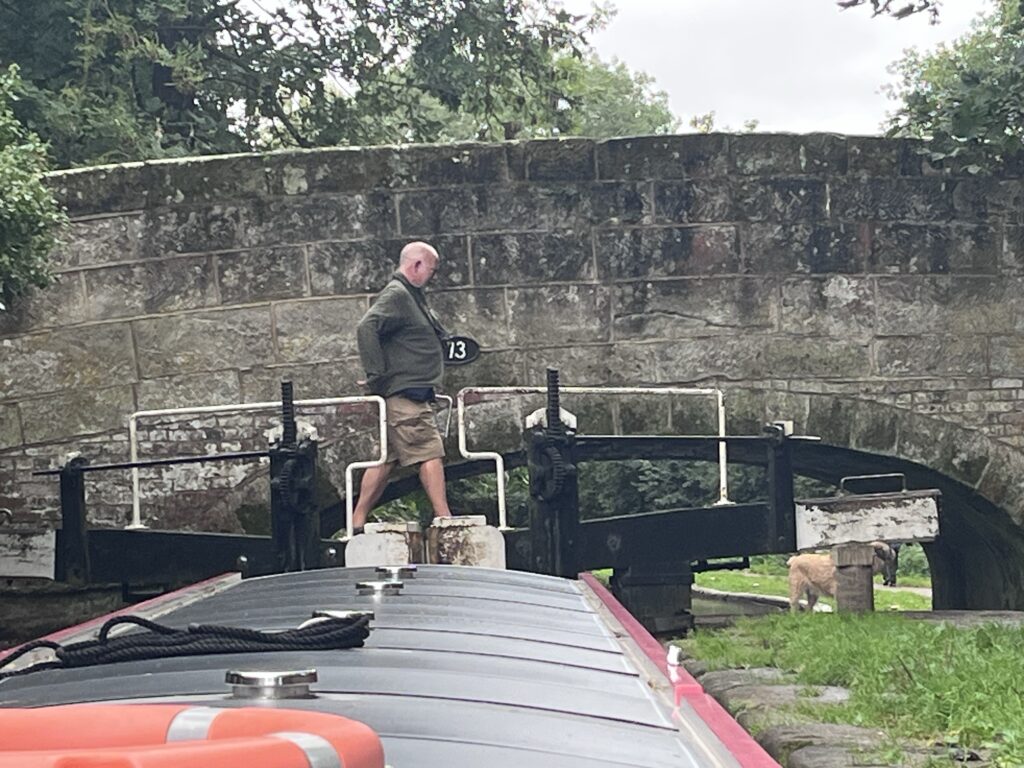 After work, Paul took the boys for a walk in the beautiful Shugborough parkland. Access is over the very cute packhorse bridge which spans the River Trent – a small river at this point – which accompanies the canal closely along this stretch. The house itself, which I visited some years ago, is beautiful. I think I have mentioned before that it was the family seat of Patrick. Lord Lichfield, cousin to the Queen.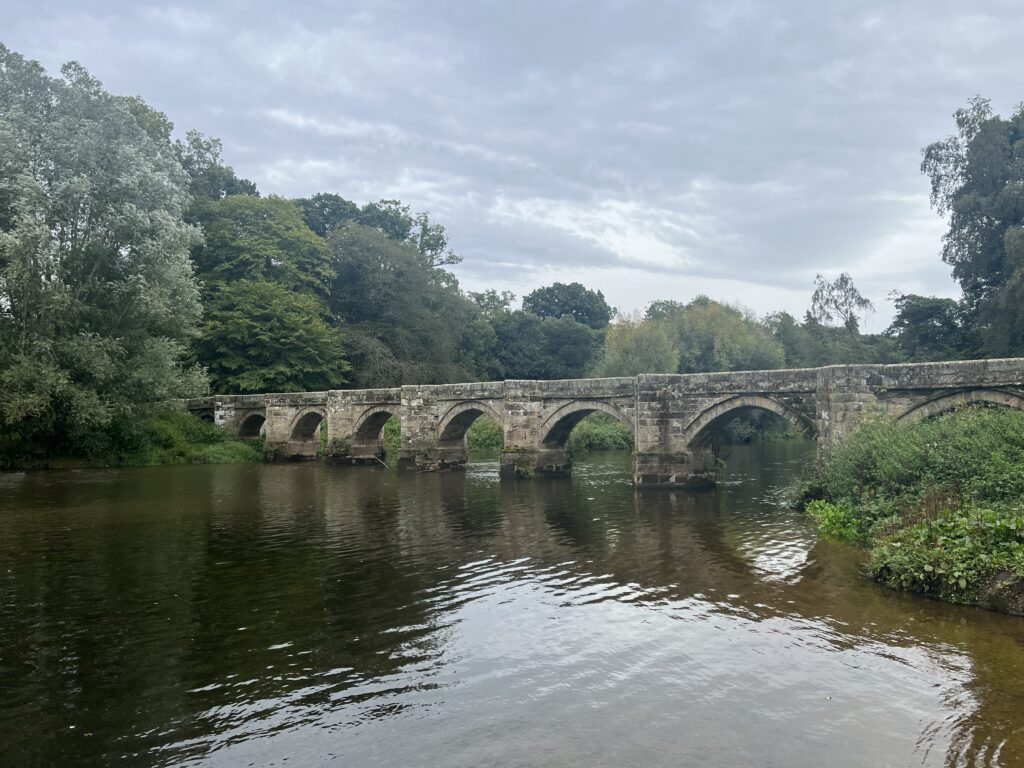 I was left on board making the first Chicken and Vegetable soup of the year – complete with dumplings. Paul is a big soup fan and this one usually lasts us two to three days. The boys like it too, because they get all the offcuts from the chicken carcass. They also enjoy the veg chopping phase as they field any little dropped bits.They do love their veg.
It was a blowy old night but we slept pretty well, considering. We were met with a very wet Wednesday and decided to stay where we were – despite the appalling signal. In terms of WiFi, it was probably the worst spot we have ever moored, to be honest, but we still managed to stream TV and the signal was good enough for Pail to work. The weather forecast showed a window in the rain between 14:00 and 17:00 so we aimed for that to move on.
Paul had delayed his lunchbreak so that he could help me through Colwich Lock – splinted and functional – the lock, not Paul. Luckily there was a boat coming up so we were able to leave the gates open for them to go in after us and Paul was back at work – probably not much more than 10 minutes out if his busy week!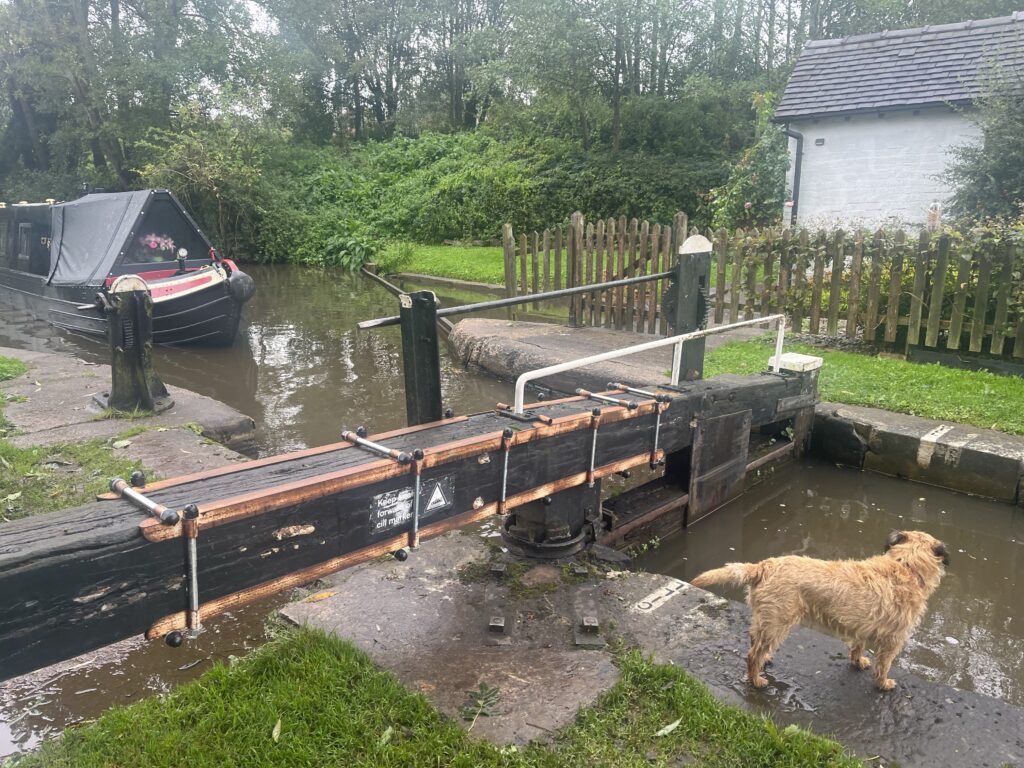 I continued solo until I found a nice spot that would do for the night. Not too near the railway line, which also accompanies this canal, and not too near the road, and with blistering WiFi! It did not rain for the rest of the day and we even had a bit of blue sky in the early evening, auguring well for tomorrow!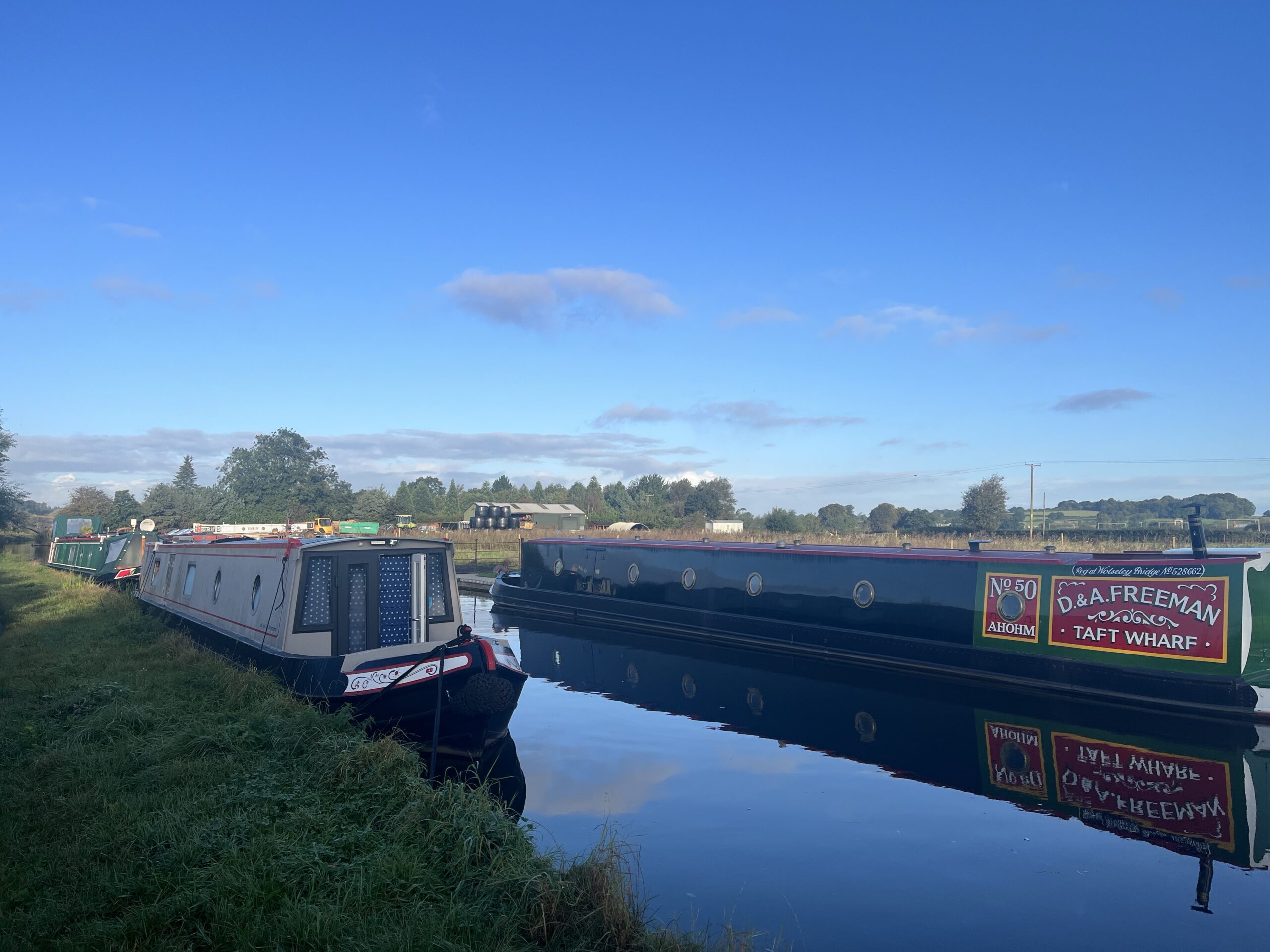 Sunshine! We awoke to a lovely day – bright sunshine and warmth. Look at that sky! Just as well because I was on a mission to get through Rugeley and Handsacre, so as to moor in one of our fave spots out in the country. I also had a rendezvous!
The weather was kind all through Rugeley, but as we approached our rendezvous point, just shy of the Armitage (ex) tunnel, it started pelting down. My friend Gail, another ex-Droitwich moorer, was moored there and we were meeting up for a catch up and a coffee. She came out to help us moor and we all got a bit of a wetting.
Paul went in to eat his lunch (the very last of the Chick/Veg soup) and carry on working, while I went over to Gail's lovely boat for a good catch up. It was great to see her and we spent a good hour and half or more, chatting away like mad. The rain stopped and the sun came out and it was time to move on, sadly. Still – we got to spend a little more time together than the last time we had seen each other, passing in opposite directions on the cut!.
It was a lovely afternoon and I thoroughly enjoyed my cruise, through the (ex) tunnel, past the toilet factory and through Handsacre. Our pace is often too slow for speedy folk and I pulled over for a couple of "boats in a hurry", one of whom was going way too fast, in my opinion. I was brought up to adjust the boat's speed so that you never have "a breaking wash". To explain – the amount of wash you make depends on a combination of the depth of the water, the shape of your boat's hull (and how it "swims) and the waterway's banks. And, of course, your speed. As a rule of thumb, a bank with hard edges will reflect your wash much more than a soft edge with reeds.
You make more wash when you travel at higher speeds in shallow water and you'll also risk grounding, because you are dragging your boat's propeller closer to the bottom of the canal, so it's good practice to cut your speed in shallower waters. A "breaking wash" is where the wave your boat is creating as it cuts through the water is actually breaking like a wave on the sea shore. This can erode banks and also cause harm to wildlife – especially in nesting season. If your wash is breaking, you just need to slow down. But this rule just does not seem to apply to some folk.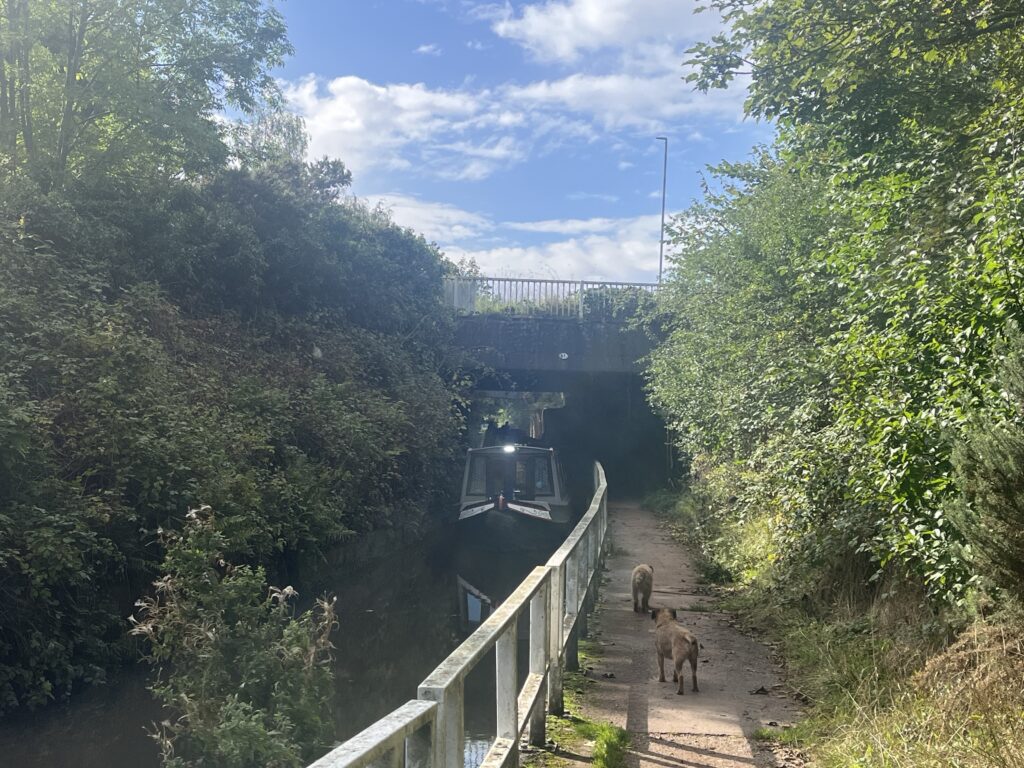 We arrived at our planned spot around 4 pm and were overjoyed to see no other boats on it. We did eventually have to share but we didn't really mind, as it's a biggish space. And they left a decent gap. Unlike the folk the previous evening who moored u, literally nose to nose with us, for no apparent reason!
Friday was another lovely morning, although there was a distinct nip in the air and quite a heavy dew. Some of our fellow boaters have already got their fires lit, we note, but we are made of sterner stuff! You just get up and get dressed PDQ!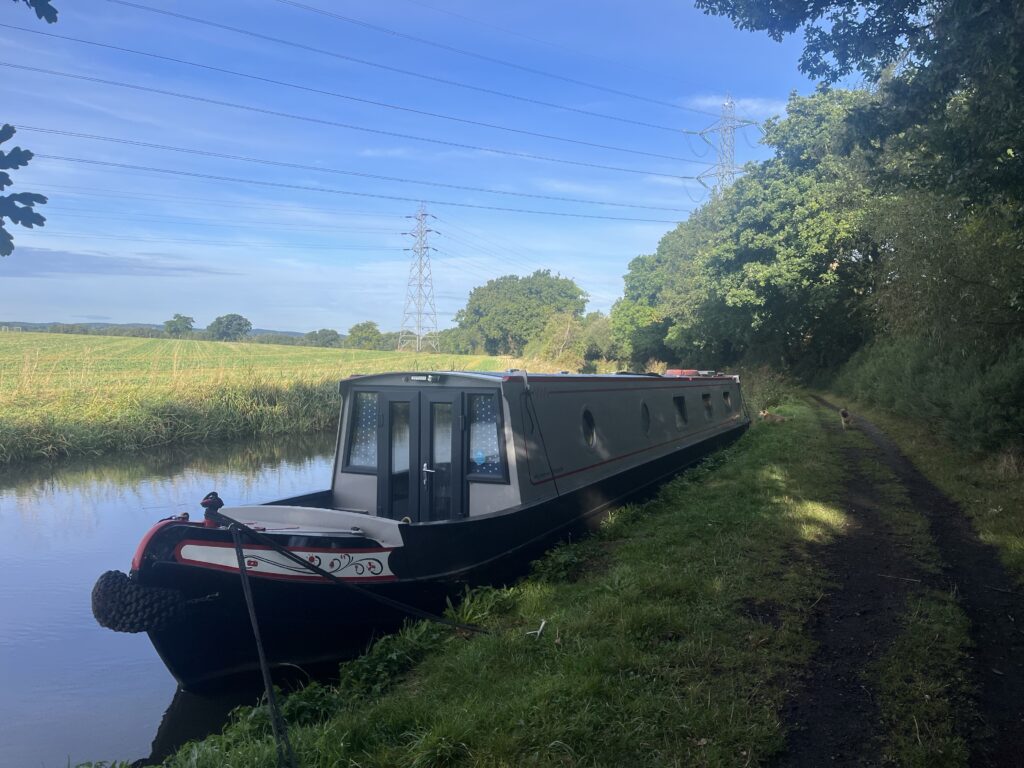 We pootled our way slowly down to Kings Bromley Marina, where we plan to stay the night, give the batteries a full charge (and restore the Victron SOC calculation to 100%), do some laundry, do some cleaning and top up the groceries, before setting off down to Fradley on Saturday. And we did all of that and more! We also took the opportunity, while washing the bedding, to change over to a 4.5 tog quilt. The 1 tog is just a shade too thin for these more autumnal days.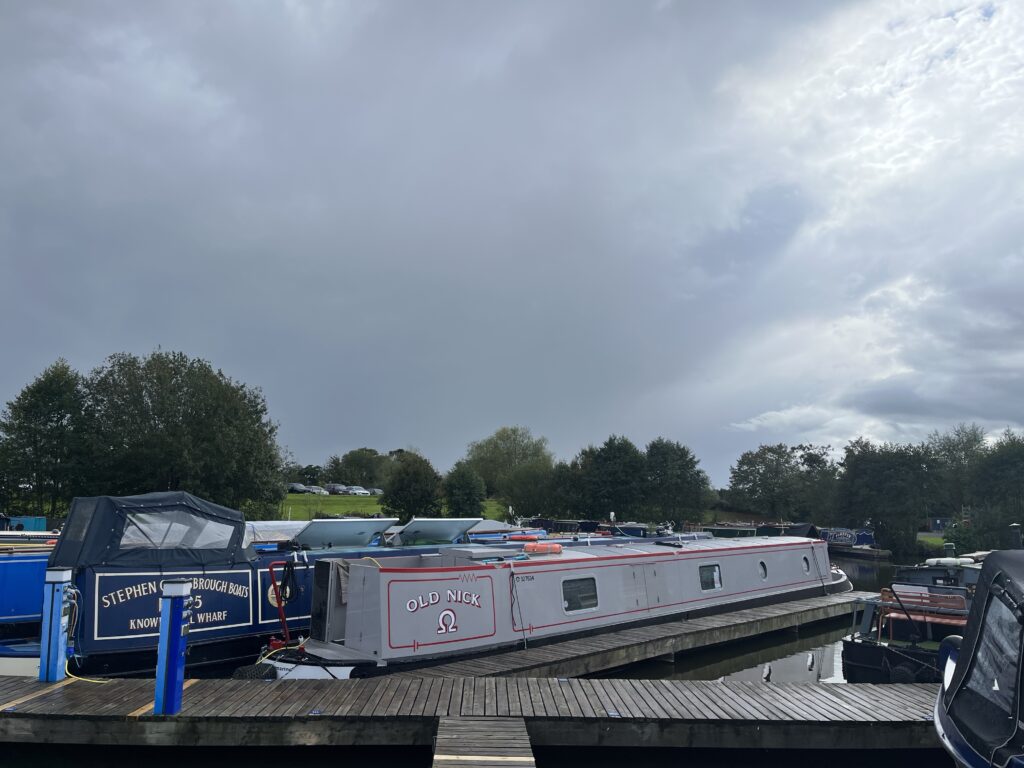 Once again we woke to sunshine and a beautiful morning on which to to set off. We planned to go down to Alrewas, wind and come back up to Fradley on Sunday. We were fortunate to find that there were Vlockies on the 5 locks at Fradley (2 before and 3 after the junction) and they helped us whistle through. As usual, there were lot of moored boats going through Alrewas (some looking like they'd been there for a while) and we decided we would wind and go back up 2 locks and find a nice spot in the countryside, that we had spotted on the way down.
We winded just below Alrewas Lock, where the mighty Trent cuts diagonally across the canal. The flow was a little stronger than anticipated, but manageable, and actually helped us turn, up to a point. We would not attempt this manoeuvre in times of strong flow, but the indicator showed Yellow and all went smoothly.
Luckily, our chosen spot was still vacant when we returned and we quickly nabbed it. We were soon moored and eating our (slightly late) lunch. We had decided that, rather than trying to find somewhere to moor in Alrewas, we would go back on the bikes and have a look round. It was a lovely ride along the very well surfaced towpath (thanks HS2 – one of the only good things to come out if it so far – or maybe ever!) and we found the local Coop. I had forgotten to buy sandwich bread this week, and apples for Paul, so I popped in to rectify my oversight. We all enjoyed our ride into town and the boys, in their backpacks, drew quite a few "Oh look at that! How cute" type comments. I can't argue with that.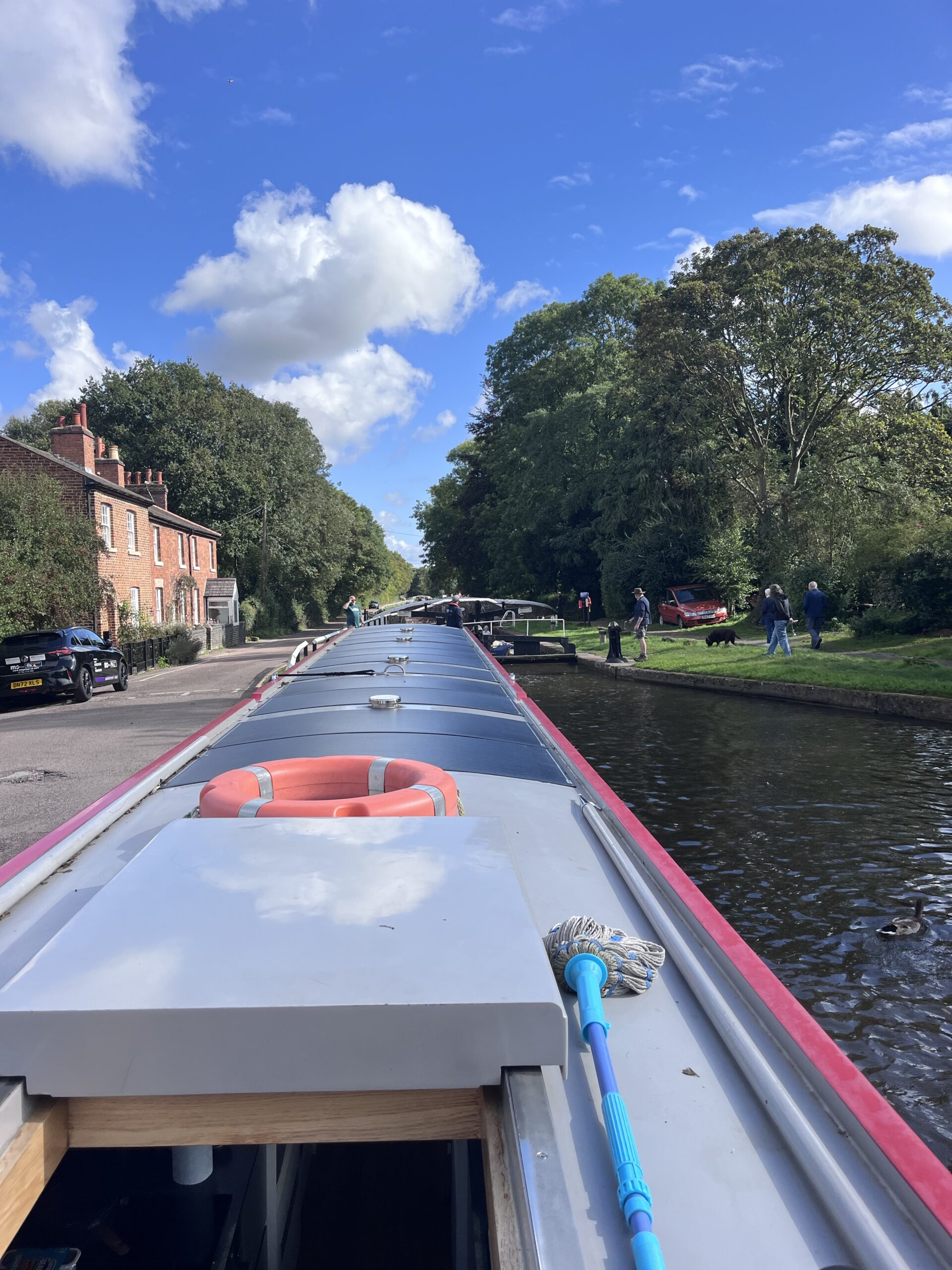 Before we leave this canal, I need to mention the locks. They are – for me – the most attractive on the whole system. I particularly like the narrow entrance/exit with bridge over. It's like barely one, single brick was wasted. The only locks that come close are those on the Stratford canal, with their cute split bridges. And while we are on favourites, paddle gear. My favourites are those on the Worcester and Birmingham canal. They have very cleverly designed and easy to operate pawl catch – this is a safety device, designed to stop the paddle dropping suddenly, which can result in damage both to the structure and to the person operating the lock. They are what make that distinctive noise when winding a paddle up. And my least favourite? The Ham & Baker-designed Hatton/Cape/Knowle style locks. Too many winds required (21, I think?).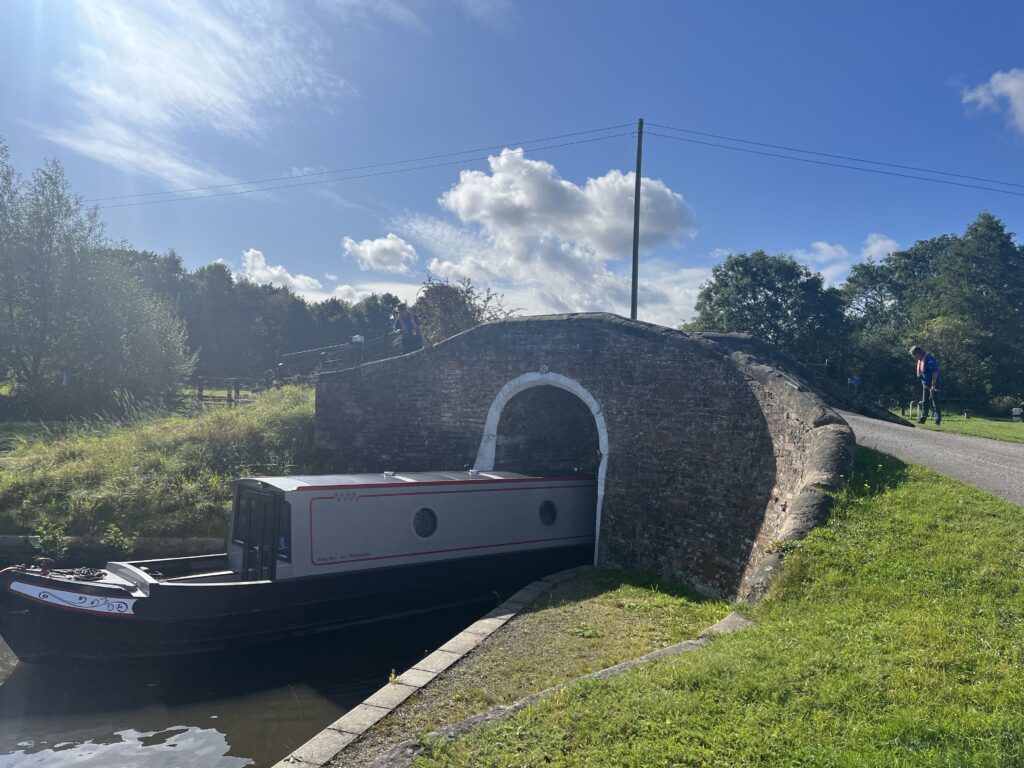 But I digress – Sunday morning was a bit grey and overcast with the occasional fine spit of rain in the air. A total contrast to the day before. And also in contrast, a very slow progress up the locks. Volunteers were in place only on the two locks either side of the junction. And a lot of boats were heading up the locks and very few coming down. By the time we got to the lop lock before the junction, we were third in a queue to go up and had time to water, dump the loo and buy a coffee from the Laughing Duck cafe at Fradley CRT Yard.
But the weather had also improved and we were seeing patches of blue sky. We had lunch on the go and finally got to our planned stopping place about 3pm. We were reluctant to go much further than King's Orchard Marina as there was a festival on at nearby Huddlesford Junction – the "Huddlesford Heritage Gathering", organised by the Lichfield & Hatherton Canals Restoration Trust in association with the Lichfield Cruising Club – and mooring spaces would be like hen's teeth. Luckily we found a great spot just before the Marina entrance and tied up for the day.
Whilst cruising, we had been trying to work out where to meet our friends Nick & Sarah Holmes the following weekend. We try to meet at a Marina so that we can do all the usual things we do at a Marina and then leave their car there for the duration. Unluckily, neither of the two Marinas on our route could fit us in that week. Annoying. Plan B is to meet at a pub, we usually book dinner at the pub and then ask if it's OK to leave a car for a couple of days. They are always very helpful. Both options cost money but it's well spent to get a safe place to leave a car. So this is what we will be doing.
We have very little cruising to do this coming week but will still be making our way slowly but surely back to Brinklow, planning to arrive sometime in week ending Friday 6th October.
| | |
| --- | --- |
| Miles | Locks |
| THIS LEG | |
| 20 | 17 |
| TOTAL 2023 | |
| 577 | 370 |