25th September to 1st October – along the Coventry with friends
We were treated to a steady procession of Heritage boats on Monday, as they left the site of the boat gathering, just up the canal from us. We really admire the Heritage boat owners – maintaining one of those old beauties is a real labour of love. The sound and smell of them is unforgettable and it's great that enthusiasts are keeping them going. Sadly I omitted to take even one photo! Luckily Paul took one of a boat moored near us.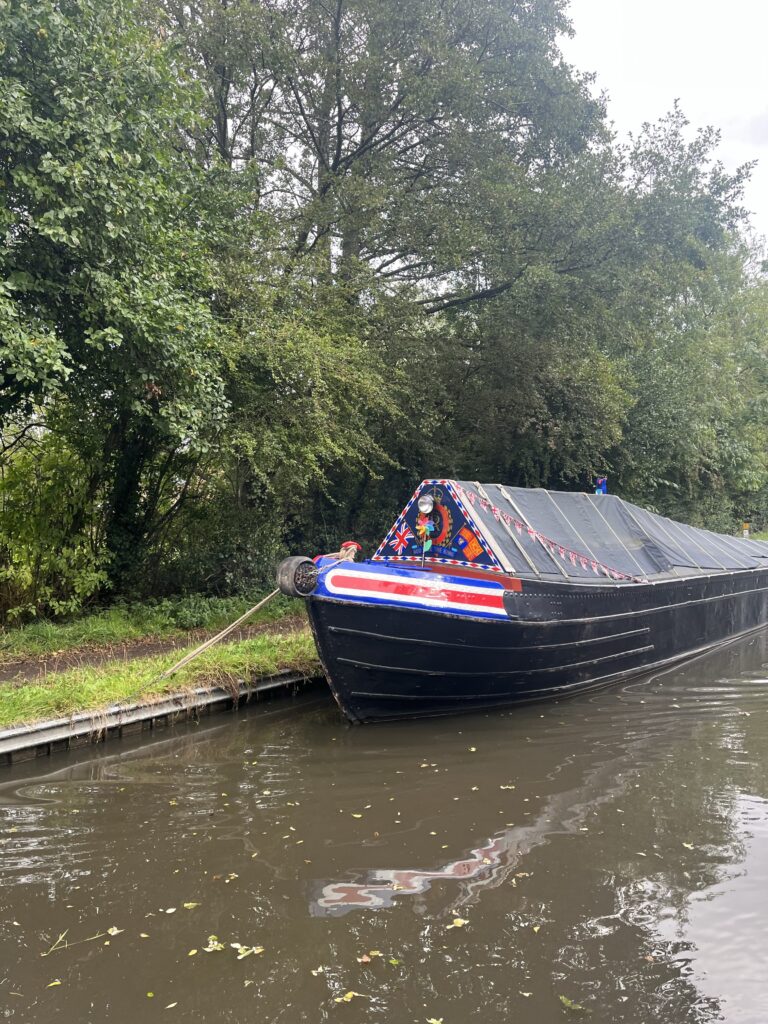 We stayed Monday night but by Tuesday it felt like it was time to move on. It was quite a pleasant, if blustery, day and I left the mooring at around 12:30. The cut was very quiet and I did not meet another boat until I got to Huddlesford Junction, where the gathering had been held last week. Dispersal from the site had been pretty quick – especially by the Heritage boats, but there were still a few boats moored on that stretch. Notably Vlogger and musician Heidi Manning aka "The Rum Wench" or "The Narrowboat Pirate", who had been trading at the Gathering.
I burbled on – we reckoned I'd need to do about an hour and a half today so that we will reach our RV spot for Nick and Sarah by Thursday, whilst also dodging the forecast wind and rain. And – as it's pretty gusty – also avoiding areas where trees might get blown down, just one of my little phobias. But if you'd seen the damage done to a boat by a falling tree, you'd be wary too!
It's not easy to fulfill all those criteria and also find a nice spot, not too near the railway with good solar potential and WiFi. We had to compromise a bit with the nearness of the railway, but I reckoned it would do. And it did. We actually had a pretty quiet night there, considering the railway line is the West Coast Mainline!
As rain was forecast for later in the day on Wednesday, I set off a little earlier and cruised for just over an hour. The route took me through the Hopwas Woods, which is part of the MOD-owned Whittington Range Complex. We've passed through here quite a few times on our canal peregrinations, and it never looks to me as if anything ever actually happens there, but a bit of digging unearthed the firing schedule for w/c 7th October, so what do I know?
As I was cruising along, I got chatting to a lovely couple out walking their dogs. They remarked what a great way of life boating is for dogs, which is something I often think. They do seem very happy and get lots of new smells to smell every day, different walks, different pubs. I think they are very lucky boys.
I arrived at the Hopwas visitor moorings and tied up for the day around 12:30. We were pretty much in place, ready for our rendezvous with the Holmes's on Thursday evening. The plan was to move into pole position – by the car park of The Tame Otter – on Thursday. This would enable delivery of supplies and a safe place for them to leave their car.
Well – as usual, the promised storm did not materialise in our area, thank goodness. Although I understand it wrought some havoc elsewhere in the country, poor folk. But – as planned – we moved into our preferred position just after midday on Thursday. I'm quite certain that the ducks round here remembered me from our visit earlier in the year, because they came storming straight up to the boat demanding food with menace.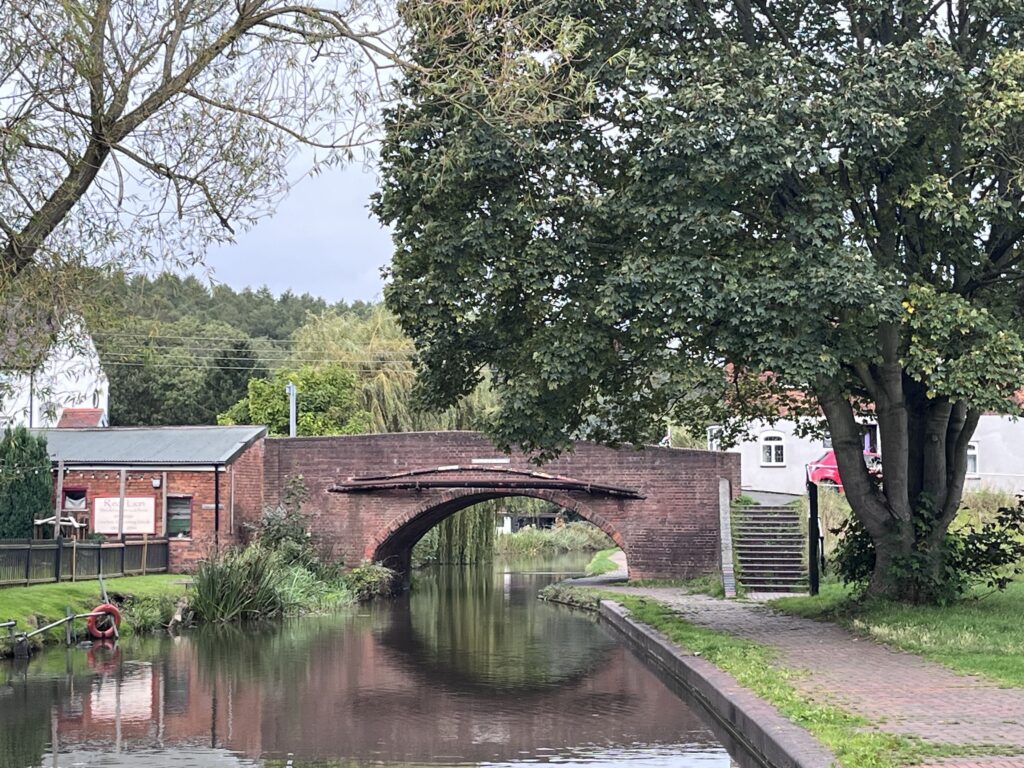 I quickly made a cake, prepped the start of two of our meals for tomorrow and started tidying up. Not that we live like pigs, but we do like to be all shipshape and Bristol fashion when we have guests. Partly out of respect for them and partly out of pride in our home. And our guests were arriving that evening, rather than tomorrow as originally planned, so I really cracked on.
Once Paul finished work, we changed the bed and packed our bedding up for use on the spare bed and showered. We were going to be having dinner at the pub with our guests, so no cooking to do, thank goodness. Nick and Sarah arrived a little earlier than expected and we got their stuff stowed on board and then speedily repaired to the pub. We had a great evening of catching up and swapping stories before we shuffled off to bed.
Friday was a lovely day and we set off towards Polesworth in good spirits. This was Nick and Sarah's third visit so they knew the ropes. We popped in to Fazeley Mill Marina to empty the loo, deposit some refuse and take on water. We also topped up with diesel in recognition of the use of the services. It seems only fair. It was pretty busy there and required a bit of "boat juggling" but we managed and. once done, set off back to Fradley Junction, where we turned right towards Coventry.
We whistled through the two Glascote locks, unlike last time we had passed through, which had taken an absolute eternity, due to the number of boats coming away from a festival at Alvecote. After that we had a lock free remainder of the day. Sarah had a go at the helm and the weather was very kind to us all day.
We finally pulled over in a great spot with a nice wide towpath. The perfect space for us to locate chairs and our firepit. The cocktail du jour was a frozen Coconut and Pineapple Margarita, made with Coconut Tequila, Pineapple Liqueur and Pineapple and Coconut juice. They slipped down rather well and I was glad I had cooked our evening meal a little earlier (Chicken Stew with Dumplings) and the Quetila (as I took to calling it) was quite potent!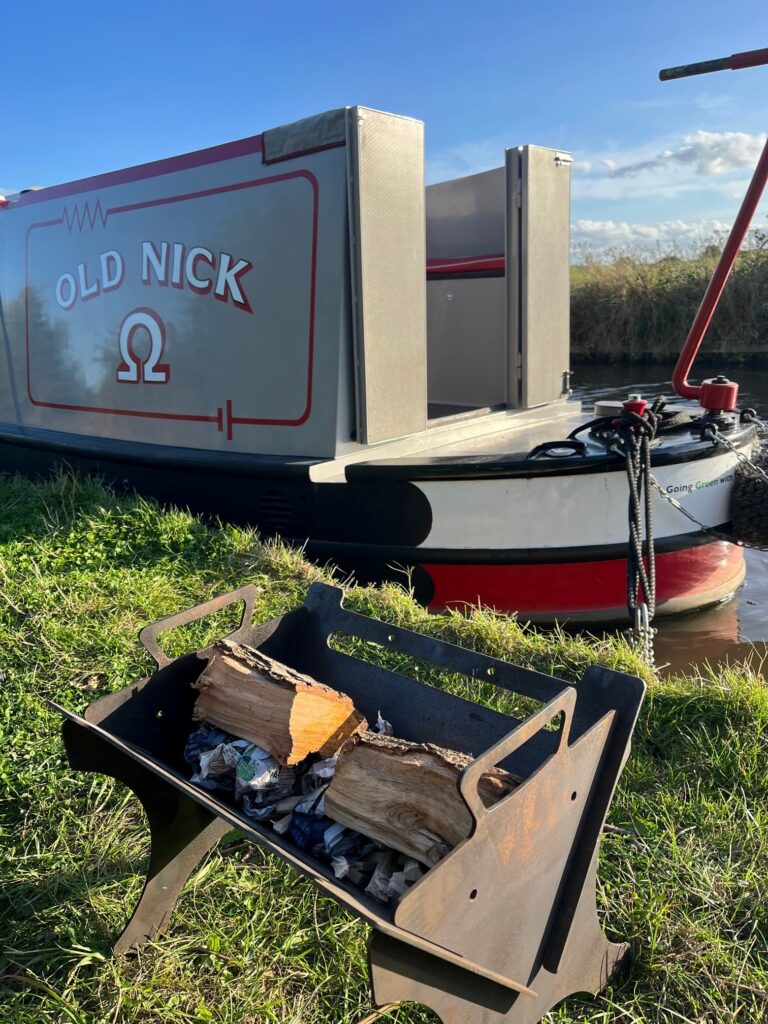 After dinner, we came back on board and played House of Games and several rounds of the The Crew – a first for Nick and Sarah who seemed, initially, to struggle with the concept of the game. Nothing to do with the alcohol involved, of course! But we had good fun and vowed to give it another shot the following evening.
We left on Saturday – after bacon butties – about 10-ish and made our way to the foot of Atherstone Locks (11 locks), where we followed a single hander all the way to the town, where he pulled over. We finished the remainder of the locks in style – it was good to have extra manpower aboard, although last time the Holmes's visited they did the Wolverhampton flight of 21, so this flight was easy going for them
We pulled over onto the service moorings, where we dumped the loo again (best to do it often when there are four on board), took on water and had lunch. Nick and Sarah went to the shop for more ice too! We were being a bit cheeky on the service moorings (although you are permitted to stay for up to an hour) but as there were no other boats on the move, we took a risk. And no one turned up so all good.
The weather looked to be deteriorating a bit so we didn't think another firepit was in order that evening. As it was, we pulled over at our usual mooring at Mancetter mid afternoon. The next day looked a bit iffy weather-wise, so we agreed a revised plan. We had originally been planning to drop our guests off in Nuneaton but instead we would set them off at The Anchor, Hartshill. We knew the access was good from there, as we had met George and Beth there one time.
Decision taken we started the evening with Frozen Strawberry Daiquiris, followed by frozen Banana Daiquiris. Everyone except me then continued with red wine (I chose water!) and we cracked on with more rounds of The Crew.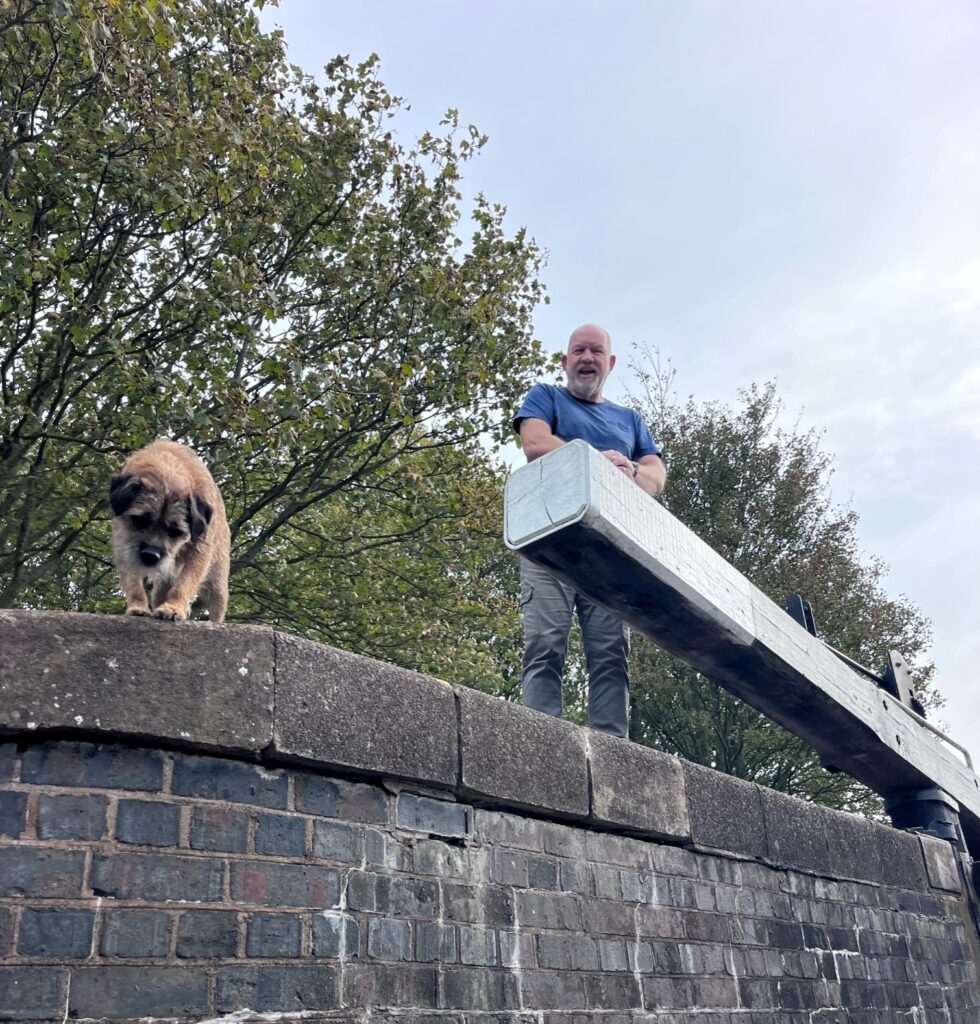 We just had a short distance to go on Sunday morning and the taxi had been pre-booked and pre-paid (we've learnt from our mistakes) for 11 am, so we had a leisurely breakfast and then cruised the short distance down to the pub. The taxi turned up on time, which was good – although nearly killed its passengers pulling away from the pub car park (I heard the toots from the boat!). Once we had waved the Holmes's off on their journey home, via the Tame Otter, we continued our journey, stopping for the night just before Hawkesbury Junction. Where we had a nap to end the week!
Next week will see us get to Brinklow and moor up for the winter – although we have at least one weekend out on the cut already planned, with Anne and Gray Robertson, earning more Loyalty Points! They'll soon have a enough for a lovely, small, brass replica windlass!
| | |
| --- | --- |
| Miles | Locks |
| THIS LEG | |
| 29 | 13 |
| TOTAL 2023 | |
| 606 | 383 |