2nd – 8th October – the final leg back to base
Rain was forecast for the pm on Monday, so I set off in the am. We could easily get to Brinklow in a day, from here, but we are not hurrying. i brought the boat up the junction (Hawkesbury) and did the stop lock single handed – not exactly onerous, with its 6″ drop! No clambering up a ladder involved!
It was quite busy at the junction, but I managed to squeeze us into a spot on the Visitor Moorings, which is no mean feat as they are on a bend! Shortly after I moored. there were several claps of thunder and the heavens opened. Good timing on my behalf to have dodged that lot!
As we were so close to the famous Greyhound Pub, we thought we'd have dinner there tonight and set off along the towpath, dodging the puddles. It was pretty busy in the pub and full of dogs of all shapes and sizes. We got chatting to the crew of a hire boat. They were first timers and already absolutely smitten, talking of booking a fortnight next year. We had a pleasant time chatting with them before going back to the boat for the remainder of the evening.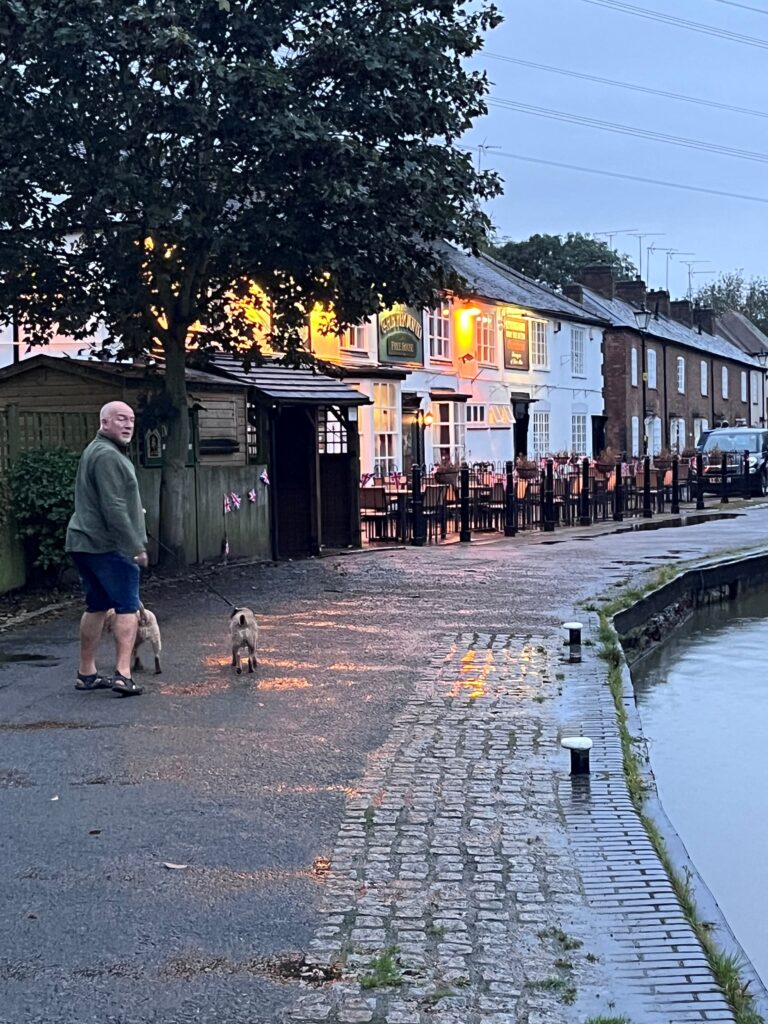 Tuesday was much nicer weather wise and I enjoyed moving the boat along to Antsty in the intermittent sunshine. There weren't many boats on the move, but of course, just as I was making a manoeuvre to moor, one popped round the corner. They were very friendly though and hung back until we were on the bank. That's what boating is all about. It was rather a nice spot, considering the railway and the M6 are always close by on this bit of canal, so I added it to my moorings database.
I left Ansty reasonably early on Wednesday morning, as I wanted to get to one of our favourite little mooring spots, not far short of Brinklow Marina, in plenty of time to find a space. It was really pleasant when the sun came out but quite nippy in the chilly breeze when it hid behind the clouds. A team of workers from Rothen, a company much used by CRT, was working on the towpath and I had to thread my way past their moored working flats.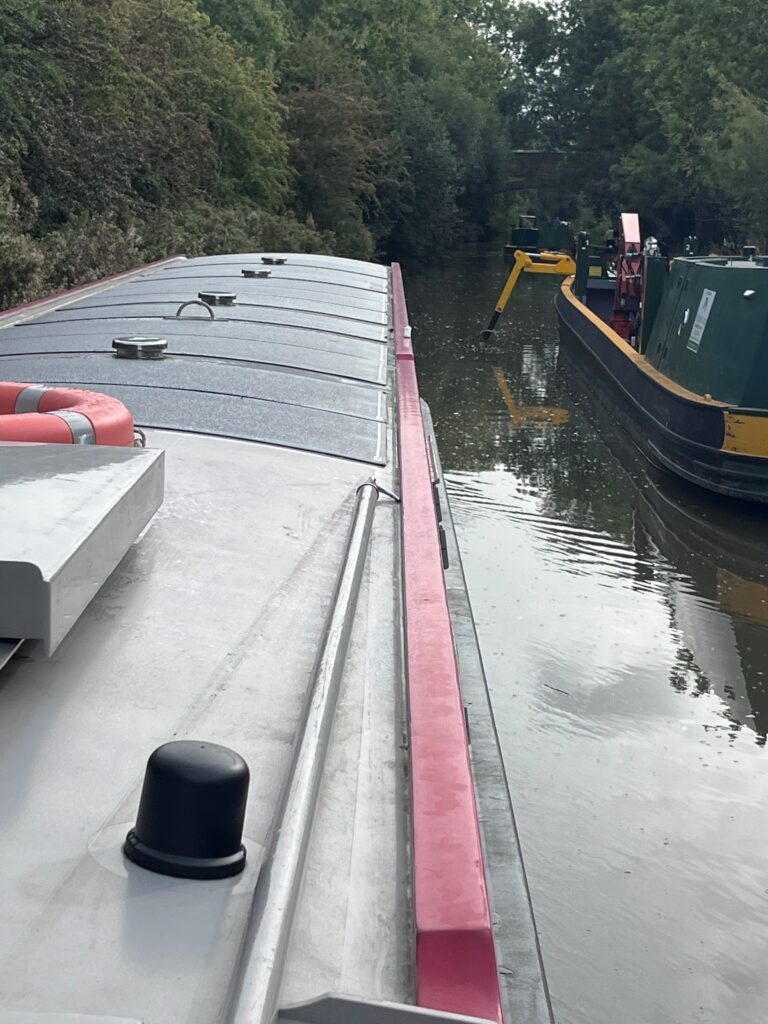 I dropped Paul off to open the swing bridge at Stretton Wharf and a hire boat nipped out in front (with his permission). They had been pulled over to get water. This was absolutely fine by me. I had already pulled over, earlier, to let him past and – in my opinion – he was going way too fast. I guess he was probably on a mission to get back to his hire base. Annoying. Sometimes I feel that they should be reported to the hire company, as they are damaging the canal with their excessive speeds, but it feels a bit snitchy.
Sadly, my lovely spot was already chokker when we arrived and we had to moor a little further up, where there are no views, but you win some you lose some. And it's a lovely quiet spot so we'll be fine. And we are within sniffing distance of the Marina, so it will just be a short cruise tomorrow.
We had a couple of visits from a very friendly black puss, obviously from one of the boats moored near us. I tried not to encourage it too much but it was very sweet and obviously not at all bothered by the boys. I'd be just too nervous to keep a cat on board – they are such independent creatures, and I'd be afraid of losing it. But you do see quite a few boats with cats on board.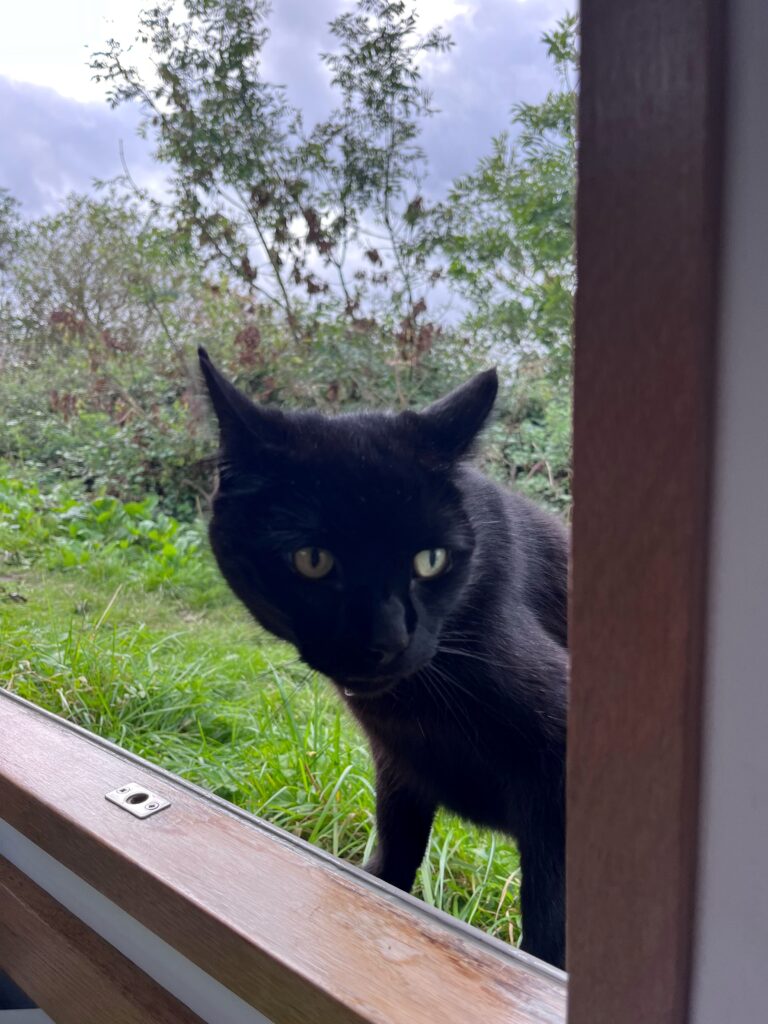 It was a nice day on Thursday and I set off late morning, so that my arrival at the Marina would coincide with Paul's lunch break and the timing was perfect. I was thinking as I cruised that it felt very odd and a little bit sad that we were not going back to lovely Droitwich Spa Marina. It really did feel like home, there. But I'm sure we will soon come to feel like that about Brinklow.
It was pretty breezy as we arrived – but that's not unusual for this Marina. We were soon tied up and hooked up, though. And now we have access to a car! A whole new world of possibilities which made returning to base a little easier. I can't quite believe we are going into our 4th winter aboard Old Nick.
On Friday, Paul was up early and off to a meeting – the subject of which I hope to be able share in the not too distant future. Exciting. I had a bit of a lie in and then did some tidying. Paul arrived back late morning and we popped into Brinklow village for some of the excellent sandwiches sold at the general store/post office. As we approached the car we saw that a couple of swans were snoozing on the bank, right by our car. Big, bold, brash Ted is terrified of swans, so we had to give them a wide berth to get him into the car.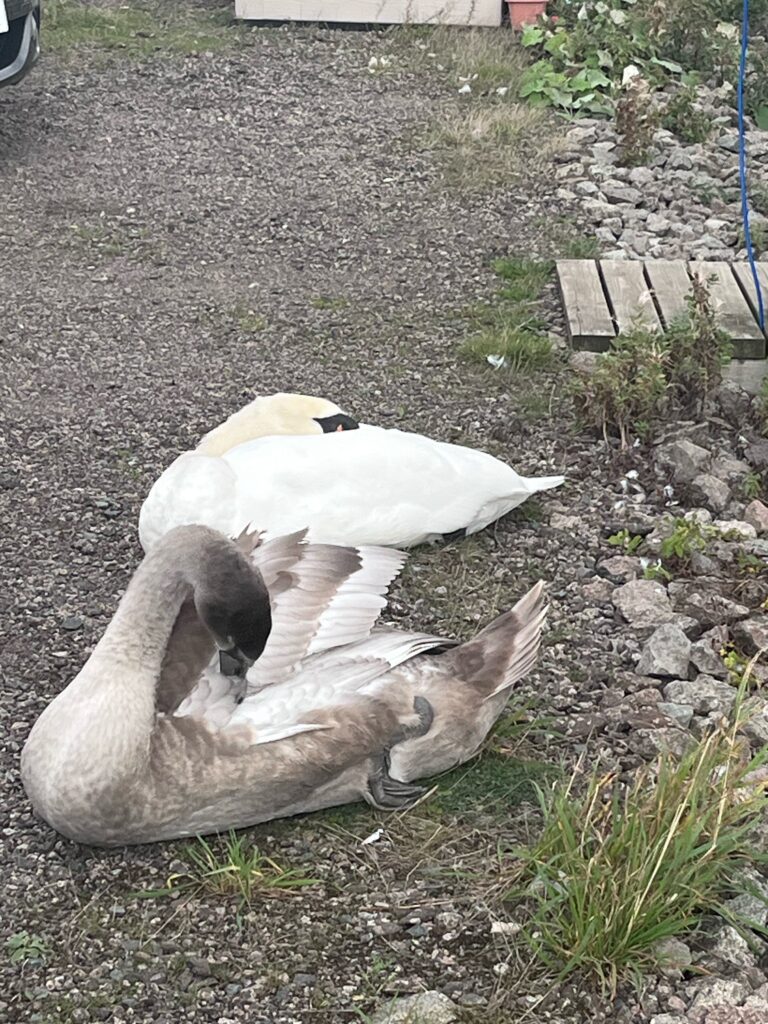 I became a Covid tourist on Saturday! I needed to get my Covid booster done and I also wanted to visit Lutterworth, a small market town just over the border into Leicestershire and only 20 mins away by car. With that in mind, I booked my appointment at the Pharmacy near the cute Victorian cottage hospital. It was built by a philanthropist in the late 1900s and still in use today – although it is under threat of closure, sadly. The Pharmacy were very efficient and even squeezed Paul in for a flu jab (paid for). Suitably protected, we sought lunch at Karter's Cafe in the town centre, which is very dog friendly. Not a remarkable town, but I'm glad we visited.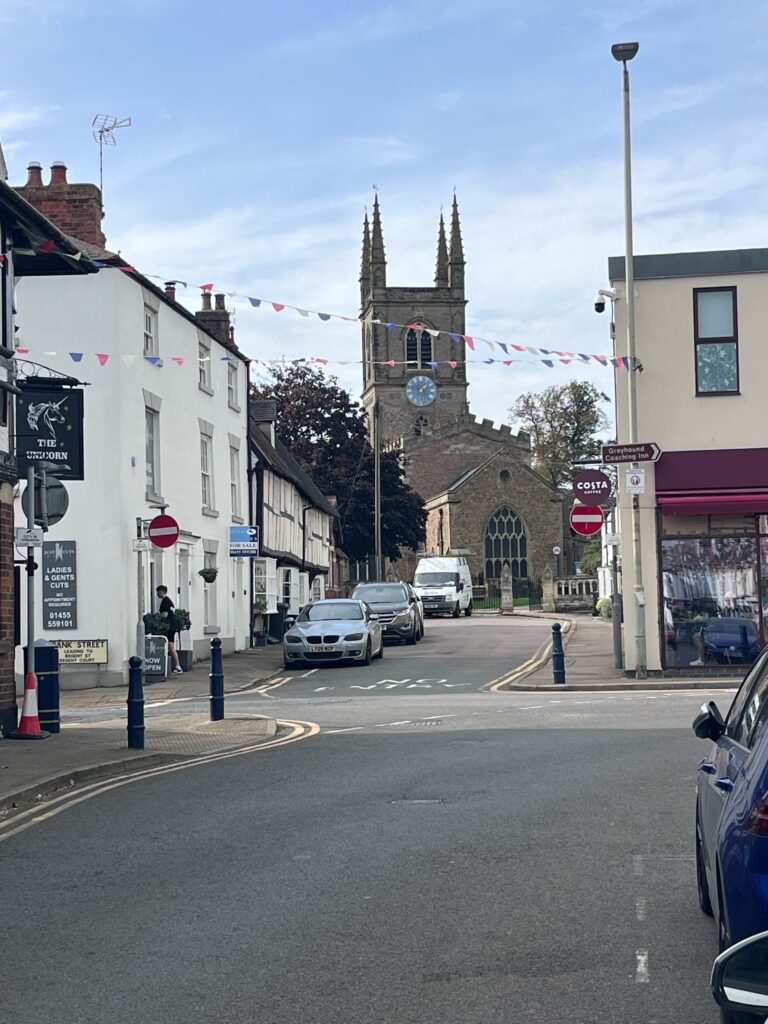 On Sunday, we did some prep for our impending visit down to Fareham to see little Chester and his Ma and Pa. although, he's not so little now, of course. By the time we see him, he will be 12 weeks old! I also made a roast dinner with all the trimmings and a currently very trendy Burnt Basque Cheesecake. I can report that it was delicious. And yes – it is meant to be burnt. The burnt section provides a wonderful taste contrast. Think of the dark, almost burnt caramel paired with the creamy custard in a Creme Caramel. That's the sort of taste.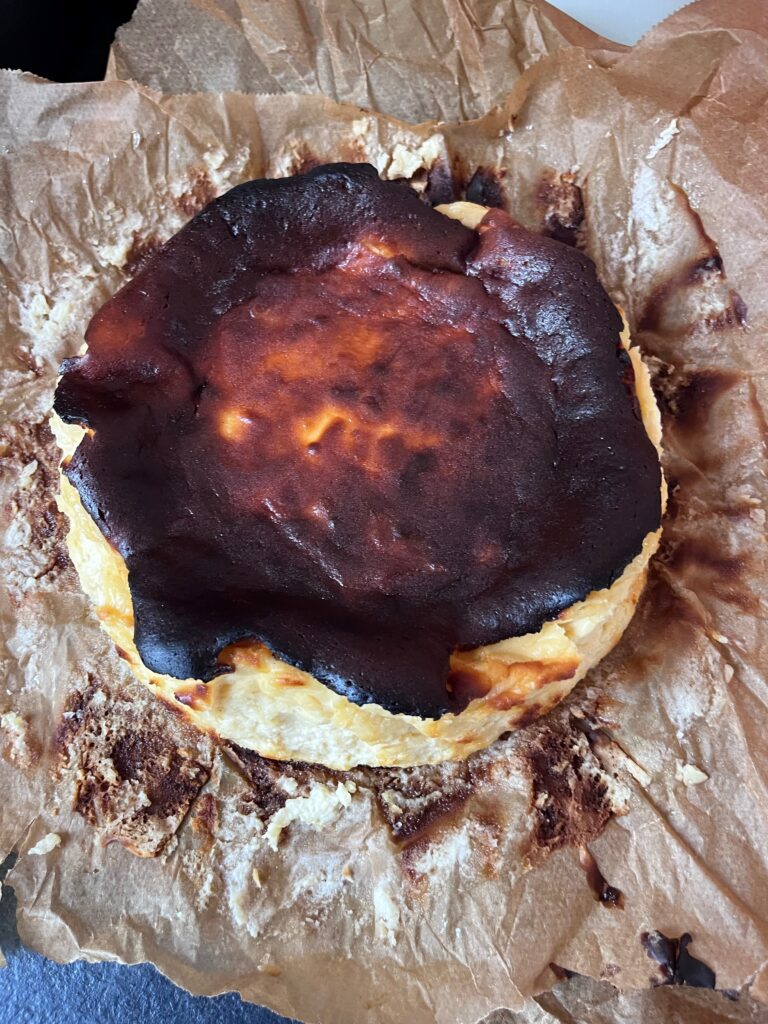 Feeling a little melancholy as we reach the end of another cruising season, but there is much to look forward to. Next week, I'll do an overview of the year's cruise – a funny one this year, split in half by the arrival of our wonderful grandson. But a lovely one nevertheless. And I'll also look ahead to Summer 2024, as we have already decided where we want to go. I'm actually quite excited already! Thanks for your company.
| | |
| --- | --- |
| Miles | Locks |
| THIS LEG | |
| 9 | 1 |
| TOTAL 2023 | |
| 615 | 384 |