In the run up to launch day, we have been staying at the rather wonderful "Monarch's Barn" in Rushock, Worcestershire, a mere 4 minute drive from where Old Nick is being built. Couldn't be closer! The barn is named after the nearby "Monarch's Way", which is a 625-mile long footpath. The path is said to replicate the escape route taken by King Charles II in 1651, after being defeated at the Battle of Worcester. It runs from Worcester via Bristol and Yeovil to Shoreham.
The barn sleeps 4, with one super-king bed (very comfy) and shower room upstairs and one king-size, downstairs, with bath and shower over.
It is very tastefully decorated, scrupulously clean and lacks nothing. I genuinely would not change a thing. The immediate outside space at the back is fenced – great for dogs (yes they are dog friendly!) and also for kids.
There is a further 10 acres to wander at will, complete with picnic bench, copse and fire pit. Delightful!
Sally, the owner, is very friendly and welcoming and also quick to respond to any queries you might have. There are some lovely touches too. The welcome basket was a joy (I won't spoil the surprise but let's just say the boys weren't disappointed and neither were we!) and there was a pretty, little, lit Christmas tree on the patio. Sally said she hadn't "gone the whole hog" with decs as it was a bit early. I agree. But lovely to see the tree – oh and a standard bay tree at the front, also lit.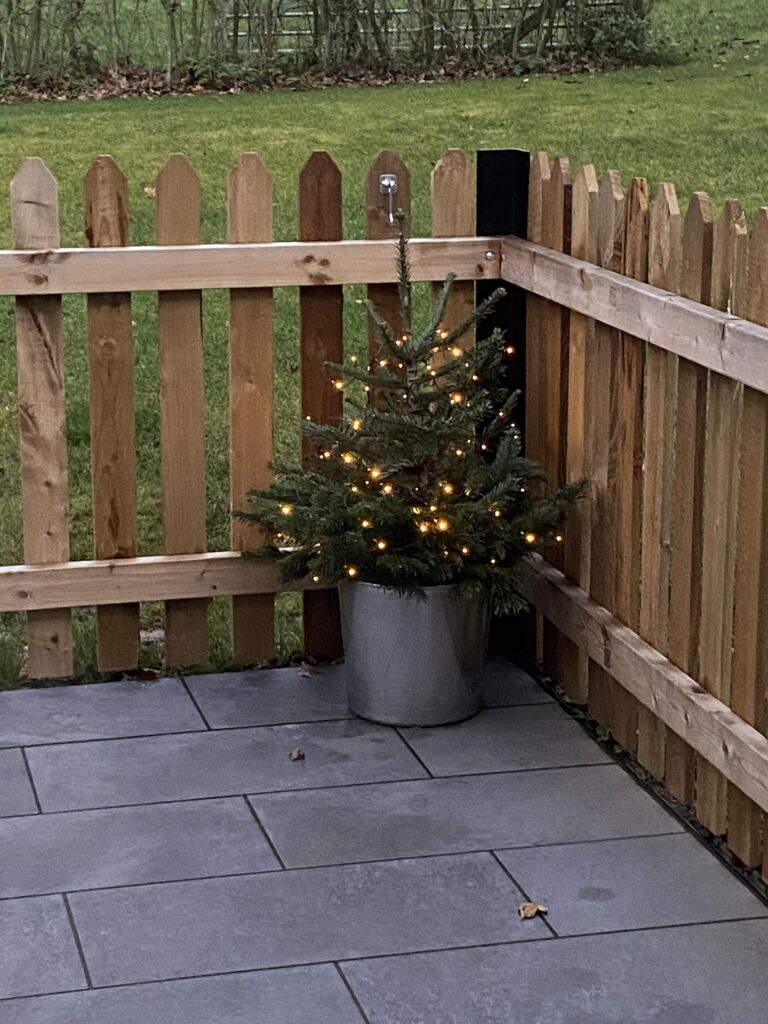 I can't think of a nicer place to stay to be honest! It's highly recommended and a great base for exploring the delights of beautiful, rural Worcestershire. It can be rented through Sykes Cottages. Here's a link to the property.
Thursday 20th December
And then, suddenly it was launch day! The weather was fine and the well-drilled Ortomarine team swung into action and before we knew it, Old Nick was sitting very comfortably on the water at beautiful Droitwich Spa Marina.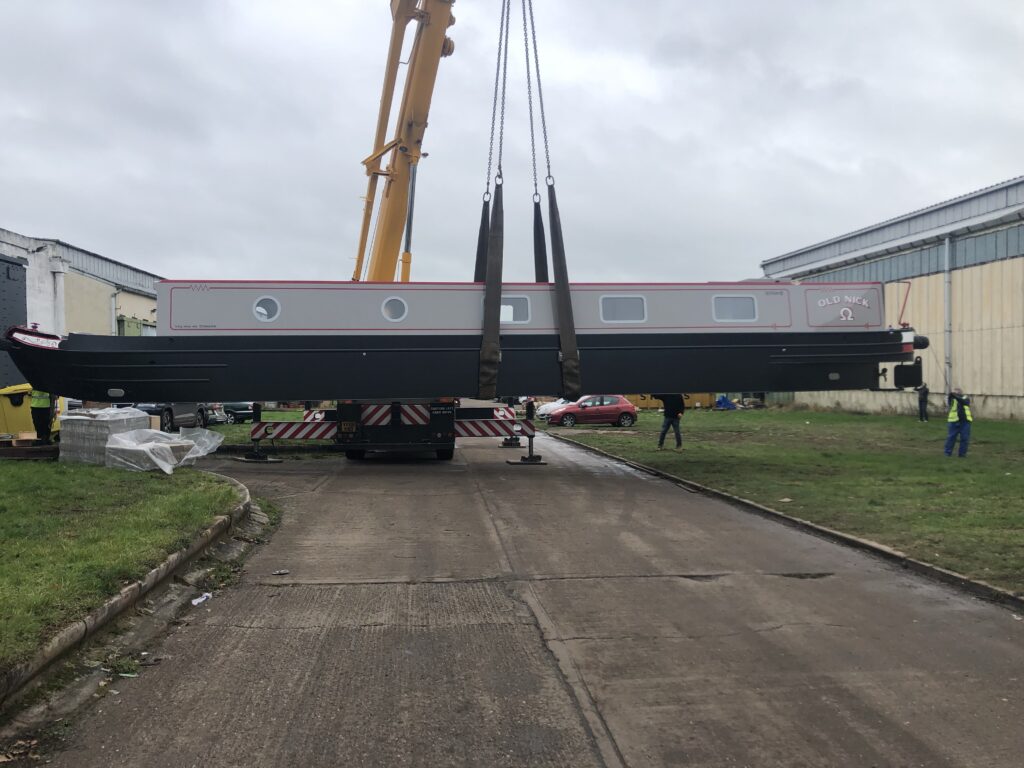 The team at the Marina are so friendly and helpful – they even gave us a welcome bottle of wine. Such a nice touch. They permitted us to stay on a service mooring ready for our van to arrive the next day, which was very helpful.
To be honest, launch day was a bit of a blur! It's like your wedding day – so much planning and then the day itself goes in a flash. And it's very tiring. We were shattered. But we managed to go out to The Chequers, in nearby Cutnall Green, where we had sausage and mash, by way of a celebratory meal. The sausages were allegedly "award winning" and we did speculate, before they arrived, about what that award had actually been for. "Worst Sausage Ever", perhaps? But they were delicious, so the award must have been taste-related. Not your average snag by any means.
Friday 11th December
Our son George arrived at around 9:30 with a van full of stuff. We worked hard and by 1:30 had unloaded everything and stowed it all away – mostly. Now I doubt if much of our things have been placed in their "forever home", but we can tidy and rationalise and cull, where necessary, at our leisure.
It was another tiring day and, rather than cook, we decided on that rare treat – fish and chips. We ordered them online from Queen's Chippy as we left the Marina and picked them up a couple of minutes later. Freshly cooked and piping hot! Excellent. We dashed back to the cottage and fell upon them. The fish was more like a small whale and the large portion of chips would easily have fed four. Eaten with lashings of salt and vinegar and a side of mushy peas, they really hit the spot.
And here are the internal shots – taken before she left the Ortomarine unit – before we added all our worldly goods! We are beyond delighted. We think Old Nick is an absolute beauty and the level of attention to detail and finish could not be surpassed.
THE GALLEY
THE DINETTE
THE SALOON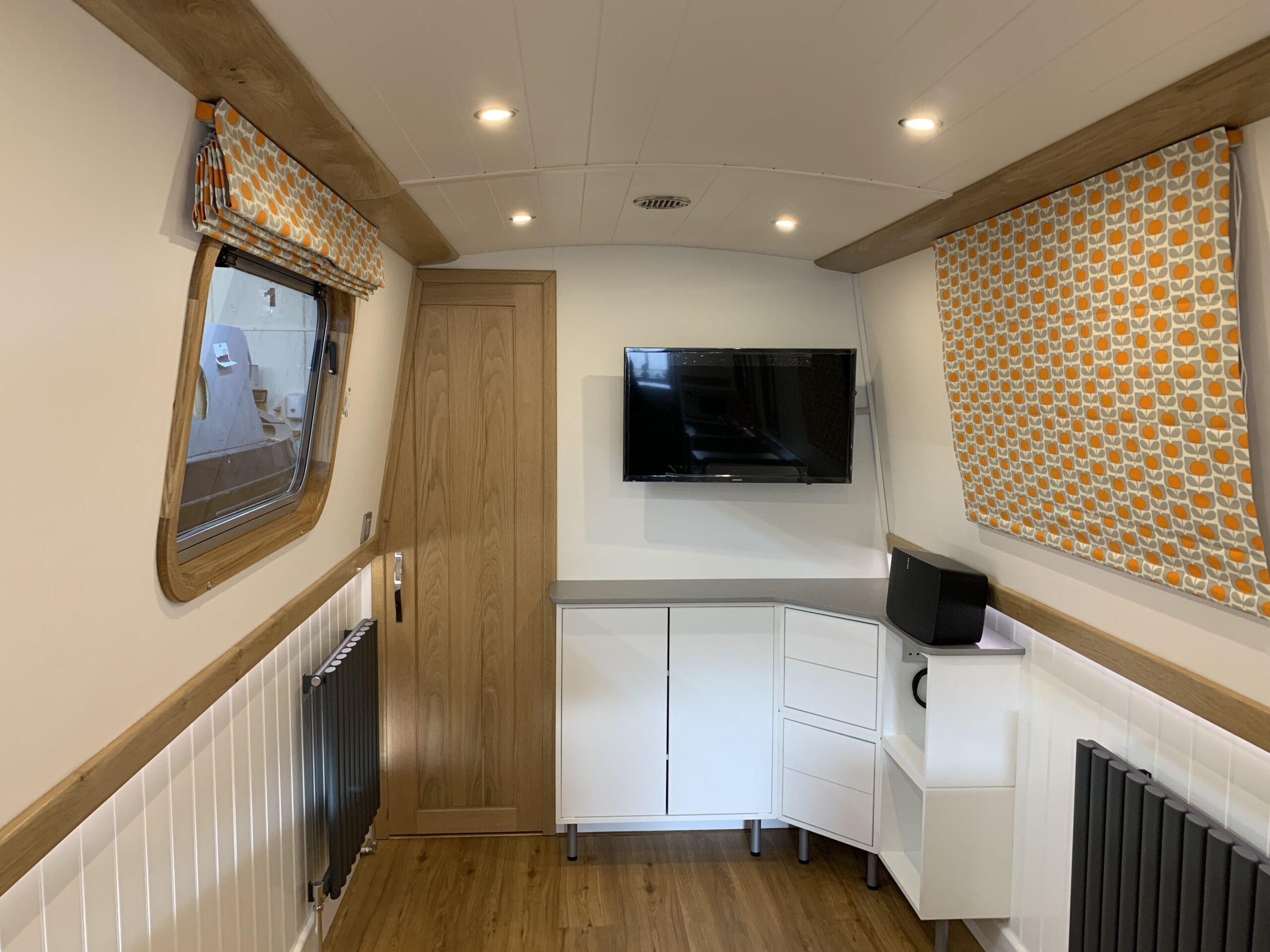 THE BATHROOM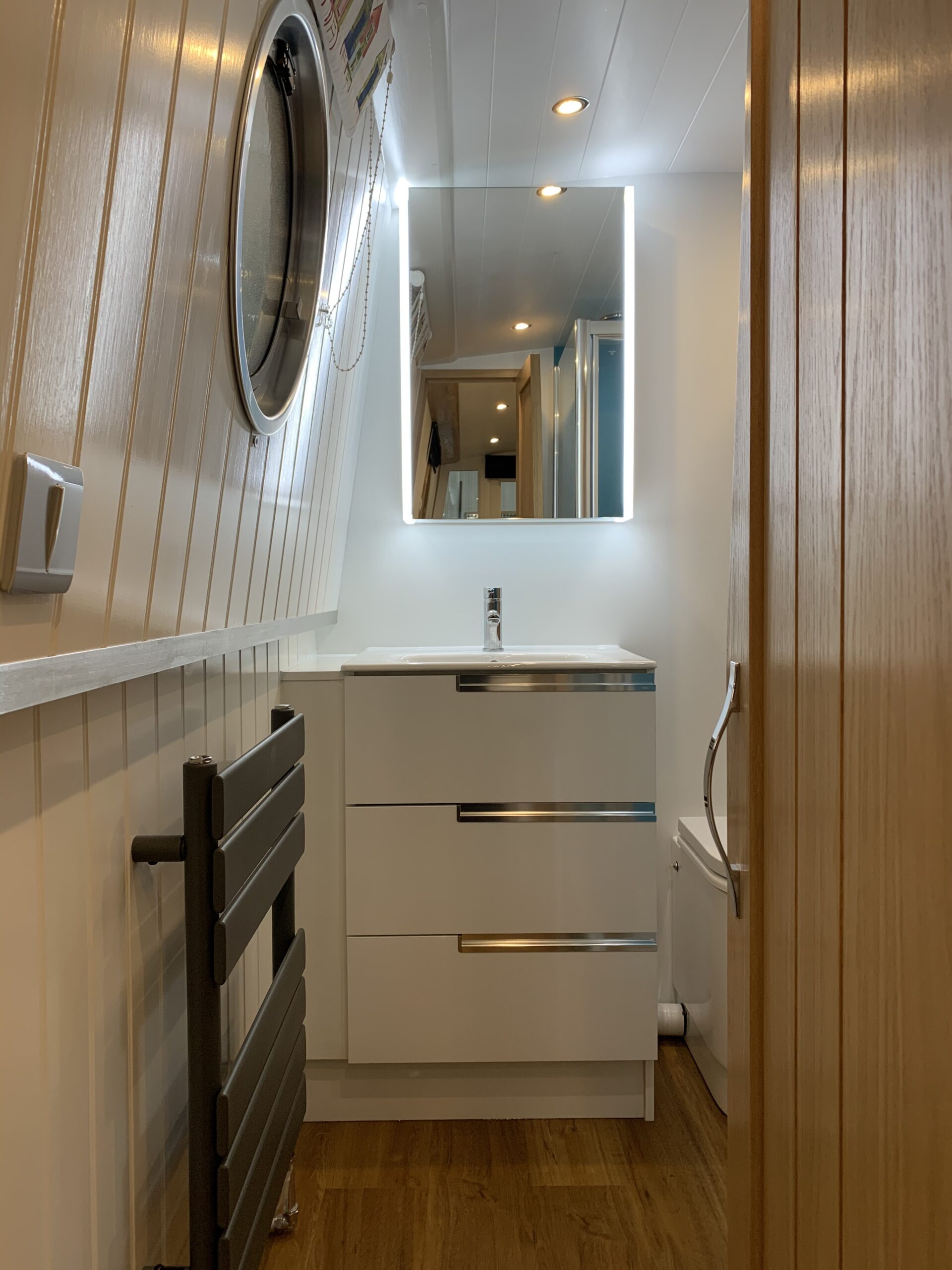 THE BEDROOM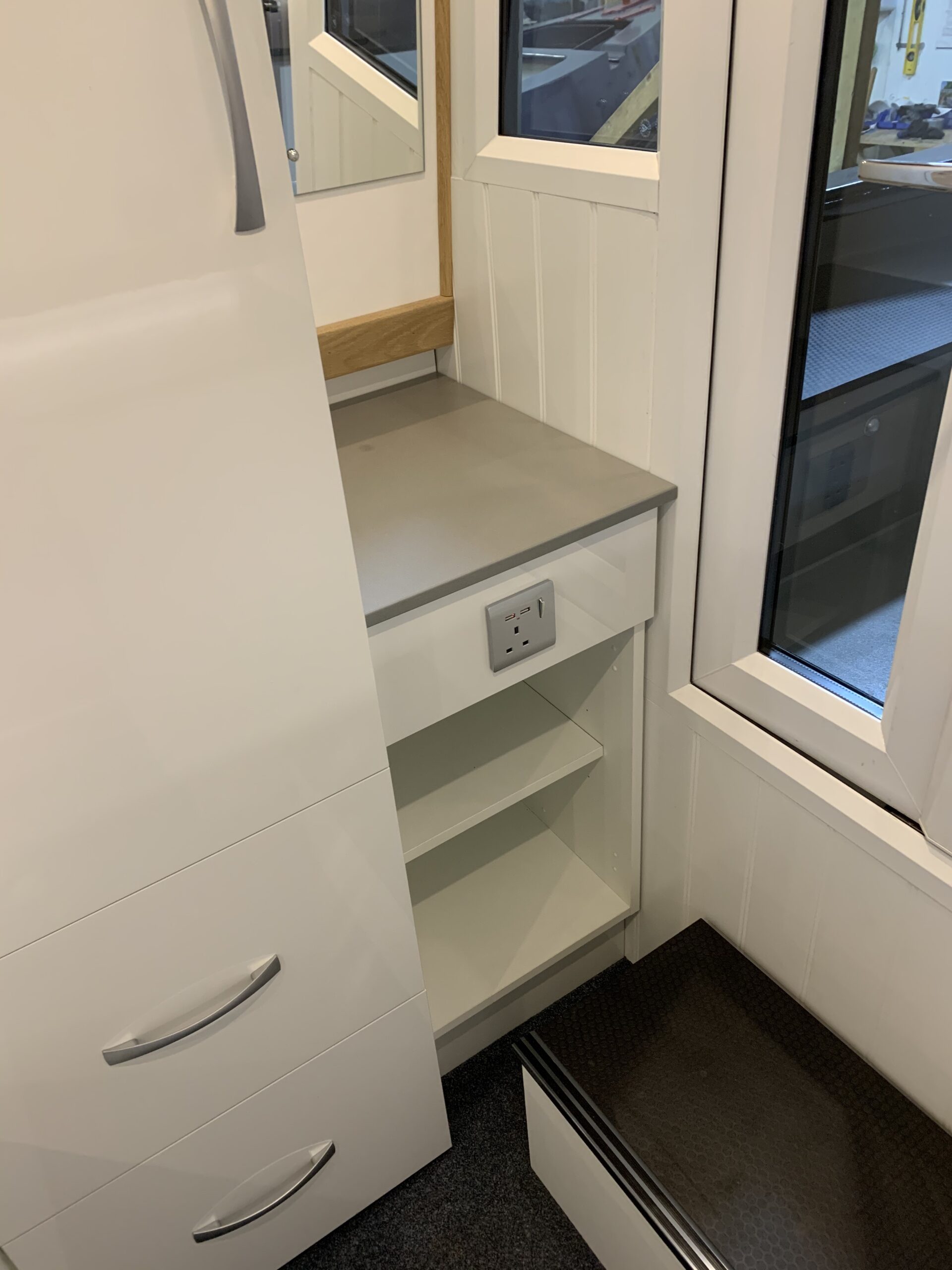 Finally, here are a few external shots and some of the spotless engine room. We love the livery and think that Old Nick is – well – as smart as paint!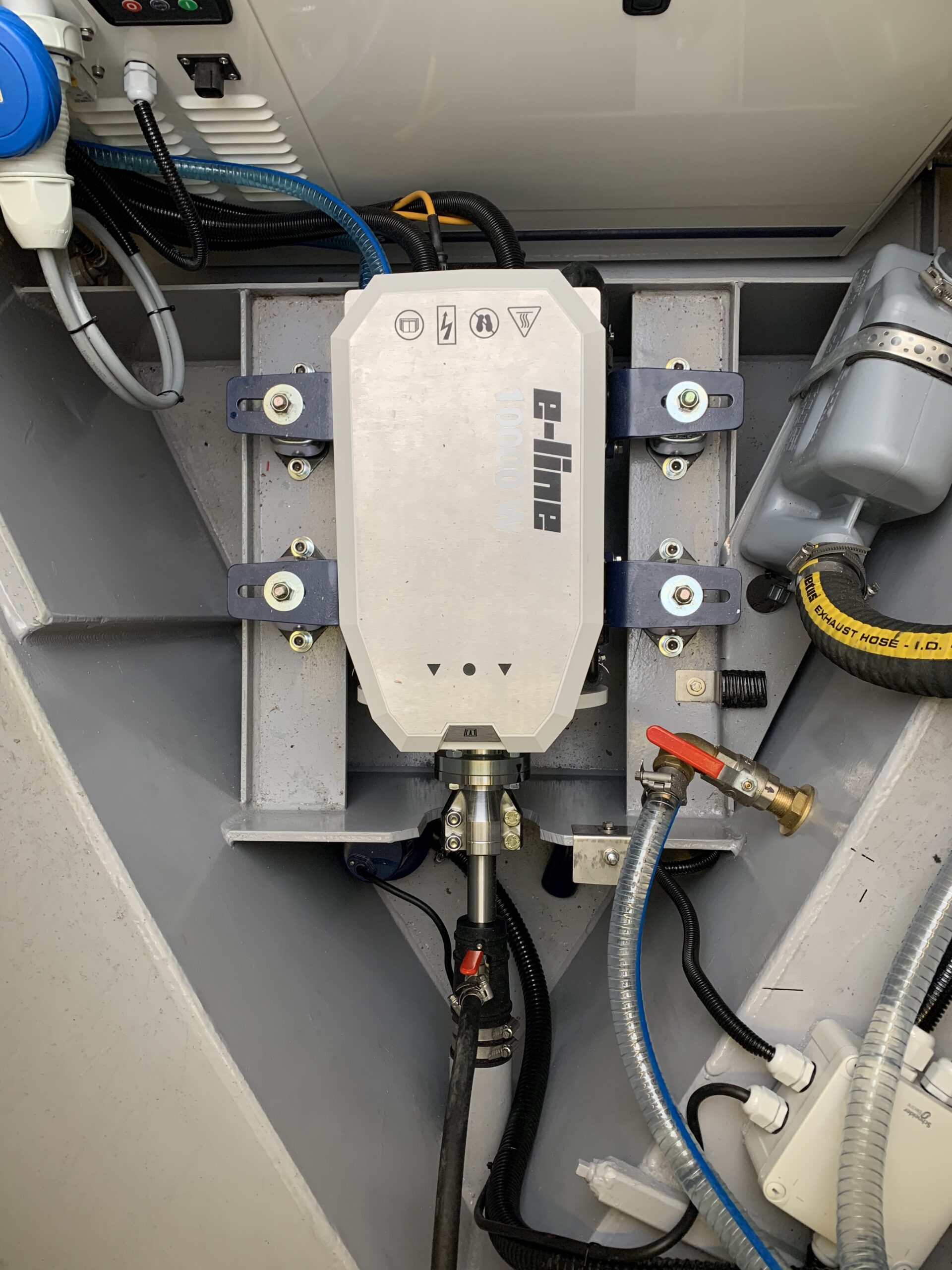 There were, almost inevitably, a few tears on launch day. I really wish Mum, and particularly Dad (Nick) could have been around to see the realisation of our dream. I hope he would approve. I'm pretty sure he would.
It remains for us to thank everyone at Ortomarine, for creating our perfect boat, to Nick and the team at Droitwich Marina for their assistance during the launch and for providing us a mooring over Christmas and to all of you for reading this blog and sharing in our dream. We hope you will continue to accompany us on our travels and that many of you will come and visit us, once this wretched pandemic has been closed down. The kettle is always on!