No – not whiskers on kittens (although they are cute) but – a few weeks into life on board our dream boat, including spending our first Christmas on board – I'm reflecting on the purchases I have made, with the intention of making life in a comparatively small space that bit easier.
My top five – in no particular order are:
Tefal Ingenio Saucepans
These pans stack neatly within one another, by virtue of the fact that they have no handles. This makes them ideal for a small space – Tefal claim that they are up to 50% space-saving. They are supplied with one or two handles (depending on the size of the set you buy). The handles clip on – and if that sounds dodgy, then let me assure you that they are excellent and feel very secure. And, what's more, they are guaranteed to feel that way for 10 years.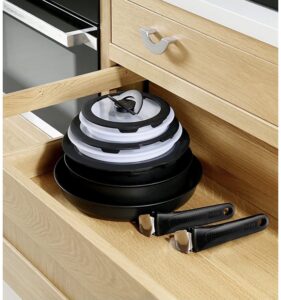 I bought the Expertise set, which is non -stick inside and out and can also be used in the oven, fridge or freezer. It comprises:-
16 and 20cm saucepans
22 and 28cm frying pans
24cm saute pan
26cm wok
16, 20 and 24cm glass lids
16 and 20cm plastic lids
2 x removable Bakelite handles
This gives me all the pans I need and the flexibility to put left-overs in the fridge or bake them in the oven. I used them for our Christmas dinner (Turkey and all the trimmings) and was very impressed. The only other pan that might just be a useful addition is a small milk pan.
I bought the pans a couple of years ago, with the boat in mind, when they were on special offer. It was so long ago I can't actually remember where I bought them, but it's definitely worth comparing prices before you buy, as they are not a cheap option. I do see them as an investment, though, as they should last for many years.
Here's a link to the Tefal webpage
Simple Human drainer
The sink on board Old Nick, which I love, is quite large and I felt it would be useful to have a drainer that could be stored in the sink when not in use, to free up valuable workspace.
I looked at fully collapsible drainers but had used a Simple Human drainer before and was really pleased to see that one of these would fit very neatly in the sink and still leave some space to the side of it.
The Simple Human drainer is compact and sturdy, with room for a fair bit of washed articles and with a 360 degree pivoting spout, that allows the water to drain into the sink. It's the perfect solution for our needs. There is a choice of black, grey or white. I went for grey, as it works well with the kitchen decor.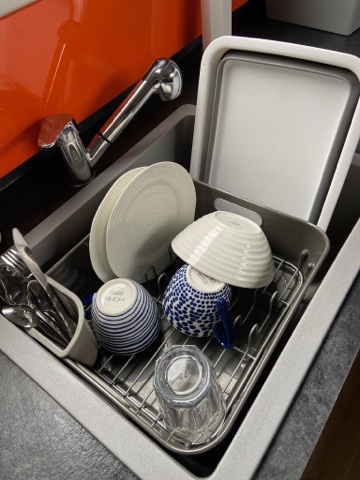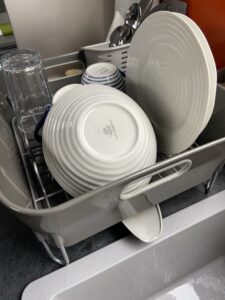 I bought mine from Dunelm and I note they are currently "on special". Click here to view.
Folding Washing-up Bowl and Bucket
As I said above, the sink is quite large and with water conservation a priority, not only for the sake of the planet, but also for the fact that, on a boat, water is not in limitless supply – notwithstanding our 500 litre tank – we needed a water-saving solution.
I thus decided we needed a washing up bowl, but that this also needed to be stored when not in use. When I was looking for a bowl, the one I subsequently purchased caught my eye. It was cheap enough to buy (£7.99) and not worry too much if it was not up to the job.
Luckily, it's perfect and performs its role very well indeed. So good that I also bought a matching bucket, which can be neatly stored in a locker on deck.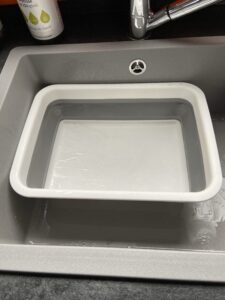 Both the bowl and the bucket came from Amazon:
Washing Up Bowl – click here and Bucket- click here
Shower Caddy
This was an important search. I really did not want to make any holes in the lovely shiny shower stall, but needed somewhere to store shampoo etc. The suction-cup style perform pretty poorly, in my experience, so I was looking for a really good solution to my problem.
My search eventually led me to the "Shower Gem". It had been shown on "Dragon's Den", where it had attracted the attention of no less than three investors. And now, me!
I should start by saying that it's not a cheap solution, but it is quite an elegant one. It is supplied as a set of two and there is room for six bottles of shampoo etc, plus room for a bar of soap and razors/shower puffs etc. And when a bottle starts to get low, you just put it on the shelf with the top facing into the middle and the remainder of the contents settles next to the lid. Great idea!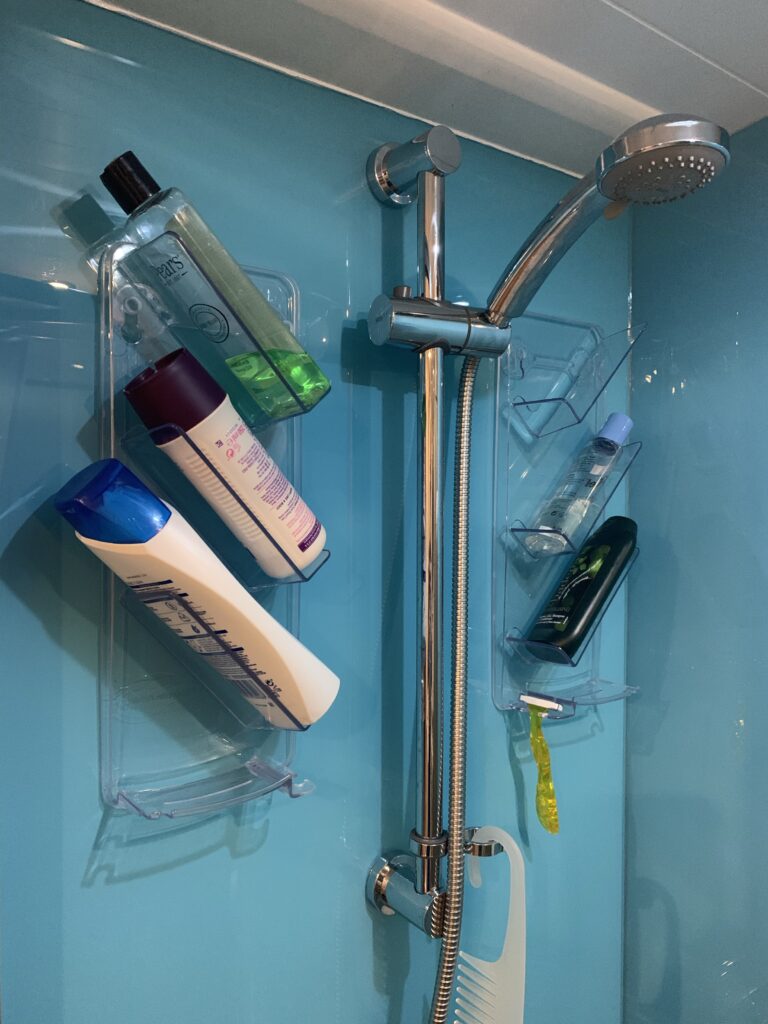 It's for use on tiles and also on the perspex liner, such as we have. It's supplied with special glue, which you apply and leave for 24 hours before loading it up. The glue is described as a 'no mark' adhesive and is apparently easy to remove by gently levering the small wall bracket off the wall, leaving no trace. I'm not planning on removing it any time soon as I love it! The shelf bit can be removed from the bracket, making it easy to clean. It can even be placed in a dishwasher (if you have one) to give it a really good wash. I love a gadget that really works well.
Reclining Chair
We bought our chairs from John Lewis a couple of years ago, just after we had paid our build-slot deposit for Old Nick. Back then we planned to have a free standing table and a large saloon so they seemed perfect. And then Ortomarine introduced their ingenious dinette and we knew that was the way forward for us.
Comfort on board was a priority. We knew we didn't want a sofa bed, as in our experience sofa beds perform neither function terribly comfortably. We didn't want anything built in either, as they are always too upright. Individual chairs thus seemed the best way forward, especially as much of the time it would be just the two of us.
We happened to be in a John Lewis and spotted and tried out the ones we subsequently bought (in charcoal grey wool felt) as they ticked all the boxes, being both stylish, sturdy (the frame has a 15 year guarantee ) and very comfy.
We used them at home while we waited for Old Nick to be built. Once we had decided on the dinette, we spent some months vaguely worrying about whether they would be too large in the reduced saloon space. Caroline (who designed the dinette) even did a CAD drawing which indicated that it might possibly be a bit snug. We decided to give it a go and see how we got on.
I'm pleased to report that they fit very neatly – one either side, facing the television. At night, when we are not using the dinette, we push it to its smallest size and have plenty of space to recline if we wish. The footstools were a step too far, though. We felt we would have always been moving them around. I think, though, if we did not have two dogs they would almost certainly have been fine.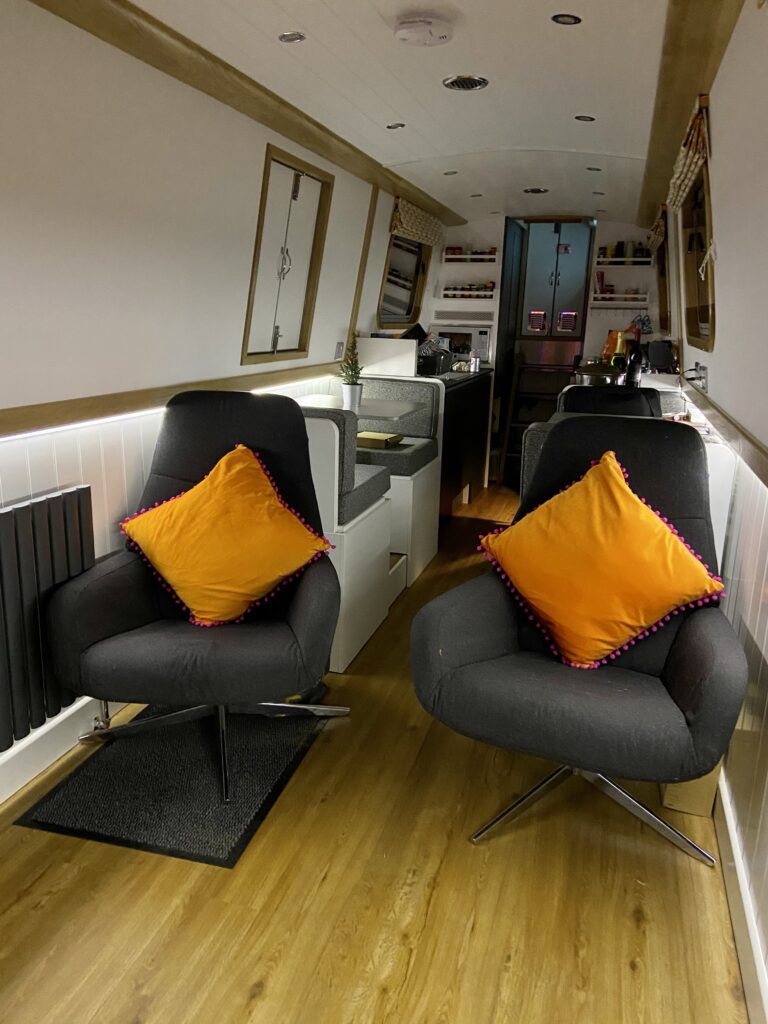 As we both like to relax with our feet up, though, we instead chose to have a footstool, covered in the same material as the dinette, which we would share. It also adds a little extra storage space, which never goes amiss on a narrowboat! We chose the 54×45 option, which is perfect for two and we are very pleased with that solution.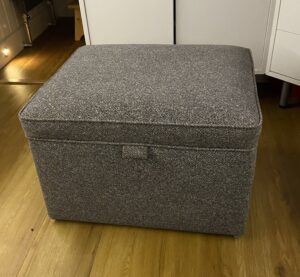 Here's a link to the chair on the John Lewis website – although I note that the charcoal is no longer an option and they have gone up quite a bit since we bought ours!