We all like a bit of TV but our viewing habits have seriously changed over the last few years. Now – at least for us – streaming is the preferred method of watching TV and once we realised this, it had an important and positive impact on the design of "Old Nick".
The traditional TV antenna mounting method, which many boat builders employ, involves the permanent installation of a directional antenna, such as the popular Status 570. These are good aerials, one of which worked well for many years in our caravan, but they involve making another hole in the roof, take up valuable roof space and can be knocked/damaged during cruising.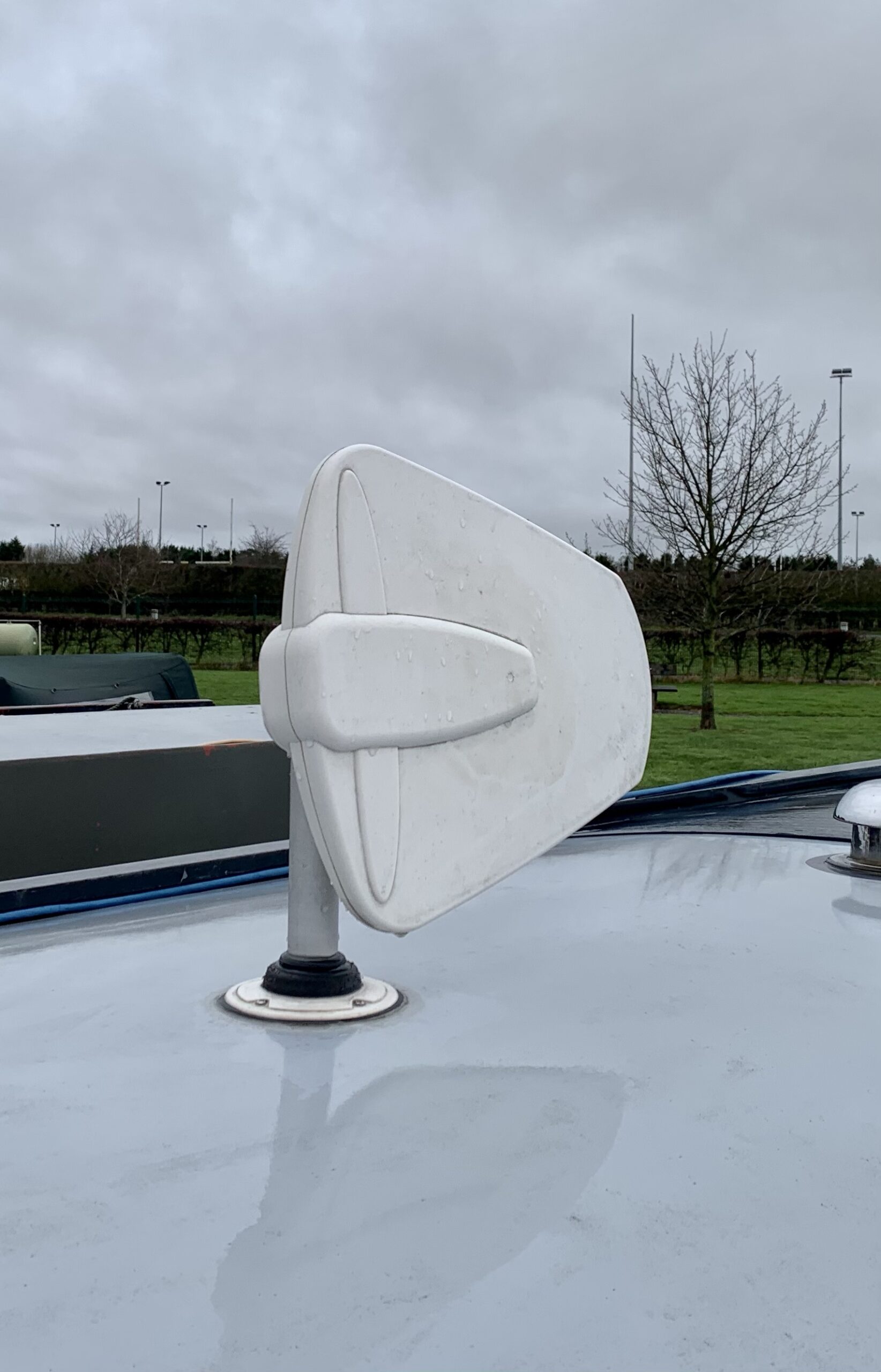 We were looking to maximise the space available on the roof for solar panels and, with this in mind, we started to search for a more elegant solution.
Once we had recognised that our reliance on traditional "terrestrial" TV had diminished, it became clear that we would only need a TV aerial as a back-up – for those odd occasions where we could not get a reliable 4G signal. We thus did not require anything fixed.
We had seen on another boat, a 4G antenna mounted on a pole with a magnetic base and this seemed like a great idea. A quick search on Amazon found the supplier of the pole and now we just had to choose an antenna to mount to it.
In reality, this decision had already been made, as Digital Yacht, a manufacturer of marine electronics for whom Paul works, market a very good omni-directional, high gain digital terrestrial TV antenna – the DTV100.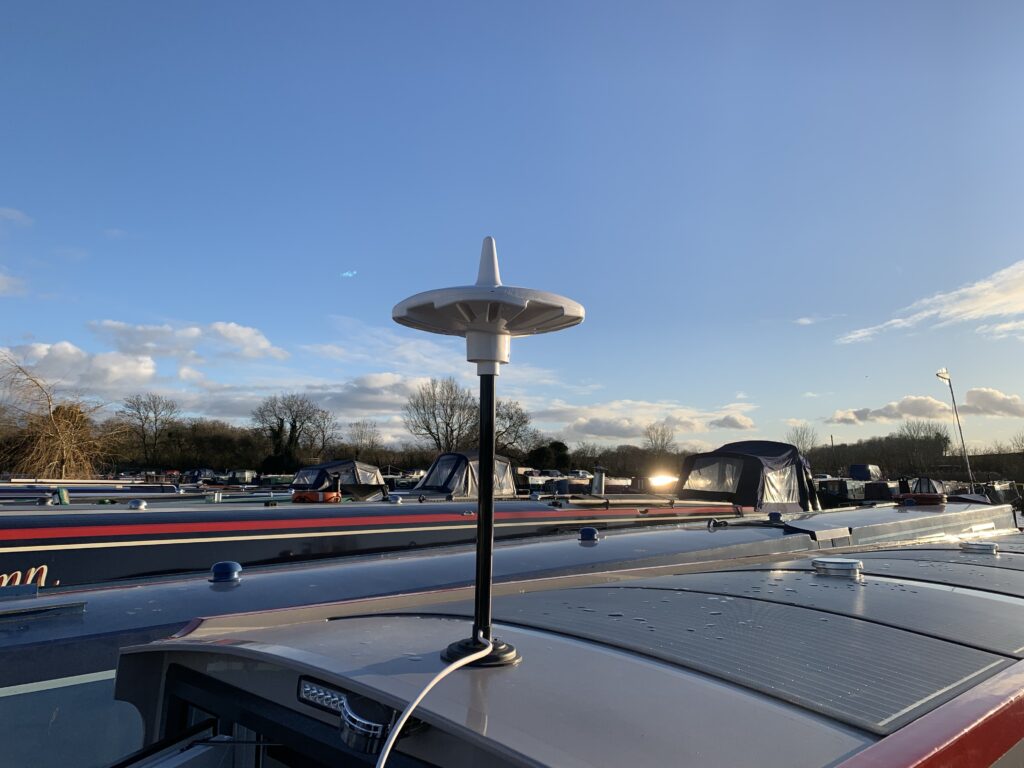 The benefit of an omni-directional antenna is the fact that you no longer have to find the best direction to point the antenna in. Over the years, we have got quite efficient at swinging the antenna to get the best signal, but with the DTV100 you can just throw it up and start the TV auto-tune process immediately.
The last remaining issue, was finding a fast and reliable way to plug the antenna in. On a boat it is always the external connections that fail and Paul was very keen to find a connector that would last a reasonable period of time, but also be easy and cheap to replace.
The solution he came up with, consisted of a quick release, bayonet type (BNC) connector with a splash proof cover. Should it fail, as it almost certainly will, two screws would remove it from the bulkhead and the second BNC connection on the rear could be quickly disconnected and a new connector fitted.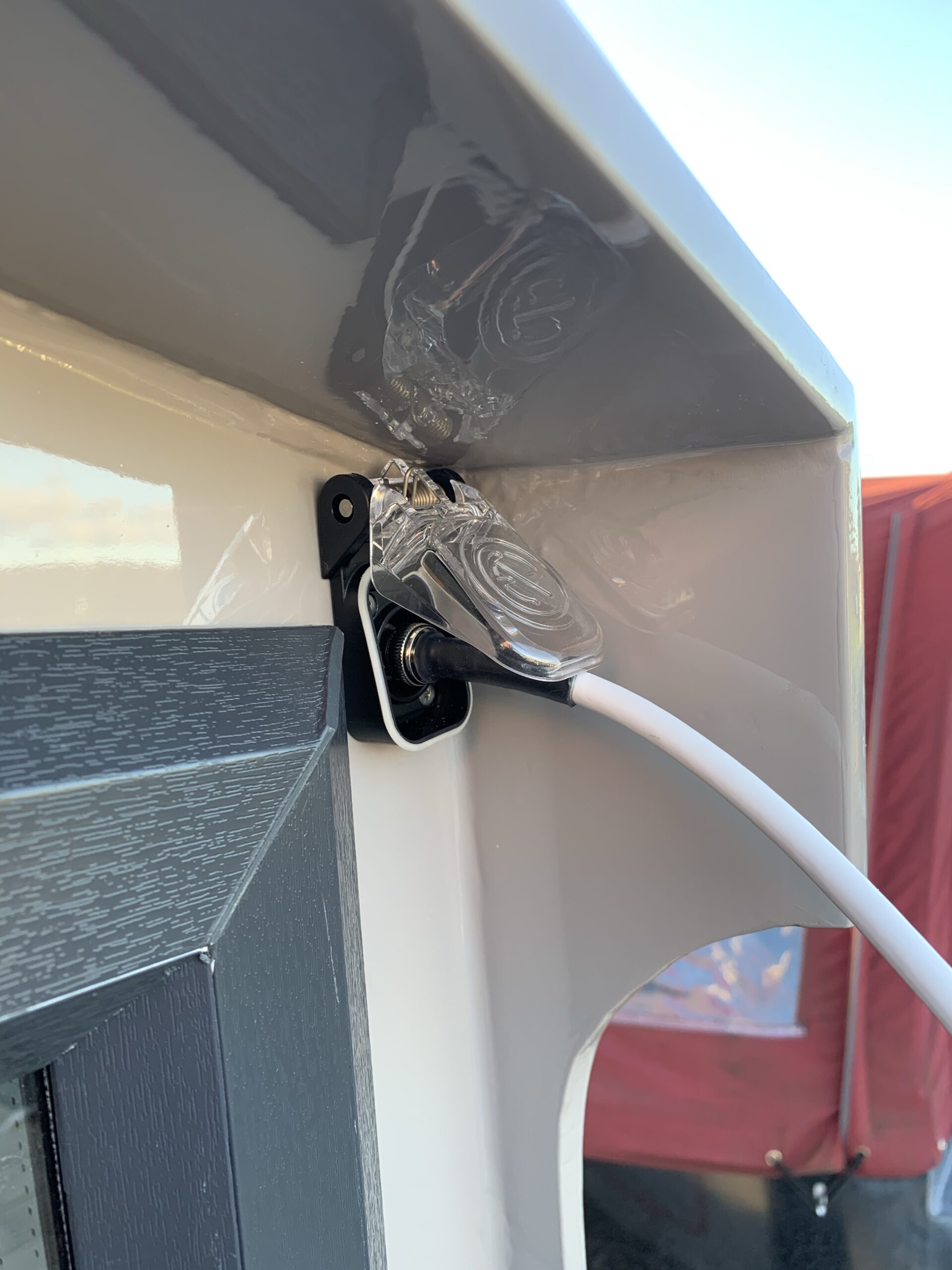 By mounting the connector and splash proof cover under the roof overhang, it will be protected from the worst of the weather and with a liberal application of silicone grease on the connector, it should last for at least 4-5 years.
The antenna and pole mount are stored in a locker in the well deck, when not in use, and once moored it takes less than 30 seconds to grab and fit the antenna on the roof. Even if you do not stream or have solar panel space to worry about, we think this method of mounting the antenna is still a good solution.
There is one more important part in the system and that is the signal amplifier, which requires a 12v or 24v supply and which Ortomarine neatly hid away in some unused space next to the over-bed cupboard.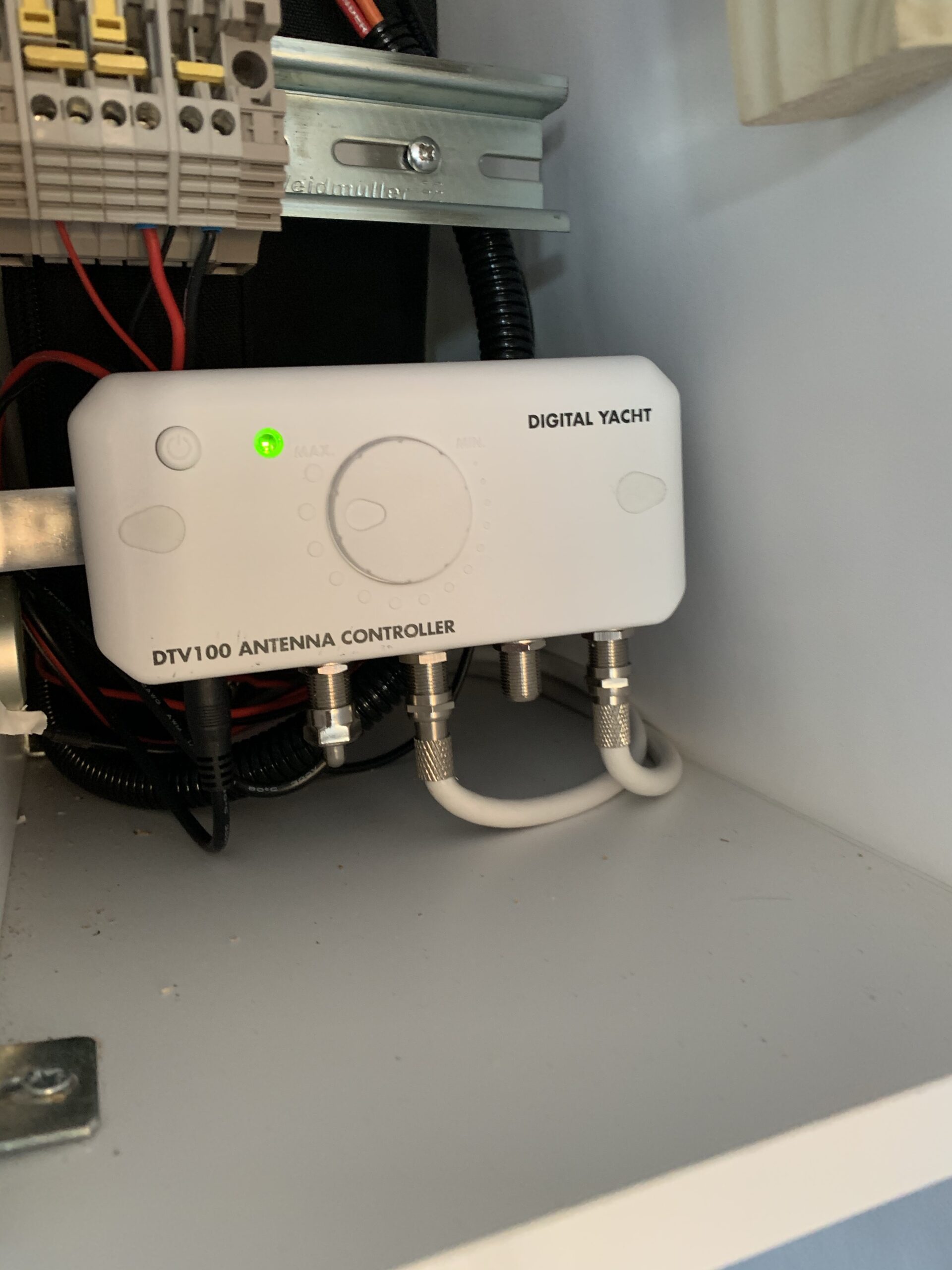 The DTV100 comes with 10m of cable, so plenty of length to reach the TV in the saloon and the amplifier has two outputs, if you want to have a second TV in the bedroom.
We have now been using this setup for the last month and the signal quality is great. We managed to drag in over 200 channels during the auto-scan which I am told is pretty good for this location.
We shall be here in Droitwich for the foreseeable future, thanks to Covid, although we do actually love it here, so it's not an issue. We are, though, looking forward to a time when we can travel again and really put the unit to the test. Suffice to say, that for now it's so far so good.