Those of you that have read our previous posts will know that "Old Nick" has an array of electronic equipment and systems on board, which take care of the propulsion, lighting, heating and many other common tasks on a modern narrowboat.
These systems all perform their individual tasks very well but link them all together, create a control centre – with a clear and simple user interface – and you suddenly have something even more powerful and beneficial.
This is the "icing on the cake" on an Ortomarine boat. Rob Howdle (their CTO) has drawn upon his many years of design experience in the industrial automation field, to create a bespoke narrowboat control system. Their system provides the boat owner with a wealth of data, control and features that are not possible on other narrowboats.
Rob had been planning for some time, to update the design of his control system's user interface and we were very fortunate that he wanted to use "Old Nick" as a "guinea pig". With my background in marine electronics, I was a very willing volunteer and enjoyed the chance to have some input to the system that would be the heart and soul of "Old Nick".
We have already covered the different networks on "Old Nick" in a previous post. In this post we will focus on Ortomarine's Control system, which consists of four key components:
The Human Machine Interface (HMI)
The Programmable Logic Controller (PLC)
The Victron Cerbo GX
An Ethernet network with 4G connection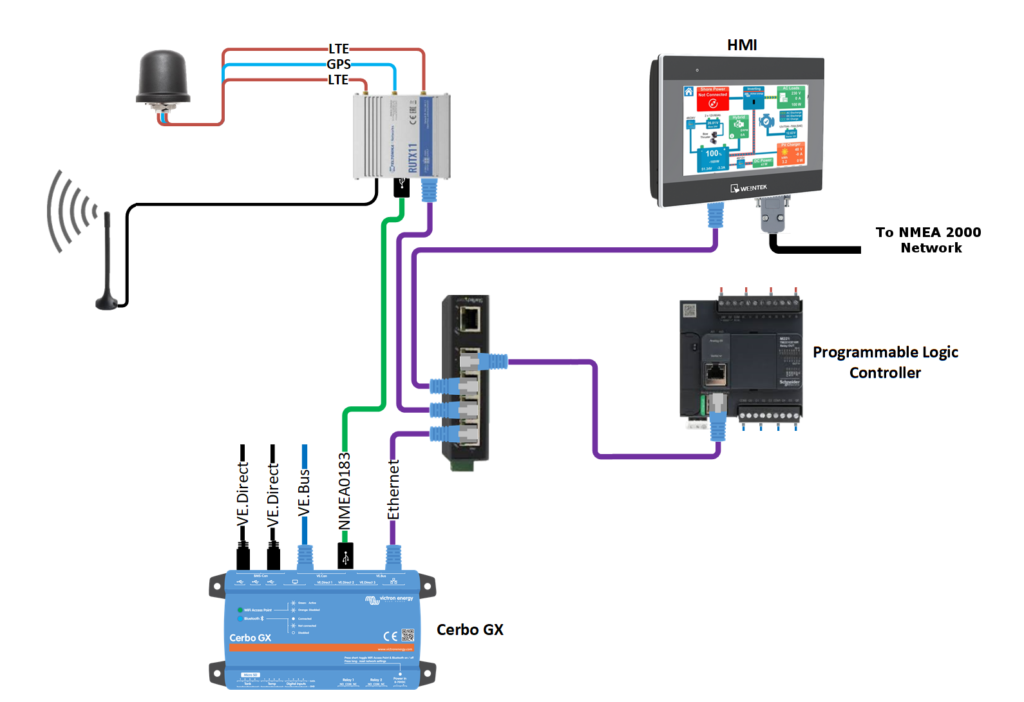 The PLC and Cerbo GX are the data collectors and controllers in the system, providing the inputs and outputs to the sensors and relays around the boat. Victron provide their own incredibly useful and powerful operating system (Venus OS) and remote management (VRM) tool, which are very good for monitoring and controlling the Victron kit. However, that is just one of the systems on board and Ortomarine need to provide complete control of the boat.
Ortomarine use ModBus, a standard communication protocol for PLCs, to share data between their colour touch screen (HMI), the PLC and the Cerbo GX. In addition they also bring in the NMEA 2000 data from the Vetus E-Line electric engine and Bow Thruster to their HMI.
75% of the system is hidden away in the "tech cupboard" and for most boat owners, the only part of the system they will interact with is the colour touch screen (HMI). It was the design of this user interface that Rob wanted to work on, to create a brand new design that was very clean, simple to use and easy to expand in the future.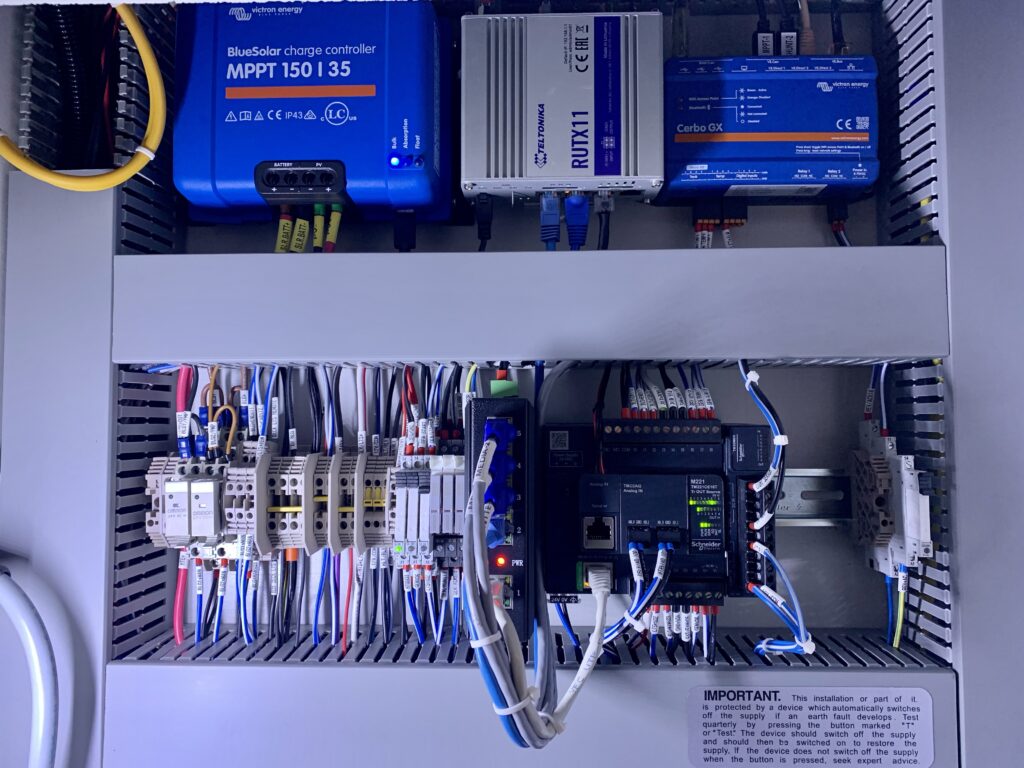 As soon as "Old Nick" was launched, Rob started to develop, test and fine tune the new user interface. A monochrome style was chosen which looked very modern, gave good contrast in bright conditions and also made the Green/Yellow/Red condition icons clearly stand out.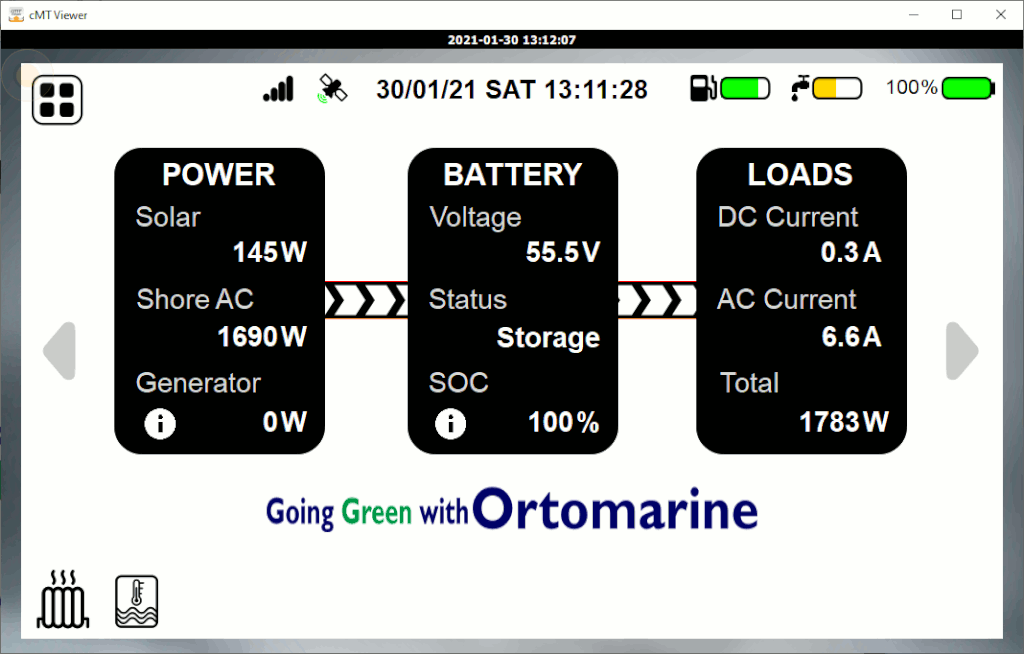 On the top status bar, indicators give you immediate notice of the battery and tank levels, while on the bottom bar, as services become active (such as heating, lighting, etc.) more indicators appear. The image above shows that both the central heating and water heating are active. The page structure was designed so that any function was only ever two key presses away, with a control panel page similar to the home page on a mobile phone.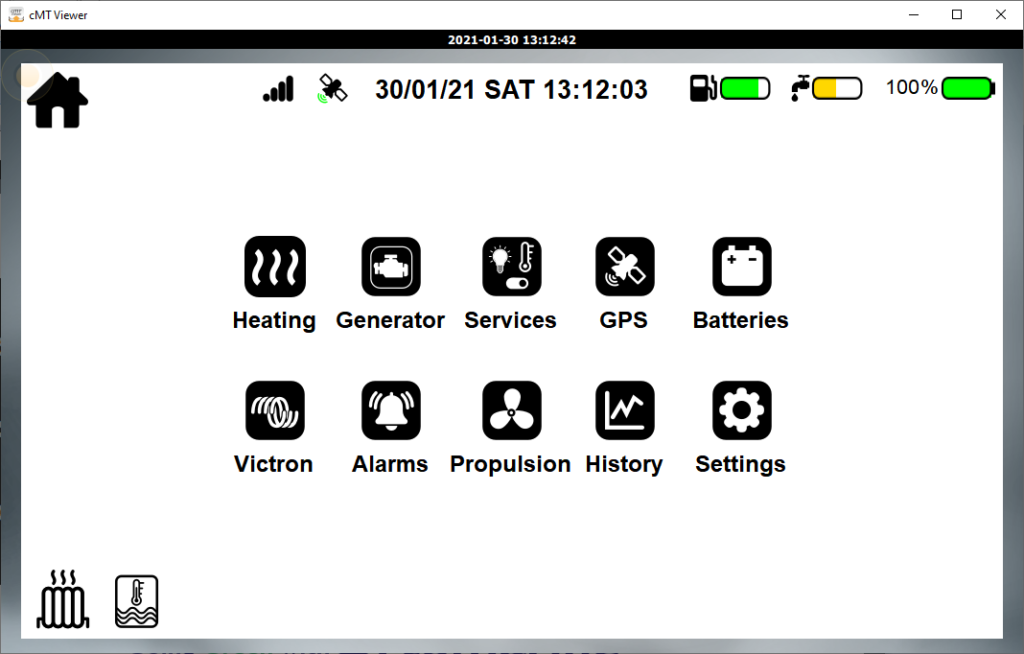 The following gallery shows some of the pages we most commonly use. In the future, Ortomarine can easily add new functionality by adding extra buttons on the Control Panel page.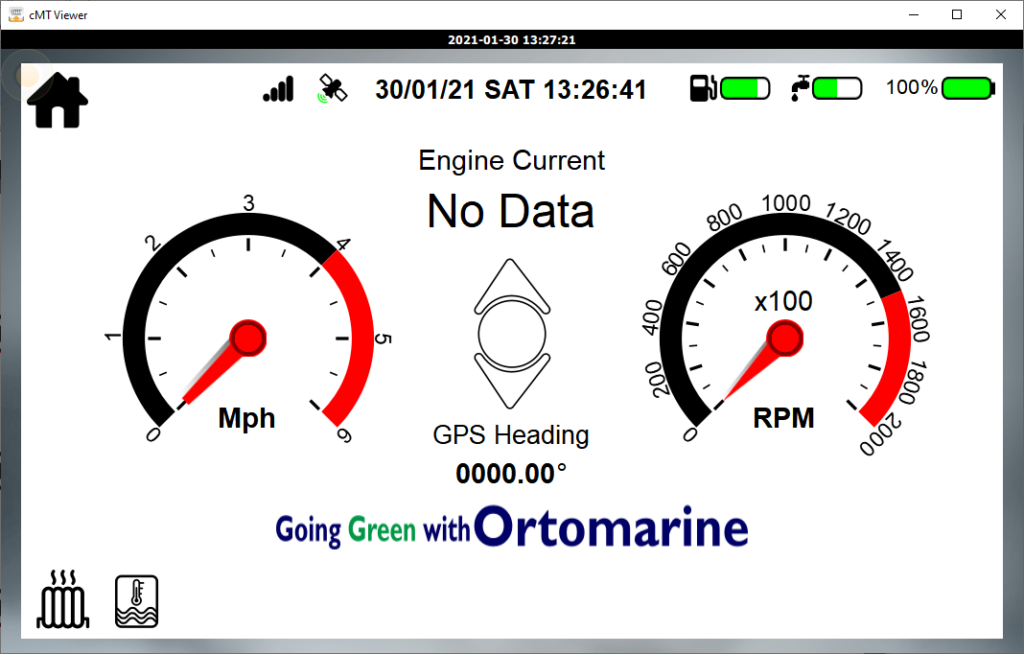 We have been using the new interface for over a month now and are very pleased with the way it operates. It is very intuitive and anyone with a modern phone, will rapidly feel at home with it. What is more, by downloading a free app on your smart phone, tablet or laptop, you can remotely access the exact same interface on any mobile device whilst on board.
When ashore, a second app (Easy Access 2) gives us an identical experience while we are away from the boat. Want to turn the heating on so that the boat is warm on our return? Done! Want to see how many litres of water are still to go, whilst filling up? Done! It really does make life so much easier.
It would be very easy for Ortomarine to "rest on their laurels", being the only narrowboat builder to provide such an integrated solution. The fact that they have further developed the system, providing a more modern and streamlined interface, speaks volumes for their passion and commitment. We could not be happier with the results.